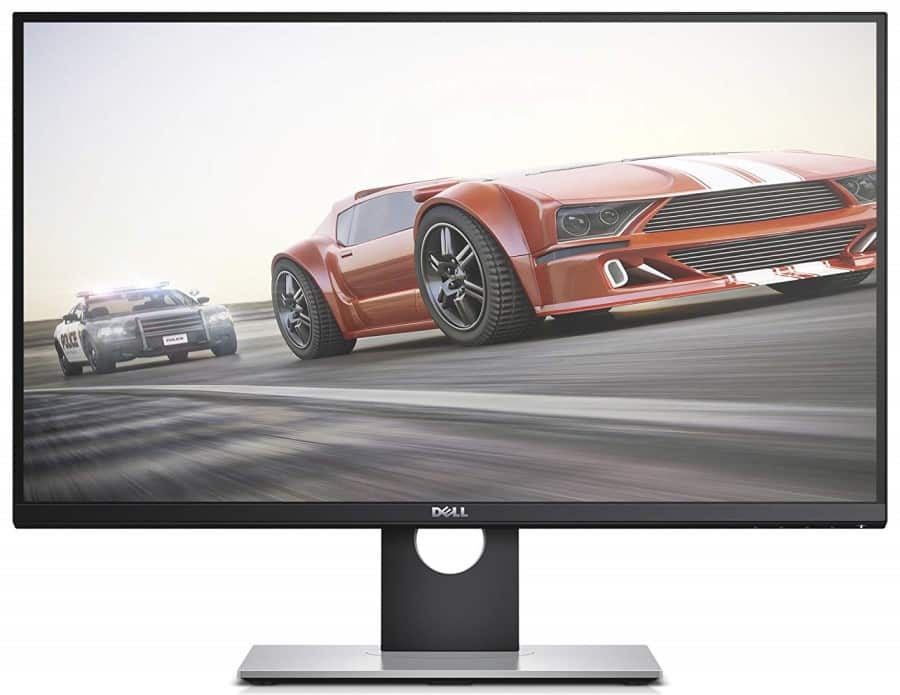 The Dell S2716DGR is your most practical choice in 2019 if you are in the market for a 144Hz G-Sync monitor for gaming. This model is one of the best selling display products in recent year sparking a steady influx of supply and demand since 2016. The Dell S2716DGR's solid performance makes it an excellent buy today, but how does its performance numbers stack against its contemporary competitors?

Dell S2716DGR Specifications
Screen Size: 27 Inches
Resolution: 2560 x 1440 QHD
Aspect Ratio: 16:9
Panel Technology: Twisted Nematic (TN)
Refresh Rate: 144hz
Response Time: 1ms
Contrast Ratio: 1000:1 (Static)
Brightness: 350 cd/m²
Built-in Speakers: No
Stand: Height -Yes
Stand: Tilt – Yes
Stand: Swivel – Yes
Stand: Pivot – Yes
VESA Compatibility: Yes (100 x 100)
Connectivity: DisplayPort 1.2 x 1, HDMI 1.4 x 1, USB 3.0 x 2, 3.5mm Audio Jack
Dimensions (WxHxD): 24.51″ x 21.51″ x 8.17″
Weight: 15.43lbs

Design and Features
Like all Dell monitors save for the Alienware variants, the Dell S2716DGR utilizes the trusty black and silver aesthetic which most prefer over black and red gaudiness. The face is almost bezel-free, but this model uses a dual stage bezel which still reveals a sliver of the panel border but is still mostly non-obstructive once the monitor is in use. At a glance, the monitor looks like it was meant for a studio or an office, hiding the fact that it is an extreme gaming display.
The rest of the chassis which comes in glossy black appears clean and sophisticated as well. Like most Dell monitors, the I/O connectors are neatly tucked under the indent on the lower part of the rear bulge. Since this is a G-Sync monitor, connectivity is limited to DisplayPort 1.2 and HDMI for video inputs, although you get a USB with two slots on the side plus three more on the rear.
One complaint we have with the Dell S2716DGR is its OSD button layout which pales in comparison to joystick-equipped variants. The buttons are satisfying to press, but it takes a hell of a lot of clicks to get where you want on the OSD. Thankfully, Dell's menus and sub-menus are neatly arranged, so in time, users may memorize the required presses to get to a setting.
This variant's build quality is robust and durable, like most of the Dell monitors we've tested. The plastics feel thick and sturdy, while the mechanism on the stand strikes a good balance between smoothness and firmness. We also did not feel or see any wobbling on the device even if you rage on your desk after a tilted match.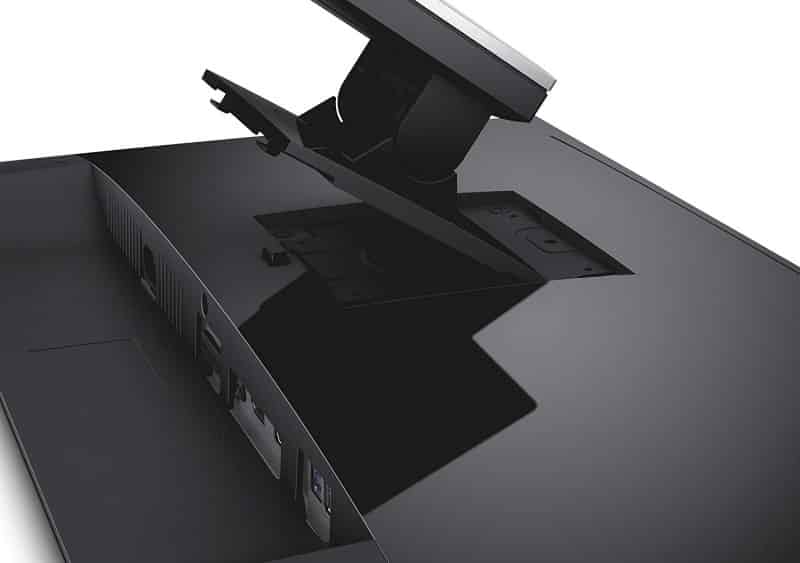 The Dell S2716DGR's premium nature isn't complete without a fully-articulating stand. The sturdy upright without any wobble comes with a cable hole for a neat setup, plus it can adjust height, tilt, swivel, or pivot according to your desires. If need be, you can easily remove this part to reveal 100 x 100 VESA holes for wall or multi-display mounting.

The Dell S2716DGR doesn't come with a pair of built-in speakers which most probably contributes to its slim proportions. It does, however, come with two 3.5mm audio ports for your speaker and headsets, but take note that there is no connection for microphones.
Display and Performance
The Dell S2716DGR sports a 27-inch TN panel with a 2560 x 1440 resolution, 144Hz refresh rate, and a 1ms response time. Other typical specs listed are a 350cd/m2 maximum brightness and 1000:1 contrast ratio. The module used from AU Optronics is similar to what the Asus PG278QR comes with, so it comes with a native 8-bit interface without dithering for excellent color reproduction.
Out of the box, the Dell S2716DGR isn't ideal for most users since color accuracy could use a little boost and the screen is too bright for regular usage. Luminance sits at 260cd/m2 or 75% of the total range while color Delta E is too high at 3.64. However, gamma at 2.07 and the color temperature which ranges 6360K is acceptable for a default setting.
The color coverage isn't as comprehensive as its competitors since the Dell S2716DGR can only reach 94% sRGB volume. The difference is negligible for gaming, but some users might find the minuscule lack of vibrancy a deal breaker.
However, these offsets can be alleviated by spending the time to calibrate the Dell S2716DGR. Once adjusted, the color errors drop to Delta E .85 while gamma sits at an excellent 2.18. dropping the brightness to around 20% to 30% also helps color temps to sit at an ideal 6530K. Gamma is slightly off at 2.1, but the panel's other characteristics are much more crucial to the limitations we've observed.
The Dell S2716DGR's contrast is quite low at a max of 820:1, failing to give us satisfying levels of black depth and vibrancy. The screen can look grayish when used in dark rooms, so compensating by lowering the screen's backlight is a must. The max output of 330 cd/m2 is more than sufficient for everyday use, but what makes it great is it gives users a lot of wiggle room in adjustments.
The S2716DGR has superb backlight uniformity which only showed a maximum of 13% deviance. However, the screen's balance in dark images isn't as good as we had hoped due to visible clouding issues. Colors on the quadrants stayed within DE 2.8 of the D65 standard, but this facet changes if you play games with darker settings such as Sekiro or Shadow of the Tomb Raider.
But on a positive note, there is virtually no blurring or ghosting on the Dell S2716DGR since its TN panel is fast enough when it comes to pixel transitions. There is, however, an Overdrive utility in the OSD to alleviate any further issues if they arise. Unfortunately, using any level other than the default can cause artifacting or advanced ghosting, so we would recommend users to leave it at default.
What we love about the Dell S2716DGR is its responsiveness that coincides with G-Sync to give gamers the best possible experience. Input lag sits at 4.5ms at 144Hz which is brilliant, making the product suitable even for competitive gaming. 1440p can give Nvidia GPUs quite a beating in graphics-intensive titles, so simply turning on G-Sync helps the visuals chug along smoothly.
Thoughts on the Dell S2716DGR
The Dell S2716DGR is a decent buy if you want to get into QHD gaming with G-Sync. Its frequently discounted pricing makes up for its limitations in image quality such as its contrast and low gamut coverage. Responsiveness and latency, on the other hand, are close to the top of the pack so you won't experience ghosting or "de-synced" instances.
These results also mean that the S2716DGR and the tech behind is already showing their age. Newer models with revised AU Optronics TN panels have better scores in these technical tests, although they are regularly sold at higher prices. We recommend getting this model if you want to upgrade your gaming experience with a higher resolution screen and to enjoy G-Sync at a lower cost.
About the Author: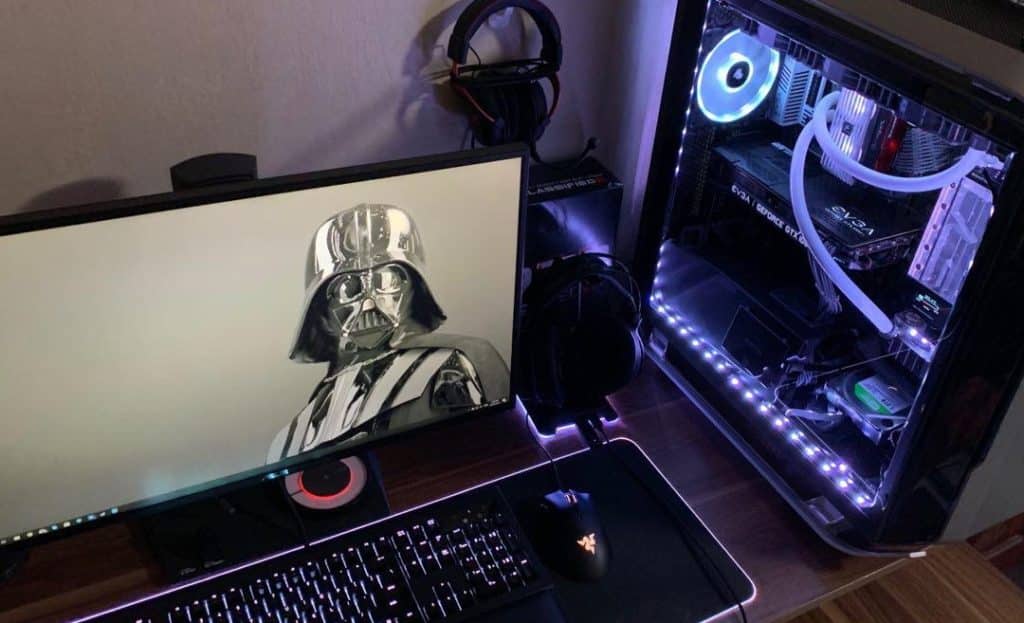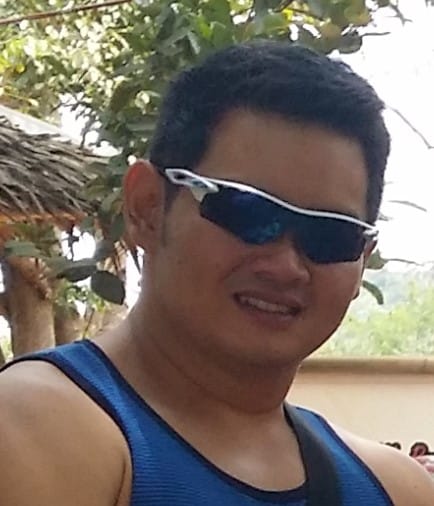 Paolo is a gaming veteran since the golden days of Doom and Warcraft and has been building gaming systems for family, friends, and colleagues since his junior high years. High-performance monitors are one of his fixations and he believes that it's every citizen's right to enjoy one. He has gone through several pieces of hardware in pursuit of every bit of performance gain, much to the dismay of his wallet. He now works with Monitornerds to scrutinize the latest gear to create reviews which accentuate the seldom explained aspects of a PC monitor.