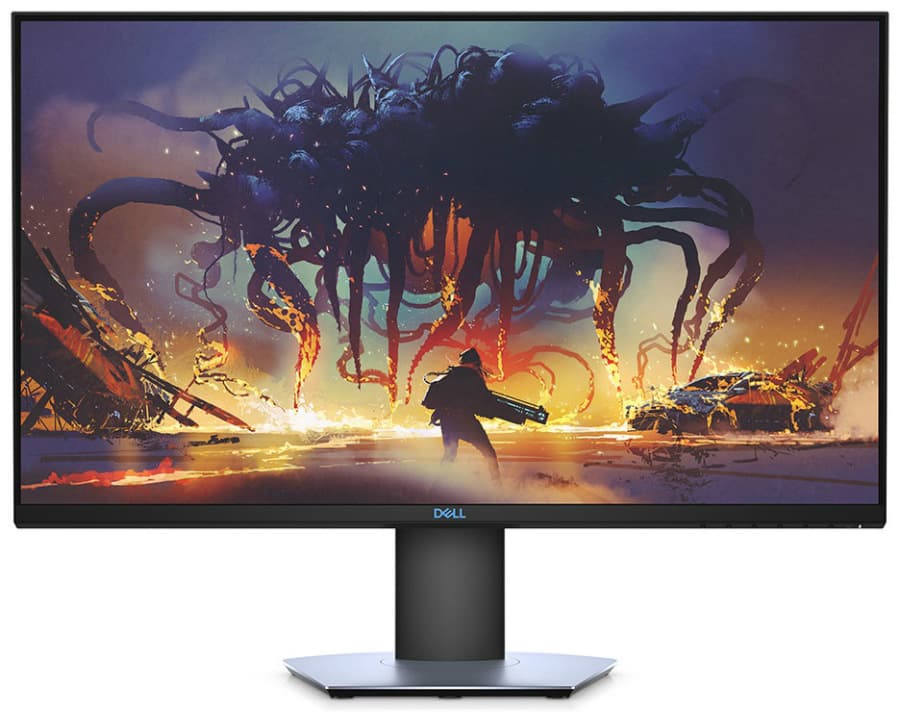 Updated: The Dell S2719DGF is one of the brand's latest reveals from Gamescom 2018 with a few unique features you'd be hard-pressed to find from other offerings. This new addition to the S-line comes with a smaller, 24-inch 144Hz sibling named the Dell S2419HGF with a 1080p screen. Both the Dell S2719DGF and the S2419HGF offer responsive TN panels, but how do they compare against the more popular IPS and VA variants from their competitors?

Dell S2719DGF Specifications
Screen Size: 27 Inches
Resolution: 1440p QHD
Aspect Ratio: 16:9
Panel Technology: Twisted Nematic (TN)
Refresh Rate: 165Hz
Response Time: 4ms
Contrast Ratio:1000:1
Brightness: 400 cd/m²
Built-in Speakers: Yes
Stand: Height – Yes
Stand: Tilt – Yes
Stand: Swivel – Yes
Stand: Pivot– Yes
VESA Compatibility: Yes (100 x 100)
Connectivity: DisplayPort 1.2 x 1, HDMI 1.4 x 1, HDMI 2.0 x 1, USB 3.0 x 3, 3.5mm Headphone jack

Design and Features
The Dell S2719DGF sports only a few minor changes from the brand's signature business aesthetic that has suited a lot of tastes amongst the communities. The monitor is mostly matte black and accented with a new color that Dell calls Recon Blue or matte blue in lay man's terms. This model is frameless on three sides via its dual-stage design which results in a border that's only 6mm on each side.
Another noticeable change of color on the two displays are the logos all over the chassis which now come in metallic blue instead of silver. We've noticed this subtle transformation from Dell's gaming products like the G7 products. We think the brand is giving its gaming products an identity, but we're glad that they are leaving the aggressive looks to the Alienware line.
The Dell S2719DGF's build quality is, as expected, superb and robust. The monitor has a nice feel and weight when held, plus it stands firm on a desk without wobbling. The adjustments are smooth yet firm, ensuring that the display will hold its poise perpetually. The lines and seams are clean and free from burrs, completing the product's premium feel.
The Dell S2719DGF comes with a base and stand that hasn't strayed too far from its siblings in the S-line of displays. You do get a complete range of ergonomics for both monitors which include tilt, swivel, pivot, and height adjustments. You can also remove this part easily to reveal VESA bolt holes for aftermarket mounts or armatures.

Connectivity isn't a problem for the Dell S2719DGF since it comes with a well-equipped I/O panel for your convenience. You will find a DisplayPort 1.2a, HDMI 1.4, and HDMI 2.0 for video inputs plus three USB 3.0 slots for accessories. There are two USB ports and a headphone jack at the bottom edge so users can access them easily.
Display and Performance
The Dell S2719DGF sports a 27-inch TN panel with a 2560 x 1440 resolution, a native 144Hz refresh rate that overclocks to 155Hz, and a 1ms response time. Other typical specifications indicate a 350cd/m2, 1000:1 contrast ratio, and an 8-bit color output. This configuration is the perfect medium for gamers who want high refresh rates and extra crisp details which are all built into the perfect monitor size.
The Dell S2719DGF uses a new semi-gloss, low haze film instead of the hard matte players found in previous models. There is noticeably less effect on the TN panel's vibrancy when compared to the S2716DGR, allowing more shades to pop. However, the screen became more receptive to glare in the process, so room placement is essential for your eyes' comfort and safety.
Colorimeter results for the Dell S2719DGF are surprisingly good, beating out several models we've reviewed in vibrancy and accuracy. The TN panel in this model is capable of 105% sRGB coverage with a DeltaE of only 1.9. Calibration can improve this to 1.8 which is an insignificant improvement, making this gaming monitor suitable for plug and play use.
The WLED backlight on the Dell S2719DGF reaches a maximum of 360cd/m2 which is exceedingly bright for normal use. The higher illumination affects black levels negatively, so we recommend turning it down to safe levels.
However, the Dell S2719DGF's contrast ratio falls to reasonable limits with an average of only 850:1. Adjusting the brightness to 50% or less could push this rating to 900:1 to add more range to the colors and blacks. It's interesting to note that we can't take this against the product since TNs are usually average when it comes to contrast ratio.
The screen on the Dell S2719DGF tracks gamma almost perfectly at 2.2, resulting in very low grayscale errors. The screen looks bright and balanced when colors hit it, but murky objects such as shadows or puddles look solid and deep. Again, this score is doable even if you do not use calibration, so less time is needed to tweak after you first set it up.
The panel uniformity for the test unit is also excellent with deviations staying below 13% from the center. There are a few hotspots on the corners, but they are only visible if you view an all-black image. Gaming visuals aren't affected, so most users won't notice any uneven colors or loss of vibrancy on the edges of the screen.
We expected the Dell S2719DGF to handle motion perfectly since it's based on TN technology. Games like Rainbow Six Siege or PUBG are brilliant on this screen since there is no image retention or ghosting whatsoever. The draw times are quite fast, so the monitor doesn't need Overdrive apps or backlight strobing.
The Dell S2719DGF is as responsive as most E-Sports gaming monitors, enabling hardcore gamers to use it for fast-paced titles such as CS:GO without any complaints. Input lag is limited to 10ms, so there will be no noticeable delays or "de-synced" instances. There are faster options like the Asus PG278QR, but the difference will be unnoticeable in practice for most users.
The Dell S2719DGF is also FreeSync with LFC compatible from 40Hz to 155Hz, so even a mid-range Radeon card will offer a smoother experience. However, 1440p is still a challenge for most of the red team's cards, so we recommend at least a Vega 56 to maximize the screen's capabilities.
Thoughts on the Dell S2719DGF
The Dell S2719DGF is our new favorite gaming monitor in the QHD FreeSync department thanks to its amazing performance. The product's image qualities break every presumption about TN tech and its flaws in color and gamma. The monitor's gaming performance is also unquestionable, putting it next to the best we have ever tested.
The only glaring flaw of the Dell S2719DGF is its average contrast ratio which, to be honest, is sufficient for the product's main purpose. The monitor is well built and priced reasonably, so there is little reason to doubt if it's worth your hard-earned cash. We wish Dell would reinvent the S2716DGR and pass on the impressive capabilities we saw in this display.