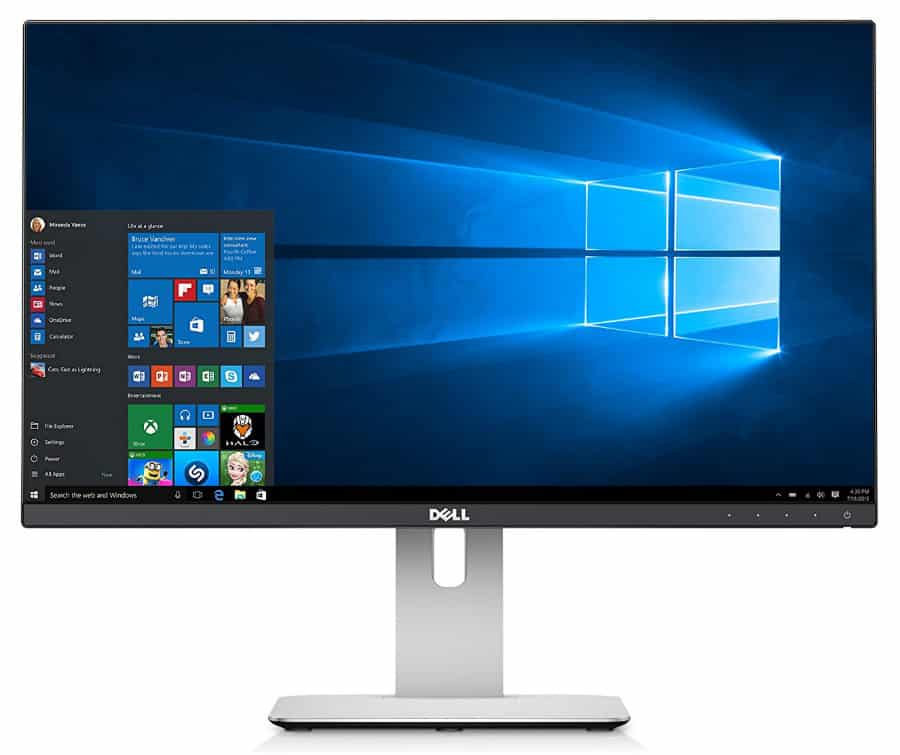 The Dell U2414H is a popular IPS monitor with an excellent imaging output and a wide array of functionalities suitable for various requirements. This model is one of the cheapest options available that allows users to daisy-chain multiple units together for surround vision. The Dell U2414H has been around for some time, but it still is interesting to check out why it outlasts a lot of its competitors.

Dell U2414H Specifications
Screen Size: 24 Inches
Resolution: 1920 x 1080p FHD
Aspect Ratio: 16:9
Panel Technology: In-Plane Switching (IPS)
Refresh Rate: 60Hz
Response Time: 8ms
Contrast Ratio: 1000:1 (Static)
Brightness: 250 cd/m²
Built-in Speakers: No
Stand: Height – Yes (5 Inches)
Stand: Tilt – Yes
Stand: Swivel – Yes
Stand: Pivot – Yes
VESA Compatibility: Yes 100 x 100
Connectivity: DisplayPort 1.2 x 1, DP 1.2 Mini x 1, DisplayPort Out x 1, HDMI with MHL x 2, USB 3.0 x 5, Audio Jack x 1
Dimensions with Stand(WxHxD): 21.23" x 19.12" x 7.28"
Weight: 7.96lbs

Design and Features
The Dell U2414H's aesthetics features the brand's typical design treatments comprising a matte black chassis with silver design accents. The face is almost bezel-free save for thin plastic strips on three sides and a thicker bottom piece which houses touch-sensitive OSD controls. We're not a fan of this type of buttons since they aren't as responsive as tactile ones or as convenient as a joystick, but they work perfectly for their intended purpose.
One thing we love about Dell's monitors is the reasonable proportions they set through their designs. The Dell U2414H isn't as obtrusive as other models on any desk since it only eats up a little over seven inches of depth. The matte black chassis is pleasingly thin enough for wall mounting, opening up more possibilities for users who want to use multiple units.
Although most would find little reason to purchase additional VESA armatures for the Dell U2414H since the included stand has plenty of flexibility. You get a height adjustment of up to five inches plus tilt, swivel, and pivot which helps to make setup convenient for varying anthropometrics. This part's silver finish adds a nice touch of sophistication to the model which would otherwise look like a typical office monitor.
Connectivity is where the Dell U2414H shines due to the vast array of options available in its arsenal. There are a DisplayPort 1.2 slot and a mini version as your primary input and two HDMI ports with MHL for secondary devices. The five USB 3.0 receptacles offer plenty of configurations for all types of users who utilize a variety of USB devices such as docks or controllers.
One standout feature, however, is the DisplayPort out which allows you to daisy-chain multiple Dell U2414Hs to create an array of screens. The flexibility of the device plus the bezel-free appearance makes this model one of the most ideal in case you want to work or game in 5760 x 1080 which still offers a lot more space when compared to a typical 2560 x 1080 ultrawide.
Display and Performance
The Dell U2414H utilizes a 24-inch IPS panel from LG with a 1920 x 1080 resolution, 60Hz refresh rate, and 8ms response time. A 250cd/m2 WLED backlight provides just the right amount of brightness for most uses, although we would have preferred a longer range for calibration purposes. These specs immediately dictate that this variant isn't for gaming, although tests reveal that it may have some tricks up its sleeve.
The Dell U2414H ships factory-calibrated, so out of the box users can expect excellent imaging capabilities as soon as you plug this monitor in. At its default settings, this model can produce 96% sRGB coverage with an accuracy rating of DeltaE 2.3 which is brilliant for a budget monitor. Contrast averages at 900:1 at the screen's default brightness which is superb, but is too uncomfortable for most uses.
Calibration brings out an even better output from the Dell U2414H since the scores mentioned above are more or less tightened to sit closer to professional standards. Color accuracy improves to an average of DeltaE .5 while contrast climbs up to 960:1, presenting noticeable improvements in image fidelity. Turning down the brightness to around 40% will help to correct Gamma to 2.2 instead of the default score with minor deviance, plus your eyes will thank you later.
Panel uniformity doesn't fall short either, with maximum deviances of 14% showing up near the corners of the monitor. There is some backlight bleeding that was noticeable when using the monitor in the dark. However, this is an expected characteristic of IPS panels. Buyers should be aware that results may vary from unit to unit, so making sure that you can return a faulty one is an option.
One downside of the aging IPS panel is the slow pixel response time which is specified at an average of 8ms. This spec, however, wasn't an issue during our casual PUBG run since the blurs and ghosting we observed were unnoticeable unless you look hard enough for them. These flaws were more of a refresh rate limitation rather than the Dell U2414H's slow pixel response time, so this monitor should do well for most users.
Finally, the Dell U2414H posted an input lag time of only 4ms which is brilliant for a budget monitor. We did not notice any delays or misconnected inputs during our testing with this device. Despite the limitations in its capabilities, the IPS panel in this product provided us with an enjoyable experience.
Thoughts on the Dell U2414H
The Dell U2414H is an excellent low-cost option if you want to break free from the 16:9 standard to enjoy surround vision gaming or working. The monitor's full features such as its connectivity and flexibility extend the value of this venerable model even if it is one of the older versions available in Dell's portfolio.
Gaming was pleasant overall, despite the glaring limitations presented by the 60Hz refresh rate and the 8ms response time. The screen's output is accurate and sufficiently vibrant, although photo editors might have to look to the newer models for better gamut representation. Overall, the Dell U2414H is an excellent value monitor if you want a dual or triple display setup.