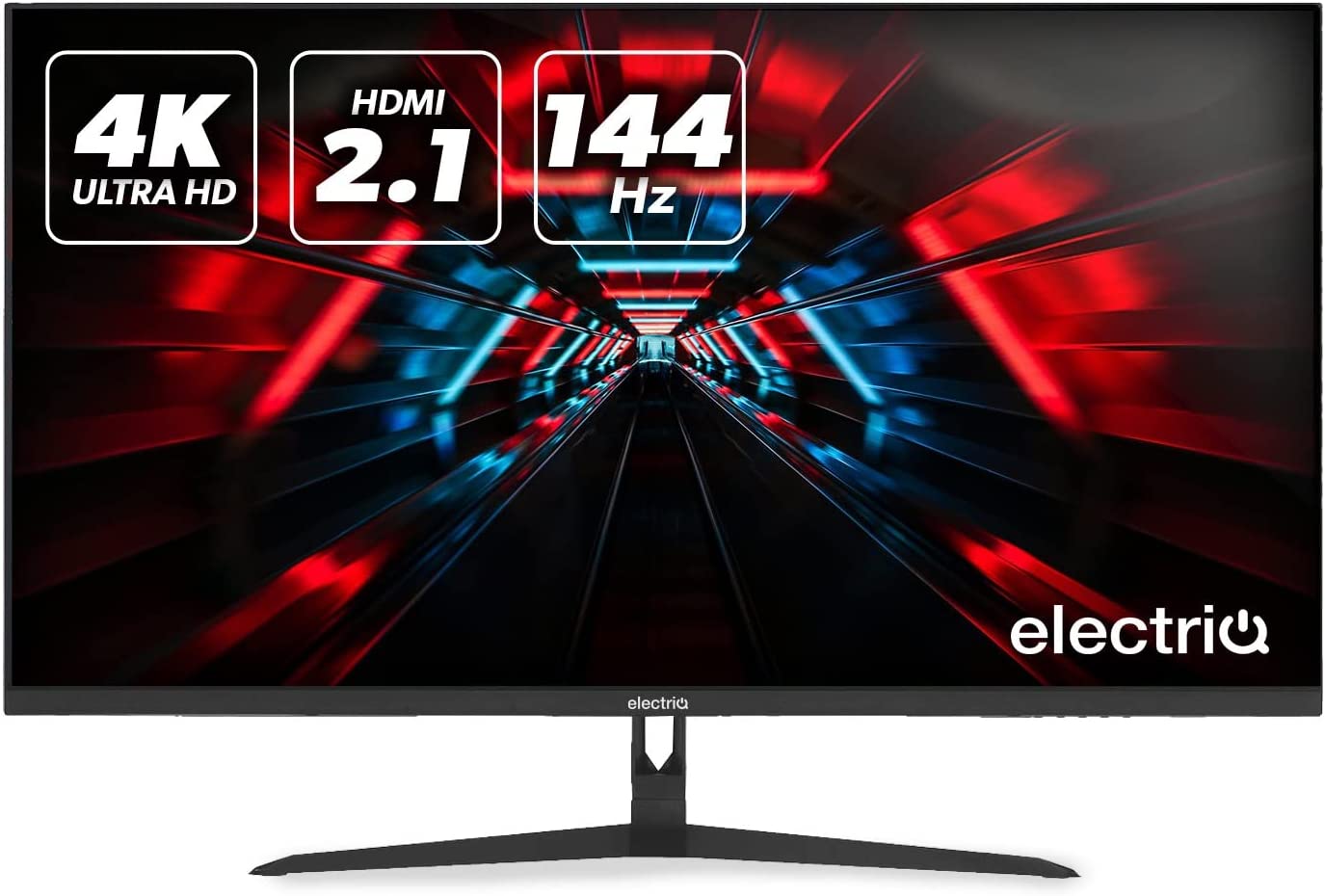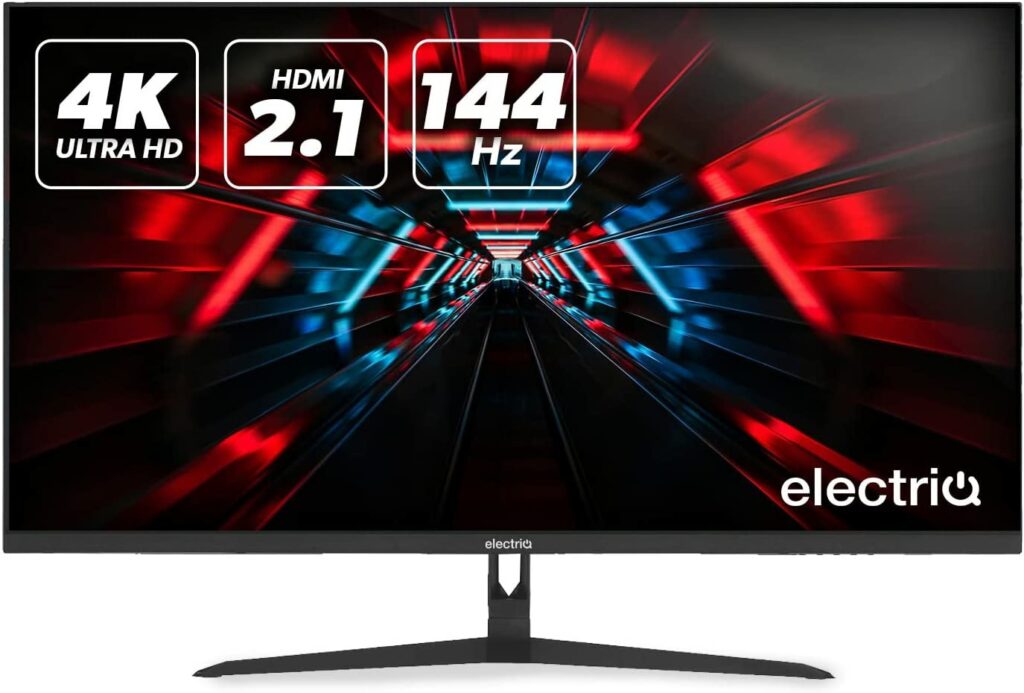 The ElectriQ eiQ-32M4K144FS is one of the cheapest gaming monitors you can get for your PC, Xbox Series X, and PS5. It comes from a lesser-known newcomer, but it only costs more or less half a grand and it has HDMI 2.1 connectivity. That's tough to beat even if we already have value kings like the Gigabyte M32U, but the ElectriQ eiQ-32M4K144FS is worth a deeper look to discover its value.

ElectriQ eiQ-32M4K144FS Specifications
Screen Size: 32 Inches
Resolution:3840 x 2160 UHD
Aspect Ratio: 16:9
Panel Technology: In-Plane Switching (IPS)
Refresh Rate: 144Hz
Response Time: 1ms
Contrast Ratio: 1000:1
Brightness: 350 cd/m2
Built-in Speakers: Yes (2 x 3 Watts)
Stand: Height – Yes
Stand: Tilt – Yes
Stand: Swivel – Yes
Stand: Pivot– No
VESA Compatibility: Yes (200 x 200)
Connectivity: DisplayPort 1.4 DSC x 1, HDMI 2.1 x 2, USB-C x 1, 3.5mm Jack x 1
Dimensions With Stand (WxHxD): 28″ x 16.6″ x 8.2″

Design and Features
The ElectriQ eiQ-32M4K144FS sports a simple aesthetic so it is easy to mistake it for an office monitor. It has a matte black finish that's easy to maintain and clean so the monitor will always look new. It's not completely bezel-free, but the top and side edge only have inner borders so it looks cleaner than some options out there.
It's a 32-inch monitor, so you must take into consideration the space you will have for it before upgrading. The cabinet itself is 28 inches wide so you might need to push away your speakers so it doesn't cover them. However, its quite light due to its thin frame and stand so you won't have trouble in packing it for a LAN session or a tournament.
This monitor is dirt cheap by today's standards for a 4K 144Hz HDMI 2.1 monitor, so it is understandable that it has poor build quality. It looks good, but the plastics feel thin so they can flex or break if you squeeze with enough force. The included stand is prone to wobbling, but it is firm enough to hold the screen up if you tilt it.
Another downside of the ElectriQ eiQ-32M4K144FS is its OSD buttons which are confusing to use even if its OSD has fewer options. It's very easy to mistakenly power the monitor down, so it will take some getting used to. The monitor even manages to include an RGB LED strip, but we'd rather have more functionality instead of aesthetic add-ons.
The stand included with the package only offers tilt so most would probably want to buy a VESA mount for this model. This is a good buy if you already have a monitor arm, but we'd strongly consider going with the Gigabyte alternative if you are spending more money on a premium VESA mount. The total might be the same or not that far off, so you are better off with the more popular option.
What's great about the ElectriQ eiQ-32M4K144FS is its connectivity layout which manages to include modern standards despite its pricing handicap. You get DisplayPort 1.4, two HDMI 2.1 slots, and a USB-C port for various devices. There are no USB ports and charging via the Type-C slot, but that's forgivable since this monitor is quite affordable.
Its physical features are then rounded up by a pair of 3-watt speakers which you won't normally find on budget models. However, they sound weak and are without any semblance of good bass response, so you won't like using them for gaming. We recommend sticking with headsets that will serve you better with their immersive output, although it's always nice to know that you have extra features with a cheap device.
Display and Performance
The ElectriQ eiQ-32M4K144FS sports a 32-inch IPS panel with a 3840 x 2160 resolution, a 144Hz refresh rate, and a 1ms response time. The backlight has a 350 cd/m2 output while the contrast is listed at 1000:1 like most IPS panels. This is HDR 400 compatible, but we all know how limited that is when it comes to producing HDR effects.
32-inch monitors are better if you are going with a 4K model since they are not too sharp to the point of needing scaling. The pixel density is slightly looser, but the high pixel count will still be there to make games and movies appear sharper and more detailed. The only downside here is that it requires massive GPU power to get to its maximum output, so you might need to upgrade that as well.
The ElectriQ eiQ-32M4K144FS renders 100% sRGB and 90% DCI-P3 for decent vibrancy in games and movies. Its not factory-calibrated, so the dE average is quite high at 3.41. Most gamers won't be bothered by that unless they already know what they are looking at or if there is a better monitor to compare it with.
Calibrating it reduced the dE average to 1.54 which is more balanced, but that doesn't put it close to what we've seen on other 4K 144Hz monitors. You also need a colorimeter to get this kind of improvement, so it is not worth it for us. We recommend getting something better if you also plan to use the monitor for editing work or content creation.
Its backlight reached 347 cd/m2 in SDR, but it peaked at 402 cd/m2 when its HDR mode kicked in. Its contrast is decent for IPS at 1103:1, but its limited backlight cannot expand it exponentially to produce appreciable HDR effects. These results are expected from an HDR 400 variant, but it is an acceptable limitation for cheaper monitors like this.
Panel uniformity for the ElectriQ eiQ-32M4K144FS is its biggest flaw since the monitor had massive backlight leaks and clouding issues. The screen doesn't look great when it's displaying dark scenes because of this, so it can be disruptive if you play games with plenty of those. Thankfully, not every unit will suffer from this, so it's entirely possible to get a better monitor with fewer panel issues.
Its pixel response time is also quite good so blurring and smudging won't be an issue for competitive play. Maxing out its overdrive will induce overshoot, so we recommend trying out each level first to find out which works best for you. Most 4K 144Hz monitors we've seen are more or less comparable in this regard, provided that they are using Fast IPS panels instead of VA types.
The ElectriQ eiQ-32M4K144FS is compatible with both FreeSync and G-Sync so you don't have to worry about tearing and stuttering. This duality is a must-have now since both GPU companies have compelling hardware options for 4K gaming. Input lag sits at 5ms at 144Hz, so there is no need to worry about delays while gaming.
Thoughts on the ElectriQ eiQ-32M4K144FS
The ElectriQ eiQ-32M4K144FS is a great buy if you are looking to spend as little as possible while enjoying the latest high-end gaming standards. Its 4K 144Hz screen has excellent color coverage while its connectivity layout lets you use it with the latest gaming consoles and laptops. It is fast and responsive so it's great for competitive pay as well.
However, it has a few quirks like its limited design and the panel issues we mentioned above. The latter isn't permanent on every monitor, but it's something to look out for if you choose to save money and go with this monitor. It is worth the money if you ask us, but we recommend buying from a seller that will do returns and exchanges without question just in case.
Pros:
Cheapest 4K 144Hz Monitor
HDMI 2.1 and USB-C
Vibrant IPS Display
FreeSync and G-Sync Compatible
Cons:
Limited Design
Mediocre Contrast and HDR
Dismal Panel Uniformity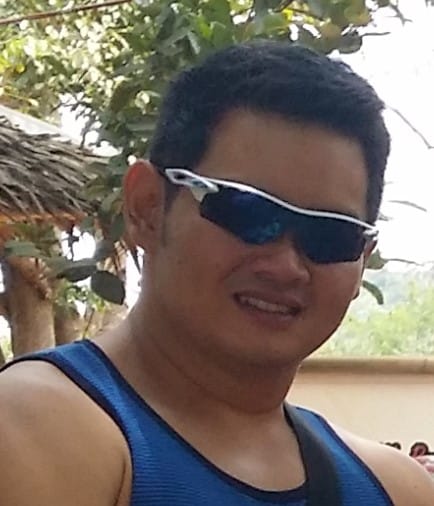 Paolo is a gaming veteran from the golden days of Doom and Warcraft. Since junior high, he has been building gaming systems for family, friends, and colleagues. High-performance monitors are one of his fixations; he believes that every citizen's right to enjoy one. He has gone through several pieces of hardware in pursuit of every bit of performance gain, much to the dismay of his wallet. He has also spent half a decade researching, reviewing, and writing about these products and now has over 1400 articles about the best gaming tech under his belt.