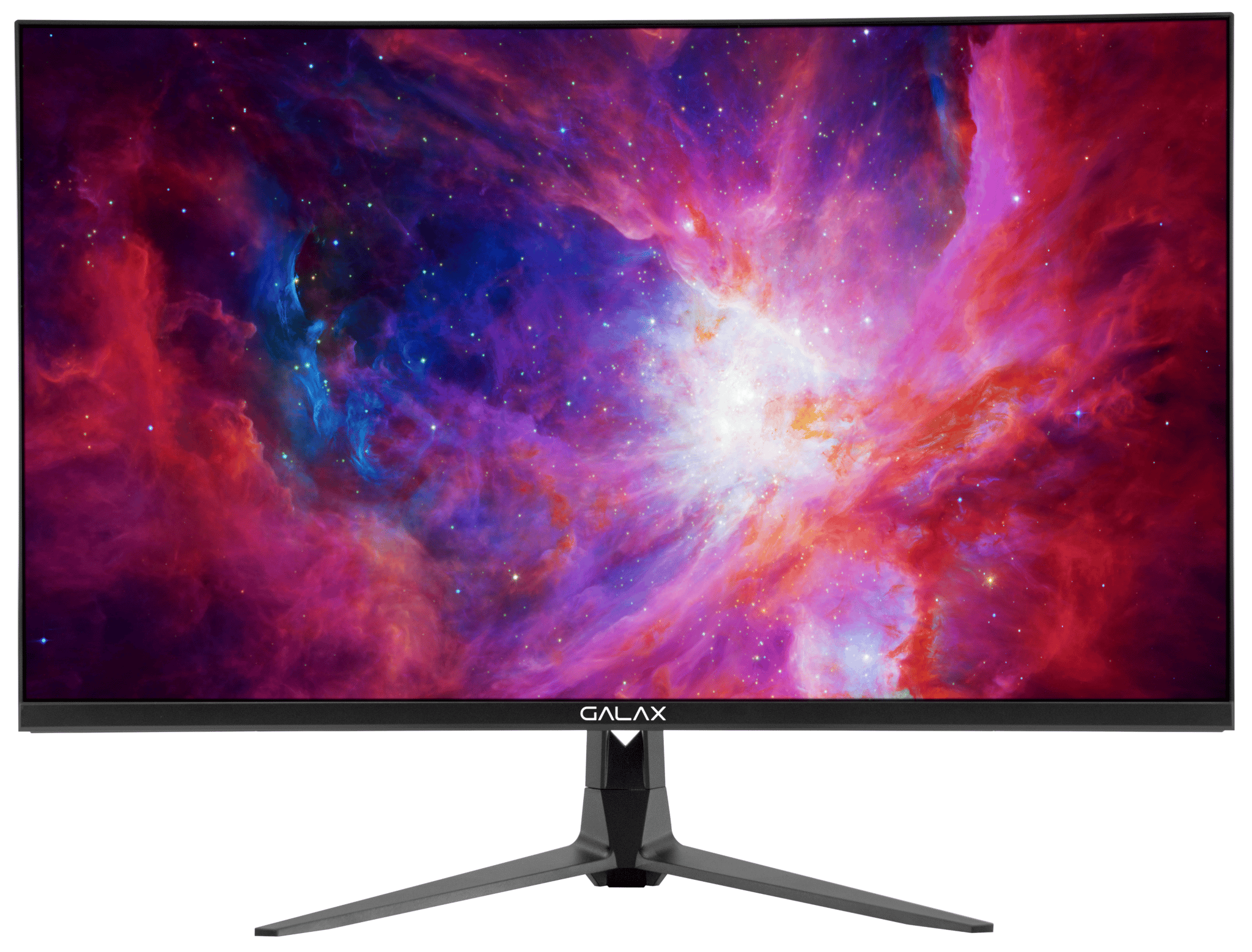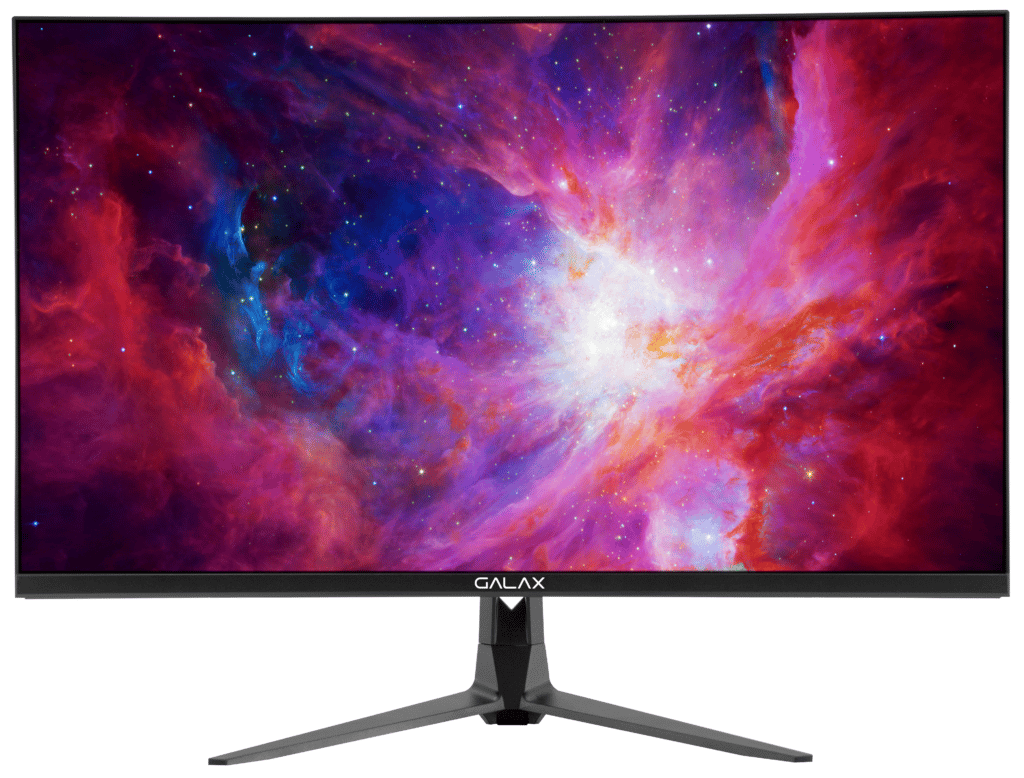 The Galax Vivance-01 offers the essential features of a modern gaming monitor in an affordable and very competitive package. It has a desirable QHD IPS panel with a 165Hz refresh rate, although it's not as flashy as the other peripherals in the brand's lineup. Let's take a closer look at the Galax Vivance-01 to gauge how it will perform in its ruthless monitor category.

Galax Vivance-01 Specifications
Screen Size: 27 Inches
Resolution: 2560 x 1440 QHD
Aspect Ratio: 16:9
Panel Technology: In-Plane Switching (IPS)
Refresh Rate: 165Hz
Response Time: 1ms MPRT
Contrast Ratio: 1000:1 (Static)
Brightness: 350 cd/m²
Speakers: Yes(2 x 2 Watts)
Stand: Height -No
Stand: Tilt – Yes
Stand: Swivel – No
Stand: Pivot – No
VESA Compatibility: Yes (100 x 100)
Connectivity: HDMI 2.0 x 2, DisplayPort 1.2 x 2, 3.5mm Jack x 1
Dimensions (W x H x D): 24.20" x 18.02" x 7.19"
Weight: 10.80 lbs

Design and Features
The Galax Vivance-01 has a simple, yet obvious gaming aesthetic that doesn't stick out too much when its in your setup. It has a matte black finish so it looks clean and is easy to maintain against smudges, dust, and fingerprints. The screen is bezel-free on three sides, but you will still see inner borders when it's in use.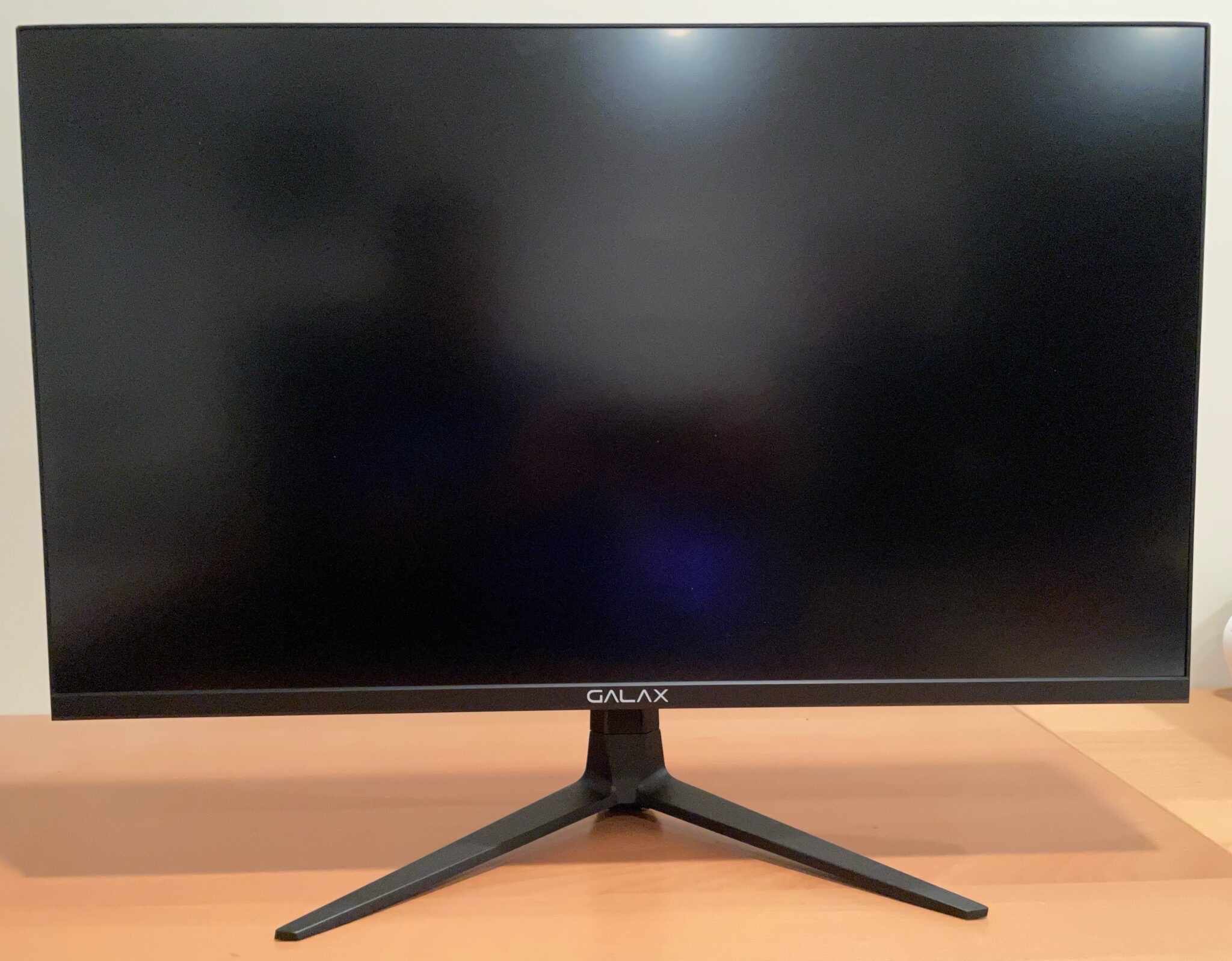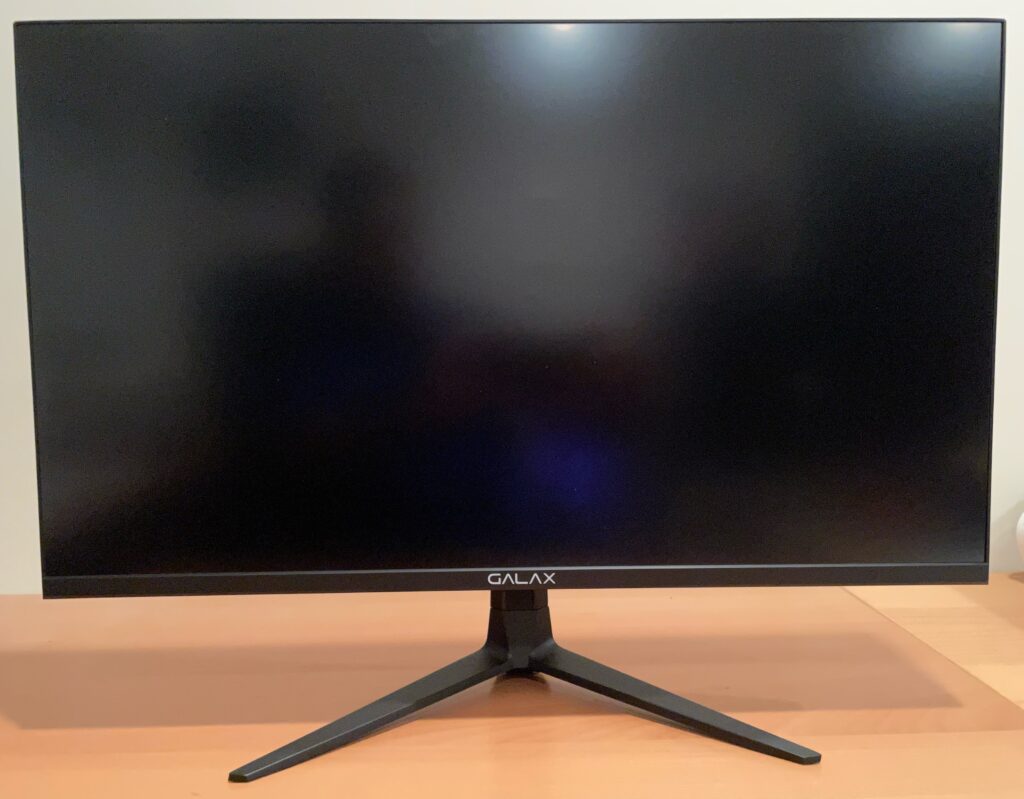 It is not a gigantic monitor by today's standards so most users with standard-sized desktops shouldn't have any issue with setting it up. It only needs 7.19 inches of depth so it shouldn't offset your other peripherals. The device only weighs 10.8 pounds so it's portable enough to be brought to LAN parties with your buddies.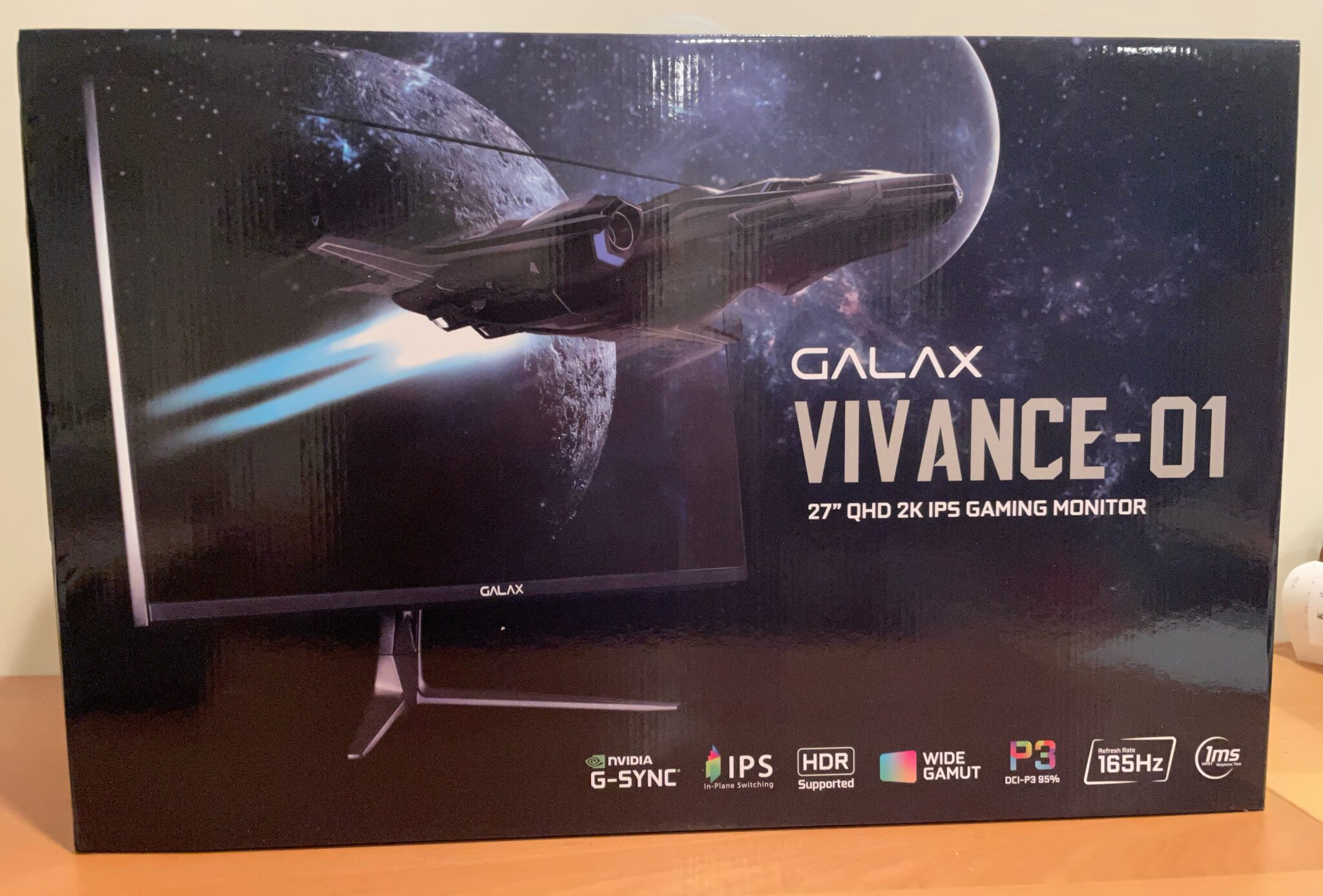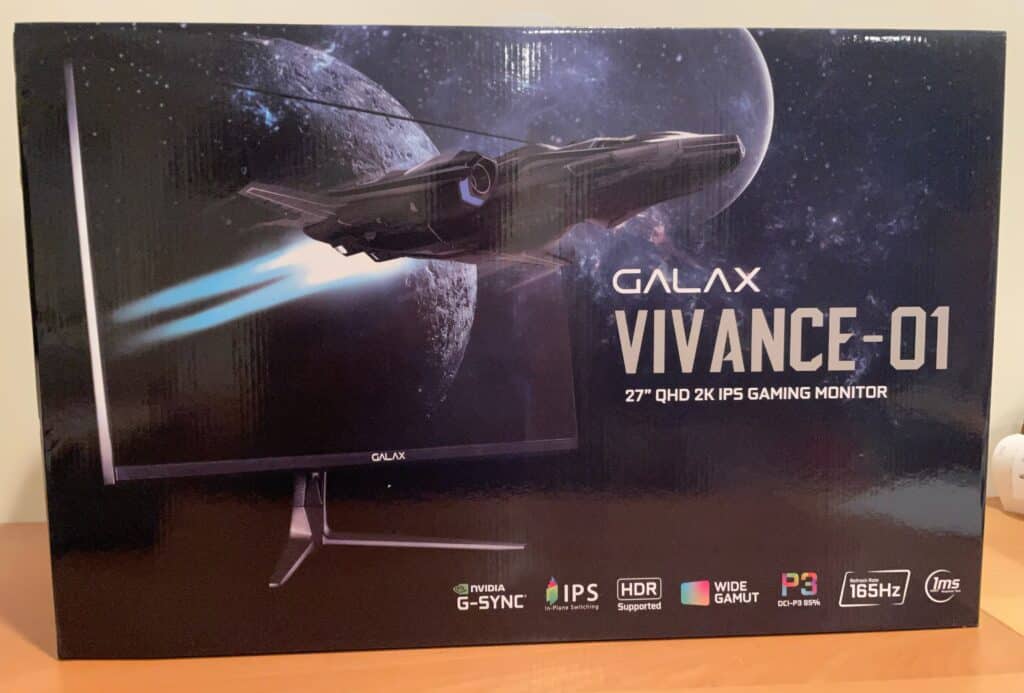 Its build quality is decent even if it's a budget model so it shouldn't break easily with moderate force. The plastics used are thick enough to withstand a nudge or a squeeze, and there were no cosmetic defects like uneven gaps or warping. The stand has a bit of wobble, but it can hold the weight of the cabinet properly.
The Galax Vivance-01 has a joystick at the back on the bottom edge of its chassis. It is very easy to access and you don't have to do multiple presses to get to a specific setting. The OSD's layout could be a bit better, but this is forgivable since the monitor is still an early attempt.
The stand included with the package only offers tilt so it is a bit limited when it comes to comfort and convenience. You can center the screen properly, but the taller folk might need something to prop it up on something like a thick book. You can use VESA mounts, but that's added cost that may put you in range of a better-equipped competitor.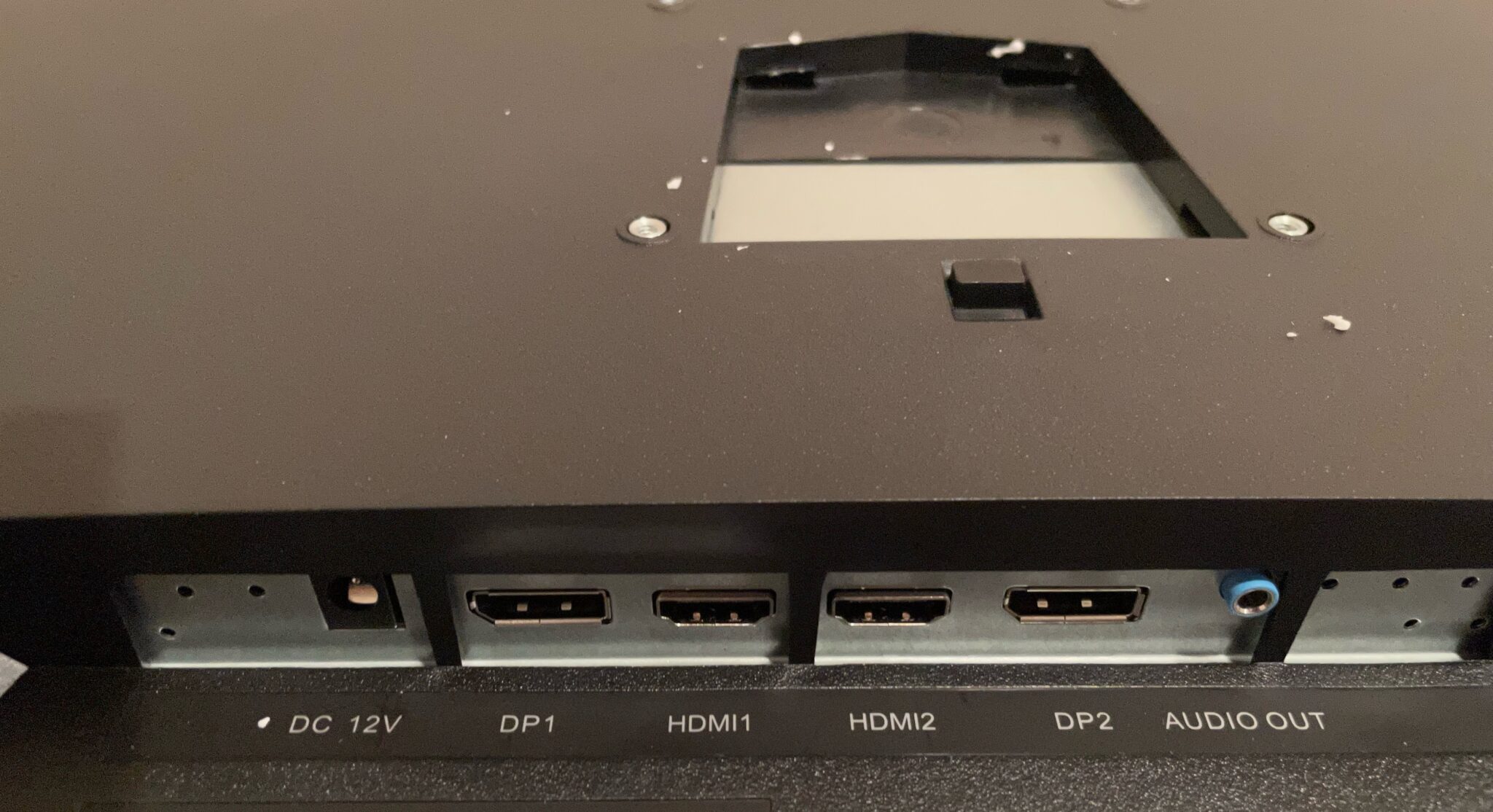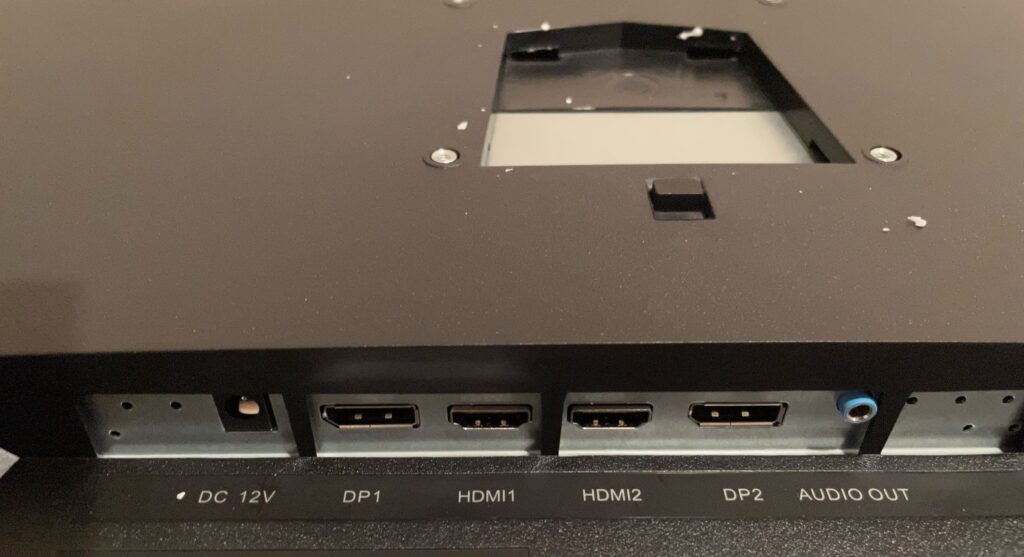 Another simplified aspect of this model is its connectivity layout since it doesn't have valuable extras like USB ports. You get two slots each for DisplayPort and HDMI, plus a 3.5mm jack for headphones. This is okay for budget models, but competitive brands are offering more and more to convince consumers to join their brand instead.
You also get a pair of built-in speakers, but they sound weak, so it seems like they aren't there if you activate them. A panel like this will be better served by a headset or desktop speakers for its primary purpose. We think that its always nice to have backups, but we're also hoping manufacturers would upgrade this aspect for their future offerings.
Display and Performance
The Galax Vivance-01 boasts a 27-inch IPS panel with a 2560 x 1440 resolution, a 165Hz refresh rate, and a 1ms MPRT response time. The backlight has a 350 cd/m2 maximum while the contrast is listed at 1000:1 like most IPS monitors. This model is HDR compatible, but it's not certified since it doesn't have the necessary specifications for it.
27-inch 1440p monitors are perfect for any kind of computing use since it has just the right increase in pixel count. Games and other visuals look sharper and more detailed, but letters, numbers, and small objects do not become too small to require scaling. It's also easier to reach higher framerates with a mid-tier GPU in QHD than 4K, so you can get away with spending less for your build.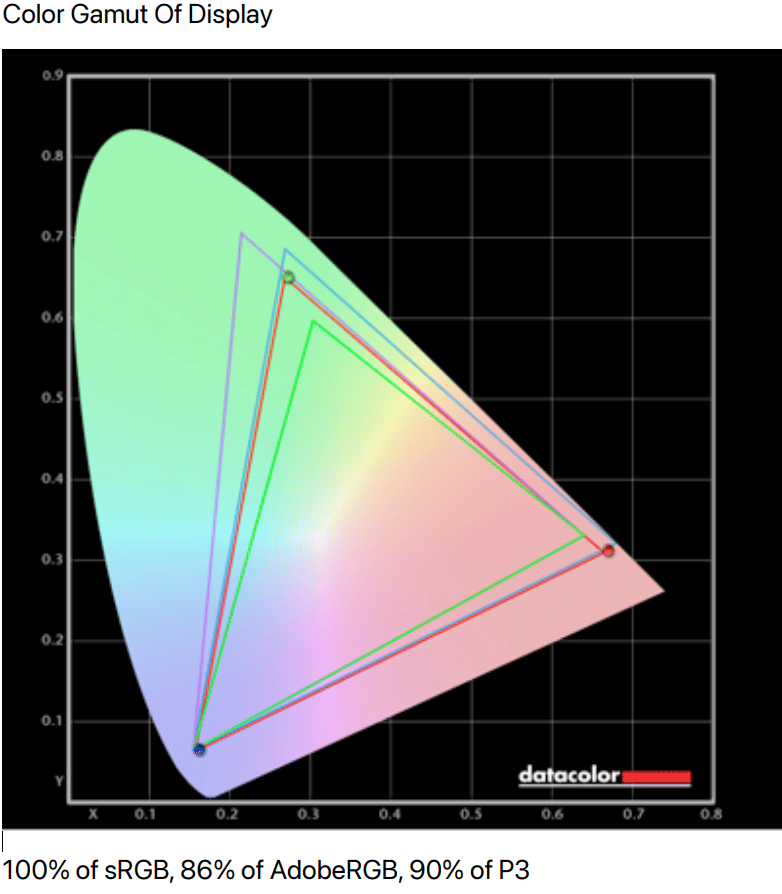 The Galax Vivance-01 renders 100% sRGB and 90% DCI-P3 for great color performance in games and movies. It's not perfectly accurate, but its 2.42 deltaE average means it's more than decent for most purposes. Gamers will be happy with it apart after some minor adjustments such as reducing or raising the brightness.
Calibrating it reduced the deltaE average to 1.05 which makes the monitor better for content creation and editing. However, you will need a colorimeter to get this kind of improvement since no amount of copying settings or profiles can produce the same results due to panel variances. The cost of a colorimeter increases your total spend to the point where you can get a higher-tiered variant, so its not worth it.
Its backlight reached a healthy 352 cd/m2 which lets it fight glare as needed for rooms with plenty of light. Its contrast ratio reached 1106:1 at 60% brightness, but it is still incapable of true blacks like VA or OLED panels. That's a known limitation for IPS panel technology, so it's acceptable by today's standards.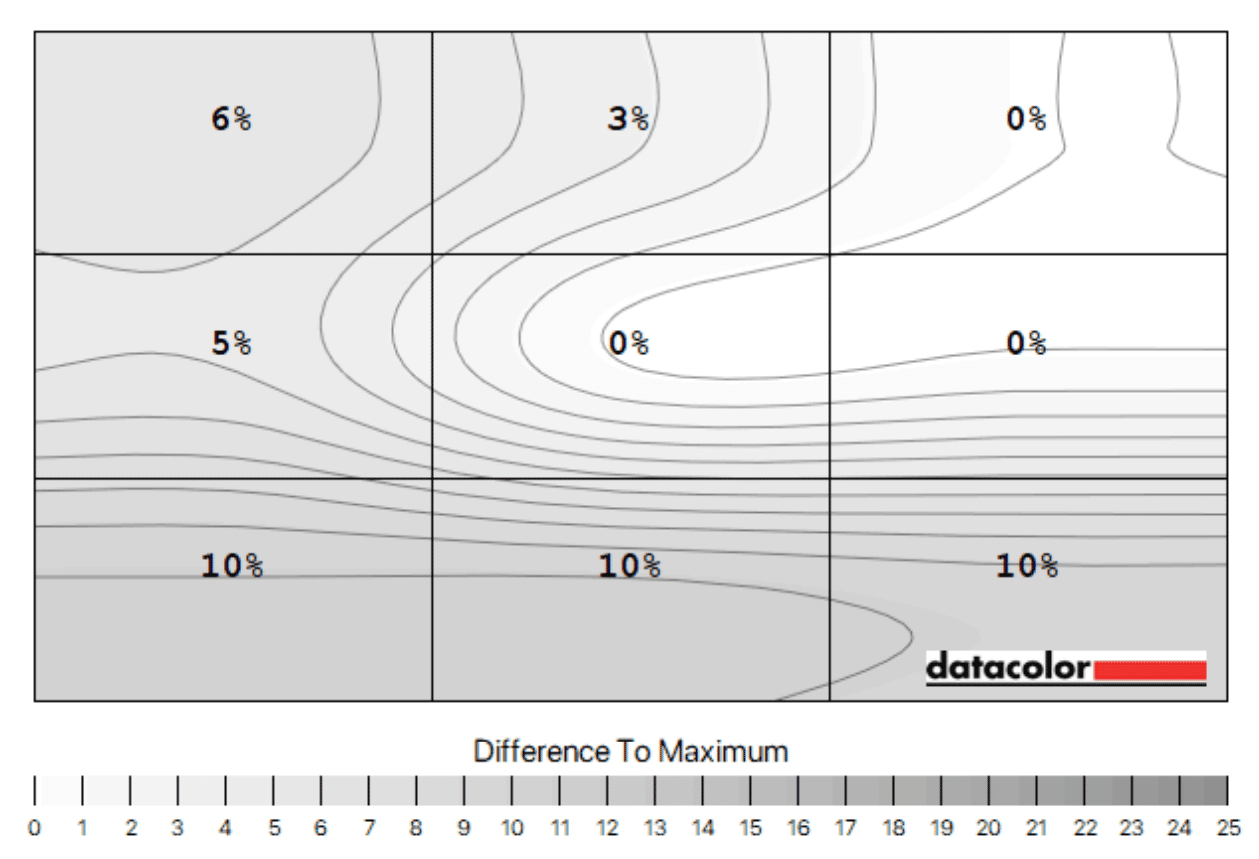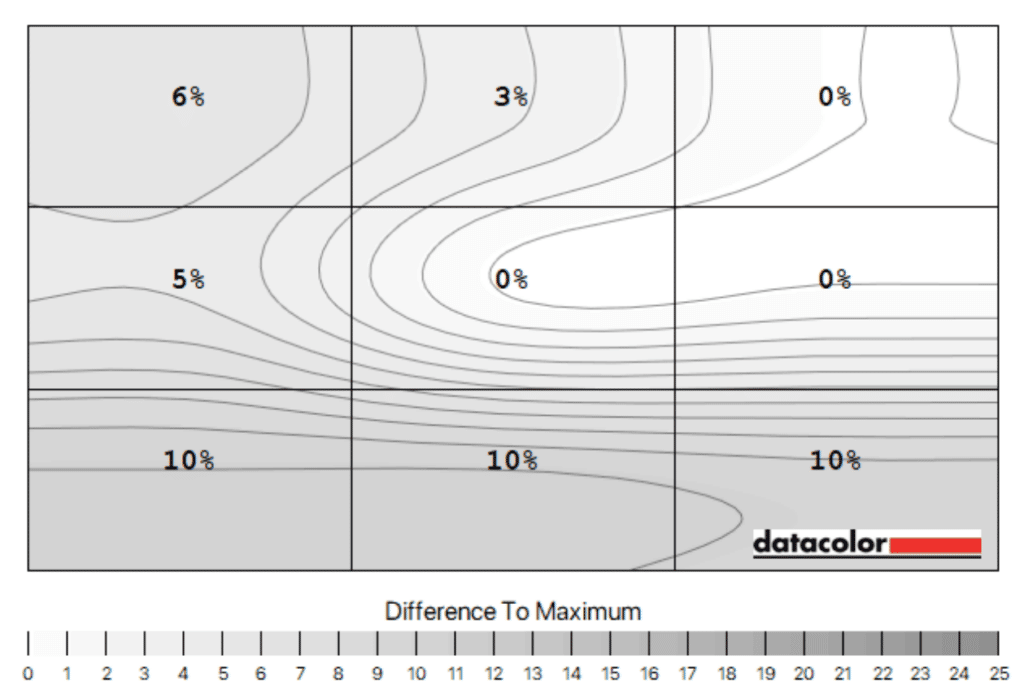 Panel uniformity for the sample had some issues since the bottom edge of the panel was dimmer than the rest. This resulted in some issues while displaying dark scenes, although it's less noticeable for white or bright-colored backgrounds. Note that this can change with other Vivance-01 monitors due to tolerances, so it is entirely possible to get a better unit.
This gaming monitor is capable of excellent pixel response time at its maximum refresh rate. You don't need to use too much overdrive since doing so will not correct the minor persistence without adding massive overshoot. This monitor is great for competitive gaming, so you don't have to overspend on something with more tech jargon that is mostly marketing gimmicks.
The Galax Vivance-01 is compatible with FreeSync and certified for G-Sync compatibility so you don't have to worry about tearing and stuttering. It is important to have both VRR solutions so you don't get stuck with one GPU brand. Its input lag sits at 4ms at 165Hz so it's fast enough to be used for high-level E-Sports gaming.
Thoughts on the Galax Vivance-01
The Galax Vivance-01 is an attractive newcomer that offers great performance at a competitive price point. It is capable of great color performance and responsiveness so it's suitable for competitive play even if it's cheaper than most of its competitors. We like the simple and subdued design which will enable the product to fit into any kind of setup.
However, it's not the perfect 1440p gaming monitor if you are picky about creature comforts and HDR performance. Most of the limitations are understandable, although we think that GALAX should have added more to make this monitor an even better deal since it is their first competitive gaming monitor. It's a great pick if you want a fast and decently vibrant 1440p monitor, but be aware of the omissions it has which helped lower its MSRP.
Pros:
Affordable
Fast and Responsive
Great Color Coverage
FreeSync and G-Sync Certified
Cons:
Weak Contrast
Tilt Stand
Limited Connectivity Ports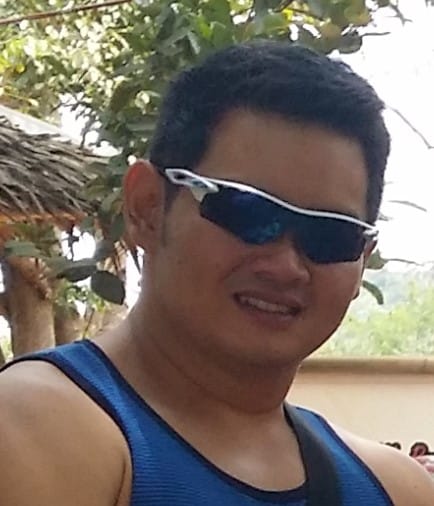 Paolo is a gaming veteran from the golden days of Doom and Warcraft. Since junior high, he has been building gaming systems for family, friends, and colleagues. High-performance monitors are one of his fixations; he believes that every citizen's right to enjoy one. He has gone through several pieces of hardware in pursuit of every bit of performance gain, much to the dismay of his wallet. He has also spent half a decade researching, reviewing, and writing about these products and now has over 1400 articles about the best gaming tech under his belt.