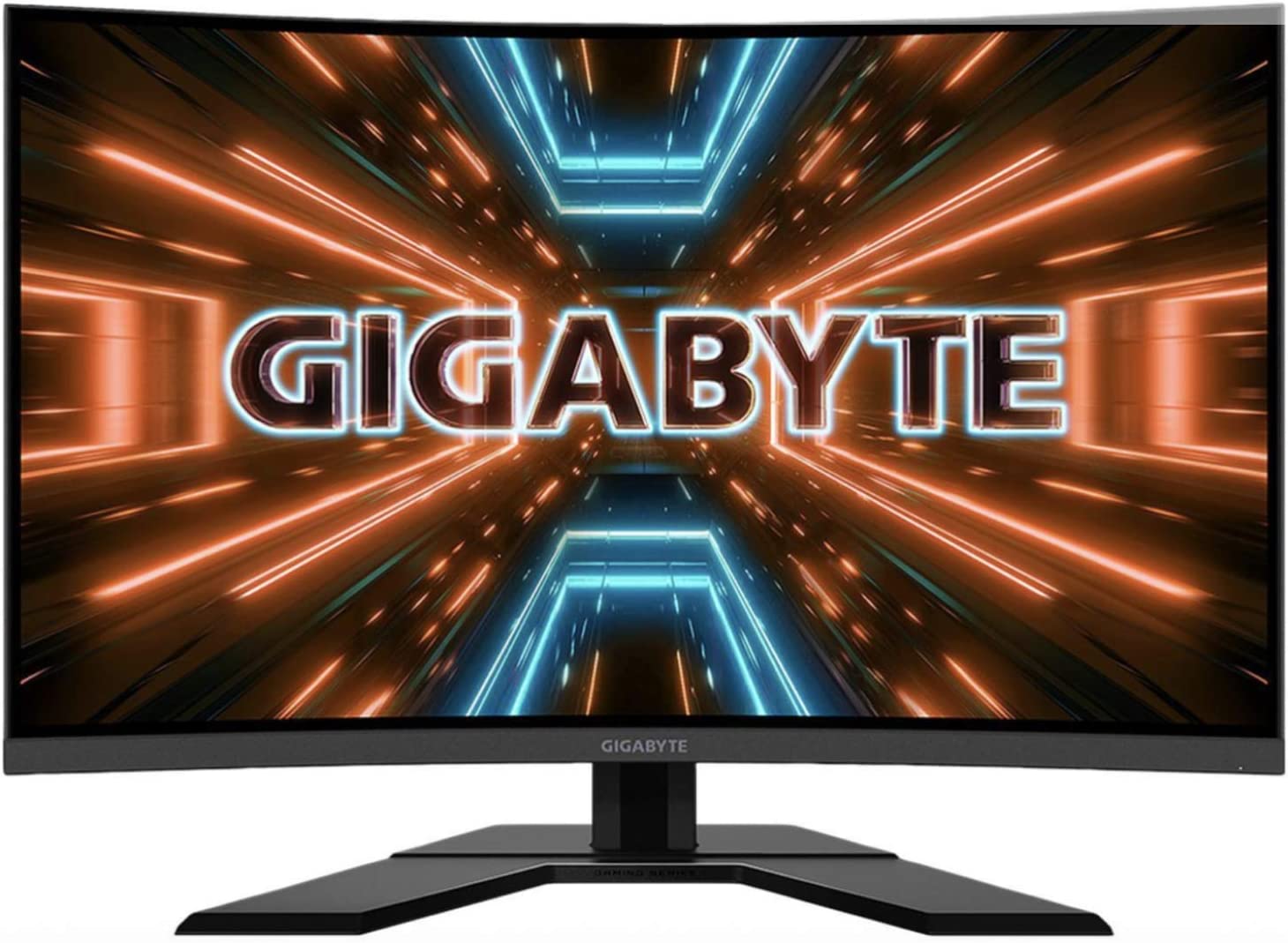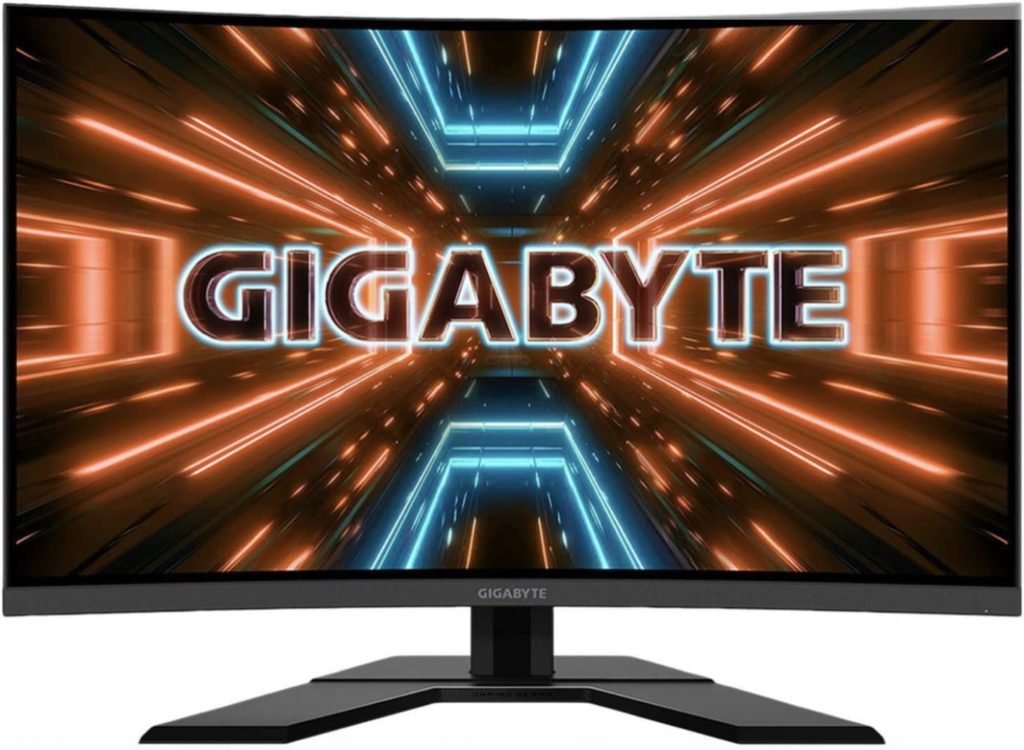 The Gigabyte G32QC represents the top-tier gaming brand's entry-level option that doesn't skimp on specs. This model aims to satisfy the thrifty and practical gamers who want great performance while its premium siblings from Aorus like the FI27Q-P which satisfy those who want a posh experience. The Gigabyte G32QC is large, fast, and attractive, but can it top its established competitors?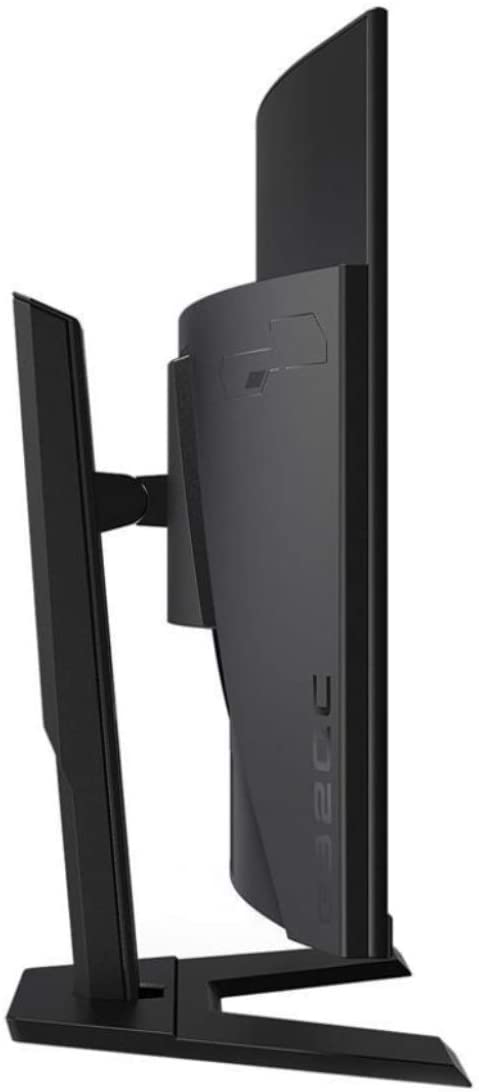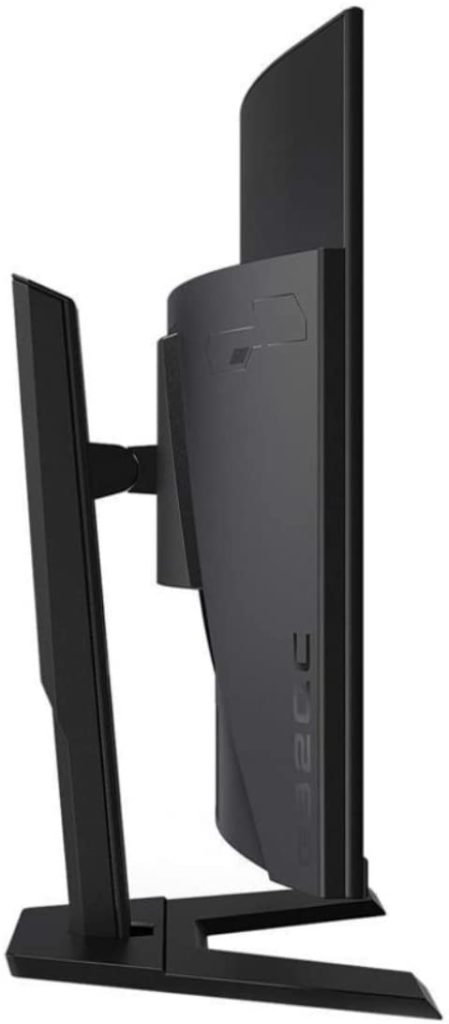 Gigabyte G32QC Specifications
Screen Size: 32 Inches
Resolution: 2560 x 1440 QHD
Aspect Ratio: 16:9
Panel Technology: Vertical Alignment (VA)
Refresh Rate: 165 Hz
Response Time: 1ms MPRT
Contrast Ratio: 3000:1
Brightness: 350 cd/m²
Built-in Speakers: No
Stand: Height – Yes
Stand: Tilt – Yes
Stand: Swivel – No
Stand: Pivot– No
VESA Compatibility: Yes 100 x 100
Connectivity: DisplayPort 1.2 x 1, HDMI 2.0 x 2, USB 3.0 x 3, 3.5mm Jack x 1
Dimensions With Stand(WxHxD): 33.86″ x 21.85″ x 7.48″
Weight: 17.2 lbs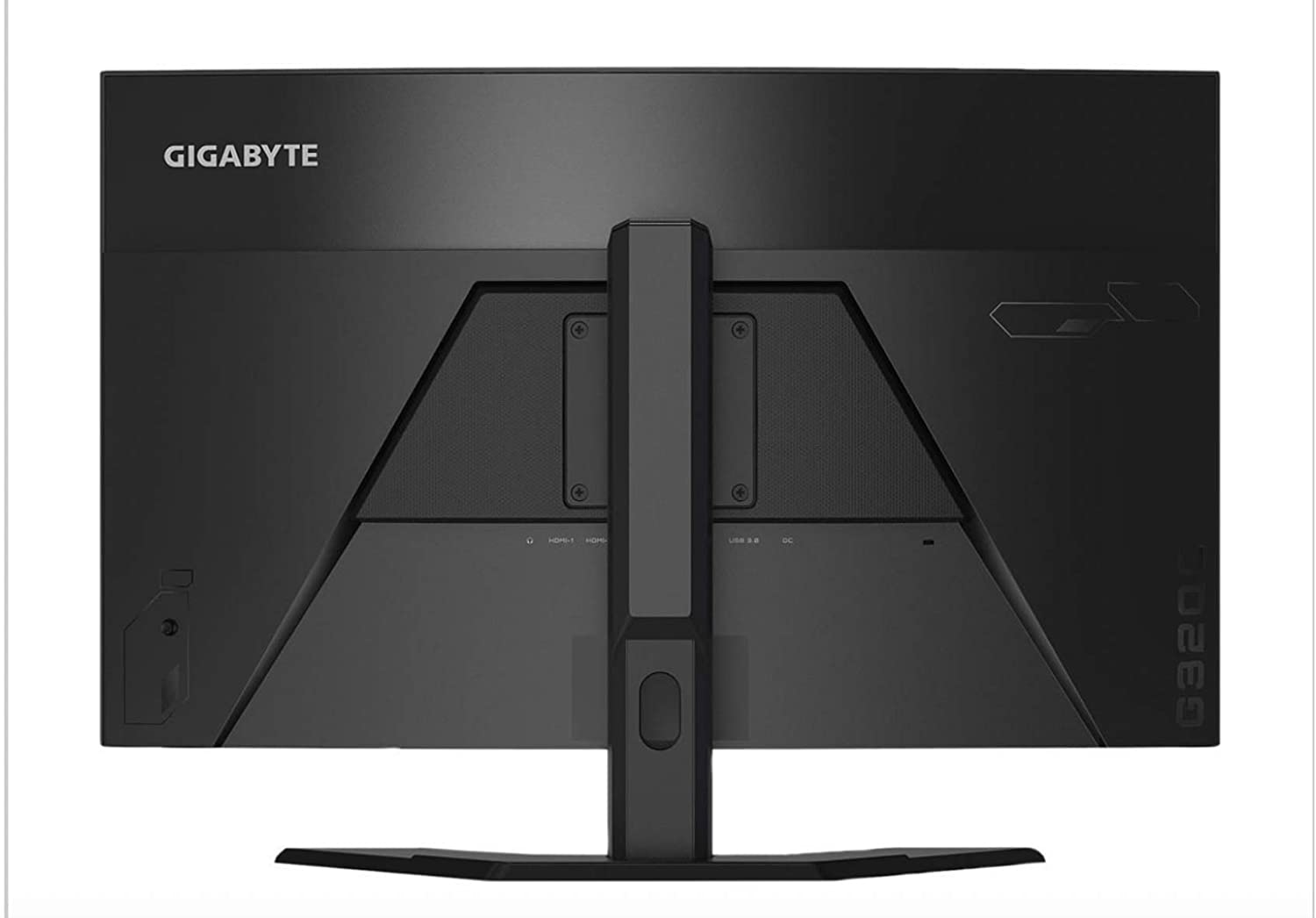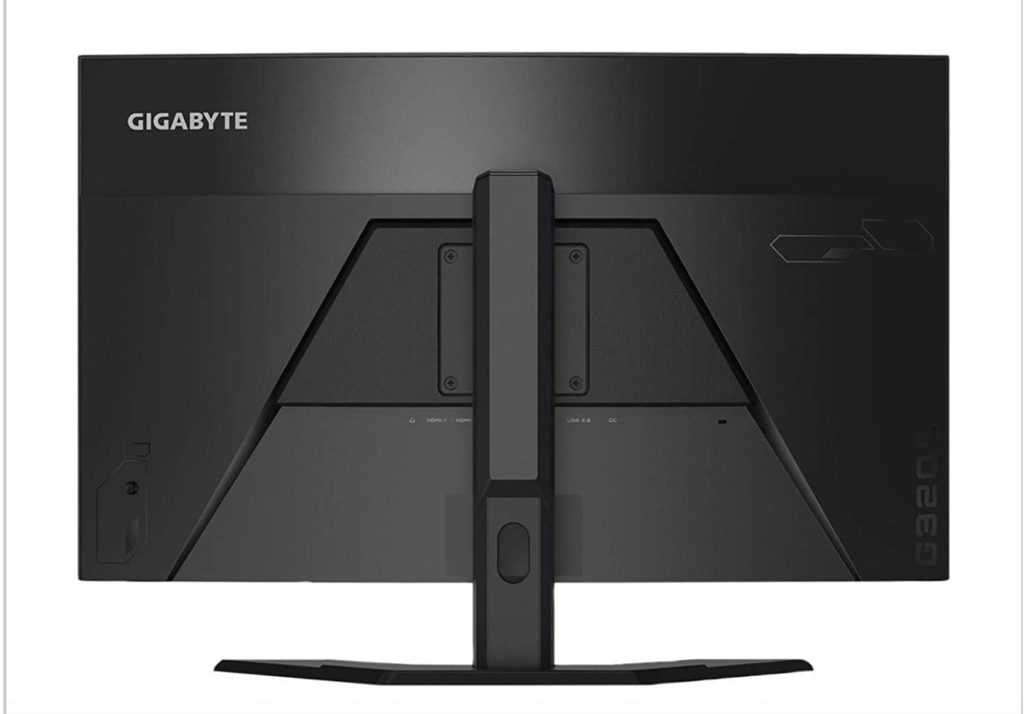 Design and Features
The Gigabyte G32QC adopts a simpler design than its Aorus counterparts, meaning a wider audience will like it since it lacks the latter's gaudiness. The device has a matte black chassis that will always look new since its practically scratch-proof and easy to maintain. The display is bezel-free on three sides, but you will still see panel borders when the monitor is powered on.
It is worth mentioning that the Gigabyte G32QC is a very large monitor which requires a lot of horizontal space from your desk. It might not be suitable if you live in dorms or apartments since its almost three feet wide. However, its base doesn't have a deep footprint, and it is quite light for a 32-inch model at just a bit over 17 pounds.
Build quality is solid and reliable so the Gigabyte G32QC should last you a few upgrade cycles before it would need a replacement. The device doesn't have cosmetic defects while the materials feel strong enough to withstand a few blows. The stand doesn't wobble at all even if you type heavily so it won't add a dizzying effect while you are gaming.
We like that the Gigabyte G32QC's functions and controls, including its power switch, are all accessible via a single joystick. The gadget is located at the back and accessible from the right, so you won't have to struggle with trying to adjust the settings on the monitor. You may have to lean in to reach it since the display is quite wide, but that's a minor issue that can easily be overlooked.
You will also notice that the Gigabyte G32QC doesn't have RGB lighting like the Aorus offerings and the rest of its product line. Most of the Gigabyte branded products and peripherals such as GPUs are like this since the brand usually reserves it for their premium line. However, its not an essential feature for a monitor since most arrays are placed at the back and are mostly unseen while the product is in use.
The stand with the Gigabyte G32QC offers tilt and height adjustments to make it easier for the user to get a preferable view angle. It is understandable that you can't swivel and pivot the screen since large curved monitors will look awkward. You can opt for VESA mounts with this model, but we only think it's necessary for multi-monitor setups or if you really need to save the space.
The Gigabyte G32QC's connectivity layout is also simplified, but it carries most of what you will need for daily use. The panel includes a DisplayPort 1.2 slot and two HDMI 2.0 ports for video along with three USB 3.0 ports for peripherals. There is also a 3.5mm headphone jack, but it doesn't have the noise cancellation feature that was first offered by the Aorus AD27QD.
You also won't find speakers on the Gigabyte G32QC since its focus is more on the screen and its capabilities. It would be nice to have for anything other than gaming such as work from home use, but its common sense that the intended users will most likely have gaming headsets. However, we think that Gigabyte missed the opportunity to add a pair that would go well with the TV-sized screen which would extend the monitor's value for its loyal customers.
Display and Performance
The Gigabyte G32QC boasts a 31.5-inch curved VA panel with a 2560 x 1440 resolution, 165Hz refresh rate, and a 1ms MPRT response time. The backlight is limited to 350 cd/m2, while the contrast ratio is rated at 3000:1 like most VA panels. It also has a 1500r radius which is more pronounced to increase the immersive qualities of the display.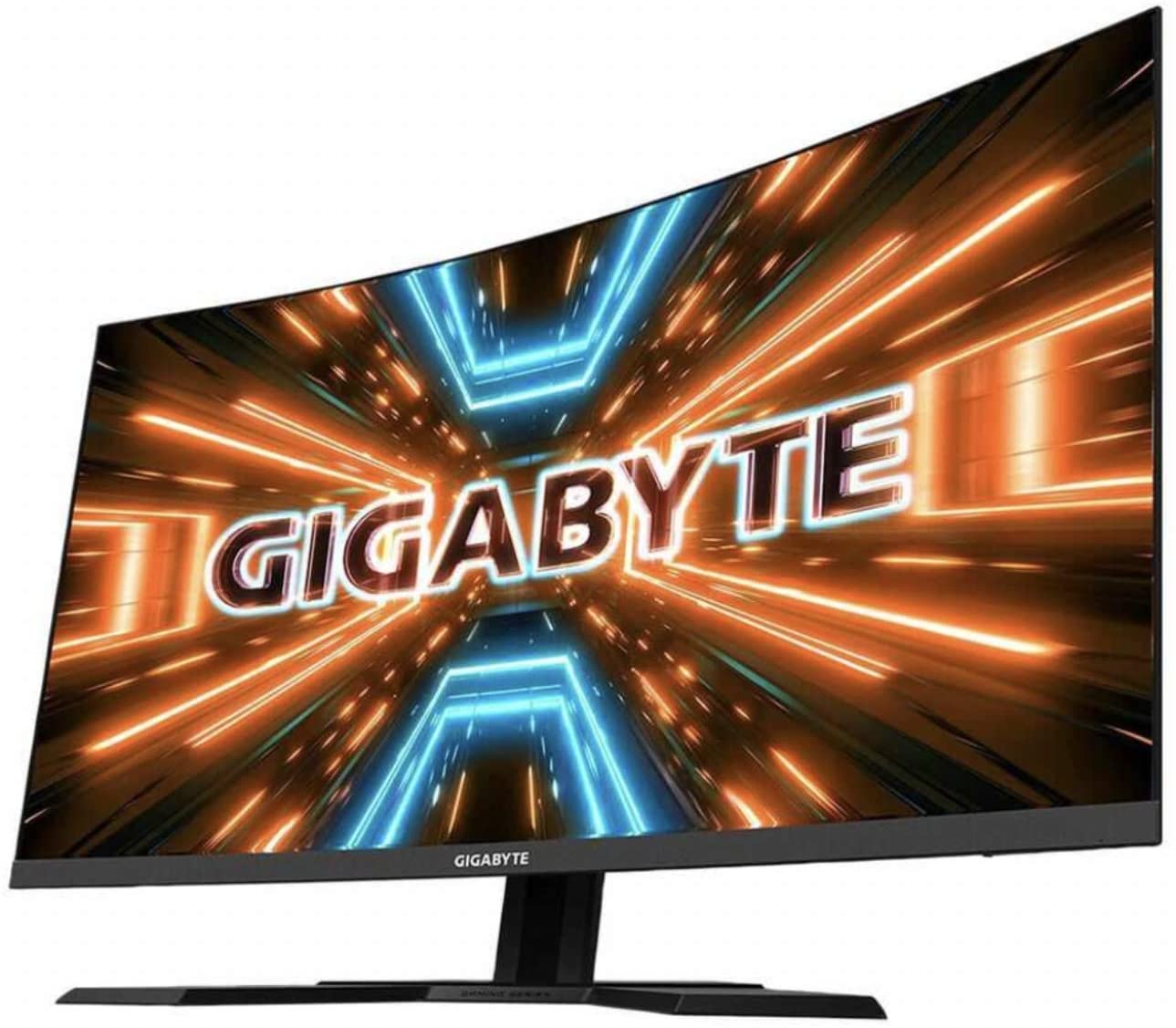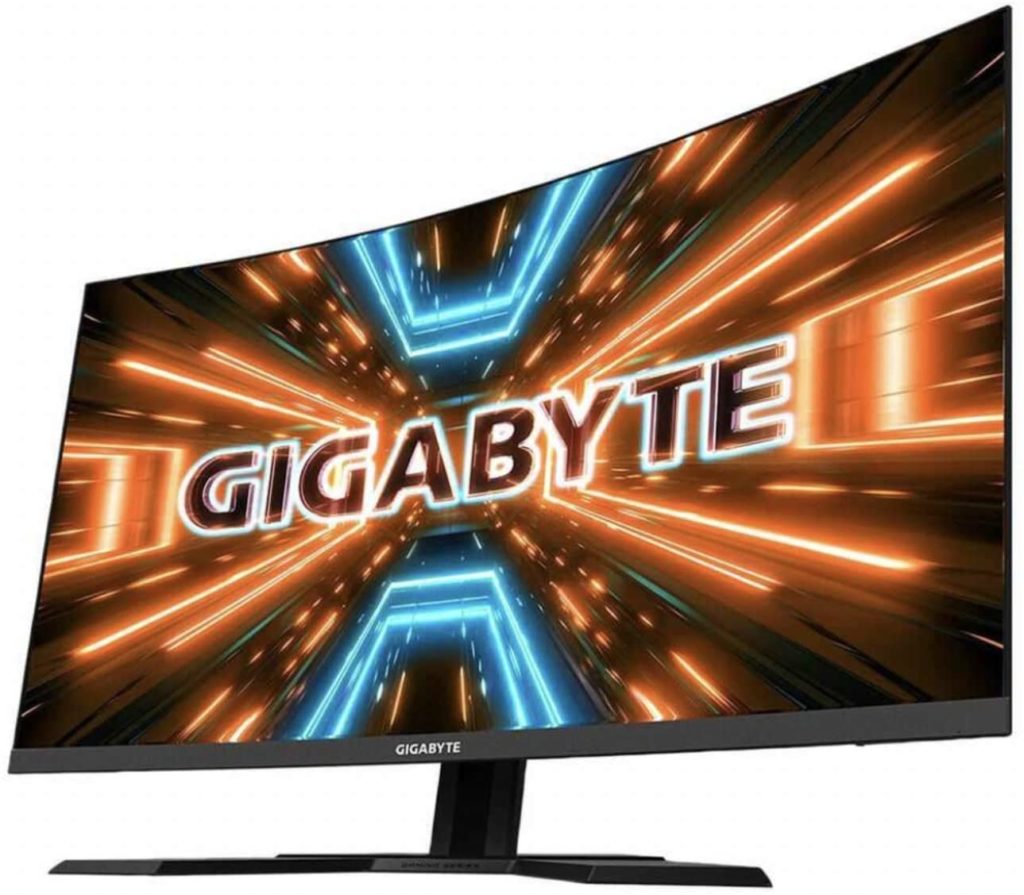 The Gigabyte G32QC isn't as sharp as smaller QHD monitors, but its still a massive improvement over 1080p screens. Games will look crisper and better detailed, while the minimizing effect of the extra pixels on small objects like letters is less of an issue. 1440p at higher refresh rates is the current sweet spot in the market, but do take note that you will still need a powerful GPU to maximize it.
Color coverage is impressive on the Gigabyte G32QC since it can produce 125% sRGB and around 93% DCI-P3 as claimed. The default color accuracy could be better with an average of DeltaE 2.34, but that's already an excellent result for a gaming-grade display. The screen's color temperature follows the ideal 6500K point closely, so there is no need to calibrate the monitor to balance out its image.
You will find an sRGB filter in the Gigabyte G32QC's OSD if in case you need to use it for editing web content or anything similar. However, its accuracy score isn't impressive since the preset can only provide a dE average of 2.12. Calibrating the monitor nets better results with a lower dE 1.87, but buying the gadget isn't worth it in this case.
The backlight on the Gigabyte G32QC manages to punch above its rating, reaching as much as 430 cd/m2 when HDR is active. The screen also has a typical contrast ratio of around 3790:1 at 40% brightness and a whopping 5640:1 in HDR. It is rare to find monitors that can boost its contrast this much, giving the G32QC a big advantage if you want to see the improvements HDR can provide.
The Gigabyte G32QC has a bit of brightness deviation at the top corners compared to the bottom. It's not noticeable when a game is on-screen or when you are viewing white backgrounds, but dark images can reveal a bit of clouding on the affected quadrants. It isn't disturbing, and its always possible to get a better unit due since each one is unique due to tolerances.
Pixel responsiveness is excellent on the Gigabyte G32QC despite the disadvantages of the panel tech. The screen is free from noticeable blurring as long as the Balanced setting in its overdrive is in use, so its suitable even for fast-paced gaming. We recommend staying at this level since anything higher will induce overshoot, but as always, we'll leave it to you to select whichever is preferable.
The Gigabyte G32QC is a FreeSync gaming monitor, but its also compatible with Nvidia's G-Sync Compatible Mode. This capability extends the value of a monitor since you don't have to ditch it if you switch to the other GPU brand during an upgrade cycle. Input lag sits at 5ms, so you won't notice any delays or de-synced instances while gaming.
Thoughts on the Gigabyte G32QC
The Gigabyte G32QC is a fantastic gaming monitor if you want excellent color, a large display, and responsive performance from an inexpensive option. The device is capable of excellent vibrancy and blur-free visuals that go well with its immersive capabilities and the experience it embodies. It's also well-designed and durable, so it's a worthy investment if you plan on keeping a monitor for a few years.
The only weakness we saw on the Gigabyte G32QC is its limited response to calibration and the middling accuracy of its sRGB mode. This limitation makes it less ideal for professional use such as editing web content but to be fair, that's not its focus in its respective market. It's a great buy at a reasonable price, but stocks are short and the price is inflated at the time of this writing.
Pros:
Attractive Design with Immersive Curve Radius
Excellent Gamut Coverage and Default Accuracy
Superb Motion Handling and Blur Reduction
Great Contrast Ratio
Improved HDR Performance Compared to Competitors
Cons:
sRGB Preset Isn't Very Accurate
Limited Calibration Improvements
 -About the Author: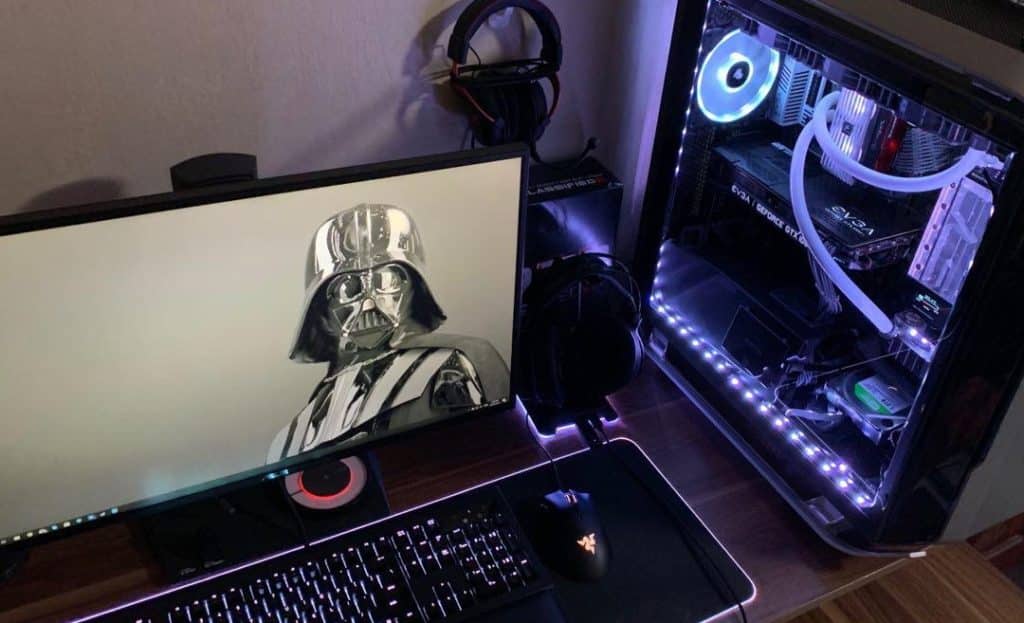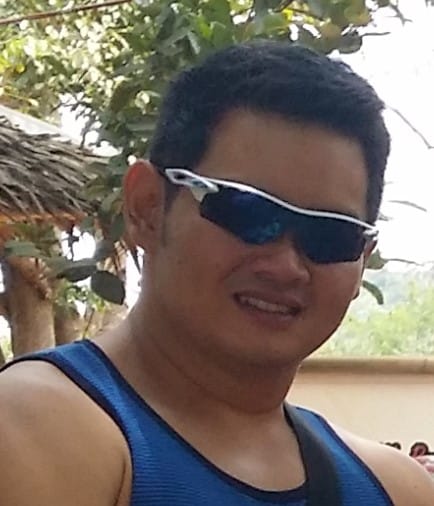 Paolo is a gaming veteran since the golden days of Doom and Warcraft and has been building gaming systems for family, friends, and colleagues since his junior high years. High-performance monitors are one of his fixations and he believes that it's every citizen's right to enjoy one. He has gone through several pieces of hardware in pursuit of every bit of performance gain, much to the dismay of his wallet. He now works with Monitornerds to scrutinize the latest gear to create reviews that accentuate the seldom explained aspects of a PC monitor.