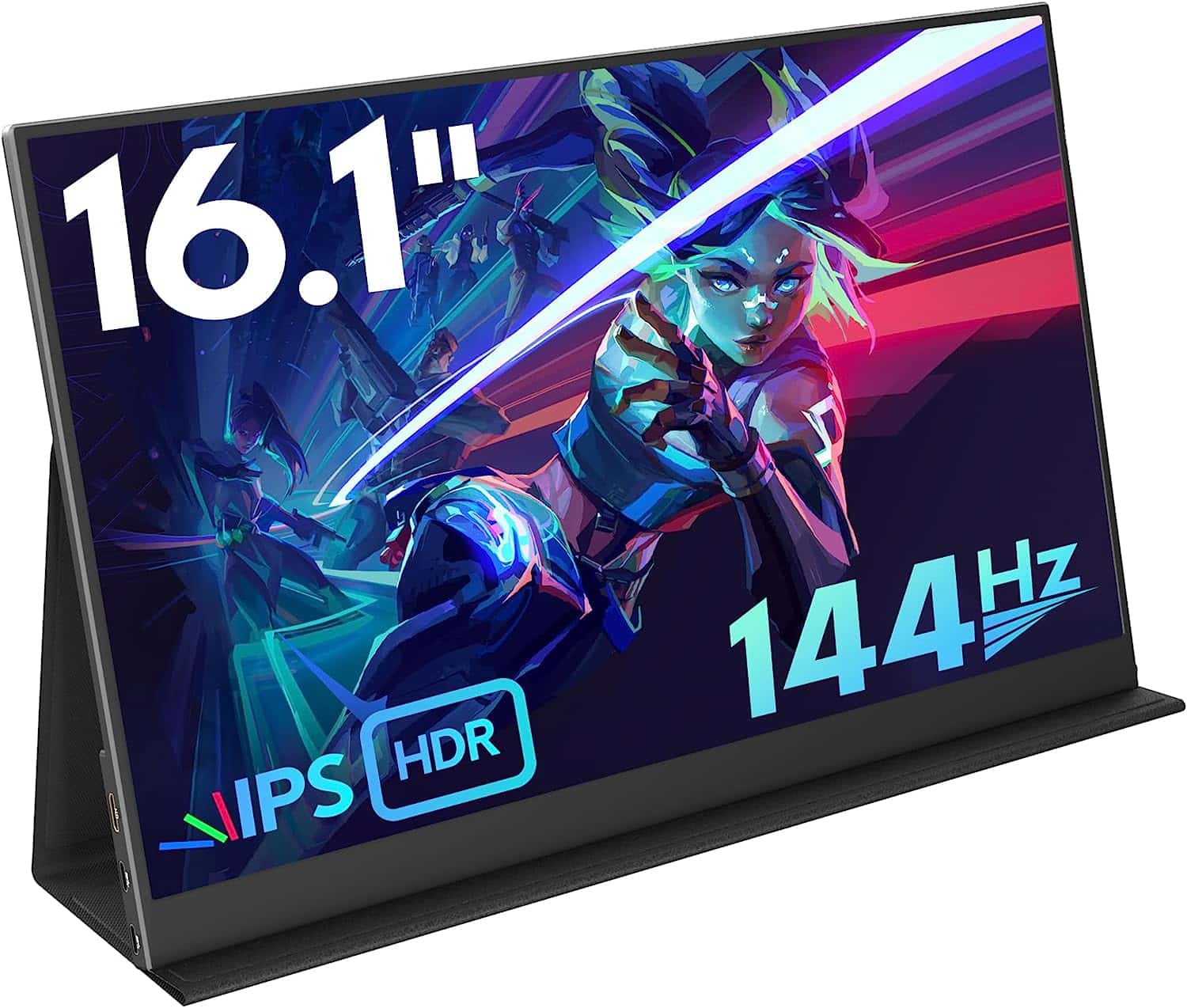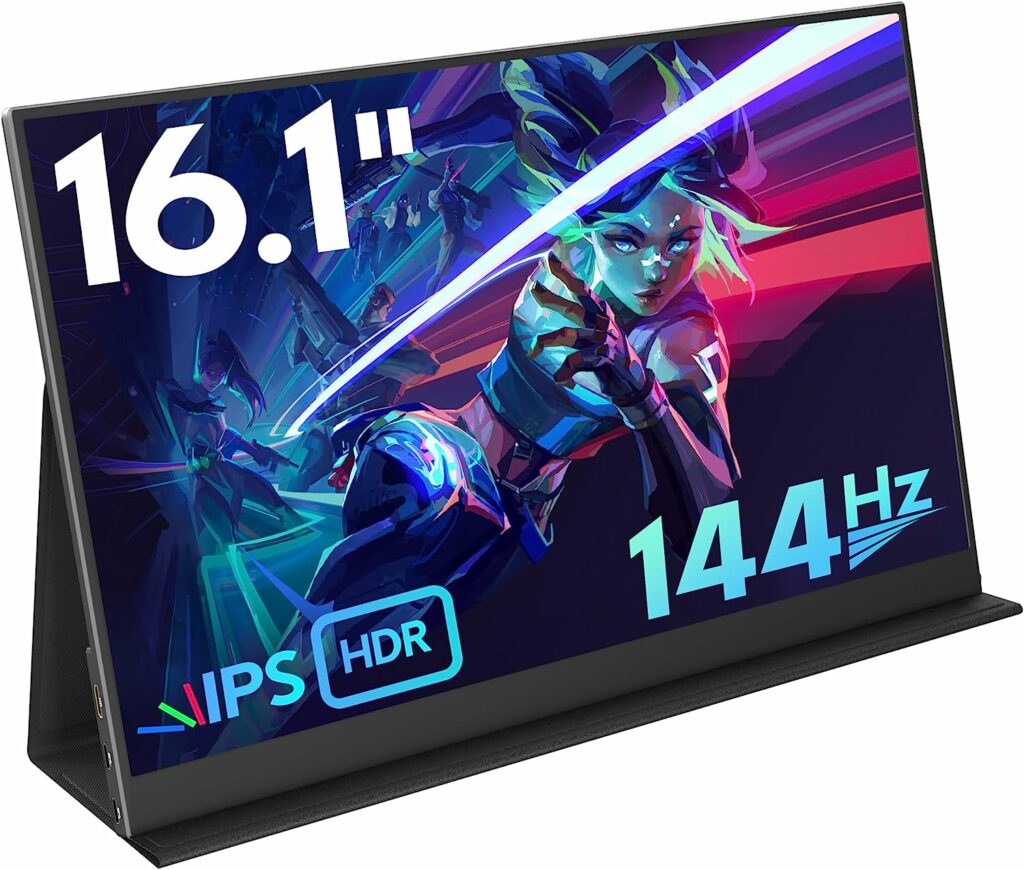 The Hongo Knight 2 is an excruciatingly tempting portable monitor with a vibrant IPS panel that goes up to 144Hz. Not a lot can match the latter in the same category or price point, giving this budget gaming display more room to reach gamers who are on the go. Its low price can also cast doubt and encourage the naysayers, so let's take a look at what it can do.
Hongo Knight 2 Specifications
Screen Size: 16 Inches
Resolution: 1920 x 1080 FHD
Aspect Ratio: 16:9
Panel Technology: In-Plane Switching (IPS)
Refresh Rate: 144Hz
Response Time: 3-5ms
Contrast Ratio: 1200:1
Brightness: 400 cd/m2
Built-in Speakers: No
Stand: Height – No
Stand: Tilt – Yes
Stand: Swivel – No
Stand: Pivot – No
VESA Compatibility: No
Connectivity: USB-C x 2, Mini HDMI x 1, Micro USB x 1, 3.5mm Jack x 1
Dimensions With Stand(WxHxD): 13.84″ x 9.36″ x .44″
Weight: 2.35 lbs
Design and Features
The Hongo Knight 2 is as plain as they come, but that's not a bad thing since we're not worried about aesthetics for a portable setup anyway. The monitor has a matte black finish and a brushed metal texture at the back. The display isn't entirely bezel-free, but the side and top edges are thin enough to be unnoticeable.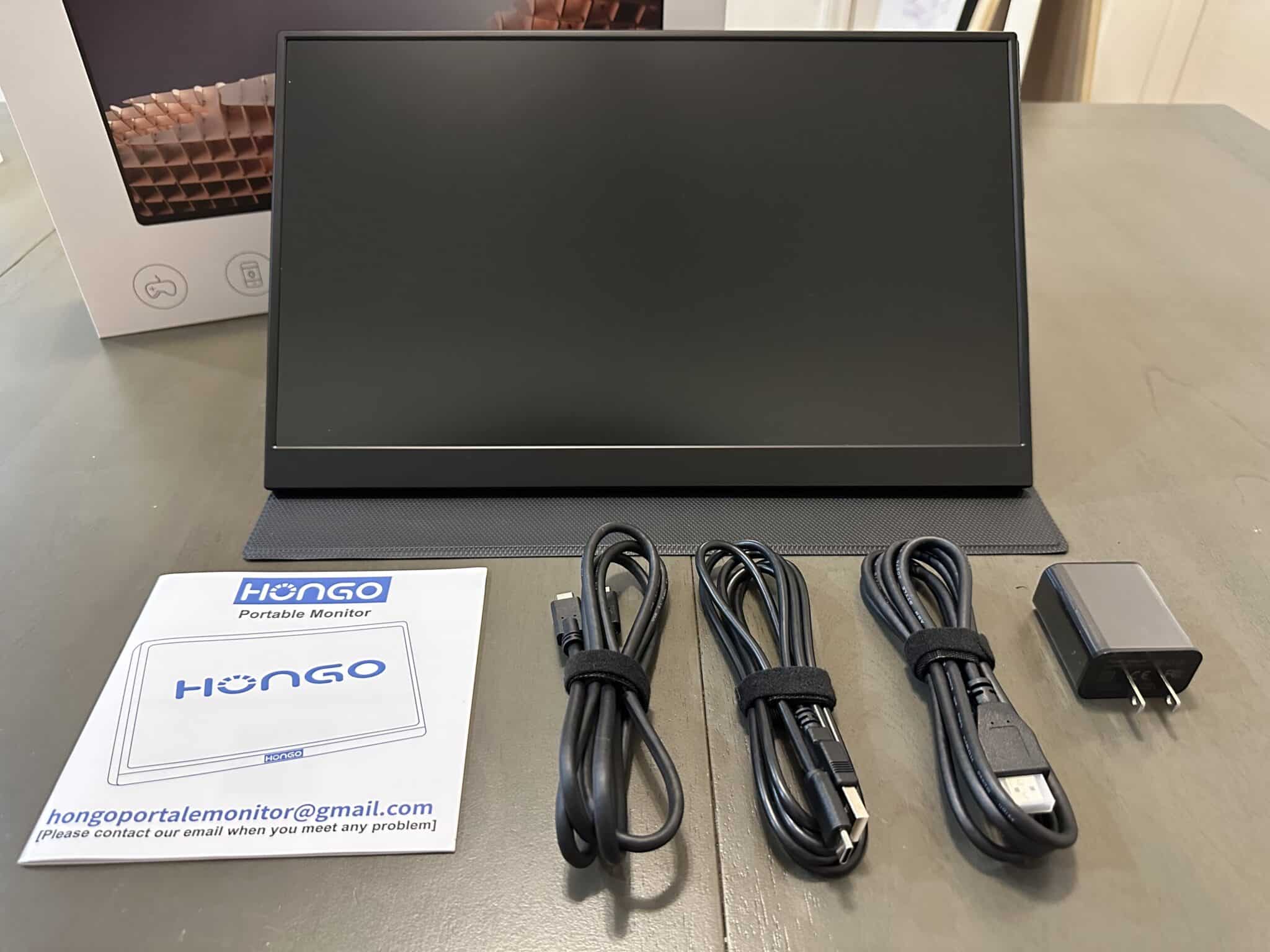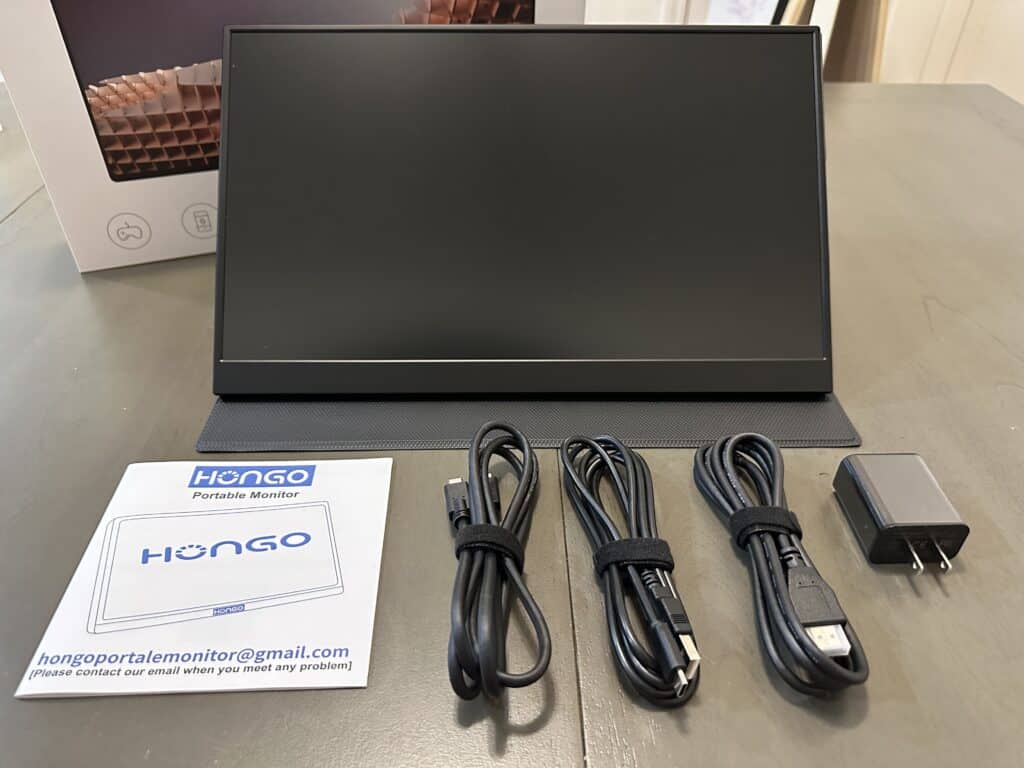 The monitor arrived in package that closely resembles an iPad's box, so it is well-protected while in transit. The package includes a USB-C cable, a mini HDMI to HDMI, and a USB-C to USB-A cable for the wall adapter. The monitor includes everything you will need from the box, so we're satisfied with it considering the price.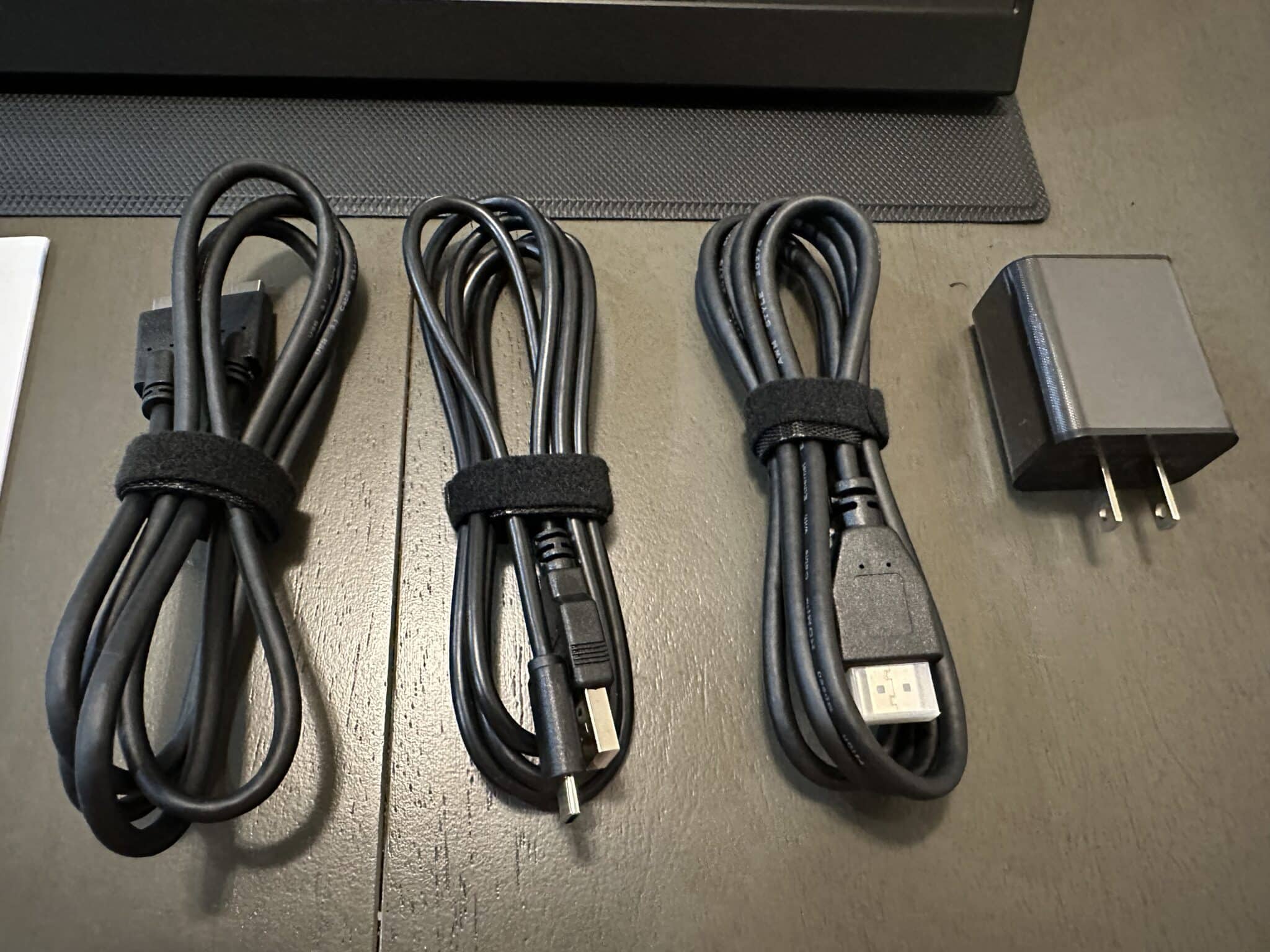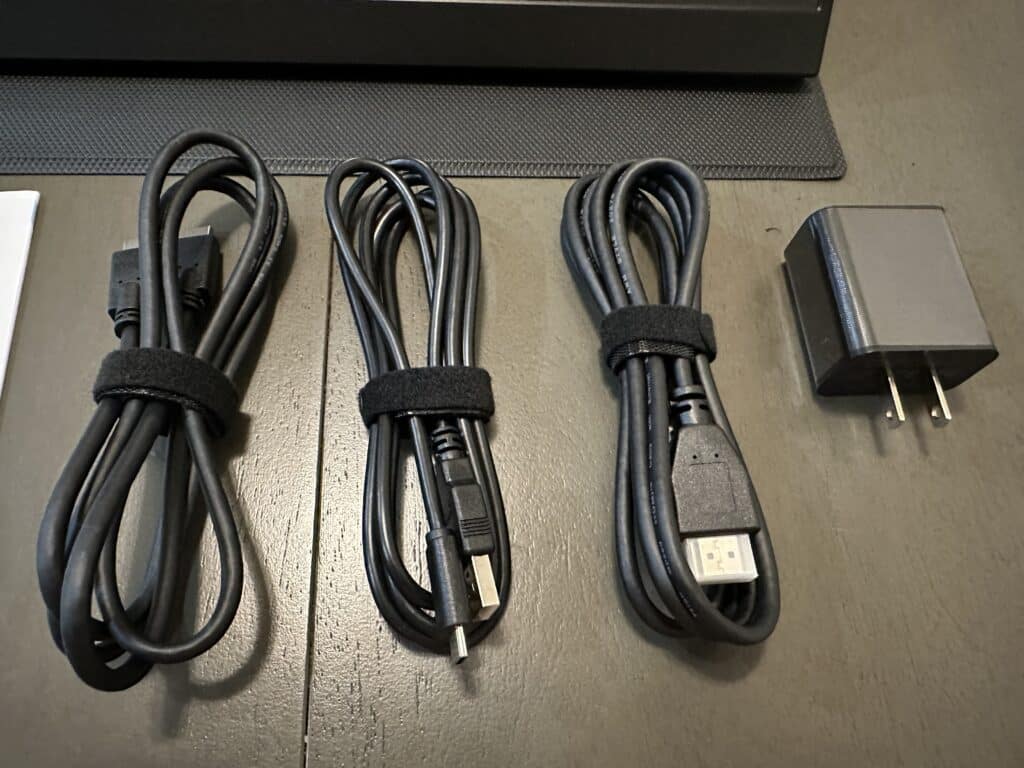 What we first loved about the Hongo Knight 2 is its very low weight which counts a lot since it's a portable display. It weighs 2.35 pounds with its cover, but it's only a little over a pound without it. It's a bit larger at 16.1 inches, but that's negligible.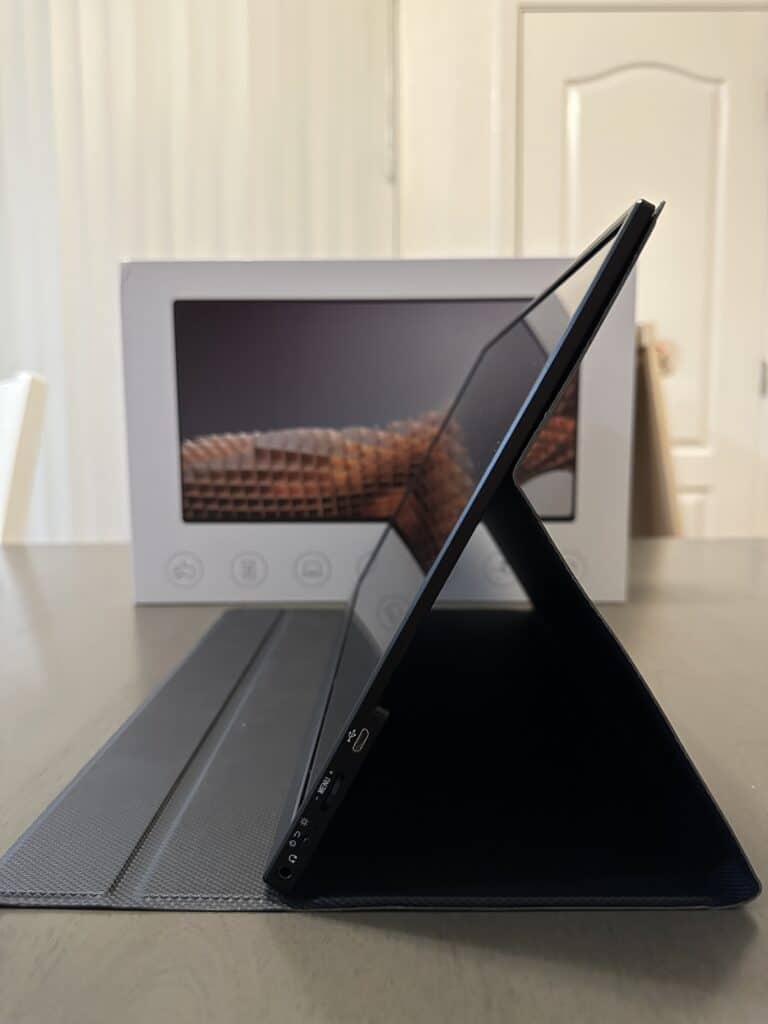 The device itself is made mostly out of plastic, but it doesn't feel flimsy or cheap like some of the other budget models. The chassis is sturdy enough to withstand cracking and flexing, and there were no cosmetic defects on any of its parts. However, it doesn't have a built-in kickstand, so you are left with a folio cover.
We can't stress enough how much we dislike folio covers that double as a stand for portable displays. It's nice since it's guaranteed that you will bring it along to both protect the display and make it usable. However, it's not very stable, so it's easy to topple it with a nudge, even if it has a grippy texture.
We're also not a fan of the scroll wheel for the OSD since it's a bit more challenging to use if you have thick fingers. Its functions are also confusing since you use it to both go back and select the setting, but at least you can use the power button for the former. The OSD isn't particularly well-equipped anyway, so you won't have to deal with it regularly.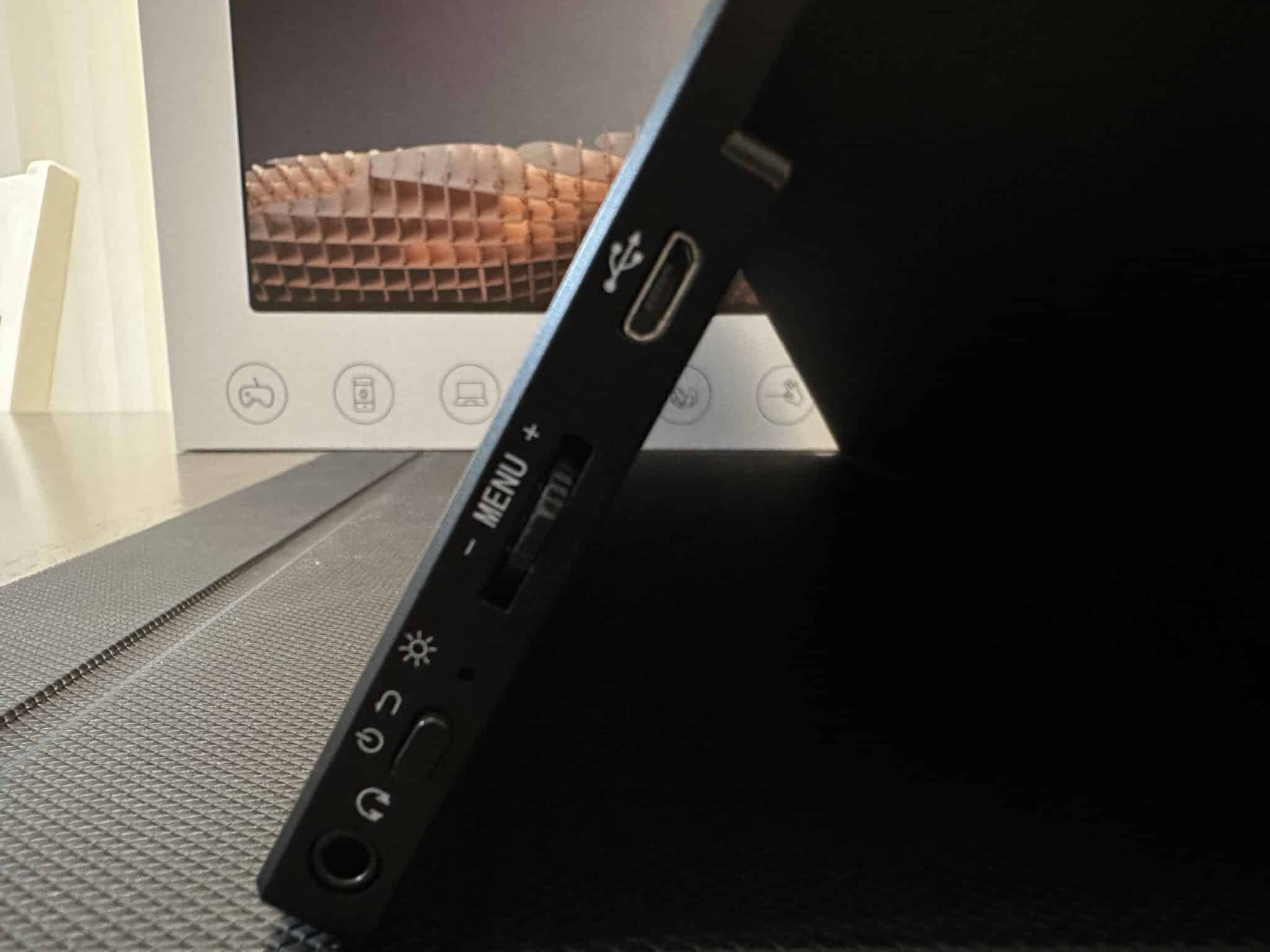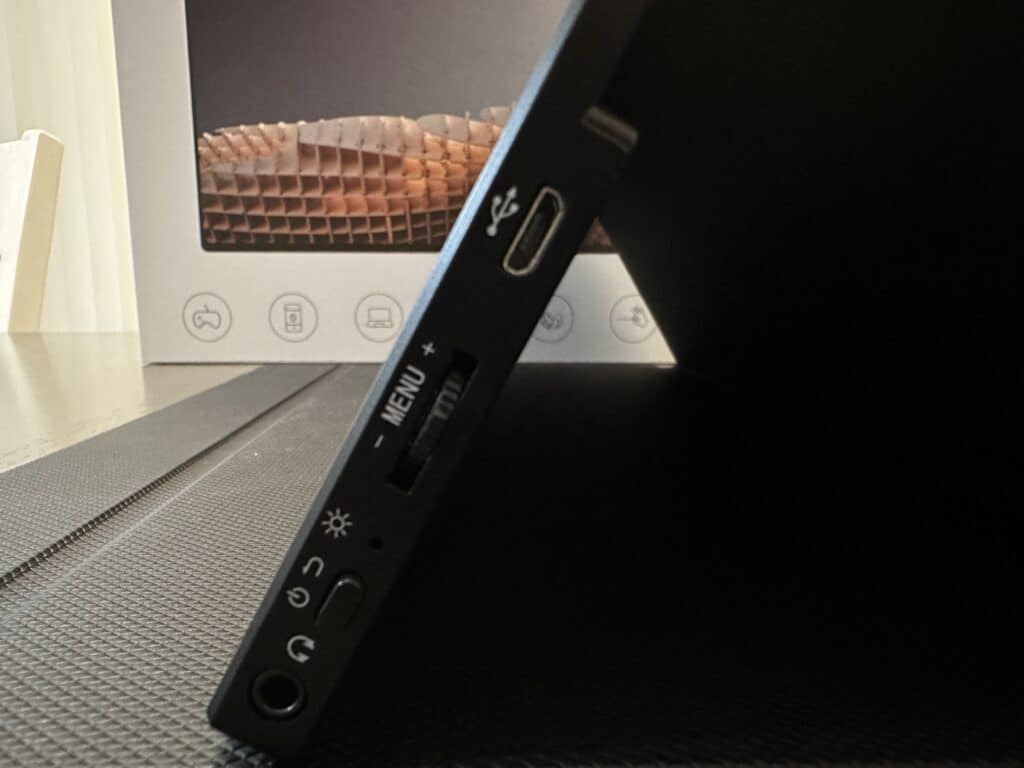 The Hongo Knight 2's connectivity is laid out quite well compared to some of its competitors. The left side hosts the two USB-C slots and mini HDMI port, while the other has the 3.5mm jack, micro-USB, power button, and the aforementioned OSD scroll wheel. The monitor can run with a single USB-C port, but the brand recommends that you use its wall adapter as much as you can for maximum performance.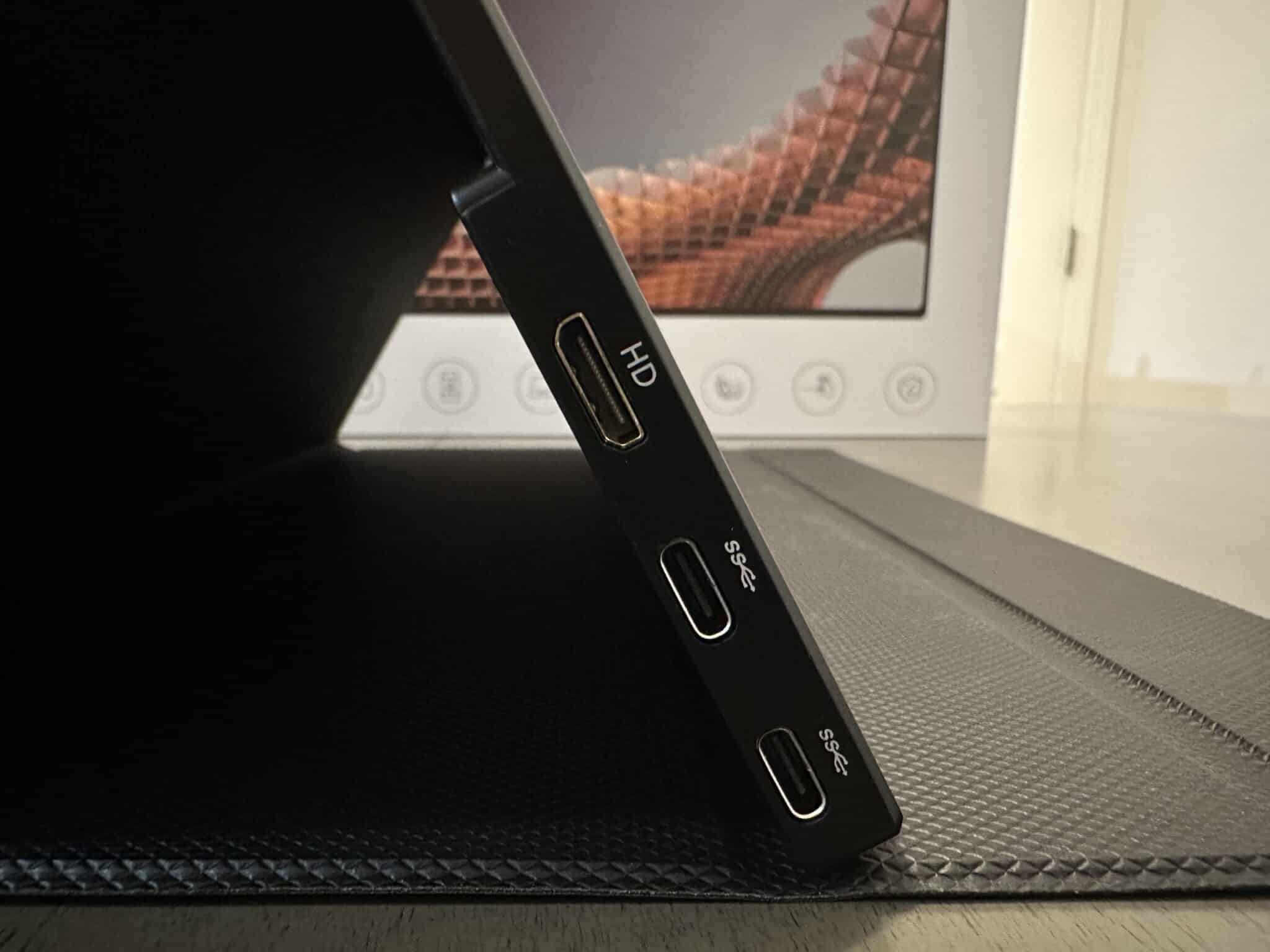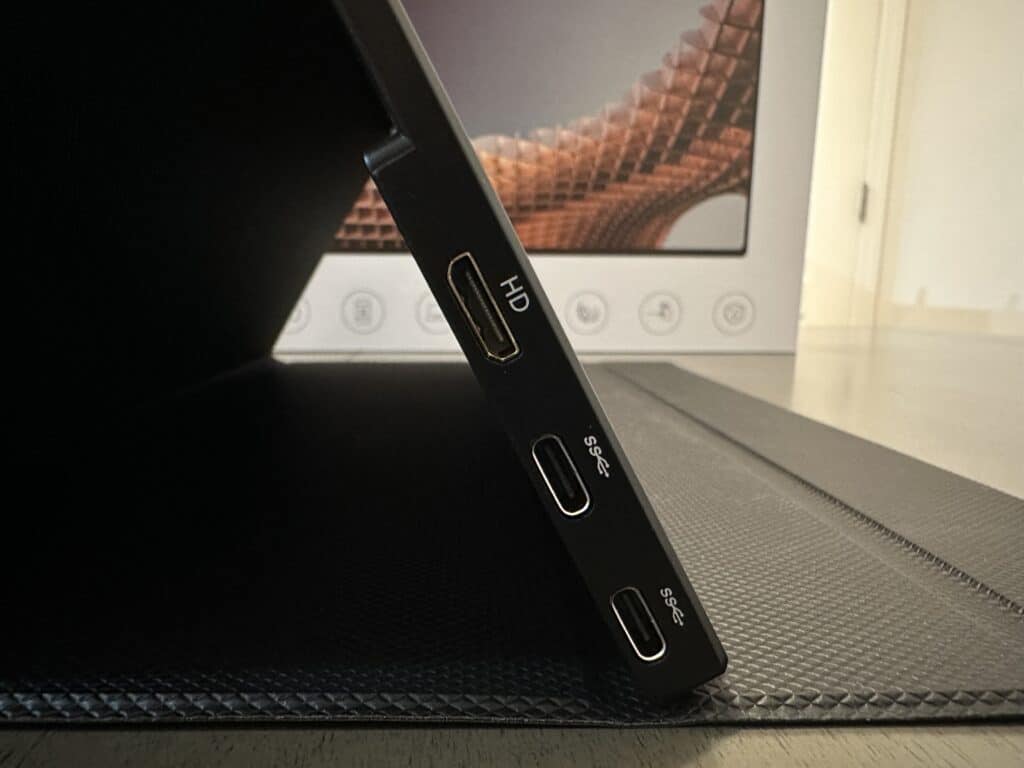 The Hongo Knight 2 also has stereo speakers to complete its specifications. They sound decent for such a tiny set, so they are usable for media consumption or when it is too hot to use headphones. We didn't expect much in this regard, but at least you have something to use in a pinch.
These, along with the 144Hz panel, make it an ideal and complementary purchase for your Asus ROG Ally or Steam deck. Both handheld options are powerful in their own right, but they have tiny screens. That's preferable during travel or while commuting, but that screen quickly becomes inadequate when you reach your destination.
Display and Performance
The Hongo Knight 2 boasts a 16.1-inch IPS panel with a 1920 x 1080 resolution, a 144Hz maximum refresh rate, and a 3-5ms response time range. Its brightness is listed at 400 cd/m2, while its contrast is confidently listed at 1200:1. The monitor also advertises HDR capabilities via a built-in HDR mode, but it's not certified by VESA.
1080p is perfect for laptop-sized displays like this since the smaller size enhances the limited pixel density. High-resolution alternatives are increasingly becoming more available, but FHD is still popular since it's easier for reading, browsing, and document processing. Its 144Hz refresh is also easier to reach with more systems.
The Hongo Knight 2 covers 96% of the sRGB gamut and 74% of DCI-P3, so it is capable of better saturation than many portable monitors. Its default accuracy is also very impressive since the deltaE average is only 1.64. It looks good out of the box, and not many others can match it, especially when its very low price comes into play.
Calibrating the Hongo Knight 2 with the Calibrite Display Plus reduced that dE average to 0.6. That makes it comparable to a prosumer display, but with an advantage for gaming via its 144Hz refresh rate. You will need a colorimeter to achieve the same since there are factors that can spell the difference.
We'd also like to mention the fact that it was very difficult to calibrate the Knight 2 since the OSD did not respond as expected. Tweaks to the color temps were inaccurate, and the brightness setting only had ten levels to choose from. So, we left the color sliders at their default levels, reduced the brightness to match the colorimeter's parameters, and let it create an ICC profile that arrived with the measurement above.
But on the other hand, that doesn't mean the Hongo Knight 2 is bad, although it could use a software upgrade to make its OSD functional. The monitor already offers great color accuracy out of the box, and that's immediately apparent when you turn it on. You only have to make the colorimeter purchase if you are using the monitor for color-critical work, but it's a waste otherwise.
The Hongo Knight 2's backlight reached 321 cd/m2 at 100%, so it's a better option for outdoor use. Its contrast reached 863 cd/m2 at brightness level 3, indicating that its incapable of deep blacks like most IPS panels. We didn't expect it to reach the 1200:1 claimed specification, but this is still higher than what most portables can offer.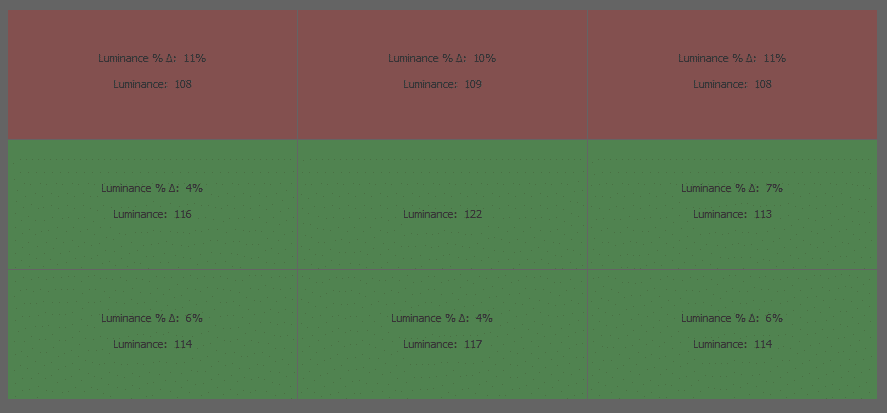 Its panel uniformity isn't the best since the upper edge of the screen had visible variances from the rest of the screen. It's not that noticeable on white backgrounds, but dark scenes will not look good on it, especially when used in the dark. Note that this can vary due to tolerances, so there are better units out there.
The Hongo Knight 2's pixel response time is listed at 3 to 5ms, so it's faster than your average portable monitor. It shows a bit of blurring when used for games like Valorant, but it's not a major issue for us. Only a few, like the Asus XG17AHPE, are better in this regard, but those are exponentially more expensive.
The Hongo Knight 2 is compatible with freeSync and G-Sync, but it has to be connected to a USB-C that goes through the computer's GPU. It is nice to have a high-refresh display with VRR compatibility since it is not too common in this category, let alone its price range. Input lag sits at 5ms at 144Hz, making it one of the fastest portable monitors on the market.
Thoughts on the Hongo Knight 2
What the Hongo Knight 2 has to offer is nothing short of amazing at a sub-$150 price point. Its 144Hz IPS panel offers chart-topping color coverage and performance, so it's compatible with both gaming and professional use. It's lightweight but built well, and it has more than enough features to be useful in almost every computing situation.
However, there are a few limitations you have to consider, such as the flimsy cover slash stand and the poorly programmed OSD. The monitor isn't perfect, but it is also unfair to expect that outcome when spending less than $150. The Hongo Knight 2 is now one of our favorite portable monitors since it offers more than what it costs.
Pros:
Affordable
Fast and Vibrant IPS
FreeSync/G-Sync Compatible
Plug and Play USB-C Connectivity
Cons:
Flimsy Cover/Stand
Limited Calibration Options and Response
About the Author: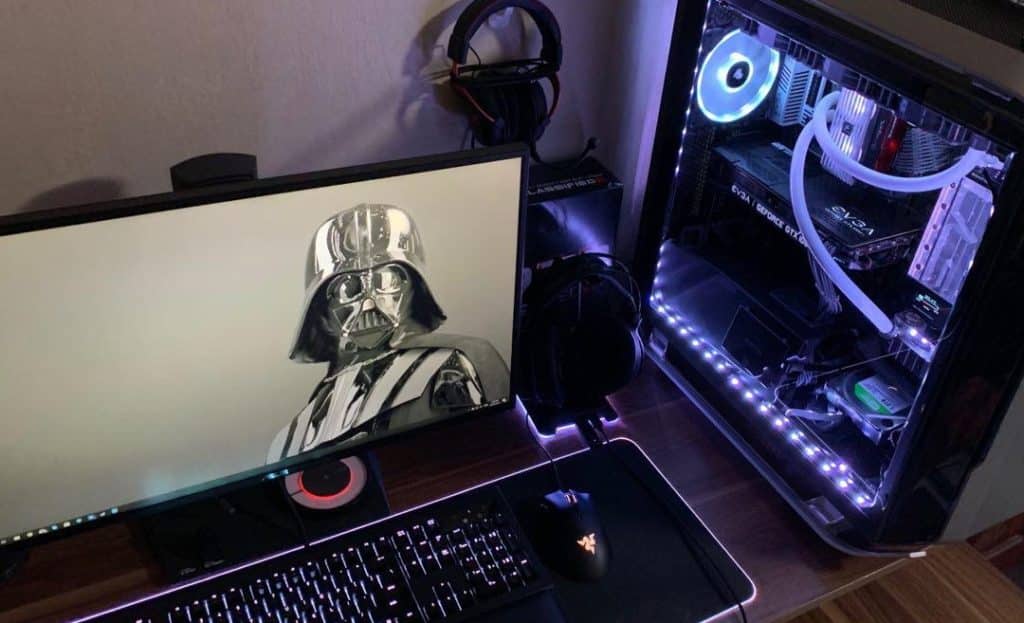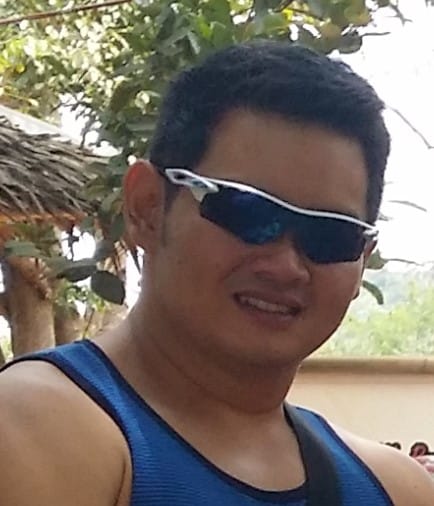 Paolo has been a gaming veteran since the golden days of Doom and Warcraft and has been building gaming systems for family, friends, and colleagues since junior high. High-performance monitors are one of his fixations; he believes that every citizen's right to enjoy one. He has gone through several pieces of hardware in pursuit of every bit of performance gain, much to the dismay of his wallet. He now works with Monitornerds to scrutinize the latest gear to create reviews that accentuate the seldom explained aspects of a PC monitor.