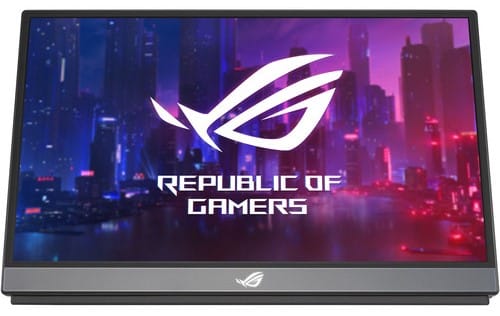 The Asus XG17AHPE can be considered the cream of the crop in the portable monitor segment with its gaming-grade performance that can't be matched by its competitors. The monitor features a 240Hz IPS panel that you will only find on their top-tier laptops or the ROG portfolio of desktop monitors. Of course, the Asus XG17AHPE commands a price tag worthy of opulence, so let's check out if it is worth every penny or if it is just a novelty product.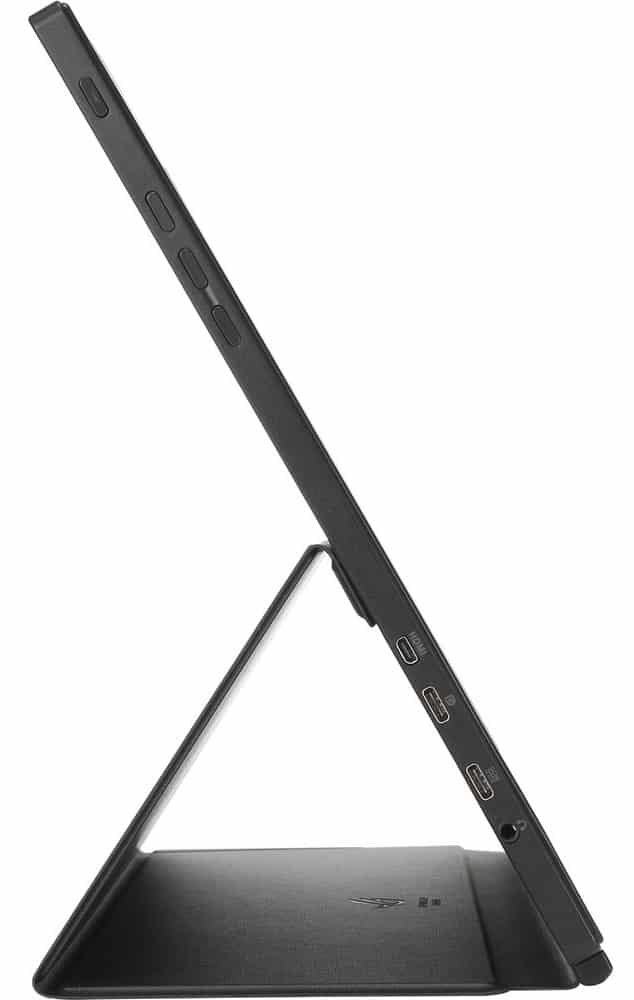 Asus XG17AHPE Specifications
Screen Size: 17.3 Inches
Resolution:1920 x 1080 FHD
Aspect Ratio: 16:9
Panel Technology: In-Plane Switching (IPS)
Refresh Rate: 240Hz
Response Time: 3ms
Contrast Ratio: 1000:1
Brightness: 300 cd/m²
Built-in Speakers: No
Stand: Height – No
Stand: Tilt – Yes
Stand: Swivel – No
Stand: Pivot – No
VESA Compatibility: No
Connectivity: USB-C x 1, Micro HDMI 2.0 x 1
Dimensions With Stand(WxHxD): 15.71″ x 9.86″ x .39″
Weight: 2.34 lbs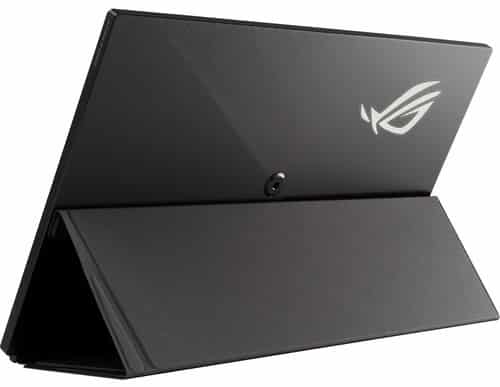 Design and Features
The Asus XG17AHPE shares its overall appearance with the MB16AMT, but it's noticeably heftier and it has the ROG treatment such as the eye logo. The device has a metallic housing that adds a nice touch and a black flip cover that looks unsuited for the high-end display. The screen isn't bezel-free, but the borders are thin enough to stay unnoticed while gaming.
It's the largest portable monitor we've seen to date, so it isn't surprising that it is also the heaviest. The Asus XG17AHPE is over a third of an inch thick as well, but it will still slide easily into your laptop bag without fighting for space within. 17-inch displays aren't as big as modern desktop models, but they are quite bulky if mobility is a priority.
Another reason why the Asus XG17AHPE is heavier and thicker than other portable monitors is it has a built-in battery. The pack can store 7800mah of juice which is enough for 3.5 hours of use at 240Hz
The Asus XG17AHPE will not disappoint when it comes to build quality thanks to its ultrathin yet strong metal frame. The device is polished from one corner to the other, so there are no cosmetic defects such as uneven gaps or uncut seams. It would take some force to crack the screen, but we can't help but feel that the included cover can't protect it if it hits a corner.
The Asus XG17AHPE has plenty of OSD options you can tinker with, and thankfully, it has an interesting control layout that isn't a joystick. Pressing the main menu will show pop up icons aligned with the other buttons to tell you where to go. It isn't the most intuitive, but it gets the job done in the sense that it isn't confusing to use.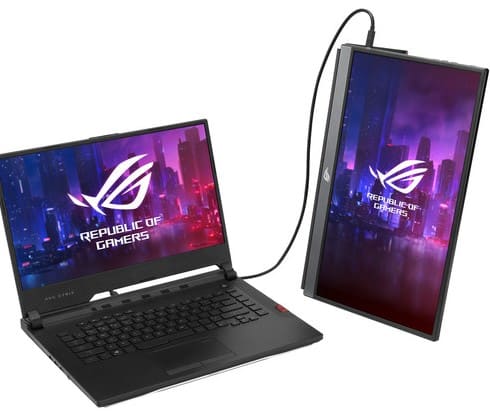 You only get a flip cover with the Asus XG17AHPE which only allows for tilt adjustments, but it can be used to prop up the display in portrait mode. It can safely hold the weight of the device, but it can feel flimsy at times. There is also a hole on the chassis for a telescopic mount which we suspect you can buy separately from Asus.
The Asus XG17AHPE's most unique feature is its connectivity layout which only includes a slot each of USB-C and Micro HDMI 2.0. Both support 240Hz, but only the USB-C slot can receiver charging power from your laptop or desktop PC. You can connect it to a separate power source if you are using the HDMI slot so the screen doesn't run out of juice while you are gaming.
The Asus XG17AHPE has a pair of 1-watt speakers which are surprisingly loud and clearer than a mobile phone or most laptop's built-ins. The device has an ESS 9118 DAC as well to drive your earphones better and maximize clarity. This is especially useful if you are playing outdoors where outside noise can bother your enjoyment.
Display and Performance
The Asus XG17AHPE uses a 17.3-inch IPS panel with a 1920 x 1080 resolution, 240Hz refresh rate, and a 3ms response time. The backlight hits up to 300 cd/m2, while the contrast ratio is rated at a typical 1000:1 like most IPS panels. The 3ms spec is the most peculiar of all, but you will find that most of the brand's top-end laptops carry the same number.
Pixel density won't be an issue with the Asus XG17AHPE since it looks extra-sharp compared to a regular 1080p desktop monitor. The PPI is noticeable larger, but most users won't need to use scaling to make small text discernable. Its also easy to reach the maximum refresh rate on competitive games, so a higher resolution isn't necessary as well.
The Asus XG17AHPE is capable of impressive color quality starting with 99.8% coverage of the sRGB gamut. Most of its competitors could barely breach 95%, so you'd know Asus took extra care in tuning this premium item. Color accuracy by default is fantastic with a deltaE average of only 0.89 which is currently the best we've seen on a portable display.
The color temperature for the monitor looks well-balanced, and there is no need to calibrate the monitor once you've tinkered with the common settings such as the backlight. We do recommend to set the contrast to 80 so you can get the best possible output from the device.
One thing the Asus XG17AHPE struggles with is its brightness limit which at times you need to set to the max when using it outdoors. Doing so will enable the monitor to fight off glare, but it will also drastically reduce the battery's time limit. The contrast ratio sits at 937:1 at 50% brightness which isn't the highest result from IPS, but decent enough coming from a portable.
Panel uniformity for the Asus XG17AHPE could be better since there are some noticeable leaks along the edges of the display. Pressing the bezel too hard can worsen it for an instant, and we think taking extra care not to put pressure on the edges is necessary to prevent it from becoming permanent. Take note that this varies between every unit due to manufacturing tolerances, so there are better ones out there.
Responsiveness is quite good on the Asus XG17AHPE, so you don't need to move the Overdrive feature from its default 3rd level out of 5 options. Setting it too high can induce overshoot which can become disturbing while you are gaming.
The Asus XG17AHPE is a FreeSync gaming monitor, but G-Sync compatible mode isn't guaranteed since the monitor isn't certified. You won't need to use Adaptive Sync features anyway if you play competitive titles because its quite easy to stabilize framerates in this resolution. Input sits at 4ms, so there are no delays between your keyboard and the screen.
Thoughts on the Asus XG17AHPE
The Asus XG17AHPE is a fantastic piece of kit if you can shell out the cash for its very high price tag. The monitor's IPS panel has all the desirable qualities such as excellent color rendering and responsiveness, plus, it's a 240Hz display that you would otherwise only find on desktop displays or top-end gaming laptops. It also carries a battery that can come in handy if you play games on mobile platforms like the Nintendo Switch which cannot provide power to it.
What we dislike the most about the Asus XG17AHPE is its price which is even higher than what 240Hz desktop monitors are asking for. Right next to it is the flimsy flip-up cover-slash-stand which is can be a bit flimsy. Its an attractive high-end piece of kit, and it deserves a better mechanical solution that is more stable and reliable.
Pros:
Great Color Coverage and Default Accuracy
Attractive and Premium Design
Excellent Motion Handling and Low Input Lag
240Hz in a Compact Package
Built-in Battery
Great Speaker Quality for its Size
Cons:
More Expensive than 240Hz Desktop Monitors
Limited Connectivity
Flimsy Cover/Stand
-About the Author: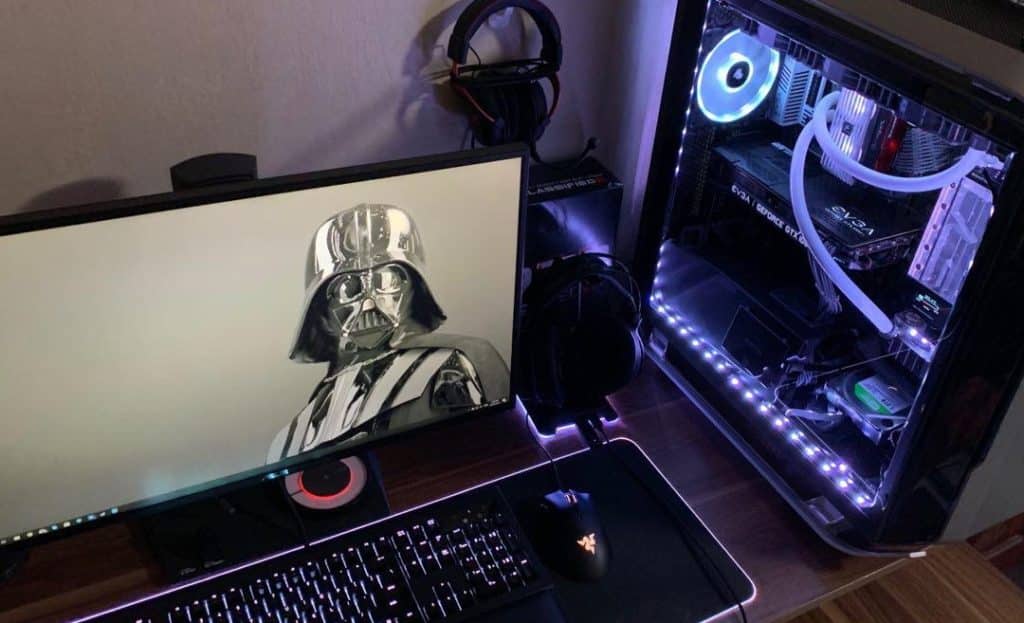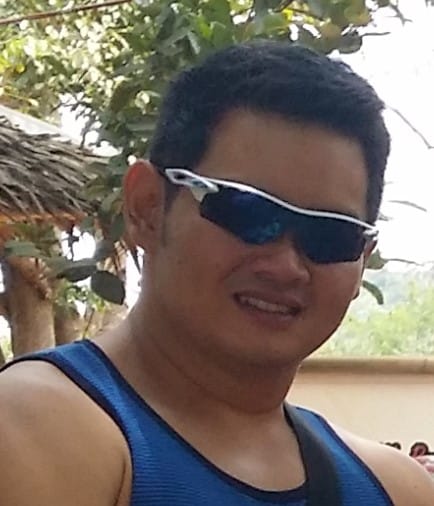 Paolo is a gaming veteran since the golden days of Doom and Warcraft and has been building gaming systems for family, friends, and colleagues since his junior high years. High-performance monitors are one of his fixations and he believes that it's every citizen's right to enjoy one. He has gone through several pieces of hardware in pursuit of every bit of performance gain, much to the dismay of his wallet. He now works with Monitornerds to scrutinize the latest gear to create reviews that accentuate the seldom explained aspects of a PC monitor.