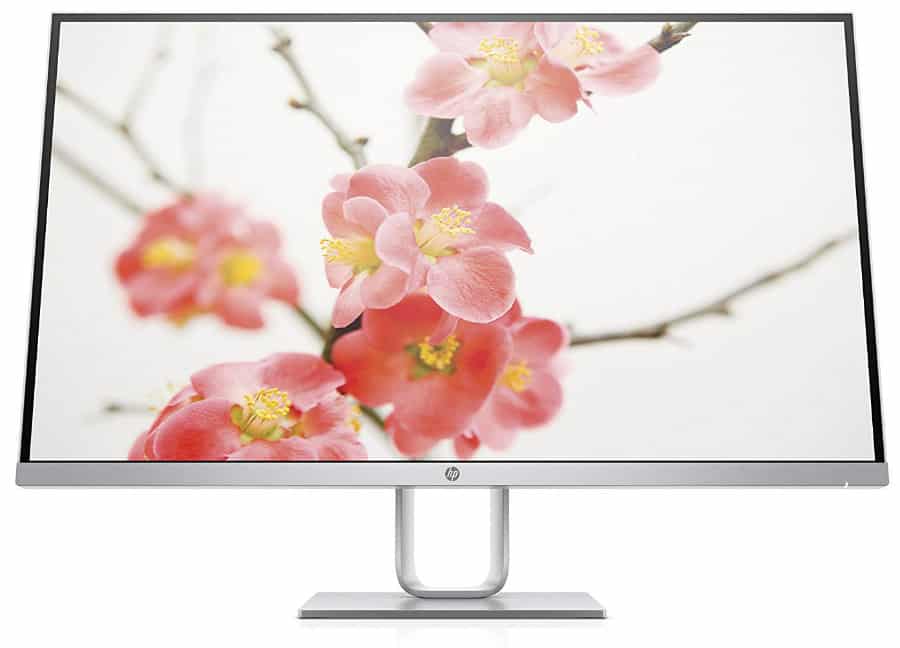 The HP 27Q presents a value-oriented home and office monitor with a crisp, 1440p resolution and a minimalist design. The device doesn't offer high-end specs such as HDR or extended refresh rates, but it promises reasonable performance for mixed-use applications. The HP 27Q is an attractive option if you want to step up to 1440p for that extra crispness, but how does it stack against a tightly competitive category of PC displays?

HP 27Q Specifications
Screen Size: 27 Inches
Resolution: 2560 x 1440p QHD
Aspect Ratio: 16:9
Panel Technology: In-Plane Switching (IPS)
Refresh Rate: 60Hz
Response Time: 5ms
Contrast Ratio: 1000:1 (Static)
Brightness: 350cd/m2
Built-in Speakers: No
Stand: Height -No
Stand: Tilt – Yes
Stand: Swivel – No
Stand: Pivot– No
VESA Compatibility: No
Connectivity: DisplayPort 1.2 x1, HDMI 4x 2, VGA x 1, 3.5mm Audio Jack
Dimensions with Stand(WxHxD): 21.2″ x 17.6″ x 6.1″
Weight: 7lbs

Design and Features
The HP 27Q employs a plain and simple design that comes off as contemporary rather than a lazy attempt at aesthetics. The silver finish of the device adds a nice touch of class and uniqueness that most home and office displays are sorely lacking. The face is almost bezel-free thanks to the dual stage design that is composed of a thin outer layer and an inner border.
We like the slim proportions of the HP27Q that makes it suitable for tight spaces or flush mounting to a wall. The whole device only weights 10.7lbs putting it in the featherweight division of the 27-inch category of PC monitors. Users won't need a desk deeper than the usual since the monitor only consumes six inches.
The product also did not feel flimsy or weak despite this characteristic which indicates that build quality is robust and made with quality in mind. We did not notice any creaking or gaps in the seams which cheapens a product drastically.
Unfortunately, the HP 27Q excluded crucial features which could have added to its attractiveness for the masses. The included stand can only offer a limited tilting range which limits the user's preferences. However, the mechanism is removable in case you want to utilize VESA mounting.
Connectivity isn't an issue for the HP 27Q since it comes well-equipped with the latest standards. The rear facing I/O panel includes DisplayPort 1.2, two HDMI 1.4 slots, and a VGA connector for legacy devices. The device is missing a pair of built-in speakers and some USB slots which add value to a budget-oriented offering.
Display and Performance
The HP 27Q sports a 27-inch IPS panel with a 2560 x 1440 resolution, 60Hz refresh rate, and 5ms response time. A contrast ratio of 1000:1 is specified, along with an extra bright 350cd/m2 backlight which is valuable for day and night use. There is also a matte AG coating applied to the surface that does a good job of deflecting unwanted glare in well-lit environments.
The HP 27Q's scores during our test are more than decent for a product that's meant for basic use. The IPS panel can cover almost 100% of the sRGB gamut with a default accuracy of DeltaE 2.5. Color temperature is close to the ideal D65 settings, but it could use a bit of calibration to lessen the warmth.
You can improve the HP 27Q's imaging scores further if you have access to a colorimeter like the Datacolor Spyder Elite. We were able to reach a DE score of .60 with an ideal color temp of 6440K which balanced the colors of the output. Gamma is at a more proper 2.19 instead of the 2.3 using the default settings.
One limitation we saw is the contrast ratio of the HP 27Q which maxes out at 900:1. Don't get us wrong since this is a good score, but blacks or dark images can sometimes look grayish.
The backlight for the HP 27Q is exceedingly bright, reaching up to 370cd.m2 which is too much for day to day use. We recommend lowering it to around 30% for safety reasons and comfort. However, what's great about this aspect is you can turn up the illumination during daytime or in well-lit environments to balance out the image and ward off glare.
Frankly, there is no need to acquire an expensive colorimeter to get these improved results from the HP 27Q. The monitor's default setting is already fantastic for everyday use, whether if it's for casual gaming or basic photo editing. The device has its limitations, but this budget model is far from professional displays where a substantially better output is expected.
Panel quality on our test unit of the HP 27Q faired quite well since there was little to no backlight bleeding. Ther are tiny leaks on the corners, but they are only visible if you have an all-black image on the screen. Take note that this could change between unit to unit since no two IPS modules are made equal.
The HP 27Q exceeded our expectations in almost every essential characteristic except for a bit of image retention and smudging. The panel's pixel response time isn't as fast as we would like, but the flaw isn't substantial enough to be treated as a deal breaker. Fast-paced games or static images do not sit well with this model, but we reckon most wouldn't buy this model for those purposes.
At least, you have the option to boost the HP 27Q's refresh rate to 75Hz if you have an AMD GPU. The feature is only available when FreeSync is active via the OSD's Gaming-FreeSync preset. The 75Hz operation isn't guaranteed if you have a Nvidia GPU since our test unit still put out 60Hz and skipped the missing frames.
Input lag on the HP 27Q is too high for gaming purposes except for casual play at an average of 25ms. The monitor doesn't have the option to shave off the extra latency unless you have FreeSync active which will drop the timing to around 8ms.
Thoughts on the HP 27Q
The HP 27Q is a fantastic 1440p option is image quality is your primary concern for mixed use. The default output is impressive enough, but calibration will push it closer to perfection. The aesthetic design is attractive and will suit contemporary tastes, but the lack of ergonomics is something we wish to be improved.
The monitor is even suitable for basic photo editing or content creation, but gamers will be disappointed with the flaws. FreeSync is your only option to make the display snappier, leaving out the majority who are using Nvidia GPUs. However, we still think that the HP 27Q is applicable for most people who want a crisp and vibrant display for everyday tasks.