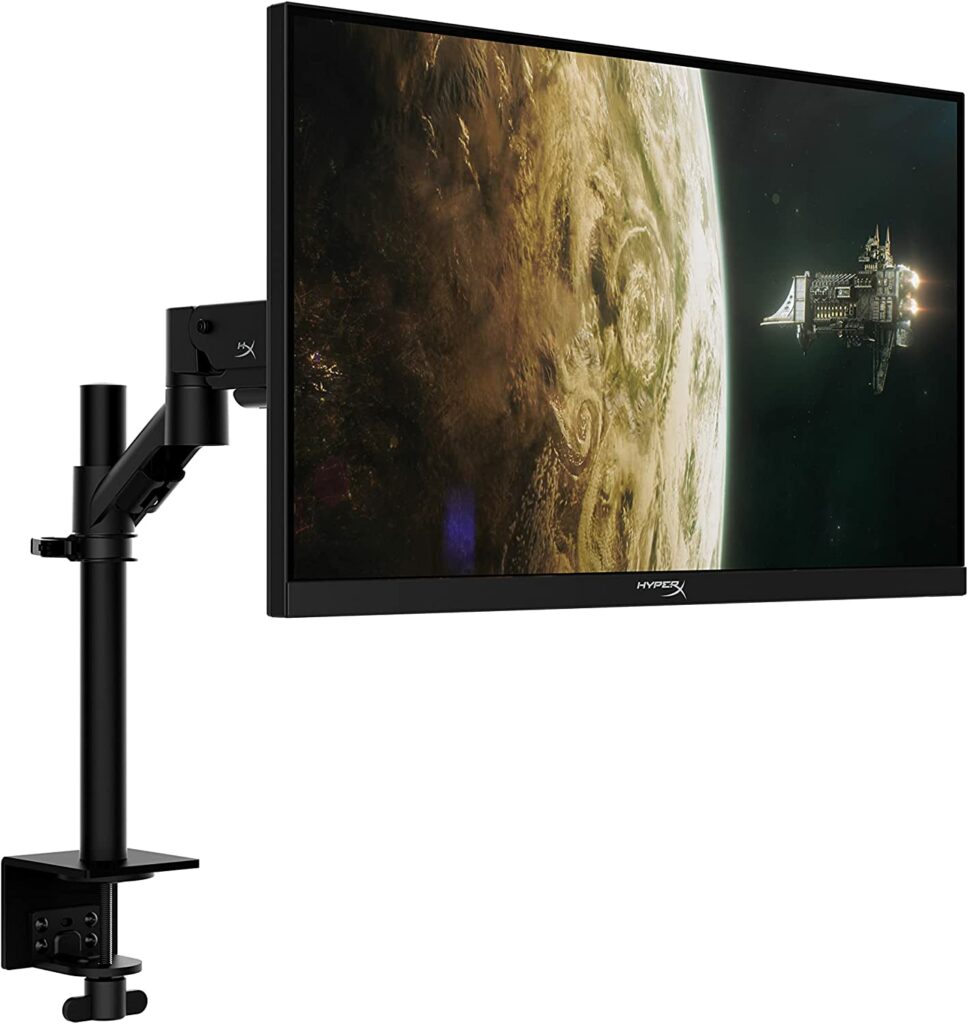 The HyperX Armada 25 offers a 25-inch 240Hz screen that's decently priced and uncompromised when it comes to performance. It also drops the usual stand in favor of a gaming mount so users can save space for other peripherals. The HyperX Armada 25 looks like a solid performer, but can it beat its established competition and become of the premiere E-Sports options in the market?

HyperX Armada 25 Specifications
Screen Size: 25 Inches
Resolution: 1920 x 1080 Full HD
Aspect Ratio: 16:9
Panel Technology: In-Plane Switching (IPS)
Refresh Rate: 240Hz
Response Time: 1ms MPRT
Contrast Ratio: 1000:1 (Static)
Brightness: 400 cd/m2
Built-in Speakers: None
Stand: Height – Yes
Stand: Tilt – Yes
Stand: Swivel – Yes
Stand: Pivot – Yes
VESA Compatibility: Yes (100 x 100)
Connectivity: DisplayPort 1.4 x 1, HDMI 2.0 x 2, 3.5mm Jack x 1
Dimensions with Stand(WxHxD): 21" x 13" (Display)
Weight: 17.1 lbs

Design and Features
The HyperX Armada 25 has a unique overall design, but the main chassis still mostly looks like any other gaming monitor. It has a matte black finish so it's easy to maintain and it will not clash with themed setups. The display is bezel-free on three sides, but it still has inner borders like any other recent PC monitor.
The first thing we love about this monitor is it saves space by default since it comes with a monitor arm instead of a standard desk. The dimensions are practically negligible since the C-clamp only eats up 4 inches by 4.5 inches and the monitor itself is floating in the air. It weighs 17.1 pounds in total, so you won't have trouble with keeping it upright if you have a decent desk surface.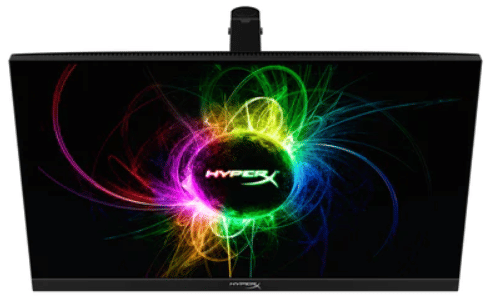 Its build quality is comparable to premium displays so it doesn't feel flimsy even if it's priced lower than most 240Hz monitors. The monitor arm is robust and solid so the screen doesn't sag or wobble unless you intentionally try to make it happen. The plastics used are tough so they won't crack or flex easily under moderate pressure.
The HyperX Armada 25 has an OSD joystick and a dedicated power button at the back for convenience. You have to reach in or pull the monitor closer to get to them, but that's a minor inconvenience when compared to pesky OSD buttons. A remote would be useful in a setup like this, but it is not completely necessary since you can simply pull the monitor closer to you.
What's unique about this monitor is it includes a VESA monitor arm instead of the usual base and tower combination. You can also buy the contraption separately in case you want to use it for other monitors. You can tilt, swivel, pivot, and adjust the height of the screen to get a preferred viewing angle without the additional bulk of a regular stand.
However, what's lacking from the HyperX Armada 25 is a bunch of extra connectors that we expect to see on newer models. You only get DisplayPort 1.4 and two HDMI 2.0 slots, along with a 3.5mm jack for headphones. It could use some USB slots which would help a lot with cable management, but we think that the omission is okay considering the price.
The HyperX Armada 25 also doesn't have speakers, but that's reasonable since a monitor like this works better with a headset. E-Sports gaming requires focus and sensitive hearing so you need to drown out the background noise. It is nice to have backups, but it's also acceptable to not have them if it means better pricing.
Display and Performance
The HyperX Armada 25 sports a 25-inch Fast IPS panel with a 1920 x 1080 resolution, a 240Hz refresh rate, and a 1ms response time. The backlight has a 400 cd/m2 maximum while the contrast ratio is listed at 1000:1. However, it doesn't have HDR certification, although that's okay since the basic HDR 400 standard doesn't mean it can produce real HDR anyway.
1080p monitors are still popular today since everyone is used to them in both gaming and office or school use. It is still the format for competitive play, so you aren't missing out if you choose this model over a 1440p screen. It's also easier to reach that 240Hz limit with most GPUs, so this is ideal if you don't want to spend a small fortune.
The HyperX Armada 25 produced a little over 100% sRGB and 75% DCI-P3 for decent colors in games and movies. That's not the best we've seen, but the default accuracy had a likable deltaE average of only 2.17. Most users won't need to calibrate the monitor for daily or gaming use, so only basic tweaks like adjusting the screen's brightness will be necessary.
Calibrating the monitor reduced its dE average to 1.56 which is better, but not as impressive as we expected. It is usable for basic editing and content creation, but it is not worth getting a colorimeter for it since the improvement was minor. Going with a prosumer monitor is a better route if color accuracy is your priority.
The HyperX Armada 25's backlight reached 355 cd/m2 at 100% so it's a few notches short of the company's claim. Its contrast ratio reached 1205:1 at 60% brightness so it's a bit better in this regard than most IPS monitors. However, that doesn't mean that it's capable of deep blacks like VA or OLED panels.
Panel uniformity for the test unit didn't have major issues like backlight leaks on the edges of the screen. However, there were some variances in the backlight's spread so some spots can look lighter in dark scenes. Note that this can vary due to manufacturing tolerances so there are better and worse units out there.
The HyperX Armada 25's main strength is its pixel response time which is enhanced by its high refresh rate. You don't need to use too much overdrive with it since the maximum level will add overshoot. This means that the monitor is great for fast-paced games. It is still prone to some trailing, but it's going to be a struggle to notice them.
It is also compatible with both FreeSync and G-Sync so you don't have to worry about losing VRR functionality. Both AMD and Nvidia have GPUs that are suitable for this monitor, and it would be a shame at some point if you can't use one because of exclusivity. Input lag sits at 3ms at 240Hz so it's great for competitive gaming.
Thoughts on the HyperX Armada 25
The HyperX Armada 25 is a fantastic option if you want a suitable gaming monitor for competitive play. It offers decent color performance, but its responsiveness and low input lag stand out even more. We also like its use of a monitor arm instead of a stand, giving gamers more options in building or upgrading their setups.
The HyperX Armada 25 is reasonably priced in our eyes, but 240Hz monitors can be had for less nowadays. You can also go with a cheaper monitor to go with a budget 240Hz model, and still, you'll save money with that setup. It's a great option, but thrifty gamers can easily find a better deal if they know where to look.
Pros:
Ergonomic Monitor Arm Included
Decent Imaging Quality
Fast and Responsive
Cons:
Higher Price
Limited Connectivity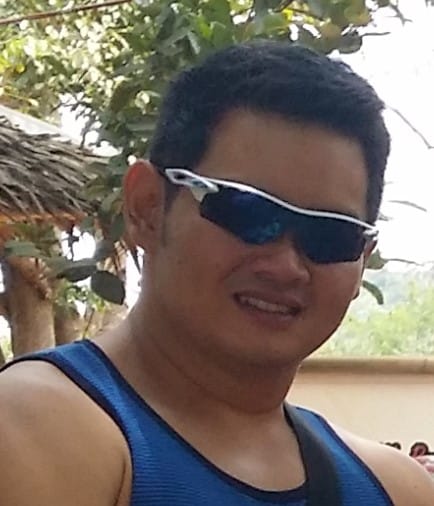 Paolo is a gaming veteran from the golden days of Doom and Warcraft. Since junior high, he has been building gaming systems for family, friends, and colleagues. High-performance monitors are one of his fixations; he believes that every citizen's right to enjoy one. He has gone through several pieces of hardware in pursuit of every bit of performance gain, much to the dismay of his wallet. He has also spent half a decade researching, reviewing, and writing about these products and now has over 1400 articles about the best gaming tech under his belt.