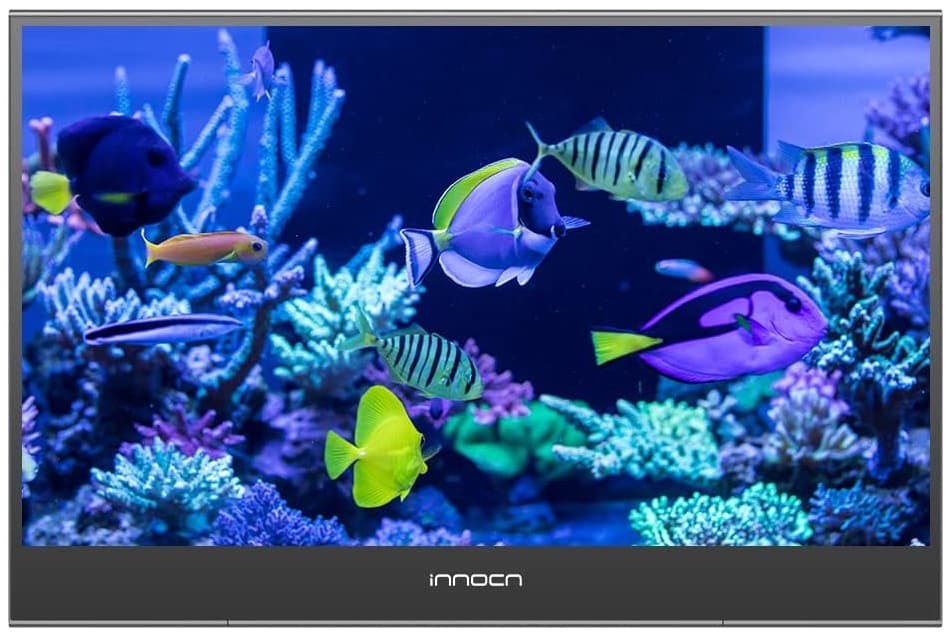 The Innocn 15A1F is a surprisingly impressive yet very affordable portable monitor for any type of use. What makes it particularly interesting is its use of an OLED panel which you won't find on other $350 options. Let's see how the Innocn 15A1F performs to know if it completely beats top portable picks like the Asus ProArt PA148CTV.
Innocn 15A1F Specifications
Screen Size: 15.6 Inches
Resolution:1920 x 1080 FHD
Aspect Ratio: 16:9
Panel Technology: In-Plane Switching (IPS)
Refresh Rate: 60Hz
Response Time: 1ms
Contrast Ratio: 100000:1
Brightness: 400 cd/m²
Built-in Speakers: Yes
Stand: Height – No
Stand: Tilt – Yes
Stand: Swivel – No
Stand: Pivot – No
VESA Compatibility: No
Connectivity: USB-C x 2, Mini-HDMI x 1
Weight: 1.6 lbs

Design and Features
The Innocn 15A1F sports a simple aesthetic that would make it fit right into workstation laptops or next to premium laptops like the MacBook Pro. The aluminum casing has a gunmetal finish while the frontal coating is glossy this time around. It doesn't have plastic bezels, but it has black inner borders under the front cover.
The device itself is barely thicker than an iPhone, but it has a notch that sticks out from the back for the kickstand. However, that doesn't affect its suitability for most laptop bags since it's still thin enough and it's no bigger than a typical 15.6-inch laptop. It also only weighs 1.6 pounds so users won't feel the added strain while carrying it inside a pack.
Its build quality is great and comparable with the top brands since it uses strong and luxurious materials. The aluminum housing feels solid and durable since it doesn't flex, but anyone can still dent it if it accidentally dropped. We didn't see any cosmetic defects, plus we prefer the kickstand design over flimsy flip covers simply because it is more stable.
The Innocn 15A1F's OSD controls are rather simple, but that's okay since it doesn't have a full OSD anyway. It has an up/down button and a power key that also functions as the select or enter key while you are navigating the menus. Frankly, it doesn't need anything more complex like a joystick since there are only a few options in the menus.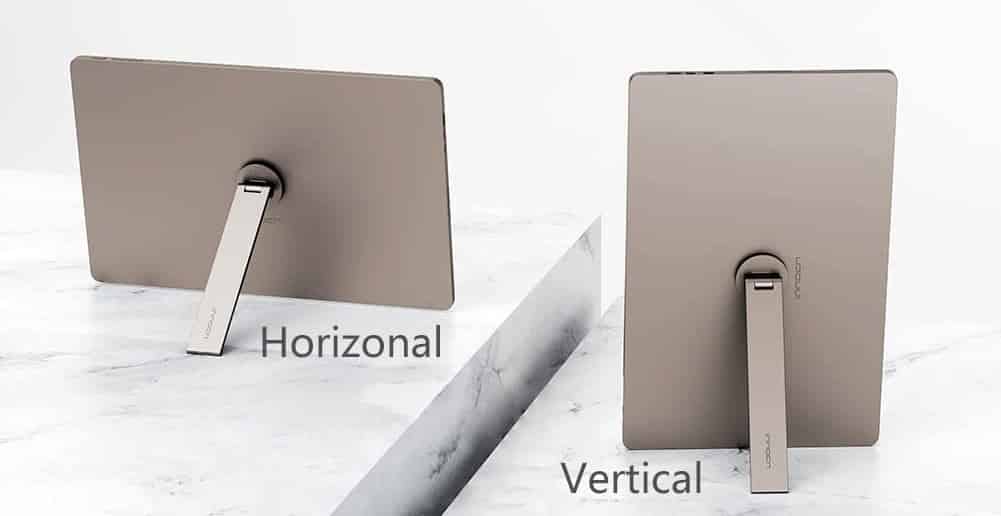 We like the kickstand design on this model since it is detachable and more reliable than the flip covers you'd normally find with these products. Its durable and stable, but as always its flexibility is limited just like with any portable monitor. You can tilt the screen a bit or set it to portrait mode, but that's about It for ergonomics.


Its connectivity layout isn't complicated as well, but it's just right for the monitor's prime purpose. You get two USB-C slots with DP Alt Mode and a Mini-HDMI for two devices, but there is no 3.5mm jack. You can use one USB-C port for video inputs while the other can be connected to an adapter for power passthrough to your laptop.
It even has tiny speakers, but they sound quiet and unimpressive when trying to play complex audio. Your laptop's set will definitely sound better, so we recommend using that or a pair of headsets instead.
Display and Performance
The Innocn 15A1F sports a 15.6 OLED panel with a 1920 x 1080 resolution, a 60Hz refresh rate, and a 1ms minimum response time. It has a 400 cd/m2 brightness output and a whopping 100000:1 contrast ratio according to its spec sheet. These numbers are far from what other portable monitors can offer, but it is not impossible for an OLED panel.
A 15.6 full HD panel looks natural if you are used to laptops and their smaller screens for any type of task. Its sharper since the pixels per inch are denser so text and images won't look fuzzy unless you look very closely at the screen. The space it provides isn't massive like with a 4K option, but the purpose of this product is to double or add more room for your workflows with a laptop.
The Innocn 15A1F renders more than 100% sRGB and DCI-P3 color for stunning vibrancy and saturation in any type of use. That's more than double what the other portable displays can offer, but its deltaE average is way off at 4.11. Unfortunately, there is no way to calibrate the monitor so its not going to be used for editing work.
Its maximum brightness is the highest we've seen in the portable display market since it reached up to 381 cd/m2 at 100%. We couldn't measure its contrast accurately, but that 100000:1 isn't far off for sure since this is an OLED monitor. Colors are rich while black backgrounds and dark scenes are deep and convincing, unlike the IPS variants which look grayish or washed out when displaying the same type of content.
Panel uniformity for the Innocn 15A1F sample did not have any issues since it doesn't have a WLED backlight. The screen looks even all throughout and there were no bleeding or clouding issues since its illumination comes from the pixel itself. This is one of the advantages of OLED technology, but it can quickly be ruined by burn-in issues if you don't take care of the product.
OLED panels are great for gaming since they have near instantaneous pixel response times. This model has this characteristic as well, but some persistence can still show up in fast-paced or highly contrasting transitions. It's not as fast as an OLED TV that has gaming features, but it is not too bad considering this product was designed for a specific purpose.
Of course, the 15A1F doesn't have Adaptive Sync capabilities like a full desktop display. That's understandable since it is designed as a secondary display, plus most systems can run 1080p 60Hz easily. We couldn't measure input lag accurately, but it feels just like any other 1080p monitor out there that usually has 10 to 15ms of latency.
Thoughts on the Innocn 15A1F
The Innocn 15A1F is a great value pick if you want a vibrant portable monitor for working on the go or for general entertainment purposes. Its OLED panel is capable of brilliant colors and rich vibrancy, plus it doesn't have issues associated with having a WLED backlight. It's also built better than some of the premium models out there thanks to its aluminum housing which feels very nice.
However, there are some flaws with the Innocn 15A1F like its dismal color accuracy due to its extended gamut coverage. Its glossy layer at the front complements its vibrancy, but it makes the monitor less ideal for outdoor use since it will reflect a lot of glare. But overall, it's a steal at its current price point and we'd instantly recommend it except if you want something for editing purposes.
Pros:
Affordable OLED Display
Dual USB-C
Fantastic Gamut Coverage
Thin and Lightweight
Cons:
Prone to Burn-In
Glossy Coating Not for Everyone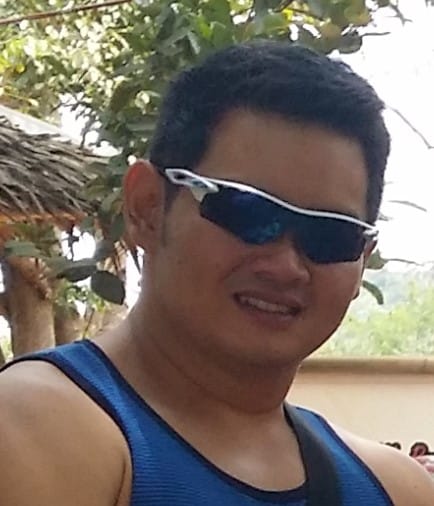 Paolo is a gaming veteran from the golden days of Doom and Warcraft. Since junior high, he has been building gaming systems for family, friends, and colleagues. High-performance monitors are one of his fixations; he believes that every citizen's right to enjoy one. He has gone through several pieces of hardware in pursuit of every bit of performance gain, much to the dismay of his wallet. He has also spent half a decade researching, reviewing, and writing about these products and now has over 1400 articles about the best gaming tech under his belt.