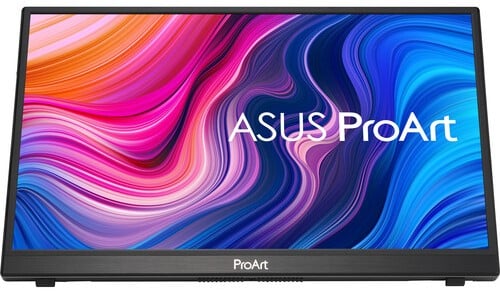 The Asus Asus ProArt PA148CTV is an upscale portable monitor with accuracy and image quality mind for professionals. It's smaller and supposedly better than samples like the MB16AMT since it promises better color performance. Let's check out how the Asus ProArt PA148CTV performs to see if it is worth the hefty price.

Asus ProArt PA148CTV Specifications
Screen Size: 14 Inches
Resolution:1920 x 1080 FHD
Aspect Ratio: 16:9
Panel Technology: In-Plane Switching (IPS)
Refresh Rate: 60Hz
Response Time: 5ms
Contrast Ratio: 700:1
Brightness: 300 cd/m²
Built-in Speakers: Yes (2 x 1 Watt)
Stand: Height – Yes
Stand: Tilt – Yes
Stand: Swivel – No
Stand: Pivot– No
VESA Compatibility: No
Connectivity: USB-C x 2 Micro-HDMI x 1
Dimensions With Stand(WxHxD):12.8″ x 8.0″ x 0.5″
Weight: 1.6 lbs

Design and Features
The Asus ProArt PA148CTV looks different than the MB series due to several things such as its different and improved design. The device has a matte black finish that looks clean and easy to maintain so it will always look new. The display is bezel-free with thin borders on the top and sides which helps to maximize the view the 14-inch panel provides.
It is also slightly thicker than the business variants due to some changes in the design, but it's lighter by a few ounces. It is, however, a 14-inch display, so it is smaller and more compact, so it will be easier to fit into smaller bags or laptop cases if needed. That also means you need less desk space, especially if you get a tripod that is compatible with this model.
It has great build quality since it's sturdy thanks to its strong plastic panels which are molded perfectly. There is very little flex, and we don't think it will crack easily unless the body is subjected to extreme pressure. The built-in kickstand isn't flimsy and stable, so the display won't topple too easily, unlike too many portable monitors.
The Asus ProArt PA148CTV uses a scroll wheel for its OSD and a dedicated button for its power switch. Thanks to the textured wheel and its smooth rotation and click, the former is quite easy to use compared to buttons. Joysticks are still more convenient, in our opinion, but at least you don't have to deal with multiple keypresses with this monitor.
Its stand is, as mentioned, built into the chassis, so you don't have to deal with flimsy flip covers that the cheaper variants have. It is stable enough to keep the monitor upright, but you only get tilt for adjustments. You can also use a monitor tripod, but that's a luxury item that most will not need in typical usage scenarios.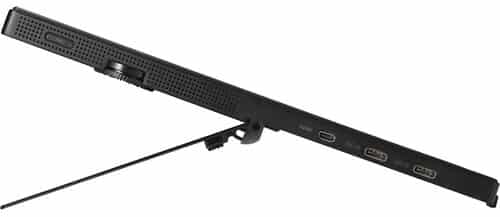 The Asus ProArt PA148CTV has two USB-C slots and a micro-HDMI slot for inputs to be used for a multitude of devices. Both the USB-C slots support DP Alt Mode, and you can use either slot for power delivery while one is populated with the input cable. The Micro HDMI slot is quite valuable for non-USB-C host devices such as the Nintendo Switch since it opens up another way to use the monitor.
This model also has a pair of 1-Watt speakers that sound tinny and unusable, especially if you are working outdoors. Your laptop's speakers are guaranteed to sound better, so we reckon this feature won't get much use at all. However, it is always nice to have extra features like this, especially if you spend top dollar on a gadget.
Display and Performance
The Asus ProArt PA148CTV sports a 14-inch IPS panel with a 1920 x 1080 resolution, a 60Hz refresh rate, and a 5ms response time. The backlight has a 300 cd/m2 maximum while the contrast ratio is listed at 700:1, like most portable monitors. This model doesn't have HDR features, but it advertises wider gamut coverage and pre-calibrated accuracy, which would be an advantage over other portable monitors.
It is only 1080p, but this monitor will look crisper than most laptop screens since it's only 14 inches. However, that doesn't equate to bad legibility since it's still fairly easy to read the text in this format, provided that you are used to laptop screens. It is unreasonable to go with 1440p or even 4K at this size even you get more space with them.
The Asus ProArt PA148CTV renders 96% sRGB, which is decent for daily use but slightly under the product's 100% claim. Default accuracy is indeed better since the deltaE average is only at 1.55 so the screen looks balanced and correctly saturated. Most users will be happy without tweaking it and it performs just as well as the other ProArt monitors in this regard.
We further love it because it can be calibrated manually unlike other portables that often do not have RGB controls. The monitor scores a considerably lower dE accuracy of 0.77 which is something you'd get from a display that's rated for editing purposes. Getting this kind of score is challenging without the help of a colorimeter, and those aren't particularly cheap or accessible.
Its backlight reached 302 cd/m2 while its contrast peaked at 988:1 at 80% backlight. Like most IPS panels, it is still incapable of deep blacks, but it looks better at displaying night scenes than the competition. Couple that with decent vibrancy and you get a portable display that you can use for entertainment while traveling.
Panel uniformity for the Asus ProArt PA148CTV sample did not show any backlight bleeding or clouding issues. There are some variances in the upper edge of the screen, but it was only noticeable in extreme circumstances. Note that this could change with the actual unit since all IPS panels aren't equal, so getting something with bad symptoms is entirely possible.
It is also slightly better with its pixel response time, but it's still prone to blurring in fast-paced titles. However, the monitor still has a Trace Free setting which alleviates this issue if it's set to 60. It cannot completely eliminate the persistence and smudges, but its not a big issue for casual titles.
The Asus ProArt PA148CTV isn't compatible with FreeSync and G-Sync, but that's natural for a portable monitor that's aimed at business users. You won't need VRR for 60Hz 1080p gaming anyway, since practically any system can run games for that stably. Input lag sits at 10ms at 60Hz, so there is no need to worry about delays while using the monitor.
Thoughts on the Asus ProArt PA148CTV
The Asus ProArt PA148CTV is an excellent option if you want a portable monitor for editing and content creation while on the go. It doesn't meet its claimed gamut coverage, but it's accurate with a deltaE average that's well below dE 2.0. It's also better designed than most portables, especially those that rely on flip covers to double as the monitor's stand.
However, the PA148CTV isn't particularly cheap, especially when compared to the business variants like the MB16AMT. It's the best option if you are after accuracy, but that excellent ProArt treatment demands a premium many are not willing to pay for, especially for a secondary display.
Pros:
Vibrant and Accurate
Robust Design
Excellent Build Quality
USB-C
Cons:
Expensive
Limited Contrast
About the Author: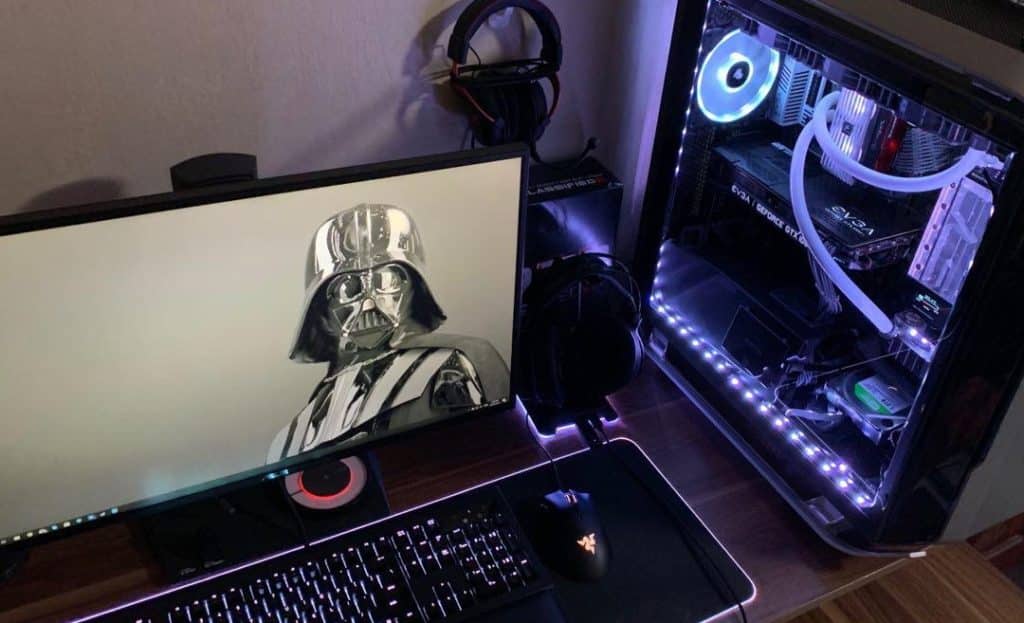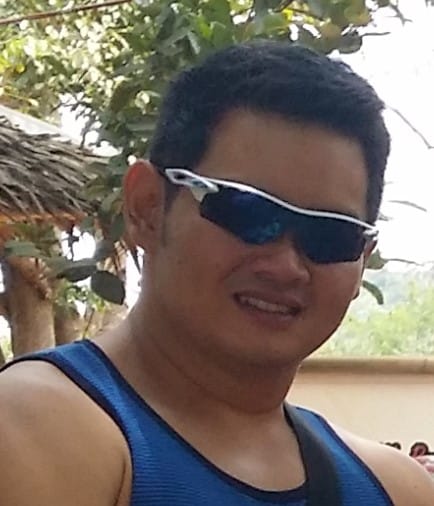 Paolo is a gaming veteran since the golden days of Doom and Warcraft and has been building gaming systems for family, friends, and colleagues since junior high. High-performance monitors are one of his fixations and he believes that it's every citizen's right to enjoy one. He has gone through several pieces of hardware in pursuit of every bit of performance gain, much to the dismay of his wallet. He now works with Monitornerds to scrutinize the latest gear to create reviews that accentuate the seldom explained aspects of a PC monitor.