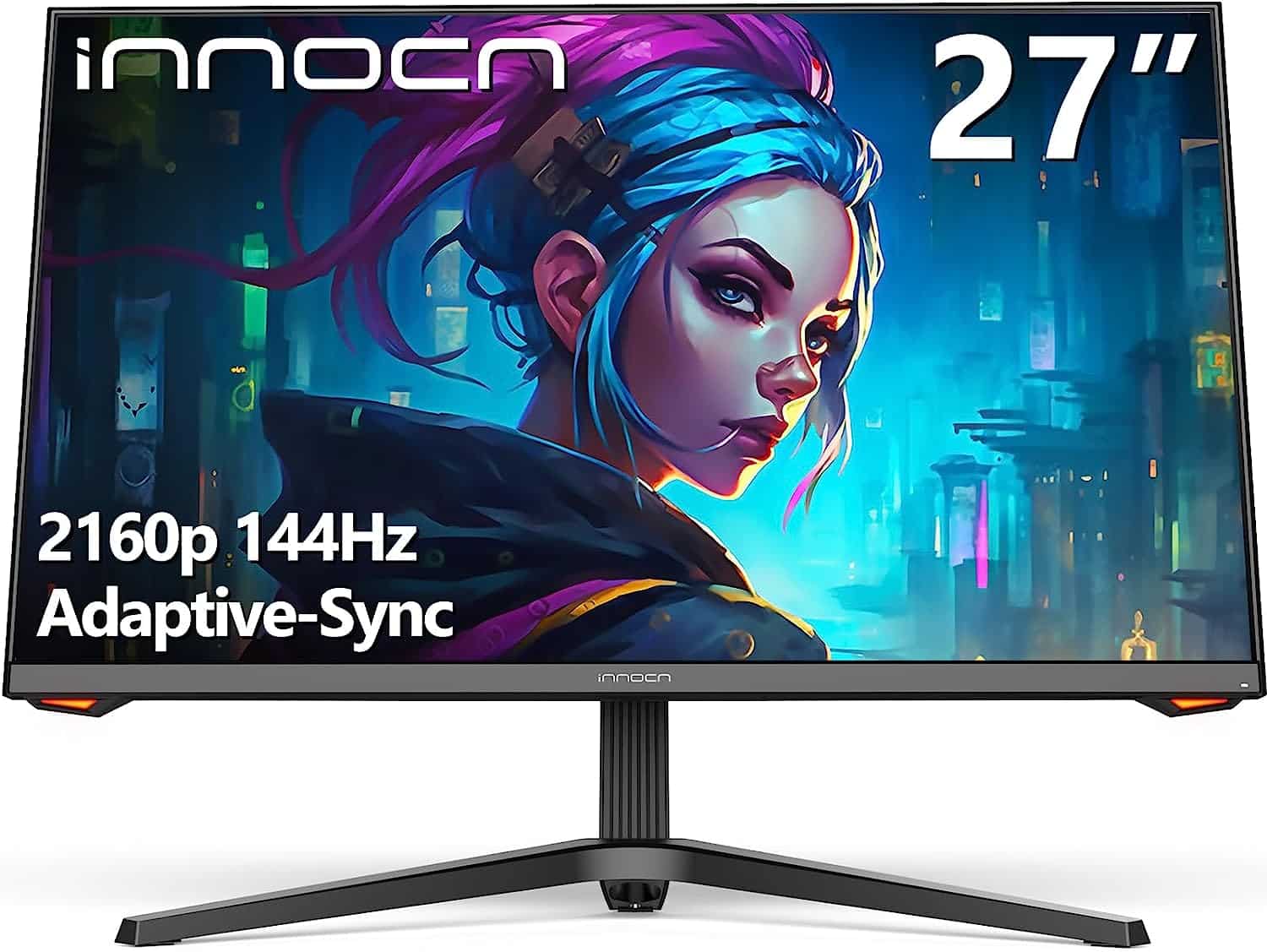 The INNOCN 27G1V offers tremendous value as a sub-$500 4K monitor that goes up to 155Hz. INNOCN has been breaking price barriers with its latest offerings, going as far as bringing its OLED portable monitors down to less than $200. However, nothing is perfect, so let's take a closer look at this very attractive monitor to see its limitations.

INNOCN 27G1V Specifications
Screen Size: 27 Inches
Resolution:3840 x 2160 UHD
Aspect Ratio: 16:9
Panel Technology: In-Plane Switching (IPS)
Refresh Rate: 144Hz (155Hz OC)
Response Time: 1ms
Contrast Ratio: 1000:1
Brightness: 350 cd/m2
Built-in Speakers: Yes
Stand: Height – Yes
Stand: Tilt – Yes
Stand: Swivel – Yes
Stand: Pivot– Yes
VESA Compatibility: Yes (75 x 75)
Connectivity: DisplayPort 1.4 DSC x 1, HDMI 2.0 x 2, USB 3.0 x 2, 3.5mm Jack x 1
Dimensions With Stand (WxHxD): 24.37″ x21.35″ x 9.35″
Weight: 12.89 lb

Design and Features
The INNOCN 27G1V starts out as a simple-looking monitor, but it still has discrete gamer-centric design elements. The monitor has a matte black chassis that's highlighted with red LED lights at the back and the bottom corners of its front. It has a bezel-free design, although it still has inner borders like most modern IPS panels.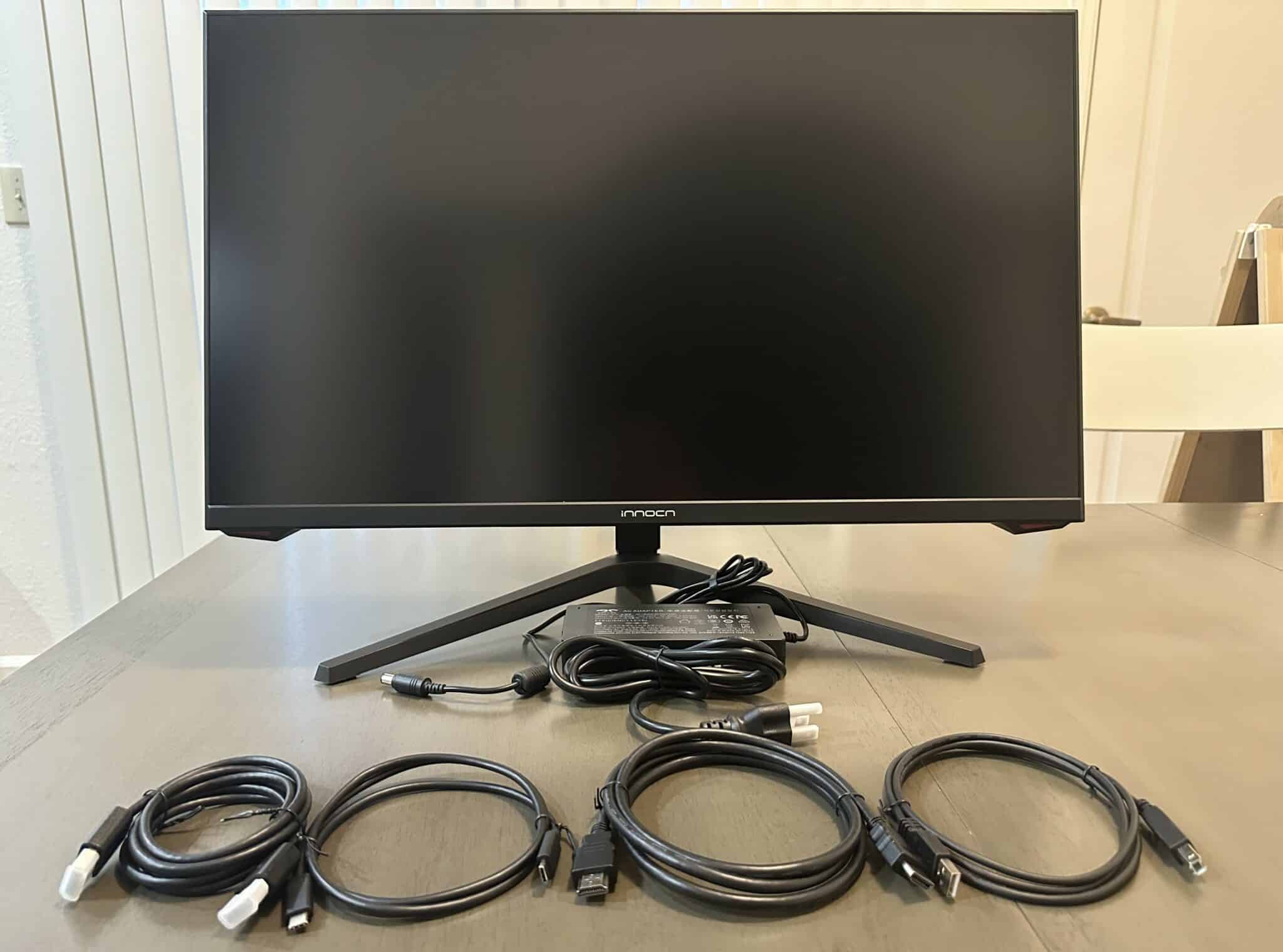 The monitor needs assembly, but it's fairly easy since the chassis snaps onto the stand while the base is tool-free. INNOCN included every cable it needs for operation, but it does have a bulky power brick. It's difficult to hide from plain sight due to its size, but it is understandable since the monitor will need plenty of power while running its panel's maximum output.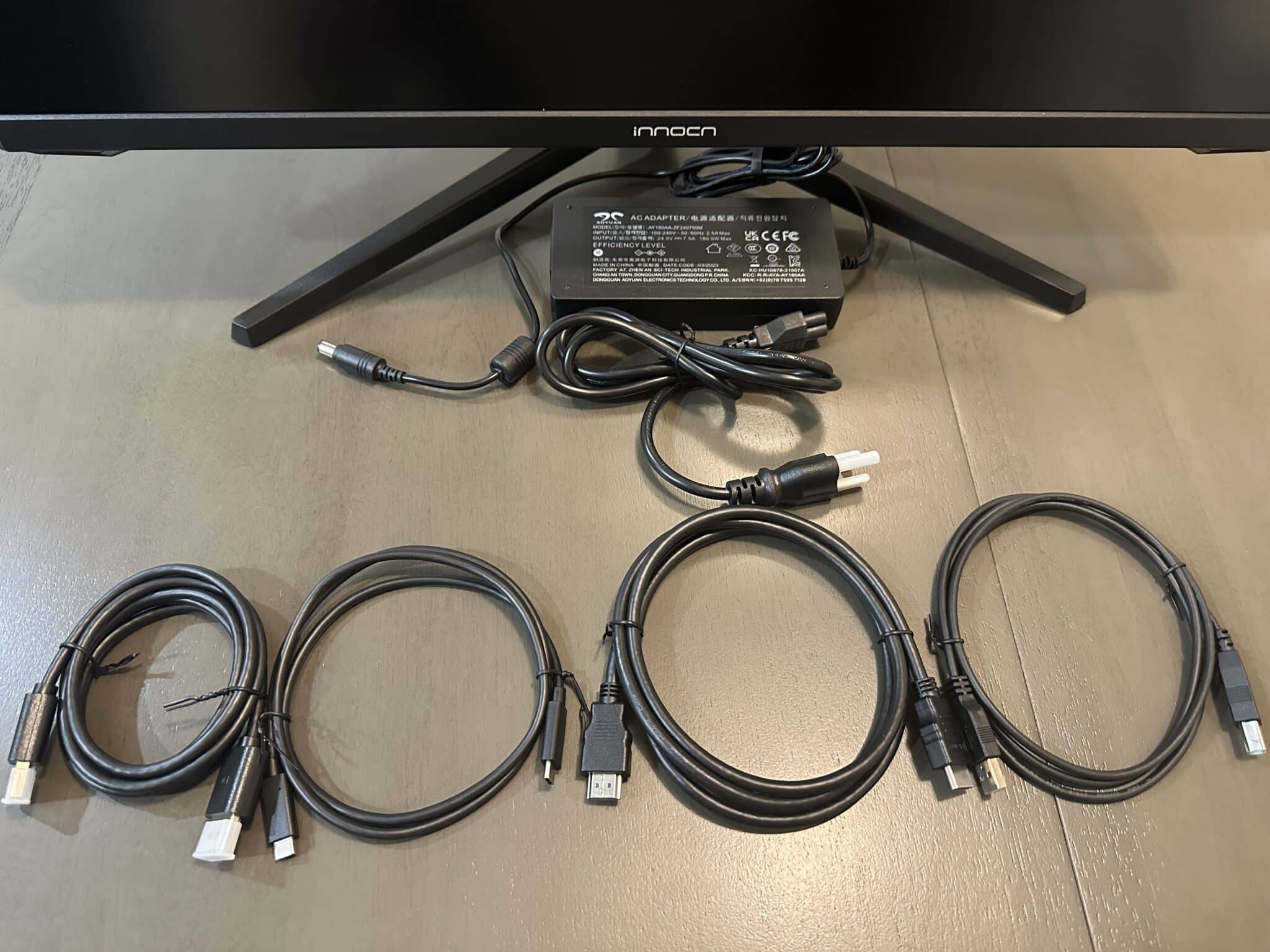 It's not gigantic by today's standards, so it should fit most desktop sizes without any issues. It only needs 9.35 inches of depth when fully assembled, so you will have more room for smaller peripherals on deck. It's also lightweight at 12.89 pounds, so it is fairly easy to move or carry it around while rearranging your setup or going to a gaming event.
INNOCN isn't a big-name brand yet, but its products can compete with the best when it comes to build quality. The monitor's materials feel very durable even if it's mostly made of plastic, plus they are machined with excellent precision. The included stand is firm and stable, so the screen won't sag or shake while you are in the middle of an intense session.
The INNOCN 27G1V has a crisp OSD joystick, but it is not as easy to use as we'd hope. The controls are clunky since you have to push to the left to enter or select and up or down to navigate. Pressing it makes the process even worse since that will power off the display.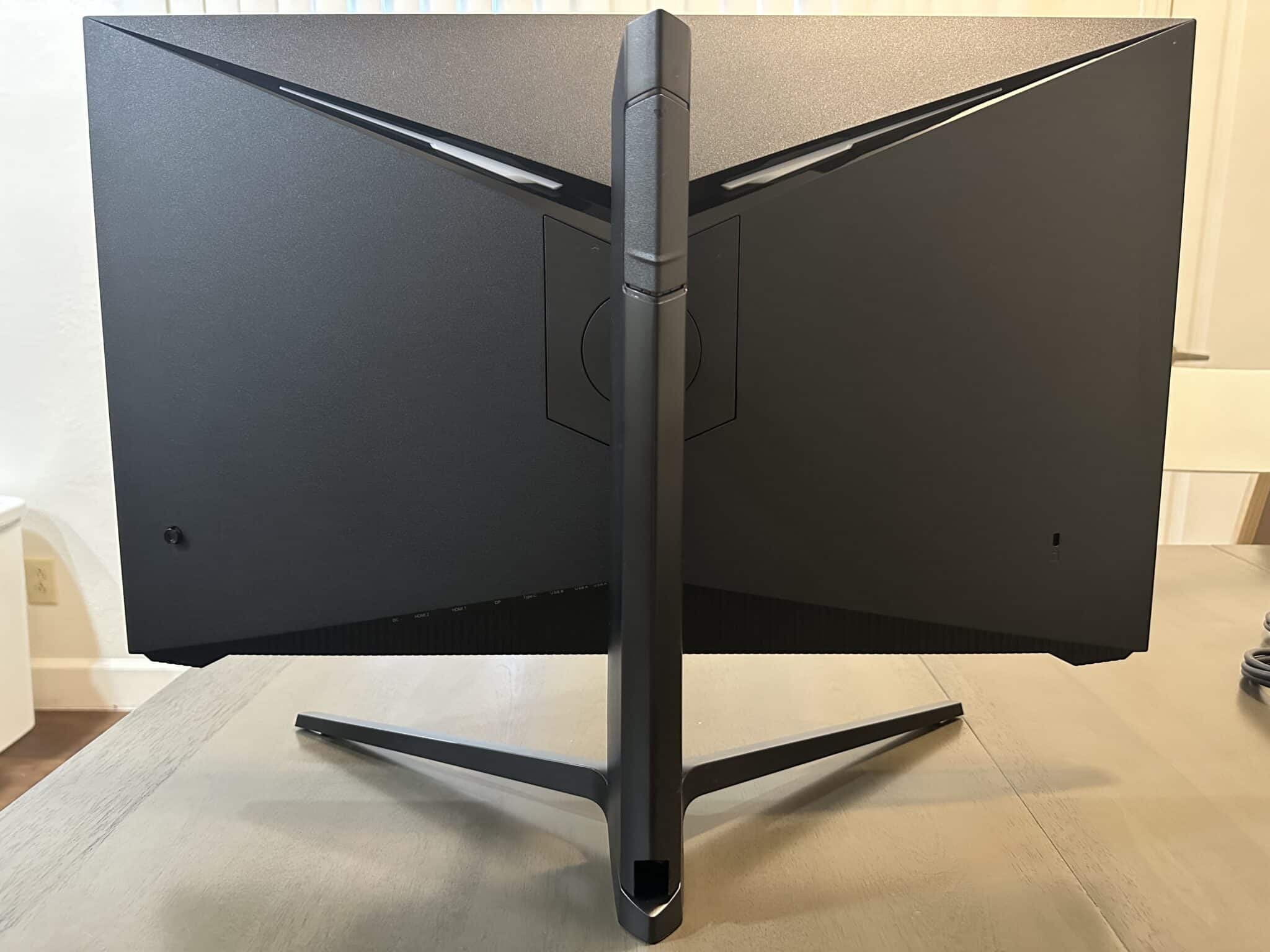 We wish they just added a dedicated power button so that this complexity could be avoided altogether. It is usable, but it took some time to process each direction's input while calibrating the display. The good news is that you only have to click it downward if you need to adjust brightness, depress it to the left for input selection, and press it upwards to bring up the monitor's crosshair overlays.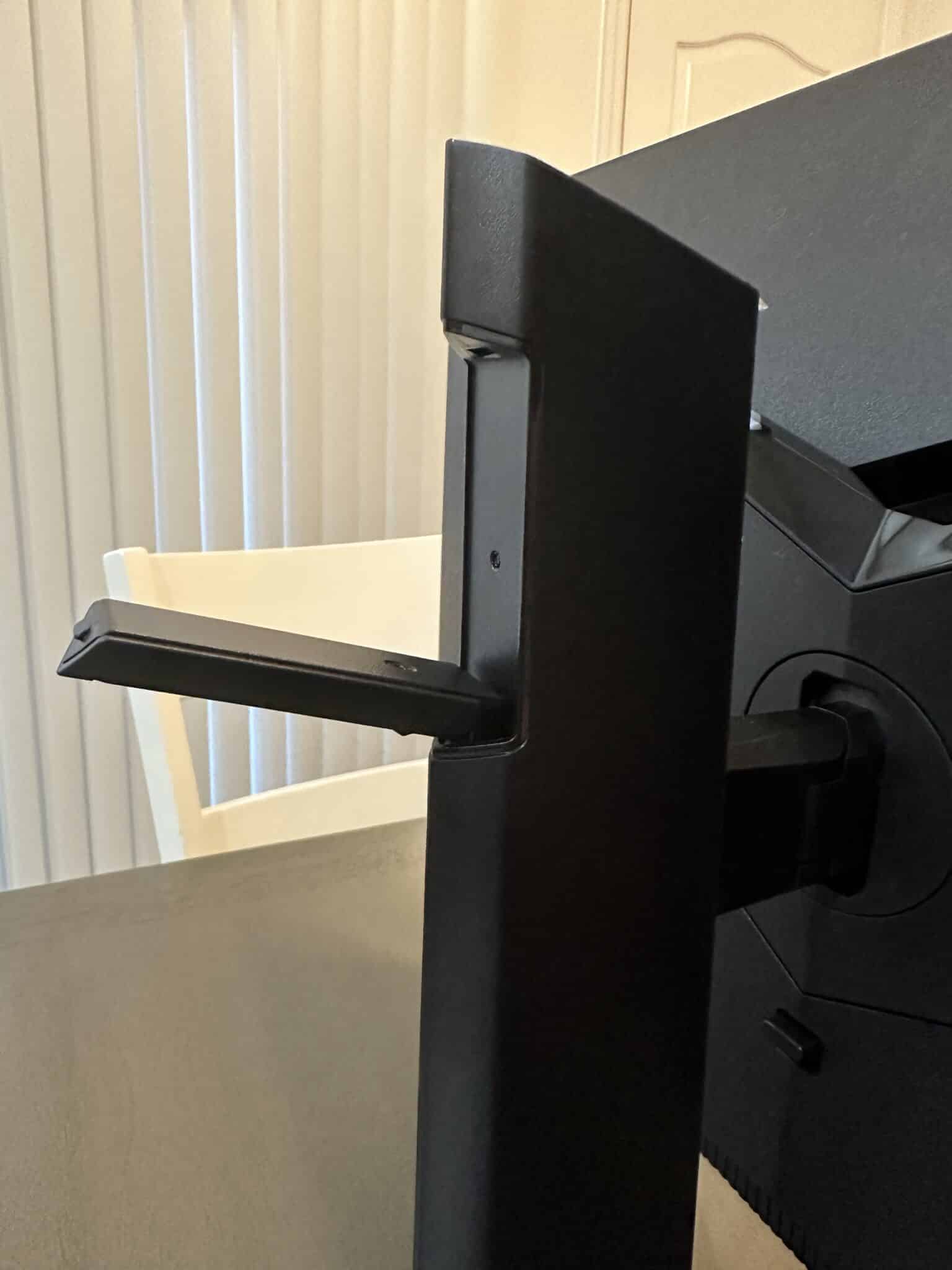 The stand included in the package offers tilt, swivel, pivot, and height adjustments for your convenience. Most budget offerings often use tilt-limited stands to help with pricing, but that is not the case, even if this is the cheapest 4K 144Hz option out there. You can also use VESA mounts with 75×75 adapters, but that's only necessary in special cases.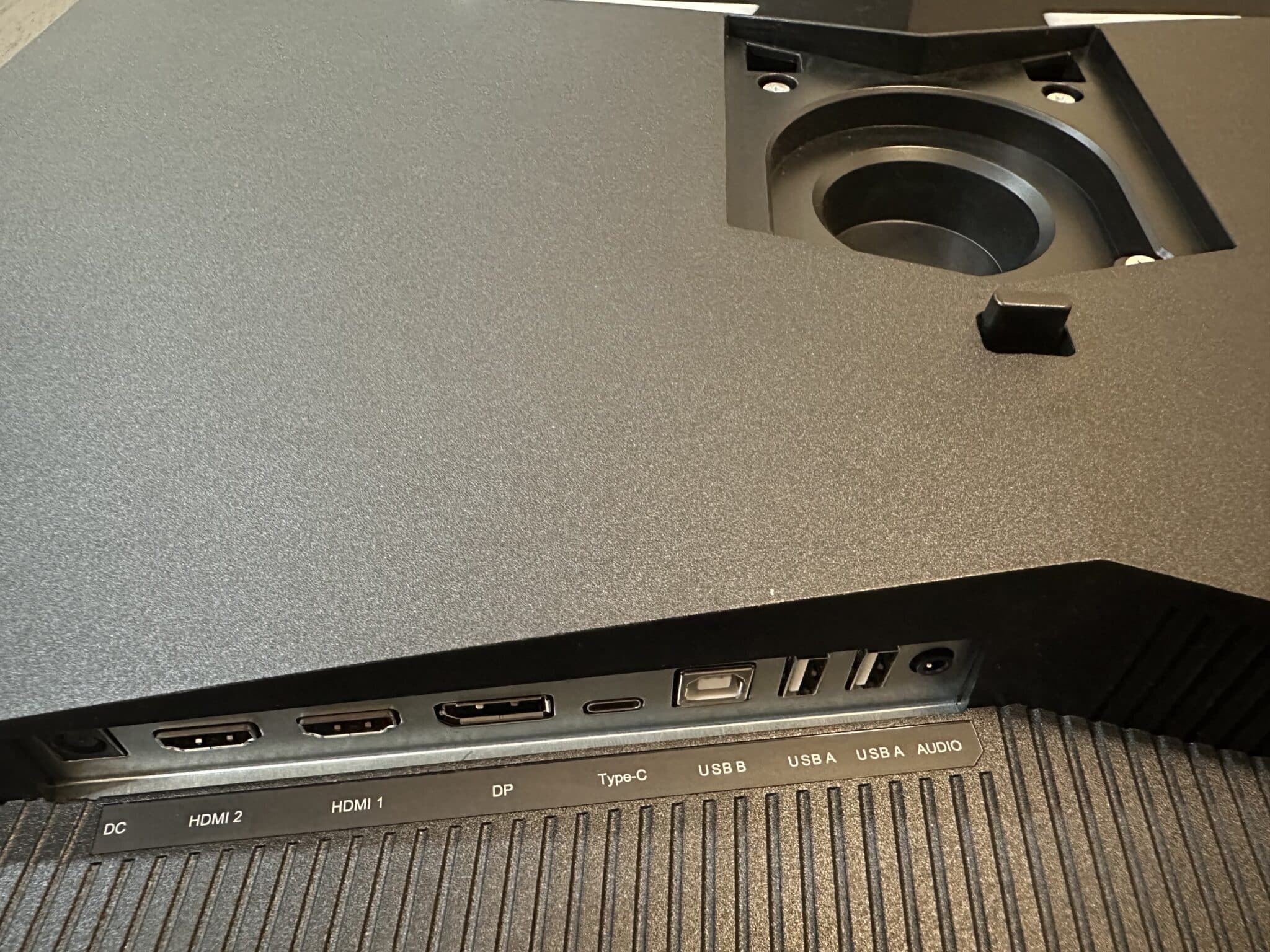 The INNOCN 27G1V's connectivity layout also extends its value per dollar due to its inclusions. You get the standard DisplayPort 1.4 DSC slot, two HDMI 2.0 ports, and a 65-watt USB-C port for work laptops. There is also a pair of USB-A ports for accessories, a type-B port for upstream, and a 3.5mm jack for headphones.
We know it's disappointing for a 4K gaming monitor not to have HDMI 2.1 at this point, especially when it is trying to be very competitive in a contested segment. However, that's, again, understandable since this model only costs $399.99 at the time of review. The closest alternative with HDMI 2.1 costs at least $200 more, so we're willing to overlook that omission.
You also get speakers with the package, but we'd rather not use them for gaming or entertainment purposes. The built-ins don't sound clear and are incapable of great bass response, so they are only useful as a backup for basic listening tasks. Again, this is forgivable, plus you will use headsets anyway to maximize the gaming experience and focus.
Display and Performance
The INNOCN 27G1V sports a 27-inch IPS panel with a 3840 x 2160 resolution, a 155Hz maximum refresh rate, and a 1ms boosted response time. The backlight has a 350 cd/m2 output, while the contrast is listed at 1000:1, like most IPS panels. This model has HDR 400 capabilities, but we all know how limited it is when it comes to HDR performance.
4K is best viewed on a 27-inch variant if you want crisp images, although scaling might be necessary in some instances. Walls of text are barely readable at 100% scale, but games and images look extra sharp in return. We recommend swapping between 100% and 150% scaling rates as needed, although you can zoom in with your browser and most office document apps.
It ran without any issues when it was plugged into a PC and a gaming laptop via USB-C. The latter enables 4K 155Hz without any issues, although FreeSync mode and G-Sync compatibility were grayed out with it. We recommend using DisplayPort to utilize the monitor to its full potential since VRR is truly essential while gaming at this resolution.
The INNOCN 27G1V covered 100% sRGB, 94% Adobe RGB, and 91% of the P3 color space for excellent vibrancy. Its default accuracy had a deltaE average of 3.29, so it didn't have that neutral look calibrated displays have. However, the cooler default hue of the monitor looked suited for gaming, so most of its primary audience will not mind.
Using the Calibrite Display Plus did not have any major effect on the monitor, and everything we tried was futile. We got a 3.1 dE average score out of one run, so there was minimal improvement except for the noticeably lesser cool hue of the display. We did manage to drop it to dE 2.91, but it was too warm and light since achieving that required us to drop the gamma to 2.0.
That doesn't mean that this monitor is bad for what it was designed to do, but we're so used to getting high-end displays with plenty of headroom. Other wide-gamut displays can often be calibrated to sub-1.0 averages, but it's essential to note that they are considerably more expensive. This should be fine for gaming, but those who work in editing or content creation might not feel the same way.
The INNOCN 27G1V's backlight reached 308 cd/m2 at 100%, falling slightly short of the brand's advertised rating. Its HDR mode did not increase it to reach the HDR 400 spec, but that's fine since you can't expect massive improvements there anyway. Its contrast peaked at 1110.76:1 at 38% brightness, so it has slightly better black luminance than other IPS monitors.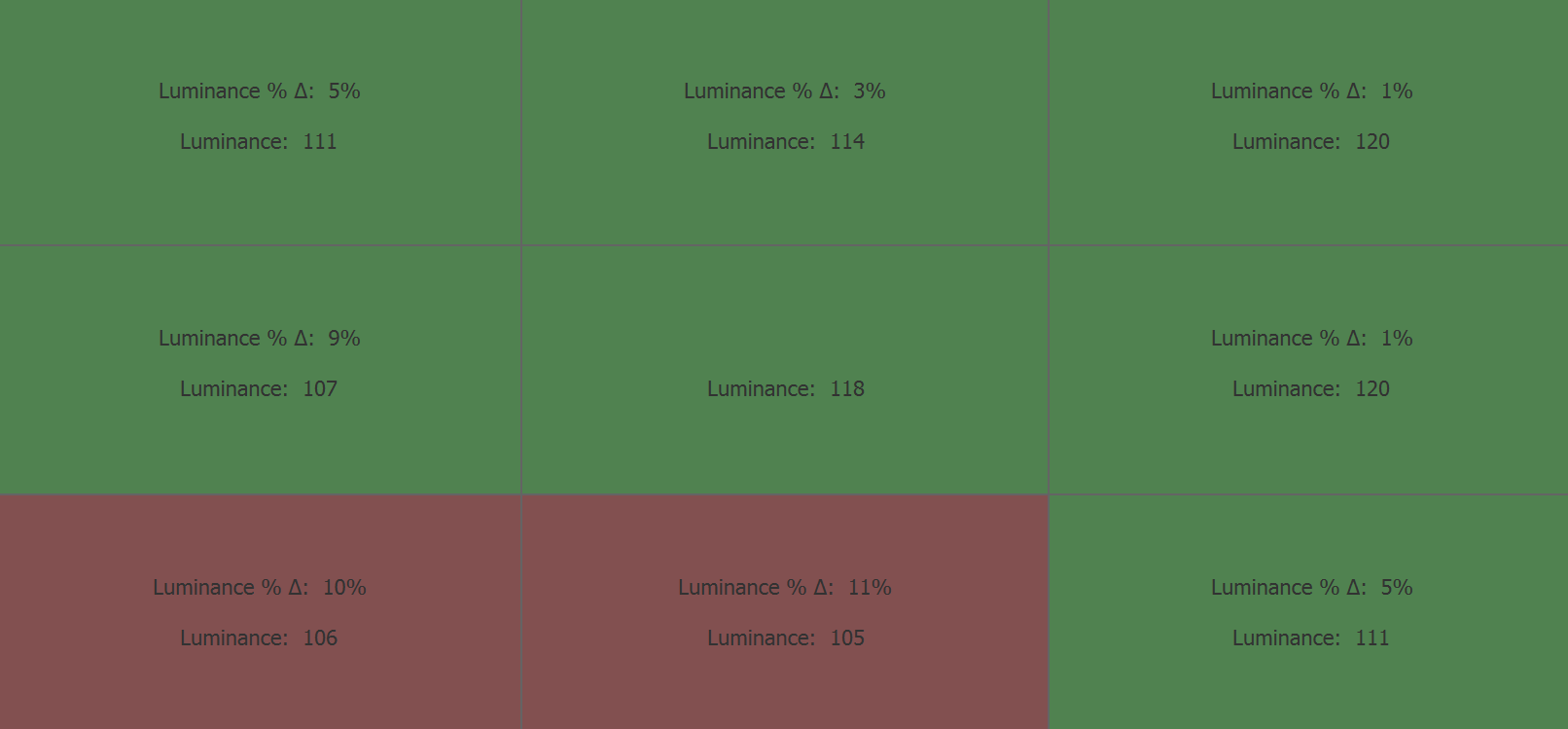 Panel uniformity for the test sample wasn't perfect since the lower edge towards the left of the screen was dimmer by 10% from the center. It wasn't noticeable in games, but dark scenes or images can reveal the flaw. Note that this can change with every unit made due to tolerances, so there are better units out there.
Its very responsive thanks to the high 155Hz overclock and the high-quality panel it used. There was barely any blurring, so we didn't feel the need to use its MPRT mode. However, recommend using the monitor's Normal or Fast Response Time setting for games like Valorant or CSGO to reduce persistence in contrasting transitions.
The INNOCN 27G1V is compatible with both FreeSync and G-Sync, but you have to use DisplayPort to utilize either of them. VRR is an integral part of high-resolution gaming where stable framerates can be challenged. Its input lag sits at 4ms at 155Hz, which makes it just as fast as its more premium competitors.
Thoughts on the INNOCN 27G1V
The INNOCN 27G1V offers tremendous value at its $399.99 price tag at the time of its review. You are getting an overclocked 4K 155Hz gaming monitor for the price of a 1440p variant if you choose it. It has all the necessary features in a modern computer display, plus it is built quite well compared to its big-name counterparts like the Gigabyte M28U.
Perfection cannot be expected at this price range, and you would spend thousands if you chase it. However, the wallet-friendly 27G1V takes its limitation in stride by providing solid gaming performance at a fraction of the price. It would be easy to overlook its high dE or its lack of HDMI when you are enjoying that glorious 4K 155Hz output with your favorite titles.
Pros:
Most Affordable 4K 144Hz+ (At the Time of Review)
155Hz Refresh Rate
65W USB-C Included
Robust and Attractive Design
Cons:
Limited HDR Performance
Inaccurate Color (Default and Calibrated)
No HDMI 2.1
About the Author: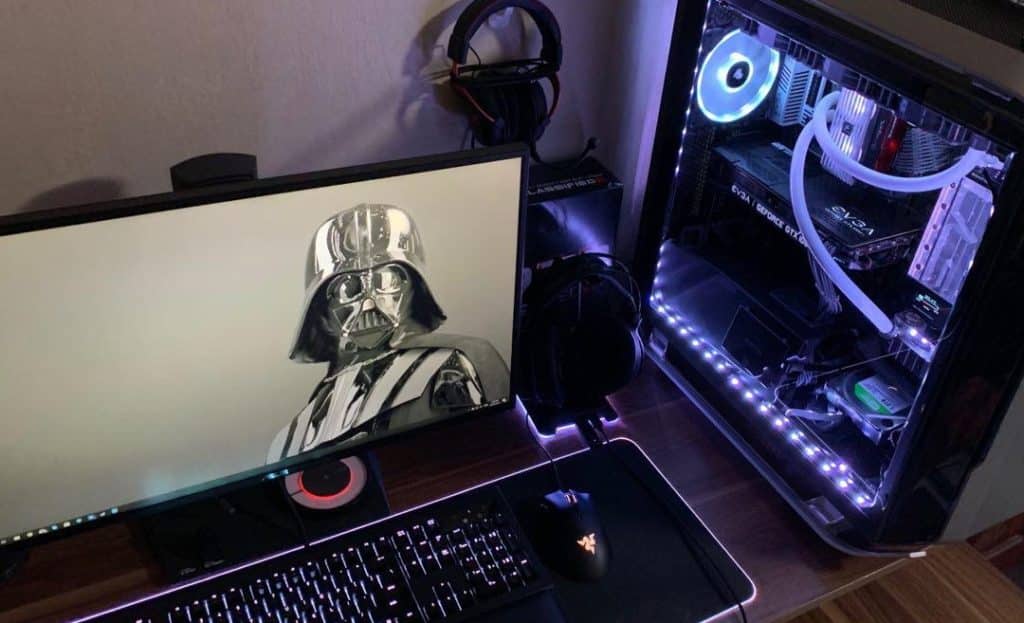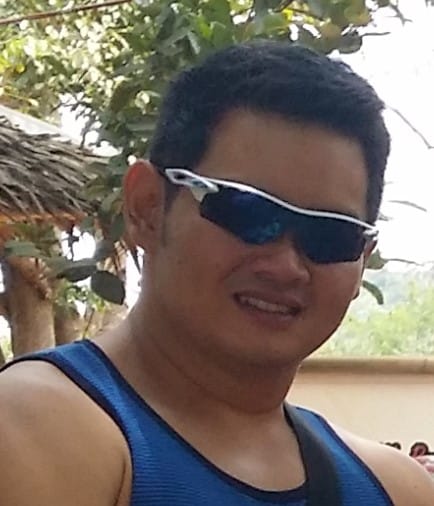 Paolo has been a gaming veteran since the golden days of Doom and Warcraft and has been building gaming systems for family, friends, and colleagues since junior high. High-performance monitors are one of his fixations; he believes that every citizen's right to enjoy one. He has gone through several pieces of hardware in pursuit of every bit of performance gain, much to the dismay of his wallet. He now works with Monitornerds to scrutinize the latest gear to create reviews that accentuate the seldom explained aspects of a PC monitor.