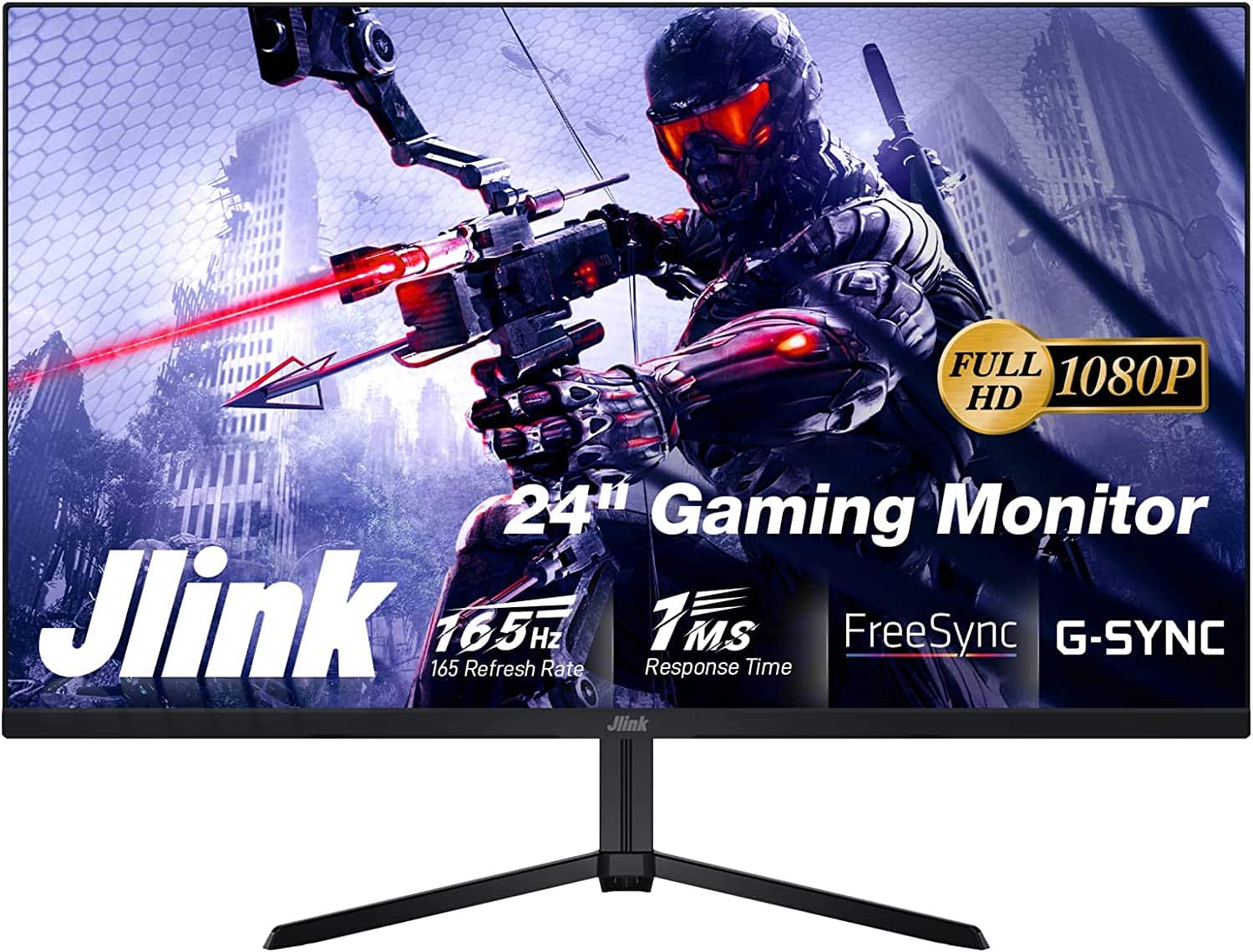 The Jlink E24FP1K is an impressive affordable gaming monitor option that offers a 165Hz IPS panel. Most competitors in this price range have VA panels, giving this monitor an edge when budget gamers are shopping for a new display. Let's investigate further to see what it has to offer and what kind of limitations it has.
Jlink E24FP1K Specifications
Screen Size: 24 Inches
Resolution:1920 x 1080 FHD
Aspect Ratio: 16:9
Panel Technology: In-Plane Switching (IPS)
Refresh Rate: 165Hz
Response Time: 1ms
Contrast Ratio: 1000:1 (Static)
Brightness: 300 cd/m²
Speakers: Yes (2 x 2 Watts)
Stand: Height – No
Stand: Tilt – Yes
Stand: Swivel – No
Stand: Pivot – No
VESA Compatibility: Yes (100 x 100)
Connectivity: DisplayPort 1.2 x 2, HDMI 2.0 x 2, 3.5mm Jack x 1
Dimensions (WxHxD): 15.7" x 11.7 x 10.67"
Weight: 8.83 lbs
Design and Features
The Jlink E24FP1K looks like your typical gaming monitor with its aggressive accents, such as the red ring at the back. However, its matte black finish makes it look like a regular monitor that won't clash with any setup. The display has a bezel-free design, although it still has thin inner borders, just like any modern monitor.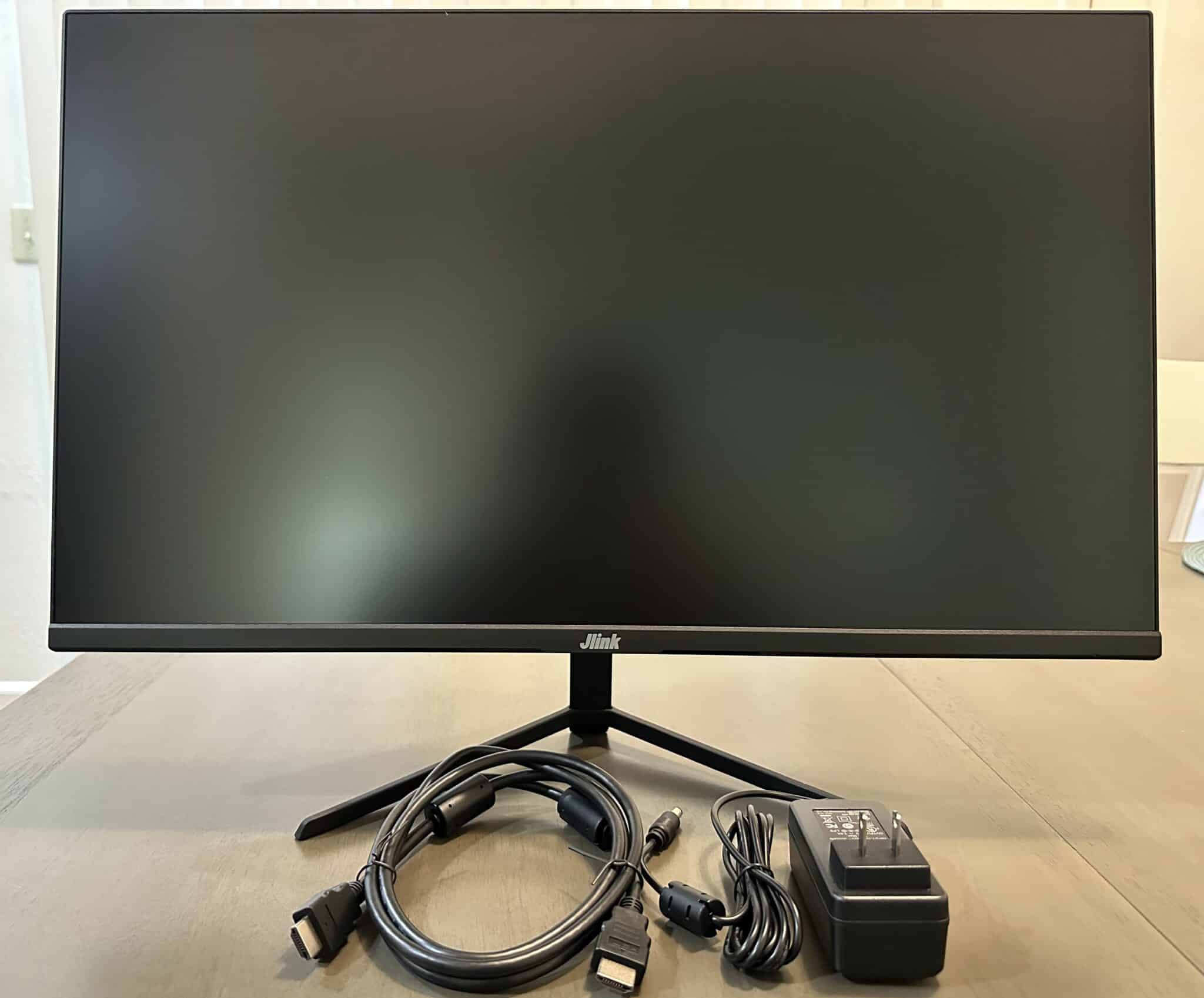 It's not a massive display, so it is a good choice if you want to save both money and space. It doesn't consume too much depth, so it won't push your other peripherals away. It weighs less than 10 pounds, so it should be fairly easy to bring with you to gaming events like LAN parties.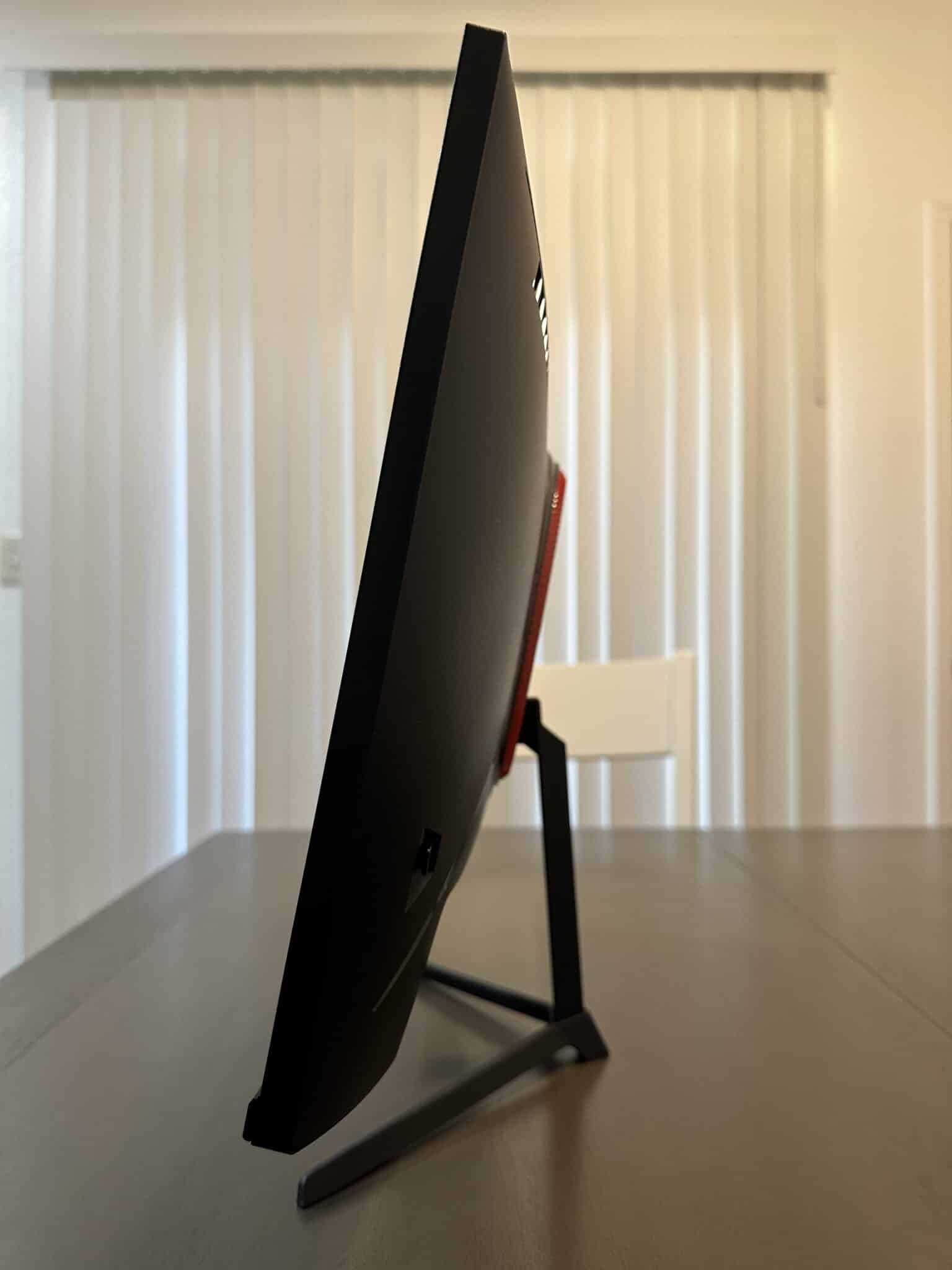 Its build quality is one of the best we've seen compared to the other ultra-budget models we've recently reviewed. The plastics are thick and sturdy, although the red ring at the back kind of looks plasticky and cheap. The best part about it is its thin metal stand and base since it was very firm and did not allow the display to wobble.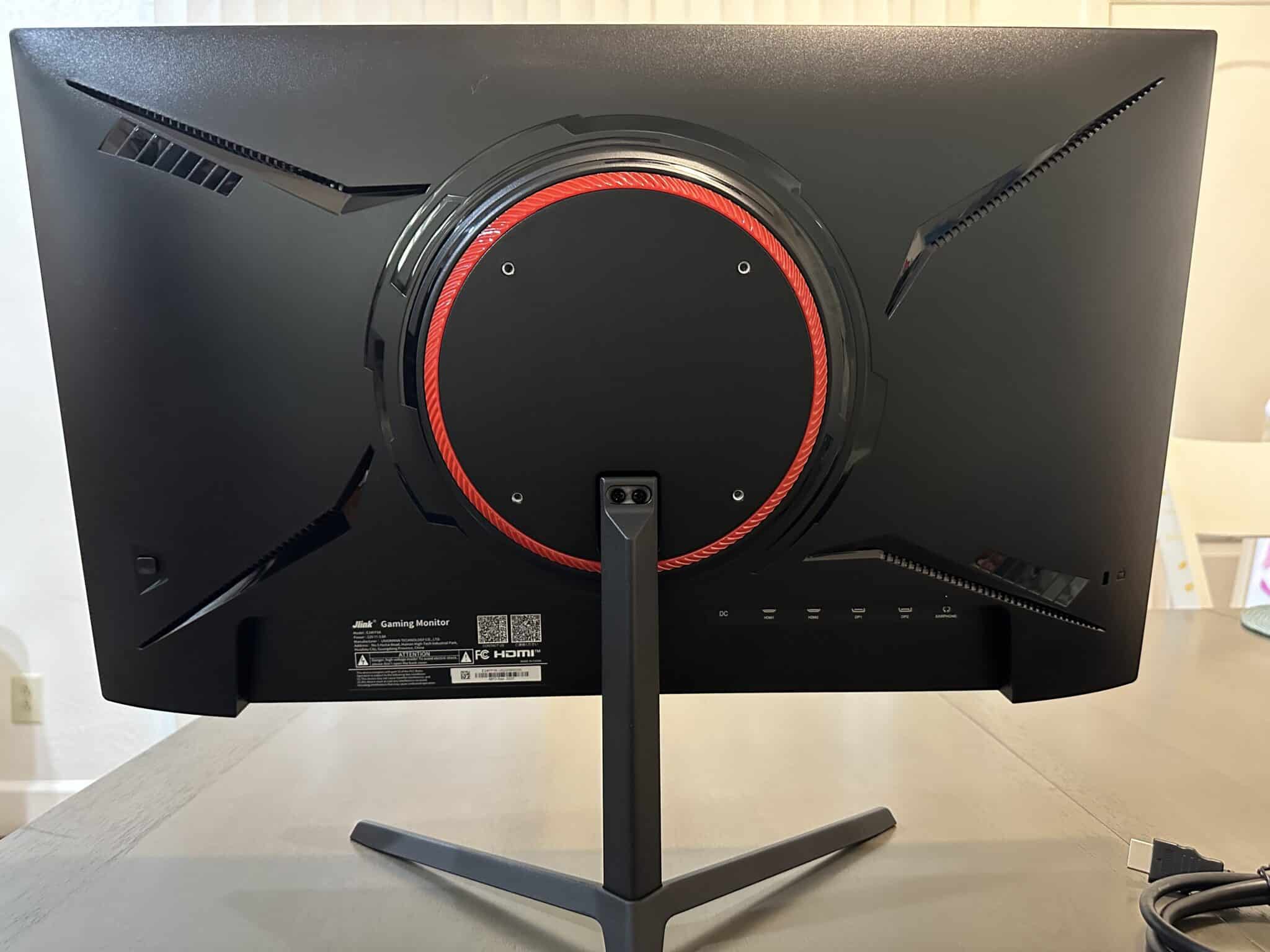 The Jlink E24FP1K is packaged neatly, so the unboxing experience should be straightforward. The monitor also uses a 12v adapter instead of a big power brick, so it shouldn't be as big of a hassle for most users. Our one complaint here is its lack of a DisplayPort cable, although there is one for HDMI in the box.
The Jlink E24FP1K's joystick is surprisingly very good as well since it is very responsive and snappy. Its inputs can be confusing, but its "clickiness" is satisfying. It's located near the right side of the display, but you don't have to lean in too much since the monitor isn't too big.
The included stand only offers tilt, but it is made of metal, so it's extra firm and durable. However, this can be an issue for some users since this model rides quite low, just like most tilt-limited 24-inch monitors. You can use VESA mounts to get around this, but it is an added cost that can offset the savings you get with this option.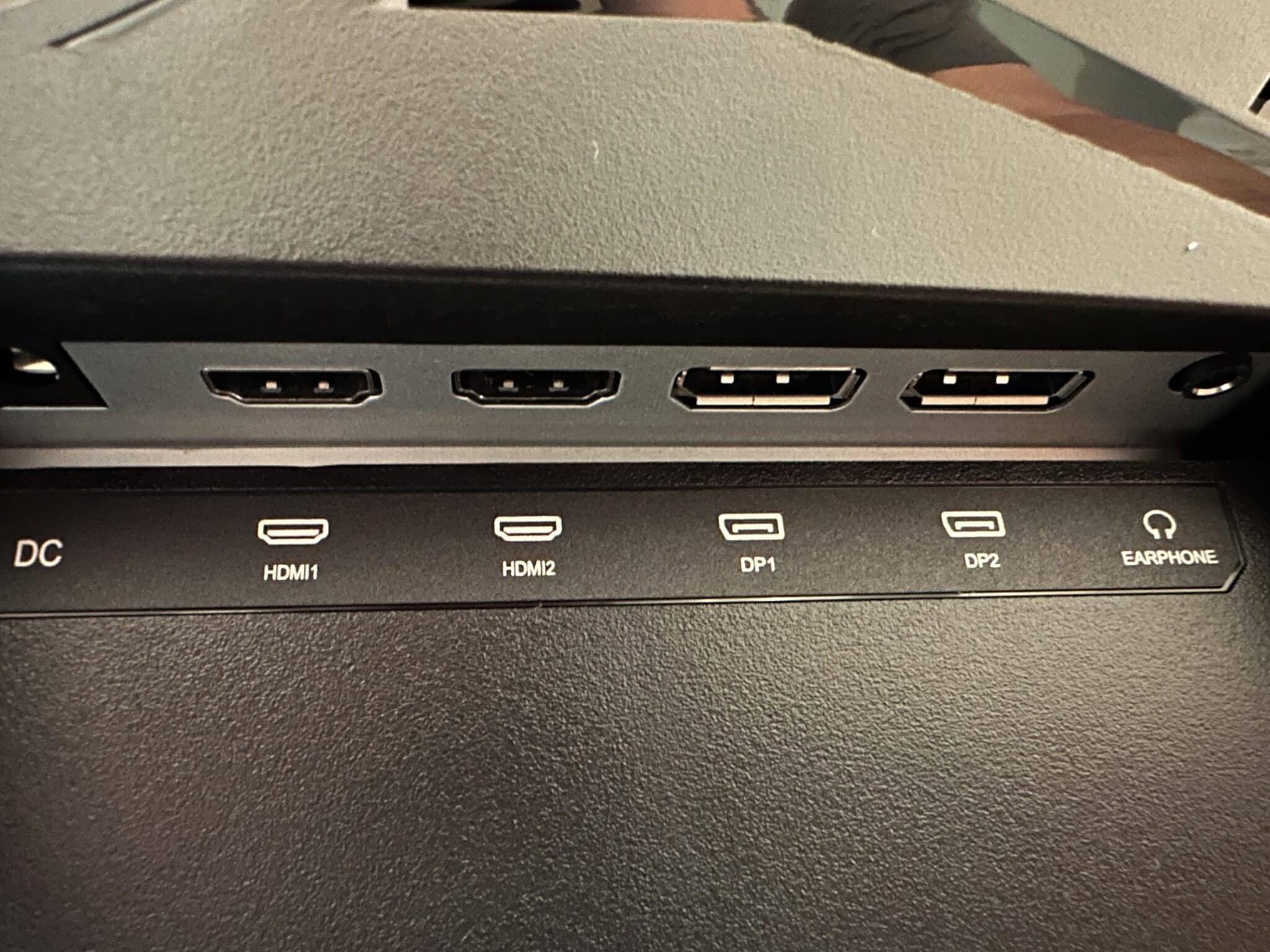 The Jlink E24FP1K's connectivity layout doesn't offer a lot of extras like USB ports. However, it does have two slots for DisplayPort 1.2 and HDMI 2.0. It also has a 3.5mm jack for headphones, along with a smaller 12v DC port for its power source.
It doesn't have speakers, but that's understandable since the modest amount you pay for it goes toward the screen. Built-in speakers, particularly those in both budget and premium monitors for gaming, are usually not that good anyway. They are good as backups, but we know most do not get used since they sound very tiny and incapable of bass.
Display and Performance
The Jlink E24FP1K sports a 24-inch IPS panel with a 1920 x 1080 resolution, a 165Hz refresh rate, and a 1ms response time. The backlight has a 300 cd/m2 rating, while its contrast is listed at 1000:1, like most IPS models. It does have an HDR mode, but it is not certified by VESA HDR like some gaming displays out in the market.
24-inch 1080p monitors are great for gaming since they are recognized as the standard for E-Sports and are manageable. You don't need a high-powered PC, so you will spend less if you are building your rig from the ground up. It is easy on the eyes for reading and document processing, so it's still very popular for office and school use.
The Jlink E24FP1K worked flawlessly when it was plugged in, so there should be no compatibility issues on your end. We were able to run the full 165Hz via HDMI connectivity to our laptop, although its FreeSync and G-Sync mode only works via DisplayPort. What's important here is that it has four video inputs so that it can be used for a gaming PC and a work laptop easily.
The Jlink E24FP1K covers 98% sRGB and 76% sRGB, so it's not the most vibrant IPS gaming display out there. However, it is already accurate out of the box with a deltaE average of only 2.0. Most users won't need to calibrate it, although its tone is biased toward a cooler temperature versus the natural and warmer appearance of sRGB displays.
Calibrating the monitor with our Calibrite Display Plus improved the dE average to a fantastic 0.7. This puts it next to prosumer displays but at a fraction of the cost. You will need to buy a colorimeter to achieve a comparable score, and that costs twice as much as the monitor.
The Jlink E24FP1K's backlight only managed 267 cd/m2 at 100%, although that's plenty for indoor or nighttime use. Its contrast reached 1054.1:1 at 37% brightness, so it's slightly better than some IPS panels we've reviewed. However, it is still incapable of true and deeper blacks, but that's a widely accepted limitation of the panel technology.

Panel uniformity for the test sample had some minor backlight leaks at the top edge of the screen. The spread of the backlight wasn't even all throughout, so some clouding can happen in dark scenes. Note that this can vary with every monitor made, so there are better units out there.
The Jlink E24FP1K is practically blur-free, especially when you set its overdrive to its medium level. Some persistence can still happen in select instances, but they are too minor to notice. This performance makes the monitor perfect as a budget solution for E-Sports games like Valorant or CSGO.
The Jlink E24FP1K is compatible with both FreeSync and G-Sync via its DisplayPort slot. This is essential for gaming displays so you don't have to buy twice when you switch GPU brands. Its input lag sits at 4ms at 165Hz, so its fast and responsive enough for competitive play.
Thoughts on the Jlink E24FP1K
The Jlink E24FP1K is a fantastic buy for E-Sports gamers who want to spend less on an upgrade or new build. The monitor costs well below $150, but it still offers great performance and build quality. It is accurate out of the box, and it feels durable even if it has limited features.
However, it's far from perfect, just like any budget monitor out there. It has limitations, such as the lower gamut coverage, but most of the complaints are minor compared to what it has to offer on the positive side. It's a great buy for thrifty gamers who want a display that will perform well for competitive titles.
Pros:
Very Affordable
Fantastic Color Performance
Fast and Responsive
FreeSync and G-Sync Compatible
Excellent Build Quality
Cons:
Tilt Limited Stand
Limited Contrast
HDR Mode isn't Great
Gamut and Brightness are Lower than Claimed
About the Author: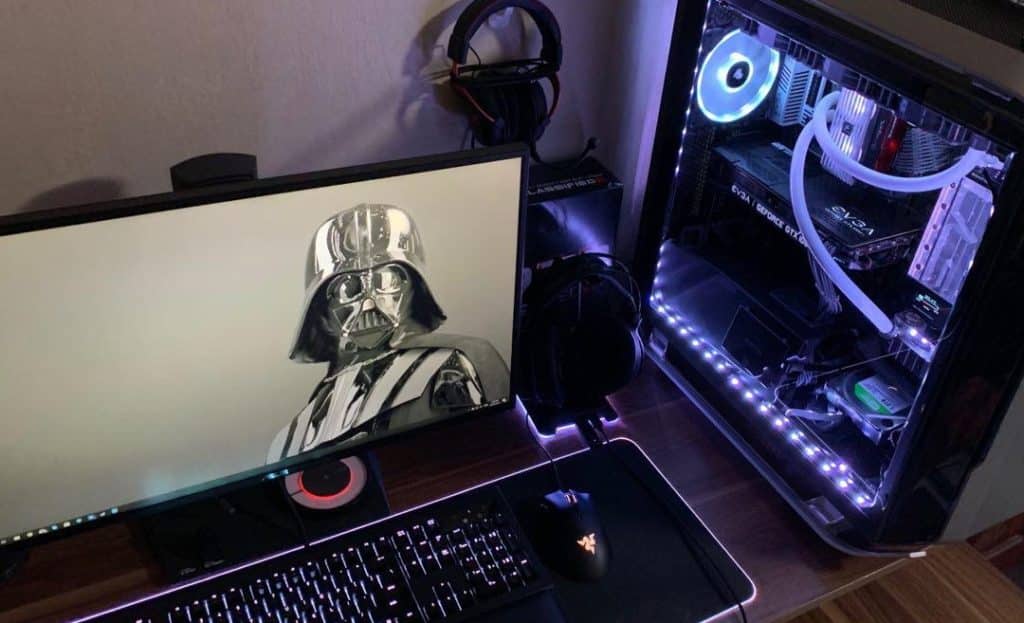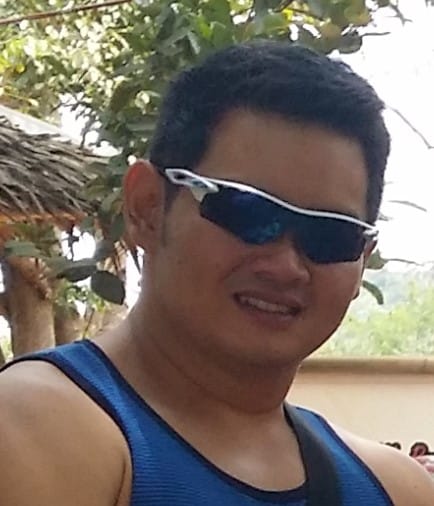 Paolo has been a gaming veteran since the golden days of Doom and Warcraft and has been building gaming systems for family, friends, and colleagues since junior high. High-performance monitors are one of his fixations; he believes that every citizen's right to enjoy one. He has gone through several pieces of hardware in pursuit of every bit of performance gain, much to the dismay of his wallet. He now works with Monitornerds to scrutinize the latest gear to create reviews that accentuate the seldom explained aspects of a PC monitor.