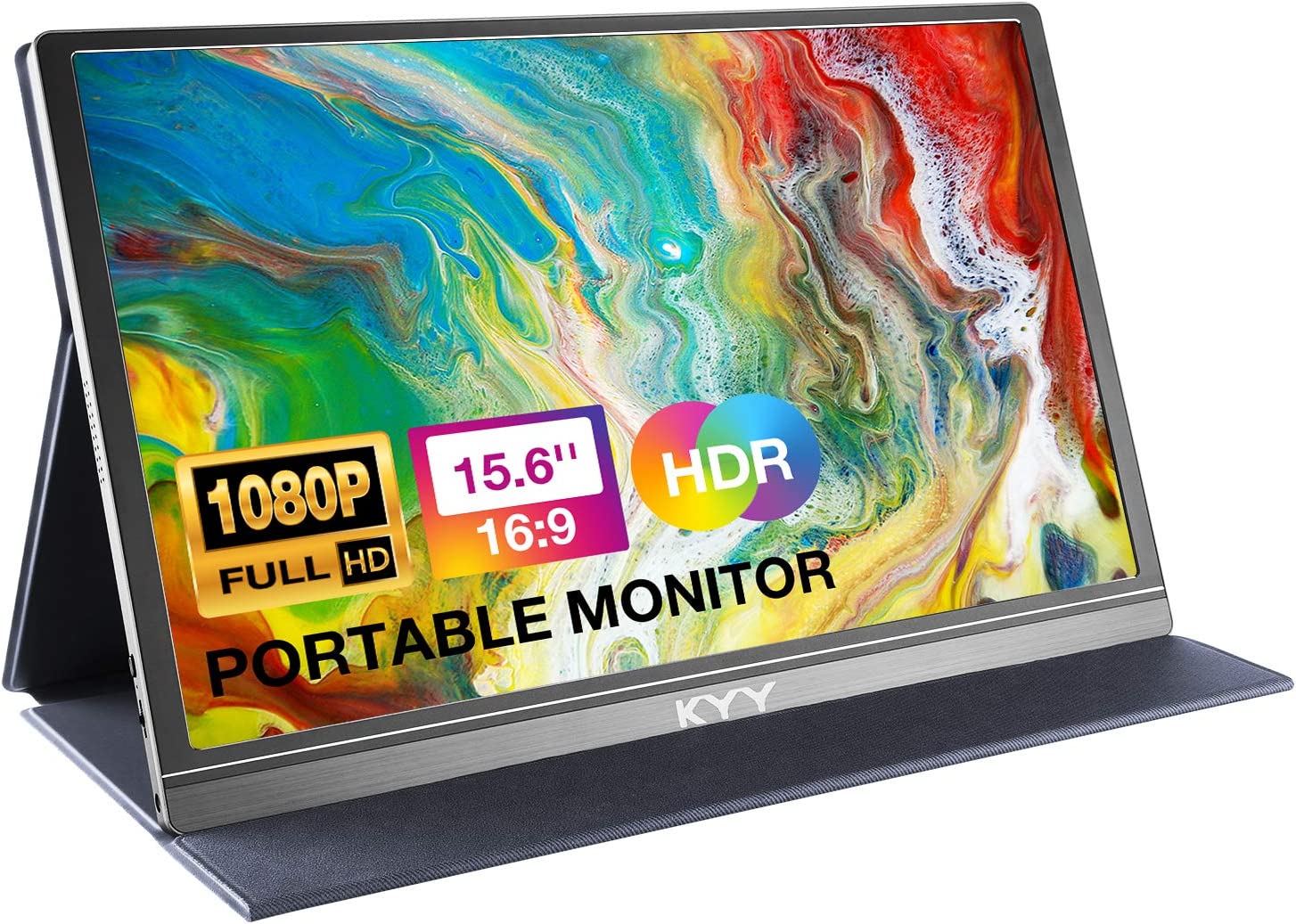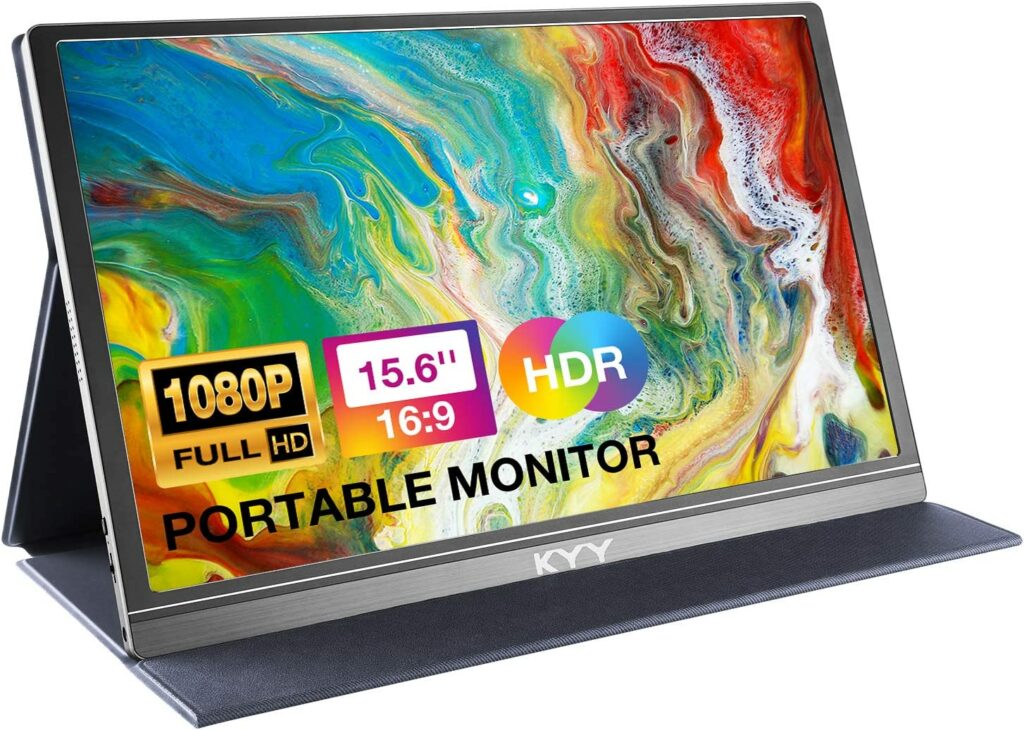 The KYY portable monitor offers a large 1080p IPS portable screen at a price that's too good to ignore. It has a 15.6-inch screen and USB-C connectivity, so it is suitable for high-end portable devices like the MacBook Pro. We're skeptical about the KYY Portable Monitor since it's so cheap, but let's check it out to see if it is a worthy contender.

KYY Portable Monitor Specifications
Screen Size: 15.6 Inches
Resolution:1920 x 1080 FHD
Aspect Ratio: 16:9
Panel Technology: In-Plane Switching (IPS)
Refresh Rate: 60Hz
Contrast Ratio: 1000:1
Brightness: 300 cd/m²
Built-in Speakers: Yes
Stand: Height – No
Stand: Tilt – Yes
Stand: Swivel – No
Stand: Pivot – No
VESA Compatibility: No
Connectivity: USB-C x 2, Mini HDMI 1.4 x 1, 3.5mm Jack x 1
Dimensions With Stand (WxHxD): 14.48″ x 8.85″ x .35″
Weight: 1.7 lbs

Design and Features
The KYY Portable Monitor looks clean and decent since it has no flashy aesthetics or accents. It has a premium-looking gunmetal finish which will look great next to high-end devices like MacBooks or iPad Pros. The screen has thin bezels on three sides, allowing the screen to appear bigger and with fewer distractions.
Its not a bulky portable monitor, so it should slide next to your laptop in its case or carrying bag without issue. It's only .35 inches thick, plus it only weighs 1.7 pounds which is next to nothing for a commuter who usually carries his workstation around. It's slightly thicker than the Lepow C2S, but the difference is negligible unless you are a weight weenie.
It may be a budget model, but this portable monitor option has great build quality for the price. The panels are reasonably sturdy and won't crack or flex easily. The only thing flimsy about it is the smart cover which isn't as stable or durable as a built-in flip stand.
The KYY Portable Monitor has a scroll wheel and a dedicated power button for its OSD. The former is easier to use than a regular joystick for portable monitors, but it still takes a bit more time. However, it's more fluid than a d-pad or regular buttons so anyone will be happy with the design.
Our main peeve with portable monitors has always been their flimsy flip covers which can be folded to double as the stand. The one included in this package is fine, but its easy to knock the screen down with it. We prefer flip stands that are attached to the chassis since they are more capable of keeping the monitor upright.
The KYY Portable Monitor's connectivity layout includes two USB-C ports, a mini-HDMI slot, and a 3.5mm earphone jack. The first USB-C slot is designed for power delivery, while the other is dedicated to the video input. This monitor doesn't have an internal battery, so it will take power from your laptop if you don't use a wall adapter.
You also get a pair of speakers on the left and right sides of the KYY Portable Monitor's chassis. However, the pair isn't powerful or range, so you will probably use your laptop's speakers more often. However, it is always nice to have a set handy if your laptop speakers or headset malfunctions.
Display and Performance
The KYY Portable Monitor sports a 15.6-inch IPS panel with a 1920 x 1080 resolution, a 60Hz refresh rate, and an undisclosed response time. The backlight has a 300 cd/m2 output while the contrast is listed at 1000:1, unlike other portable IPS displays. This model is compatible with HDR signals but cannot produce the necessary effects for a true experience.
1080p monitors aren't popular because they are sharp, but smaller displays like this are the exception. You don't get the extra space, but text and images look as clear as they are on most laptops. There are 1440p and 4K portable screens out there, but models like this will be the easiest on your eyes, especially if you are working with documents.
The KYY Portable Monitor covers 96% sRGB which isn't ground-breaking but decent for a portable display. The default deltaE average is a bit high at 2.91, but it is still within a good range where most users will not know the difference. Most users will be happy with this, although the screen will look different when it's next to a pre-calibrated screen like the Retina displays on MacBooks.
The backlight on this model is brighter than most portables since it reached a peak of 281 cd/m2, which is quite high for its class. Its contrast also reached higher at 811:1 at 60% brightness, which still means that it can look washed out in some instances. You might need to use an OLED alternative if the latter bothers you, although those are dimmer than their IPS counterparts.
Panel uniformity for the test sample was great since there were no major light leaks on any of the edges. The screen looked evenly lit across its entirety, although there is still a little bit of variance that can show up in dark scenes. Note that this can change between every product since there are manufacturing tolerances in play, so it is possible to get a worse unit if you're unlucky.
The biggest weakness of the KYY Portable Monitor is its response time which is noticeably slower than a desktop monitor. it does fine if you only play casual titles or videos, but some smudging becomes noticeable in fast-paced scenes. This is reasonable for portable monitors at this level since they are not primarily for games that are better with extended refresh rates.
The KYY Portable Monitor isn't compatible with FreeSync or G-Sync since it's not primarily designed for gaming. It doesn't take a lot of horsepower to run 1080p at 60Hz anyway, and portable gaming systems do not have Adaptive Sync anyway. This monitor isn't particularly sluggish like the old LCDs, but you'll know that a regular 1080p monitor will feel more responsive if you compare them side by side.
Thoughts on the KYY Portable Monitor
The KYY Portable Monitor is a decent choice if you need a portable display that won't cost an arm and a leg. Some of its specification claims fall short of the actual test results, but they are still very decent, especially considering the price. It is great for business, office use, occasional entertainment, and casual gaming.
There are some limitations, just like with every budget model out there. The flip cover is the first one, along with a limited contrast ratio that makes it grayish or washed out in some instances. However, it is still an excellent buy at its current price if you only need a digitized copy holder or an extension of your workspace for multitasking.  
Pros:
Very Affordable
Decent Color and Brightness
Useful Features like USB-C
Cons:
Limited Contrast
Underwhelming Contrast
Flimsy Smart Cover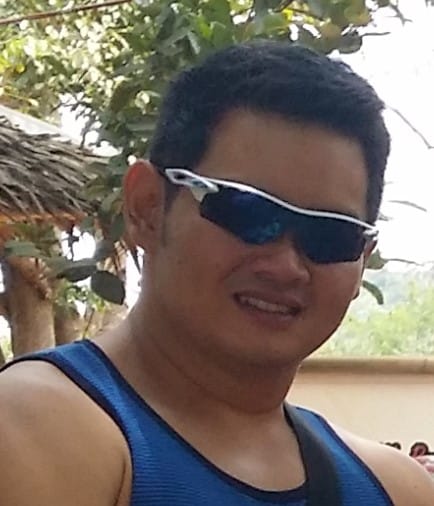 Paolo is a gaming veteran from the golden days of Doom and Warcraft. Since junior high, he has been building gaming systems for family, friends, and colleagues. High-performance monitors are one of his fixations; he believes that every citizen's right to enjoy one. He has gone through several pieces of hardware in pursuit of every bit of performance gain, much to the dismay of his wallet. He has also spent half a decade researching, reviewing, and writing about these products and now has over 1400 articles about the best gaming tech under his belt.