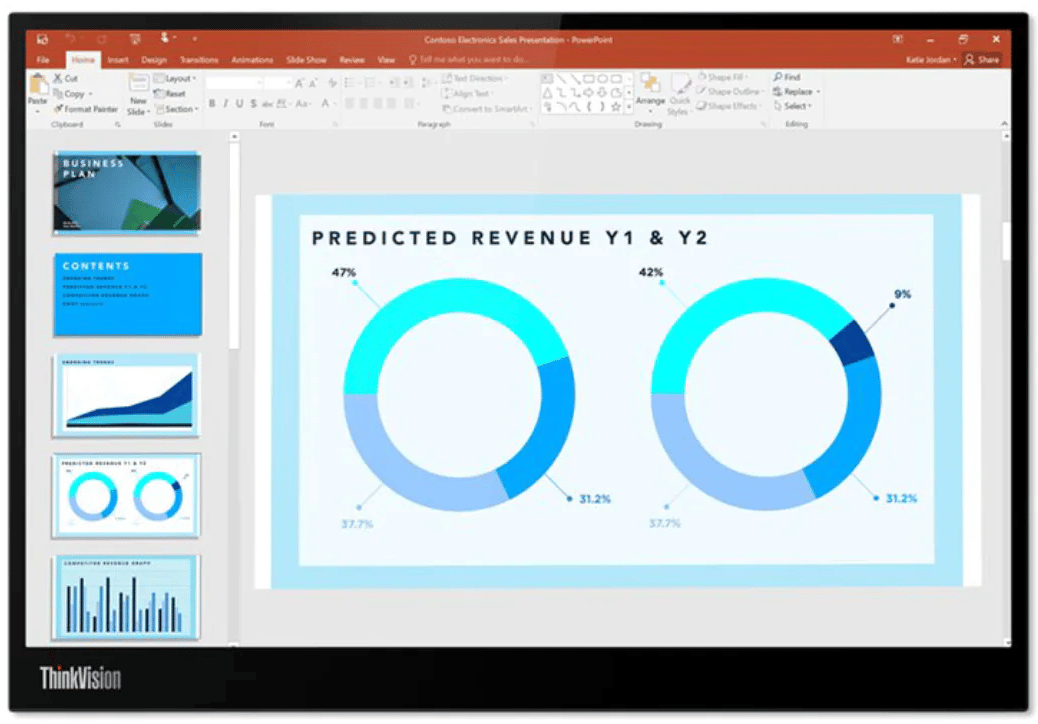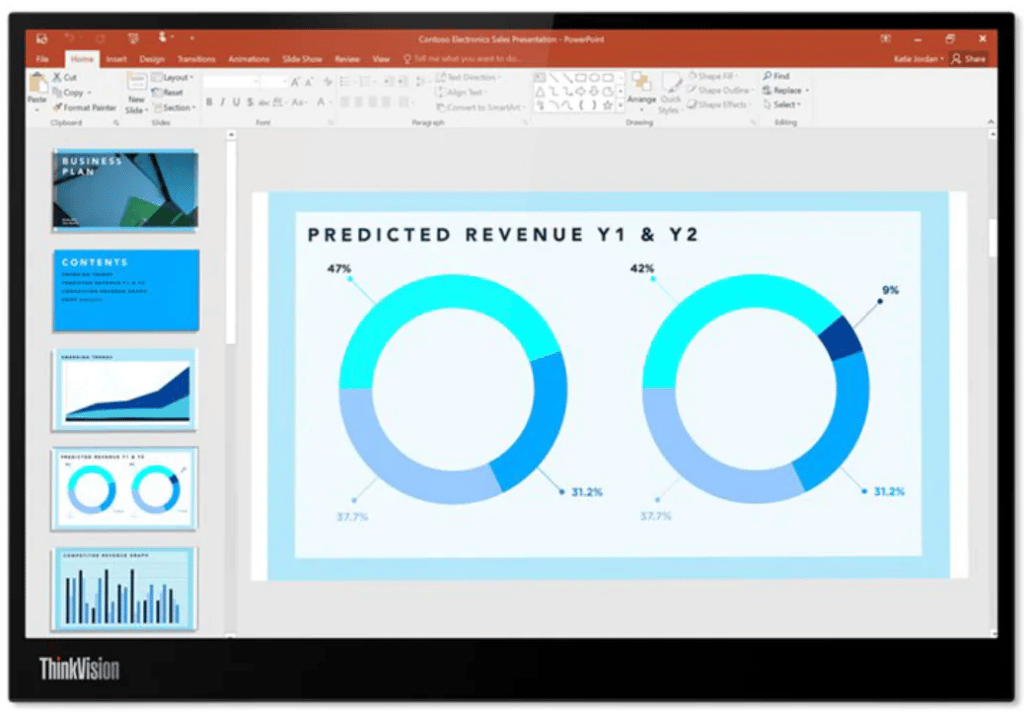 The Lenovo ThinkVision M14d is a premium portable with a larger screen that goes well with the solid build quality and performance we saw on its predecessors. It has a taller 16:10 screen compared to the M14t, which has a more typical 16:9 aspect ratio. The Lenovo ThinkVision M14d is pricey for a 14-inch portable display, so let's check out what it offers to know if it's worth it.

Lenovo ThinkVision M14d Specifications
Screen Size: 14 Inches
Resolution: 2240 x 1400
Aspect Ratio: 16:10
Panel Technology: In-Plane Switching (IPS)
Refresh Rate: 60Hz
Response Time: 6ms
Contrast Ratio: 1500:1
Brightness: 300 cd/m²
Built-in Speakers: No
Stand: Height – No
Stand: Tilt – Yes
Stand: Swivel – No
Stand: Pivot– No
VESA Compatibility: No
Connectivity: USB-C 3.2 x 2
Dimensions With Stand(WxHxD):12.4″ x 9″ x 4.2″
Weight: 1.3 lbs

Design and Features
The Lenovo ThinkVision M14d doesn't look that different from its predecessors, except its size is slightly different because of the aspect ratio. Its matte black finish makes it suitable for a business-oriented setup. The display has thin borders on three sides, but the bottom strip is twice as thick as it was on the predecessor.
This model is smaller than most portable monitors since its diagonal is only 14 inches, versus the more common 15.6 variants. It's not the slimmest option because of its flip stand, but we like the built-in design versus the flimsy smart covers on alternatives. Another benefit of the smaller size is the 1.3-pound weight which feels next to nothing in a laptop bag.
The M14d's design is more stable, and we wish manufacturers would include built-in stands instead of folding smart covers. It also isn't fragile in any way since the casings are perfectly molded and matched. It's also almost impossible to topple the screen over with a gentle nudge, lessening the annoyances of working outside your home and office.
The Lenovo ThinkVision M14d doesn't have an OSD joystick, but its layout is surprisingly easy to use since you can hold the monitor up. The OSD has a dedicated button that launches it, plus a rocker button for navigation. You also get a dedicated key for the power on the other side of the monitor, so it is impossible to turn the screen off accidentally. T
he M14d's stand is built into the chassis, so you don't have to worry about it falling over. It only offers tilt, but we like that it retains the angle you've set unless you change it manually. There are no VESA mounting holes, so you have to buy a monitor clamp in case you need to mount it on a desk.
The Lenovo ThinkVision M14d's connectivity layout only uses USB-C, unlike the other options in the market. There is a slot on each side, and both support DP Alt Mode and power transmission. The peculiar hole near the power button is a Kensington cable lock, although we think it won't get too much use with a portable display.
You don't get speakers with this model, but that's okay since there isn't much room for them on the slim chassis. Most portable monitors have weak sets, so you are better off using your laptop's speakers or headsets since they will sound better.
Display and Performance
The Lenovo ThinkVision M14d sports a 14-inch IPS panel with a unique 2240 x 1400 resolution, a 60Hz refresh rate, and an undisclosed response time. The backlight has a 300 cd/m2 output and a 1500:1 contrast ratio, just like with the IPS Black monitors we saw from Dell. The monitor isn't certified for HDR, but that's reasonable since this product was not designed for gaming or entertainment.
This model has a unique resolution they are nicknaming 2.2K since it's close to "2K" which describes 2560 x 1440. It has slightly less room, but this model's screen space is taller due to the 16:10 aspect ratio. Not many games support that resolution, but it's great for productivity since it offers more room.
The Lenovo ThinkVision M14d covers 97% of the sRGB gamut, so it's more vibrant than most portables on the market. Its color accuracy is slightly better than the M14 t's result with a lower deltaE average of 1.71. This means that the screen is already balanced out of the box. Calibration isn't necessary either, although there isn't much room for that since the OSD is quite limited.
Its backlight reached 289 cd/m2 at 100%, so it can fight off a decent amount of glare when it's used outdoors. The screen's contrast reached 1301:1 at 70% brightness, so it's considerably better than most IPS monitors. However, that doesn't mean that the monitor can produce deep blacks like VA or OLEDs. Panel uniformity for the test sample did not have major issues like bleeding or clouding, which are common with IPS panels.
There are some uniformity issues in the backlight's spread, but it is not as noticeable unless you stare at the affected spots. Note that results with other M14ds will not be the same due to tolerances, so there are better and worse units out there. The Lenovo ThinkVision M14d isn't the best regarding pixel response time since it's not a desktop gaming variant. It can show blurs or smudges in fast-paced scenes, although it's difficult to observe them since the screen is quite small.
You can get away with casual titles, but we know most of them will not support the resolution. The Lenovo ThinkVision M14d doesn't have Adaptive Sync, so you can't use FreeSync or G-Sync on it. That's fine for us since the monitor and mobile platforms like the Nintendo Switch, were not meant for gaming. It's also a bit more sluggish than its desktop counterparts, so we can't recommend it for hardcore gamers.
Thoughts on the Lenovo ThinkVision M14d
The Lenovo ThinkVision M14d is an excellent choice if you want a capable portable monitor with premium build quality. The IPS panel leads when it comes to color accuracy and gamut coverage, so it's one of the best for imaging-related jobs. Our favorite part about it is its stand which is worlds apart from the flimsy covers that are tricky to use.
The Lenovo ThinkVision M14d is quite expensive for a portable display, even if it has a unique aspect ratio and resolution. You can get better performers in the imaging department, like the Asus ProArt PA148CTV. However, we still think it's a great buy if you want one of the best for your mobile workstation.
Pros:
Great Imaging Quality
Sharp Resolution with Taller Aspect Ratio
USB-C Connectivity
Premium Build Quality
Cons:
Expensive
Slower Pixel Response Time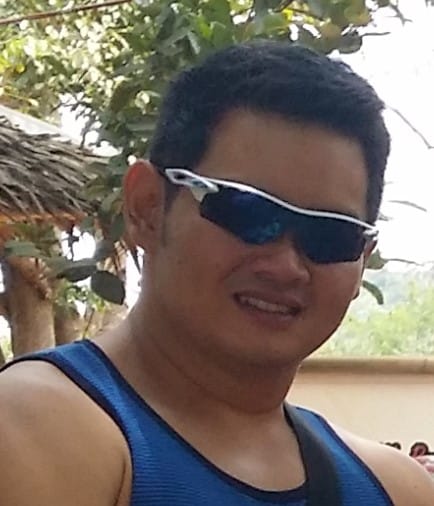 Paolo is a gaming veteran from the golden days of Doom and Warcraft. Since junior high, he has built gaming systems for family, friends, and colleagues. High-performance monitors are one of his fixations; he believes that every citizen's right to enjoy one. He has gone through several pieces of hardware in pursuit of every bit of performance gain, much to the dismay of his wallet. He has also spent half a decade researching, reviewing, and writing about these products and now has over 1400 articles about the best gaming tech under his belt.