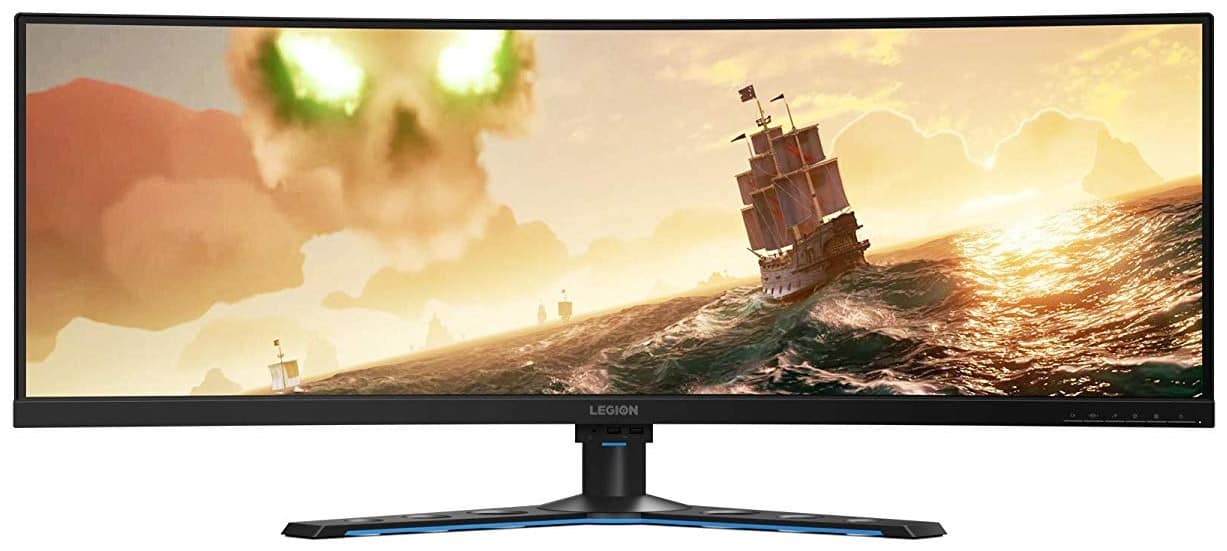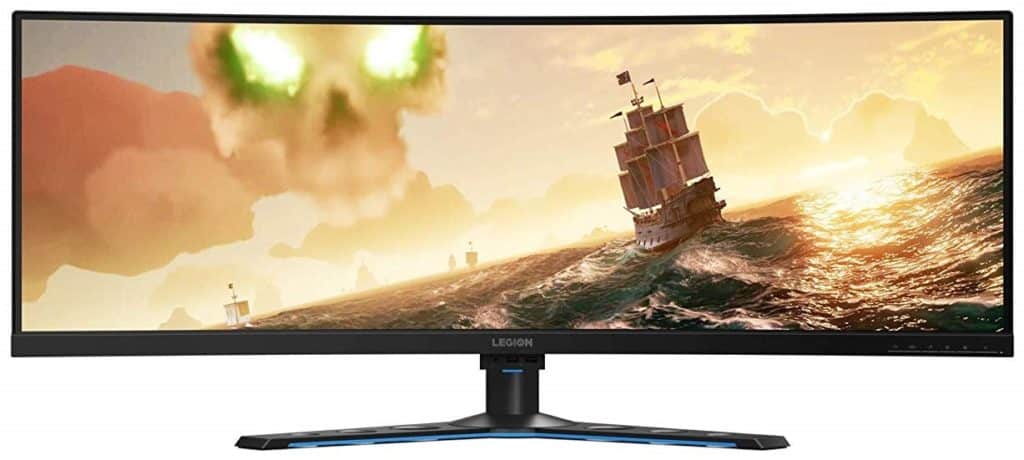 Pros:
Excellent Design
144Hz Refresh Rate
USB-C Connectivity
Nice Harman Kardon Speakers
Cons:
Needs Drastic Calibration
Pricey
Bulky
The Lenovo Y44w-10 boasts a 43.4-inch Dual Full HD super ultrawide screen that is fantastic for immersive gaming as it is for productivity. The screen wraps itself around your visual senses, but it also satisfies a few needs most wouldn't think they will ever need from a gaming monitor. There are a few yet exquisitely good competitors to the Lenovo Y44w-10, so let's check if this product can rise to the top of that very short list.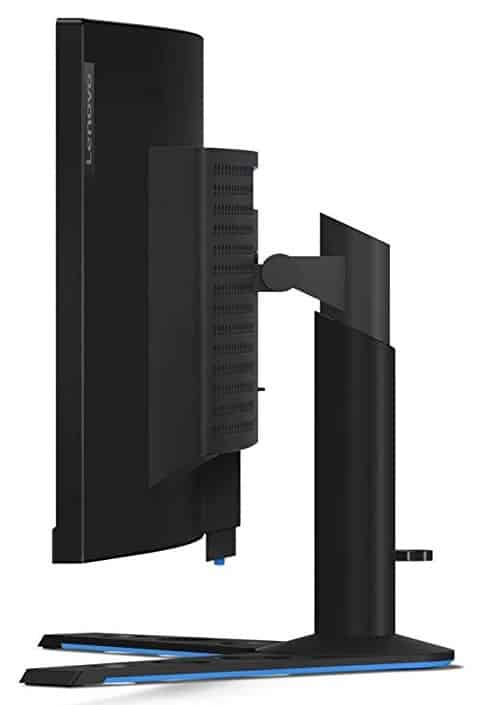 Lenovo Y44w-10 Specifications
Screen Size: 44Inches
Resolution:3840 x 1200 DFHD
Aspect Ratio: 32:10
Panel Technology: Vertical Alignment (VA)
Refresh Rate: 144Hz
Response Time: 4ms
Contrast Ratio: 3000:1 (Static)
Brightness: 450cd/m²
Speakers: Yes (2 x 5 Watts)
Stand: Height –Yes
Stand: Tilt – Yes
Stand: Swivel – Yes
VESA: Yes (100 x 100)
Connectivity: DisplayPort 1.4x 1, HDMI 2.0 x 1,USB-C x 2 x 1, USB-C Gen. 1 x 1, USB 3.1 x 4, 3.5mm Jack
Dimensions (W x H x D): 41.67" x 18.15" x 12.34"
Weight: 29.32 lbs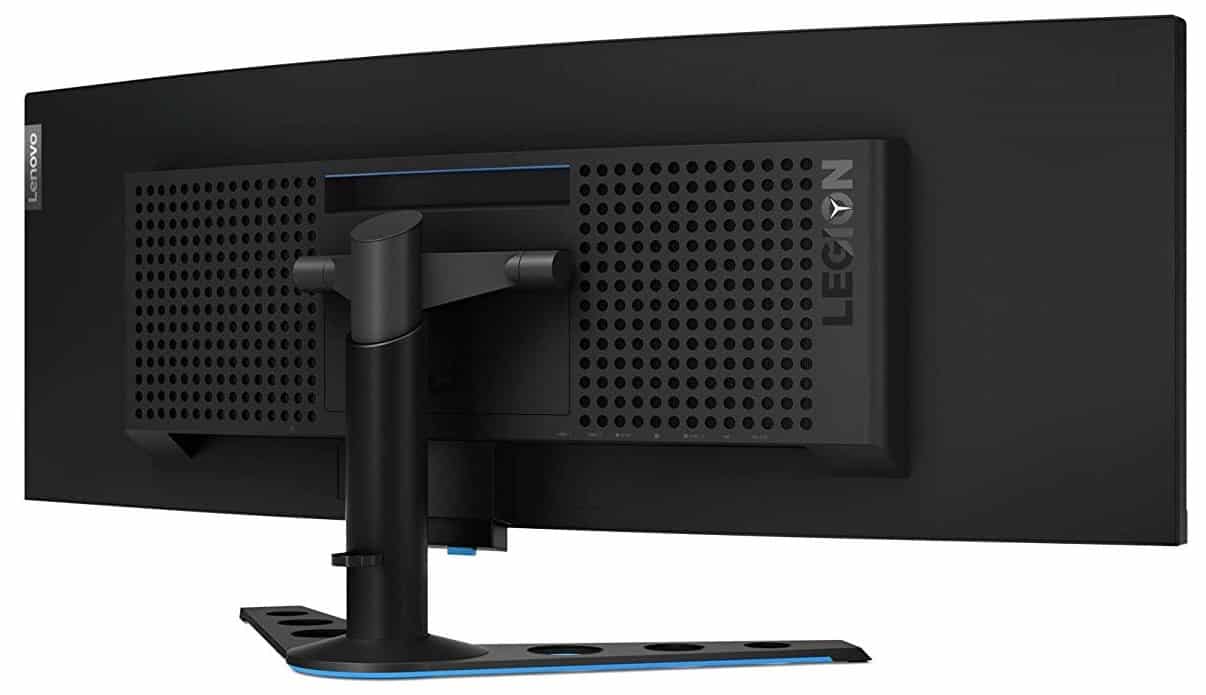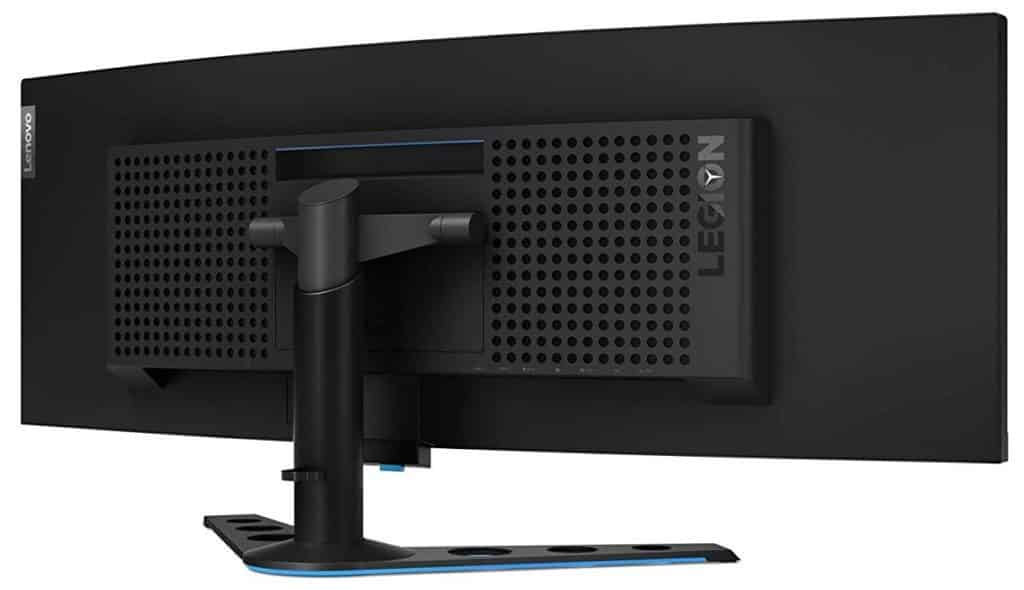 Design and Features
The Lenovo Y44w-10's design inherits a few elements from its usual line of business products to give it a minimalist appeal. The monitor has a matte black finish that doesn't attract stains or dust, along with unique blue trims in some key places. The display is bezel-free on three sides, but panel borders are still present when its in use.
It's worth noting that you will need more space for the Lenovo Y44w-10 which takes up more than a foot of depth on your tabletop. The screen itself is about 3.5 feet wide, so making sure that you have enough room for this monitor is a must.
Build quality is pretty solid for the Lenovo Y44w-10 which has excellently durable materials and a design that's stable. There is no wobbling from the device once you've set your desired viewing angle, plus we did not notice any cosmetic defects. The seams match perfectly, and we imagine it would be very difficult to find any physical problems with such a premium display.
One of the best highlights of the Lenovo Y44w-10 is its connectivity layout which includes everything you need plus more. DisplayPort 1.4 and dual HDMI 2.0 connectors handle video signals, while the four USB 3.1 slots take care of thumb drives and peripherals. The USB-C gen1 and gen2 ports can also do DP 1.4 and DP 1.2 alt modes respectively, enabling them to receive inputs from USB-C devices while charging them.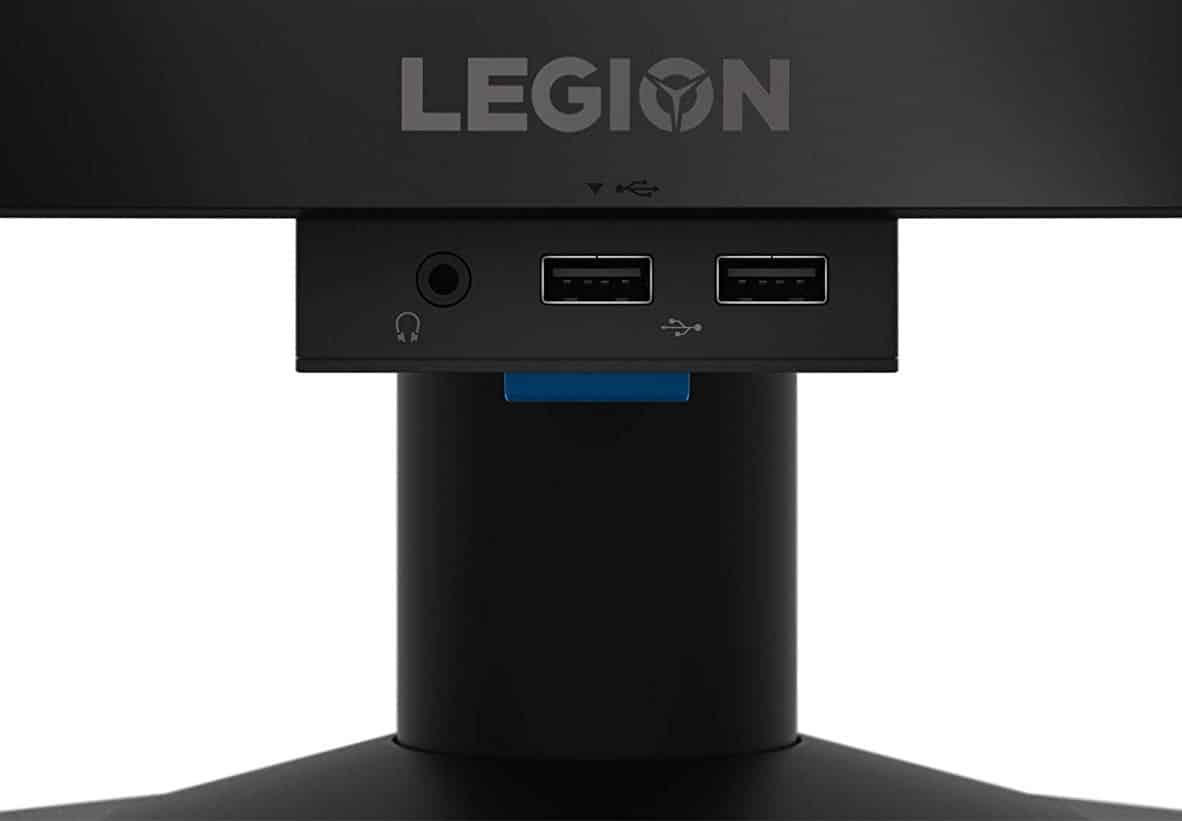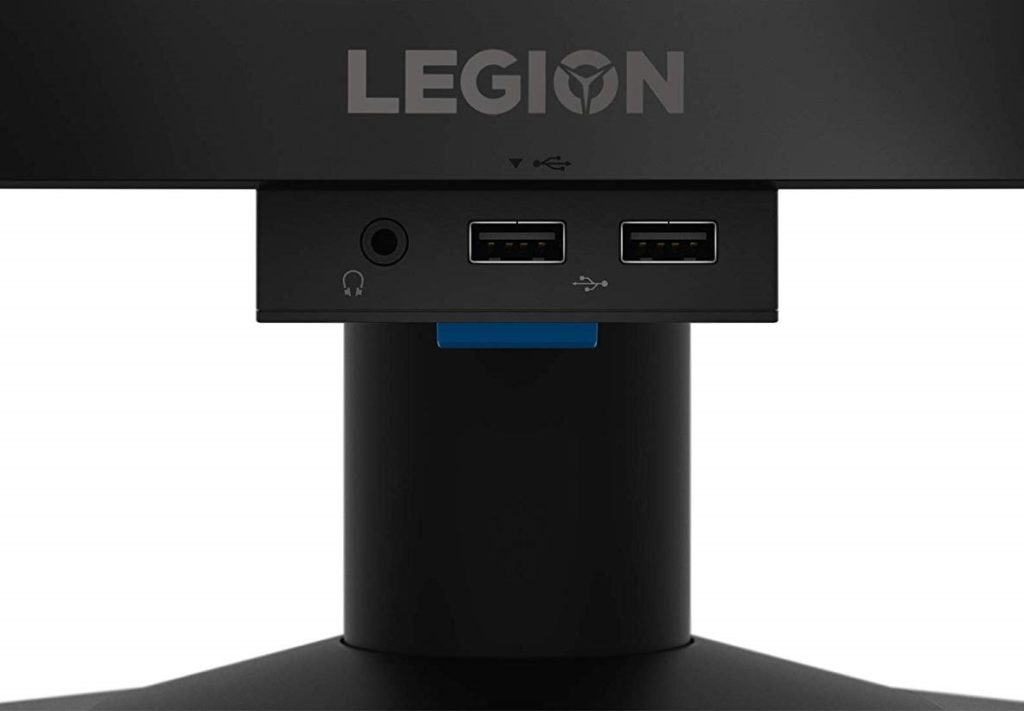 It's also interesting that Lenovo placed two USB 3.1 receptacles and the headphone jack in a pop-up panel just below the logo at the bottom bezel. Doing so makes plugging in your headsets and thumb drives very convenient, since you don't have to reach for the rear panel. However, we dislike that you need to go through OSD buttons instead of a joystick, especially since they are close to the right-hand edge.
Thankfully, the monitor is compatible with Lenovo Artery which is available for download from their website. The app lets you adjust the settings directly within your software, so accessing commonly used such as brightness or te RGB sliders doesn't have to be difficult.
The Lenovo Y44w-10 is supported by a stand with a unique design and a massive footprint. You can tilt, swivel and adjust the height of the screen, but pivoting is entirely unnecessary since this is a curved screen. The boomerang-shaped base takes up a lot of space, but it also holds a USB speaker that's tuned by Harman Kardon.
We like the overall sound quality of the Harman Kardon speakers and would even go as far as using them for casual gaming. The device has excellent detail and good bass response compared to built-ins, ensuring that they are more usable for the Lenovo Y44w-10's intended audience. However, we know serious gamers will still prefer headsets for accuracy, but its a nice addition nonetheless.
Display and Performance
The Lenovo Y44w-10 boasts a 43.4-inch VA panel with a 3840 x 1200 DFD resolution, 144Hz refresh rate, and 4ms response time. Contrast is, of course, rated at 3000:1, while the backlight has a typical 380 cd/m2 output with a 450 cd/m2 maximum for HDR. The screen's 1800r curve is more appreciable thanks to the 32:10 format which makes the corners farther, yet visible to your peripheral vision.
The Lenovo Y44w-10's native resolution makes it comparable to two 1920 x 1200 side by side minus the bezels. This makes pixel density directly comparable to the latter, so you don't get an upgrade in crispness or sharpness like the 1440p variants. However, having the viewing space of dual displays in a single device is always impressive and a sight to behold, especially for immersive gaming and multitasking.
The Lenovo Y44w-10's default setting doesn't do well when it comes to accuracy. The VA screen is able to reproduce around 120% sRGB or 89% DCI-P3 which is excellent and in-line with the marketing claims, but the color errors reached as much as DeltaE 4.5. The screen's color temperature is too warm, while gamma is abnormally high at 2.6.
Calibrating the screen with a colorimeter can improve these scores to a DeltaE average of only 1.1 with a more palatable 2.3 gamma setting. The temperature will also be more balanced, routing out the reddish glow of some colors. The Lenovo Y44w-10 does have an sRGB mode which offers excellent accuracy, but it rules out the extra color-pop which gamers will surely appreciate.
The Lenovo Y44w-10's backlight can also get searingly bright at 460 cd/m2, or around 520 cd/m2 when HDR mode is active. The display is HDR400 compatible, but it cannot improve the dynamic range as much as HDR600 or HDR1000 monitors since it doesn't have local dimming. However, there are some scenes such as Modern Warfare's night missions show some improvements due to the excellent 2400:1 contrast ratio.
Panel uniformity on the Lenovo Y44w-10 could use some improvements since light leaks at the top edges going to the corners are present. The screen displays some noticeable clouding when viewing all-black images, but its effects on color uniformity are largely negligible. Of course, this aspect will vary from unit to unit, since its impossible to have two perfectly identical modules in a batch.
The Lenovo Y44w-10 isn't as responsive as some IPS or TN models we've tested, but it does a good job at handling ghosting. Blurring only starts to happen in drastic transitions or screen movements, but it shouldn't be disturbing unless you play competitively. There is an overdrive setting in the OSD which you can max out, but it doesn't perfectly clean the screen from artifacts plus it gets locked out by HDR.
The Lenovo Y44w-10 is a FreeSync2 HDR, but this model also works with G-Sync compatibility and the GPUs that allow it. The product has not yet been tested and certified by Nvidia themselves, so flawless performance cannot be guaranteed yet with the current GeForce Drivers. Input lag sits at a little over 4ms, so there should be no delays while playing your favorite titles.
Thoughts on the Lenovo Y44w-10
The Lenovo Y44w-10 is a well-designed gaming monitor that's equipped with valuable extras such as its USB-C slots and the Harman Kardon speaker. We like the design of the monitor, from its simplified aesthetic to the built-in functionalities. The screen offers fantastic vibrancy, but it requires some elbow grease to get the gamma and color shades right.
However, there are some flaws or limitations that could dismay the gaming monitor perfectionists, such as the limited overdrive effectivity. The monitor is also a bit more expensive than its closest competitors like the Samsung C43J890 likely due to its add-ons and game-specific design. The product is a decent buy and is an attractive DHD gaming monitor option, but it clearly isn't the best especially when it comes to value.
About the Author: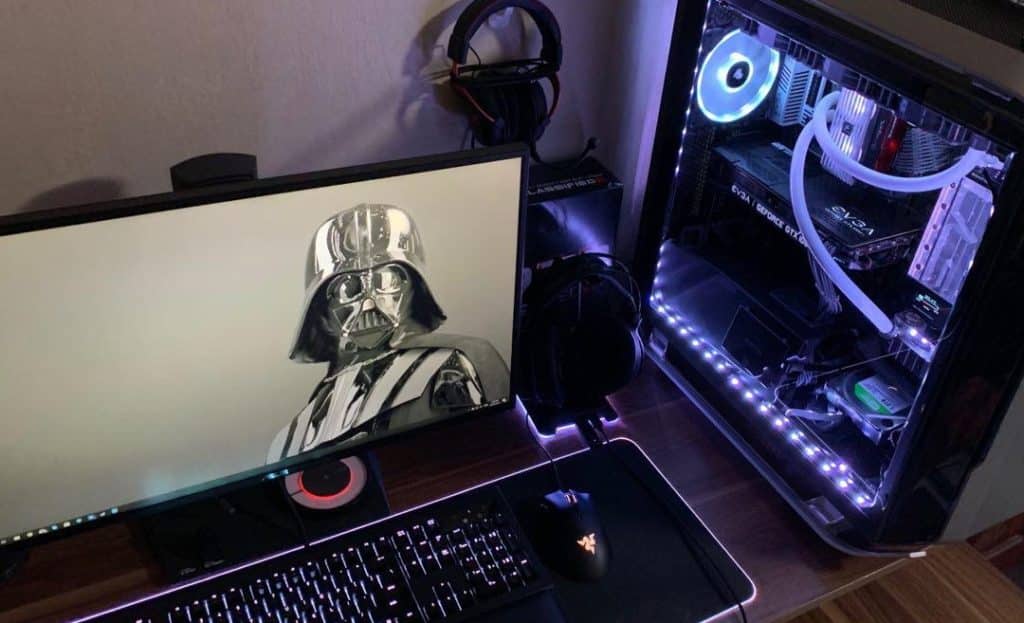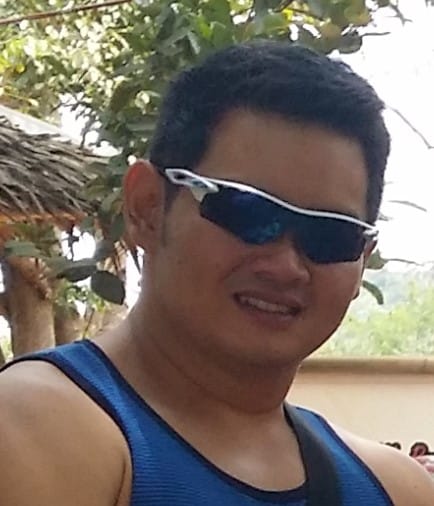 Paolo is a gaming veteran since the golden days of Doom and Warcraft and has been building gaming systems for family, friends, and colleagues since his junior high years. High-performance monitors are one of his fixations and he believes that it's every citizen's right to enjoy one. He has gone through several pieces of hardware in pursuit of every bit of performance gain, much to the dismay of his wallet. He now works with Monitornerds to scrutinize the latest gear to create reviews that accentuate the seldom explained aspects of a PC monitor.