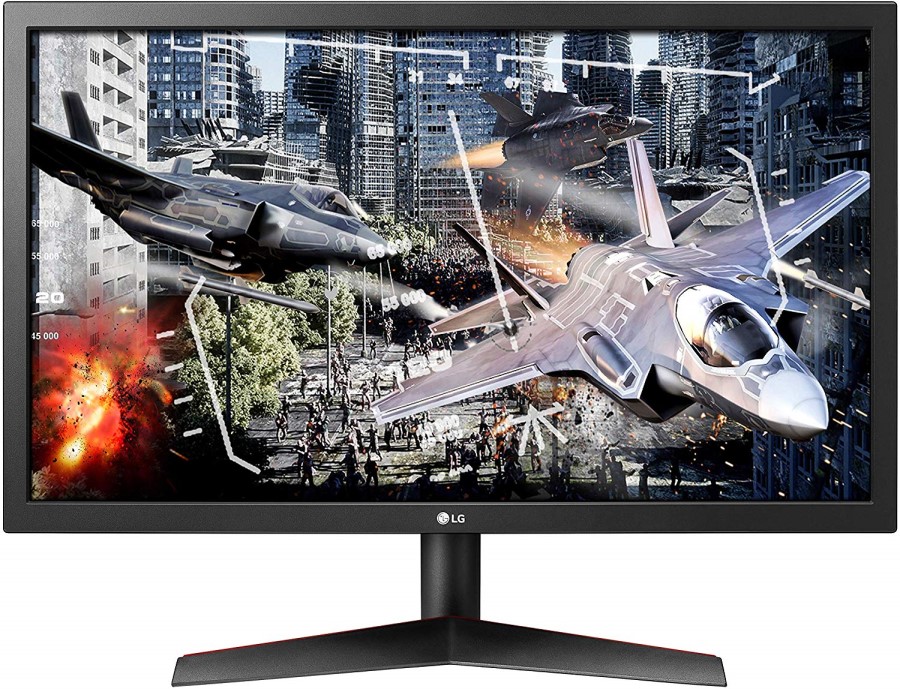 The LG 24GL600F is the entry-level variant in the brand's UltraGear line, but it's advertised as a very capable option in responsiveness and input lag. The monitor doesn't look or feel cheap which is a plus, but it does have a few exclusions that you might consider. Let's see if the LG 24GL600F can offer more than its 144Hz despite having one of the lowest retail prices in the current market.

LG 24GL600F Specifications
Screen Size: 24Inches
Resolution: 1920 x 1080Full HD
Aspect Ratio: 16:9
Panel Technology: Twisted Nematic(TN)
Refresh Rate: 144Hz
Response Time: 1ms
Contrast Ratio: 1000:1 (Static)
Brightness: 300 cd/m²
Built-in Speakers: No
Stand: Height -No
Stand: Tilt – Yes
Stand: Swivel – No
Stand: Pivot– No
VESA Compatibility: Yes(100 x 100)
Connectivity: DisplayPort 1.2 x 1, HDMI 4x 2, 3.5mm Audio Jack
Dimensions with Stand(WxHxD): 21.93″ x 16.54″ x 7.13″
Weight: 8.16 lbs

Design and Features
The LG 24GL600F sports a sleek and slim design that will fit many modern gaming setups or even some studios and offices. The matte black plastic is easy to maintain, while the modest hints of red declare that this is a gaming model. The display isn't bezel-free, and we think that the borders are slightly thicker than what we're used to seeing on budget gaming monitors.
Build quality is excellent since there are no weak points or cosmetic defects even if some parts feel too plasticky. The device manages to stand stable on a desk and it won't shake with something like tedious typing. The product is well-crafted, but the thinness of the cabinet will sometimes leave you worried that it will break easily.
The rear panel has the circular design which you will also see on the brand's higher-end models such as the LG 32GK850G. However, you only get a red plastic ring with this model instead of RGB lighting, but that's fair since adding it will increase the material and manufacturing cost of the monitor.
You also don't have to deal with confusing OSD buttons if you want to tweak the LG 24GL600F which also includes the brand's OnScreen Control. The app is usually found on higher-end models in previous releases, but LG now includes it on all of its monitor ranges. This add-on lets you tweak the device's OSD settings directly on the desktop with your mouse, so it's much more convenient if you want to change something on the fly.
The LG 24GL600F features the V-line design stand which has a boomerang-shaped base that provides excellent stability. What's preferable about this characteristic is it doesn't eat up a lot desk space, unlike the ArcLine version which is no doubt, beautiful, but a space hog. The downside is you can only tilt the display, so its very limiting if you want varying orientations on your desktop.
Wall mounting the LG 24GL600F is a good idea due to this limitation, but buying a VESA mount means you have to pay more. The monitor is highly suitable since its so thin and light, but you might as well get a more flexible option if you are concerned about height adjustments or more.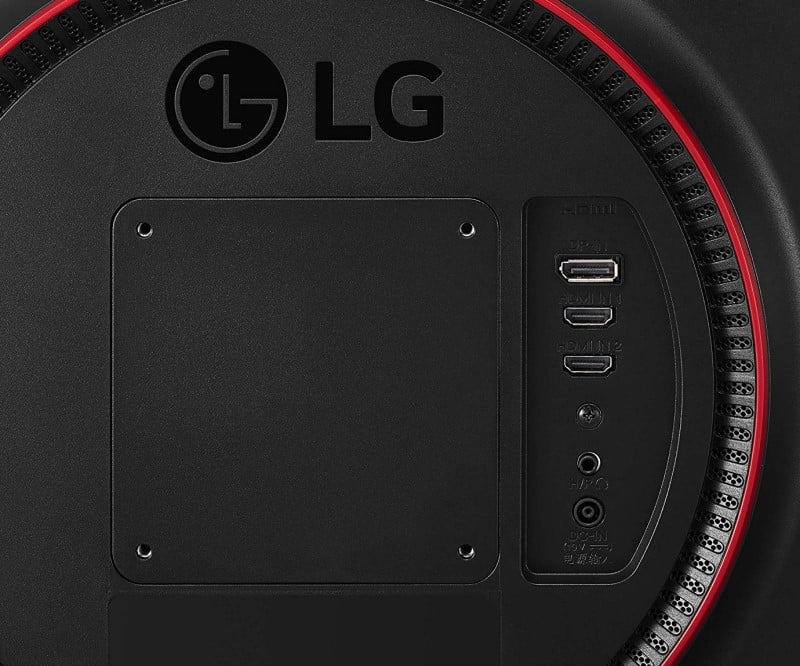 The LG 24GL600F has a limited I/O panel, but it can handle two HD devices alongside your gaming PC. The layout at the rear includes DisplayPort 1.2 as the primary and two HDMI 1.4 ports for your secondary devices such as gaming consoles. There are no speakers, but there is a 3.5mm jack for audio passthrough.
Display and Performance
The LG 24GL600F sports a 24-inch TN panel with a 1920 x 1080 resolution, 144Hz refresh rate, and 1ms response time. The backlight reaches up to 300 cd/m2, while contrast is listed at a typical 1000:1 like most TN and IPS variants. There is nothing special about the LG 24GL600F's spec sheet, but it focuses on pure performance at a very low price point.
Full HD screens are best enjoyed with 24-inch models or lower so the pixel density doesn't spread out thin. This format is still widely preferred by E-Sports gamers since it's not too demanding on gaming systems, plus visibility is excellent. Tiny objects will not become too small to the point of requiring scaling, so we recommend this monitor if you want the bare essentials and would rather do without the penalties of extra eye candy.
The LG 24GL600F doesn't have an excellent color profile by default, but its sRGB coverage reached a peak of 97% which is more than enough for competitive gaming. Accuracy out of the box is dismal with a Delta E average of 4.1 which means color skewing is very noticeable. Thankfully, you can bring this down to a more acceptable 2.1 with some tweaks to the RGB sliders and the brightness.
The screen's gamma is also lower than the ideal at 2.05, while the color temperature slightly exceeds the 6500K point. It also can be corrected with some adjustments to correct the gamma to a more acceptable 2.21 with less coolness. The contrast reached a maximum of 1070:1 at 40% brightness, although the grayish appearance of blacks is still apparent especially in dark rooms.
The LG 24GL600F has decent uniformity since it doesn't suffer from light leaks like some IPS panels do. Color variances are unnoticeable between each quadrant, but some look darker or lighter when viewing a black screen. We're not sure if its limited to the review unit or the whole product line suffers from the flaw.
Responsiveness is the main strength of the LG 24GL600F thanks to its TN panel which is the popular choice for competitive gaming monitors. Blurs seldom appear on the screen and when they do, they are minimal and almost unnoticeable. Using the product's overdrive feature is unnecessary, especially since the fastest setting will induce noticeable overshoot.
The LG 24GL600F is a FreeSync gaming monitor, but it also works with G-Sync compatibility for Nvidia GPU users. However, the monitor isn't certified, so it won't run the latter automatically so you have to manually activate it in the OSD. Input lag sits at 4.5ms at 144Hz, so you won't notice any delays or "de-synced" instances during gameplay.
Thoughts on the LG 24GL600F
The LG 24GL600F is an excellent choice if you don't want to spend a fortune on a 144Hz gaming monitor. The product offers the bare essentials, but for the serious gamer, creature comforts or add-ons such as decorative features won't be missed. We like the sleek design of the product, but some areas such as the plasticky accents could use some improvements.
We have mixed feelings about the LG 24GL600F's image quality which critically needs adjustment when you first turn it on. The display looks decent once it's done, but there still will be some flaws such as the poor black uniformity of screen. However, these issues are forgivable, since the price is too low to ignore.
About the Author: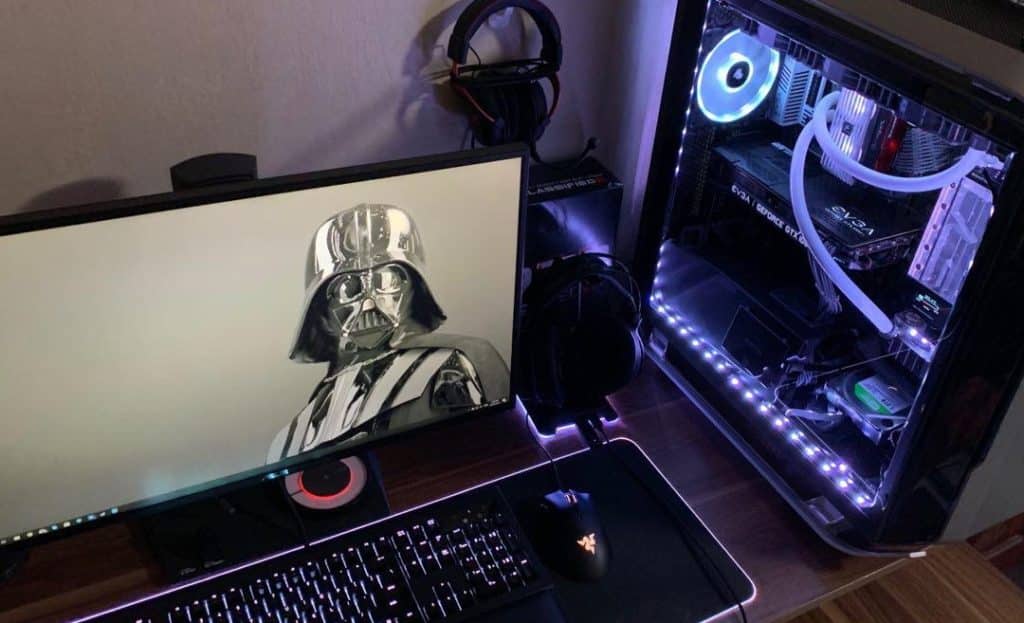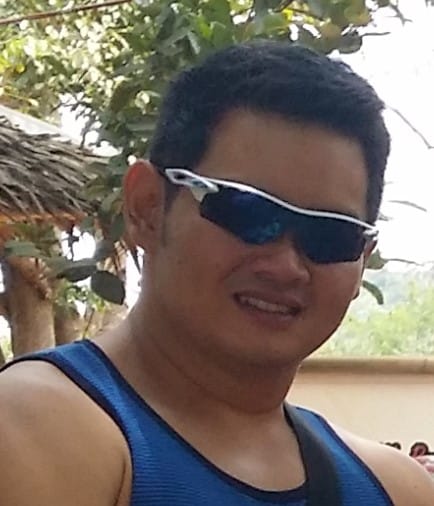 Paolo is a gaming veteran since the golden days of Doom and Warcraft and has been building gaming systems for family, friends, and colleagues since his junior high years. High-performance monitors are one of his fixations and he believes that it's every citizen's right to enjoy one. He has gone through several pieces of hardware in pursuit of every bit of performance gain, much to the dismay of his wallet. He now works with Monitornerds to scrutinize the latest gear to create reviews which accentuate the seldom explained aspects of a PC monitor.