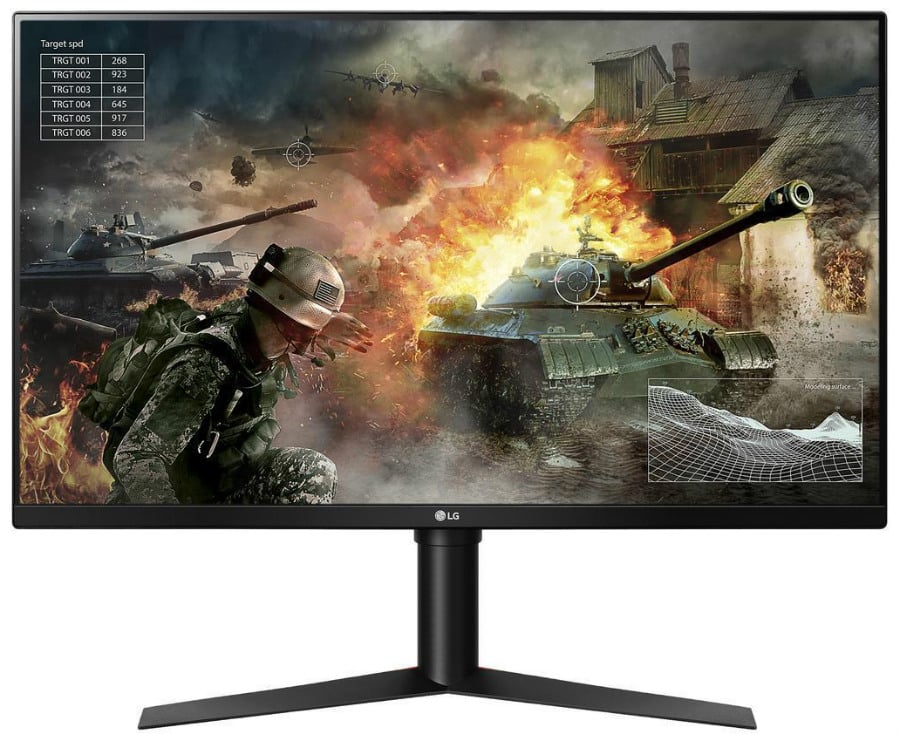 The LG 32GK850G presents an engrossing 32-inch screen mixed with competitive gaming pedigree to dominate your visual senses. Just like our favorite Asus PG278QR, this gaming display can reach a 165Hz refresh rate while relying on G-Sync to prevent tears and stutters without incurring additional latency. The LG 32GK850G looks like a fantastic solution for gamers who want the agility of an E-Sports monitor without sacrificing the immersive qualities of a large screen.

LG 32GK850G Specifications
Screen Size: 32 Inches
Resolution: 2560 x 1440 QHD
Aspect Ratio: 16:9
Panel Technology: Vertical Alignment (VA)
Refresh Rate: 165Hz
Response Time:5ms
Contrast Ratio: 3000:1
Brightness: 350 cd/m²
Built-in Speakers: No
Stand: Height – Yes ( 4.33 Inches)
Stand: Tilt – Yes
Stand: Swivel – Yes
Stand: Pivot – Yes
VESA Compatibility: Yes 100 x 100
Connectivity: DisplayPort 1.2 x 1, HDMI 1.4 x 1, USB 3.0 x 3, 3.5mm Jack
Dimensions With Stand(WxHxD): 28.15″ x 23.78″ x 10.71″
Weight: 18.74 lbs

Design and Features
The LG 32GK850G utilizes a stealthy matte black chassis with a thin cabinet that allows users to focus on its most important part which is its screen. Unlike most gaming monitors of this size, this model uses a flat format instead of curved which is a great selling point since we know a lot prefer the former. The product sports a borderless design which is more accurately known as a dual stage bezel.
Users shouldn't worry about the frame that much since we are only dealing with a 1.5mm outer layer and an 8mm panel border that isn't even noticeable when the screen is in use. The rear of the LG 32GK850G's chassis betrays its gaming focus due to the Light Sphere feature which sticks out a bit from the relatively flat surface.
At the edge of this circular design lies an LED strip which can change between several colors and modes. We like that these options are accessible via a scroll wheel at the bottom edge which also doubles as its power button. RGB LED add-ons like this may not seem functional since they are mostly aesthetic, but when set right, they can also function as a bias light for eye safety and comfort.
The LG 32GK850G is held together by a 100 x 100 mounting point at the center of the Light Sphere feature. You can remove the included stand via a quick detach button to reveal the bolt pattern for similar-sized VESA mounts. However, there is little reason to do so since this model can tilt, swivel, pivot, and adjust height.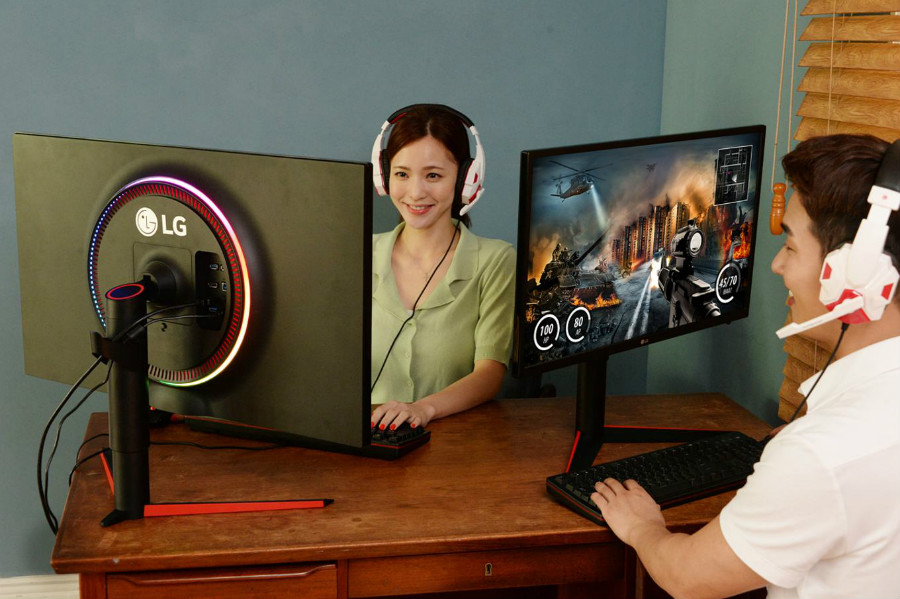 There are red gamerish accents on the Y-shaped base of the LG 32GK850G which is minimal in our opinion. LG has always played with aesthetics subtly, unlike more aggressive brands such as Asus or Acer. Frankly, the monitor would sit well in strictly-business environments such as offices or studios without being too overbearing on the decor.
When assembled, the LG 32GK850G eats up quite a lot of depth on a desk which totals to almost 11 inches. This shouldn't be an issue for those who want a gigantic computer display, but it does limit placement of other peripherals such as speakers and wrist rest-equipped keyboards. Another thing we noticed is that there is a bit of wobble when the whole thing is assembled, although it isn't as pronounced to be a cause for alarm.
As previously established, the LG 32GK850G is a G-Sync monitor, so we already expected a limited range of connectivity due to the G-Sync module's requirements. You will only find ports for DisplayPort 1.2 and HDMI as video inputs, along with three USB 3.0 slots for accessories. This model also does not include built-in speakers, but there is a 3.5mm jack for headphones or speakers.
Display and Performance
The LG 32GK850G sports a 31.5-inch VA panel with a 2560 x 1440 resolution, 165Hz refresh rate, and 5ms response time. A contrast ratio of 3000:1 is specified along with a maximum brightness of 350cd/m2 via the WLED backlight on the screen. Some may say that a 4K resolution is ideal for this size, but we think that 93PPI (Pixels per Inch) is sufficiently detailed and crisp for a monitor like this.
An extensive gamut volume is also specified for the LG 32GK850G to make games more vibrant and eye-popping than on a TN display. Out of the box, the VA panel in this monitor is capable of a little over 100% sRGB coverage with an excellent accuracy score of DeltaE 2.0. However, Gamma is at 2.3, and the screen is a bit too warm for everyday use, so meticulous users might want to toy around with the various options in the OSD.
Once calibrated with a colorimeter like the Spyder Elite 5, the LG 32GK850G's scores improve to levels we usually see on professional or photo editing displays. Delta E average falls to 0.5 with a perfectly set 2.2 gamma and color temp. Contrast drops a bit from the measured default of 3200:1 to around 2900:1 which is still fantastic by any means.
The LG 32GK850G's panel uniformity is just as excellent as its color qualities thanks to deviances that do not exceed 10% for the majority of the massive screen. The corners are 15% darker than the center, but this flaw is forgivable since the screen is quite large. There is also no noticeable color shift in the different quadrants of the display, giving users a balanced overall image.
However, the most glaring flaw for the LG 32GK850G is the smearing at the max refresh rate that is noticeable for the extra sensitive. This model includes an Overdrive function which doesn't induce overshoot even at its max setting, although the blurring persisted during our observation. This monitor doesn't come with a ULMB-compatible strobing backlight which could solve this issue for those who notice it.
This flaw is due to the slow pixel response time which can't keep up with the refresh of the VA panel used in the LG 32GK850G. One way to alleviate it is to slow down the monitor to 120Hz which did improve the screen's performance in this regard. This procedure is reasonable for most users since most games will not reach 144 or 165FPS at high to ultra settings even if you have a powerful card like the GTX 1080 Ti.
The LG 32GK850G comes with Nvidia's G-Sync technology for curing tearing and stuttering which is common at higher resolutions. Using this feature gave us buttery smooth visuals in PUBG which is one of the most challenging and less graphically stable games of this year. We also didn't notice any delays or misconnected inputs with this monitor since it's input lag doesn't even exceed 3.5ms.
Thoughts on the LG 32GK850G
The LG 32GK850G is one of the better designed G-Sync gaming monitors out in the market thanks to its sleek aesthetic and the beautifully designed Light Sphere feature. The display's out of the box, and calibrated performances are nothing short of impressive which puts the product next to professional displays when imaging fidelity is concerned.
However, the LG 32GK850G's glaring blurring issue could put off a lot of gamers who are looking to invest in a premium monitor. It can be easily solved by limiting the refresh to 120Hz, but it kind of defeats the purpose of an overclockable display. But if you can work around this issue, the LG 32GK850G becomes one of the top choices in the 32-inch category.