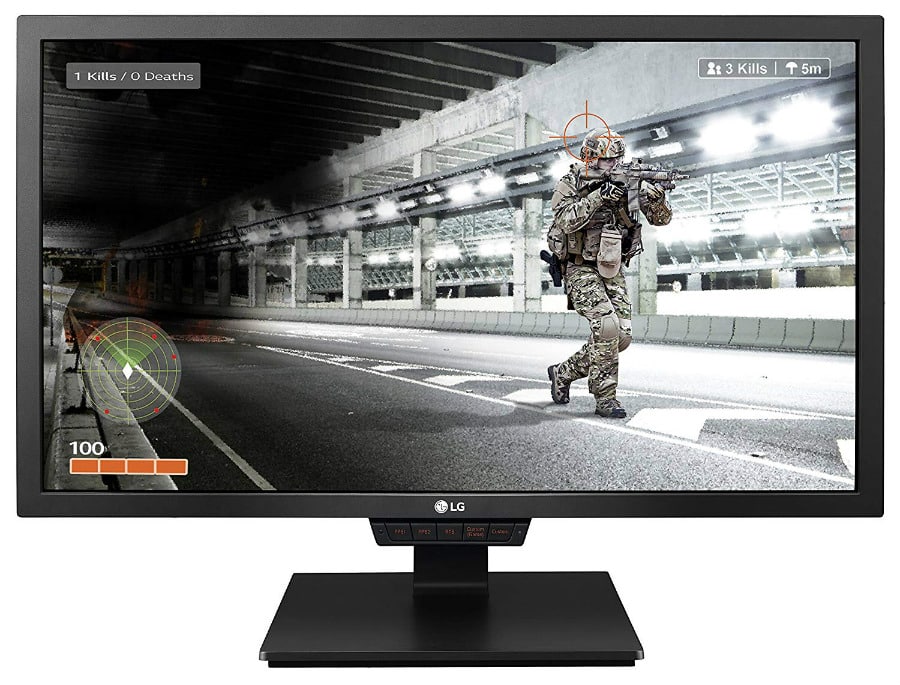 The LG 24GM79G offers excellent performance and a unique yet minimalist design that for a premium touch that only a few 144Hz 1080p models can match. This variant is an updated version of the LG 24GM77 review which failed to outshine its competitors in a few aspects. The LG 24GM79G presents a better-designed and robust package, but are its capabilities capable of overtaking the tough competition?

LG 24GM79G Specifications
Screen Size: 24 Inches
Resolution: 1080p FHD
Aspect Ratio: 16:9
Panel Technology: Twisted Nematic (TN)
Refresh Rate: 144Hz
Response Time: 1ms
Contrast Ratio: 1000:1 (Static)
Brightness: 350 cd/m²
Built-in peakers: Yes 2 x 2 Watts
Stand: Height – Yes (4 Inches)
Stand: Tilt – Yes (-5°/+20°)
Stand: Swivel – Yes
Stand: Pivot – Yes
VESA Compatibility: Yes
Connectivity: DisplayPort 1.2 x 1, HDMI 0 x 2, USB2.0 x 3, 3.5mm Audio Jacks
Dimensions (WxHxD): 22.3″ x 15.3″ x 9.4"
Weight: 1lbs

Design and Features
The LG 24GM79G sports a clean, minimalist aesthetic with a matte black finish like the rest of the brand's gaming line. There are red accents on indents at the side which are decorative, but functional as well. This model isn't bezel-free, but the borders are only 15mm thick and do not pose as obstructions to the screen.
One of the features that stands out from the LG 24GM79G is the control panel that sticks out from the bottom of the frame. There are five preset and shortcut buttons up the front and an OSD joystick at the bottom. We love JOG buttons for easy access, but the placement of the controls in this model is our favorite so far.
The LG 24GM79G's casing has reasonable dimensions due to a flat rear bulge that goes well with wall mounting. The sides have indents that are accented with red to promote the product's gaming-oriented nature. There is a hub with two USB 3.0 slots and a headphone connector for convenient access.
Overall, the LG 24GM79G's build quality is superb due to high-quality materials, making it comparable to top options such as the Asus MG248Q. The seams are clean so there are no uneven lines or burrs, plus the device feels solid and doesn't creak. Monitors like this are always worth the money since you are assured that the manufacturer considered every detail before selling.

Connectivity isn't a strong suit for the LG 24GM79G although the essentials are still included. The layout only includes a lone DisplayPort 1.2 and dual HDMI 2.0 slots for video inputs. Frankly, that's all you will ever need but it's worth noting that the closest competitors are better equipped.
The LG 24GM79G is great for mounting since it's slim and relatively flat, but there is little need to do so. The device comes with a fully adjustable stand that offers height, tilt, swivel, and pivot, making it easy to achieve a perfect viewing angle.
Display and Performance
The LG 24GM79G sports a 24-inch TN panel with a 1920 x 1080 resolution, 144Hz refresh rate, and 1ms response time. The brightness specified is a bit higher at 350cd/m2 while static contrast is listed at 1000:1. The screen has a 3H matte anti-glare treatment which is disliked due to its effects on vibrancy.
Image quality from the LG 24GM79G is already impressive right out the box, with a 99% coverage of the sRGB gamut and a DeltaE accuracy of 2.1. Colors are more vibrant on this model than regular 1080p screens, adding an eye-popping effect to games like Overwatch or Destiny 2. There are a few flaws, but they are easily correctable with a few clicks of the intuitive OSD controls.
One noticeable error from the LG 24GM79G is its grayscale output and gamma which tracks 2.1 instead of 2.2 by default. To correct this, we recommend changing the gamma presets in the OSD to Gamma3 or Gamma4 and dropping black stabilizer to 0. You get an average contrast ratio of 1100:1 and deeper than the usual blacks which are rare for TN-type monitors.
Another aspect where the LG 24GM79G excels at is the panel uniformity for both color and brightness. Deviations did not exceed five percent so the screen looks pretty even when viewing black or white images. Take note that this could vary between unit to unit, but we all know TNs are less prone to issues in this regard.
The backlight on the LG 24GM79G is impressively bright, reaching up to 385cd/m2 at 100%. We recommend turning it down to 20% or less to help correct the color temperature, contrast, and gamma of the display.
The LG 24GM79G is a flicker-free display, but we noticed a flaw that some would consider a deal breaker. The screen produces scanlines at 120Hz and 144Hz which can be irritating if they manifest consistently. The lines are more visible when viewing gray or black images, but it isn't readily visible unless you look closer.
The easiest solution is to set custom resolutions via your GPU driver's utility, like Nvidia Control Panel. Setting the refresh rate to 119Hz for 120Hz and 143Hz for 144Hz operation will correct the issue instantly, so it isn't something you should worry about.
The LG 24GM79G is a FreeSync monitor with a 48Hz to 144Hz range so AMD GPU users can enjoy tear and stutter-free gaming. One of the biggest changes for this variant, when compared to the 24GM77, is the addition of LFC which corrects tearing even when frames go out of sync. It's a small update, but we consider it a huge bonus especially if you play demanding titles.
Lastly, the LG 24GM79G handles motion and latency with aplomb for a blur and delay-free experience. The average input lag of 9ms isn't the best in this class, but it will still get the job done.
Thoughts on the LG 24GM79G
The LG 24GM79G is well-designed, but its TN screen's output is a rollercoaster ride of both positive and negative factors. You get excellent out of the box performance which you can easily maximize with a few tweaks. The vibrancy from the overtakes what other TN variants can offer, creating an eye-popping visual experience that isn't expected at this category.
However, the LG 24GM79G's scanline issue will put off a lot of gamers since the prospective buyers would always want the screen at max refresh. The custom resolution and refresh rate remedy is easy to do, but some may dislike having to apply it. But despite that, we still think that the LG 24GM79G is an excellent choice if you want a 144Hz with a unique and premium design.