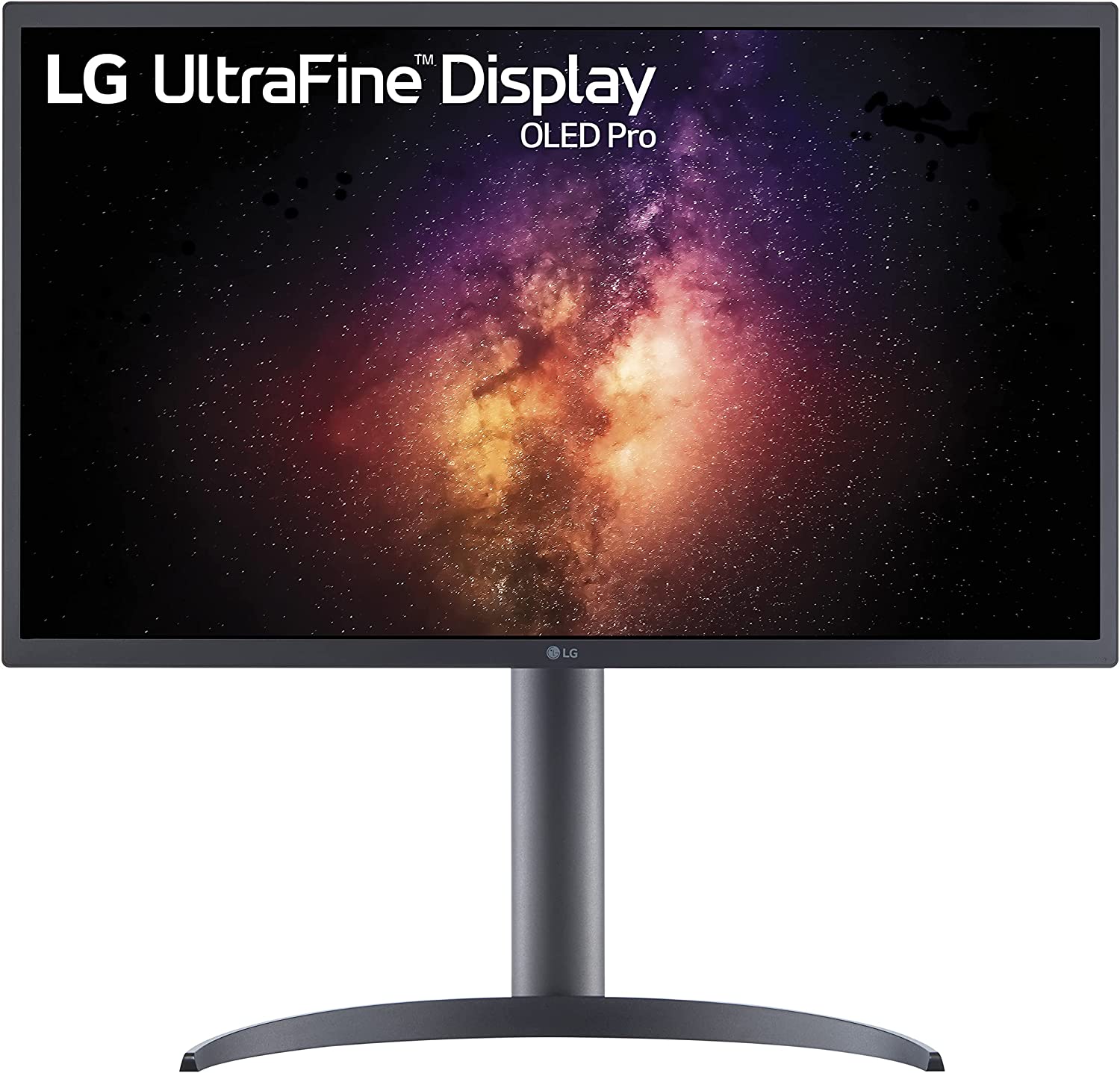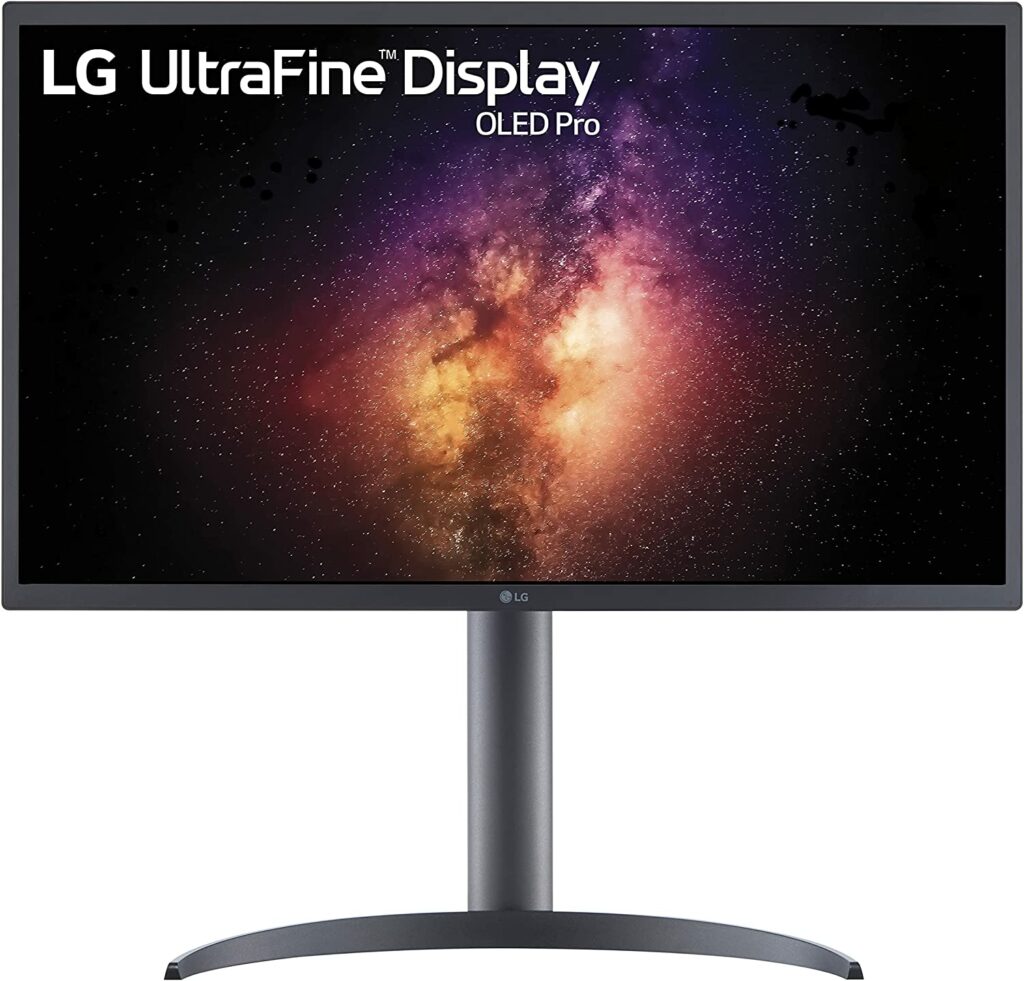 The LG 27EP950-B offers supreme colors and contrast, making it suited for designers, content creators, and editors. It's the smaller version of the 32EP950-B, which showed fantastic performance and quality. The LG 27EP950-B is very expensive for a 4K monitor because of its OLED panel, so let's check it out if it's worth the cost.

LG 27EP950-B Specifications
Screen Size: 27 Inches
Resolution:3840 x 2160 4K UHD
Aspect Ratio: 16:9
Panel Technology: OLED
Refresh Rate: 60Hz
Response Time: 1ms
Contrast Ratio: 1000000:1
Brightness: 250cd/m² (540 cd/m² Peak)
Built-in Speakers: No
Stand: Height – Yes
Stand: Tilt – Yes
Stand: Swivel – No
Stand: Pivot – Yes
VESA Compatibility: Yes (100 x 100)
Connectivity: DisplayPort 1.4 x 2, HDMI 2.0 x 1, USB-C 90-Watt x 1, USB 3.0 x 3, 3.5mm Audio Jack
Dimensions with Stand (WxHxD): 24.6" x 23.1" x 9.4″
Weight: 10.6 lbs

Design and Features
The LG 27EP950-B looks like a plain-looking premium monitor, but that's only until you stare at its magnificent screen. It has a matte black chassis, which suits any setup or workspace. The monitor has bezels, but they are not that thick so they won't be distracting for the user.
What sets this monitor's appearance apart is its slimmer and sleeker form factor that's made possible by the OLED panel. Most of the monitor's 9.4-inch depth is from the base and stand, so you can eliminate it if you have a VESA mount. It's also light at 10.6 pounds, so it will be easy to move it around if needed.
However, it doesn't feel fragile despite its modest proportions. The plastics used are sturdy and sufficiently reinforced, plus there were no cosmetic defects on any of its parts. The included stand is firm and stable so there won't be any wobbling or sagging while it's in use.
The LG 27EP950-B relies on a joystick and the brand's OnScreen Control software for its OSD navigation. Both options make computing life easier compared to OSD buttons since using them takes less time and effort. Some premium options even include remotes, but that's not necessary for a monitor in this class.
The stand included with the package offers tilt, pivot, and height adjustments so it can be used as a main display or a secondary in portrait mode. You can't swivel the screen, but that will not be an issue for most users. You can also use VESA mounts, but the extra cost only becomes necessary in select instances.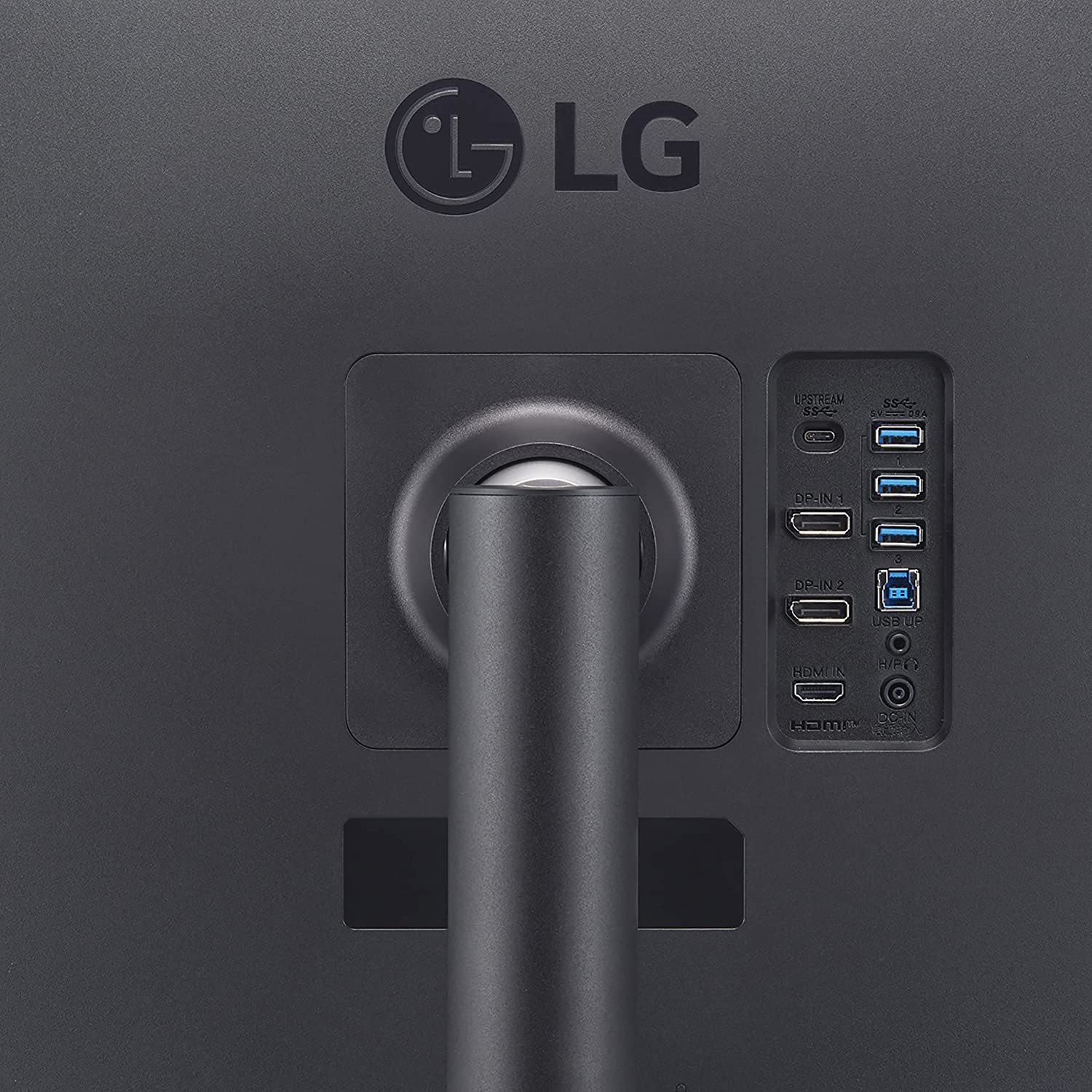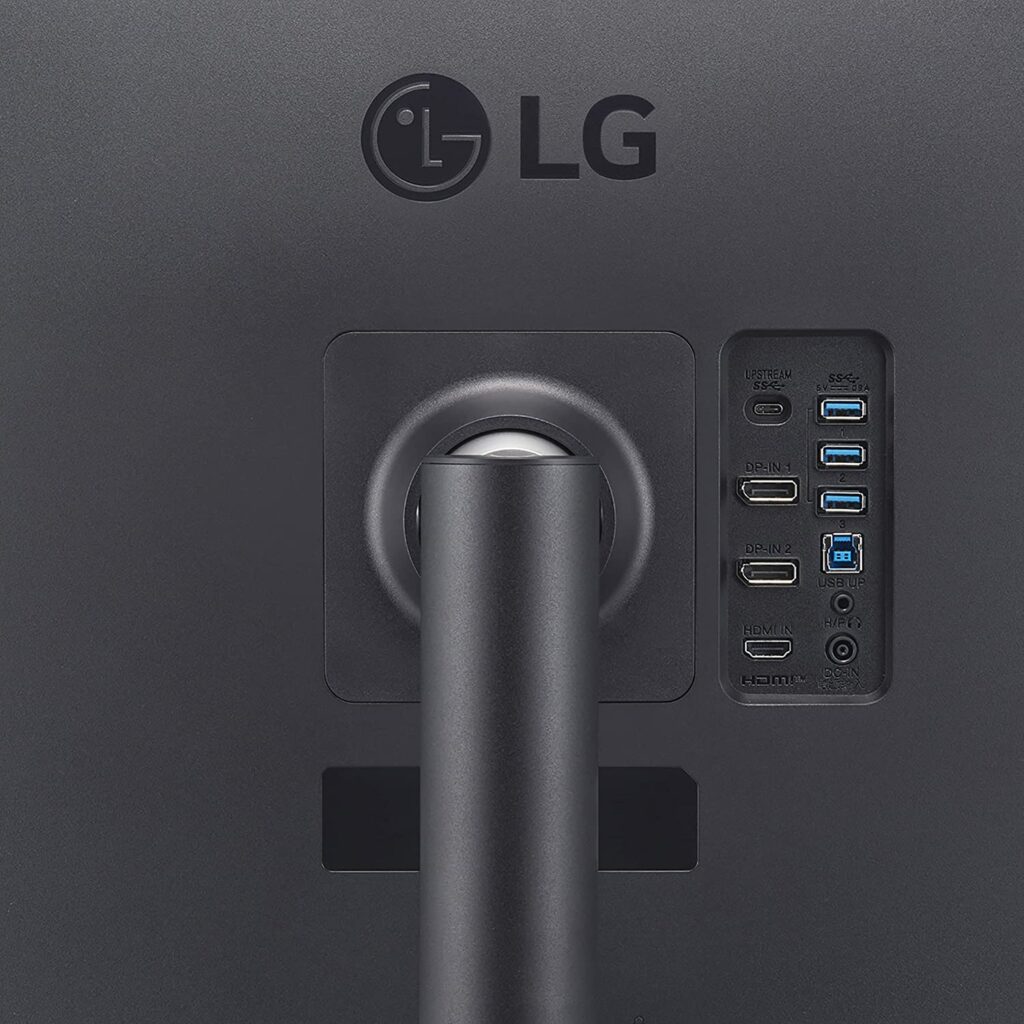 The LG 27EP950-B's connectivity layout includes two DisplayPort 1.4 slots, an HDMI 2.0 port, and a 90-watt USB-C connector with DP Alt Mode. You also get a USB 3.0 hub with three ports and the headphones' usual 3.5mm jack. The I/O is sufficient for users with multiple devices, although it doesn't have KVM functionality out of the box.
It also doesn't have speakers since the monitor's chassis is too thin to accommodate a set. It would have been great if it had an entertainment-grade pair for secondary purposes like media consumption, especially at this price. However, it's more of a design limitation than basic skimping, so it's forgivable this time.
Display and Performance
The LG 27EP950-B sports a 27-inch OLED panel with a 3840 x 2160 resolution, a 60Hz refresh rate, and a sub-1ms response time. Its brightness has a 250 cd/m2 output and a 540 cd/m2 peak, while the contrast is listed at a million to one. The 60Hz limit is peculiar since most OLEDs are 120Hz, but LG said they did this to help the monitor produce the best color and contrast possible.
Like its bigger sibling, this model is also certified for Display HDR 400 True Black. That label is not comparable to the regular HDR 400 spec, except with the brightness requirements. The standard requires extreme black depth, so OLED technology is the only option right now.
This variant is crisper than the other model since it's smaller and has a tighter pixel density. That's great for imaging and media, but it can be difficult to use for reading if your eyesight isn't perfect. However, that's not a major issue, especially since the monitor was made for imaging performance.
The LG 27EP950-B covers more than 100% sRGB, 99% DCI-P3, and 98.4 Adobe RGB, just like its specifications say. Its default accuracy isn't perfect, with a deltaE average of 2.23, but that's reasonable because of the extended gamut. Using the presets for each gamut standard reduced the dE average to 1.03 or lower, so you don't have to calibrate it.
Using a colorimeter er on the LG 27EP950-B improved its dE average to a fantastic 0.61. That makes it suitable for professional applications like color grading or editing, just as the product was intended. However, you will need a colorimeter to achieve this, although we recommend starting with the presets first to avoid more cost.
Its OLED panel reached 256 cd/m2 in SDR, and it peaked at 569 cd/m2 when its HDR mode is active. OLEDs don't typically reach 1000 cd/m2 or more, unlike the mini-LED variants, but they don't need that to produce the deepest contrast possible. The pixels can dim individually, enabling an infinite contrast ratio and true black performance.
Panel uniformity for the test sample did not have any issues like clouding or haloing, unlike its mini-LED counterparts. This is what makes OLED panels great, especially if you are after brilliant HDR performance. You might only face burn-in if you're not conscious or careful with the monitor.
The LG 27EP950-B's pixel response time is a bit slower than its gaming counterparts, but we barely saw any blurring or persistence. There were some in contrasting instances, but it wasn't noticeable enough to become an annoyance. It's great for casual or immersive gaming, even if it wasn't built for that.
The LG 27EP950-B doesn't support FreeSync or G-Sync since it's a prosumer variant. Adaptive Sync would be handy for gaming in 4K, but you can still get away with it if you have a powerful GPU. Input lag is very low at 3ms, so there is no need to worry about sluggishness or a delayed feel while using the product.
Thoughts on the LG 27EP950-B
The LG 27EP950-B is a fine choice if you want the best image quality that no other panel type can offer. It's comparable to the top prosumer picks regarding imaging performance, except when their contrast ratios are compared. It doesn't have gaming capabilities, but creators and designers will be very happy with it.
The only real downside of the LG 27EP950-B is its high price, making the purchase a tough pill to swallow. Sure, it's one of the best for editing or content creation, but it's going to be a deep dive for many of us. It's a fantastic buy for professional applications, but we recommend going with the cheaper and faster gaming variants if you are only after an OLED monitor for entertainment purposes.
Pros:
Excellent Preset and Calibrated Color Accuracy
Fantastic Contrast and HDR Performance
Excellent Panel Uniformity
USB-C PD90W
Cons:
About the Author: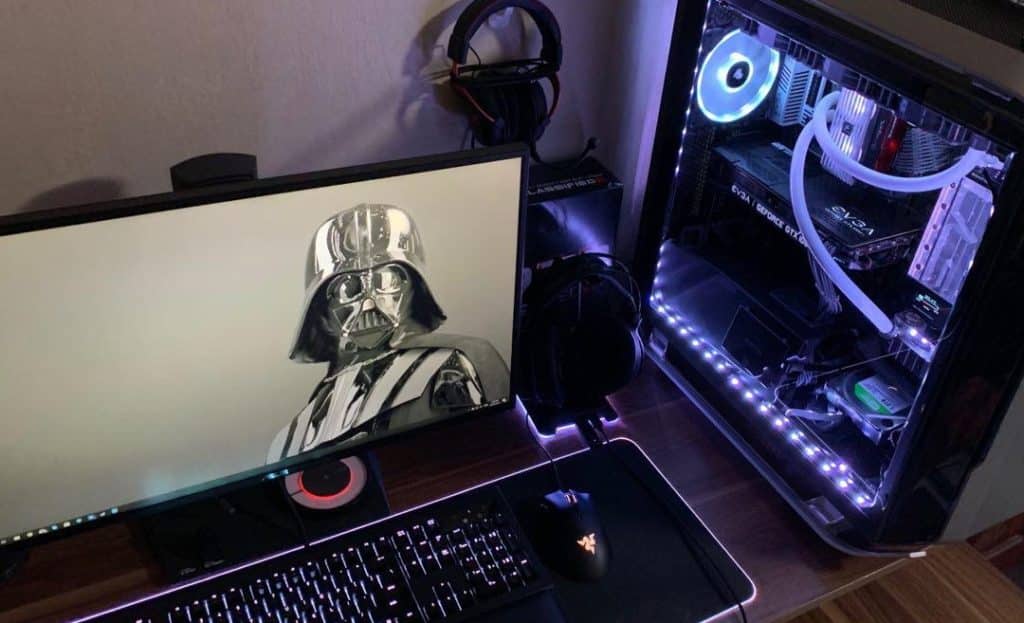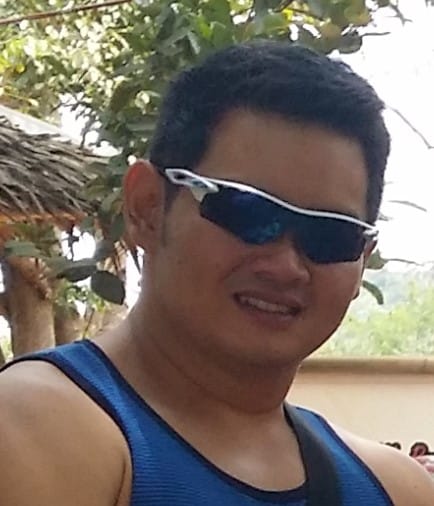 Paolo is a gaming veteran since the golden days of Doom and Warcraft and has been building gaming systems for family, friends, and colleagues since junior high. High-performance monitors are one of his fixations and he believes that it's every citizen's right to enjoy one. He has gone through several pieces of hardware in pursuit of every bit of performance gain, much to the dismay of his wallet. He now works with Monitornerds to scrutinize the latest gear to create reviews that accentuate the seldom explained aspects of a PC monitor.