The LG 27UD88W is a 4k monitor that has a laundry list of cool features. It's 4K, it's IPS, it's got AMD FreeSync; but most importantly, it's got a USB Type-C port for display purposes. It has been great to see monitor technology progress in the way it has in the past year or two. 4K has gone from being some ridiculously high resolution for the 1% to a high resolution for the 4% or 5%. What do those numbers signify? I am not entirely sure. Just like this monitor's name, LG 27UD88W, that is the size, 27 inches. UD here refers to the ultra high-definition, which is fair enough.
The point is, manufacturers are now routinely coming out with 4k monitors packed with great specs for gamers and creative professionals. And the LG 27UD88 is part of that trend. Plus, as I said there is a USB Type-C port here as well, so that adds something interesting into the mix. Let us jump into our product tour, shall we? Now, the monitor is clad in white plastic most places which is not very common these days but which personally I wouldn't mind seeing more of. LG says they made the metal base curve to add to the monitor stability which I think works when you look at how floppy this Samsung 4K monitor is. The stand allows adjustments to height, tilt, and rotation. But no swiveling, which is fair since it's got nice wide viewing angles. But personally, I still would like to have that. The actual monitor attaches to the stand with a simple clip-on mechanism. And there are VESA mounting holes in case you want to stick it on something else.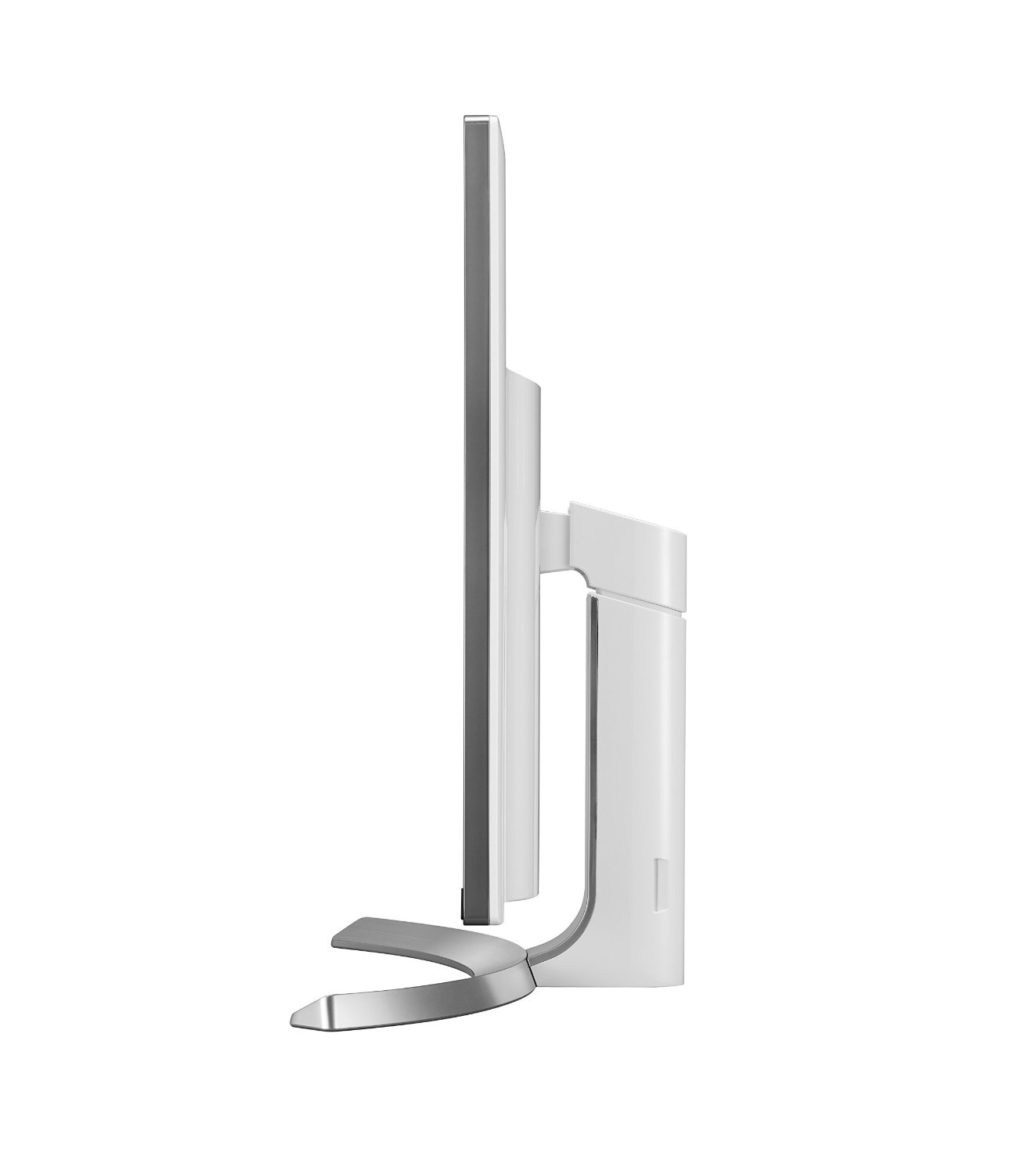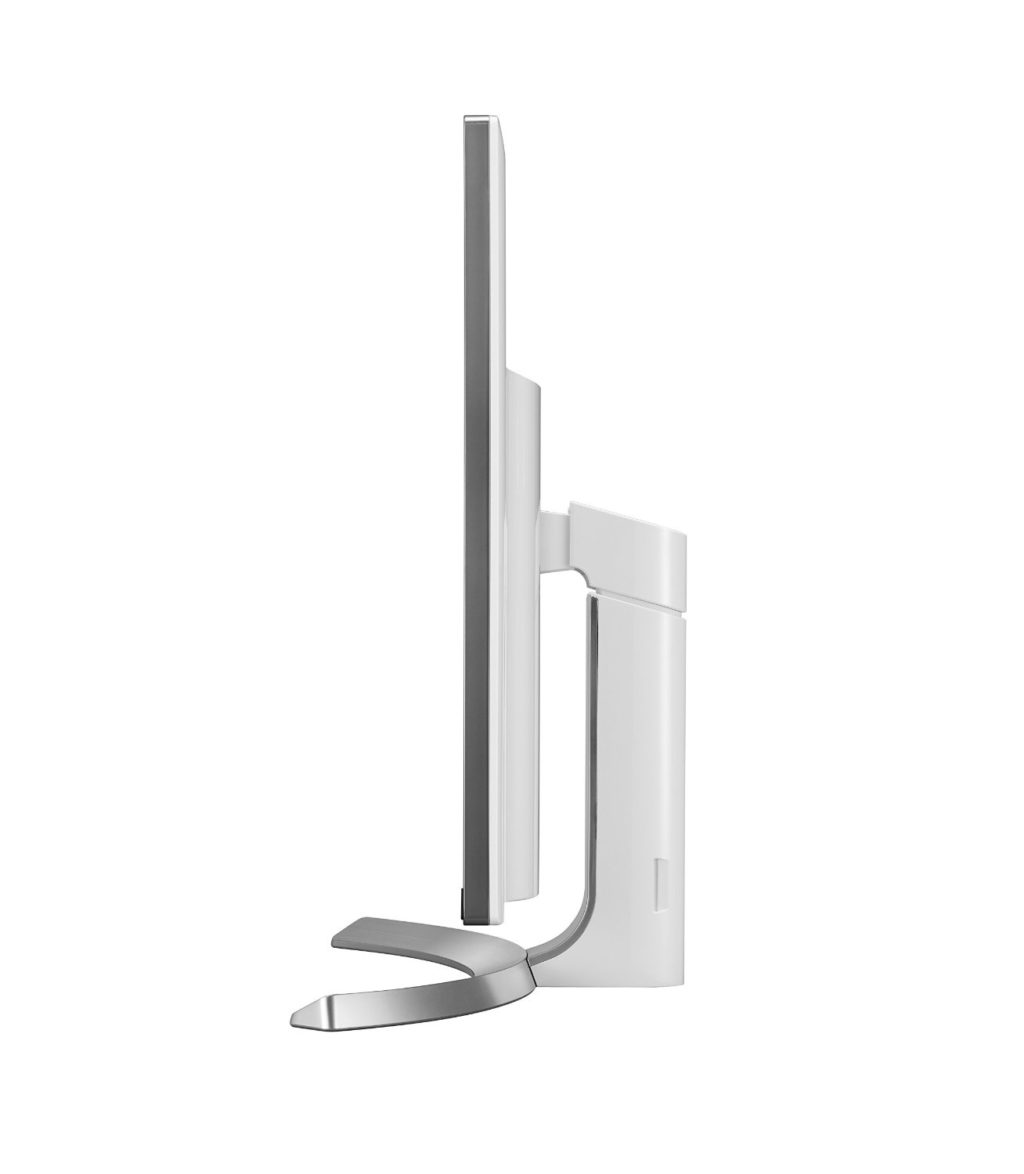 There is a pleasantly thin bezel surrounding the sides and top of the display which has a nice matte non-reflective surface. The single hardware button for the monitor is found underneath the screen, and it is a clickable joystick type thing for navigating the built-in menus. Now, onto the more technical specs. The 27UD88 is as I said 27 inches diagonally. It is an IPS panel with 178-degree viewing angles. Resolution of 3840 x 2160, 60 Hertz refresh rate, 16:9 aspect ratio, five milliseconds of response time and support for AMD's FreeSync variable refresh rate technology.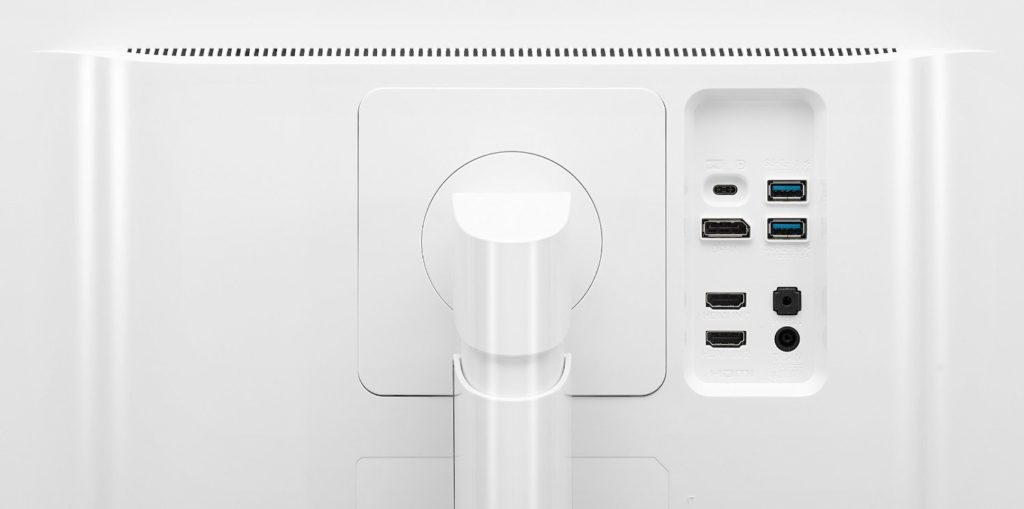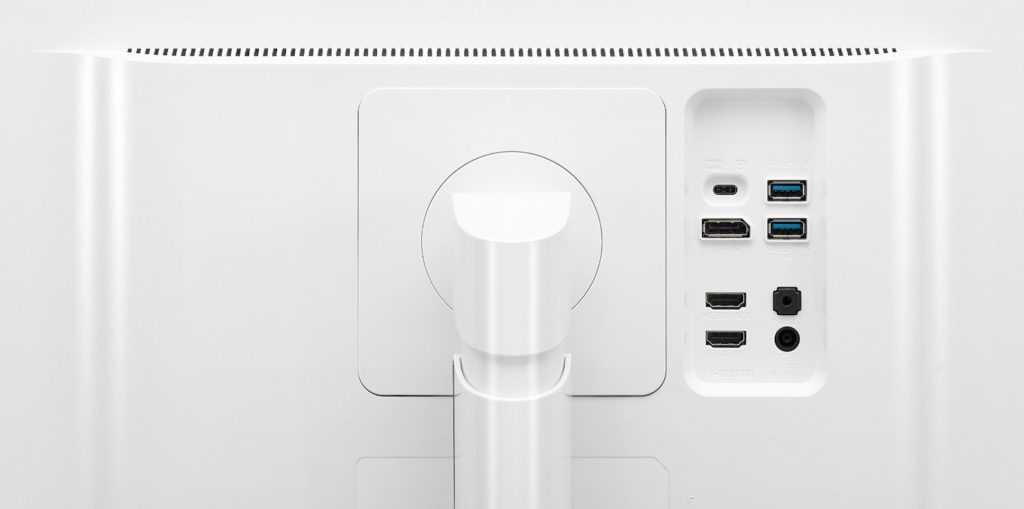 For I/O we have got a 3.5-millimeter audio jack, 2 HDMI 2.0 ports that support 4K at 60 fps, 1 DisplayPort 1.2 port, 2 USB 3.0 Type-A ports, and 1 USB 3.0 Type-C port that supports the DisplayPort 1.2 standard. But not USB 3.1 or Thunderbolt 3 so don't expect the most blazingly fast speeds for transferring data if you do use the Type-C port. There is also this extra USB 2.0 port that is only there for when the monitor needs servicing apparently.
Okay now, since we mentioned that the USB is a Type-C port, what does that allow you to do? I mean we have heard the wonders of the Type-C connector for years with its ability to transfer data, charge devices and carry a display signal. I hooked up a Dell XPS15, which is a 4K screen itself to the monitor and use it for some testing. It maintained the 4K at 60 Hertz the entire time. Rocket League didn't have the weird blurring that I sometimes get on the actual laptop display. It seems very responsive. The other cool thing about using a Type-C port for your display is that it doubles as a USB hub. I plug the keyboard and mouse into the 2 Type-A ports in the back and a headset into the audio port. And everything worked wonderfully which means I had my display, USB peripherals, and audio all connected through the reversible Type-C connector. Plus if I was using a device that supported charging through the USB C port like the [a Samsung, for example] I could have done that too.
Using this setup, I glimpsed the wonderful future that awaits us, universal reversible connectors for everything. It's glorious. Although I should note that I plug the USB drive into one of the ports in the back, and it didn't show up on the laptop. So I am not sure whether you can use drives through that hub, but it did work fine for peripherals. Now this monitor has a few features aimed towards gamers. Let's have a look at those.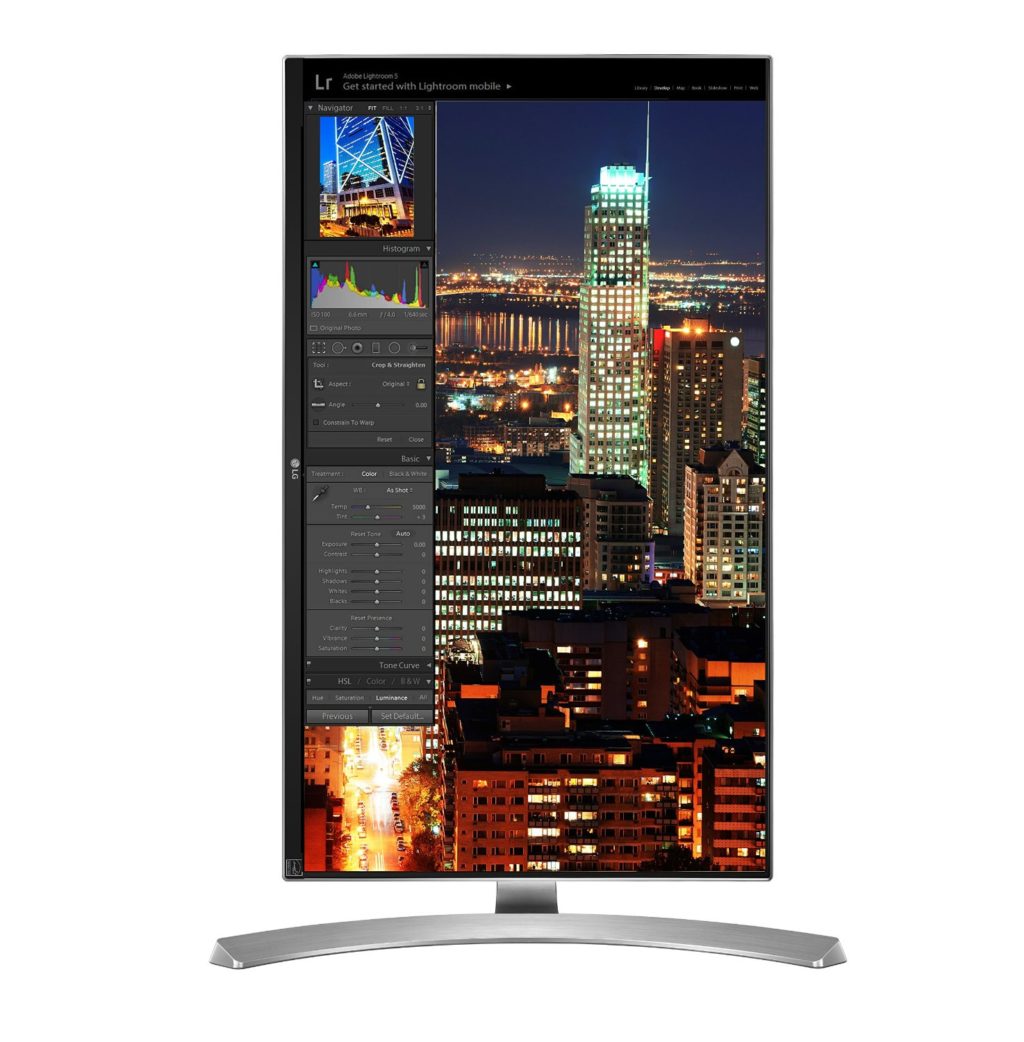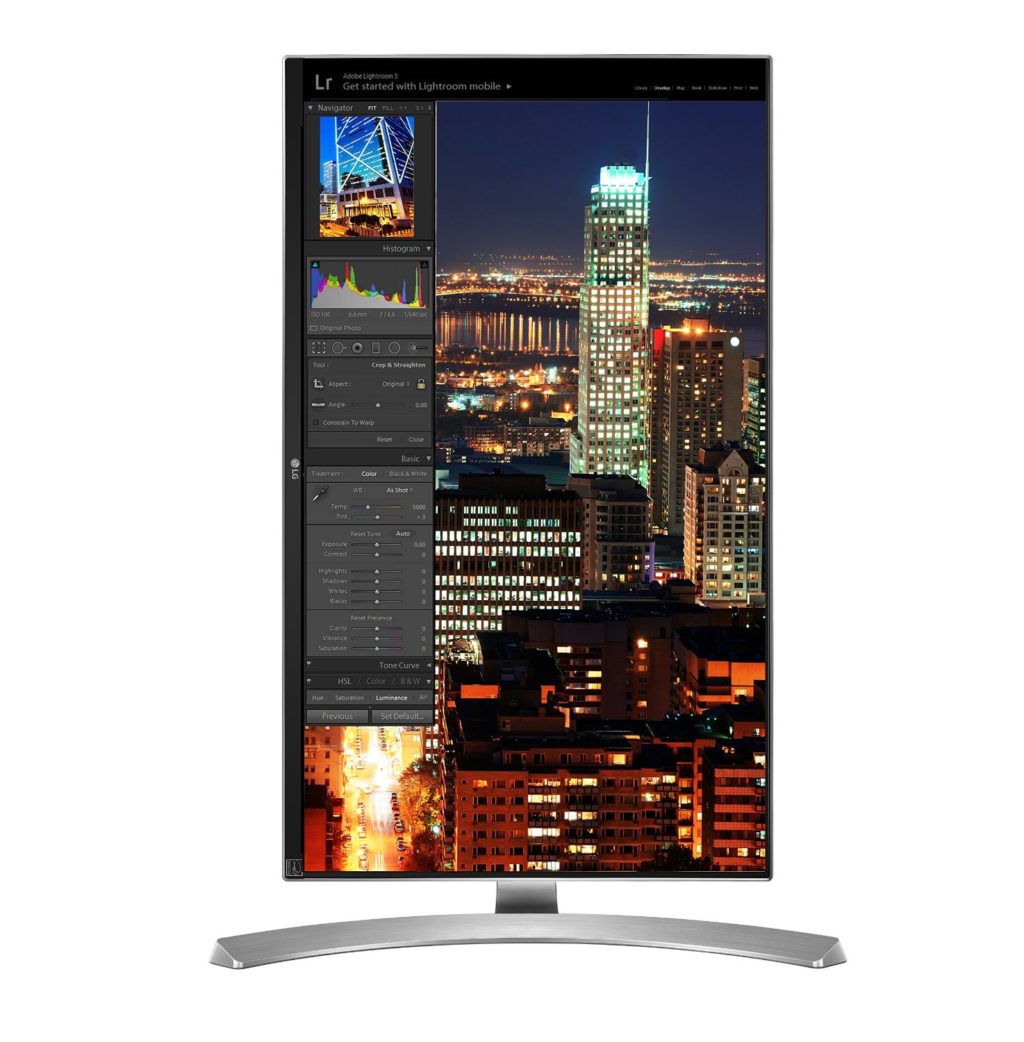 The 60 Hertz refresh rate and 5ms response time put this monitor in the middle regarding raw specs. It is not going to match up to 144 Hertz and one millisecond response time gaming monitor regarding pure performance. But it will still be a good gaming experience. FreeSync will eliminate tearing and stuttering if you got an AMD card. Also, they have got custom setting presets for different types of games in the settings. So if you do use this monitor for gaming, it won't be a slouch. But those who might be a little more interested in this display in particular as opposed to a pure gaming monitor is content creators. The monitor comes pre-calibrated for color accuracy and covers over 99% of the sRGB spectrum. LG includes software with this monitor called "on-screen control" that lets you adjust the physical monitor settings using your mouse and keyboard where normally those settings are changed using the display's hardware button. So that's nice. On screen control also allows you to set up virtual monitors within the same screen. However, you will need a disk drive to install the software for that.

So what is the story here?
We have got a nicely designed 4K monitor with color accuracy for creators, a decent response time for gamers, FreeSync capability and of course that USB Type-C port. Now all those features kind of push the price for this monitor up to $699 at MSRP. But if you like the rest of it but could do without the USB ports, the LG 27UD68 as opposed to this the 88. It is the same monitor, but it only has 2 HDMI and 1 DisplayPort in the back. But it is quite a bit cheaper at $499 MSRP. So like I said the USB Type-C port features are pretty awesome. But it is definitely up to you whether you think that it is worth another 200 bucks.