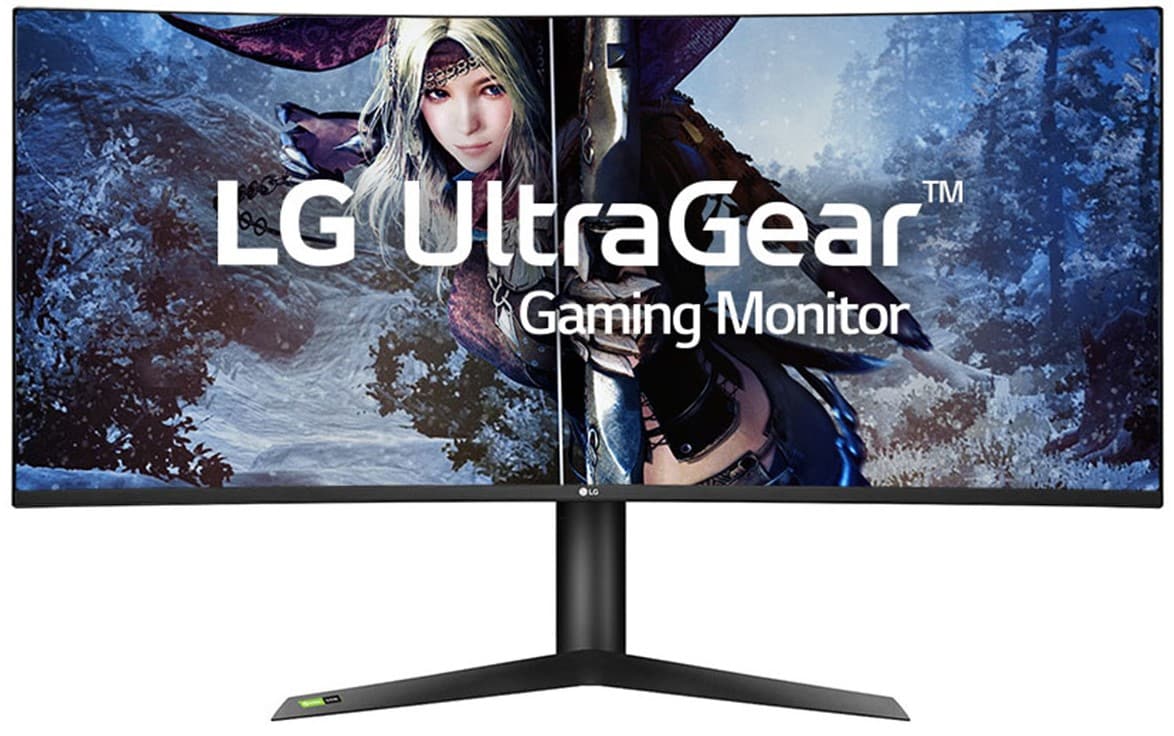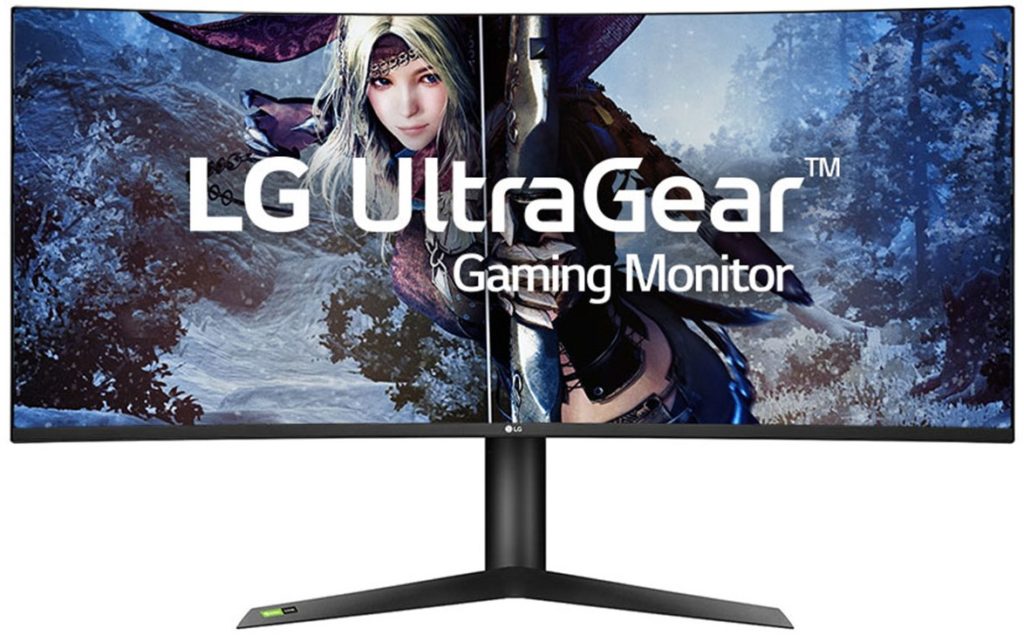 Pros:
Large Screen
175Hz
G-Sync
Excellent Pre-Calibrated Image Quality=
Cons:
Expensive
Limited to G-Sync
Limited Connectivity
The LG 38GL950G is an ultrawide gaming monitor that enthusiasts will love thanks to its amazing specifications that complement the upsized screen. This model includes flagship-level specifications such as G-Sync and the surprising 175Hz refresh rate. The LG 38GL950G is quite expensive and strictly a premium option, but can its performance numbers convince us to fork over the cash?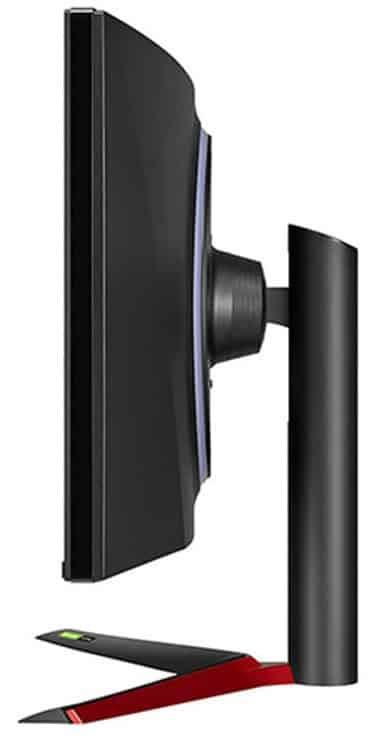 LG 38GL950G Specifications
Screen Size: 38 Inches
Resolution: 3840 x 1600 WQHD+
Aspect Ratio: 21:9
Panel Technology: In-Plane Switching (IPS)
Refresh Rate: 175Hz
Response Time: 1ms
Contrast Ratio: 1000:1 (Static)
Brightness: 450 cd/m²
Built-in Speakers: No
Stand: Height – Yes (4 Inches)
Stand: Tilt – Yes
Stand: Swivel – No
Stand: Pivot – No
VESA Compatibility: Yes (100 x 100
Connectivity: DisplayPort 1.2 x 1, HDMI 2.0 x 1, USB 3.0 x 2, 3.5mm Audio Jacks
Dimensions (WxHxD): 35.3″ x 21.7″ x 11.3"
Weight: 22.1 lbs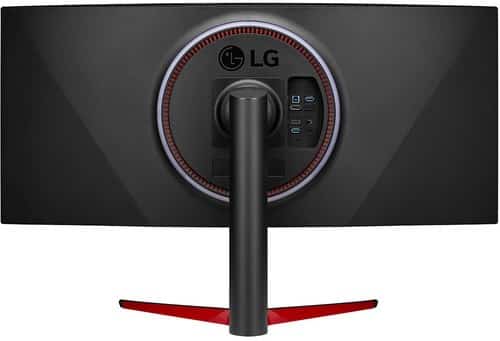 Design and Features
The LG 38GL950G sports the distinct UltraGear aesthetic that we've seen on smaller offerings like the LG 27GL850G. The matte black chassis is understated, but it's preferable for the majority due to the elegance found in simplicity. The massive display is bezel-free on three sides, making your already pleasurable view much more so.
This characteristic also makes the LG 38GL950G great for multi-monitor setups, but the size and resolution mean you don't have to buy three to enjoy the immersion. You should also consider the fact that this model is a behemoth, requiring three feet of horizontal space and a foot of depth. The device when fully assembled has a nice weight to it, but we imagine not many multi-display stands will be able to handle more than one.
Build quality for the LG 38GL950G is nothing short of impressive thanks to the brand's excellent manufacturing processes and design. The plastics feel sturdy and thick, while there is no wobble that's immediately noticeable from the stand. The monitor is well-packaged and safe in its box, so the product should handle road bumps while in transit with ease.
The LG 38GL950G doesn't need OSD buttons since you can utilize the brand's OnScreen Control software. The app lets you adjust the OSD settings directly via your desktop, eliminating the caveats of pressing buttons multiple times.
Another distinct feature of the LG 38GL950G is its Sphere 2.0 RGB lighting feature that surrounds the attachment point at the rear. You can set colors and schemes for it, but what's particularly interesting is its Video Sync Mode which tries to mimic the colors on screen. This implementation provides a bias light that helps with eye-safety while being decorative at the same time.
The LG 38GL950G is supported by an equally massive stand with a boomerang-shaped base. The design provides fantastic stability, but its adjustments are limited to tilt and height movements only. You can swap this part out with a VESA mount, but we don't think spending the extra is immediately necessary and worth it.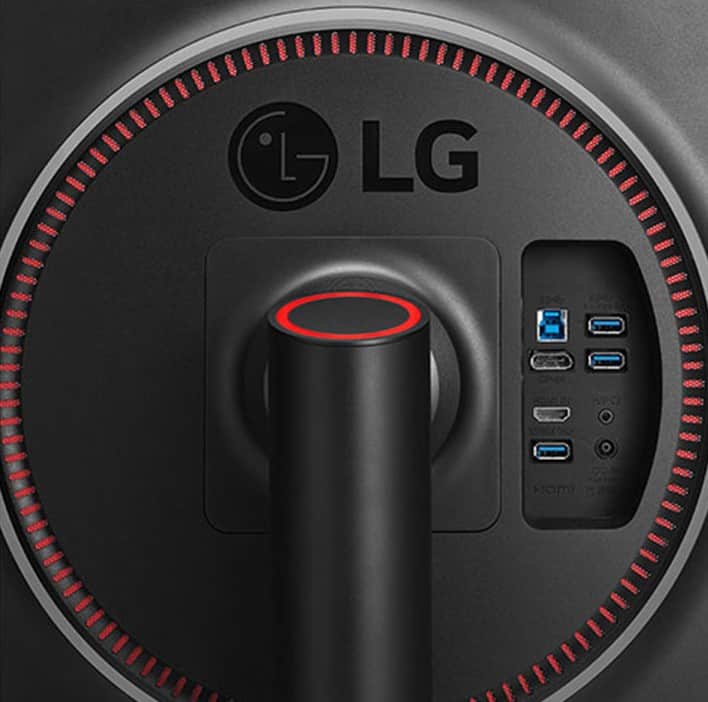 The LG 38GL950G is a G-Sync monitor, so it comes with a proprietary controller from Nvidia that limits your video inputs. The panel in the rear only offers a slot each for DisplayPort 1.2 and HDMI 2.0, along with a trio of USB 3.0 ports for your accessories. This characteristic inhibits the monitor's flexibility, but you do get flawless VRR performance in exchange.
What the LG 38GL950G is missing is the 10-watt speakers found on the LG 38WK95C which also had Bluetooth connectivity. Gamers will still prefer headsets or even a separate 2.1 set, but having good-sounding built-ins always adds value. The latter would be great for the times when you just want to sit back and relax, or if you want to listen to background music while grinding down tasks.
Display and Performance
The LG 38GL950G boasts a 38-inch IPS panel with a 3840 x 1600 resolution, 175Hz refresh rate, and 1ms response time brought about by panel overclocking and overdrive. The backlight is rated to have a maximum output of 450 cd/m2, while contrast sits at a usual 1000:1. The display is DisplayHDR 400-certified, but it cannot offer true HDR performance like the FALD-equipped models we've seen.
The LG 38GL950G also has a 1800r curvature which enhances its visual benefits by making the peripheral views sit closer to your face. It adds a hint of immersion where the user feels as if the screen surrounds his vision, but it can also be disruptive when it comes to size.
You won't need scaling with the LG 38GL950G and its 3840 x 1600 resolution that produces a decent balance between sharpness and details. Graphics look sharp and well-defined, but small objects like text do not get scaled down considerably.
The LG 38GL950G is capable of fantastic color quality starting with 99.9% coverage of sRGB and 95.1% of the DCI-P3 gamut. The screen is pre-calibrated by the brand, with a DeltaE average result of only 1.3 which is excellent for a gaming monitor. Color temperature is slightly cooler than the 6500K point especially when HDR content is active, but we don' think it will bother most users.
The gamma from the LG 38GL950G's IPS panel sits at a healthy 2.2 through the testing, indicating that LG already took care of the monitor before it ships. The screen looks well-balanced except for the slightly cooler hue, so we think most wouldn't even need to adjust anything other than brightness.
The LG 38GL950G is an HDR 400 monitor, but we all know the certification means its HDR capabilities are limited up to a modest degree. The backlight can punch as high as 510 cd/m2 in HDR scenes, but the improvements in detail and lighting are not as prominent since this model doesn't have local dimming. The extra vibrant colors are there, but the illumination needed to produce HDR images isn't available.
It's also worth mentioning that the LG 38GL950G has a weak 900:1 SDR contrast ratio and around 1050:1 for HDR. That's decent for regular IPS and TN monitors, but you will need more to see a deeper range. The screen also looks grayish when viewed in the dark, but that's an accompanying characteristic of IPS panels.
The LG 38GL950G's panel uniformity could use some improvements since it looked slightly dimmer on one side compared to the center and the opposite quadrants. Some drops in contrast and vibrancy due to a minor backlight leak can be detected, but most wouldn't notice the flaws when gaming. However, take note that this particular aspect is heavily affected by manufacturing tolerances, so no two units will look identical.
The LG 38GL950G is surprisingly very responsive for a large IPS monitor with the help of its valuable Overdrive feature. Some interlacing and artifacts can be seen in harsh or drastic color and motion transitions, but they are mostly unnoticeable against such as large backdrop. Setting the overdrive in the OSD to its Fast setting usually solves all issues without any overshoot.
The LG 38GL950G is a G-Sync gaming monitor, so you can only use VRR if you have an Nvidia GPU like the RTX 2080 Ti and those below it. We prefer FreeSync monitors that are G-Sync compatible since they are more practical, but having a tried and tested chip in your monitor to guarantee smooth visuals means you won't run into issues. Input lag sits at more or less 4ms at 175Hz, so there will be no delays or "de-synced" instances while playing.
Thoughts on the LG 38GL950G
The LG 38GL950G is a very attractive option if you want to jump right away onto the 38-inch 175Hz hype train. The curved display offers fantastic color quality, but its contrast could use some improvements to make it comparable to the brand's Nano IPS variants. We love the pixel responsiveness and low input lag of the monitor, plus its G-Sync feature pretty much guarantees smooth frames with powerful Nvidia GPUs.
The biggest caveat of the LG 38GL950G is its pricing which sits at almost two grand on release. That will bring it into competition with 4K 144Hz variants and 49-inch super ultrawides which are still selling fast. But if you want an upsized ultrawide monitor for gaming and everything in between, this model is one of your best bets.
About the Author: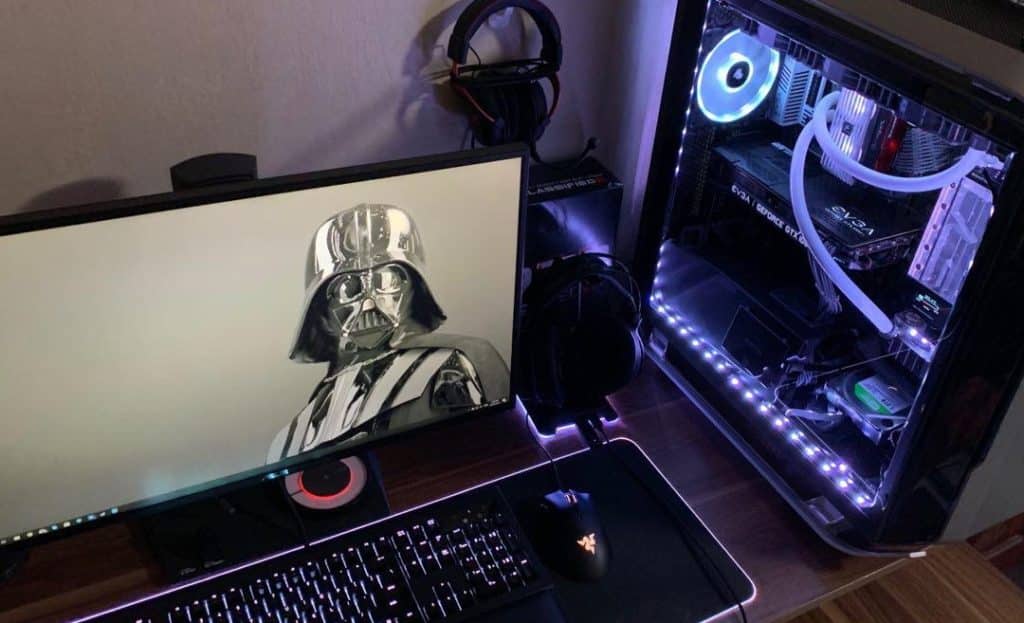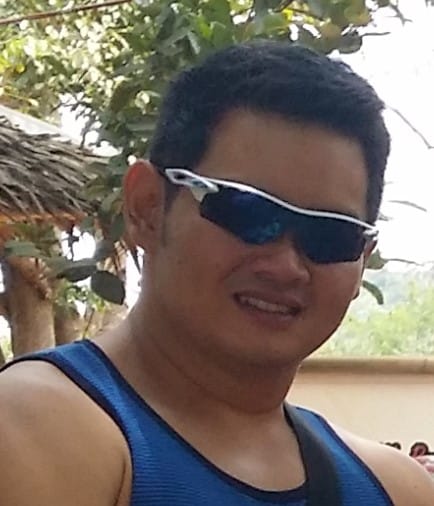 Paolo is a gaming veteran since the golden days of Doom and Warcraft and has been building gaming systems for family, friends, and colleagues since his junior high years. High-performance monitors are one of his fixations and he believes that it's every citizen's right to enjoy one. He has gone through several pieces of hardware in pursuit of every bit of performance gain, much to the dismay of his wallet. He now works with Monitornerds to scrutinize the latest gear to create reviews that accentuate the seldom explained aspects of a PC monitor.