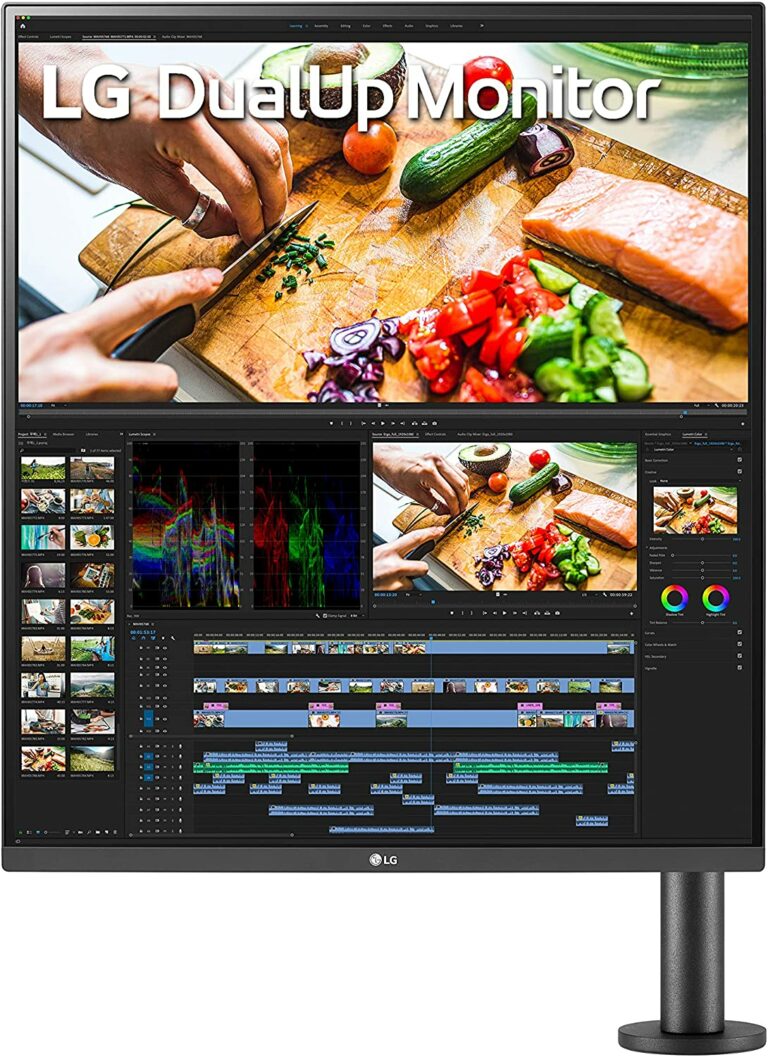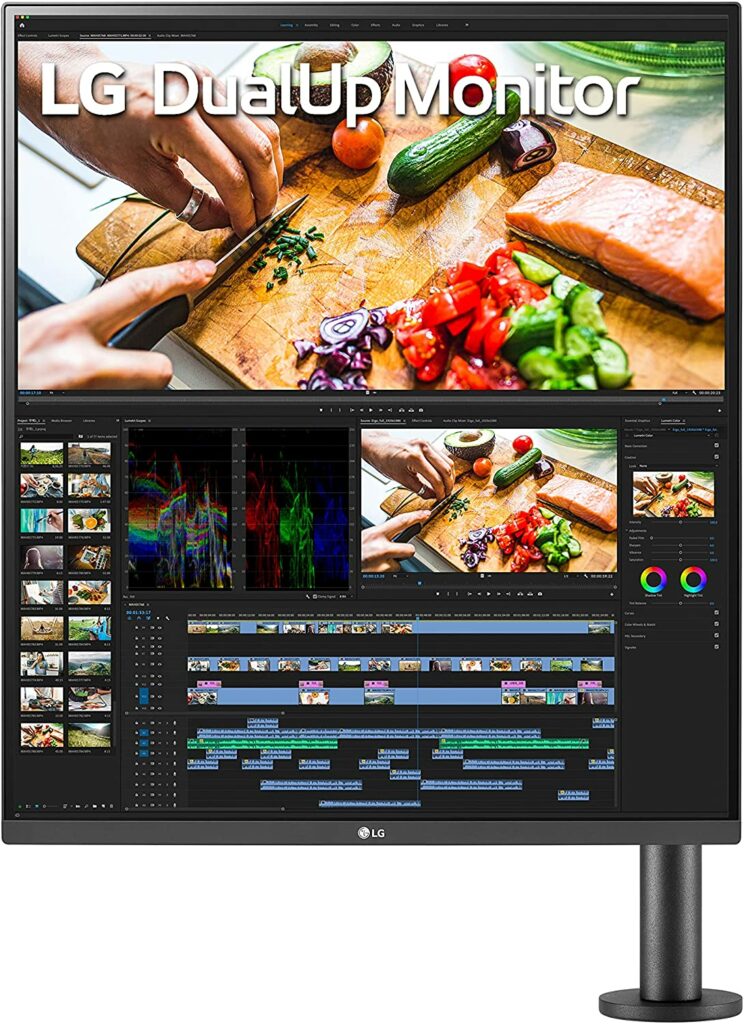 The DualUp 28MQ780 is a quirky yet highly functional business monitor that's designed to enhance your productivity and user experience. It has an Ergo Stand like the 34WP88C, but the difference is the shape and size of the display. Let's take a closer look at the DualUp 28MQ780 to know if it's worth the dive into a whole new segment of business and professional screens.

DualUp 28MQ780 Specifications
Screen Size: 28 Inches
Resolution: 2560 x 2880
Aspect Ratio: 16:18
Panel Technology: In-Plane Switching (IPS)
Refresh Rate: 60Hz
Response Time: 5ms
Contrast Ratio: 1000:1 (Static)
Brightness: 300 cd/m²
Built-in Speakers: Yes (2 x 7 Watts Maxx Audio)
Stand: Height – Yes
Stand: Tilt – Yes
Stand: Swivel – Yes
Stand: Pivot – No
VESA Compatibility: Yes (100 x 100)
Connectivity: DisplayPort 1.4 x 1, HDMI 2.0 x 2, USB-C PD90W x 1, USB 3.0 x 2, 3.5mm Audio Jack x 1
Dimensions (W x H x D): 19" x 27.7" x 20.1"
Weight: 19.84 lbs

Design and Features
The LG DualUp 28MQ780 has a unique form factor, but its aesthetics are similar to the brand's other Ergo and business models. The monitor has a matte black finish all over, and we're curious if LG will ever release white versions in the future. The display isn't completely bezel-free, but that's okay since the borders are barely noticeable when it's in use.
The first tricky part about this monitor is its different dimensions for users that have a small nook for their workstation. It needs up to 20 inches of depth when fully extended, but you have to remember that its stand is only clamped to the edge of your desk. Those who have shelves above their tables will have issues with raising it since the maximum height can reach up to 28 inches when it's fully extended.
We'd also like to note how unique its chassis is when it comes to from versus the more typical variants. The screen has a resolution that's equal to two 2560 x 1440 screens, but it's squeezed into a narrower body that's more manageable. It has a 28-inch diagonal so it's as big as a typical monitor when it is rotated to portrait mode.
Its build quality is just as good as what you can get from the brand's other premium offerings. The materials used are strong and reliable, plus there were no cosmetic defects on any of its parts. The included ergo stand is firm so the screen won't sag while its C-clamp does a good job of keeping the monitor upright.
The LG DualUp 28MQ780 has an OSD button under the LG logo so it is easy to access its settings and features. It is also compatible with the brand's OnScreen Control software which lets you access features like its PbP/PiP modes on your OS desktop. Other premium models go as far as adding remotes, but it is unnecessary with a setup like this.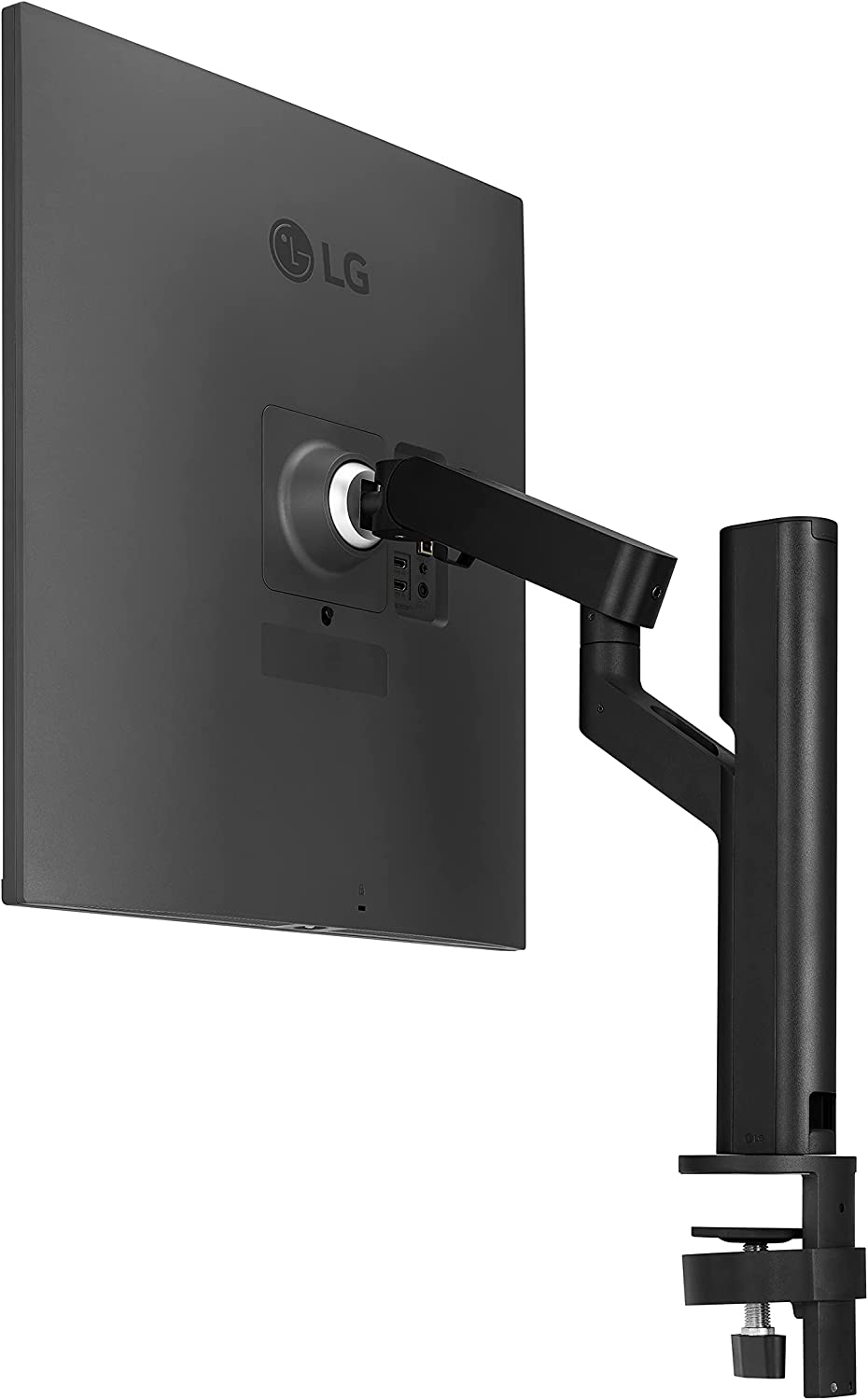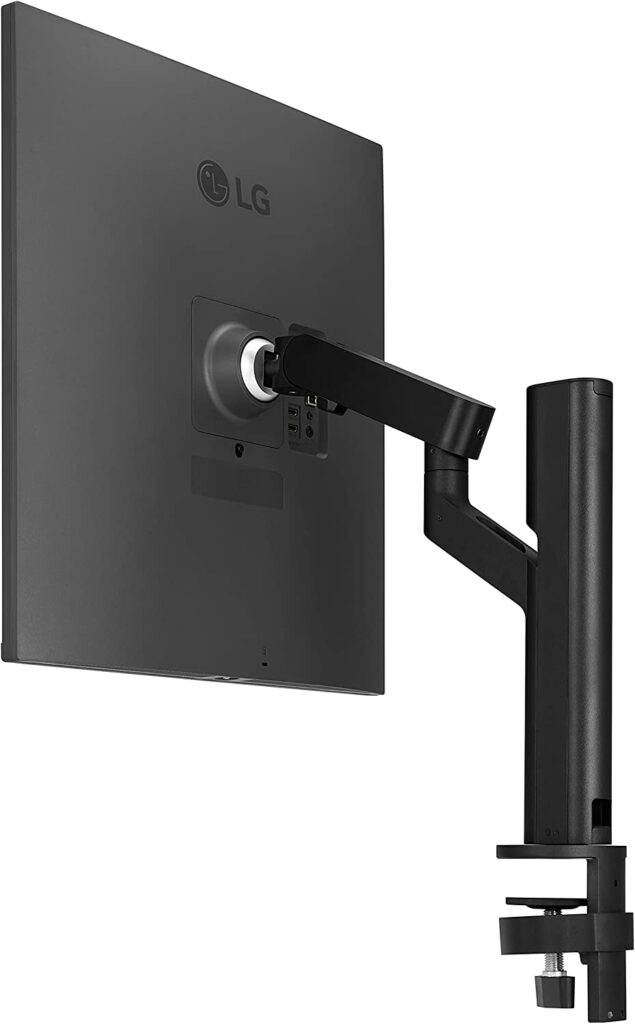 One of the standout features of this monitor is its ergo stand which provides a wider range of adjustments to suit your needs. You can raise its tilt, pivot, swivel, and adjust its height according to your needs. The stand also has a clamp in place of a base so it consumes less desktop space while looking neater than a regular monitor.
The monitor also has the brand's standard connectivity layout for its business and prosumer line. You get DisplayPort 1.4 and two HDMI 2.0 ports, along with a 90-watt USB-C port for modern workstation laptops. There's also a pair of USB 3.0 ports and a 3.5mm jack for accessories or peripherals, but it could use more of the former for better flexibility.
The LG DualUp 28MQ780 also carries the company's MaxxAudio speakers for better volume levels and clarity. They sound better than most built-ins since they have more power, but they won't be able to beat a desktop set or even headsets. However, it's always nice to have something to use for background music and conference calls as needed.
Display and Performance
The LG DualUp 28MQ780 sports a vertical 28-inch display with a unique 2560 x 2880 (16:18 ratio) resolution, a 60Hz refresh rate, and a 5ms Fast response time. The backlight has a 300 cd/m2 maximum while the contrast is listed at 1000:1 like most IPS panels. This monitor supports extended gamut coverage and HDR10, but it's not certified by VESA for HDR performance.
One benefit of this product's unique resolution is its 140PPI density which enables razor-sharp images. It is comparable to a 32-inch 4K display, so pictures will be crisp and detailed without sacrificing legibility. It gives to a lot of room to maneuver your apps for multitasking so finishing your work should be quicker and more convenient.
The LG DualUp 28MQ780 renders over 100% sRGB and 95% DCI-P3 so the screen looks rich and vibrant. Its default accuracy isn't the best with its deltaE average of 2.88, so users who are not into color-critical work should be okay with it. The included sRGB filter for the monitor reduced that dE average to 2.67, but it's still nowhere near prosumer levels.
Calibrating the monitor reduced its dE average to a healthier 1.09 which looks more balanced or natural. Doing so weeds out the oversaturation that's common with untreated wide gamut monitors. The downside is that you will need a colorimeter to get this level of performance, and those aren't cheap.
The LG DualUp 28MQ780's backlight reached 298 cd/m2 at 100% so it can fight off a decent amount of glare from windows or lighting. Its contrast ratio is unimpressive since it only reached 944:1 at 70% brightness. The screen cannot produce deep blacks due to this limitation, but that's acceptable if the device has an IPS panel.
Panel uniformity for the LG DualUp 28MQ780 did not have any major issues like backlight bleeding. There was very little deviance in the backlight's spread, even if you compare the top to the bottom. However, this could change with other units due to manufacturing tolerances so it's still possible to get one with poor uniformity due to common issues.
The LG DualUp 28MQ780 isn't one of the fastest around when it comes to pixel response time. However, the persistence and blurs are understandable since it is not meant for gaming and it's limited to 60Hz. The bigger issue for gamers is the resolution which we're willing to bet is unsupported by a lot of current titles in the market.
Unfortunately, it also doesn't have FreeSync or G-Sync compatibility due to its specific-use design. It's not great for gaming anyway unless you want to play at 2560 x 1440 in windowed mode. Input lag is higher at 20ms, so it's only recommended for office or business use.
Thoughts on the LG DualUp 28MQ780
The LG DualUp 28MQ780 is a great attempt at starting something new for the monitor market and its professional or business category. The screen's unique resolution and aspect ratio are invaluable for multitasking since it lets you work in a new and more efficient way. Purists and neat-freaks will love the stand since it takes up less space, but more importantly, is already included in the price.
However, new innovations like this always have limitations such as the lack of native support for their resolution. There's also the high price which can buy two high-quality monitors if you look hard enough. It's a great buy if you are looking to freshen up and upgrade your workstation, but we can't recommend it for anything else.
Pros:
Functional Ergonomic Design
Tall and Sharp Display
Wide Gamut Coverage
90-Watt USB-C
Cons: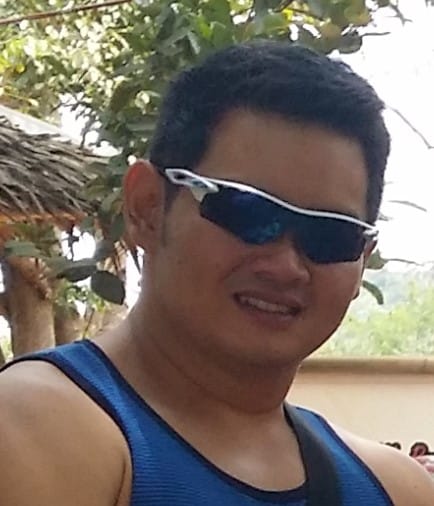 Paolo is a gaming veteran from the golden days of Doom and Warcraft. Since junior high, he has been building gaming systems for family, friends, and colleagues. High-performance monitors are one of his fixations; he believes that every citizen's right to enjoy one. He has gone through several pieces of hardware in pursuit of every bit of performance gain, much to the dismay of his wallet. He has also spent half a decade researching, reviewing, and writing about these products and now has over 1400 articles about the best gaming tech under his belt.