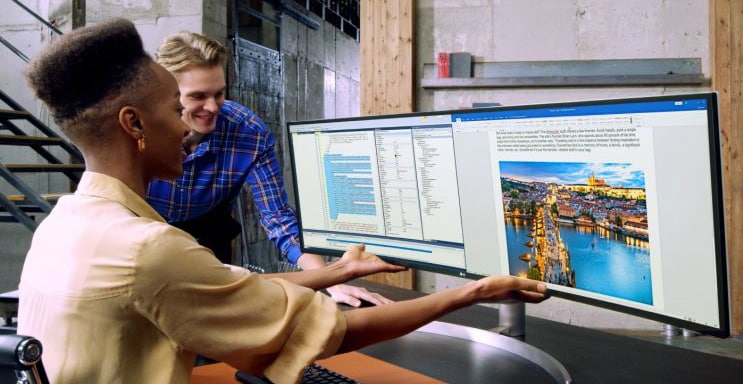 The LG Ultrawide monitors lineup is getting a massive boost for 2019 thanks to two new remarkably sized monitors for gamers and professionals. Both are HDR10 compatible which ensures their popularity, but specs are yet to be finalized at this time.
However, its guaranteed that the super ultrawide LG 49WL95 and the G-Sync equipped LG 38GL950G will shake up the segment. Both displays have significantly larger displays with sharper resolutions along with a bunch of tech to push the boundaries of visual experiences further.
LG 38GL950G – 38-inch 144Hz Ultrawide Monitor with G-Sync and HDR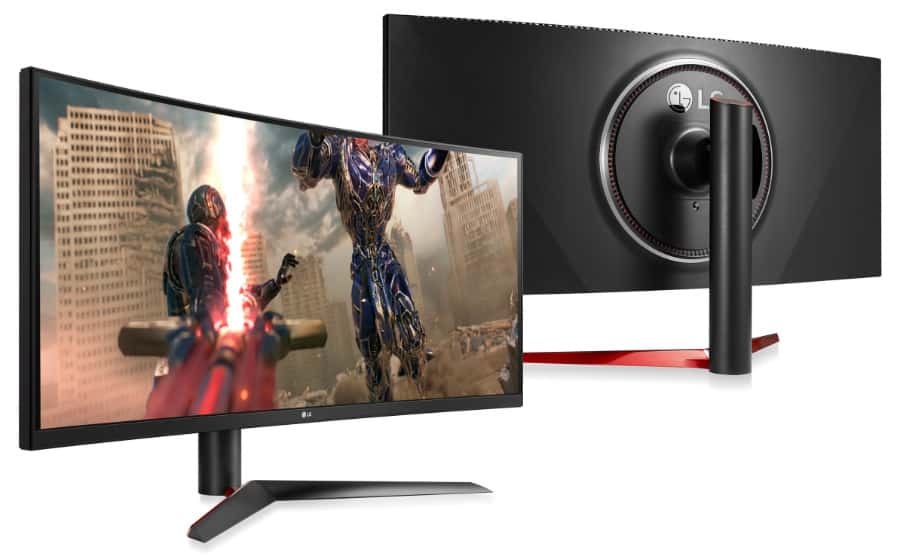 The LG 38GL950G is the latest addition to the Korean firm's prestigious line of UltraGear gaming monitors. This model is scheduled to be presented at CES 2019 and is the first model that will sport the advancements in panel technology by the brand. LG first introduced the module in October and is set to show it off to the world next month and release towards the start of summer.
This latest part from LG features a 38-inch diagonal with a 3840 x 1600 resolution which offers more space for eye candy compared to the typical 3440 x 1440 monitors they already offer. We're also getting a 144Hz native refresh rate instead of the usual 100Hz to 120Hz. The monitor is also equipped with a G-Sync module for buttery smooth gaming with Nvidia GPUs.
But one thing we're curious about is what version of G-Sync the LG 38GL950G is using since there are pros and cons to both. The regular G-Sync module imposes a 120Hz limit due to its use of DisplayPort 1.2, just like on the 34GK950G which also has a 144Hz-capable panel. G-Sync HDR which is most likely used comes equipped with DP 1.4 and is fully capable of the full spec, but it's quite expensive at an estimated additional premium of $500 per unit.
The LG 38GL950G is also part of the Nano IPS line which is made possible with an enhanced phosphor LED backlight. We tested Nano iPS monitors before and have seen them producing supremely high gamut coverage. DCI-P3 coverage (Up to 98%) reaches the requirements set by VESA's Display HDR guidelines which means a higher certification is achievable.
Of course, a specially implemented backlight should also be in place for true HDR capabilities. The LG 38GL950G was originally planned to release with HDR 1000 specifications, but HDR600 is more realistic at this point. The display comes with a450cd/m2 edge-lit local dimming backlight which is estimated to pulse all the way up to 600cd/m2.
The LG 38GL950G is dressed like its smaller counterparts with a matte black chassis decorated with a few red streaks. The stand offers tilt and height adjustments and is removable in favor of VESA mounting. Initial images also suggest that this model will have the Sphere Lighting feature at the rear for decorative RGB illumination.
Final release dates and pricing for the LG 38GL950G are still forthcoming, but we don't have to hold our breath too long. The new gaming monitor is listed as one of the entries for LG's showcase at CES 2019 in Las Vegas, Nevada. Expect more details to arrive by the 8th to the 11th of next month.
LG 49WL95 – 49-Inch Super Ultrawide Monitor for Productivity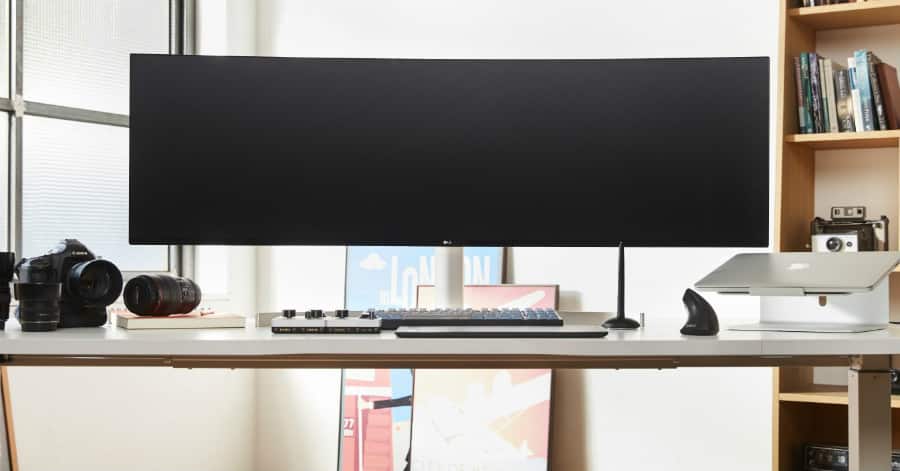 The LG 49WL95 is the latest reveal from the brand's press releases, sporting a massive, 49-inch screen with a 5120 x 1440 resolution. The 32:9 display is comparable to two 27-inch 1440p monitors, offering a spacious desktop for intense multitasking and streamlining workflows. The product is primarily marketed for professionals in Architecture and design, IT, and even finance where the programs used takes up a lot of space.
The panel used for the LG 49WL95 made by the brand itself doesn't have Nano IPS specifications like the 38GL950G above. The primary information we received indicated an sRGB coverage of up to 99%, a 1000:1 contrast ratio, plus the associated wide viewing angles. The screen has a 3800r curve for immersion that doesn't distort the images too much.
As mentioned, the LG 49WL95 is capable of receiving HDR10 signals through its display input ports. However, users cannot enjoy the benefits of HDR since the screen lacks the necessary capabilities and specifications. There is still a chance that this will change since we can't predict what LG has up their sleeves.
One of the key aspects of the LG 49WL95 is its focus on professional usage instead of the entertainment aspect. The device includes USB-C ports for docking laptops such as the MacBook Pro or Dell XPS. The layout also includes dual HDMI 2.0 slots and a single DisplayPort for video signals, along with a 4-port USB 3.0 hub for your accessories.
There is also a pair of 10-watt speakers and an ambient light sensor which supposedly will allow the monitor to adjust its brightness and settings according to your environment. LG's signature ArcLine design stand rounds up the LG 49WL95, offering tilt, height adjustment, and VESA compatibility.
The LG 49WL95 press release doesn't reveal a lot of details on this massive prosumer monitor. There is no predicted or estimated release date, so we have to keep our fingers crossed that the firm will include this offering in their CES 2019 line up. You can also check the original announcement by clicking this link.