| | |
| --- | --- |
| Our Rating:           | 9/10 |
| Size | 27″ |
| Adaptivesync | G-sync  |
| Refresh rate | 144 Hz |
| Response time | 1ms |
| Panel | TN |
| Resolution | 1440p Monitor |
| Price | [maxbutton id="35″] |
[spacer height="10px"]
| | |
| --- | --- |
| Pros | Cons |
| TN panel performs way above average for TN panels for color production and image quality | Relatively expensive |
| G-Sync, ULMB and 3D supported | USB ports are on the backside of the monitor |
| QHD suits perfectly with the 27" screen | Only 1 input port because of the G-Sync module |
| The design gives the impression of a powerful gaming monitor | Slight green and pink bleeding can be viewed on the top and bottom side of the monitor |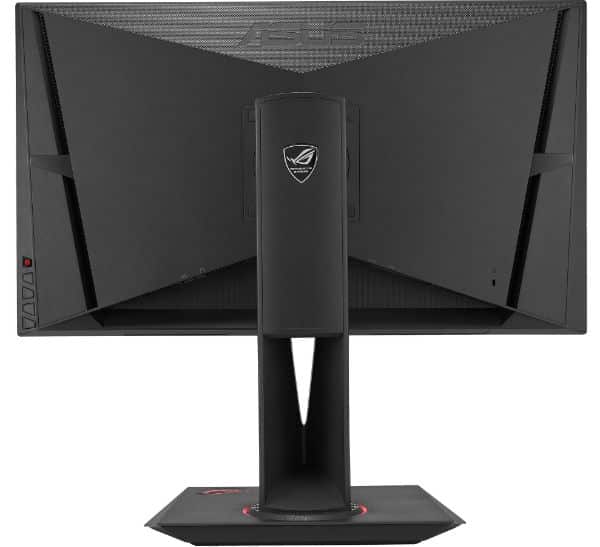 The ASUS ROG Swift PG278Q is without a doubt one of the best-performing 144hz monitor TN panel monitors out there, with its fast refresh rate and response time as well as input lag, ASUS have developed a monitor that suit most people requirements regardless of the games they play. The TN panel excels at color production compared to other TN panels, however it still has nothing on IPS panels. The viewing angles is still a problem and the colors on the top and bottom side (slightly green and pink respectively), would probably be an unacceptable flaw for the graphical and image quality minded gamer. In general, however, the PG278Q performs a smooth, tearing-free gaming experience. Even aside from the fancy technology if you are running an AMD card and you're not looking to change graphics cards right now, you should still be looking at this monitor versus the XL2720Z from BenQ for a higher resolution if you've got enough shiny pennies to afford it. ULMB and the Lightboost technology is more than enough to run games smoothly, and the nVidia GPU that can run G-Sync are numerous and can be purchased for cheap compared to the Freesync supported GPU's from AMD. If you are looking for these exact same specs you should wait for the ASUS ROG Swift PG279Q, which has a slightly slower response time but will maintain the 144 Hz refresh rate and come with an IPS panel. When the Asus pg279q release date was announced, it got gamers pretty excited. Since it has everything PG278Q plus much more.
The Republic of Gamers has, in their PG278Q, introduced a gaming monitor that suits every desire a gamer might have in a monitor. Before
we tested the specs, the admiration of the physical design didn't reduce our expectations to the performance. Besides the stylish ROG Swift design, it is fully ergonomic with 120mm height adjustment, 60 degree swivel, pivot feature and 25 degrees tilt. The thin bezel is covered with anti-glare coating, it includes VESA holes for mounting options and there is a cool feature in the red light (which can be disabled) on the foot stand.
If you wasn't convinced it is a gaming monitor designed for the high-end computer games, you will when you look at the ports in the back. Because of the G-Sync module, there is only a DisplayPort 1.2 for input and 3 USB 3.0 ports, which are inconveniently placed on the back. No HDMI, VGA or DVI ports and without the often useless speakers, the design is a reminder that it is a gaming monitor for the computer world.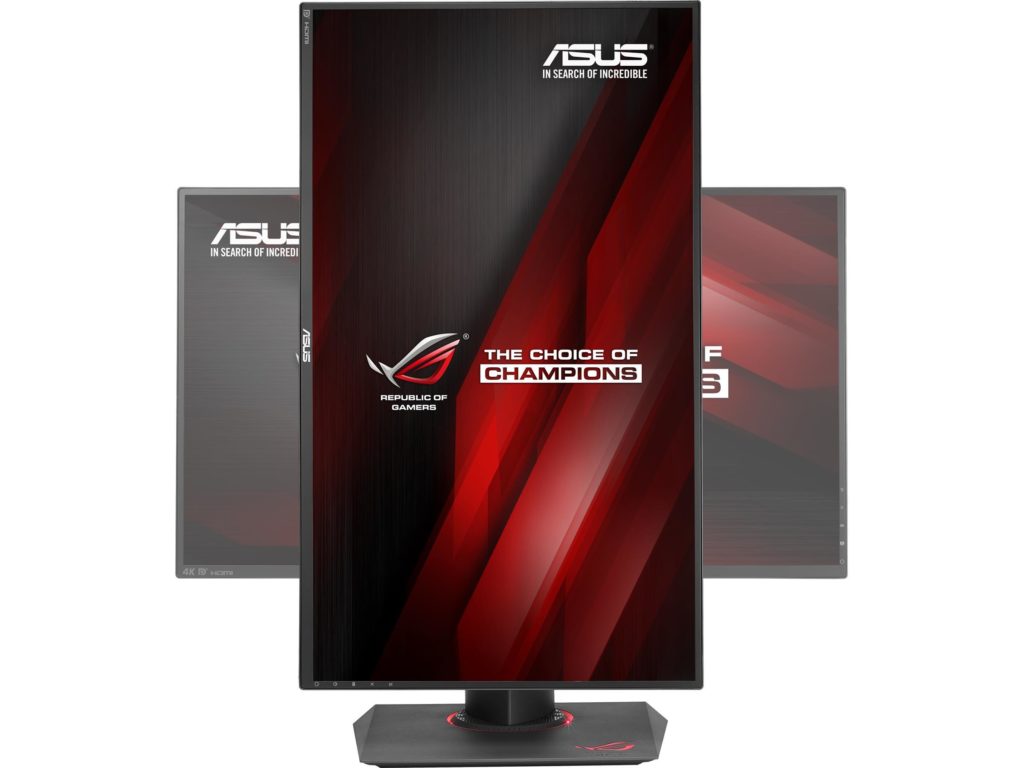 The WQHD resolution fits perfectly with the 27" screen and gives a picture-perfect pixel density. It provides a sharper image than 1920×1080 which many BenQ monitors run with, but the icons are not too small either (unlike 4K resolution which can seem too sharp if the screen is 27"). The TN panel performs above average for a TN panel but still comes short of viewing angles and color production. With the head stationary at the center of the screen, a slight green cast and the bottom does go a little bit pink. Nothing is perfect and the tradeoffs that you have to do with this monitor are just part of life.
The 144-hertz refresh rate and 1ms response time makes more of a difference to the perceived responsiveness of your PC than you've imagine both inside and outside of games. Besides the G-Sync feature, you get stereoscopic 3D vision support and ULMB or Ultra Low Motion Blur support along with other nice touches like the built in crosshair overlay.
Even though this monitor wouldn't be all that suitable for professional color work, using it recreationally we really didn't feel like we were having the TN experience the way we normally do with high refresh rate monitors. During Tomb Raider 2013, every scene, from vibrant outdoor jungle locations to darkened tombs, where monitors with poor contrast will make it difficult to make out details, the Swift excelled.
Most of the playing was done with a GTX Titan and it is recommended that at least to have GTX 770 for medium settings on modern games or at least a GTX 780 for high in modern games. If you want to take advantage of the high refresh rate of it at 1440p, which combined with the Swift's high price tag makes this a very expensive upgrade.
[spacer height="10px"]
All specs:
| | |
| --- | --- |
| Refresh Rate | 144hz monitor |
| Response Time | 1ms |
| Input Lag Time | 4ms |
| Size | 27" |
| Aspect Ratio | 16:9 |
| Static Contrast Ratio | 1000:1 |
| Dynamic Contrast Ratio | 100,000,000:1 |
| Resolution | 2560 x 1440 |
| Panel Type | TN |
| Adaptive Sync | G-Sync |
| Brightness | 350cd/cm2 |
| Blue Light Reduction | Yes |
| Anti-Glare | Yes |
| Anti-Reflection | No |
| Backlight | W-LED |
| Speakers | No |
| Color | Matte black |
| Ports | 1x DisplayPort 1.2, 3x USB 3.0 |
| Viewing Angle | 170/160 Degrees |
| Adjustability | Height 120mm, pivot, swivel 120 degrees, tilt 5/20 degrees |
| Brand-Specific Features | Trace Free Technology, ASUS Smart Contrast Ratio (ASCR), Light-in-Motion LED, Active Shutter 3D, ASUS GamePlus, ASUS Refresh Rate Turbo Key, ASUS Smart Air Vent Design |
| Additional Features | HDCP, nVidia 3D Vision, NVIDIA Ultra Low Motion Blur Technology |
[spacer height="10px"]
Asus rog pg278q swift 27 g sync 144hz monitor:  Check it on amazon
Asus pg279q available on Amazon
link to: Asus gaming website
Check our list of other premium gaming monitors.