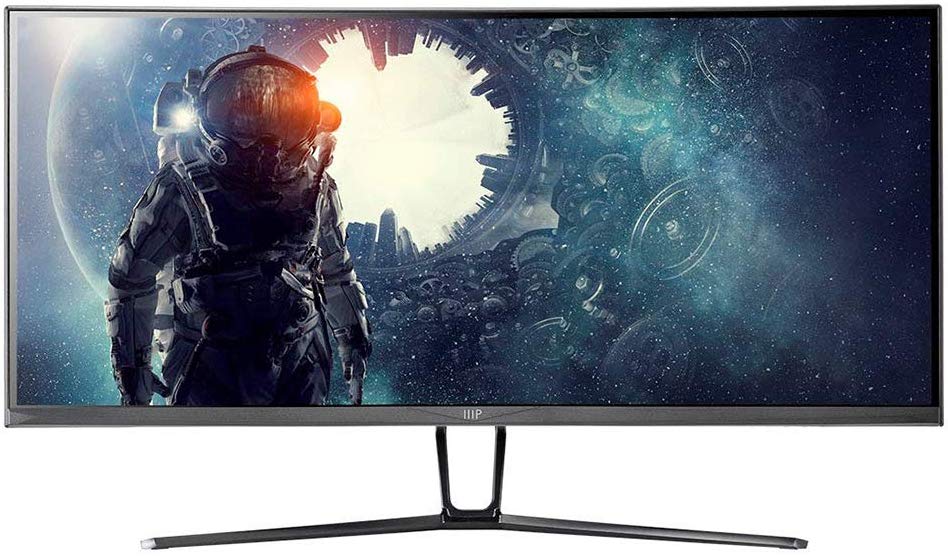 Pros:
High Contrast Ratio and Brightness
Excellent Price
Great Color Quality After Calibration
Sleek Design
Cons:
Tilt-Only Stand
Accuracy Needs Tweaking
Prone to Blurring
The Monoprice Zero-G 35 makes the attractive 100Hz ultrawide monitor segment more affordable and even more enticing for thrifty gamers who want an upgraded visual experience. Variants like this model used to cost over a grand, but they are still considerably more expensive even when discounted. The Monoprice Zero-G 35 offers the best entry point into ultrawide master race territory, but what kind of performance levels and limitations can we expect from it?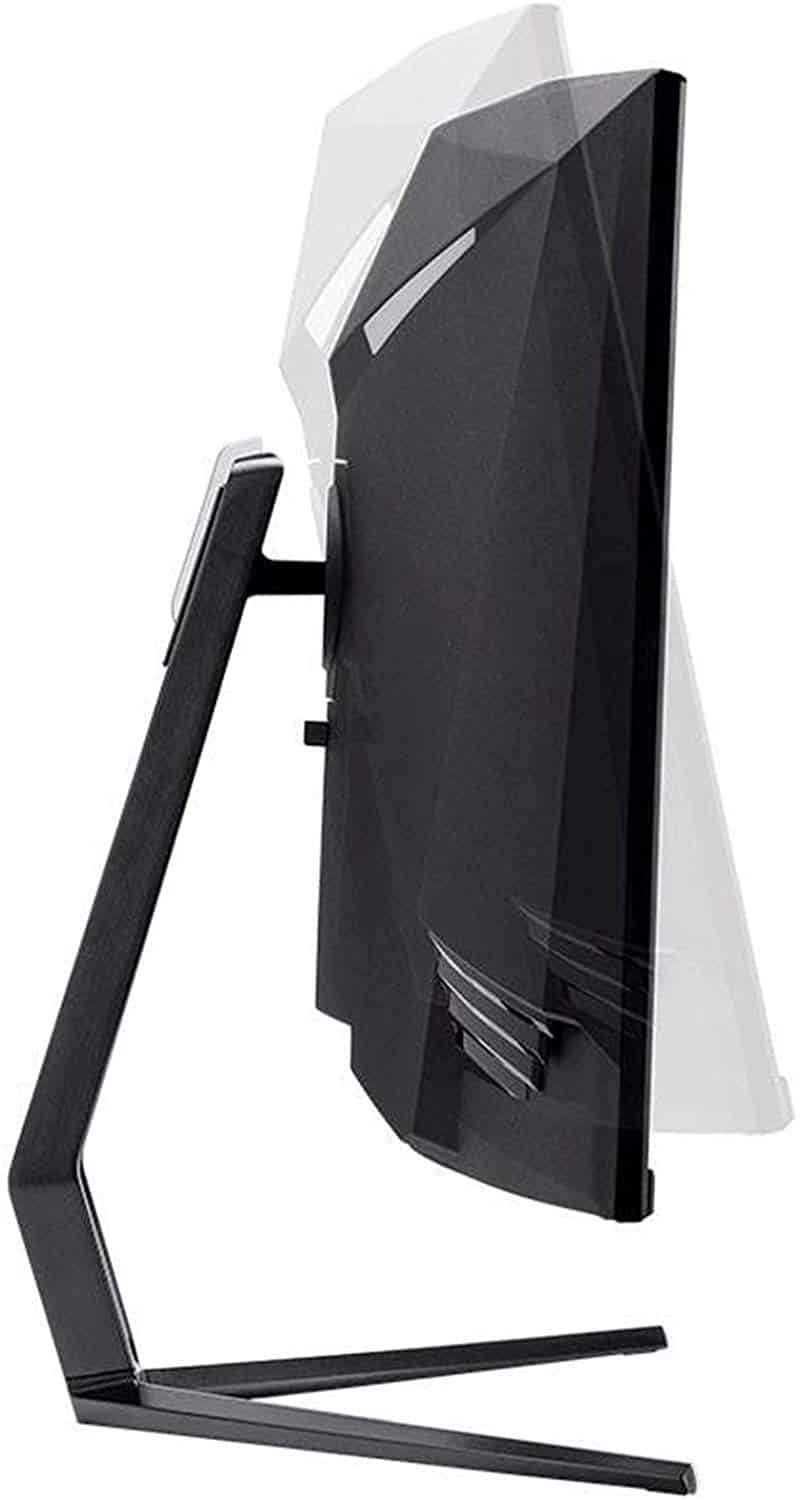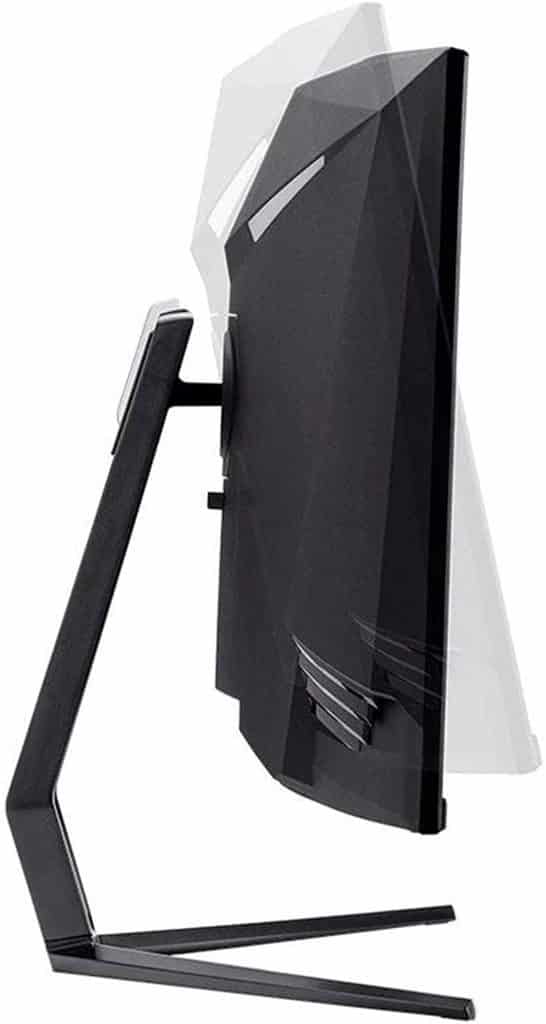 Monoprice Zero-G 35 Specifications
Screen Size: 35 Inches
Resolution: 3440 x 1440 UW-QHD
Aspect Ratio: 21:9
Panel Technology: Vertical Alignment (VA)
Refresh Rate: 100Hz
Response Time: 4 ms
Contrast Ratio: 3000:1 (Static)
Brightness: 300 cd/m²
Speakers: No
Stand: Height – Yes
Stand: Tilt – Yes
Stand: Swivel – Yes
Stand: Pivot – No
VESA Compatibility: Yes
Connectivity: DisplayPort 1.4x 1, HDMI 2.0 x 1, HDMI 1.4 x 1, 3.5mm Jack x 1
Dimensions (W x H x D): 33" x 19" x 9.8"
Weight: 17.9 lbs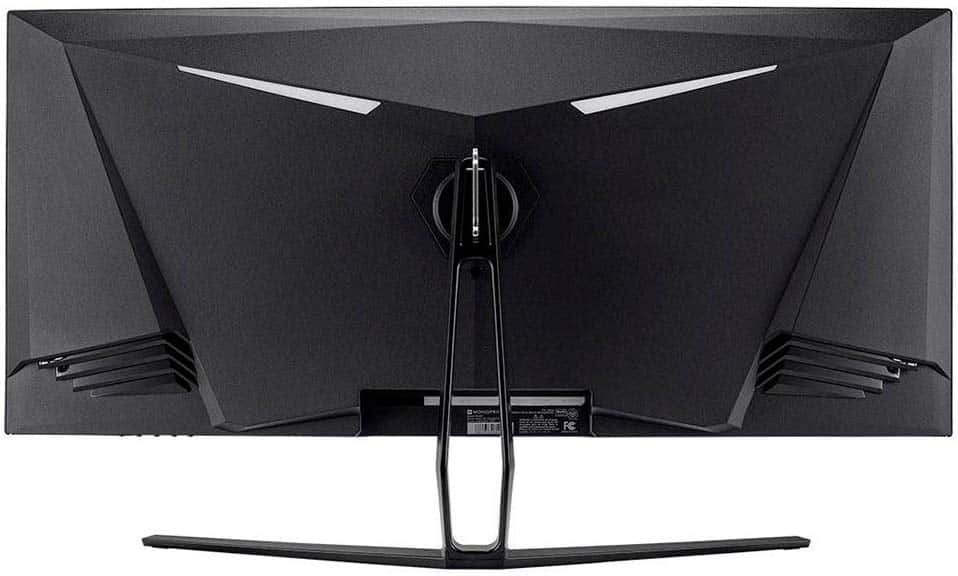 Design and Features
The Monoprice Zero-G 35 sports a clean and sleek look that makes it look like an office display instead of gaming like most of the brand's offerings. The matte black chassis is timeless and easy to maintain, so you will be able to enjoy the new look for quite some time. The display is bezel-free on three sides, but you still have to live with minimal panel borders when the display is turned on.
We also noticed that the Monoprice Zero-G 35 is modestly proportioned compared to similar variants, especially in the depth department., Some offerings a foot of depth for the base, while the Zero-G only needs nine inches. The boomerang-shaped base needs more horizontal space, but its thin members won't eat up a lot of precious desktop real estate.
The Monoprice Zero-G 35 also offers a noticeable improvement in build quality compared to older offerings from the brand. The materials used in the product feel a bit sturdier and thicker, while there is no considerable wobble from the slim stand. Most wouldn't think that the monitor is a budget model, although it's considerably lighter than most at a little under eighteen pounds.
What we hated on the Monoprice Zero-G 35 are the clunky OSD buttons which made it more difficult to navigate the already confusing OSD. You'd normally want a joystick especially when the name gaming is tagged in a product's name since its more convenient. This wouldn't be a problem if the monitor only needs one setting for all time, but we know most would still need to adjust common settings such as brightness depending on ambient conditions.
We like the contemporary look of the Monoprice Zero-G 35's stand, but it can only offer tilt for adjustments. You also need to employ a Philips screwdriver to assemble the device once unboxed since there is no quick detach mechanism for this part. You can also opt for VESA mounting via an included adapter, which thankfully, is doable for most budgets since the monitor itself is considerably cheaper.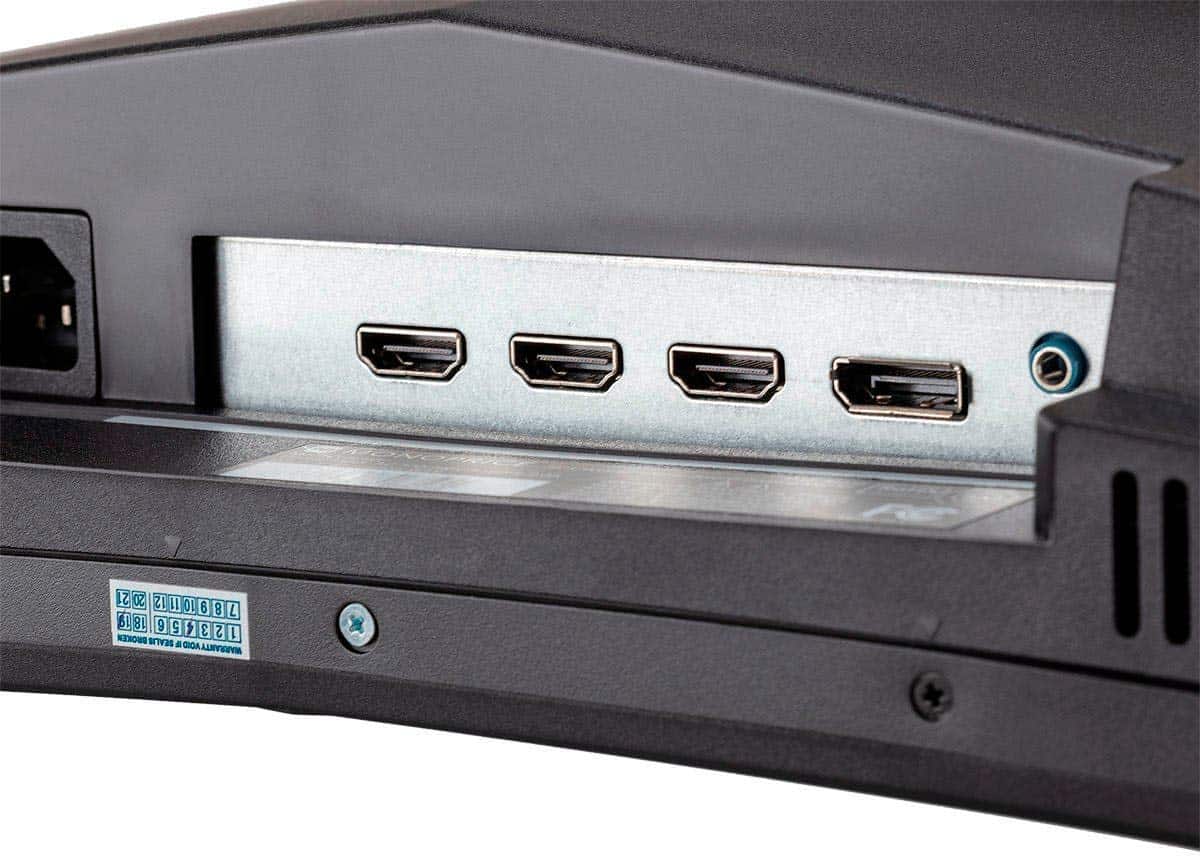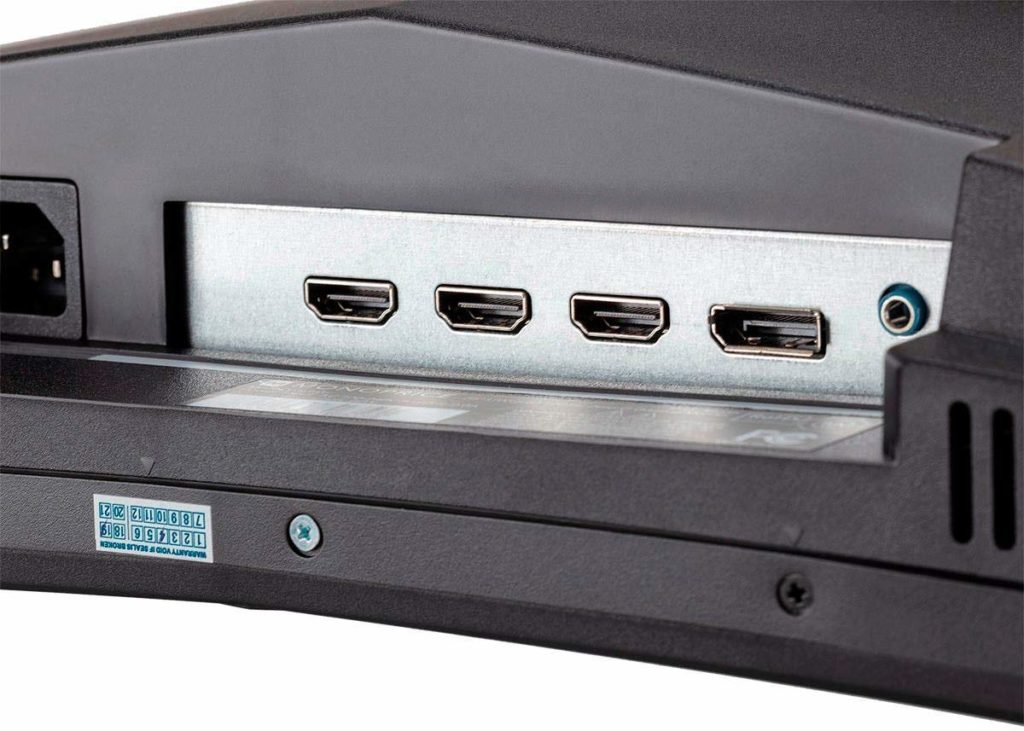 The Monoprice Zero-G 35 isn't a premium gaming monitor, so you don't get the expected creature comforts with it. One example is the I/O layout which doesn't have USB ports or duplicate inputs to handle additional gadgets and host devices. The panel at least includes a slot each for DisplayPort 1.2, HDMI 2.0, along with dual HDMI 1.4 receptacles, so you can still connect secondary machines like a work PC or even a gaming console.
There is also a 3.5mm jack on the Monoprice Zero-G 35, but there are no speakers included in the total package. We think it's fair that Monoprice excluded it since it probably helped decrease the price further. Most gamers also usually opt for headsets instead since they will enhance the immersive experience this display promises.
Display and Performance
The Monoprice Zero-G 35 sports a 35-inch VA panel with a 3440 x 1440 QHD resolution, 100Hz refresh rate, and a 4ms response time. The backlight tops out at 300 cd/m2, while the contrast ratio is rated at 3000:1 like most VA-based screens. The display also has a moderate 1800r curvature which places the sides closer to your vision which in turn provides a wrap-around feeling if you sit close enough.
The ultrawide QHD resolution of the Monoprice Zero-G 35 provides fantastic pixel density that will increase details and sharpness compared to typical monitors. Games will look like they need fewer enhancements such as anti-aliasing, while walls of text are noticeably crisper and easier on the eyes. Most users won't need to use scaling for the latter, so maximizing the screen is part and parcel of getting a display like this model.
The Monoprice Zero-G 35 renders a little over 100% of the sRGB gamut which is excellent for day to day use. The monitor isn't tuned for DCI-P3 and HDR outputs, so you don't get the extra vibrancy provided by a panel like that. Color accuracy could use some improvements with its DeltaE average of 2.96, but that's still decent as far as budget screens go.
You can calibrate the Monoprice Zero-G 35 to improve its color accuracy to around DE 1.5 and reduce the gamma and grayscale deviances. Doing so doesn't take a lot of effort, but keep in mind that results will always vary between every unit. The color temperature, on the other hand, is decent, but its slightly warmer than the ideal 6500K.
What's fantastic about the Monoprice Zero-G 35 is its brightness which reached a maximum of 370 cd/m2 at 100% and it's contrast ratio that sits around the 2520:1 mark. The former gives you a flexible range of backlight adjustment, while the high contrast ratio takes care of inky blacks and saturation. This model is great for visually stunning games like Borderlands 3 or the upcoming Cyberpunk 2077 which have rich colors and eye-popping effects.
The sample unit of the Monoprice Zero-G 35 showed almost no deviances in color and backlight when it was tweaked to a preferable setting. The massive screen looked even all throughout, and the variances that were present could only be detected by a colorimeter. However, take note that there are manufacturing tolerances to consider so some units could perform worse in this regard.
The VA panel in the Monoprice Zero-G 35 is acceptably weak when it comes to pixel responsiveness since it's natural to the screen technology. 100Hz also doesn't push drastic improvement in blur reduction, so you will see some trailing and ghosting in fast-paced scenes. The device included an overdrive feature, but it only added minor improvements in reducing blurs and pixel persistence.
The Monoprice Zero-G 35 is a FreeSync gaming monitor, but it also tested to work with Nvidia GPUs and its G-Sync technology. This makes the model a practical option that you can keep through several upgrade cycles since you won't be stuck with one brand. Input lag sits slightly higher at 15ms, but it won't affect your gaming performance unless you play at a competitive level.
Thoughts on the Monoprice Zero-G 35
The Monoprice Zero-G 35 is a fantastic choice if you want to enjoy immersive games using a larger and vibrant display. You'd regularly have to pay $600 or more for specs like these if you go with premium brands that offer the same, if not better performance. It's also fantastic that the monitor works with both FreeSync and G-Sync when there are so many lesser-brand products that have issues such as flickering and whatnot.
Of course, there are caveats that you have to accept when buying a budget gaming monitor like the Monoprice Zero-G 35. The most punishing would be the weak pixel response time of the monitor, followed by the slightly higher color variances and input lag. However, if you are willing to exert effort in calibrating and are focused on story-driven titles instead of multiplayer, then this model is perfect for you.
About the Author: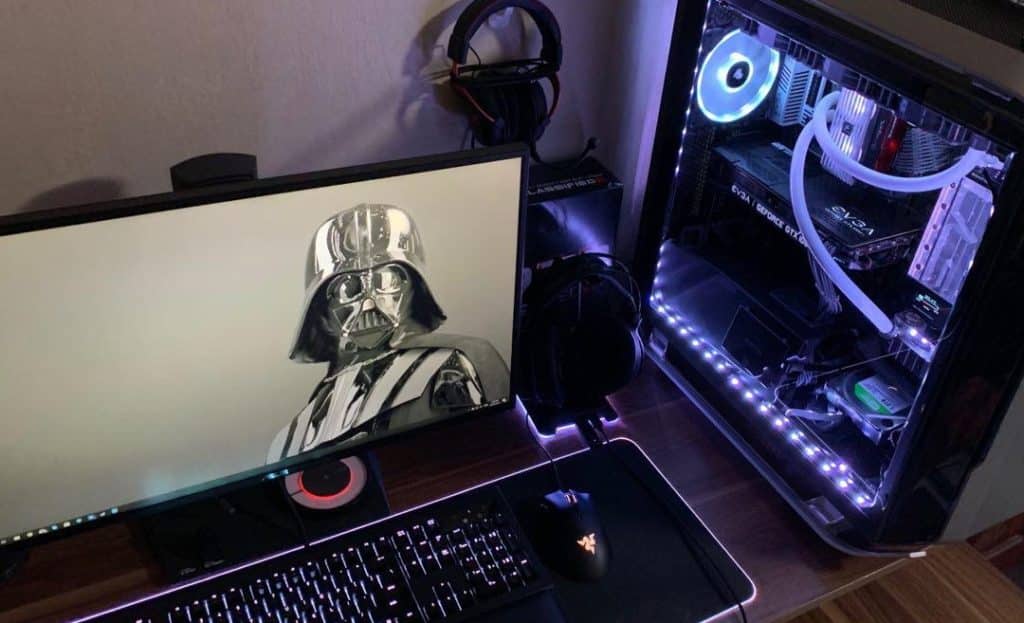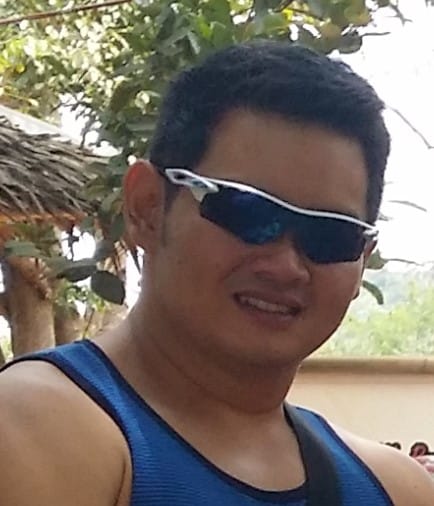 Paolo is a gaming veteran since the golden days of Doom and Warcraft and has been building gaming systems for family, friends, and colleagues since his junior high years. High-performance monitors are one of his fixations and he believes that it's every citizen's right to enjoy one. He has gone through several pieces of hardware in pursuit of every bit of performance gain, much to the dismay of his wallet. He now works with Monitornerds to scrutinize the latest gear to create reviews that accentuate the seldom explained aspects of a PC monitor.