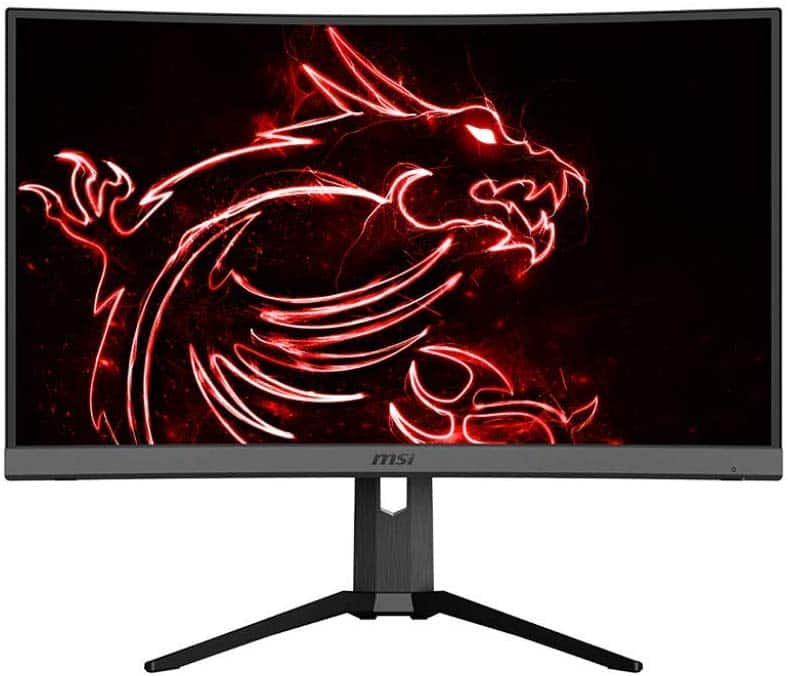 Pros:
Good Factory Calibration
Decent Price
Attractive Design
FreeSync/G-Sync Compatible
Cons:
HDR Capability Practically Doesn't Exist
Prone to Blurring
Base too Large
The MSI MAG272CQR offers the best specifications for both competitive and immersive gaming with its curved 165Hz screen with a QHD resolution. We've seen these specs before, but not all offerings are priced to compete in a market rich with options. The MSI MAG272CQR is a compelling upgrade if you want better gaming experiences and visuals, but what does its performance numbers look like?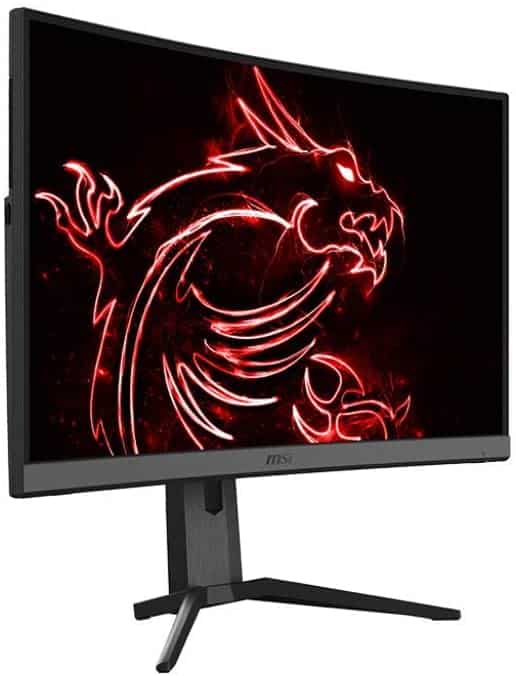 MSI MAG272CQR Specifications
Screen Size: 27 Inches
Resolution: 2560 x 1440 QHD
Aspect Ratio: 16:9
Panel Technology: VA (Vertical Alignment)
Refresh Rate: 165Hz
Response Time: 1ms
Contrast Ratio: 1000:1 (Static)
Brightness: 300 cd/m²
Speakers: No
Stand: Height -Yes
Stand: Tilt – Yes
Stand: Swivel – No
Stand: Pivot – No
VESA Compatibility: Yes (100 x 100)
Connectivity: HDMI 2.0 x 2, DisplayPort 1.2 x 1, USB 3.2 x 2, 3.5mm Jack
Dimensions (W x H x D): 24.07" x 22.47" x 10.51"
Weight: 13 lbs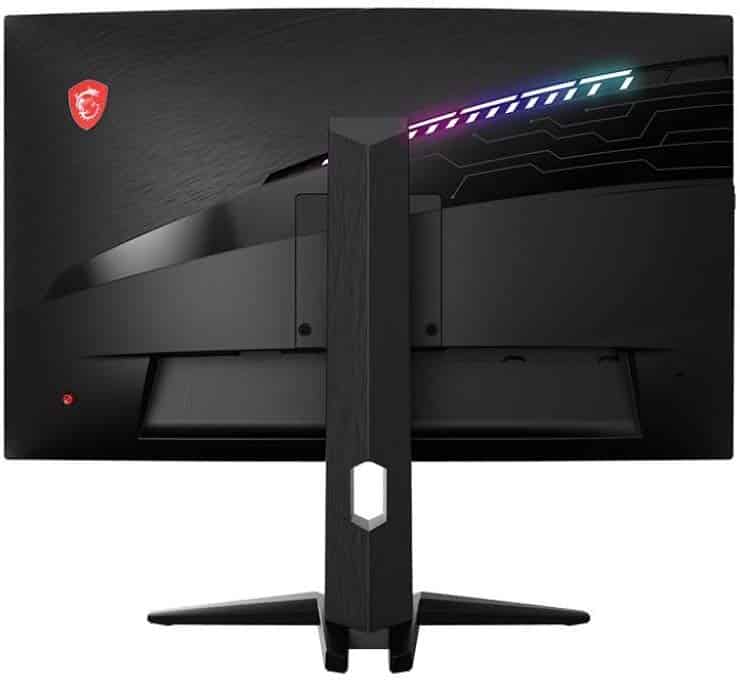 Design and Features
The MSI MAG272CQR sports a familiar aesthetic that blends gamer-centric designs with a modern and hip overall look. The chassis has a nice matte black finish that doesn't attract dust, along with a glossy stripe at the rear that accents the LED lights. The display is bezel-free on three sides, but you will still see minimal panel borders when the screen is in use.

The MSI MAG272CQR isn't an unusually large gaming monitor since its only a 27-incher, but its unique stand requires ten and a half inches of depth on your desk. This may pose some clearance issues if the user has deep keyboards among other peripherals. It's a minor complaint, but it's worth taking note of since the number of devices on a gaming setup has gone up in recent times.
MSI has come far when it comes to its monitor's build quality, as shown by the MSI MAG272CQR. The device is mostly plastic, but you don't get a feeling that it's brittle or it will easily break when you try to swing the monitor. There are no cosmetic defects as well, so the product looks pristine and fresh once it's out of its box.
We love the fact that the brand used a 5-way joystick for the OSD on the MSI MAG272CQR instead of buttons which almost always feel cheap. This makes it easier to apply minor tweaks such as adjusting the brightness as needed since it's not confusing even if you don't see the controller itself. It's also worth noting that there is a pop-up headset hanger at the top corner of the monitor which will hold your cans while not in use.
The stand on the MSI MAG272CQR isn't fully flexible, but its mechanism already provides tilt and height adjustments. The large, Y-shaped base offers fantastic stability, but it comes at the cost of a larger footprint which some may not like. You can swap this part out with a VESA stand, but for most, it isn't necessary thanks to the stand's vertical travel.
The connectivity layout on the MSI MAG272CQR isn't the most well-equipped in the market, but it includes everything you will ever need for daily use. The panel at the rear includes DisplayPort 1.2 and dual HDMI 2.0 slots, along with a pair of USB 3.2 ports for accessories. We'd love to have more for the latter to make cable management easier and more flexible, but we think what's included is already fair for the price.
The only feature missing on the MSI MAG272CQR is a pair of speakers which can increase a display product's value. However, the primary audience of the device will probably already have gaming-grade cans or speaker sets, making built-ins entirely unnecessary for entertainment. It's also a fact that most built-ins do not have the necessary power for entertainment except for a few premium offerings in the market.
Display and Performance
The MSI MAG272CQR sports a 27-inch curved VA panel with a 2560 x 1440 resolution, 165Hz maximum refresh rate, and a 1ms MPRT response time. The backlight is limited to 300 cd/m2, while the contrast ratio sits at 3000:1 which is the best characteristic of the panel technology. The MAG272CQR has a 1500r curvature which makes it narrower than comparable models in the market.
The QHD or 1440p resolution of the MSI MAG272CQR is perfect for its size and your need for an upgraded visual experience. The increase in pixel density automatically makes everything sharper and more detailed, but you won't need to use scaling to see or read small objects like text. Some users claim that this is the best middle ground instead of going with 4K since the latter's benefits in crispness diminish at the same size.
The MSI MAG272CQR posts good results when it comes to color, starting with 100% coverage of the sRGB gamut with extensions in some shades. Default accuracy has a DeltaE of 2.1, so most users won't need to calibrate the screen for gaming. You can improve this score to DE 1.2 with the help of a colorimeter, but it's not worth it if you still have to buy the gadget.
Color temperature, on the other hand, is noticeably cooler than the 6500K point across all of its gaming modes and after calibration. Gamma sits closer to 2.3, so the screen can look a bit darker, but we think a lot of gamers like it that way. The MSI MAG272CQR doesn't reach its backlight claim since it maxes out at 290 cd/m2, but contrast is fantastic at 2750:1.
The image quality from the MSI MAG272CQR isn't perfect, but we think its decently tuned for gaming, especially with titles that have vibrant colors or murky settings. Some users who delve into editing might not like the slight imbalances, but those who consume media and play games will like the color pop and the deeper blacks of the monitor.
Panel uniformity on the MSI MAG272CQR is also great since noticeable deviances in color are absent and there are no visible clouding issues on any of the quadrants. The test unit did look slightly dimmer on one bottom corner, but it's difficult to notice while you are in the heat of battle. As always, take this part lightly since monitors usually behave differently due to manufacturing tolerances.
The MSI MAG272CQR isn't the fastest when it comes to pixel responsiveness since it still is prone to blurring. Adjusting the overdrive function in the OSD can help clean up some of the smudges on the screen, but use it sparingly since the max level can induce overshoot. MSI labels this model as an E-Sports monitor, but some IPS and TN models like the Asus VG27AQ outperform the product in this aspect.
Finally, the MSI MAG272CQR is a FreeSync gaming monitor, but it's also G-Sync compatible with the latest drivers and the right GPU. Spending on a $400 monitor that doesn't lock you down with one GPU brand is a practical way to shop for a display product. Input lag sits at 4ms at 165Hz, so you won't need to worry about delays or "de-synced" instances.
Thoughts on the MSI MAG272CQR
The MSI MAG272CQR is a reasonable choice if you want a curved gaming monitor with a high refresh rate and FreeSync/G-Sync compatibility. The VA panel provides rich colors and contrasts, but its slightly slower when it comes to pixel response time. The design looks great while having handy features, but we feel that the stand could use some reduction in its footprint dimensions.
The most prominent downside we see on the MSI MAG272CQR is its susceptibility to blurring, aside from its HDR-capable marketing which doesn't translate in practice. The pricing is acceptable, but it could also use some tweaking since competitors are now starting to fall below the $400 mark. It's a decent pick overall, but you have to consider its limitations and match it to your playstyle and choice of games.
About the Author: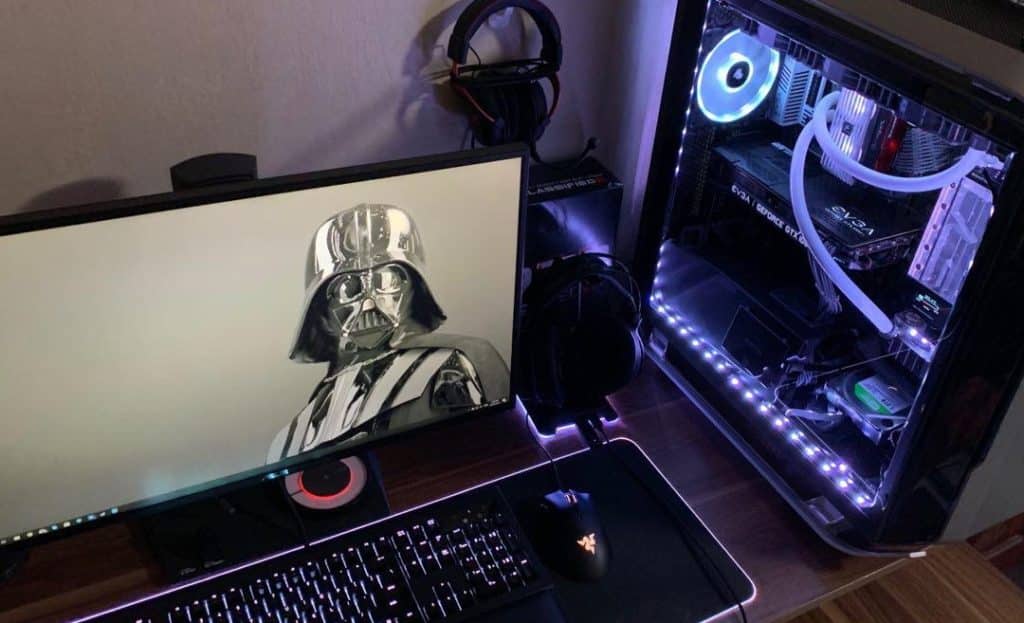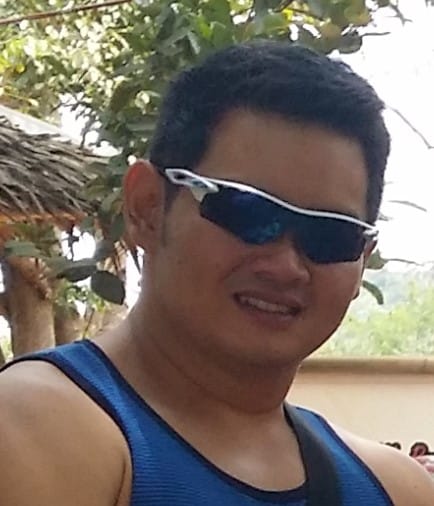 Paolo is a gaming veteran since the golden days of Doom and Warcraft and has been building gaming systems for family, friends, and colleagues since his junior high years. High-performance monitors are one of his fixations and he believes that it's every citizen's right to enjoy one. He has gone through several pieces of hardware in pursuit of every bit of performance gain, much to the dismay of his wallet. He now works with Monitornerds to scrutinize the latest gear to create reviews that accentuate the seldom explained aspects of a PC monitor.