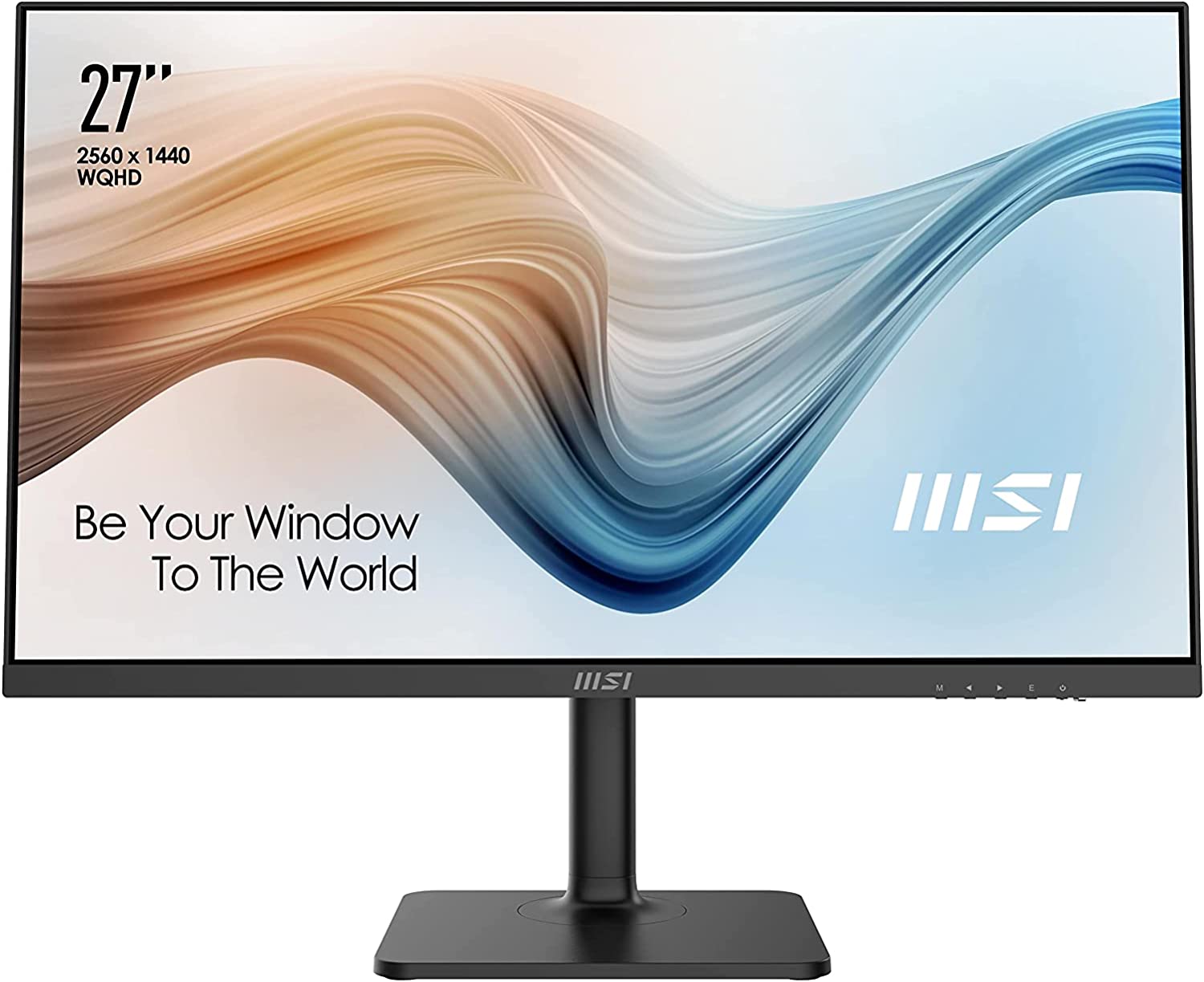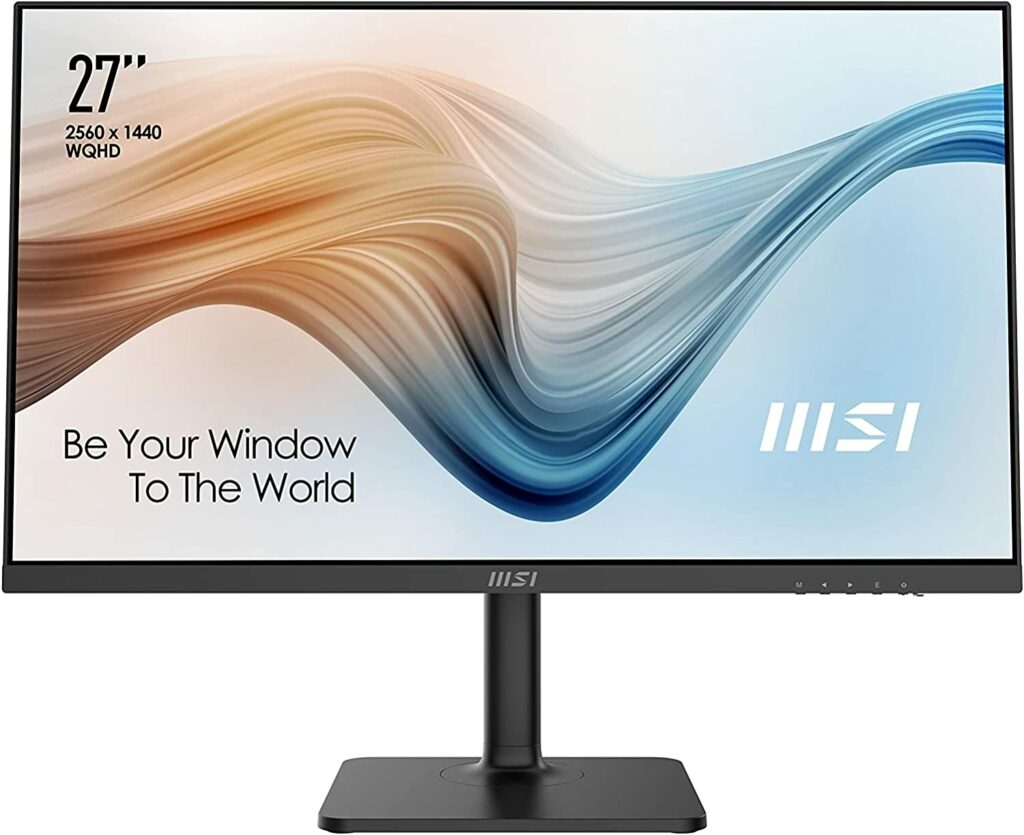 The MSI Modern MD271QP is a well-designed business monitor for your home and office needs. It has a high-quality IPS panel that's mated to a sleek chassis that comes with USB-C connectivity. Let's see how it performs to know if it has an advantage over regular 1440p business monitors.

MSI Modern MD271QP Specifications
Screen Size: 27 Inches
Resolution: 2560 x 1440 WQHD
Aspect Ratio: 16:9
Panel Technology: In-Plane Switching (IPS)
Refresh Rate: 75Hz
Response Time: 5ms
Contrast Ratio: 1000:1 (Static)
Brightness: 250 cd/m2
Built-in Speakers: Yes (2 x 2 Watts)
Stand: Height – Yes
Stand: Tilt – Yes
Stand: Swivel – Yes
Stand: Pivot– Yes
VESA Compatibility: Yes (75 x 75)
Connectivity: DisplayPort 1.2 x 1, HDMI 1.4 x, USB-C PD15W x 1, 3.5mm Audio Jack x 1
Dimensions with Stand(WxHxD): 24.15″ x 15.81″ x 7.91″
Weight: 12.79 lbs

Design and Features
The MSI Modern MD271QP is all business thanks to its simple and elegant aesthetic which sets it apart from the Optix variants. The monitor has a matte black or white finish that won't get scratched or stained easily, and it only requires minimal maintenance. The display has a bezel-free design on three sides, but you still have inner borders on the top and side edges.
It's not a particularly large monitor by today's standards since 27-inch models have become quite common in almost every setting. This model only needs 7.91 inches of depth when fully assembled so it won't interfere with your other peripherals. It's lightweight as well at 12.79 pounds so it is going to be easy to move it around if you want to rearrange your setup.
Its build quality is just as good as what you'd get from the brand's other premium products. The plastics used are thick and sturdy, and there were no cosmetic defects on any of its edges and surfaces. The stand is stable and very easy to assemble without tools so you won't have a hard time dealing with it or any issues like wobbling and sagging.
One thing we dislike about the MSI Modern MD271QP is it uses OSD buttons instead of a joystick. The cutout buttons are under the bottom bezel with corresponding labels, but it still takes more effort to get to a specific setting. We also dislike the cut-out style with the buttons since it's harder to press and prone to breakage if you do it too hard.
The stand included with the package offers tilt, swivel, pivot, and height adjustments for your comfort and safety. It's easy to get a good viewing angle with it and the adjustment mechanism is firm enough to keep it at that position. You can also use VESA mounts, but it's only going to be necessary if you have a multi-display setup.


The MSI Modern MD271QP's connectivity layout includes USB-C with its DisplayPort 1.2 and HDMI 1.4 slots, but it has a few downsides. It doesn't have USB-A ports for accessories, and its USB-C slot can only provide up to 15 watts of power. This makes it less competitive in its category, especially when compared to something like the Asus ProArt PA278CV which has factory calibration and up to 65 watts of charging.
It also has a 3.5mm audio jack and a pair of dismal 1-watt speakers which are too quiet even for background music. It is always nice to have extra features, but we'd like to see some effort from the manufacturers. The market is too competitive now at the $350 price point so brands should offer more for every dollar they are asking.
Display and Performance
The MSI Modern MD271QP offers a 27-inch IPS panel with a 2560 x 1440 resolution, a 75Hz refresh rate, and a 5ms response time. The backlight has a 250 cd/m2 limit while the contrast ratio is limited to 1000:1 like most IPS monitors. This model was meant for business use, so it doesn't have special imaging features like HDR or even Adaptive Sync.
27-inch 1440p monitors are perfect for office use in our opinion thanks to their balance between visibility and sharpness. You get more room to work with while images are noticeably cleaner and more detailed. However, numbers and letters will not become microscopic as they do on 4K screens, so you won't strain your eyes while processing documents.
The MSI Modern MD271QP renders 99% sRGB and around 100% sRGB and around 84% DCI-P3 which are great for an office display. Its default accuracy had a deltaE average of 2.33 so it's decently accurate for daily use. Most users will only feel the need to adjust a few settings, so professional calibration won't be necessary.
But on the other hand, using a colorimeter reduced that dE average to 1.19 which is even better for tasks that involve images. However, adding a colorimeter to your upgrade will put you in the range of a good 4K monitor. Buying it is only advisable if you do color-critical work, but we suggest considering a better monitor for editing instead.
the MSI Modern MD271QP's 251 cd/m2 output is usually enough in most cases, but well-lit rooms with plenty of windows make that a limitation. It can't fight off a glare in those situations, so you might find yourself turning the backlight up. Its contrast was also unimpressive at 967:1 so it can't produce deep blacks.
Panel uniformity for the sample was decent since there were no backlight leaks or clouding issues. however, the upper edge of the screen looked dimmer in some scenes, although white backgrounds such as when you are doing office work are unaffected. Note that this can change between every unit due to tolerances so its entirely possible to get one with better uniformity.
The MSI Modern MD271QP is decently responsive for a non-gaming variant, but that depends on what you play. Casual games are great on it, but those with quicker pacing such as shooters will reveal some persistence and smudges. You can't simply maximize the monitor's overdrive to cure it since it will add overshoot which is even worse than the original issue.
It is also worth noting that this model doesn't have Adaptive Sync like many of its competitors. That's fine in most cases unless you play very demanding games like Cyberpunk with a midrange card. Input lag sits at 9ms at 75Hz so it is still very responsive unlike the first few LCD and LED monitors on the market.
Thoughts on the MSI Modern MD271QP
The MSI Modern MD271QP is a decent choice if you need an office monitor, but it is not the most practical option out there. Its IPS panel is capable of good imaging performance, especially when it's calibrated. We like the sleek design with USB-C connectivity, but we think it's strange that they only provided 15 watts of charging power for it.
We wouldn't argue with the MSI Modern MD271QP's value if it was cheaper. However, it faces compelling monitors like the ProArt monitor we mentioned above or the cheaper AOC Q27P2 if you simply want a good 1440p office display. It's a good modern display, but there is a lot of room for improvement.
Pros:
Decent Image Quality
Simple and Elegant Design
Great Build Quality
USB-C
Cons:
Price Isn't Competitive
Limited Contrast
USB-C Only Offers 15 Watts Charging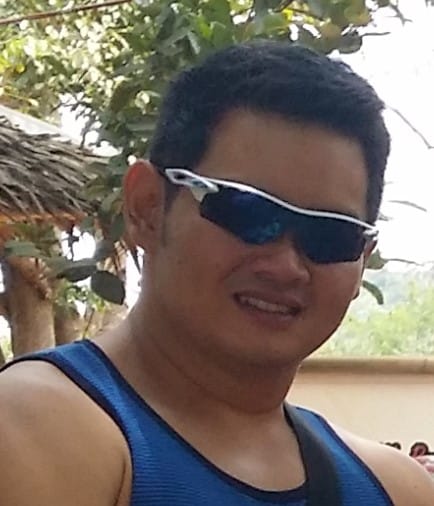 Paolo is a gaming veteran from the golden days of Doom and Warcraft. Since junior high, he has been building gaming systems for family, friends, and colleagues. High-performance monitors are one of his fixations; he believes that every citizen's right to enjoy one. He has gone through several pieces of hardware in pursuit of every bit of performance gain, much to the dismay of his wallet. He has also spent half a decade researching, reviewing, and writing about these products and now has over 1400 articles about the best gaming tech under his belt.