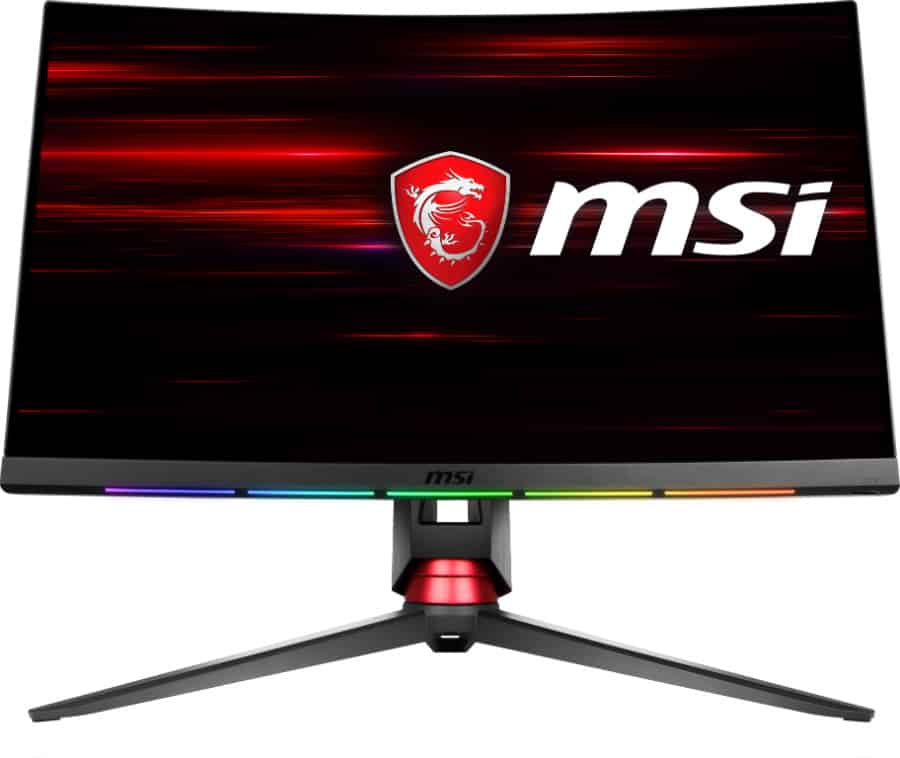 The MSI MGP27CQ, one of the most popular gaming monitors at CES 2018 is now finally available to provide fantastic gaming visuals and features for enthusiasts. The monitor is a result of the long-standing collaboration between MSI and SteelSeries who are both leading brands in the gaming industry. Read on if you are interested in what the MSI MPG27CQ is capable of and what promotions are in tow with this latest release.

MSI MPG27CQ Specifications
Screen Size: 27 Inches
Resolution: 2560 x 1440 QHD
Aspect Ratio: 16:9
Panel Technology: Vertical Alignment (VA)
Refresh Rate: 144Hz
Response Time: 4ms
Contrast Ratio: 3000:1 (Static)
Brightness: 400 cd/m²
Built-in Speakers: No
Stand: Height – Yes
Stand: Tilt – Yes
Stand: Swivel – Yes
VESA Compatibility: Yes
Connectivity DisplayPort 1.2 x 1, HDMI 2.0 x 2, USB 3.1 x 3, 3.5mm Jack2
Dimensions (W x H x D): 24.1" x 21.88" x 14.94"
Weight: 16.76lbs

Design and Features
The MSI MPG27CQ sports a unique, gamer-centric design that comes with unique features we haven't seen before. The monitor comes with a gunmetal gray chassis with a subtle mix of red accents on the stand. The face is bezel-free except for the bottom strip which holds the product's RGB LED strips.
This lighting feature isn't for customizable decorative illumination alone since it includes the monitor's main highlight. The LEDs respond to in-game events and notifications via SteelSeries' GameSense which utilizes the LED's customizable effects. Take note that you have to be using a compatible app or game like Overwatch and Discord to take advantage of this add-on.
We've seen this feature on high-end gaming keyboards, but it is difficult to monitor the reactive lights when you are concentrating on a game. Monitoring cooldowns and skills on a keyboard can be cumbersome since you have to keep your eyes on the screen. With the LED's placement on the MSI MPG27CQ, this shouldn't be an issue since it would be easier to notice the lighting effects.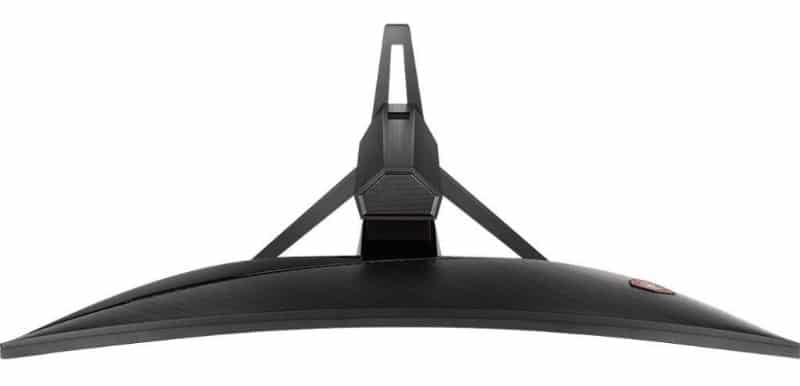 The LED feature is extended to the back of the monitor to act as a bias light aside from its primary purpose. On this side, you will also find MSI's Dragon logo and an OSD joystick for easy navigation. The combination of brushed and textured finishes gives the product its sophisticated characteristic, signifying its status as the brand's flagship gaming monitor.
One caveat of the LEDs on the MSI MPG27CQ is that you have to use up a USB slot on your PC for it to function. We think that's a small compromise to enjoy a synced-up light show, but its an additional cable to mess with.
Even if it may seem gimmicky to some, the MSI MPG27CQ is a fully functional gaming monitor that comes with all the crucial features. You get a fully ergonomic stand that comes with height adjustments, tilt, and swivel, although you can't pivot the screen since this is a curved monitor. You can also go with aftermarket mounts since the MSI MPG27CQ is VESA compatible.
The MSI MPG27CQ's connectivity isn't as rich as most monitors, but it already includes everything you will ever need. The layout offers DisplayPort 1.2 along with two HDMI 2.0 slots for 1440p 144Hz video, and three USB 3.1 slots for accessories. There are no speakers, but you there are jacks for your headphones and microphone.
The monitor can be controlled with a joystick that lets you swoop through the OSD conveniently. You can also access the menus via MSI's Gaming OSD software if reaching for the joystick is cumbersome. We think its great that modern displays are now integrating this implementation, although you have to connect the aforementioned USB cable for it to work.
Display and Performance
The MSI MPG27CQ sports a 27-inch curved VA panel with a 2560 x 1440 resolution, 144Hz refresh rate, and 4ms response time for excellent visuals and superb gaming performance. The contrast ratio is specified at 3000:1 for extreme blacks along with a 400cd/m2 backlight which allows for a more refined brightness adjustment. The screen's 1800r curve is a bit more aggressive than some options, providing a certain level of immersion for its users.
The MSI MPG27CQ offers great results when scrutinized under a colorimeter. Color is extra vibrant thanks to the properties of VA tech, with sRGB reaching 100% or 85% of the Adobe RGB gamut. Color accuracy is fantastic for a gaming monitor with an average of Delta E 1.8.
As expected, contrast for the MSI MPG27CQ is exceedingly better than the typical 1000:1 spec we see on IPS and TN panels. This model is able to reach 2500:1 depending on brightness settings which can reach a maximum of 380cd/m2. Gamma is a bit of a letdown at 1.8, although it doesn't show it's effects without scrutinizing every color you see on screen.
Despite having a curved panel, the MSI MPG27CQ showed excellent panel quality across the board. Color uniformity sits solid since there were no deviances that exceeded Delta E 1.5 from the ideal 6500K. The backlight only showed a 7% difference from the center to the corners, ensuring that there are no variances in brightness and color.
VA monitors like the MSI MPG27CQ are prone to ghosting, but thankfully, the gaming brand included very useful features to curb issues. In fast-paced games like PUBG, we noticed some trailing and image retention especially when shades and lighting change rapidly. We recommend selecting the monitor's Response Time setting to "Fast" to cure this.
Avoid using this feature at its maximum level since it will dim the screen's maximum brightness to around 200cd/m2. The "Fastest" setting will also lock out some features like the monitor's Zero Latency mode which is crucial for competitive gamers.
The MSI MPG27CQ is lag and delay free during gaming, ensuring that your control inputs are always on point. This model posted only 9ms of delays which makes it great for E-Sports titles. Other QHD gaming monitors like the Asus PG278QR can do better, but the difference is negligible to most users.
Finally, the MSI MPG27CQ is a FreeSync gaming monitor which means it doesn't include a hefty premium and the imposition of limited inputs like G-Sync monitors. FreeSync is supported at 48Hz to 144Hz which could use some extensions, but thankfully, you can rely on LFC with this monitor it FPS drops below the threshold.
Thoughts on the MSI MPG27CQ
The MSI MPG27CQ performed extremely well in both image quality and responsiveness, making it ideal for any kind of gaming, including E-Sports titles. The addition of RGB LEDs where they actually have a purpose is a huge plus in our books, but we wish GameSense gets compatibility tweaks with more titles soon. The monitor deserves the awards it too at the previous CES based on its design alone.
With all things considered, the MSI MPG27CQ's price needs some consideration since it sits close to the high side. Competitors like the AOC AG271QX can be had for considerably less, while an IPS variant like the Asus MG279Q sits at almost the same price. But if you also love RGB like the majority of gamers out there, the MPG27CQ is a fantastic buy!
Source: MSI Gaming USA  (To learn more about MSI's complete line of products, visit us.msi.com or follow us on Facebook at http://www.facebook.com/MSIGamingUSA and Twitter at twitter.com/msiUSA)