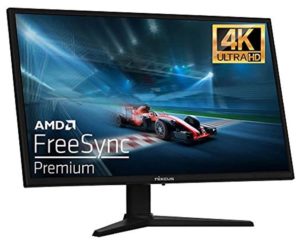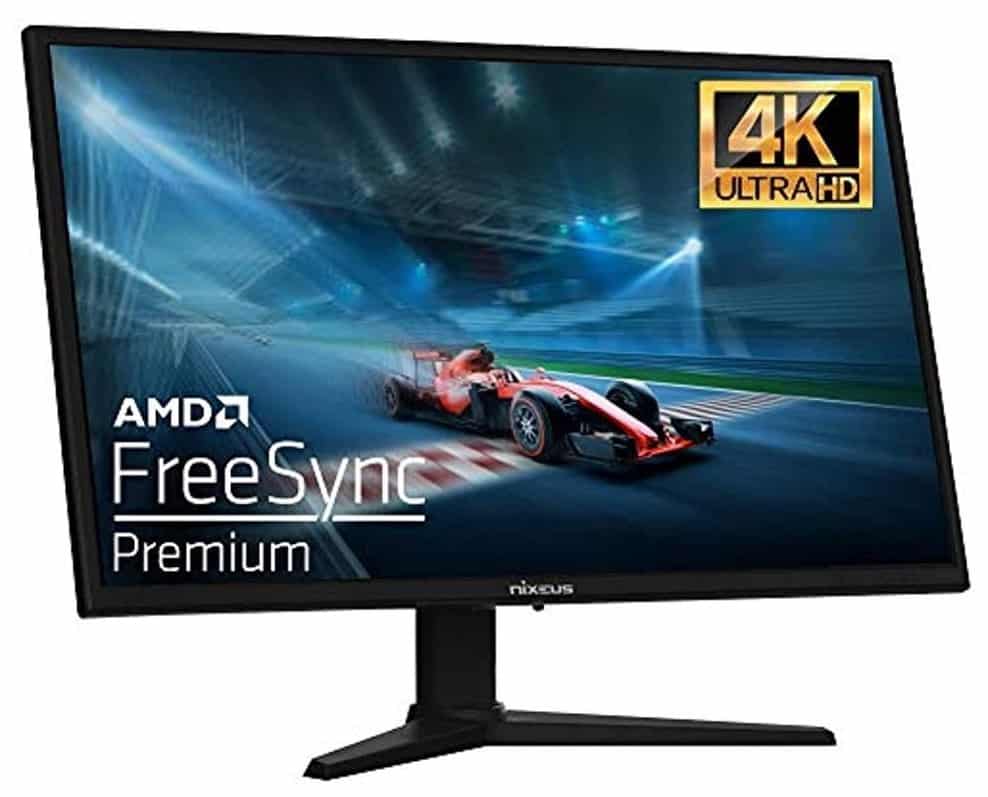 The Nixeus NX-EDG274K brings 4K 144Hz gaming closer to the masses with a lower price tag that may make it seem worthwhile to take the plunge. This category of gaming displays used to be reserved for those with deep pockets, but it's slowly but surely becoming within reach for everyone. Let's check out if the Nixeus NX-EDG274K can edge out the Viotek GF127QXA to become the value king in the 4K 144Hz category.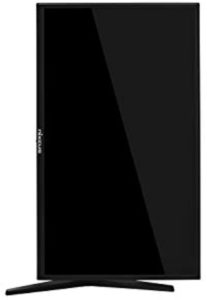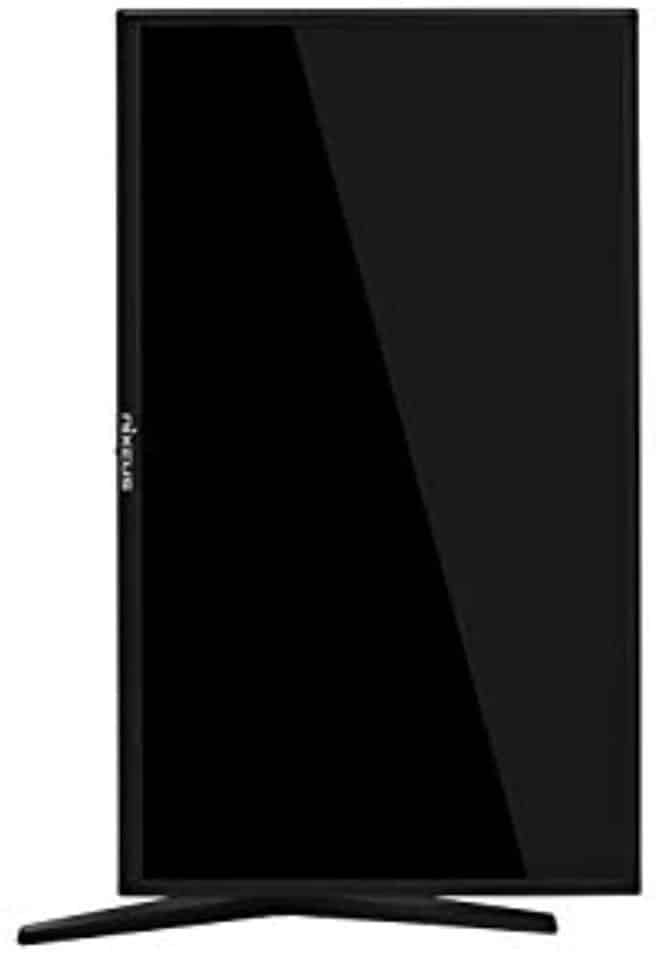 Nixeus NX-EDG274K Specifications
Screen Size: 27 Inches
Resolution: 3840 x 2160 4K UHD
Aspect Ratio: 16:9
Panel Technology: In-Plane Switching (IPS)
Refresh Rate: 144Hz (With Overclock)
Response Time: 4ms
Contrast Ratio: 1000:1
Brightness: 350 cd/m2
Speakers: Yes (2 x 2 Watts)
Stand: Height – Yes
Stand: Tilt – Yes
Stand: Swivel – Yes
Stand: Pivot – Yes
VESA Compatibility: Yes (100 x 100)
Connectivity DisplayPort 1.4 x 2, HDMI 2.0 x 2, 3.5mm Jack x 1
Dimensions (W x H x D): 24.5" x 18.5" x 9.1"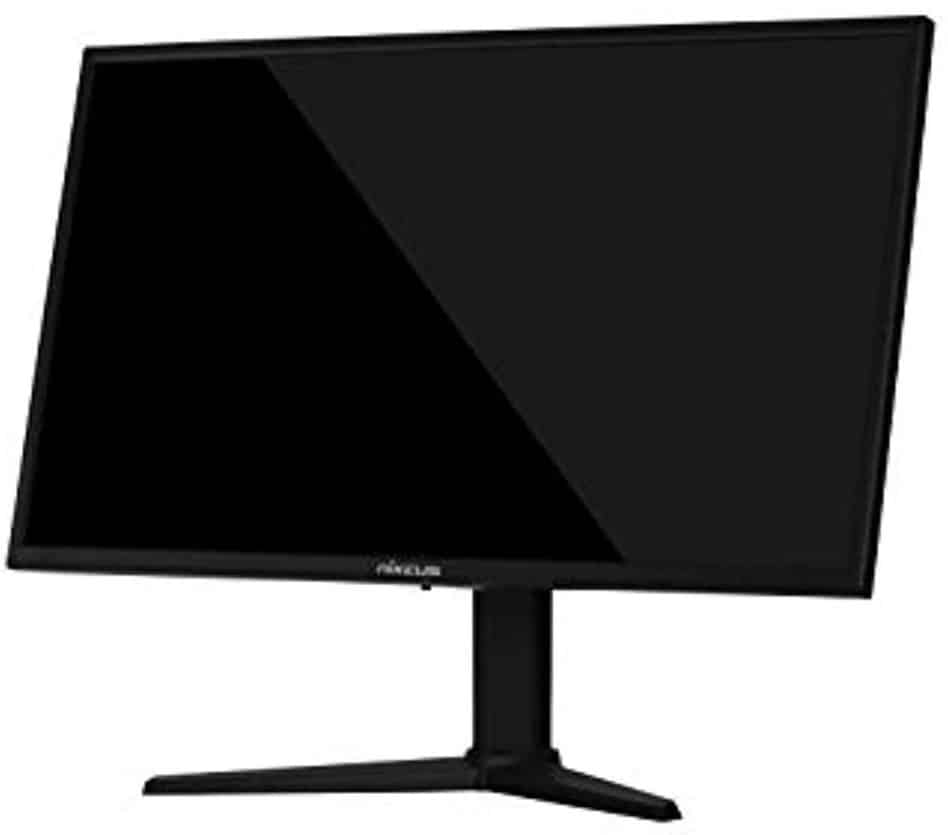 Design and Features
The Nixeus NX-EDG274K doesn't go for the flashy, gamer-centric vibe, so its minimalist appeal is suitable to a wider audience. It has an all matte-black finish, so many would mistake it for a regular office monitor if its monster specifications are out of sight. The display isn't bezel-free, but the three sides' borders are thinner and almost flush so they are barely noticeable.
It's not going to be more imposing than comparably sized models since the stand and assembly design used for the Nixeus NX-EDG274K isn't very elaborate. It's not too heavy as well since the construction is mostly made up of plastic. We like that its easy to lug around, but a bit more build quality and durability wouldn't hurt.
And that's the main issue we have with the Nixeus NX-EDG274K since it doesn't have as nice build quality as it Viotek counterpart. The plastic panels look a bit rough and unrefined, especially since the monitor isn't particularly cheap at $799. The stand is also wobbly, and it can become annoying if a fan is blowing towards it or accidentally touch it.
Another low point on the Nixeus NX-EDG274K is its use of OSD buttons instead of a universally more convenient OSD joystick. Its confusing to use the layout at times unless you memorize their specific functions. The lower bezel has some markings for each button, but they don't line up perfectly to icons on the on-screen menu.
The wobbly stand on the Nixeus NX-EDG274K at least offers tilt, swivel, pivot, and height adjustments. It's easy to get a perfect view angle, but you can swap it out with a VESA mount which will be considerably better and more stable. However, that adds cost that can place you in range of premium alternatives if you pick the most popular armatures.
The Nixeus NX-EDG274K has two slots each for DisplayPort 1.4 and HDMI 2.0, along with a 3.5mm jack for convenience. You can connect your gaming PC and up to two consoles so the monitor can be used as the center of your gaming station. However, we'd love to have USB ports here for peripherals, but the lack of it isn't as big as the poor build quality.
You also don't have to use the two DisplayPort 1.4 slots to get the full 144Hz refresh rate or live with chroma subsampling if you can only use one port. However, you do need to have a DSC-compatible GPU and use a high-quality DisplayPort cable instead of the stock wire to ensure that the full bandwidth gets through cleanly.
The Nixeus NX-EDG274K includes a pair of 2-watt speakers that are usable for purposes other than gaming. They are handy for basic tasks such as conference calls which are popular due to the rise of work from home setups. However, they lack the punch and depth necessary for gaming and general entertainment use.
Display and Performance
The Nixeus NX-EDG274K sports a 27-inch IPS panel with a 3840 x 2160 resolution, a 144Hz maximum refresh rate, and a 4ms minimum response time. The backlight is limited to 350 cd/m2, while contrast is still specified to be at 1000:1 like most IPS panels. This model is only HDR-ready so it can receive HDR signals, but it can only translate it as best possible.
4K screens in 27-inch sizes are great for gaming since they are very sharp and crisp, so post-processing effects like Anti-Aliasing won't be necessary. However, productivity might suffer if the user doesn't have a 20/20 vision since text can become too small and straining in extended use. Many will need to use scaling with this monitor, but we know many dislike it since it doesn't always work perfectly.
The Nixeus NX-EDG274K offers vibrant colors since it comfortably exceeds 100% of the sRGB gamut and reaches around 91% in DCI-P3. Default accuracy has a deltaE average of 2.47 that doesn't need correction for gaming applications. The color temperature slightly exceeds the 6500K white point, but it isn't a massive issue since the screen doesn't have a noticeable blue tint.
Calibrating the Nixeus NX-EDG274K produced a substantially better dE average of 1.55, but the color temperature was biased towards the warmer side. Colorimeters aren't necessary since you can get away with a few tweaks in the OSD, but most of the other issues can't be solved by doing so. Results will vary between every unit, so we recommend spending the time to try and adjust it to your liking.
The backlight on the Nixeus NX-EDG274K reached 375 cd/m2, which is too bright for regular use but insufficient for high-quality HDR. The screen managed a 1050:1 contrast ratio at 40% brightness, but it isn't enough to produce deep blacks and improve the grayscale issues. Only VA-types are readily better in contrast, but some IPS panels used by other brands have already breached 1200:1 or 1300:1 without the help of local dimming.
Panel uniformity for the Nixeus NX-EDG274K sample was mostly okay since there were no considerable leaks or clouding issues. The panel's sides have a minor drop in brightness, but it's only slightly noticeable in full-black images. Take note that this will vary between every unit due to tolerances, so there are worse and better ones out there.
The Nixeus NX-EDG274K's response time and the solution for blurring and ghosting are particularly interesting since there are 128 levels to choose from. This gives a lot of room for tweaking, but it can also drive the user nuts since the effectivity of each is relative to the framerate on the screen. We recommend hovering near the 40s if your framerate averages around 60fps to 80fps, but you should turn it up to 80 if your PC is capable of 120Hz to 144Hz.
The Nixeus NX-EDG274K is a FreeSync gaming monitor, but it is also tested to function flawlessly with Nvidia's G-Sync Compatible Mode. You will need to use a single DP 1.4 connection for it to function, so getting a better cable and a DSC-compatible GPU is a must. Input lag sits at 4ms at 144Hz, so there are no delays during gameplay.
Thoughts on the Nixeus NX-EDG274K
The Nixeus NX-EDG274K is an attractive solution if you want to push the limits of PC gaming and enjoy the benefits of 4K 144Hz. However, it has a few setbacks, which many may deem as deal-breakers, especially since it isn't cheap. The IPS panel is capable of excellent color vibrance and response times, but its grayscale issues and limited contrast might turn off potential buyers.
However, the biggest issue we had with the Nixeus NX-EDG274K is its mediocre build quality and its outdated functionality. We understand that it sits at the thrifty tier of the 4K 144Hz category, but it still costs $799. The Viotek GF127QXA and the LG 27GN950 are more compelling options with better performance, but we'd consider recommending this option if it was discounted by at least a hundred bucks.
Pros:
Lower Priced 4K 144Hz Monitor
G-Sync/FreeSync Compatible
Great Gamut Coverage
Low Input Lag
Cons:
Mediocre Build Quality
Overdrive Tricky to Use
Wobbly Stand and Clunky Controls
-About the Author: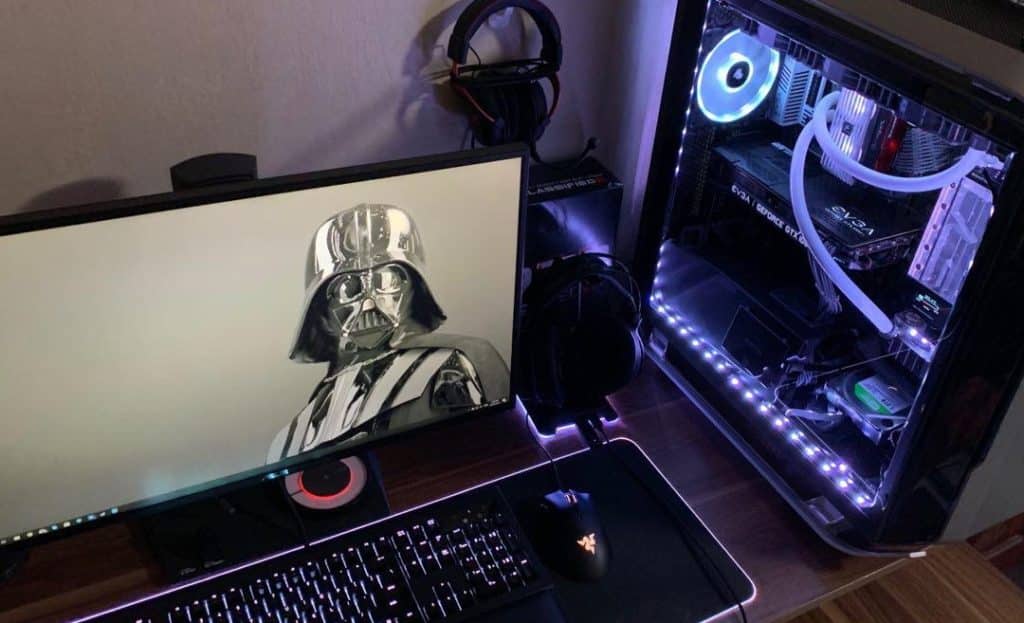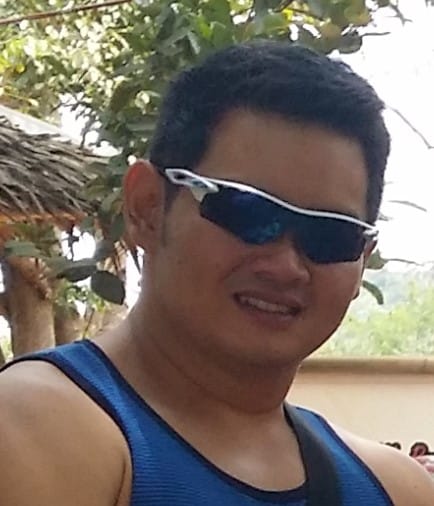 Paolo is a gaming veteran since the golden days of Doom and Warcraft and has been building gaming systems for family, friends, and colleagues since his junior high years. High-performance monitors are one of his fixations and he believes that it's every citizen's right to enjoy one. He has gone through several pieces of hardware in pursuit of every bit of performance gain, much to the dismay of his wallet. He now works with Monitornerds to scrutinize the latest gear to create reviews that accentuate the seldom explained aspects of a PC monitor.