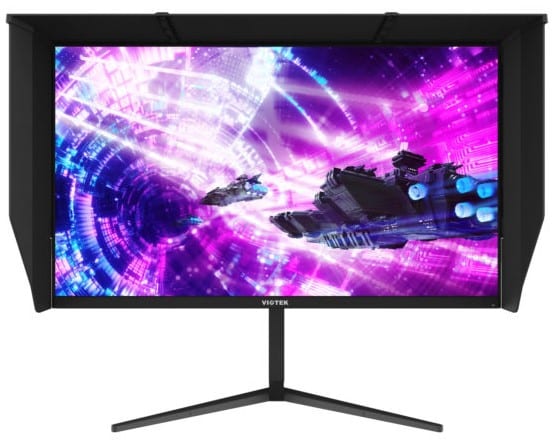 The Viotek GF127QXA makes 4K 144Hz easier to own and more appealing for gamers who want the best visual experience without spending a fortune. This model doesn't have special qualities such as true HDR and a few other things, but those are minor exclusions if you simply want a UHD screen at high refresh rates. The Viotek GF127QXA seems like it's a deal that's too good to be true, so let's find out what it offers against its established competition.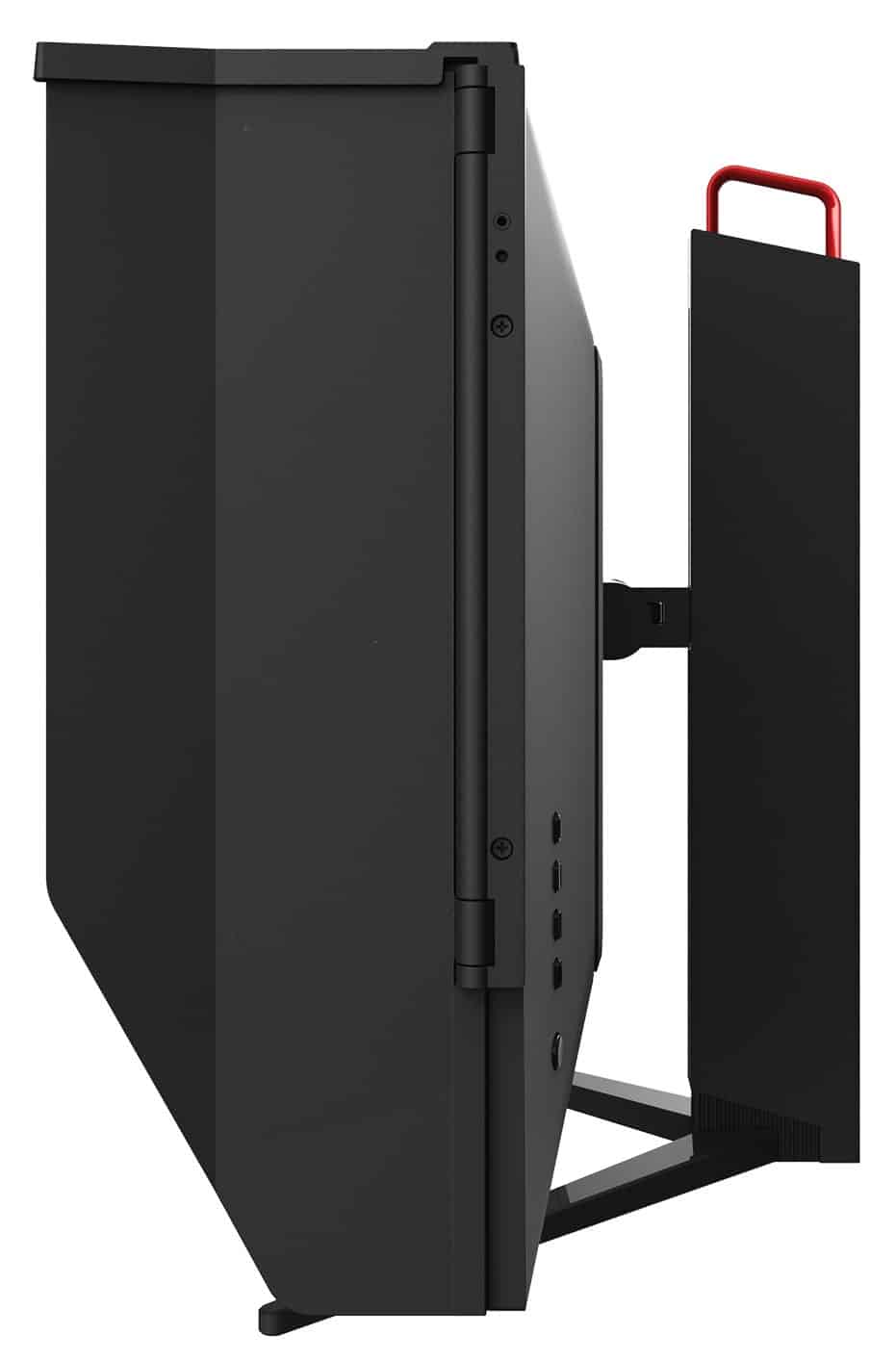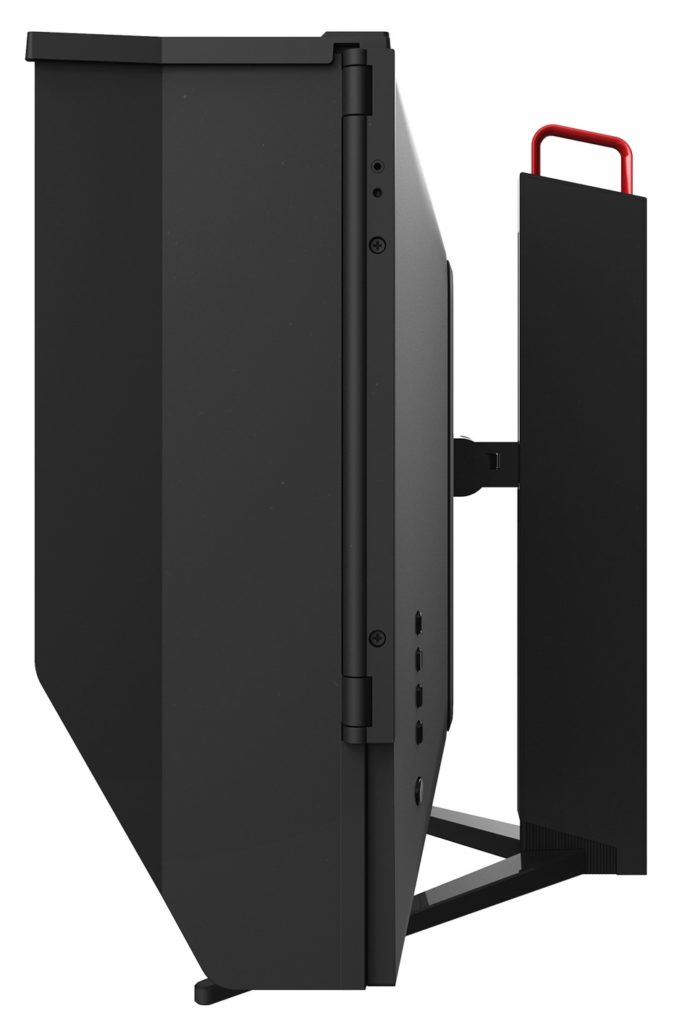 Viotek GF127QXA Specifications
Screen Size: 27 Inches
Resolution: 3840 x 2160 4K UHD
Aspect Ratio: 16:9
Panel Technology: In-Plane Switching (IPS)
Refresh Rate: 144Hz (With Overclock)
Response Time: 5ms
Contrast Ratio: 1000:1
Brightness: 350 cd/m2
Speakers: Yes (2 x 2 Watts)
Stand: Height – Yes
Stand: Tilt – Yes
Stand: Swivel – Yes
VESA Compatibility: Yes (75 x 75)
Connectivity DisplayPort 1.4 x 2, HDMI 2.0 x 2, 3.5mm Jack x 1
Dimensions (W x H x D): 24.4" x 20.7" x 9.1"
Weight: 13.5 lbs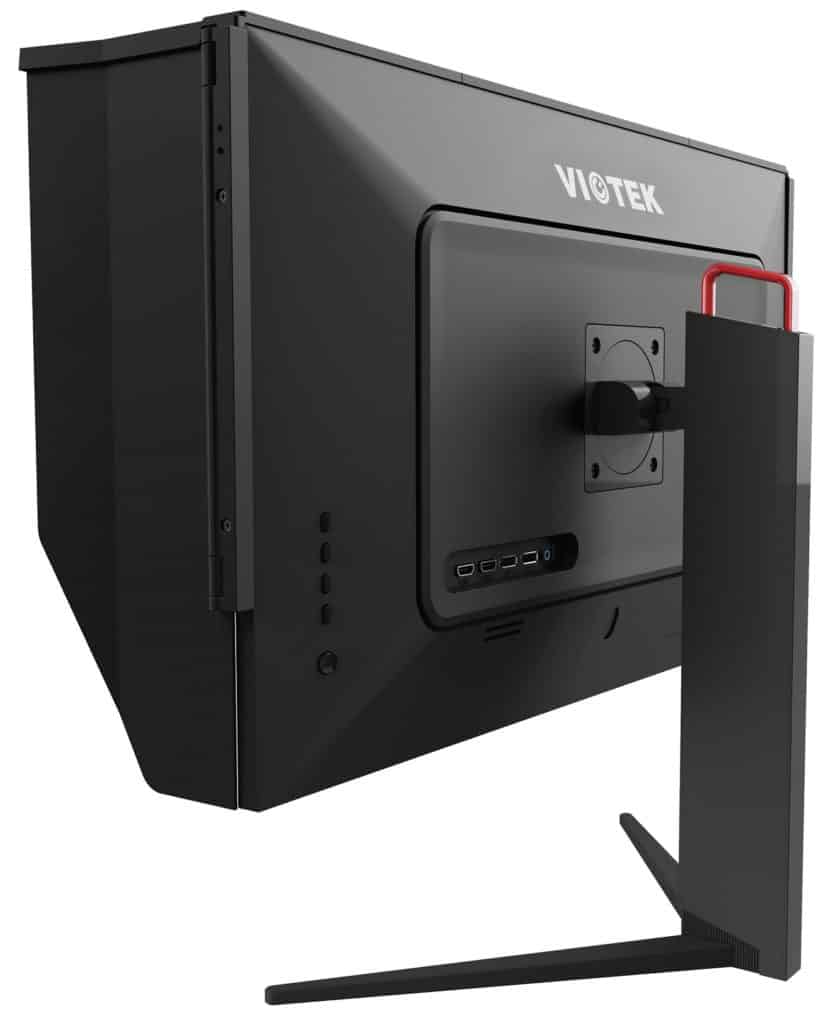 Design and Features
The Viotek GF127QXA isn't made to be flashy, and it comes in a neat-looking package that would make anyone think that it's for designers. The monitor has a matte black chassis that looks clean and easy to maintain. The display has very thin bezels on three sides, but they aren't noticeable or disturbing while gaming.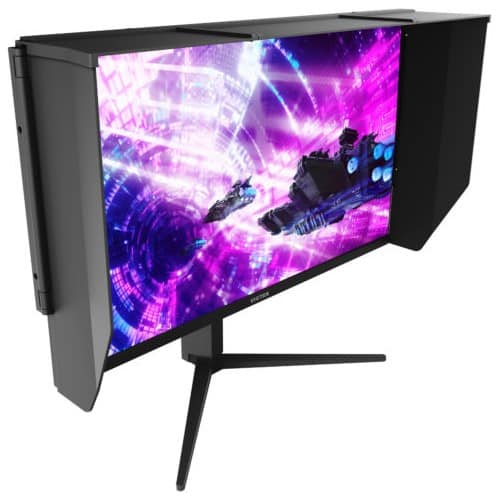 The Viotek GF127QXA also has a shading hood that attaches to the thin bezels on the top and the side of the cabinet. The good news is you can remove then if you find them distracting, but they are useful if you will use this monitor in a brightly lit room. We don't think it's a necessary add-on, but it's nice to have since you don't normally get it with gaming or budget models.
We also like that the Viotek GF127QXA isn't over-designed, so the monitor falls within the reasonable limits of a 27-inch monitor's dimensions. The base doesn't eat up a lot of space thanks to its V-shape with slim legs, so it won't intrude with your peripheral setup. The device only weighs 13.5 pounds, so any type of desk surface should be able to handle it.
We also noticed that the brand improved the build quality for the Viotek GF127QXA which can be considered its flagship model. You can tell that the plastics are thicker and more sturdy compared to other models while metal parts are used to reinforce the stand. The monitor doesn't wobble and the adjustment mechanism is firm enough to hold the angle you've set almost permanently.
However, the Viotek GF127QXA still uses OSD buttons which are old fashioned by today's standards. The four buttons are responsive and tactile, but joysticks are easier to use and less prone to accidental inputs or selections. Thankfully, this is one aspect of the monitor which doesn't get a lot of use unless you want to regularly calibrate the display to match the media or your ambient lighting.
The stand designed for the Viotek GF127QXA is the brand's best one yet thanks to its good adjustability, durability, and stability. You can tilt, swivel, pivot, and adjust the height of the display, so your preferred viewing angle is always achievable. You can also opt for VESA mounts with a 75 x 75 adapter, but we think it is only necessary for multiple displays or if you need to save the space badly.
The connectivity layout on the Viotek GF127QXA doesn't offer the most ports, but it offers all you will need for your PC and secondary devices. The I/O includes two slots each for DisplayPort 1.4 and HDMI 2.0 along with a 3.5mm jack for headphones. There are no USB ports, but those aren't necessary even if they are nice to have to cable management purposes.
Take note that you need to connect the two DP 1.4 slots to get the maximum 144Hz refresh rate from the Viotek GF127QXA. However, doing so will lock out its Adaptive Sync capabilities, so you can't enjoy the benefits of FreeSync or Adaptive Sync. This limitation essentially makes it a 120Hz model, but that matters less since 144Hz is still difficult to reach for many GPUs and setups.
The Viotek GF127QXA also manages to squeeze in a pair of built-in speakers to enhance its value per dollar further. However, the pair sounds weak and insufficient for gaming since it lacks a bass response that we can appreciate. They are handy for work from home use while, for example, listening in on a Zoom meeting, but that's it.
Display and Performance
The Viotek GF127QXA sports a 27-inch IPS panel with a 3840 x 2160 4K resolution, 144Hz maximum refresh rate, and 5ms response time. The contrast ratio is listed at 1000:1 like all IPS panels, while the backlight has a maximum output of 350 cd/m2. This monitor doesn't have HDR capabilities like the Asus PG27UQ, but that's acceptable at half the cost of the latter.
4K in a 27-inch screen is great for gaming if you want to enjoy extra sharp images with clean lines and clear details. However, it's not ideal for productivity-related use for some since small objects like letters become too small to see without scaling. It is great that you get a lot of desktop space with the Viotek GF127QXA, but it might be a struggle to read or browse for those with anything less than 20/20 vision.
The Viotek GF127QXA puts out an impressive amount of color with its gamut coverage which exceeds 145% sRGB easily and reaches close to 100% DCI-P3. Color accuracy out of the box has a deltaE average of only 2.65 which is excellent. The color temperature slightly exceeds the 6500K point, but it doesn't add a blue tint to the monitor.
Calibrating the Viotek GF127QXA isn't worth it since the improvements in the color errors only improved dE to 2.37. The monitor is tuned to pump out as much colors as possible instead of accuracy, plus it doesn't follow the sRGB gamut nor does it have filters for it. It's not ideal for editing work, but games and movies will look rich and vibrant.
The Viotek GF127QXA doesn't have an HDR-grade backlight, but it reaches a searing 382 cd/m2 at 100% brightness. The contrast sits at an excellent 1305:1 at 50% brightness, pushing it past a lot of IPS monitors we tested in this regard. The screen can still look slightly washed out when used in a dark room, but the black luminance is low enough to reduce the grayish appearance of dark scenes.
Panel uniformity for the Viotek GF127QXA is great since the screen looks evenly lit and there are no leaks or noticeable clouding on the quadrants. Saturation is even on every quadrant, but there are slight hotspots if the backlight is set too high. This is an excellent result overall for an IPS panel, but take note that not all units will be equal in this regard due to some tolerances and the nature of IPS tech.
Pixel responsiveness isn't the best on the Viotek GF127QXA at 120Hz, while using its 144Hz mode offers little to no improvement. However, blurs during transitions aren't bad, especially since you set the overdrive to mitigate the persistence that occurs. Most won't even notice the blurs, so we think it won't be an issue even when playing competitively.
The Viotek GF127QXA is a FreeSync monitor and is compatible with G-Sync, provided that you only use one DisplayPort 1.4 slot and limit it to 120Hz. Going 144Hz will lock out its Adaptive Sync capability, so it isn't worth it considering most modern titles won't even breach 120Hz even if you are using a 2080 Ti. Input lag sits at around 9ms at 120Hz, so there is no need to worry about delays with this model.
Thoughts on the Viotek GF127QXA
The Viotek GF127QXA is a fantastic monitor if you consider its low price and its 4K 144Hz screen with eye-popping colors. Its responsiveness and gaming performance is more or less on-par with premium models like the Acer XV273K, but you don't get an impressive HDR experience with it. We also like that Viotek improved the build quality and design on this model, and we hope their next offerings will do the same.
The only limitation from the lack of HDR-ready specifications on the Viotek GF127QXA is its dual DisplayPort issue. Gamers are forced to choose between the max refresh rate or adaptive sync, but that's a technological limitation more than a design flaw. We highly recommend the Viotek GF127QXA if you want a 4K 144Hz monitor to future proof your system, provided that you are ok with its limitations
Pros:
Excellent DCI-P3 Coverage
Great Default Accuracy
Improved Design and Build Quality
FreeSync/G-Sync Compatible
Low Input Lag
Affordable 4K 144Hz Monitor
Cons:
Little to No Improvement when Calibrated
144Hz with Dual DP 1.4 Locks Adaptive Sync Out
No sRGB Profile or Filter
 -About the Author: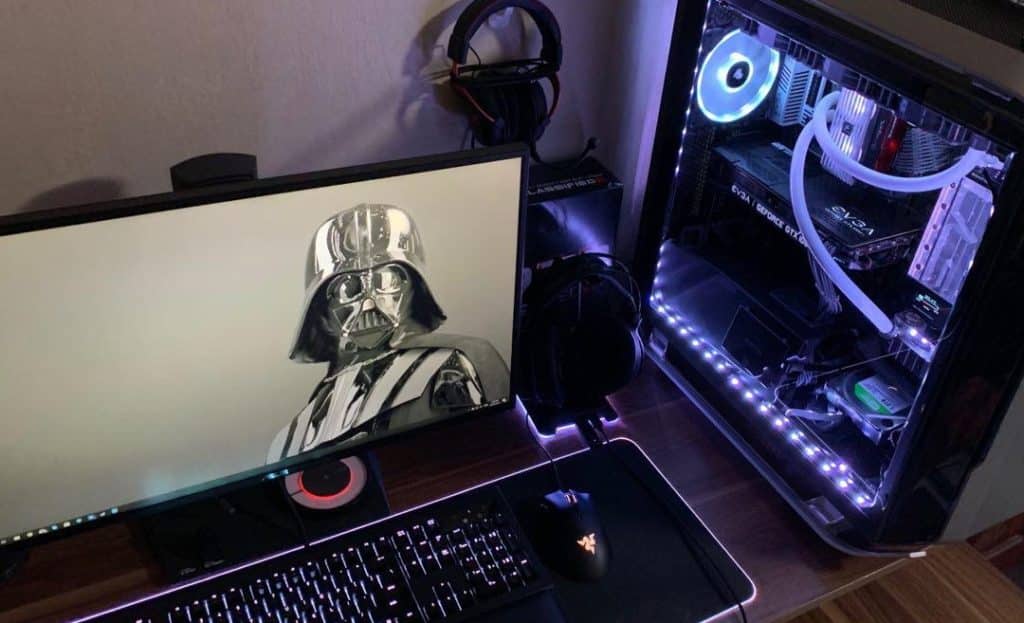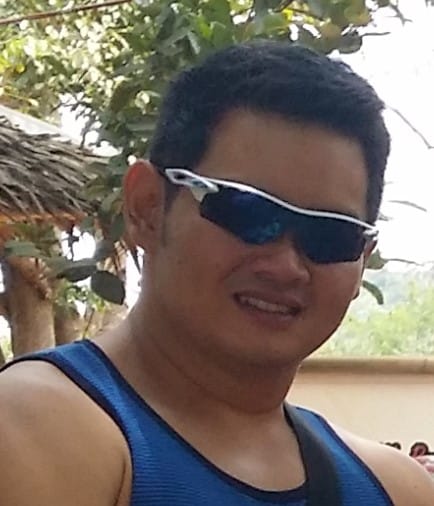 Paolo is a gaming veteran since the golden days of Doom and Warcraft and has been building gaming systems for family, friends, and colleagues since his junior high years. High-performance monitors are one of his fixations and he believes that it's every citizen's right to enjoy one. He has gone through several pieces of hardware in pursuit of every bit of performance gain, much to the dismay of his wallet. He now works with Monitornerds to scrutinize the latest gear to create reviews that accentuate the seldom explained aspects of a PC monitor.