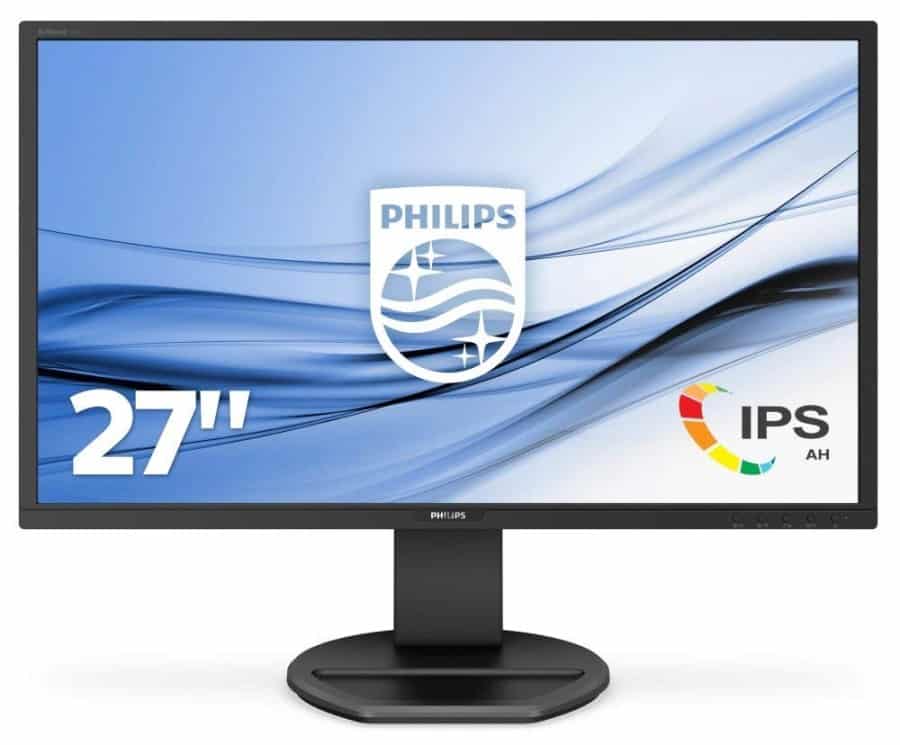 The Philips 272B8QJEB offers a sought-after 1440p IPS panel in a strictly functional, yet affordable and easy to own package. We used to pay twice or more for a display with these specifications, but QHD's rise into the mainstream has certainly done wonders for the pricing. The Philips 272B8QJEB can be had for the price of a premium 1080p variant, but what kind of performance does it offer?
Philips 272B8QJEB Specifications
Screen Size: 27 Inches
Resolution: 2560 x 1440 QHD
Aspect Ratio: 16:9
Panel Technology: In-Plane Switching (IPS)
Refresh Rate: 60Hz
Response Time:5ms
Contrast Ratio:1000:1
Brightness: 250 cd/m²
Built-in Speakers: Yes (2 x 2 Watts)
Stand: Height – Yes
Stand: Tilt – Yes
Stand: Swivel – Yes
Stand: Pivot– Yes
VESA Compatibility: Yes
Connectivity: DisplayPort 1.2x 1, HDMI 4x 1, DVI-DL x 1, VGA x 1, USB 3.0 x 2, USB 2.0 x 3,  3.5mm Audio Jack (In/Out) x 2
Dimensions With Stand(WxHxD): 24.61″ x 175″ x 8.82″
Weight: 121lbs
Design and Features
The Philips 272B8QJEB comes dressed in an all-business attire, which makes it more desirable to a wider audience. The device comes in a soothing, matte-black finish that is easy to maintain since it doesn't attract dust or fingerprints too easily. The monitor isn't bezel-free, but the plastic strips are reasonable and thin enough.
This model is a budget offering, so it comes with an OSD button layout instead of a user-friendly joystick. The control panel is located at the front on the lower bezel which makes it easy to utilize them even in the dark. Frankly, we always preferred joysticks since OSD navigation is much easier, but we can overlook this tiny detail if the product offers tremendous value.
The Philips 272B8QJEB is decently sized with minimal proportions compared to its competitors. However, it still is a larger than the usual display, so it might not fit into smaller study desks with a nook for monitors. The cabinet is slightly thicker due to the bulge's curvature, but it's still manageable in case you want to flush-mount it to a wall.
Build quality for the Philips 272B8QJEB is pretty solid as well since the device doesn't feel cheap and there are no creaks or unwanted flexing. The seams fit perfectly, so there are no visible and annoying gaps, telling us that excellent quality control was applied. This model is less stylized compared to the upper-tier offerings, but that isn't necessarily a bad thing.
Thankfully, VESA adapters, which are compatible, are not entirely necessary for the Philips 272B8QJEB due to its flexible stand. The mechanism offers tilt, swivel, pivot, and height adjustments, so finding the perfect posture is as easy as peas. It's tough to find monitors with an ergonomic stand at the lower price points, so this is a massive plus for this value option.
The Philips 272B8QJEB connectivity layout is just as good as its price since it already includes all you will ever need plus more. The central panel includes DisplayPort 1.2, HDMI 1.4, VGA, and DVI-D: for video inputs plus a five-slot USB hub on the side. The monitor doesn't support PBP or PiP, but the numerous connectors are great for multiple host devices.
There is also a pair of 2-watt speakers which adds to the value of the display despite not being powerful enough for entertainment. This add-on is then supported by two 3.5mm jacks for audio passthrough to extend its flexibility.
Display and Performance
The Philips 272B8QJEB sports a 27-inch IPS panel with a 2560 x 1440 resolution, 60Hz refresh rate, and 5ms response time. The backlight reaches up to 250 cd/m2, and the contrast is rated at 1000:1 which are typical to an office or business-use display. These specifications aren't meant for gaming, but the screen is still suitable for casual gaming at a more detailed resolution.
27-inch monitors are the sweet spot for the QHD resolution due to the excellent balance in the resulting pixel pitch. Objects on-screen are much more detailed, but the extra sharpness does not make small objects such as text too sharp for anything less than 20-20 vision. This characteristic is the biggest reason why many of the popular monitors such as the PG278QR sell quite well.
The Philips 272B8QJEB offers reasonable color performance for a mixed-use monitor, starting with its 95% sRGB coverage which isn't the best but is acceptable for daily use. Color accuracy hits a Delta E average of 2.4 which is accurate enough to avoid inducing deviances that will make images look less than natural. The color temperature of the monitor is slightly off from the 6500K point, but the reduced warmth of the screen will be well-liked by a considerable majority.
The screen's gamma looks just right at 2.15, so buying a colorimeter to fix it together with the minor errors in color rendering is not entirely worth it. However, the screen's contrast is probably its worst quality at 790:1, reducing the black depth to the point of making them look too grayish, especially when viewing the screen in a dark room. Brightness adjustment is also quite limited since the backlight can only go up to 210 cd/m2, missing its rated limit by a considerable 40 cd/m2.
Color uniformity for the Philips 272B8QJEB is great, but it's affected by the light leaks at the corners of the screen. Each of the quadrants looks even and balanced, but the clouding at the edges ruin the overall image of the display. Take note that this could vary between unit to unit since no two IPS units are made equal.
The IPS panel on the Philips 272B8QJEB feels sluggish compared to some models we tested when it comes to pixel response times. The screen blurs easily while playing fast-paced games, but it does include an overdrive feature which helps compensate for this flaw. However, you do get a bit of minimal overshoot when you opt to use this feature, but that's a small price to pay to improve the screen's output.
The Philips 272B8QJEB is a FreeSync monitor with a limited functional range of 48Hz to 60Hz which is still decent since the resolution can be taxing for some GPUs. G-Sync compatibility mode is possible, but this is not a certified model so it is not 100% guaranteed. Input lag is excellent at 9.3ms, meaning there will be no delays felt or "de-synced' instances.
Thoughts on the Philips 272B8QJEB
The Philips 272B8QJEB is a well-designed everyday display for your home or office which won't hurt your pocket. For less than $300, you get an ergonomic device with lots of connectivity options, making it perfect as a utilitarian monitor for any use. The screen could use some improvements in uniformity and quality, but we think these ratings point towards a reasonable experience overall.
The brand has surprised us with their excellent value offerings such as the 326E8FJSB and the 276E8VSJB, but the Philips 272B8QJEB falls a bit short of its esteemed siblings. The value proposition of the monitor incurred some cut corners in imaging quality which matters the most.