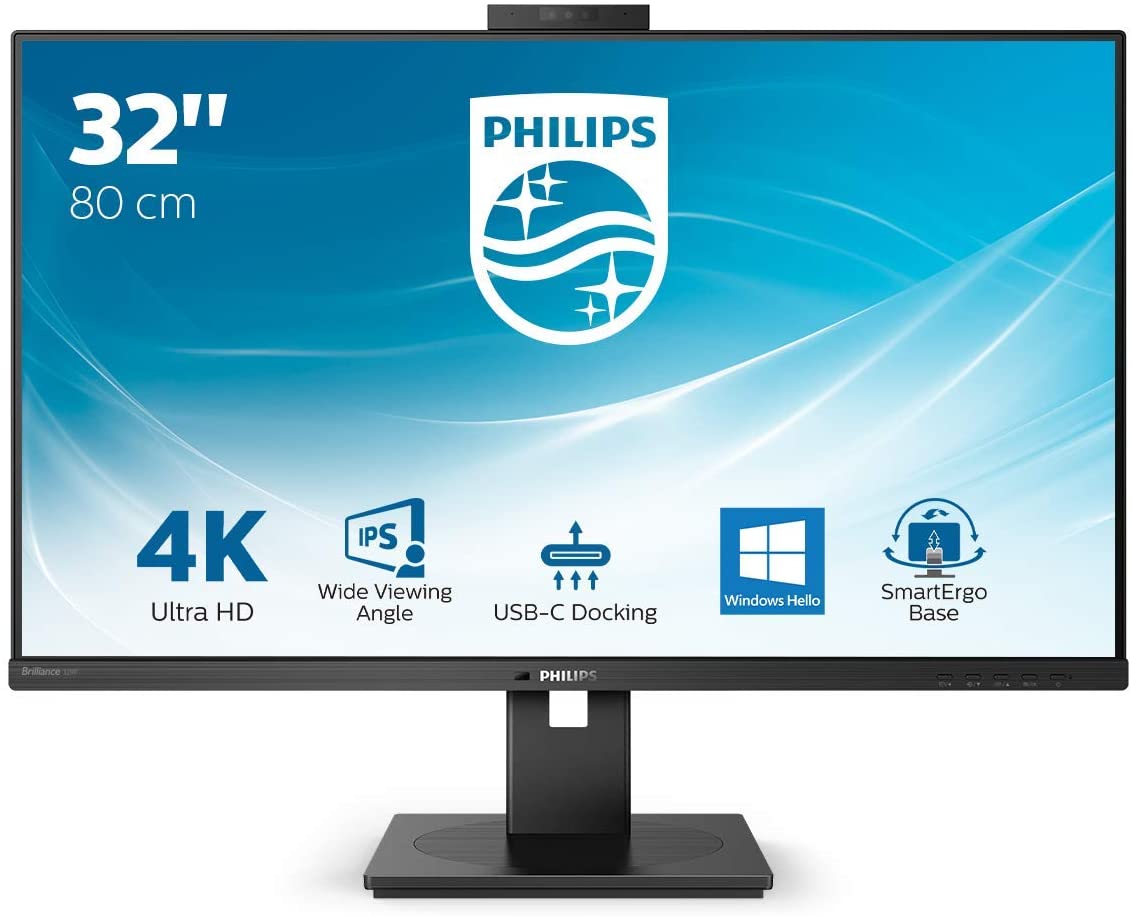 The Philips 329P1H is a well-rounded 4K display with plenty of features that makes it great for all-around use. The demand for functional monitors has grown exponentially due to the pandemic where many professionals are required to work at home. The Philips 329P1H is consistently sold out, so let's check it out and see what the fuss is all about.

Philips 329P1H Specifications
Screen Size: 32 Inches
Resolution: 3840 x 2160 4K
Aspect Ratio: 16:9
Panel Technology: In-Plane Switching (IPS)
Refresh Rate: 60Hz
Response Time: 4 ms
Contrast Ratio: 1000:1
Brightness: 350 cd/m²
Built-in Speakers: Yes (2 x 5 Watts)
Stand: Height – Yes
Stand: Tilt – Yes
Stand: Swivel – Yes
Stand: Pivot– Yes
VESA Compatibility: Yes (100 x 100)
Connectivity: DisplayPort 1.4 x 1, DP Out x 1, HDMI 2.0 x 2, USB-C 90W x 1, USB 3.2 x 4, RJ45 x 1, 5mm Audio Jack x 2
Dimensions: (W x H x D): 28.11" x 25.55" x 11.02"
Weight: 26.89 lbs

Design and Features
The Philips 329P1H hails from the P-line meant for professionals, so it goes with a simplified aesthetic that won't quickly go out of style. The monitor has a matte black aesthetic with a brushed finish at the rear panel. The display is bezel-free on three sides so the screen looks expansive beyond its original size.
The Philips 329P1H is quite large for a monitor, so some users might need to rearrange or prepare their desks to accommodate it. It needs almost a foot of depth, and it's a 32-inch monitor so it will be wider than many common monitors you see in offices and schools. It's one of the heaviest 32-inch monitors we've seen at 26.89 pounds, and a lot of that heft comes from the stand.
The weight of the Philips 329P1H also equates to amazing build quality that is wobble-free and durable. There are no imperfections on the monitor's seams and edges, and the plastics used feel reinforced to prevent breakage. The stand is very strong at the expense of weight, but we like how stable it is at holding up the display.
One disappointing characteristic of the Philips 329P1H is it still uses OSD buttons instead of an easy-to-use joystick. The OSD menus are quite deep, so it's a chore to get to some of the settings if you want to adjust the screen. It has dedicated scrolling buttons, but it still takes some getting used to since you can't see them directly.
Another noticeable feature of the Philips 329P1H is its 2.0-megapixel pop-up webcam with a built-in microphone. You can stow it away if you don't need it and it's also compatible with Windows Hello since it's capable of facial recognition. It's a must-have for work from home use where conference calls are very common.
The Philips 329P1H also has the LightSensor and PowerSensor features that can adjust the brightness accordingly and detect if the user is present and using it. Both of these add ons are meant to save power so you pay less for electricity. The LightSensor could be less useful if you calibrate your monitor, but it's quite helpful for your eye comfort during extended periods of working.
The stand included with the offers tilt, swivel, pivot, and height adjustments, so it's easy to get a comfortable view. The base of the stand is quite large, but thankfully, it's square and flat so it's easy to arrange it into setups with several peripherals. You can opt for a VESA mount, but it's only necessary for multiple-screen setups or if space is very limited.
The Philips 329P1H includes DisplayPort 1.4 and two HDMI 2.0 slots for video inputs, but it also includes a 90-watt USB-C slot for laptops. You also get four USB 3.2 slots, an RJ45 port for LAN management, and 3.5mm jacks for convenience. The layout makes the monitor ready for various scenarios, whether if it's in a corporate setting or your home office.
The Philips 329P1H even includes 5-watt speakers which can get loud and with reasonable sound quality. Most users will be using headsets, but this comes in handy if you want to sit back and relax. They're not capable of audiophile or entertainment-grade performance, but they sound decent enough for videos and background music.
Display and Performance
The Philips 329P1H boasts a 32-inch IPS panel with a 3840 x 2160 resolution, a 60Hz refresh rate, and a 4ms response time. The backlight has a 350 cd/m2 maximum, while the contrast ratio is listed at 1000:1 like most IPS panels. This monitor is geared towards productivity, so it doesn't carry any specialized specs or HDR certifications.
4K can be a bit daunting on your eyes since it's extra sharp, but that can be cured by getting a big screen. 32-inch variants are considered the sweet spot for 4K in desktop setups, making the Philips 329P1H perfect for most types of uses. Monitors like this can improve your workflow due to the extra space, but it's also a nice option for entertainment purposes due to the extra level of detail and crispness.
The Philips 329P1H provides 100% of the sRGB with some extensions and around 94% of DCI-P3 for rich and full colors. The default accuracy is great with a deltaE average of around 2.46, so the deviances aren't as noticeable during use. The monitor also has a dedicated sRGB mode which drops the gamut to 93% but improves the dE average to 1.53 for content creation.
Calibrating the Philips 329P1H with a colorimeter resulted in even better scores, starting with the 0.56 dE average. This makes the monitor suitable for color grading and photo editing, but you do need a colorimeter to improve it by that much. The gadget isn't practical unless you do color-critical work, so most users can make do with the default setting plus a few tweaks.
The Philips 329P1H's backlight hits 380 cd/m2 at 100% which is plenty for daily use including areas with a lot of natural light. However, its contrast is tied to 1050:1 at 60% backlight, so it can't produce deep blacks especially when viewed at night time. The latter is common on IPS models except for those with special treatment like the Nano IPS or Quantum Dot variants we've seen recently.
Panel uniformity for the Philips 329P1H could better since there are some backlight leaks on the top edges of the screen. Clouding becomes visible in dark or all-black images, but it's not as much of an issue in full-color images. Thankfully, this isn't permanent for all units made, so there will be specimens out there with better quality.
Responsiveness isn't a particular strength of the Philips 329P1H since it's a business monitor, but it does fairly well in games. Titles with slower pacing don't show disturbing amounts of ghosting, but genres like shooters with fast swipes and motion can reveal some persistence. Using the Faster setting of its overdrive is your best bet in reducing flaws since anything higher added noticeable overshoot.
The Philips 329P1H supports Adaptive Sync, so it should work with both FreeSync and G-Sync compatible mode depending on your GPU. This comes in handy for gaming using cards from both brands. Input lag sits at 11ms at 60Hz, so the monitor is decently responsive with no perceivable delays.
Thoughts on the Philips 329P1H
The Philips 329P1H is an amazing 4K monitor for a multitude of uses thanks to its excellent image quality and feature set. The IPS panel is capable of great colors, while the monitor's connectivity allows for a myriad of devices and setup options. It's the perfect monitor for work from home use due to its large screen, built-in webcam, and speakers.
However, the Philips 329P1H is quite pricey for a business monitor, so you have to shell out the cash if you want those extras we mentioned. Its contrast is also quite weak, but that's expected from typical IPS panels in today's market. It's a great buy if you need its features for work, but it's consistently sold out at the time of this review.
Pros:
Vibrant IPS Screen
Decent Factory Calibration
Premium Design and Build Quality
FreeSync/G-Sync Compatible
90-Watt USB-C
Plenty of Connectivity Options
Cons:
Expensive
Limited Availability
Low Contrast Ratio
About the Author: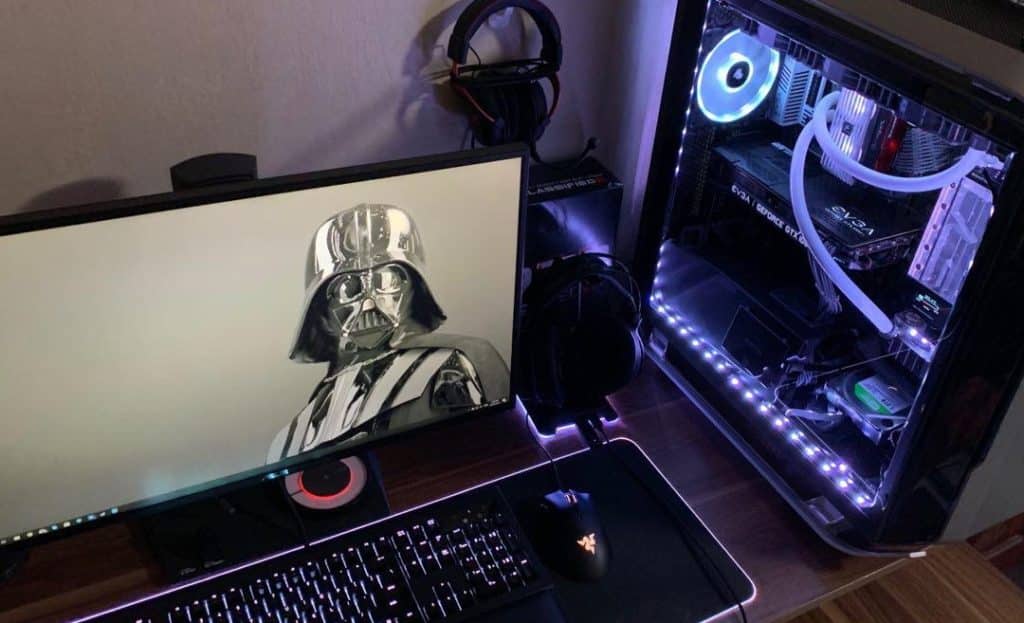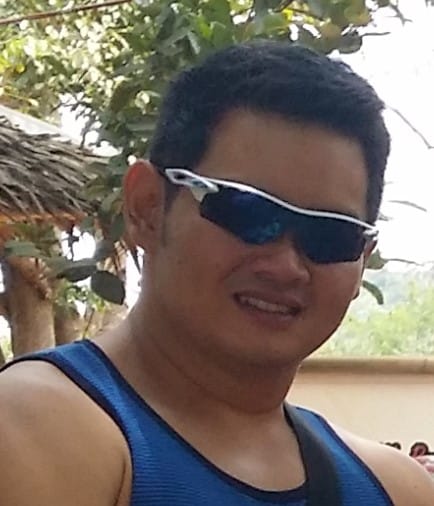 Paolo is a gaming veteran since the golden days of Doom and Warcraft and has been building gaming systems for family, friends, and colleagues since junior high. High-performance monitors are one of his fixations and he believes that it's every citizen's right to enjoy one. He has gone through several pieces of hardware in pursuit of every bit of performance gain, much to the dismay of his wallet. He now works with Monitornerds to scrutinize the latest gear to create reviews that accentuate the seldom explained aspects of a PC monitor.