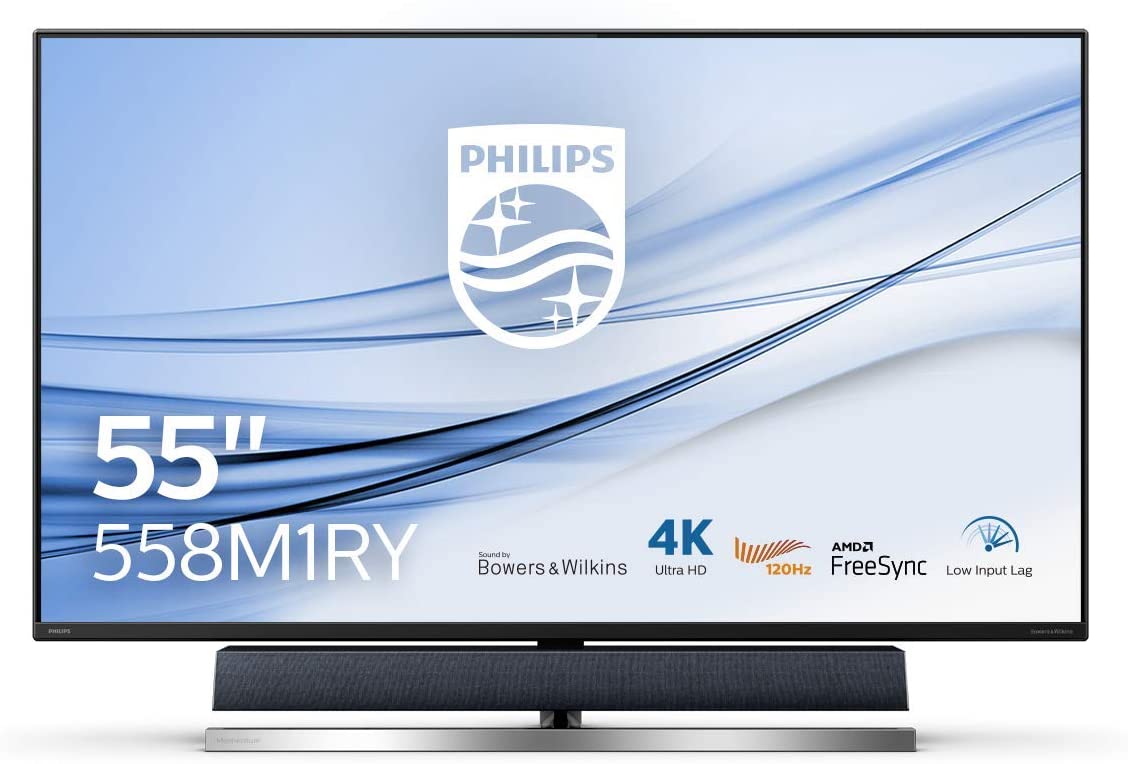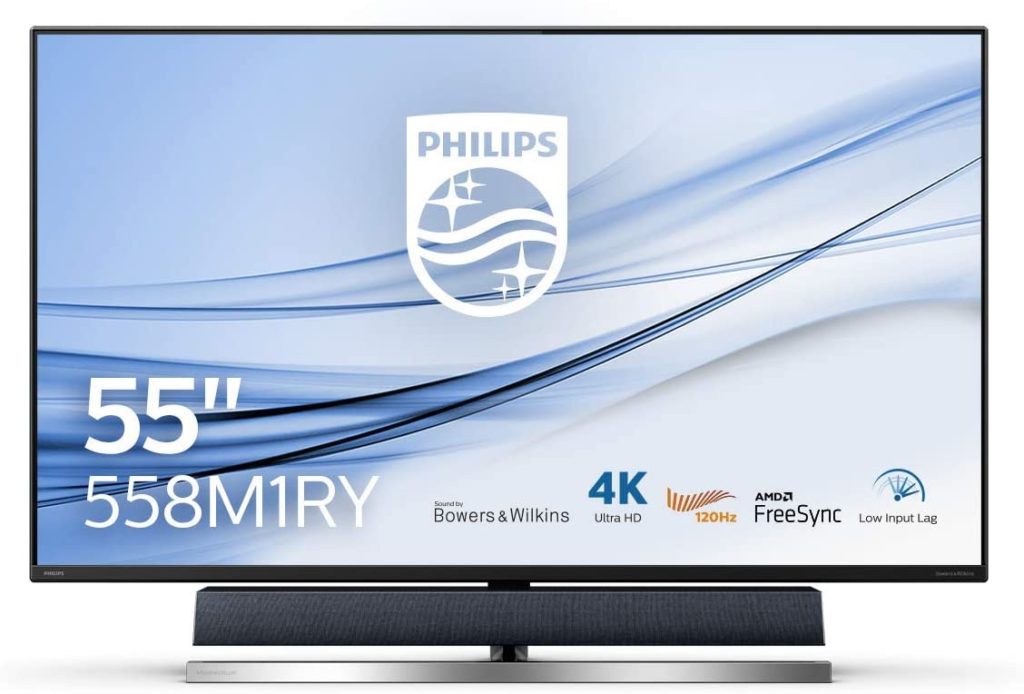 The Philips 558M1RY is a TV-sized display that's built with high-end gaming monitor wizardry such as its 4K 120Hz output along with a unique built-in soundbar. The screen is also compliant with DisplayHDR 1000 specifications, making it a complete entertainment solution for all platforms including 4K HDR streaming and UHD Bluray players. The Philips 558M1RY is very attractive because it's considerably cheaper than its closest rivals such as the Alienware AW5520QF, but what can we expect from it?


Philips 558M1RY Specifications
Screen Size: 55 Inches
Resolution: 3840 x 2160 4K
Aspect Ratio: 16:9
Panel Technology: VA
Refresh Rate: 120Hz
Response Time:.4ms
Contrast Ratio: 4000:1
Brightness: 750 cd/m²
Built-in Speakers: Yes (2 x 10 Watts + 20-Watt Sub, 40 Watts RMS)
VESA Compatibility: Yes (200 x 200)
Stand: Height – No
Stand: Tilt – Yes
Stand: Swivel – No
Stand: Pivot – No
Connectivity: DisplayPort 1.4, HDMI 2.0 x 3, USB 3.2 x 5, 3.5mm Jack x 1
Dimensions With Stand(WxHxD): 48.50″ x32.84″ x 12.13″
Weight: 58.42 lbs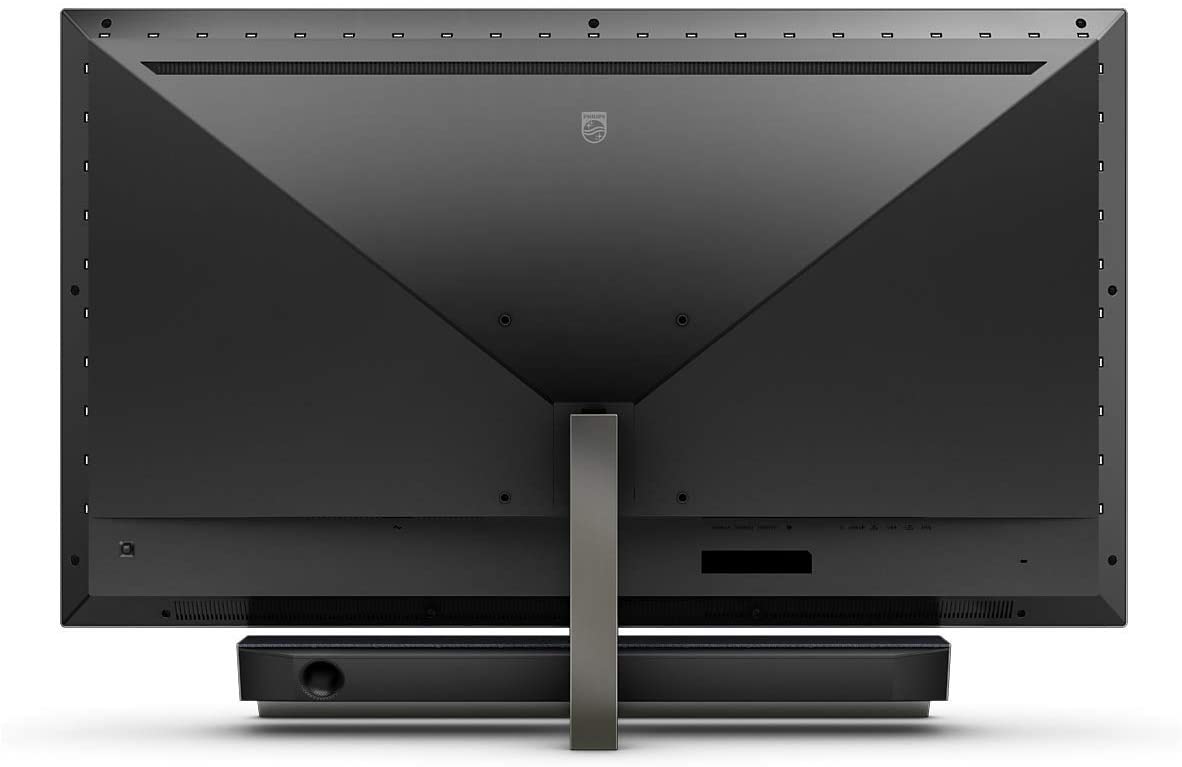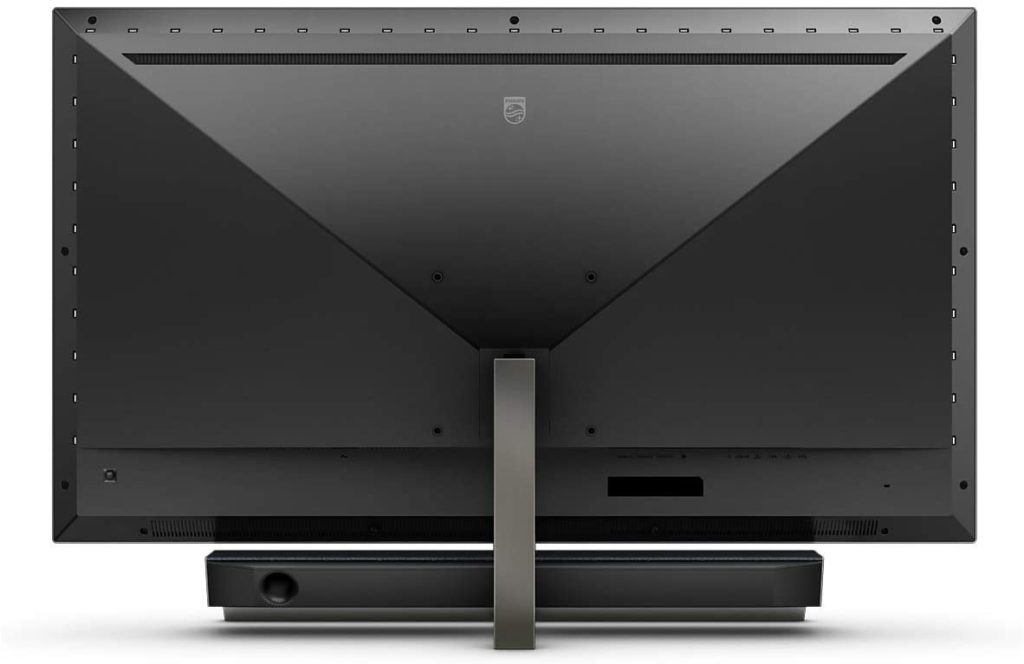 Design and Features
The Philips 558M1RY is a massive, TV-sized monitor which will look more comfortable sitting as your living room's centerpiece instead of on your desk. The monitor has a matte black chassis with a glossy inverted triangle panel at the rea along with a gunmetal-finished stand. The display isn't bezel-free, but the thin strips are hardly noticeable against the bright and gorgeous screen.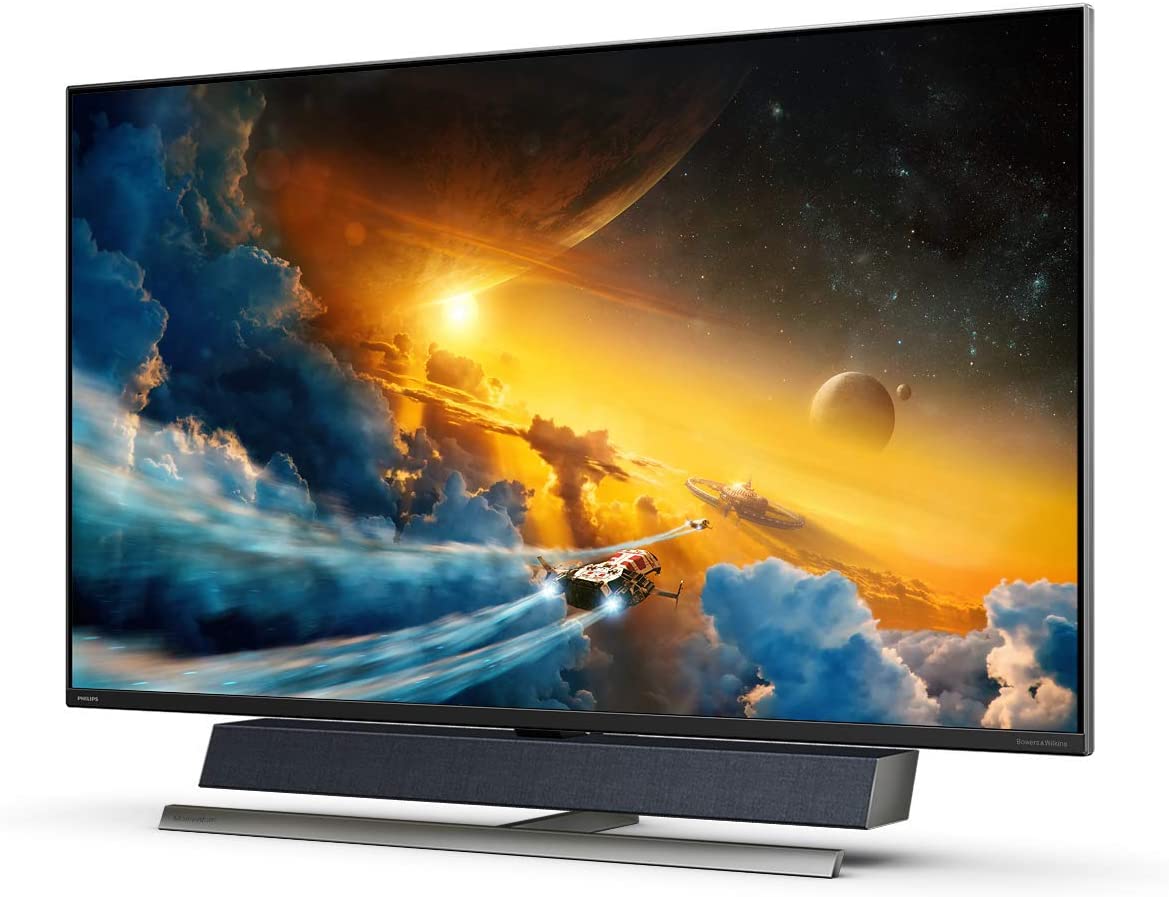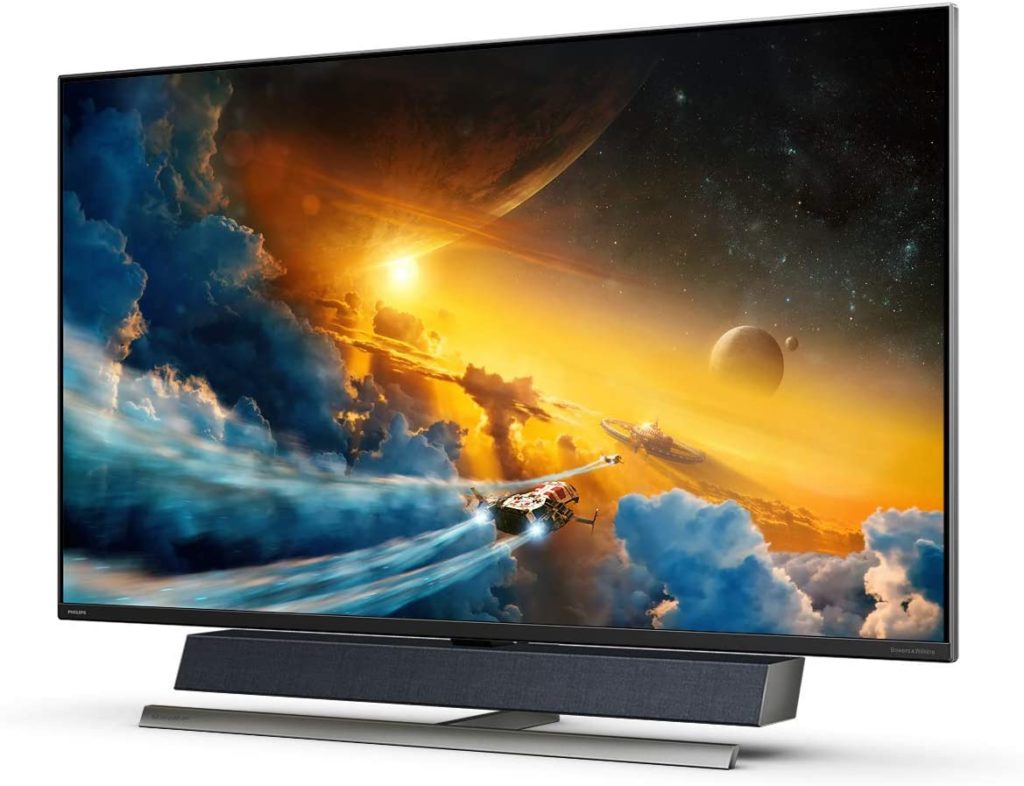 Size is one of your main concerns with the Philips 558M1RY since its 4 feet wide and a foot deep, so it might not fit on typical desks. It's also quite heavy at almost sixty pounds, so make sure the surface you are using is reinforced and can hold that much weight. We think many will opt for couch gaming configurations with this model, especially since it's not easy on your eyes to stare at a screen like this for extended periods.
Build quality for the Philips 558M1RY is perfect since every seam matches its opposite and there are no rough edges or cosmetic defects on the product. The plastics used feel thick and sturdy, while the stand does a good job of keeping the massive chassis upright. There is a slight wobble, but you'll barely notice it unless you touch the screen with heavy hands.
The Philips 558M1RY comes with a handy remote that makes navigating the OSD much easier, especially when you are sitting at a distance. The gadget has dedicated keys for volume and brightness, so you don't have to sift through the various sub-menus to adjust these basic functions. The soundbar can sometimes stand in the way of the receiver, but you'll get the hang of it eventually.
You can also use the Philips 558M1RY's OSD joystick that's accessible from the bottom right when facing the display. It's only useful if you are using the monitor at nearfield range, but it is still less daunting than a slew of pesky buttons. Philips did an excellent job in this regard so users don't have to struggle if tweaking is necessary to max out the HDR screen.
You will also notice some LED strips surrounding the outer edges of the Philips 558M1RY's chassis. The RGB LEDs are called Ambiglow which responds to the content on the screen and its dominant color to create an immersive halo or bias lighting effect around the monitor. It's one of the best RGB implementations which an actual benefit for the user since it enhances the visual experience instead of just being decorative.
The stand on the Philips 558M1RY is limited to tilt as expected due to the size of the monitor and the way it was intended to be set up. Height adjustment isn't necessary since the display is so big, and there is no reason to swivel or pivot it so the flexibility won't be missed. You can use 200 x 200 VESA mounts with the monitor, so ergonomics and adjustability can still be had if needed.
The Philips 558M1RY offers plenty of connectivity options starting with its trio of HDMI 2.0 ports and a lone DisplayPort 1.4 slot. Take note that the 120Hz refresh rate is only possible on the latter, so 4K consoles, even the next-gen ones, will still be limited to 4K 60Hz with this model. You also get five USB 3.2 ports for peripherals and charging, as well as a 3.5mm jack for headphones.
But perhaps the most striking feature of the Philips 558M1RY is its Bowers and Wilkins soundbar that includes 10-watt satellites and a 20-watt sub in a 2.1 configuration. The wool-like cover is a nice luxurious touch, while the speakers sound heavenly compared to other built-ins we've tested. It is best used for couch gaming in a modest-sized room, so you should still keep headsets handy if you want to sit in front of the monitor.
Display and Performance
The Philips 558M1RY boasts a 55-inch VA panel with a 3840 x 2160 resolution, 120Hz refresh rate, and a 4ms response time. The backlight is rated at 750 cd/m2 with a peak brightness of 1200 cd/m2 in HDR, while the contrast ratio sits at a typical 4000:1. This model is considerably cheaper than the Alienware AW5520QF because it uses VA instead of the latter's OLED, but it has some key advantages starting with the backlight.
The pixel density on the Philips 558M1RY isn't great for nearfield viewing since its even lower than a 24-inch 1080p screen. You need to sit at more or less three feet away to enjoy the resolution and its crispness. Visibility is excellent for document processing or browsing, but again, you have to sit at a good distance to avoid straining your eyes and making letters look unrefined or jagged.
The Philips 558M1RY offers fantastic vibrancy since it can reach its 125% sRGB coverage and around 94% in DCI-P3. Default accuracy is great since the deltaE average is limited to 2.02 which is decent with no noticeable deviances. The color temperature is bluish since it exceeds the 6500K point considerably and it is quite common on large-sized displays we've personally seen.
You can calibrate the Philips 558M1RY to get a massively better dE average of only 0.87 with a color temperature that's stable and close to the 6500K point. These results may vary between every unit, plus you need a colorimeter if you think this kind of correction is necessary for your usage. However, we think it isn't worth it for gaming and movies since most will barely notice the difference during normal use.
The Philips 558M1RY only gets a contrast ratio of 3721:1 at 100% brightness in SDR, but it also expands exponentially when HDR is enabled. The backlight can reach as much as 800 cd/m2 in SDR, but it peaks at 1218 cd/m2 in some instances when HDR content is on the screen. The only limitation here is the lack of a locally dimming LED array which would perform considerably better than edge-lit implementations.
Panel uniformity for the Philips 558M1RY could use some improvements since the sides of the screen have deviations in brightness and color. The colorimeter can detect these errors, but they are only slightly noticeable if you view the screen up close. This will vary wildly between every unit made due to manufacturing tolerances, so its possible to get a better one.
Responsiveness isn't the best on the Philips 558M1RY since it is a VA gaming monitor, but it isn't as bad as most would fear if the screen runs at 120Hz. The monitor's overdrive does a decent job of reducing trails and ghosting, but some persistence can still be seen in contrasting transitions. We don't recommend using the maximum level since it adds a bit of overshoot, but as always feel free to test and feel out which setting works best for you.
The Philips 558M1RY is a FreeSync monitor, but it also works with Nvidia's G-Sync Compatible mode if you force-enable it via NCP. This comes in handy if you plan to keep the device for a while since you can use both GPU brands with Adaptive Sync if in case you switch sides. Input lag sits at under 4ms, so there is no need to worry about delays or de-synced instances while gaming.
Thoughts on the Philips 558M1RY
The Philips 558M1RY is a fantastic option if you need a specialized entertainment monitor for multi-platform use. it's designed specifically for 4K HDR gaming with the current consoles, but it's also a fantastic main display for your high-end PCs and the upcoming next-gen Xbox and PlayStation models. The Bowers and Wilkins soundbar is a superb complement to the gorgeous screen and it enhances the value per dollar spent for the consumers.
The VA panel on the Philips 558M1RY offers impressive image quality out of the box, especially when it comes to color and brightness. The HDR performance of the monitor is great as well, but what hinders it is the lack of a FALD LED array which offers granular lighting adjustments. The Philips 558M1RY is the perfect upgrade if you need a multi-use display for PC, console, and 4K HDR movie enjoyment.
Pros:
Attractive Minimalist Design
Built-In Soundbar Sounds Great
Superb Colors, Contrast, and Brightness
Excellent Factory Calibration
Low Input Lag
FreeSync/G-Sync Compatible
Cons:
No HDMI 2.1 for Next-Gen Consoles
Big and Heavy
Expensive
 -About the Author: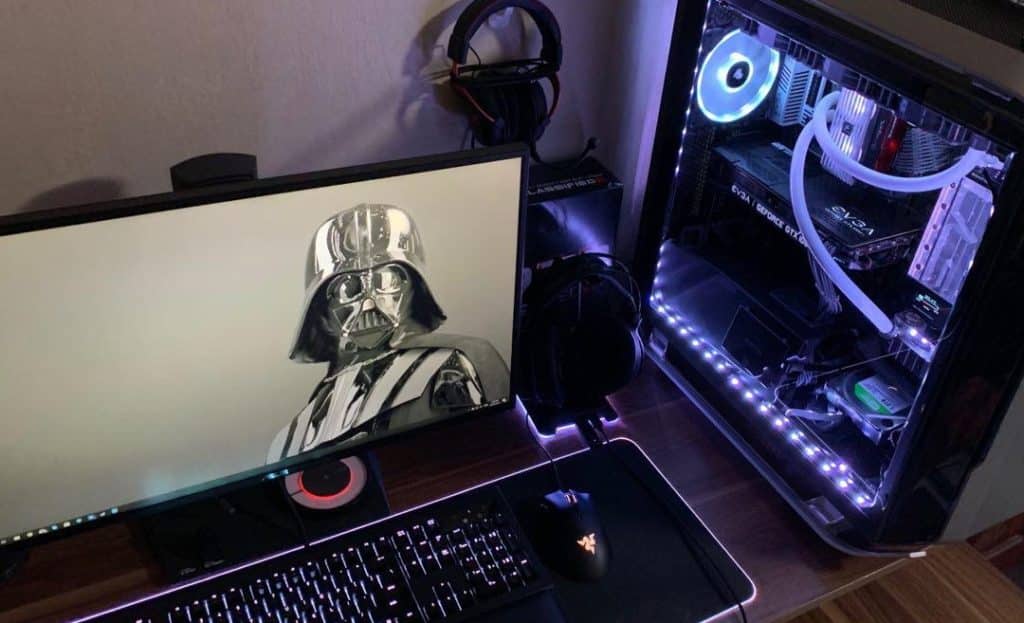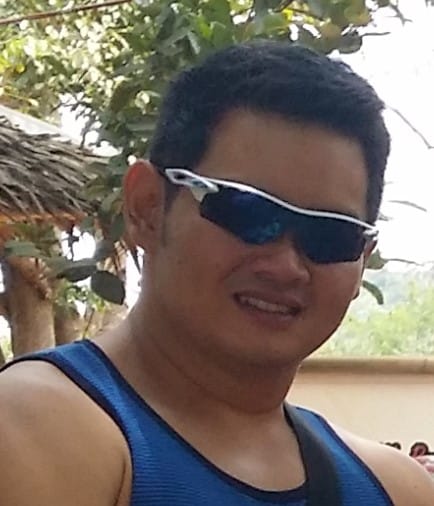 Paolo is a gaming veteran since the golden days of Doom and Warcraft and has been building gaming systems for family, friends, and colleagues since his junior high years. High-performance monitors are one of his fixations and he believes that it's every citizen's right to enjoy one. He has gone through several pieces of hardware in pursuit of every bit of performance gain, much to the dismay of his wallet. He now works with Monitornerds to scrutinize the latest gear to create reviews that accentuate the seldom explained aspects of a PC monitor.