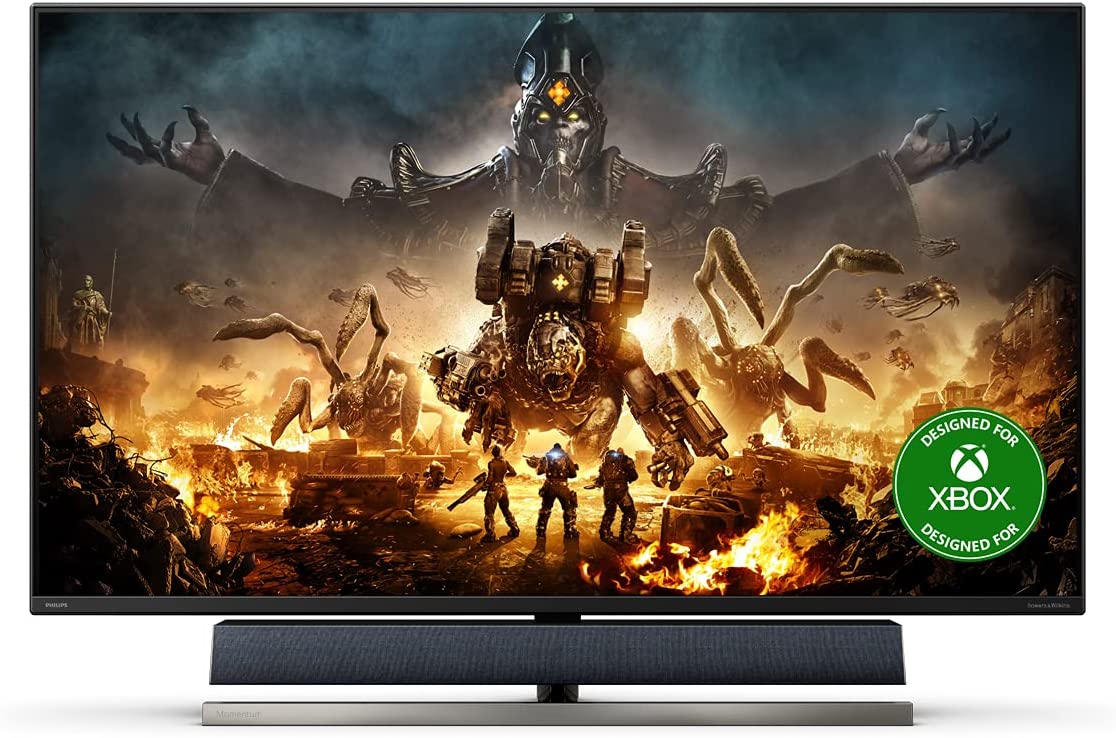 The Philips 559M1RYV is a massive gaming monitor that's designed for immersive and impressive gaming or entertainment experience. It's the 558M1RY's upgraded sibling so it now includes features that make it ideal for next-gen devices which can maximize its screen. The Philips 559M1RYV isn't cheap, but let's check out if its performance and features are worth the investment.

Philips 559M1RYV Specifications
Screen Size: 55 Inches
Resolution: 3840 x 2160 4K
Aspect Ratio: 16:9
Panel Technology: VA
Refresh Rate: 144Hz
Response Time: 4ms
Contrast Ratio: 4000:1
Brightness: 750 cd/m² (1200 cd/m² Peak)
Built-in Speakers: Yes (2 x 10 Watts + 20-Watt Sub, 40 Watts RMS)
VESA Compatibility: Yes (200 x 200)
Stand: Height – No
Stand: Tilt – Yes
Stand: Swivel – No
Stand: Pivot – No
Connectivity: DisplayPort 1.4, HDMI 2.1 x 3, USB-C PD65W x 1, USB 3.2 x 5, 3.5mm Jack x 1
Dimensions With Stand(WxHxD): 48.50″ x32.84″ x 12.13″
Weight: 64.9 lbs

Design and Features
The Philips 559M1RYV doesn't resemble a TV in both aesthetics and size, but it will still look good on a desktop. The monitor has a nice mix of matte black and brushed metal finishes so it doesn't look too gaudy or aggressive. The display is bezel-free and you will barely see any panel borders even if they are there due to the screen's size.
We'd like to put emphasis on the monitor's size again since it's four feet wide and it needs a foot of depth from a desk or surface. This won't on most desks, so you might need to upgrade that part of your setup as well. It is not ideal for nearfield viewing anyway, but you also have to consider that it weighs in at almost 65 pounds.
Its build quality is equally impressive thanks to its sound design, premium materials, and craftsmanship. The stand is built-up like what you get with monitors so the device doesn't rest on mere pegs as your typical TV does. It doesn't wobble and there are no signs of cheap panels or parts that will flex or crack easily.
The Philips 559M1RYV has an OSD joystick, but you will find it difficult to use due to the size of the screen which isn't ideal for nearfield viewing. Fortunately, a functional remote is included so you don't have to exert too much effort in calibrating the monitor. You can adjust the volume, select sources, or even raise and lower the brightness of the screen so the joystick won't be necessary.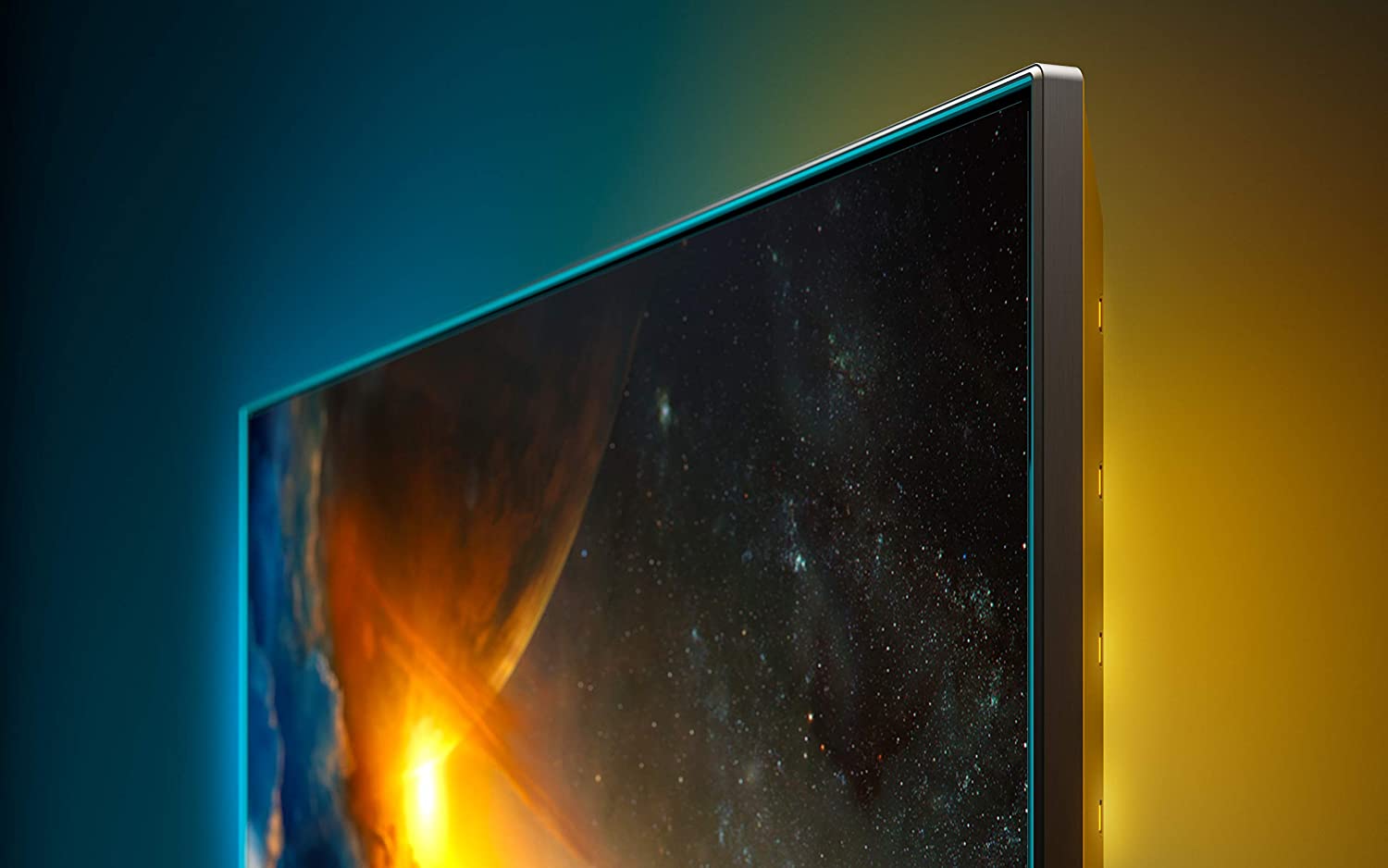 This monitor also has LEDs at the edges of the rear panel for its Ambiglow feature which can be used for immersion, eye safety, and aesthetics. You can set it to match the screen's colors or sync with the sound, but it can also be set in either static or select lighting schemes. However, you need to adjust its brightness to match your monitor if you want to maximize its functionality towards your visuals.
The stand included in the package can only offer tilt, but that's reasonable considering the size of this display product. It's a solidly built piece of kit with a wide base, so it will be able to hold the monitor up for as long as you need it to. You can use VESA mounts for more flexibility, but there isn't a lot out there that can support the weight of the cabinet.
The biggest upgrade to the Philips 559M1RYV is its connectivity layout which makes it more flexible and worth the extra premium. You get DisplayPort 1.4 for 4K 144Hz and three HDMI 2.1 ports for 4k 120Hz operation with the next-gen consoles. You also get a USB-C slot that supports DP Alt Mode and up to 4K 120Hz while charging your laptop 65 watts of juice.
There is also a total of five USB 3.2 high-speed slots for accessories and two of them have charging capabilities as well. all of these are laid out in a down-firing position at the back of the cabinet, unlike TVs which now have them on the side. Frankly, it's better for cable management but the layout also makes it difficult to reach swap the cables out.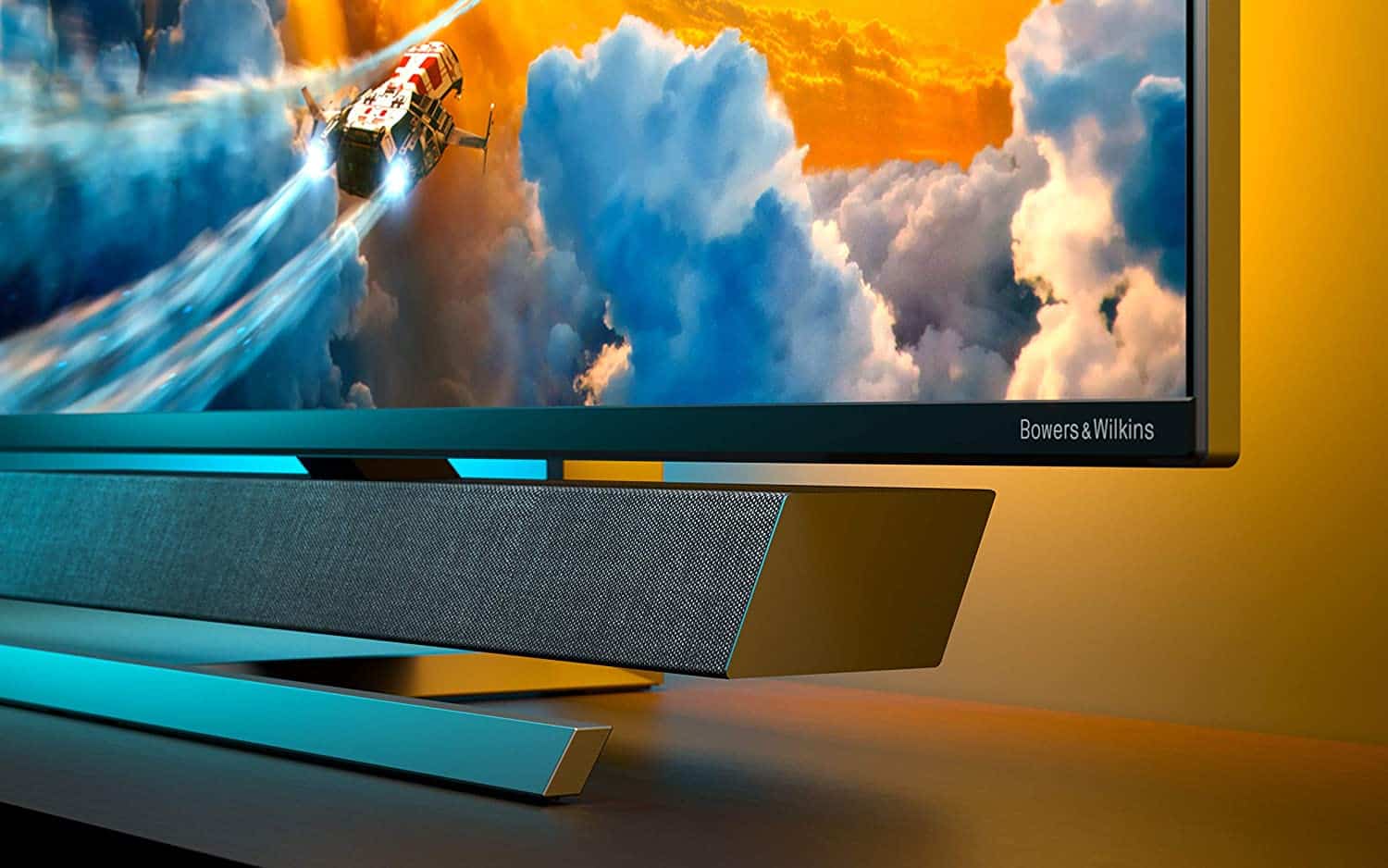 Another special feature of the Philips 559M1RYV is its 2.1 channel soundbar made by a high-end audio company named Bowers & Wilkins. It has two 10-watt channels and a 20-watt subwoofer so it's capable of excellent audio quality. The downside is it isn't removable, but there's very little reason to spend more on a separate set.
Display and Performance
The Philips 559M1RYV boasts a 55-inch VA panel with a 3840 x 2160 resolution, a 144Hz refresh rate, and a 4ms response time. The backlight has a 1200 cd/m2 peak brightness and 144 dimming zones, while the contrast ratio is listed at 4000:1 in SDR. This model is DisplayHDR 1000 performance, so it's considerably better at that than most monitors.
4K is best viewed on a large screen, but you lose the advantage of the extra pixels if you view it from up close. it won't look as sharp, but you won't have to use scaling on text and sacrifice the crispness in games and movies. Just be sure to sit at a good and comfortable distance while also ensuring that you have a powerful system to take advantage of what this monitor has to offer.
The Philips 559M1RYV renders 100% sRGB and 92% DCI-P3 for eye-popping vibrancy in games and movies. It's also decently accurate since the deltaE average of the default setup is at 2.38, so there is no need to calibrate it right away. The monitor looks good out of the box so users only need a few minor adjustments before enjoying it.
Calibrating the Philips 559M1RYV reduced the deltaE average to 1.33 which is great, but it's not a comprehensive improvement over the stock output. You also need a colorimeter to get this result, but it is not worth it for games and movies. You are better off spending the money on other gear, but we do recommend going this route if you are into editing or color-critical work.
its backlight reached 731 cd/m2 in SDR, but it pulsed up to 1205 cd/m2 when HDR Kicked in. The contrast ratio is already impressive at 3866:1 at 30% brightness, but that also expands exponentially when the local dimming zones work their magic. HDR 1000 monitors are worth the money simply because they are capable of appreciable HDR performance.
panel uniformity for the Philips 559M1RYV sample isn't perfect since there are variances in the backlight's spread. There's also the limited 144 dimming zones which result in some blooming in some HDR scenes. That's expected from a monitor like this, so OLEDs and those with full-array local dimming solutions will be better.
Its biggest weakness is its pixel response time which leaves it prone to blurring in fast-paced scenes. It has three overdrive settings, but they aren't capable of clearing the smudges and trails in fast-moving and contrasting scenes. We recommend setting it to the maximum level and getting your framerate close to the max to help with this issue.
The Philips 559M1RYV is compatible with both FreeSync and G-Sync so you can enjoy VRR with an Nvidia or AMD GPU. This feature is essential now since GPUs aren't readily available now due to the global shortage of these items. Input lag is slightly higher at 8ms at 120Hz, but that's still great for gaming since delays aren't noticeable.
Thoughts on the Philips 559M1RYV
The Philips 559M1RYV is a fantastic monitor for immersive gaming on PC and next-gen consoles. It is capable of great imagery and HDR performance even if it's not comparable to some HDR 1000 monitors with FALD units in the market. It is designed to accommodate all of the popular devices, including some products with USB-C slots that are meant for productivity.
But on the other hand, it isn't perfect because of some factors, such as its slow pixel response time and weak overdrive implementation. It is also too big for desktop gaming, so it's almost guaranteed that it will be used as a TV instead of a monitor on your desk. However, if these issues aren't a bother, then you can consider the 559M1RYV as one of the best you can buy right now.
Pros:
Large and Crisp 4K Screen
USB-C and HDMI 2.1 Included
Attractive Design and Features
FreeSync and G-Sync Compatible
Cons:
Expensive
Weak Overdrive
Prone to Blooming
About the Author: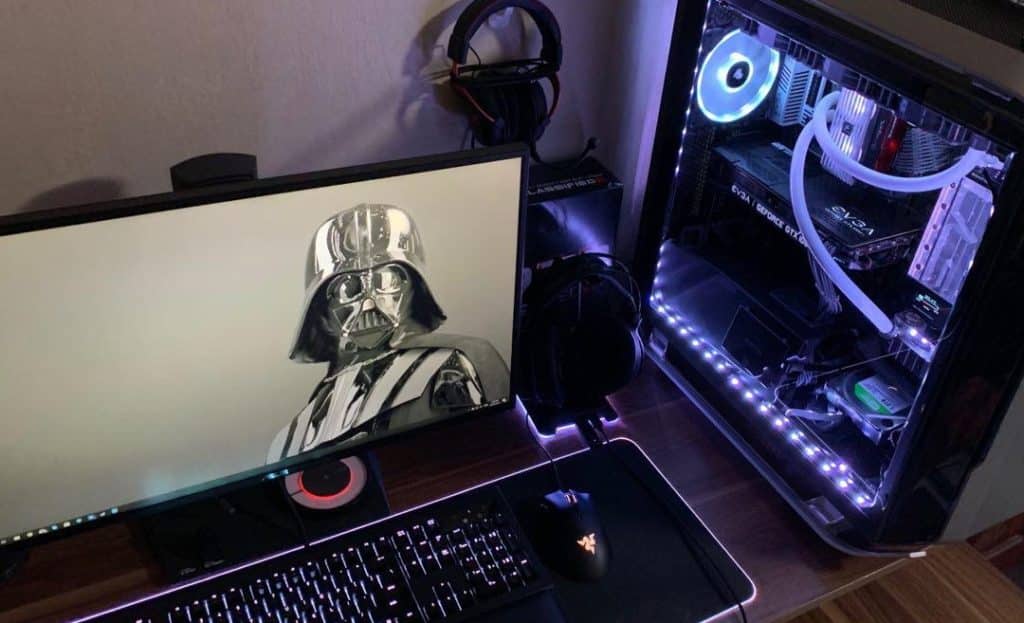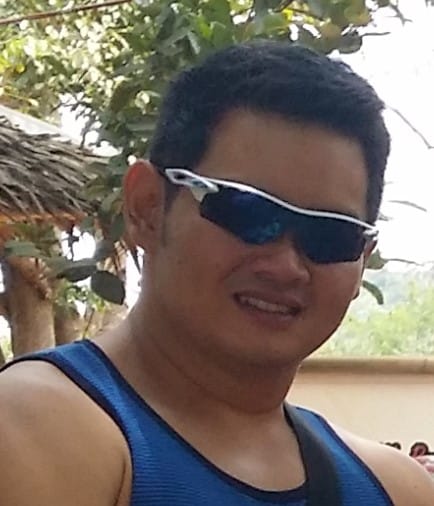 Paolo is a gaming veteran since the golden days of Doom and Warcraft and has been building gaming systems for family, friends, and colleagues since junior high. High-performance monitors are one of his fixations and he believes that it's every citizen's right to enjoy one. He has gone through several pieces of hardware in pursuit of every bit of performance gain, much to the dismay of his wallet. He now works with Monitornerds to scrutinize the latest gear to create reviews that accentuate the seldom explained aspects of a PC monitor.