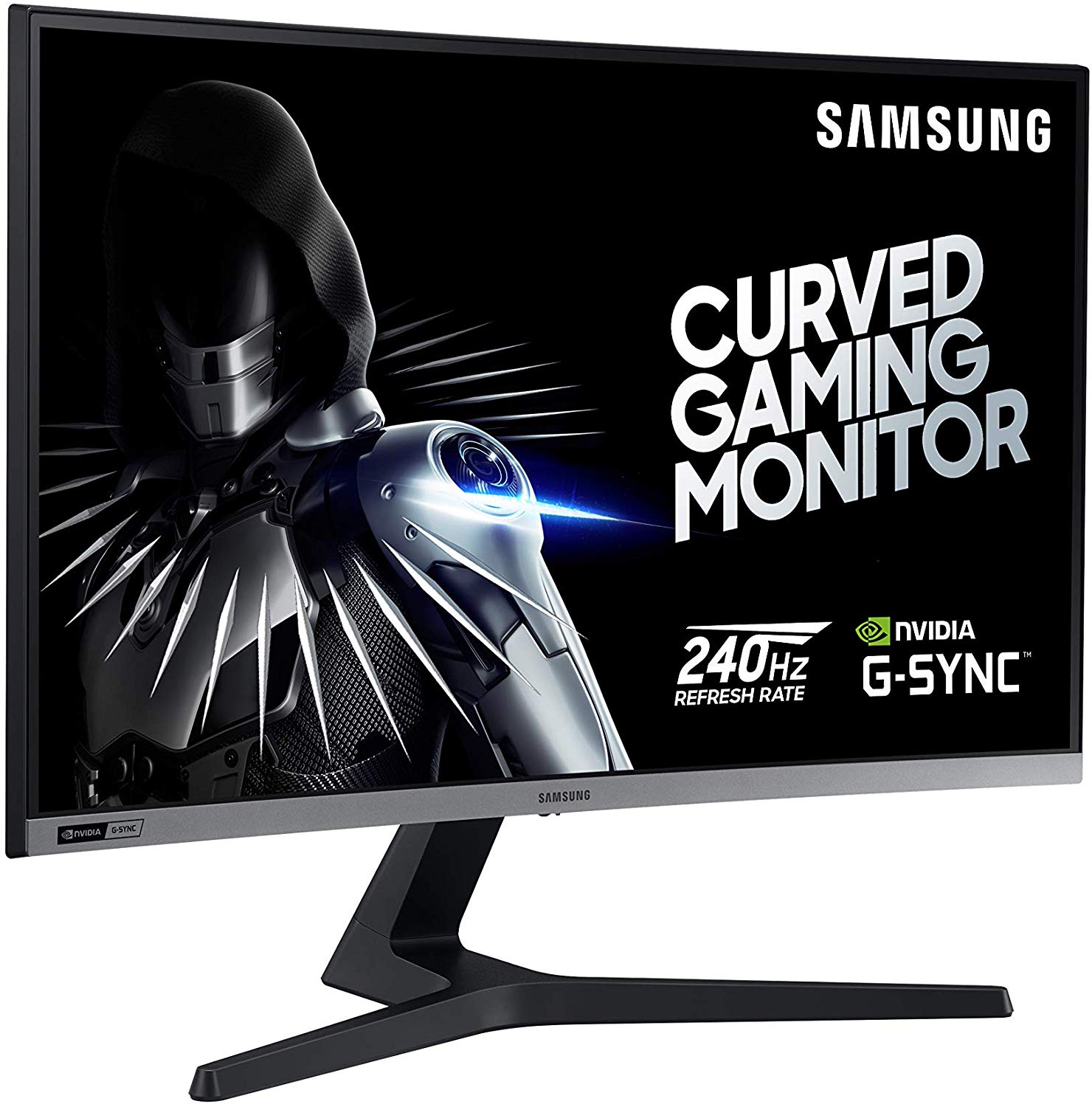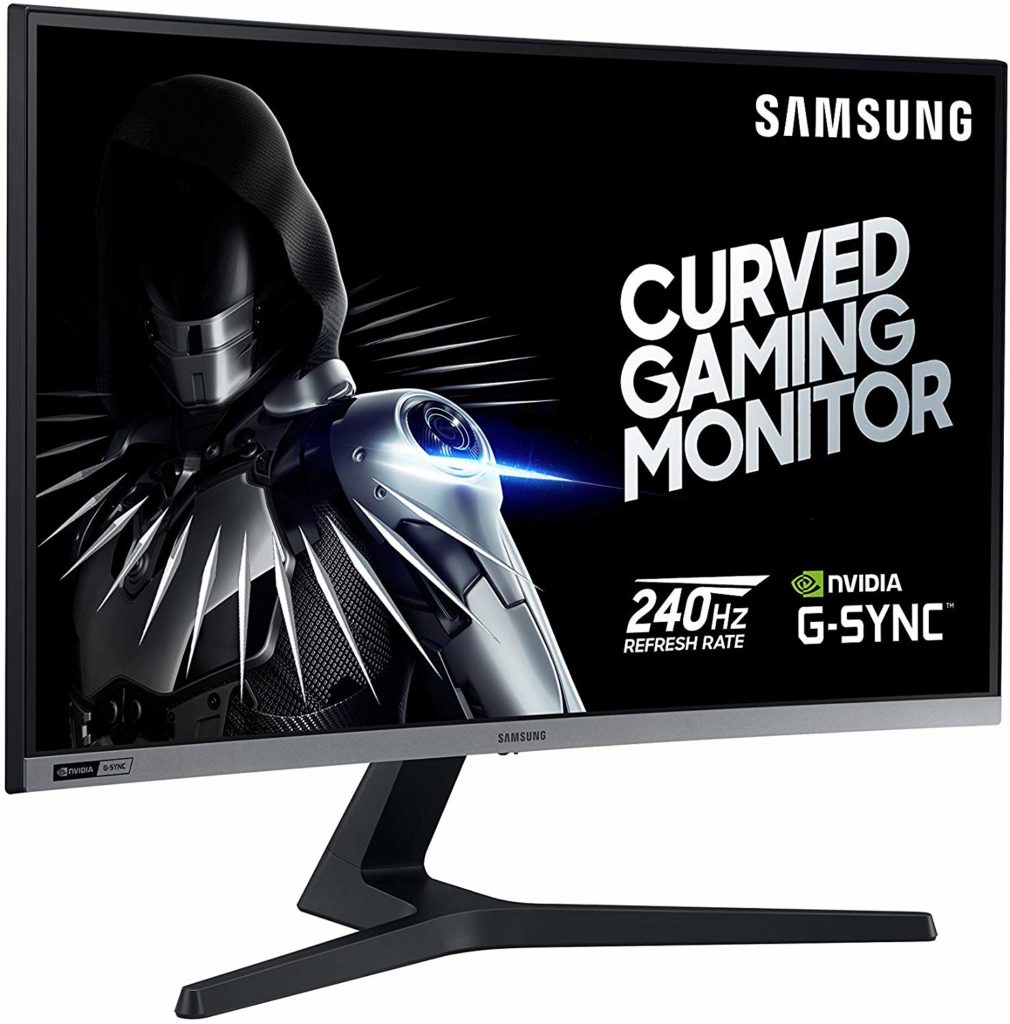 Pros:
Reasonable Price
Fantastic Colors and Contrast
FreeSync/G-Sync Compatible
Low Input Lag
Cons:
Limited Features
Tilt-Only Stand
The Samsung C27RG50 which is also popularly called the CRG5 is a reasonably-priced gaming monitor that combines the depth and vibrancy of VA panels with an exceedingly high 240Hz refresh rate. This means the product is great for enjoying both jaw-dropping visuals of immersive games while being worry-free when its time for a competitive session. The Samsung C27RG50 promises a lot at its price point, but does it deliver a level of performance that can make it a must-buy?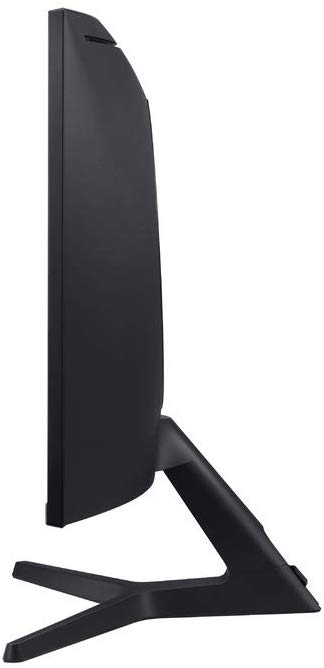 Samsung C27RG50 Specifications
Screen Size: 27 Inches
Resolution: 1920 x 1080 FHD
Aspect Ratio: 16:9
Panel Technology: Vertical Alignment (VA)
Refresh Rate: 240Hz
Response Time: 4ms
Contrast Ratio: 3000:1 (Static)
Brightness: 300cd/m²
Built-in Speakers: No
Stand: Height – No
Stand: Tilt – Yes
Stand: Swivel – No
Stand: Pivot – No
VESA Compatibility: Yes(75 x 75)
Connectivity: DisplayPort 1.2 x 1, HDMI 2.0 x 2,
Dimensions with Stand(WxHxD): 24.28" x 18.60" x 9.86"
Weight: 10.14 lbs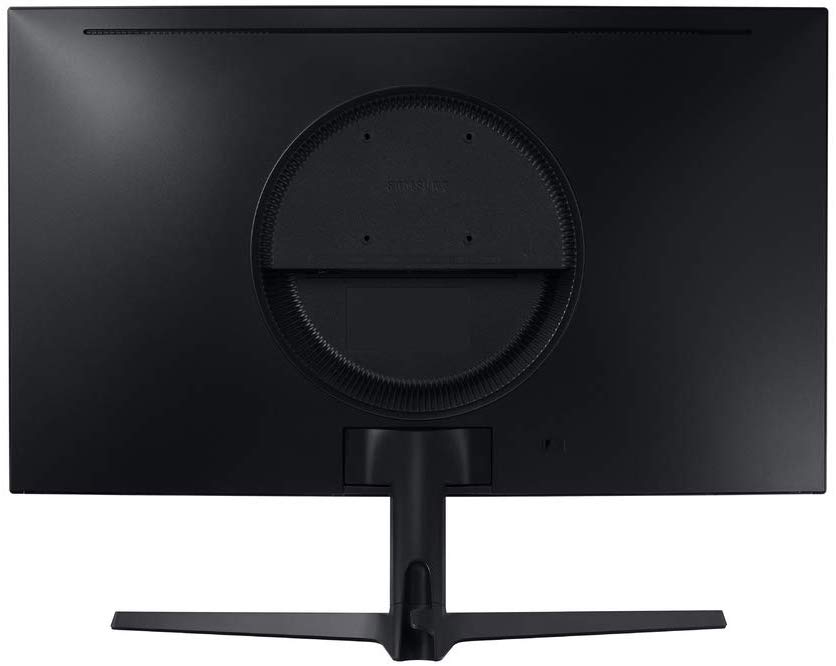 Design and Features
The Samsung C27RG50 includes a minimalist look that would make anyone easily mistake it for a business monitor. The product has a subdued matte-black chassis that doesn't attract dust, along with a silver accent at the bottom bezel. The display isn't truly bezel-free, but you only have to live with very thin inner borders on the top and the sides.
This model is also a bit bulkier than most monitors in its size class due to its more pronounced, 1500r curve. The device will take up almost ten inches of depth, so make sure you have enough space if you have a keyboard with a wrist rest. The Samsung C27RG50 is also lightweight, so it might make you feel that its fragile or brittle at some point.
But in reality, the Samsung C27RG50 does have decent build quality thanks to its durable materials and well-designed body. The plastics used are not brittle and there is no flexing, plus the seams match each other evenly. The stand also slightly wobbles, but it isn't strong or noticeable enough to be a cause for concern.
The Samsung C27RG50 is a budget model, so a few creature comforts are excluded from the package such as a fully-ergonomic stand. The mechanism only offers tilt, so some might want to swap the part out with a VESA stand that will make virtually any view angle possible. However, we only think its necessary if you are planning on building a triple display setup, for which, this variant is very suitable.
The connectivity panel is also trimmed to just a DisplayPort 1.2 and dual HDMI 2.0 slots for video inputs. There are no extras or legacy connectors such as DVI, so older systems and cable management for your peripherals isn't possible. Built-in speakers are also excluded even if the meaty chassis can accommodate a pair, but those are rarely missed by the Samsung C27RG50's intended audience anyway.
At least, at the end of it, you get to use a centrally-mounted joystick for the OSD instead of pesky buttons which are prominent on lower-priced displays. Switching between presets or adjusting the brightness is more convenient, especially in the dark.
Display and Performance
The Samsung C27RG50 sports a 27-inch, curved VA panel with a 1920 x 1080 resolution, 240Hz refresh rate, and a 4ms response time. The backlight tops out at 300 cd/m2, while the contrast ratio is pegged at 3000:1 like most VA panels. The screen's curve has a 1500mm radius which is considerably tighter than the usual, but its effects are less felt or perceived since this model is limited to a 16:9 aspect ratio.
Its also common to hear or read about complaints regarding the sharpness of full HD monitors in this size which equates to a lower pixel density the usual. However, we don't think pixelation or fuzziness will be a problem if you sit at a moderate distance from the Samsung C27RG50. There is a bit of image softening, but it gets difficult to notice the more you focus on the game you are engaged with.
The Samsung C27RG50 produces excellent color, starting with its 105% coverage of the sRGB gamut. You also don't have to calibrate or even switch color temperatures, since the default profile already has a DeltaE of 1.5 which makes it comparable to some professional monitors. Color temperature is slightly cooler than the 6500K point, but it's not noticeable and bothersome during use.
This model also presents a very potent contrast ratio that goes up to 3150:1 at 50% brightness. The screen provides excellent grayscale and almost perfect blacks, so its an excellent candidate if you game a lot at night. Gamma, on the other hand, is slightly off at 2.28, so some scenes might appear a bit darker than originally intended.
It's also worth noting that the Samsung C27RG50 can exceed its brightness spec, reaching as much as 365 cd/m2 in tests. However, the monitor doesn't have ULMB or HDR emulation features which can benefit from these capabilities since they are not part of the budget package. But this does good for users who regularly tweak the backlight for varying times of the day since the wider range gives you a granular adjustment range.
The Samsung C27RG50 sample did not suffer from any uniformity issues even if it has a curved panel that is sometimes prone to bleeding on the corners. The screen looked even all throughout, and there was no visible clouding even if you view an all-black image or darker scenes. This characteristic makes it great for games like Modern Warfare where compelling night time engagements are part of the game's campaign and multiplayer modes.
We also did not notice any blurring on the Samsung C27RG50 if it's running at 240Hz. The screen doesn't require specialized blur reduction implementations such as ULMB, which is often required for VA models while also incurring an additional cost. TN variants are still faster in this regard, but the CRG5 blurs the lines in comparison.
The Samsung C27RG50 is a FreeSync gaming monitor, but it's also G-Sync compatible so both sides of GPU users can use VRR. Games are smooth and buttery at 240Hz, but you need more than a decent GPU to run modern games at 200 FPS and above. Input lag sits at 4ms at 240Hz, so there is no blame delays or "de-synced" instances if you get fragged first.
Thoughts on the Samsung C27RG50
The Samsung C27RG50 is a fantastic gaming monitor in most of its aspects despite sitting at the middle-to-lower slot of the pricing brackets. The monitor's color quality and contrast are nothing short of impressive, while the pixel responsiveness and latency rating makes it ideal for competitive gaming. Its also FreeSync and G-Sync compatible, so you don't have to lock your future builds to one side of the GPU market when the time to upgrade arrives.
The only caveat you have to live with if you buy the Samsung C27RG50 is its limited functionality in the physical aspect. The tilt-only stand limits your setup options, while the selective connectivity layout leaves out a lot of peripherals and older machines. However, we think these exclusions are minor and outweighed by the image quality and gaming performance of this variant.
About the Author: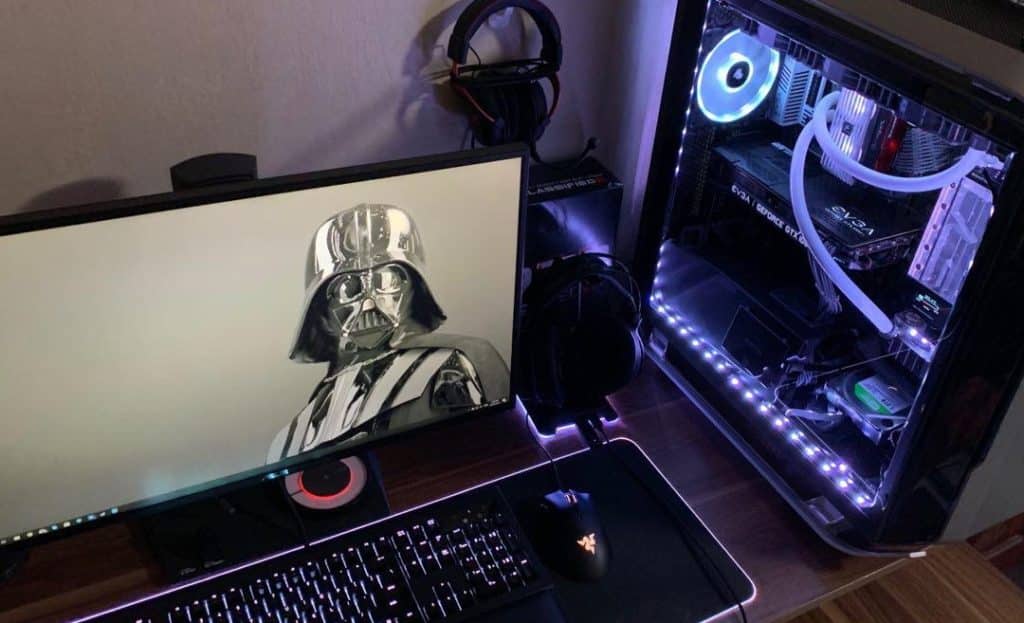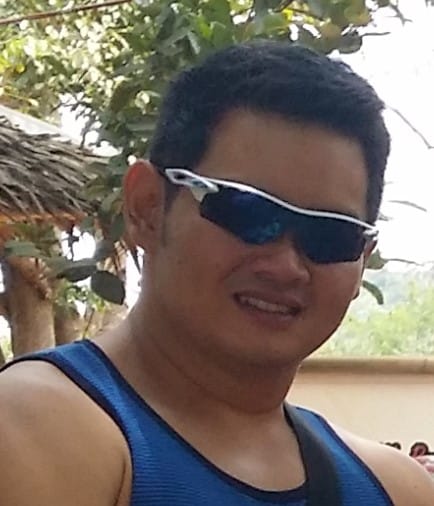 Paolo is a gaming veteran since the golden days of Doom and Warcraft and has been building gaming systems for family, friends, and colleagues since his junior high years. High-performance monitors are one of his fixations and he believes that it's every citizen's right to enjoy one. He has gone through several pieces of hardware in pursuit of every bit of performance gain, much to the dismay of his wallet. He now works with Monitornerds to scrutinize the latest gear to create reviews that accentuate the seldom explained aspects of a PC monitor.