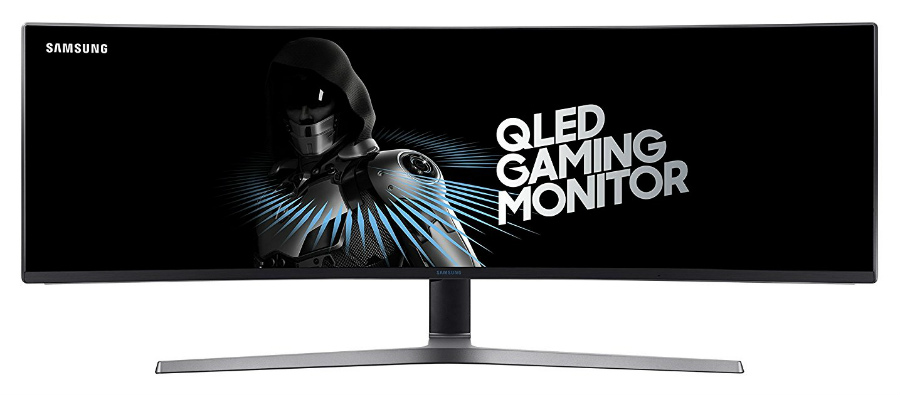 The Samsung C49HG90 and its super ultrawide form opened a new category for high refresh gaming monitors that offer an engrossing and enjoyable experience. This gorgeous VA-equipped display also comes with the firm's QLED technology for improved color representation to help with its HDR output. The 32:1 Samsung C49HG90 breaks the typical widescreen mold to offer a stunning new experience which could define the future of immersive gaming within the next few years.

Samsung C49HG90 Specifications
Screen Size: 49 Inches
Resolution: 3840 x 1080 DFHD
Aspect Ratio: 32:9
Panel Technology: Vertical Alignment (VA)
Refresh Rate: 144Hz
Response Time: 1ms MPRT (Motion Picture Response Time)
Contrast Ratio: 1000:1 (Static)
Brightness: 600 cd/m²
Stand: Height –Yes
Stand: Tilt – Yes
Stand: Swivel – Yes
VESA: Yes (100 x 100)
Connectivity: DisplayPort 1.2 x 1, Mini DisplayPort x 1, HDMI x 2, USB 3.0 x 4, 3.5mm Jack
Dimensions with Stand(WxHxD): 47.4" x 20.7" x 15"
Weight: 33.1lbs

Design and Features
The Samsung C49HG90 is a massive ultrawide monitor to behold due to its sheer width which will eat up four feet of desk space from end to end. The monitor came with a matte black chassis with clean lines and streamlined, minimalist design which somehow hides its gaming-oriented nature. The bezels are reasonably thin along with modest panel borders, but we think they would be the least of your worries when you game or view content on the 49-inch screen.
The promise of a believable, immersive experience culminates in the Samsung C49HG90. The 1800r curve envelops the user if sitting close enough, giving us the impression of viewing a narrow TV. The latter can also be considered a downside since the screen isn't much taller than a typical 24-inch display.
The equally vast stand feels very sturdy and able to support the 30-pound heft of the Samsung C49HG90. We love the matte metallic finish of this part, but it does take up more or less three feet in width and a little over a foot of depth. This mechanism provides an excellent range of ergonomics for a monitor of this size since you can adjust height, tilt, and swivel the cabinet gets.
You can remove the stand in favor of VESA mounts, although we advise against it since the curve is too sharp. At the side, the chassis' depth alone is almost 8 inches so that the Samsung C49HG90 will stick out of your wall like a sore thumb. Also, there is an LED ring on the attachment point which is called Arena Lighting that syncs with the intensity of the action on screen.
The Samsung C49HG90 carries a pleasing range of connectivity options for everyday use. Users get to choose between DisplayPort 1.2, Mini DP 1.2, and two HDMI slots for video inputs. You won't find speakers on this product, but there are four USB 3.0 ports and a 3.5mm jack for device passthrough.
Display and Performance
The Samsung C49HG90 boasts a 49-inch QLED SVA panel with a 3840 x 1080 resolution, 144Hz refresh rate, and 4ms response time which can be boosted to 1ms via MPRT. A contrast ratio of 3000:1 is specified, along with a peak brightness of 600cd/m2 which aim to support the monitor's HDR capabilities. Since this model comes with Samsung's QLED technology, a comprehensive gamut volume for maximum vibrancy can also be expected.
Tests reveal that the Samsung C49HG90 isn't perfect, but it certainly won't disappoint the meticulous. A colorimeter will reveal a near perfect representation of the sRGB color space for SDR content with a default DeltaE of 2.8 which can about to 1.15. For HDR mode, the DCI-P3 coverage hovers at 89% which is fairly comprehensive, but a bit out of range from HDR standards.
The contrast ratio is excellent, reaching up all the way to 3750:1, enabling the monitor to provide excellent color range and deep blacks. The Samsung C49HG90 includes a basic local dimming feature that goes along with this aspect, but the maximum 600cd/m2 brightness can only be reached in some circumstances or sections of the screen. However, the screen is bright enough for basic HDR entertainment, but when compared to a FALD-equipped display, the difference is night and day.
These capabilities are excellent for gritty titles like Vermintide 2 or Hunt: Showdown which both rely on dark scenes and gore to convey what they have to offer. But the real issue still lies in limited compatibilities across the OS and media we use every day. The Samsung C49HG90's HDR feature is an excellent add-on when it works, but in some scenes, the vibrancy may drop giving users a washed out image.
What's great about the Samsung C49HG90 is it isn't as prone to ghosting as other VA panels, thanks to its MPRT feature. At the Standard setting of the monitor's overdrive feature, the pixels became snappy enough to avoid persistence blur, which is always bothersome in VA monitors. The one downside of this achievement is that the backlight isn't flicker-free so that some sensitive users might experience nausea or headaches from prolonged use.
Another flaw we noticed is that the viewing angles on the Samsung C49HG90 aren't as perfect as we would like. Due to the extra sharp turn of the 1800r curvature, a slight change in angle will reveal minor color shifting. You need to find a perfectly centered angle for the display and sit in the exact middle to avoid this issue.
3840 x 1080 isn't as taxing as most would think on today's potent GPUs, so reaching the full 144Hz is doable for most people. AMD GPU users can rely on FreeSync in case the frames dip, so your games are protected from tearing at 48Hz to 144Hz. While not as impressive as models which begin at 30Hz, you can still rely on LFC to correct flaws at frames well below 20Hz.
Finally, the Samsung C49HG90 is as responsive as the best E-sports monitors out in the market. Input lag was recorded at an average of 5ms at full refresh rate or when HDR is activated. Just try to avoid using the monitor at 60Hz since the latency will increase to around 40ms which is too high even for casual gaming.
Thoughts on the Samsung C49HG90
The Samsung C49HG90 is an excellent super ultrawide gaming monitor despite its imperfections and can be treated as a notable achievement for its maker. The massive 49-inch screen immerses you with excellent color and contrast outputs, plus a certain level of HDR readiness. Gaming is a pleasure on this device, but its potential for multitasking in a professional setting also extends its true value.
Our biggest complaint about the Samsung C49HG90 would be its HDR feature that would benefit from further tuning. It isn't entirely Samsung's fault, but we have seen monitors with excellent implementations despite not reaching all of the requirements of the color standard. However, the Samsung C49HG90 is a one of a kind monitor that can satisfy your cravings for immersion and a unique visual experience in gaming.