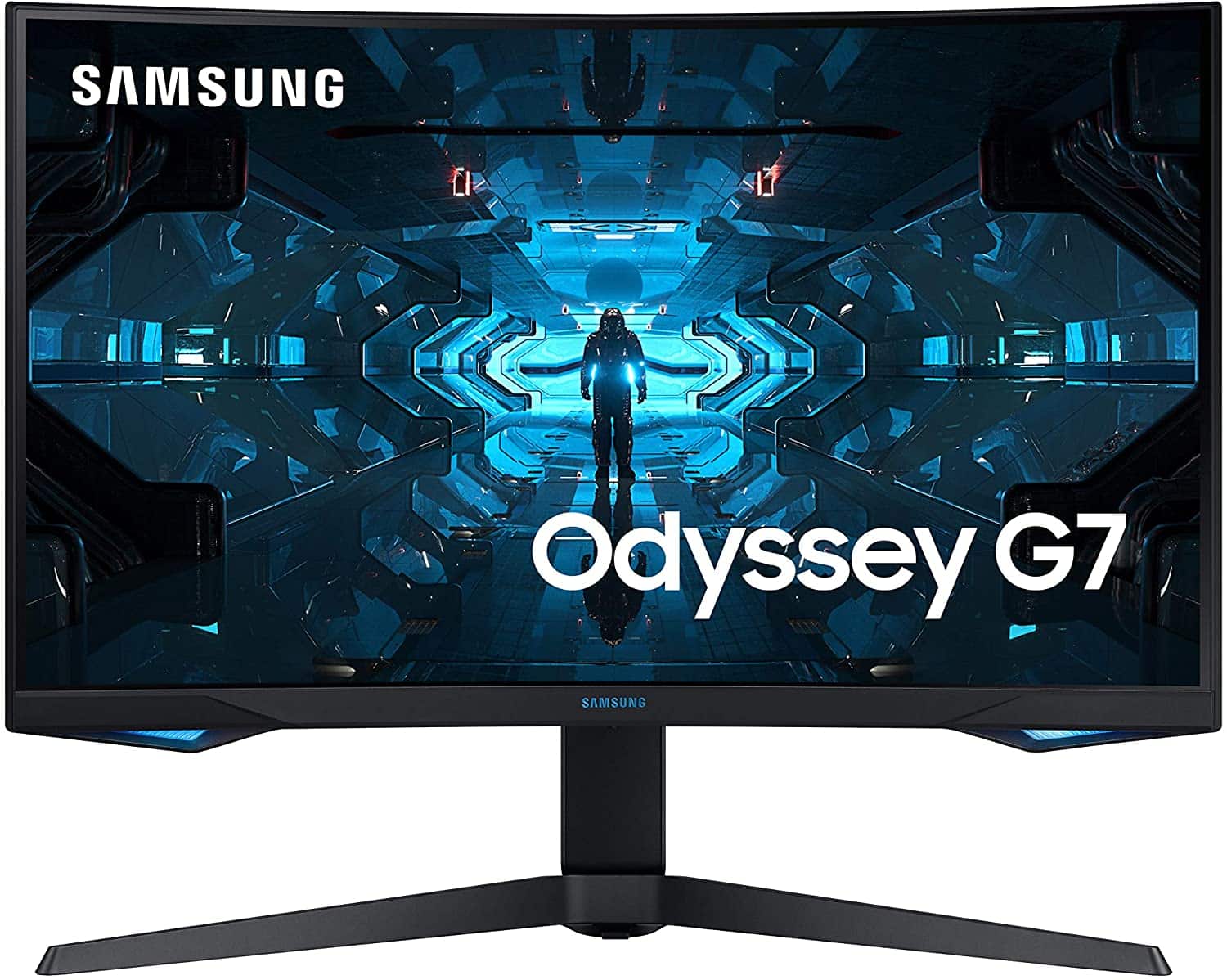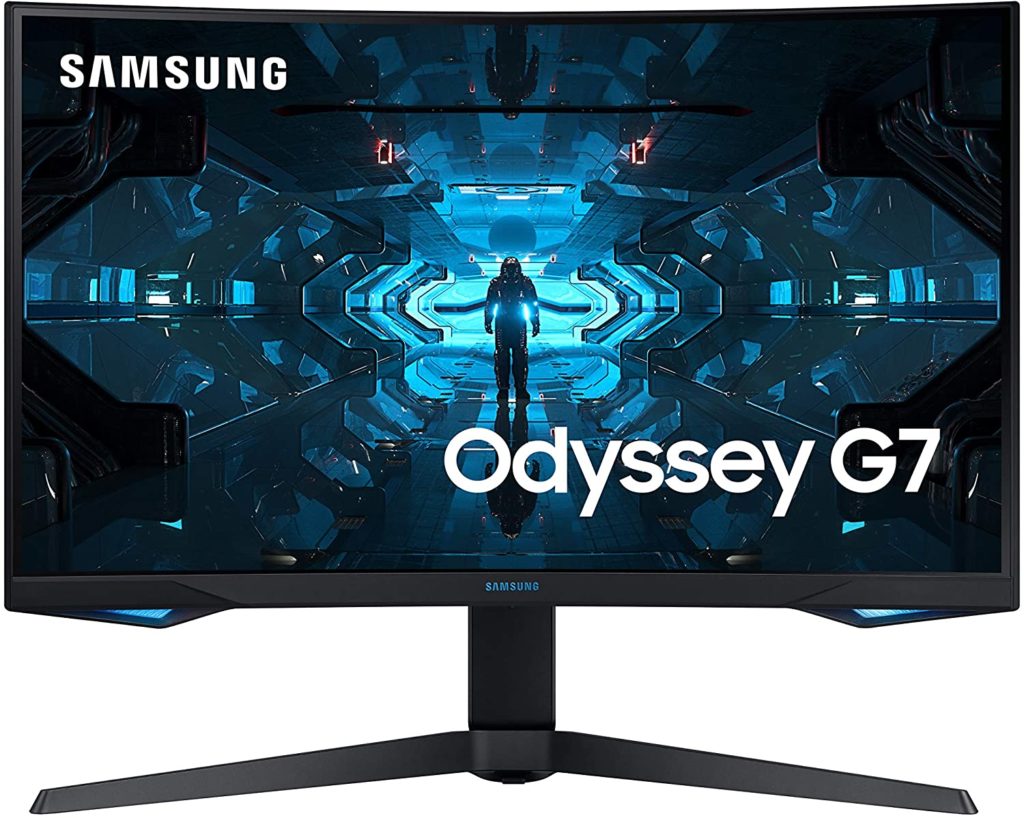 The Samsung LC32G75T is a top of the line gaming monitor that offers a brilliant gaming experience provided by its 240Hz QHD screen. We were previously stuck to 1080p if a 240Hz refresh rate is on the agenda, but this model changes that with its crisper and more detailed resolution. The Samsung LC32G75T is one of the most exciting gaming monitors of the year, so let's check out what kind of performance numbers it can pump out.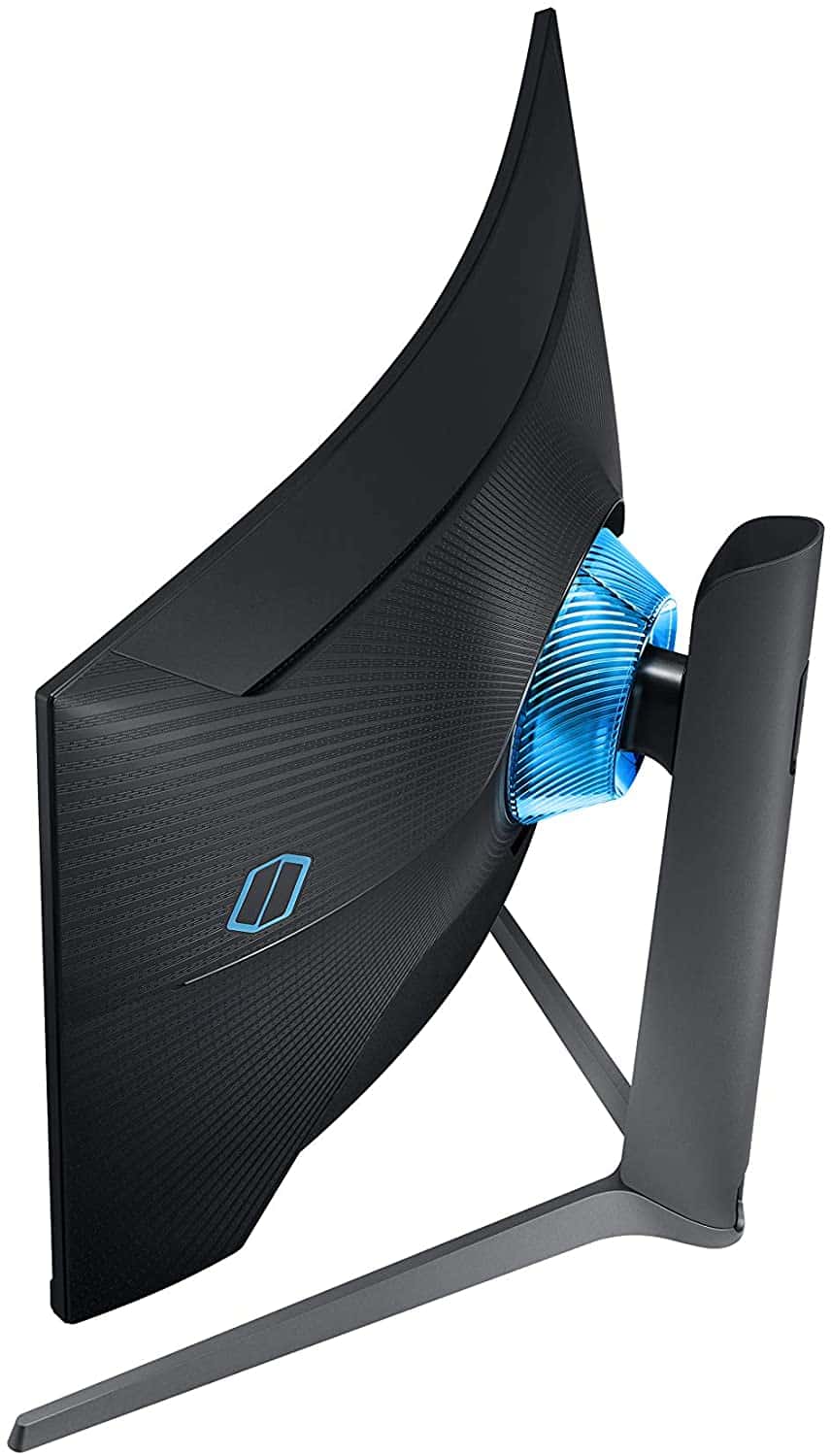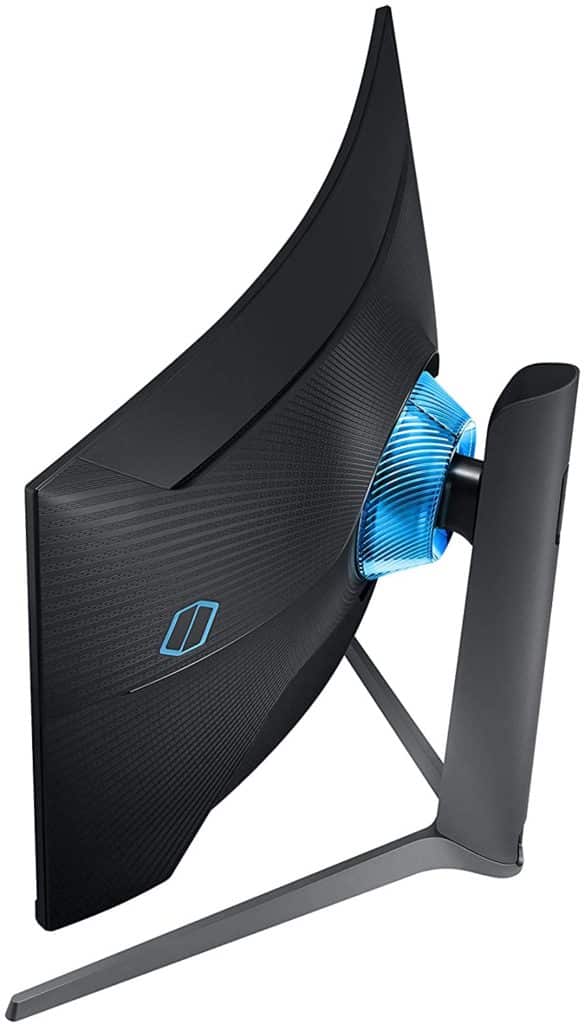 Samsung LC32G75T Specifications
Screen Size: 32 Inches
Resolution:1440p QHD
Aspect Ratio: 16:9
Panel Technology: Vertical Alignment (VA)
Refresh Rate: 240Hz
Response Time: 1ms MPRT
Contrast Ratio: 2500:1
Brightness: 350 cd/m²
Built-in Speakers: No
Stand: Height – Yes
Stand: Tilt – Yes
Stand: Swivel – Yes
Stand: Pivot – Yes
VESA Compatibility: Yes 100 x 100
Connectivity: DisplayPort 1.4x 2, HDMI 2.0 x 1, USB 3.0 x 2, 3.5mm x 1
Dimensions With Stand(WxHxD): 27.96″ x 18.69″ x 12.04″
Weight: 18.08 lbs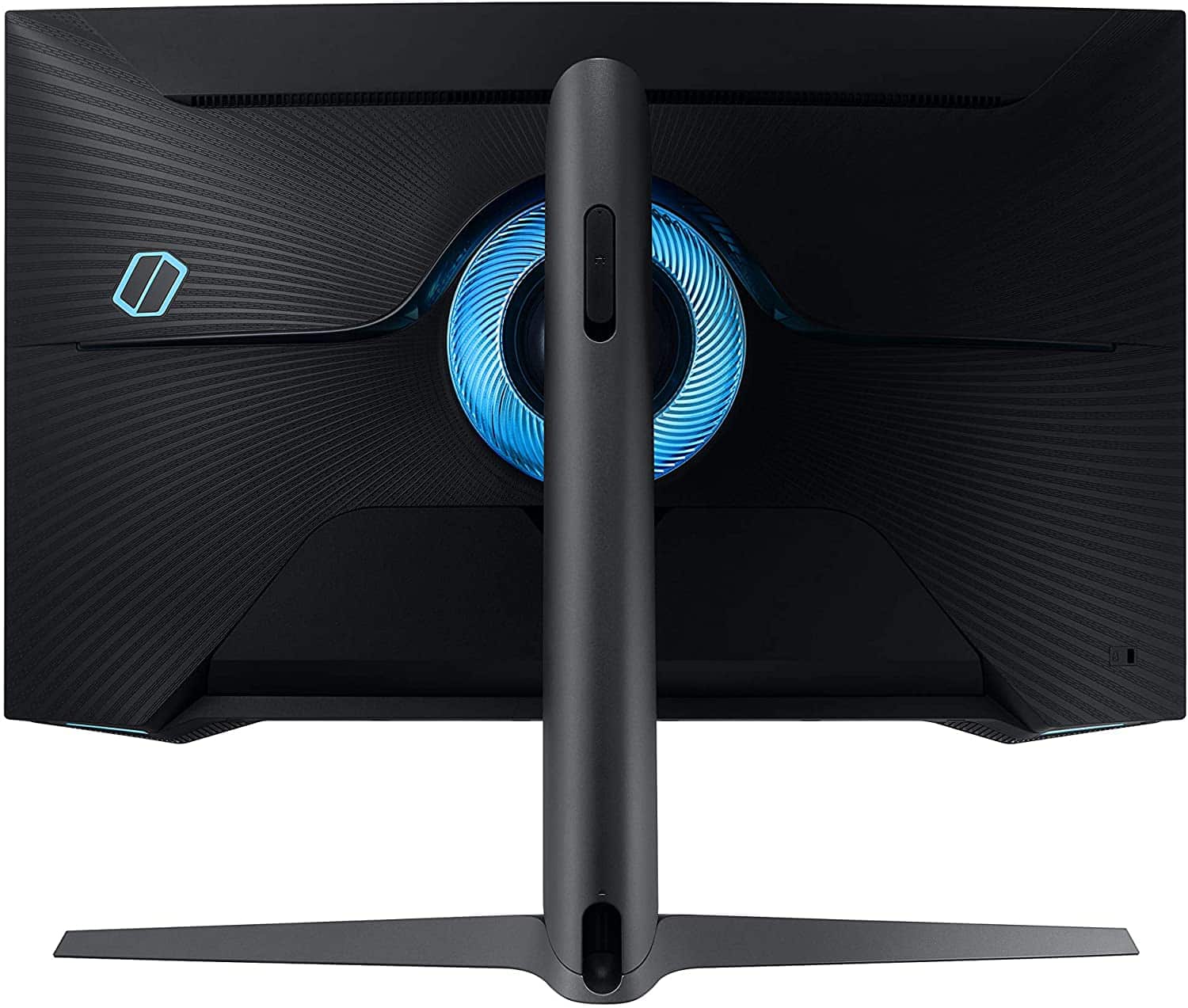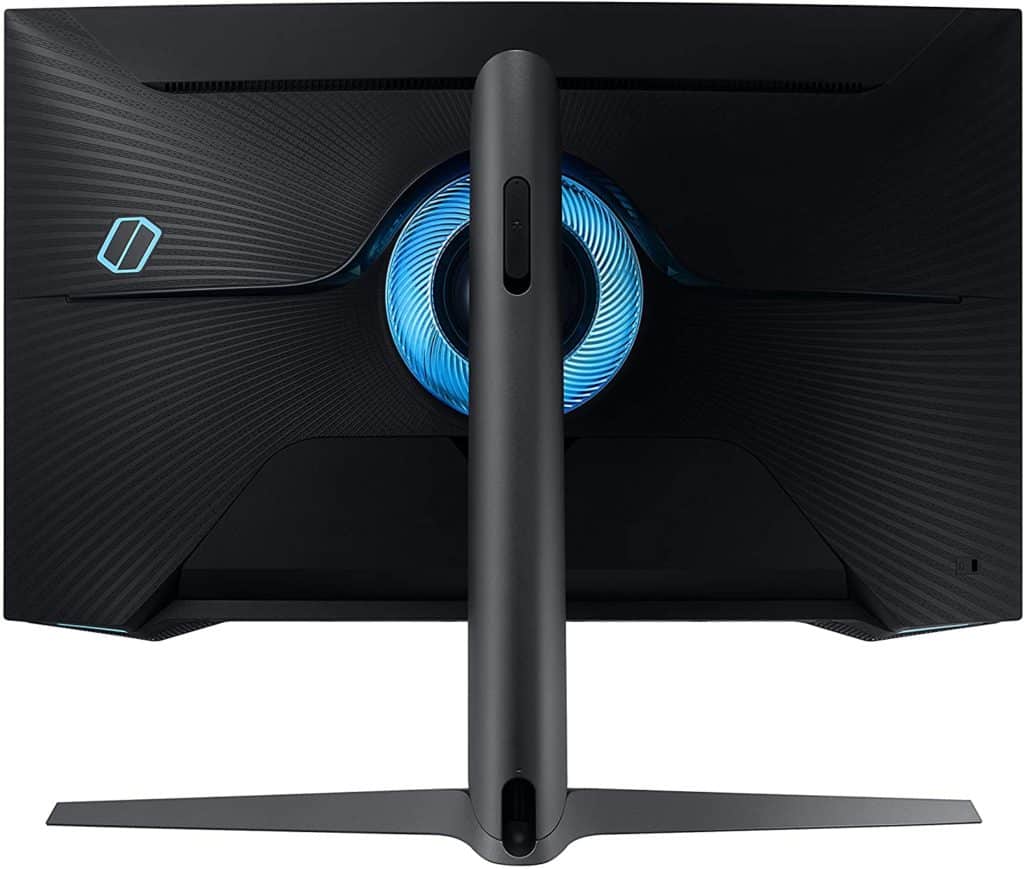 Design and Features
The Samsung LC32G75T doesn't look too different from the brand's previous models like the C32GH70, but its aesthetic updates make it even more attractive in today's market. The chassis has a matte black finish with a combed carbon fiber-like texture at the rear that is sexy and sophisticated at the same time. The display is bezel-free on three sides, but you will still see inner borders when it's powered on.
It is obvious that the Samsung LC32G75T is a massive monitor due to its 32-inch diagonal and deep 1000r curvature. The device needs a foot of depth on your desk, but its width and height are within more reasonable limits. It's also quite heavy at 18.08 pounds, so its not the most portable option you can get if you regularly go to LAN parties or gaming exhibits.
The Samsung LC32G75T's build quality is excellent as expected from a premium monitor offered by a top-tier brand. The plastics used feel refined and sturdy, and there are no cosmetic defects such as sharp burrs or uneven seams. The monitor stands stable once propped up on a desk, but that isn't surprising since its stand is quite huge and well-built.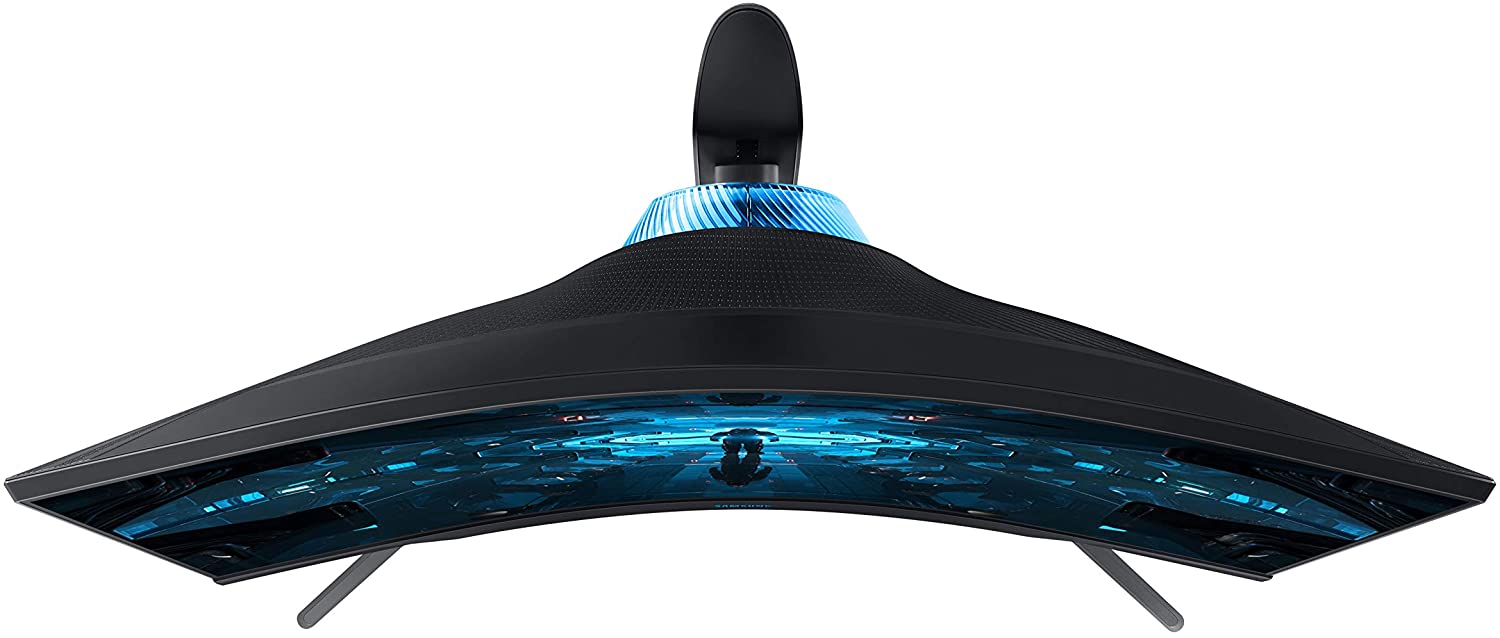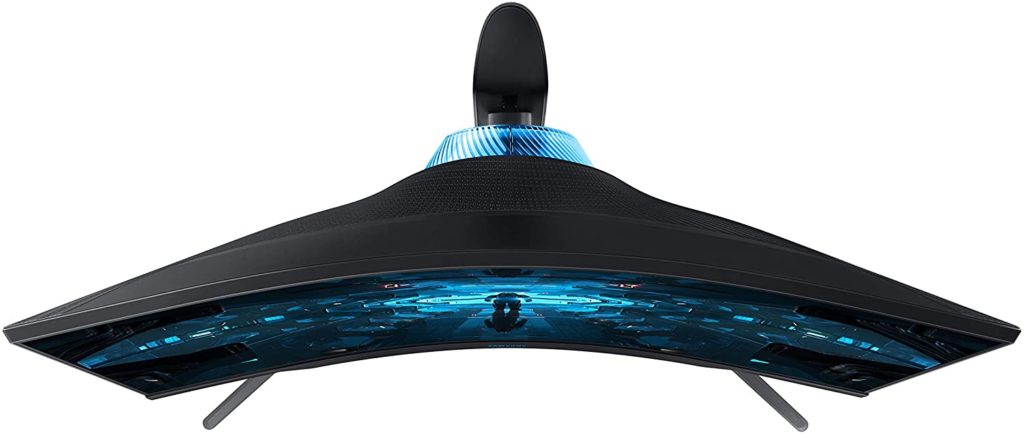 Another distinct feature of the Samsung LC32G75T is its RGB LEDs called Infinity Core Lighting located in the circular vent near the stand's attachment point. You will also find more LEDs at the bottom bezel, so creating a themed look is easier. You have to turn off your room lights for them to be fully effective, but we think it's a nice extra that games will love.
The Samsung LC32G75T has a lone joystick for all of its functions, including powering the monitor on or turning it off. Its located at the center just below the bottom bezel, so you don't have to reach out to the back to adjust something. The OSD itself is well laid out, so its almost impossible to accidentally turn off the monitor or go to a different sub-menu by mistake.
One of the most notable features of the Samsung LC32G75T is its stand which offers tilt, swivel, height adjustments, and the ability to pivot the screen to portrait mode which is rare for curved displays. But what makes it stand out is its dimensions which require a foot of depth on your stand. The middle area between the two prongs of the base is a good spot for your smaller peripherals but be wary of your desk space if you happen to use deep keyboards and large bookshelf speakers.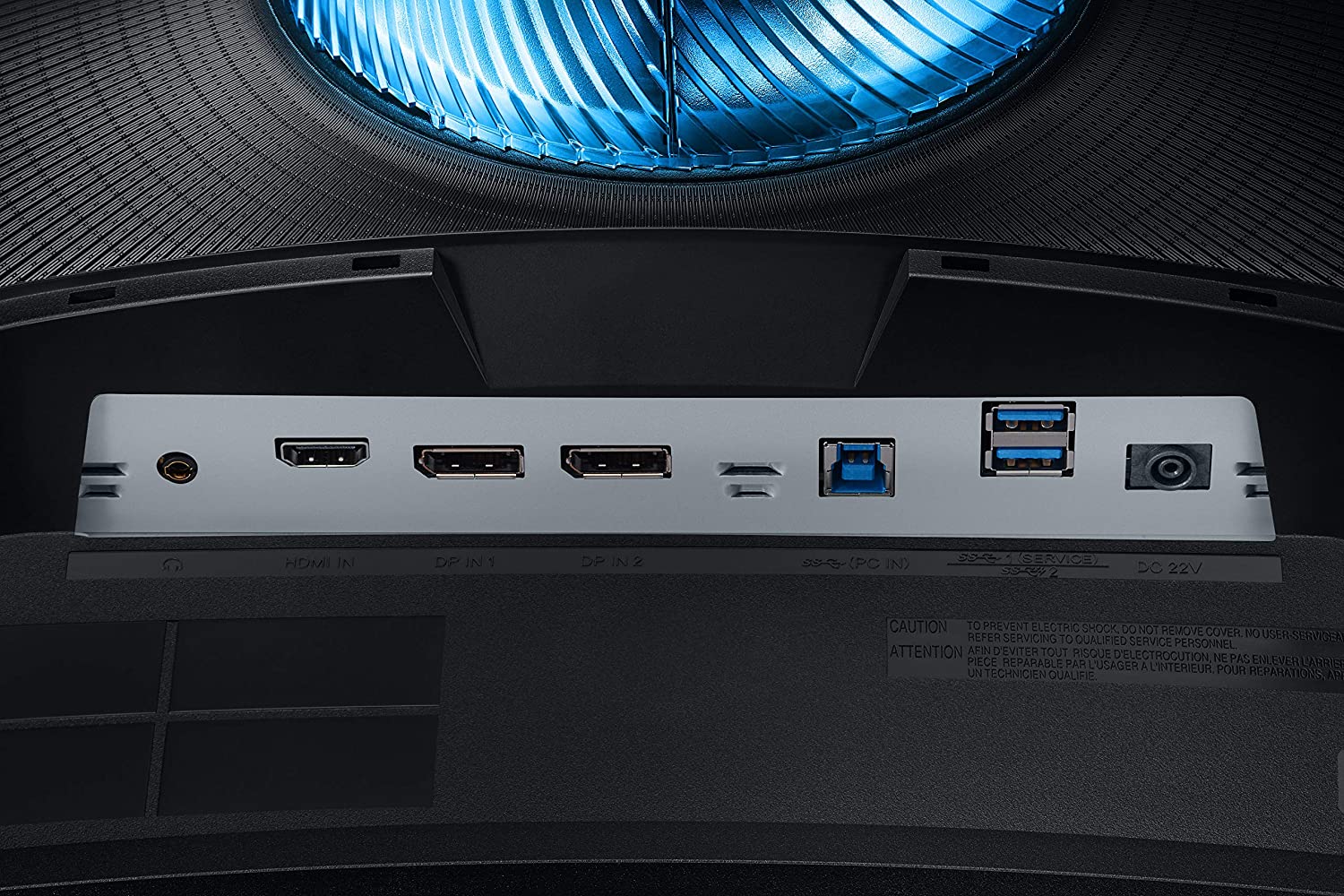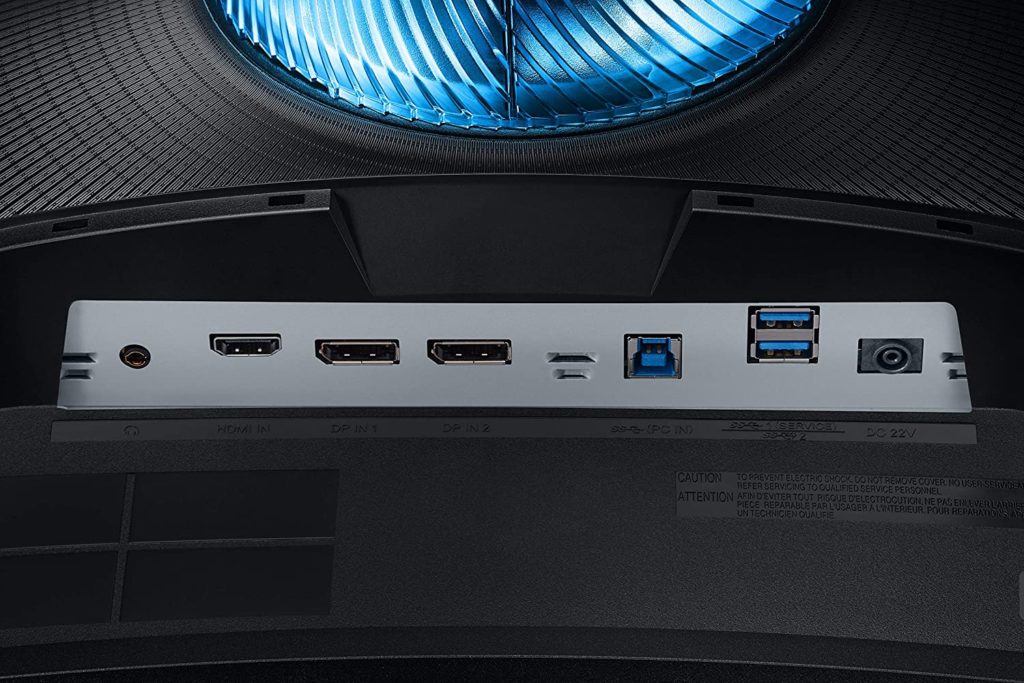 You opt for VESA mounts with this model if in case you need the Samsung LC32G75T to consume less of your table. It's also ideal for multi-monitor setups which are plausible for the monitor since its reasonably priced for what it offers while its deep curve will allow three units to wrap around your peripheral vision. However, in most cases, it isn't needed since the stand already has plenty of adjustability.
The Samsung LC32G75T, like many of the brand's models, do not have a lot of connectivity features to satisfy users with multiple host devices. The monitor includes two DisplayPort 1.4 slots and a single HDMI 2.0 slot, along with two USB 3.0 ports for convenience. There is a 3.5mm jack, but there are no speakers which would have been nice to complete the package.
Display and Performance
The Samsung LC32G75T boasts a 32-inch QLED SVA panel with a 2560 x 1440 resolution, 240Hz refresh rate, and a boosted 1ms MPRT response time. The backlight has a typical brightness of 350 cd/m2 and a 600 cd/m2 peak, along with a 2500:1 contrast ratio. This monitor is certified with VESA DisplayHDR 600 certification, so it can offer an HDR performance that is considerably better than most monitors that advertise compatibility.
The Samsung LC32G75T isn't as sharp as its smaller sibling, but you still get a higher 93 PPI compared to 1080p screens. The more or less 60% increase in screen space comes in handy in both games and productivity, while the extra pixels upgrade the clarity of images and graphics. You won't need to use scaling with this monitor, but on the other hand, you need a beefy GPU to at least try and maximize its QHD output that goes up to 240Hz.
The screen's 1000r radius is also the deepest we've seen in the market, but that's a double-edged sword for some users. It increases the immersive capabilities of the screen, but it can also make images with geometric shapes look a bit distorted. This makes the Samsung LC32G75T less ideal for CAD use or even editing, but it is great for gaming as long as you position it correctly.
The Samsung LC32G75T covers 100% of the sRGB gamut and around 80% for DCI-P3 which is great for gaming but slightly lacking when compared against the brand's advertising. Color accuracy at default sits with a deltaE average of 2.96 which isn't the most accurate we've seen, but still within acceptable limits for daily use. The color temperature is under the 6500K point, so the screen can look warm or yellowish when viewing white backgrounds.
Calibrating the Samsung LC32G75T is beneficial if you want to use it for editing as well, since using a colorimeter can reduce its dE average to around 0.92. You will also be able to correct the extra warmth of the screen and balance it out for a more pleasurable experience. Buying a colorimeter isn't necessary, and we think most can get away with a few tweaks to the backlight and the RGB controls in the OSD.
The Samsung LC32G75T can get a bit too bright in SDR, reaching as much as 340 cd/m2 when the backlight is at 100%. HDR performance, on the other hand, also misses the advertised limit since the monitor only managed a 520 cd/m2 max output. The contrast ratio for the latter reaches a superb 3900:1, but the limited local dimming and the limited illumination drops its HDR performance by a few notches.
The Samsung LC32G75T also has great panel uniformity despite its steep curve, and there are no backlight leaks on the corners. The screen doesn't have clouding issues, so blacks and grays will be displayed evenly. Take note that this can vary between every unit, so make sure that you buy from a seller that is easy to deal with if you need to return and exchange yours.
Responsiveness is also a key aspect of the Samsung LC32G75T thanks to its high refresh rate and effective overdrive feature. You will still see some persistence in fast or contrasting transitions, but that can easily be fixed using the overdrive's Faster setting. However, the maximum level isn't ideal since it will add very noticeable overshoot which is worse than the minor blurring you will see if the Overdrive function is off.
The Samsung LC32G75T is a FreeSync gaming monitor, but its also certified to work with Nvidia's G-Sync Compatible Mode. This is great since you don't have to change your monitor if you switch brands, but it's also handy now since Nvidia currently has the most powerful gaming GPUs. Input lag sits at 3ms at 240Hz, making this model one of the fastest we have seen to date.
Thoughts on the Samsung LC32G75T
The Samsung LC32G75T offers a sought after combination of speed, color vibrancy, and designs in a reasonably-priced package. The screen doesn't quite reach its ambitious imaging specifications, but it's still considerably better than other models that advertise HDR outputs. We love the design of the monitor, but you do have to take note of its size and the stand's massive footprint.
The 240Hz VA display on the Samsung LC32G75T is great for all kinds of games, but it is still prone to the limitations of VA technology. Samsung solved this with a capable overdrive feature, so its not something to worry about. The monitor is still quite expensive at $650 at the time of this review, but that's a small price to pay for a piece of tech that is future-proof and will be viable for high-end gamers for quite some time.
Pros:
Beautiful Modern Design with RGB
Good Gamut Coverage
Fast and Responsive
FreeSync/G-Sync Compatible
Very Low Input Lag
Cons:
Expensive
Tilt and Swivel Range are Limited
No USB-C
Factory Calibration Could be Better
HDR Performance Slightly Underwhelming
 -About the Author: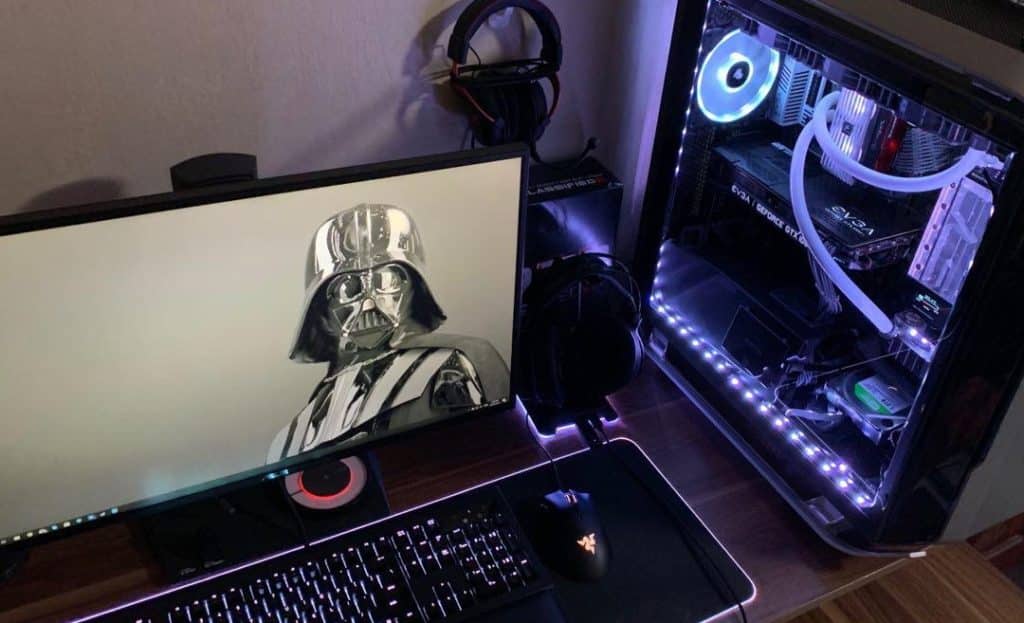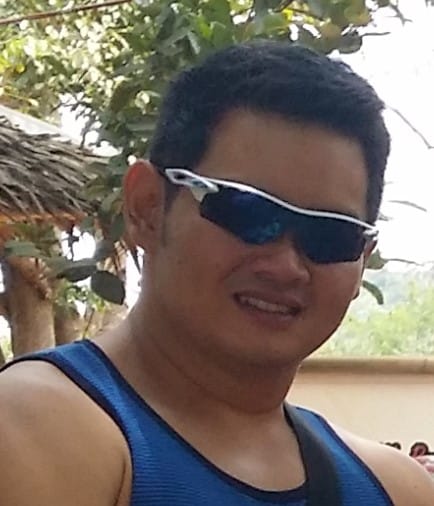 Paolo is a gaming veteran since the golden days of Doom and Warcraft and has been building gaming systems for family, friends, and colleagues since his junior high years. High-performance monitors are one of his fixations and he believes that it's every citizen's right to enjoy one. He has gone through several pieces of hardware in pursuit of every bit of performance gain, much to the dismay of his wallet. He now works with Monitornerds to scrutinize the latest gear to create reviews that accentuate the seldom explained aspects of a PC monitor.