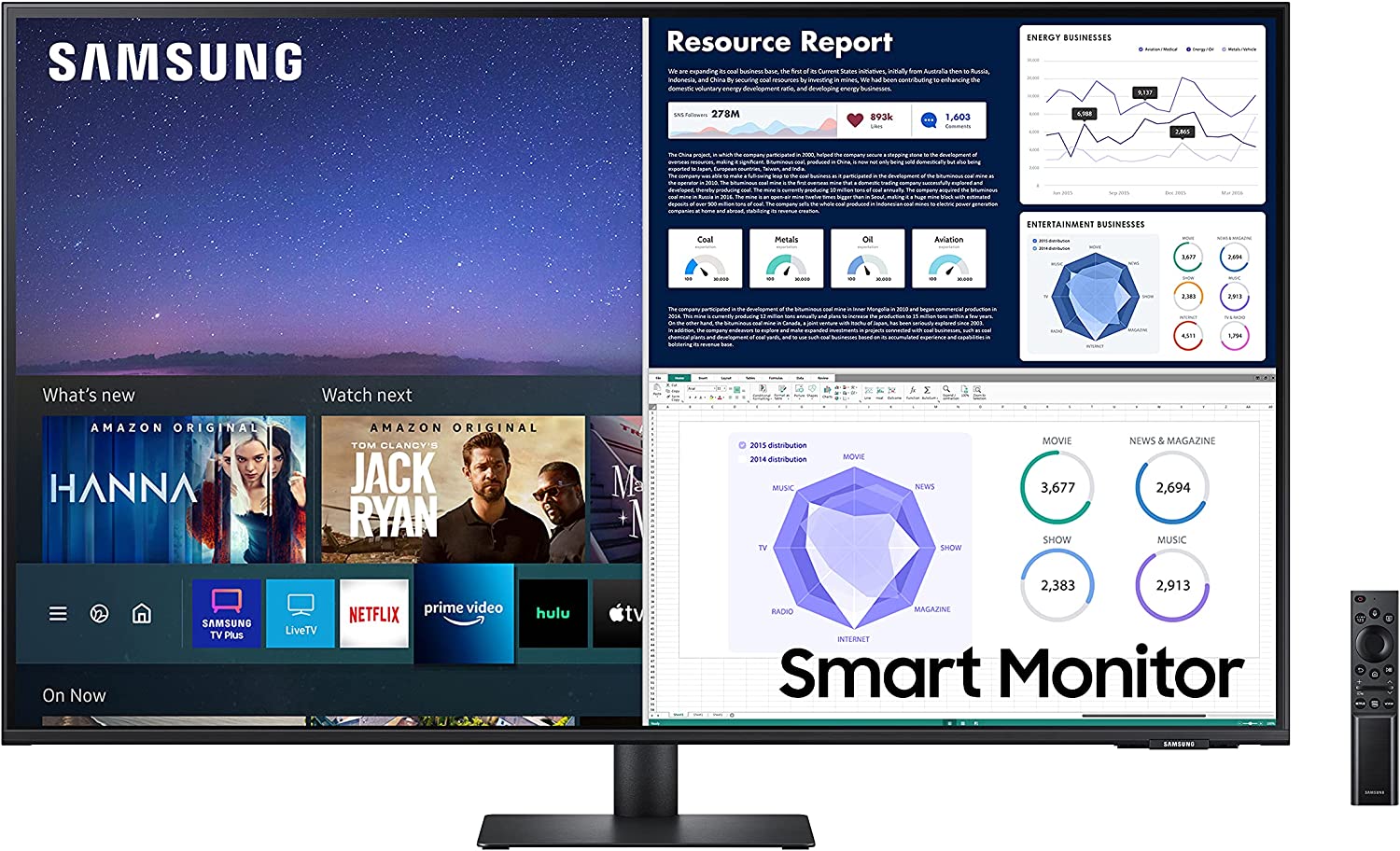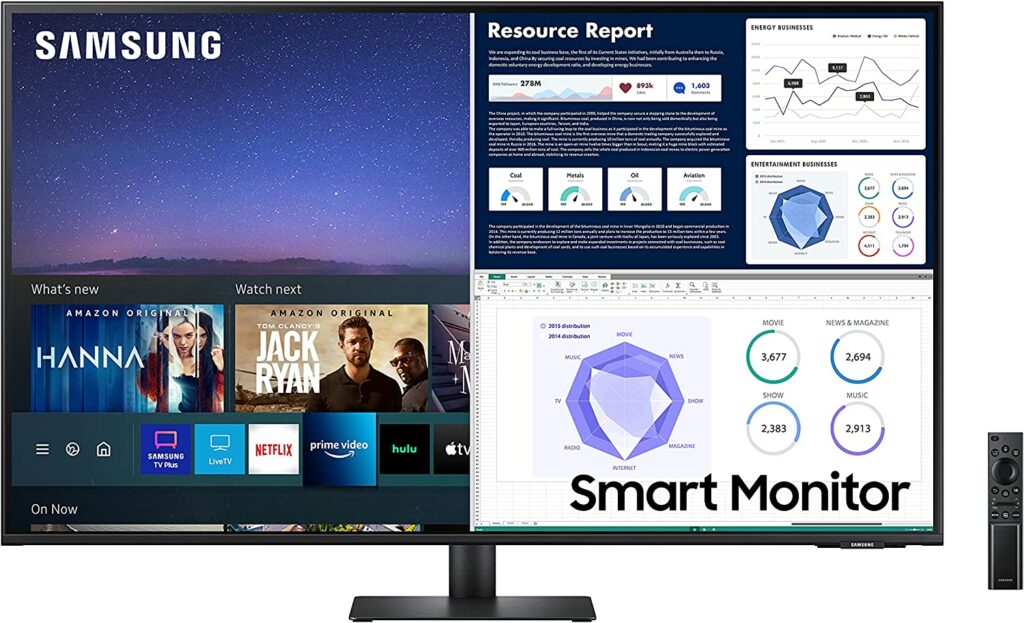 The Samsung M7 43AM70A combines desirable desktop monitor features with the capabilities of a Smart TV for better flexibility and value. It's a little complicated to use, but it's a handy device that can unify your tasks and entertainment time in a single package. Let's take a closer look at the Samsung M7 43AM70A to know if it's a good deal at its current price point.

Samsung M7 43AM70A Specifications
Screen Size: 43 Inches
Resolution:3840 x 2160UHD
Aspect Ratio: 16:9
Panel Technology: Vertical Alignment (VA)
Refresh Rate: 60Hz
Response Time: 8ms
Contrast Ratio: 5000:1
Brightness: 300 cd/m²
Built-in Speakers: Yes (2 x 5 Watts)
Stand: Height – No
Stand: Tilt – Yes
Stand: Swivel – No
Stand: Pivot– No
VESA Compatibility: Yes (200 x 200)
Connectivity: HDMI 2.0 x 2, USB-C PD65W x 1, USB 2.0 x Bluetooth and WiFi5 Wireless
Dimension With Stand (WxHxD): 38″ x 24.5″ x 9.7″
Weight: 23.4 lbs

Design and Features
The Samsung M7 43AM70A sports a very simple design, so it can appear as an oversized office monitor to those who are used to flashy variants. This model only comes in black, unlike the M8 which is available in a variety of pastel colors. The display isn't completely bezel-free, but the borders look thin and unnoticeable due to the size of the screen.
It's a very large monitor, so it would be wise to measure your desk space first before even thinking of pulling the trigger. It's 38 inches wide so it will displace large peripherals like bookshelf speakers if you don't have enough room. It's light for its size at 23.4 pounds, but it would still be wise to ask for help in setting it up.
Its build quality is decent since there were no cosmetic defects or signs of weaknesses due to cheap materials. The plastic panels have a bit of flex because of their size, but that doesn't mean that they are thin and prone to cracking or deforming. The stand can keep the massive cabinet upright, but there is a slight wobble if you nudge the screen in the wrong spot.
The Samsung M7 43AM70A has a unique control layout since it only has a remote instead of having a joystick or button layout like other models. The remote itself is quite special since it can be charged via USB-C or with solar power using its built-in photovoltaic cells. The device itself still has a dedicated power button that doubles as a basic OSD button, but it can only control volume and switch inputs.
The stand included with the package only offers tilt, so the monitor is as stiff as the brand's TVs when it comes to ergonomics. That's fine since the monitor is quite big, but adjustability is always important to guarantee a comfortable viewing experience. You can use VESA mounts with 200 x 200 bolt patterns, but that's an additional expense if you don't already have one.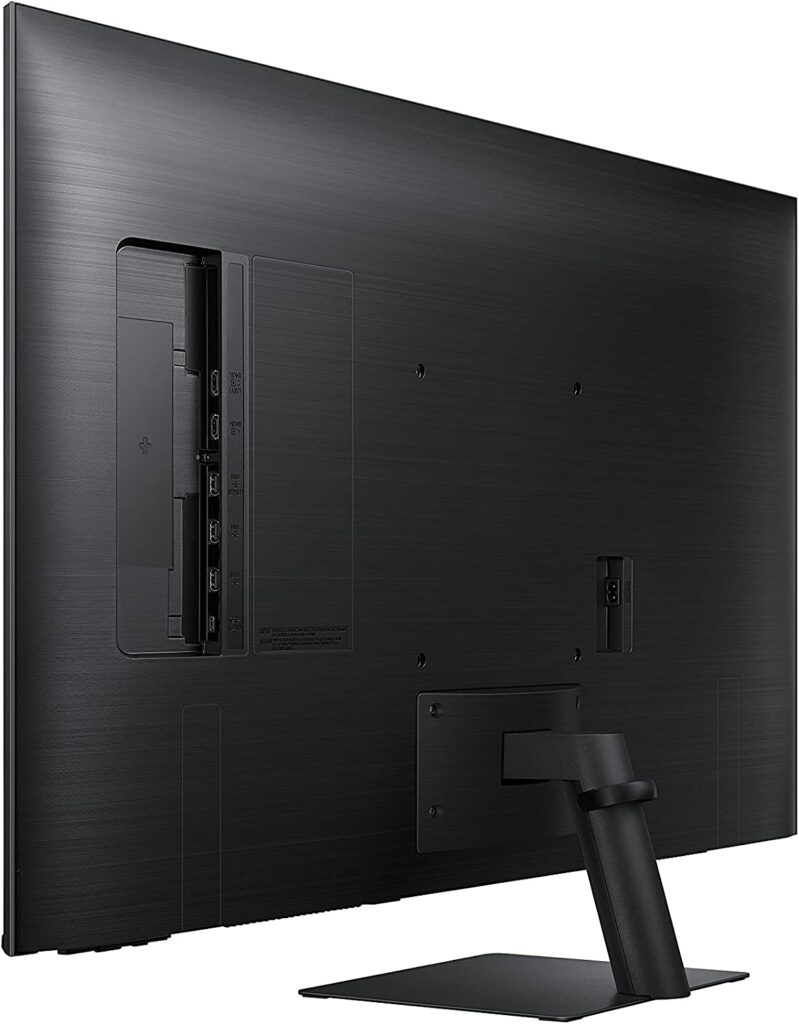 We have mixed feelings about the Samsung M7 43AM70A's connectivity layout since it has some nice upgrades while missing some essentials. It has a 65-watt USB-C port with DP Alt Mode and two HDMI 2.0 ports, but it doesn't have DisplayPort which is commonly used for PCs. It also has three USB 2.0 slots, WiFi, and Bluetooth wireless connectivity, but it doesn't have a 3.5mm jack for speakers.
It also has a pair of 5-watt speakers which should go well with its Smart TV features that lets you basically use it as a streaming platform. However, the pair doesn't have the necessary power or depth that's necessary for a good entertainment experience. Your only other option is using Bluetooth, but it has a delay so it is not advisable as well.
Display and Performance
The Samsung M7 43AM70A boasts a 43-inch VA panel with a 3840 x 2160 resolution, a 60Hz refresh rate, and an 8ms response time. Its backlight has a 300 cd/m2 output while the contrast is listed at an elevated 5000:1. This model doesn't have HDR certification, but it is compatible with HDR10 so it can process HDR videos as best it could.
4K obviously isn't as sharp with this model since it's quite big, but the higher pixel count is still there. That means images and video will look cleaner and more detailed plus you get more room to work with so multitasking will be a breeze. it requires more GPU horsepower for games, but 60Hz is doable for a lot of modern systems nowadays.
The Samsung M7 43AM70A renders 100% sRGB and 90% DCI-P3 for great vibrancy in any type of use. it's not accurate out of the box with a deltaE average of 2.97, but that's still acceptable for media consumption and gaming. Most users will be satisfied with it unless they have a better display with the same gamut next to this monitor.
Calibrating it reduced the dE average to 0.66, making it suitable for color-critical work like editing or content creation. However, you will need a colorimeter to achieve the same improvement since copying ICC profiles or settings cannot guarantee the same due to panel differences. The gadget itself isn't cheap, so we can only recommend getting it if you will use this monitor for work.
The Samsung M7 43AM70A's backlight reached 302 cd/m2 at 100% so it has a decent range of adjustment. Its contrast reached 3105:1 at 70% brightness, allowing it to render deep blacks and rich colors. It's great for movies or videos due to its combination of great contrast and rich colors so it's a good buy if you are after its Smart features with streaming capabilities.
Panel uniformity for the sample was great overall since there were no massive light leaks that will cause clouding. There is some variance in the backlight's spread, but it's only noticeable when the screen is in all black. Note that this can change with every unit made due to tolerances in the manufacturing process so there are worse and even better units out there.
The biggest weakness of the Samsung M7 43AM70A is its pixel response time which is a bit slower than some VA monitors we've tested. It's decent enough for movies, but fast-paced scenes and transitions will reveal smudges and ghosting. Setting the overdrive beyond its Standard level will induce overshoot so it is unusable in solving this limitation.
The Samsung M7 43AM70A also has its own OS and smart system so you can use it independently to stream movies or browse the internet. It works just like a regular Smart TV, although its streaming services need to run via a WiFi network. It's a bit complex to use, but it is very handy once you get the hang of it.
Our biggest pet peeve with the Samsung M7 43AM70A is it's not compatible with FreeSync or G-Sync. It's not a dedicated gaming monitor, but the flexibility it trying to sell also covers that category. Input lag sits at 11ms at 60Hz so you won't see and feel delays or sluggishness during any type of normal use.
Thoughts on the Samsung M7 43AM70A
The Samsung M7 43AM70A is a great value pick if you want to make the most out of every square inch of screen space. It's a decent and affordable 4K monitor for daily use, but it's also basically a Smart TV on one side. We think it's a better pick than its smaller variant simply because the larger screen will be better when it's used for movies or streaming.
However, it's far from perfect since it lacks a few essentials like DisplayPort and a 3.5mm jack for external speakers. Its built-ins aren't good, so your only option is to use a PC's sound output or resort to laggy audio via Bluetooth. However, it presents incredible value compared to something like the Dell U4320Q which costs twice or more in the market.
Pros:
Affordable 43-Inch 4K Monitor
Great Colors and Contrast
Excellent Remote
Usable Smart Features
Cons:
No Adaptive Sync
Tizen OS is Confusing to Use
Prone to Blurring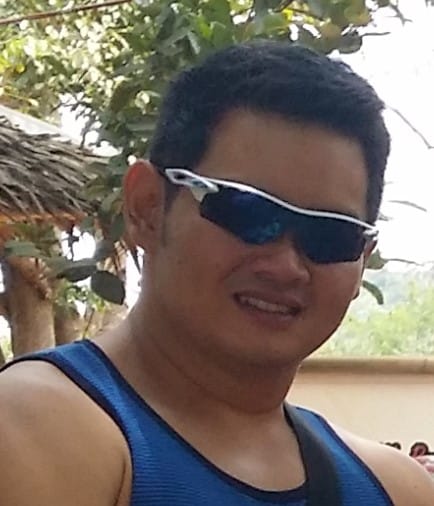 Paolo is a gaming veteran from the golden days of Doom and Warcraft. Since junior high, he has been building gaming systems for family, friends, and colleagues. High-performance monitors are one of his fixations; he believes that every citizen's right to enjoy one. He has gone through several pieces of hardware in pursuit of every bit of performance gain, much to the dismay of his wallet. He has also spent half a decade researching, reviewing, and writing about these products and now has over 1400 articles about the best gaming tech under his belt.