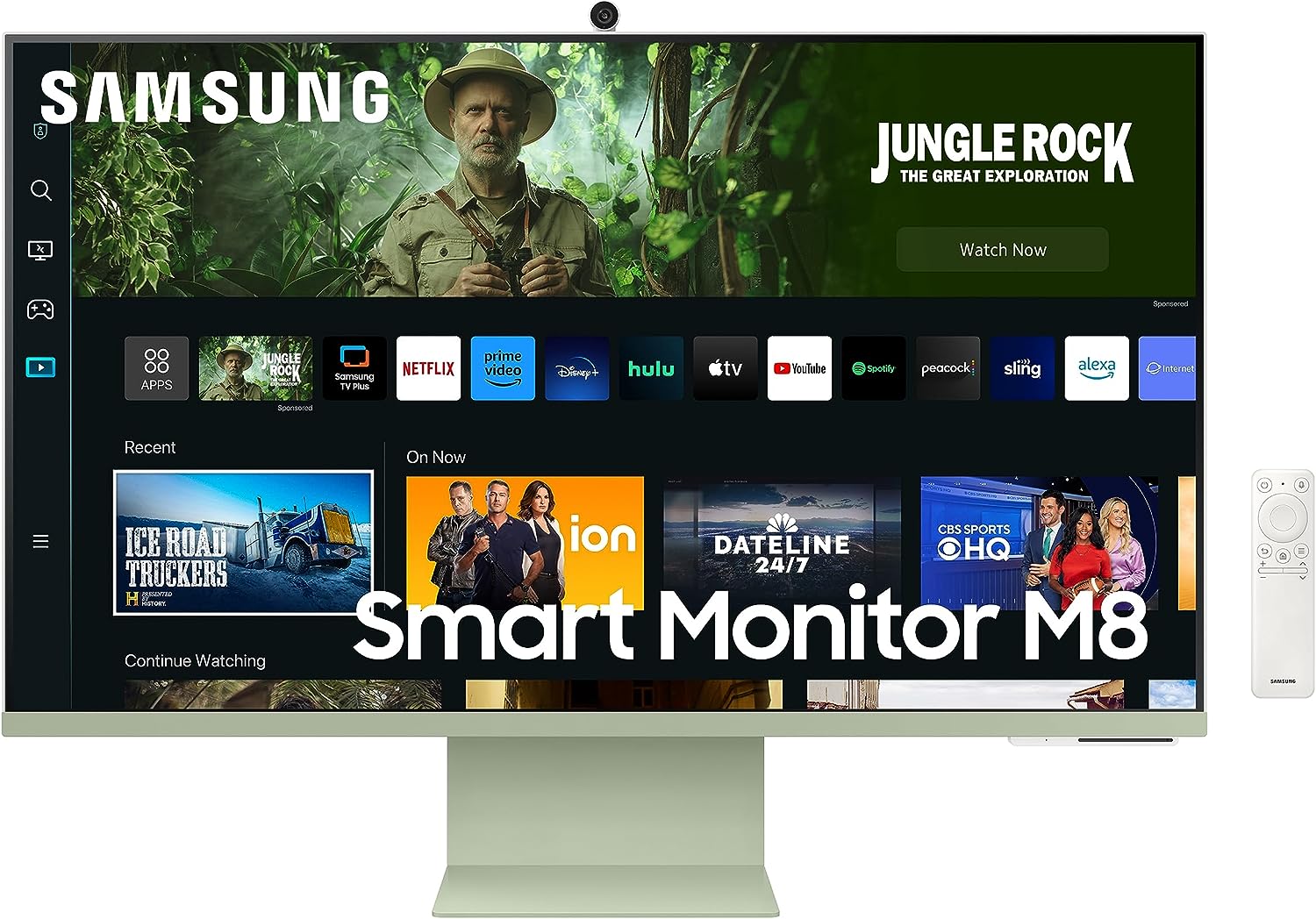 The Samsung M8 S32CM80 combines smart TV features with a 4K monitor that's designed to be a viable daily driver. It seeks to improve on the S32BM80, which looked like a premium display but left something to be desired in the performance department. Let's see if the 2023 version has more to offer per dollar spent versus the sea of mixed-use 4K displays out there.

Samsung M8 S32CM80 Specifications
Screen Size: 28 Inches
Resolution: 3840 x 2160 4K
Aspect Ratio: 16:9
Panel Technology: Vertical Alignment (VA)
Refresh Rate: 60Hz
Response Time: 6ms
Contrast Ratio: 3000:1
Brightness: 400 cd/m² (470 cd/m² Peak)
Built-in Speakers: Yes (2.2 Channel)
Stand: Height – Yes
Stand: Tilt – Yes
Stand: Swivel – No
Stand: Pivot– Yes
VESA Compatibility: Yes (100 x 100)
Connectivity: Micro-HDMI 2.0 x 1, USB-C PD65W x 1, USB-C x 1, 3.5mm Audio Jack x 1
Dimensions: (W x H x D): 28.09" x 19.53" x 7.88"
Weight: 15.87 lbs

Design and Features
The Samsung M8 S32CM80 didn't see any major changes to its design, but that's fine since it already looks quite good. The monitor is available in warm white, spring green, sunset pink, and daylight blue, allowing users the freedom to choose which best matches their theme. The display has thin bezels, but it still has inner borders like most monitors.
It is larger than most monitors, but it's still a regular 16:9 display, so it should still fit nicely on common desks. It only needs 7.88 inches of depth, plus its base is thin and flat, so it can slipper under some of your peripherals with ease. The device weighs 15.87 pounds, but that's still manageable for its size class.
Its build quality isn't the best since the plastics used feel thinner and less premium. However, it looks clean and sophisticated at a balance, even if it doesn't incorporate metallic accents. The base also looks great since its very slim, but it can wobble if you touch the screen or nudge it accidentally.
The Samsung M8 S32CM80 only has a power button at the back, but it does have a remote control for easy access. It has shortcuts for popular streaming services, along with a mic that works with smart ecosystems like Alexa. It uses a battery, so that's an added hassle to maintenance, but it's worth dealing with since remotes are way more convenient.
The stand included with the package offers tilt, pivot, and height adjustments for your comfort. It's easy to get a comfortable viewing angle even If you can't angle the screen to the left and right. You can use VESA mounts, but it is only necessary in select instances.

The biggest issue with the Samsung M8 S32CM80 is its connectivity layout which makes it more of a TV than a computer display. You only get an HDMI port and two USB slots, limiting its overall functionality and flexibility. We'd like to see DisplayPort with it at least, although HDMI still works fine for PC use.
It also has a built-in webcam and speakers, which makes it usable for work from home and as a standalone TV. The camera is decent, while its microphone isn't the best, but it is still nice to have since you don't have to spend more to get a remote work setup running. The speakers aren't entertainment-grade, butt hey are decent for watching shows or streaming videos.
Display and Performance
The Samsung M8 S32CM80 sports a 32-inch VA panel with a 3840 x 2160 resolution, a 60Hz refresh rate, and a 6ms response time. The backlight has a 400 cd/m2 output and a 470 cd/m2 peak, while the contrast is listed at 1000:1. We didn't see HDR certification on its spec sheet, but it's HDR10 compatible.
4K is more comfortable at 32 inches, although the 2023 M8 series also includes a smaller 27-inch model. The pixel density won't be too tight for some users, so scaling isn't necessary for browsing or office work. It is great for games and movies, but you need a more powerful system for the former.
The Samsung M8 S32CM80 covers 100% sRGB and 87% DCI-P3, so it can present rich and well-saturated images. Its default accuracy had a deltaE average of 5.44, making it one of the worst monitors we've seen in this regard. Most users won't notice the difference, although the error will be noticeable if you used a better-tweaked display before it.
Calibrating it only improved the dE average to 3.13, so it is still unusable for color-critical work. It looks more balanced this way, but you need a colorimeter to help achieve it. However, we don't recommend getting it since it won't be able to drop the screen's errors to an acceptable degree.
The screen's backlight reached 451 cd/m2 in SDR, and it peaked at 481 cd/m2 when its HDR mode was active. The screen's contrast reached 4266:1 at 30% brightness, enabling it to produce deep blacks. You only need local dimming to make it great for HDR imagery, but that would exponentially raise its price.
Panel uniformity for the sample was great since there were no considerable light leaks and clouding issues. There is some variance in the backlight's spread, but it was not enough to become a nuisance. Note that this can vary between every unit made due to tolerances, so there are worse ones out there.
The Samsung M8 S32CM80's pixel response time is its Achilles heel since it is not fast enough to prevent blurring and persistence. Setting the overdrive beyond its Standard setting did not help since doing so only added overshoot. Casual games and movies won't be as affected, but you are bound to notice it at one point if you look closely enough.
Another missing essential for the M8 monitors is Adaptive Sync. It's not compatible with both FreeSync and G-Sync, so you have to be crafty in keeping the framerate stable to avoid tearing and stuttering. Its input lag sits at 10ms at 60Hz, so it's still faster than most 4K TVs in the market.
Thoughts on the Samsung M8 S32CM80
The Samsung M8 S32CM80 is a great pick if you want a more flexible option than just a simple desktop monitor. The smart features and webcam will come in handy for work and entertainment, so it is a unique option for practical PC users. It also includes a remote for convenience, so you are getting a well-designed device for your money.
However, it is not exactly cheap and free from flaws like a slower pixel response time or its lack of connectivity options. It goes to show that you will exchange some staples for special features in order to regulate the price of a specific product. It's a decent pick overall, but some might consider the omissions as a deal breaker.
Pros:
Fantastic Contrast
Webcam and Smart Features
Unique and Attractive Design
High Brightness
Cons:
Prone to Blurring
Dismal Color Accuracy
Expensive
About the Author: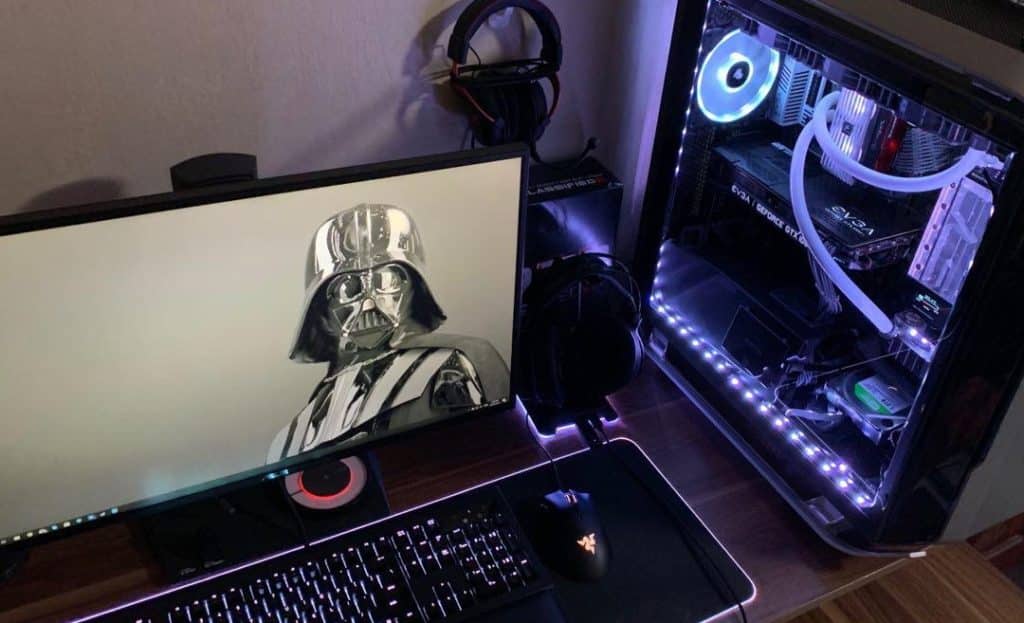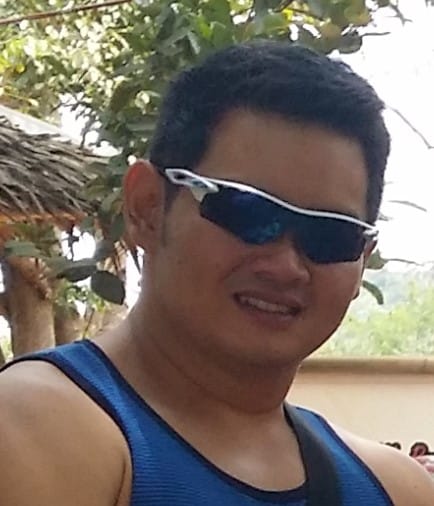 Paolo has been a gaming veteran since the golden days of Doom and Warcraft and has been building gaming systems for family, friends, and colleagues since junior high. High-performance monitors are one of his fixations; he believes that every citizen's right to enjoy one. He has gone through several pieces of hardware in pursuit of every bit of performance gain, much to the dismay of his wallet. He now works with Monitornerds to scrutinize the latest gear to create reviews that accentuate the seldom explained aspects of a PC monitor.