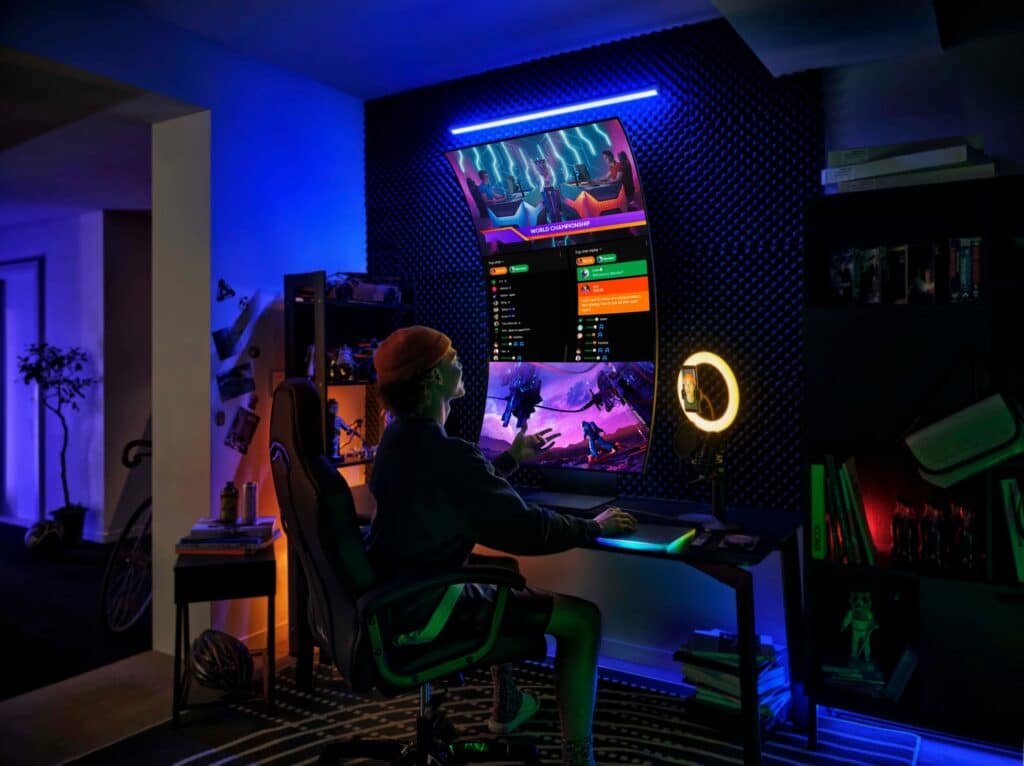 The Samsung Odyssey Ark which popped up at CES 2022 is finally available for pre-order with the first batch arriving next month. It is an intriguing $3500 4K gaming monitor with a "Cockpit Mode" that aims to help immerse play evolve. Theirs is no official date, but one participating retailer has leaked that it will ship by the 12th of next month.
Samsung Odyssey Ark – Tale of the Tape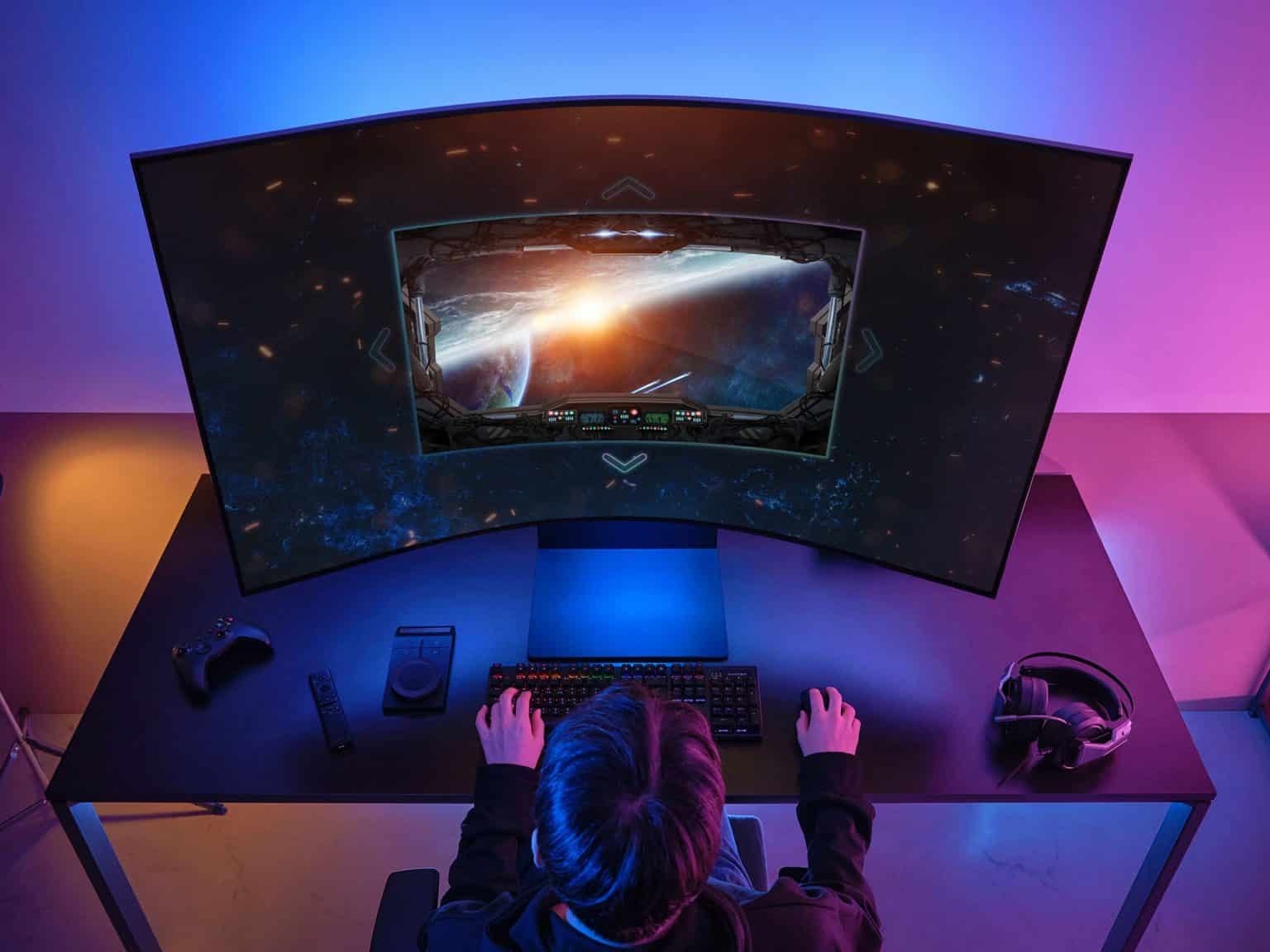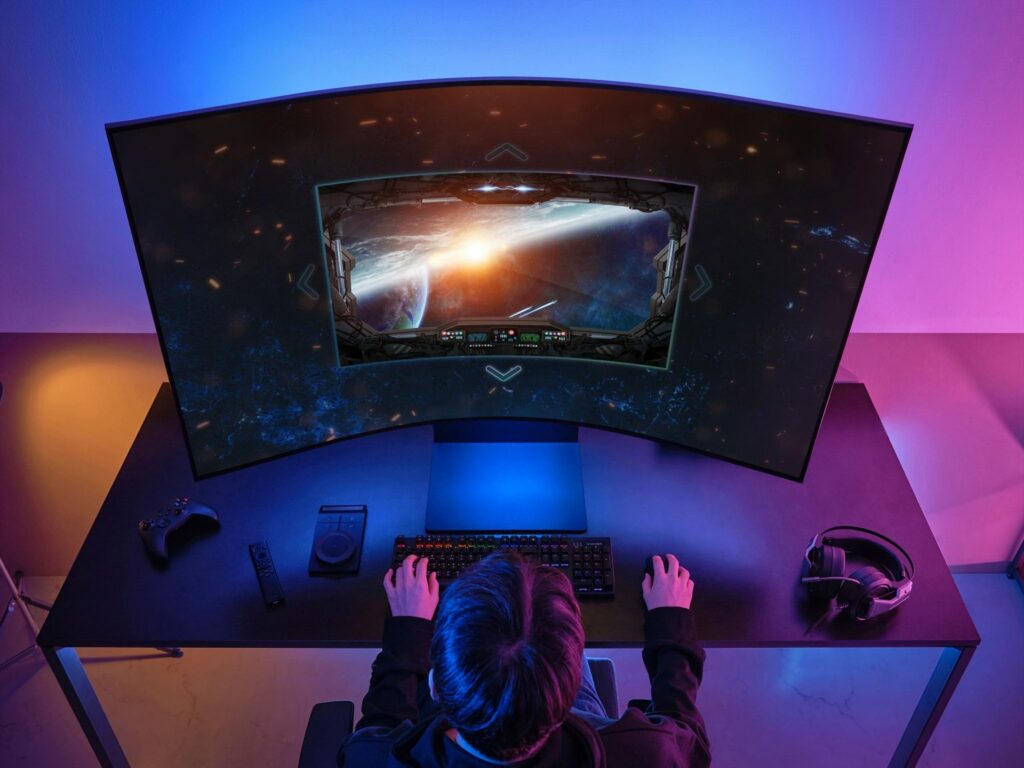 The Samsung Odyssey Ark is a massive, 55-inch 4K gaming monitor with a 1056-zone Quantum Mini-LED panel for stunning HDR performance. It's also one of the few that offers an overclocked refresh rate since it can go up to 165Hz, unlike previous models that were tied down to 120Hz and 144Hz. It has a 1000r curve radius like the other Odyssey gaming monitors for enhanced immersion.
The unique feature of the Samsung Odyssey Ark is its stand which lets you pivot the screen to use its cockpit mode. Take note that it's the first monitor of this size to provide that much rotation for portrait mode. It's an enticing feature, although we don't know how it will translate to gaming since all current titles were meant to be played in landscape mode.
It also has a dedicated remote called the Ark Dial which lets you adjust the screen size and ratio for making full use of its cockpit mode. We're not sure what the Ark Dial can do for the monitor, but we're excited as hell to test it and see it in action. We're also foreseeing that it will get extensive use, unlike other remote designs due to the rotating nature of the screen.
It even inherits some features you'd see on the company's high-end TVs and its other up-and-coming cloud gaming monitors. The Odyssey Ark will have access to the Samsung Gaming hub service which lets you instantly stream console and PC games. However, the service is not available in all regions, so it is not guaranteed that you can use the free service if you don't live in countries that have it.
Another feature you'd normally see on a 4K TV is the inclusion of an AI processor which works to sharpen images or help the display produce the best possible image quality. The Odyssey Ark will use Samsung's Neural Quantum Processor Ultra which is only available on its flagship models. This along with the Cloud gaming service makes an interesting setup, but it still remains to be seen how it will perform in the real world.
The $3500-dollar product is then rounded up with an audio setup called Sound Dome Technology. It's a four-speaker 60-watt layout with a 2.2.2 channel setup and Dolby Atmos for 3D sound that works best for immersive gaming and entertainment. Supposedly upgraded built-in speakers have broken our hearts in the past, although high-end TVs which are closely related to this monitor always had better solutions.
Samsung Odyssey Ark – How Can I Get It?
The Samsung Odyssey Ark is currently available for pre-order from the brand's official website and big retailers such as Amazon and Newegg. Grabbing the chance to own it early has its perks since Samsung is offering a $200 gift card which you can use for a future upgrade from the brand. $3500 isn't easy to cough up, but at least you have a chance to save some cash if this flagship monitor is in your sights.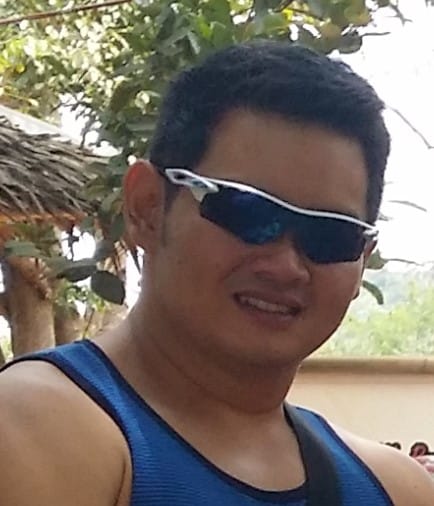 Paolo is a gaming veteran from the golden days of Doom and Warcraft. Since junior high, he has been building gaming systems for family, friends, and colleagues. High-performance monitors are one of his fixations; he believes that every citizen's right to enjoy one. He has gone through several pieces of hardware in pursuit of every bit of performance gain, much to the dismay of his wallet. He has also spent half a decade researching, reviewing, and writing about these products and now has over 1400 articles about the best gaming tech under his belt.