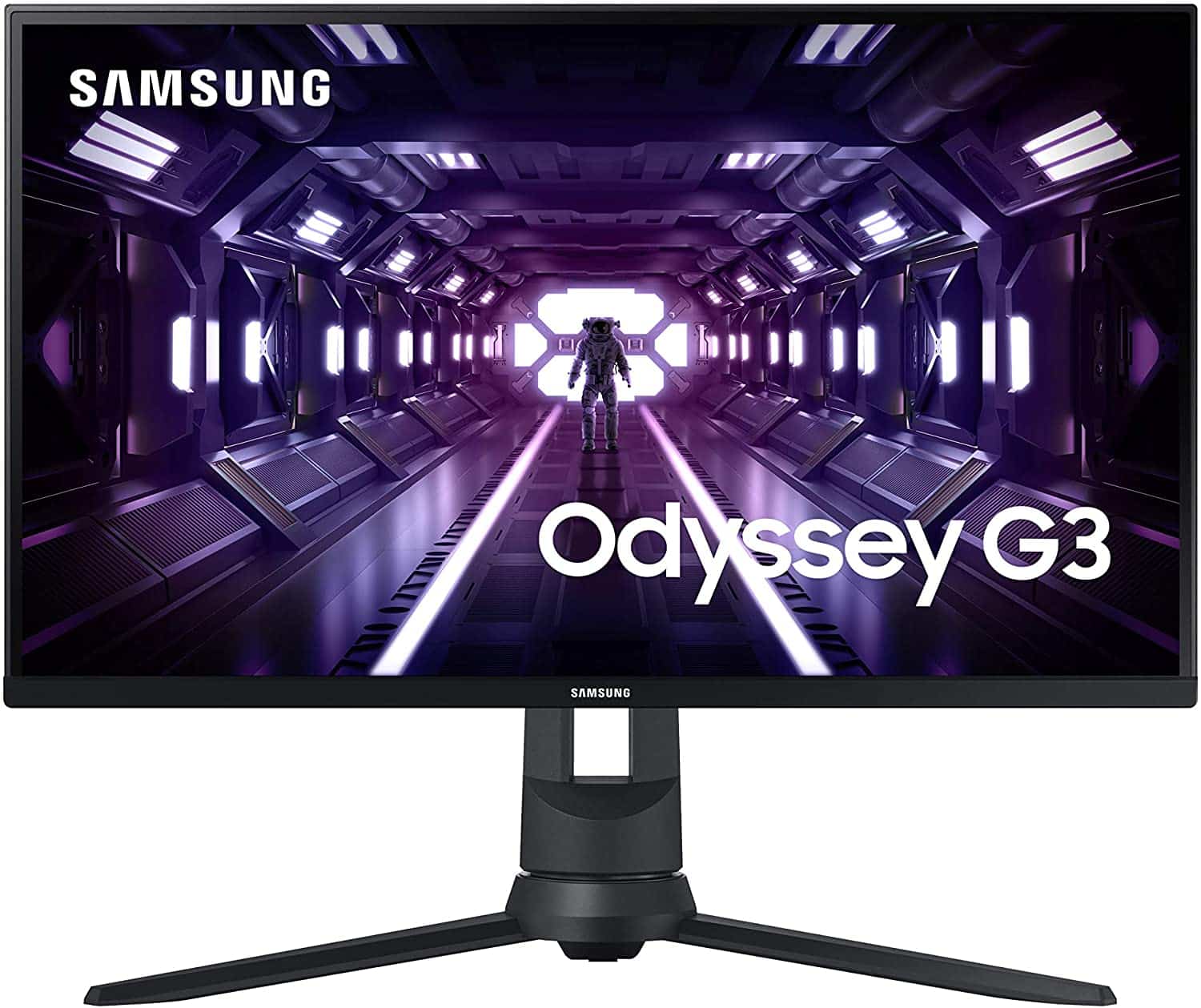 The Samsung Odyssey G3 LF27G35T is the cheapest of the Odyssey bunch, but it still carries a capable display for fast-paced gaming. Its key characteristic is it's flat, unlike the G5, G7, G9 variants that have steep curves for immersion. Let's see how the Samsung Odyssey G3 compares against its competition and if it's worthy of the Odyssey namesake.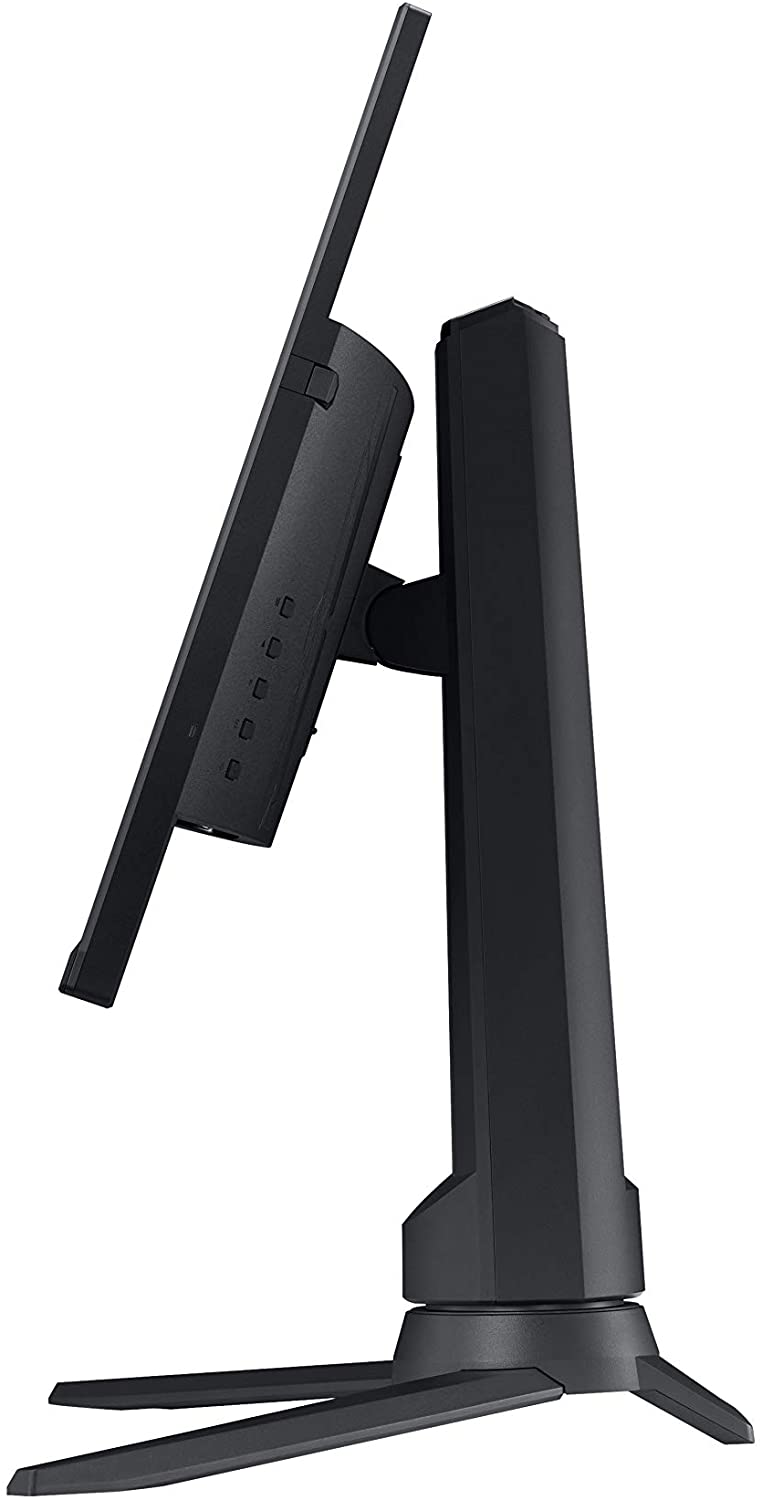 Samsung Odyssey G3 Specifications
Screen Size: 27 Inches
Resolution:1920 x 1080 FHD
Aspect Ratio: 16:9
Panel Technology: Vertical Alignment (VA)
Refresh Rate: 144Hz
Response Time: 1ms MPRT
Contrast Ratio: 4000:1 (Static)
Brightness: 250 cd/m²
Speakers: Yes( 2 x 2 Watts)
Stand: Height -Yes
Stand: Tilt – Yes
Stand: Swivel – Yes
Stand: Pivot – Yes
VESA Compatibility: Yes (100 x 100)
Connectivity: HDMI 2.0 x 1, DisplayPort 1.2 x 1, VGA x 1, 3.5mm Jack x 1
Dimensions (W x H x D): 24.28" x 20.85" x 10.96"
Weight: 14.55 lbs

Design and Features
The Samsung Odyssey G3 sports the same matte black aesthetic as the G5 and G7 monitors, but there are some notable differences. The stand design looks different and the monitor is flat, unlike the 1000r curvatures of its high-end siblings. The display is bezel-free on three sides, but inner borders are still visible when it's in use.
The Samsung Odyssey G3 LF27G35T's cabinet looks considerably slimmer with most of its bulge concentrated on the middle area. However, it includes a massive stand with a Y-shaped base that accommodates its creature comforts. You are going to need 11 inches of depth on your desk, so rearranging might be necessary.
Build quality for the Samsung Odyssey G3 LF27G35T is great even if it's at the lower end of the price spectrum. The plastics feel thick and durable, and there is no wobbling coming from the built-up stand. The monitor doesn't look like it was rushed or cheapened, so there are no cosmetic defects all around.
Our least favorite aspect of the Samsung Odyssey G3 LF27G35T is it uses buttons instead of joysticks which are found even on the brand's office displays. The layout is located at the back so you have to lean in and feel for them to manipulate the OSD. Its time consuming and prone to errors, and modern displays should always have the joystick.
The stand included with the Samsung Odyssey G3 LF27G35T offers tilt, swivel, pivot, and height adjustments for your convenience. It's easy to get a comfortable view with it, so most won't need to opt for a VESA mount. They are only necessary if your desk space is tight or if you are building a multi-screen setup for immersive gaming and multitasking.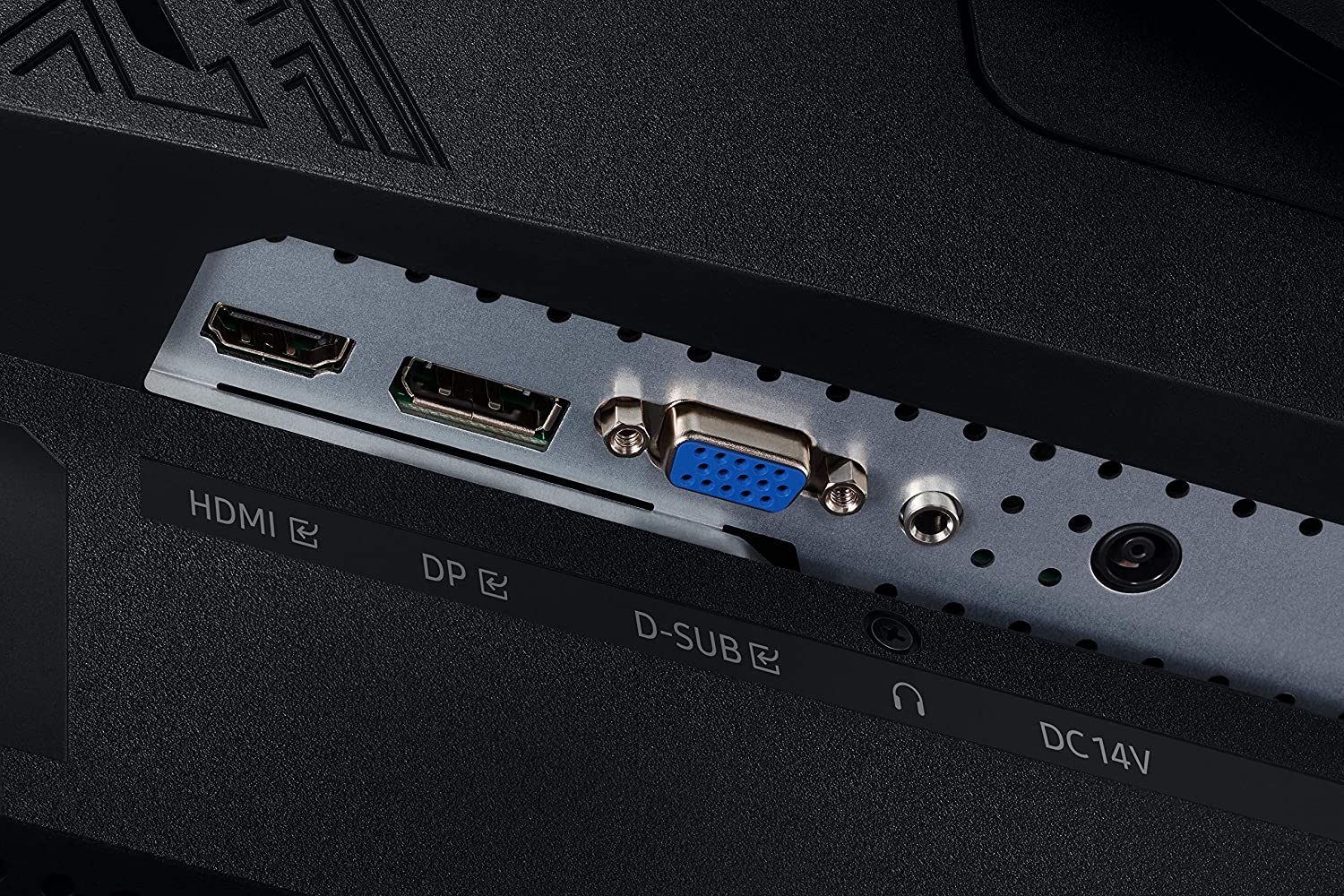 The layout for the Samsung Odyssey G3 LF27G35T doesn't offer a lot since it only includes the essentials for regular use. The layout has a slot each for DisplayPort 1.2, HDMI 2.0, VGA, and a 3.5mm jack for audio devices. Competitors with Fast IPS panels like the Gigabyte G27F at least have USB 3.0 ports, but their use is secondary anyway since most users will connect directly to the motherboard instead.
The Samsung Odyssey G3 LF27G35T doesn't have speakers and it isn't compatible with the brand's monitor soundbars. That's forgivable for gaming displays since users will opt for desktop sets or headsets anyway. However, we'd like to get everything we can at this price point, especially since there are cheaper options right now.
Display and Performance
The Samsung Odyssey G3 LF27G35T sports a 27-inch VA panel with a 1920 x 1080 resolution, a 144Hz refresh rate, and a 1ms boosted response time. The backlight has a typical 250 cd/m2 brightness, but the contrast ratio is listed at 4000:1. Fast IPS are more popular nowadays, but you can't get the same level of contrast for deep colors and richer dark scenes.
1080p for 27-inch screens are disliked by some because its less-crisp, unlike the 1440p variants which also have more space. However, it's perfect for competitive gaming since visibility is improved since images are enlarged at the expense of sharpness. It's also easier to run most games at high framerates, and that's necessary for competitive gaming.
The Samsung Odyssey G3 LF27G35T renders 99% of the sRGB gamut which is decent for daily use, including competitive gaming. Default accuracy is acceptable and ready for use without calibration since the deltaE average is only at 2.37. That's close to the ideal 2.2, so the monitor is a good pick for plug-and-play use.
However, you can improve the image quality further if you tweak it manually or use a colorimeter. Employing the latter to calibrate the monitor improved its dE average to 0.86 which already makes it usable for editing work. However, colorimeters aren't cheap, so it's best to try and manually adjust the settings first before spending more on the gadget.
The Samsung Odyssey G3 LF27G35T managed to exceed some of its specifications, starting with its peak brightness of 277 cd/m2. That' plenty for daily use, but it might struggle to fight off glare if your room has multiple windows. The contrast ratio reached a staggering 4154:1 at 60% brightness, so blacks and deep and dark scenes are murky as intended.
Panel uniformity, on the other hand, could use some improvements since there are some clouding issues on the edges of the screen. They are most noticeable in dark scenes where the Samsung Odyssey G3 LF27G35T should excel due to its contrast. Thankfully, this issue isn't permanent across the entire line since there are variances and tolerances in play.
The dealbreaker with the Samsung Odyssey G3 LF27G35T is its response time which drags behind Fast-IPS monitors in the same price class. It's prone to blurring and persistence, although it only gets annoying to those who are used to faster panels. The overdrive only has one setting and activating it only improved this characteristic by a small percentage.
The Samsung Odyssey G3 LF27G35T is a FreeSync monitor, but it also works with Nvidia's G-Sync Compatible mode even if it's not certified. Both GPU brands have attractive cards for high-refresh gaming, so it's always nice to have VRR no matter which one you use. Input lag is at 5ms which isn't the fastest, but most still won't notice any delays while using the monitor.
Thoughts on the Samsung Odyssey G3 LF27G35T
The Samsung Odyssey G3 LF27G35T is a decently designed gaming monitor that looks inconspicuous on your battle station. We love the stand and the high contrast ratio, along with the reasonable color accuracy out of the box. It's one of those monitors that can be used right away, although we know many of you know your way around a monitor's OSD.
However, there are some deal-breakers that you have to consider with the Samsung Odyssey G3 LF27G35T. its pixel response time isn't on par with the same monitors in its class, so it's not a great choice if you are serious about E-Sports. It's a good monitor all-around, but alternatives with Fast IPS panels are better picks for the money.
Pros:
Decent Gamut Coverage
High Contrast Ratio
Functional Design
Great Default and Calibrated Accuracy
Cons:
Mediocre Pixel Response Time
Limited Features
Higher Price
About the Author: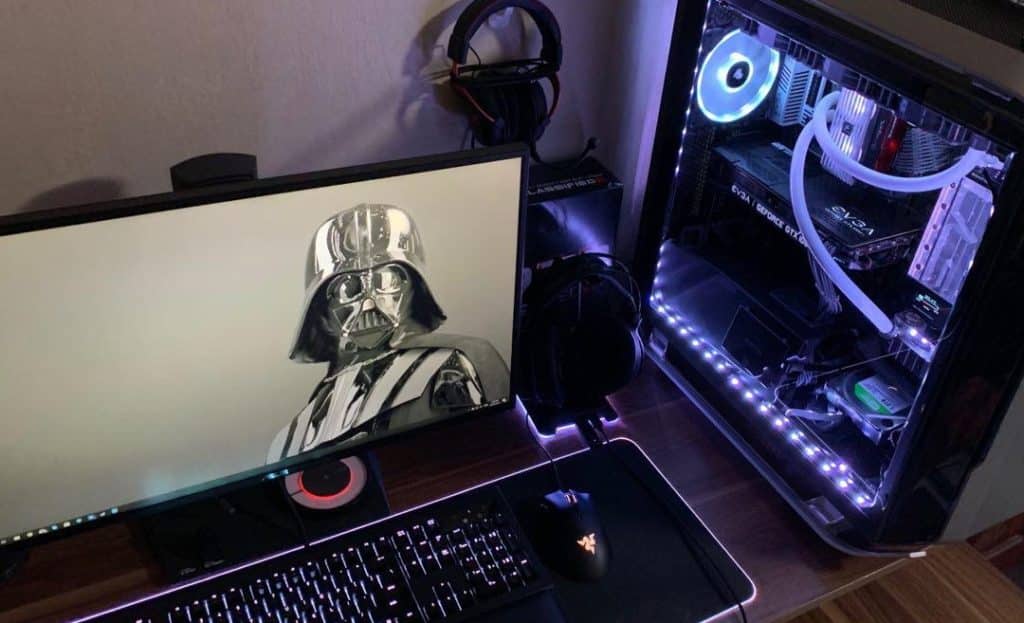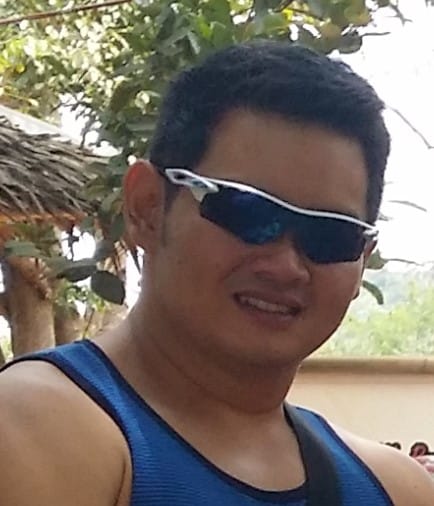 Paolo is a gaming veteran since the golden days of Doom and Warcraft and has been building gaming systems for family, friends, and colleagues since junior high. High-performance monitors are one of his fixations and he believes that it's every citizen's right to enjoy one. He has gone through several pieces of hardware in pursuit of every bit of performance gain, much to the dismay of his wallet. He now works with Monitornerds to scrutinize the latest gear to create reviews that accentuate the seldom explained aspects of a PC monitor.