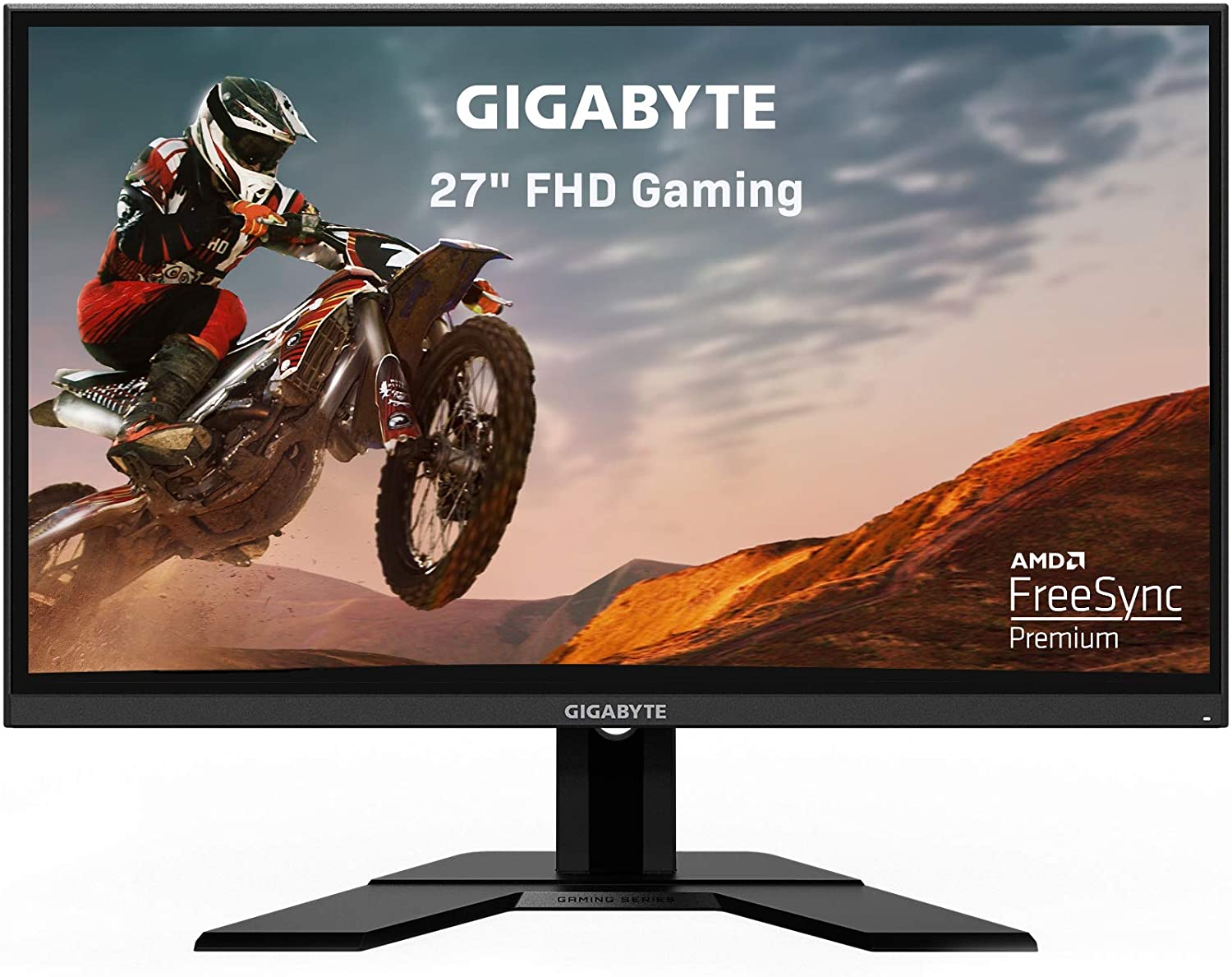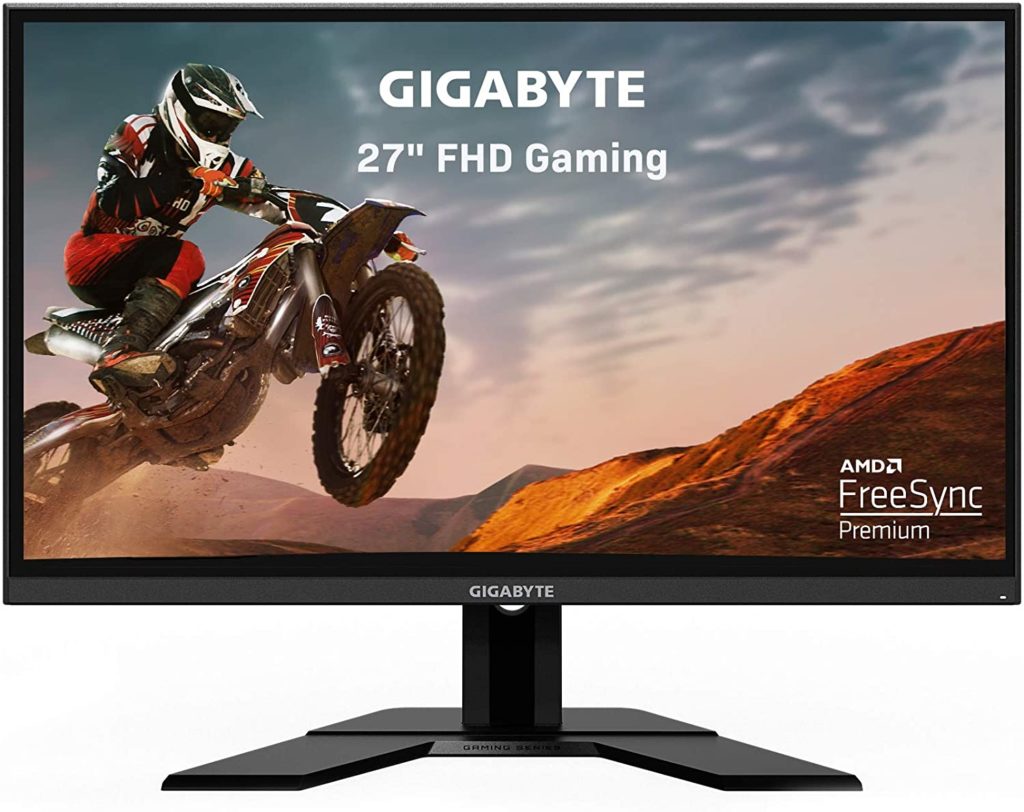 The Gigabyte G27F is an excellent platform for competitive gamers that want an inexpensive screen with great contrast and colors. What separates this model from the rest of the Gigabyte monitors we recently reviewed is its 1080p resolution and its flat IPS screen like the AOC 27G2. The Gigabyte G27F is going up against a lot of IPS-based competition, so let's check out if it can come out on top.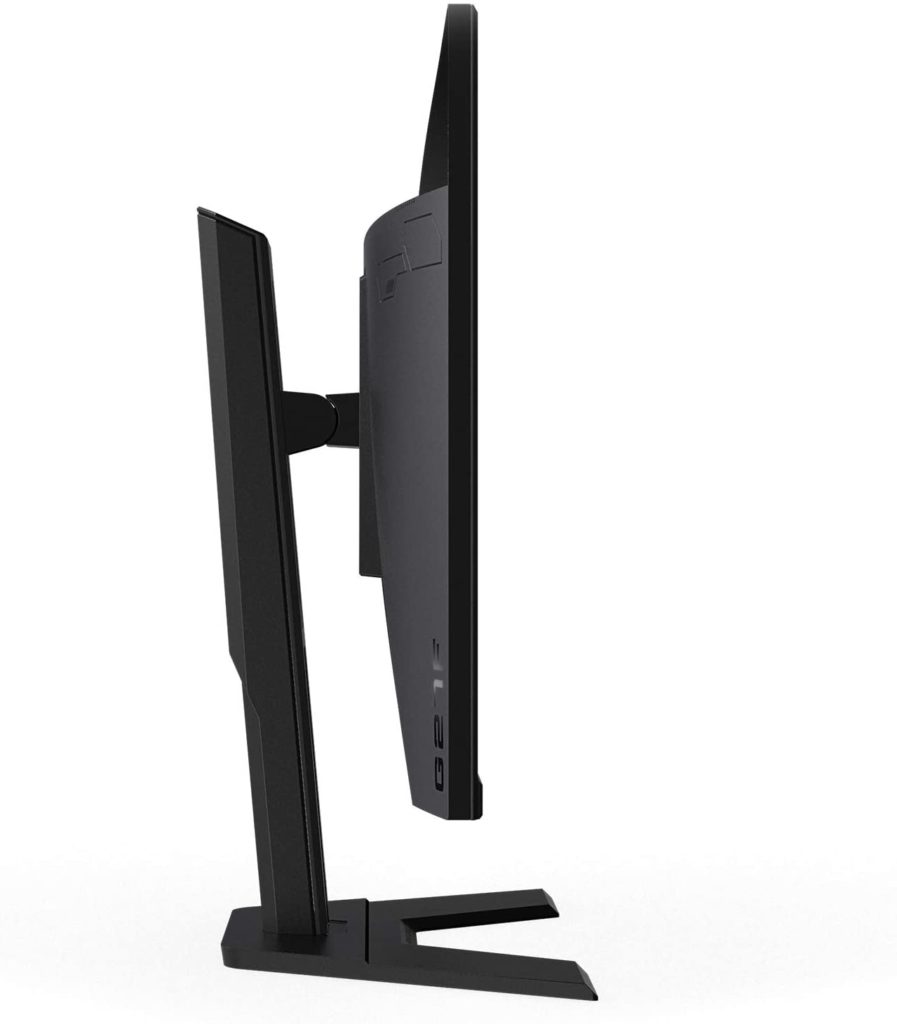 Gigabyte G27F Specifications
Screen Size: 27 Inches
Resolution:1920 x 1080 FHD
Aspect Ratio: 16:9
Panel Technology: In-Plane Switching (IPS)
Refresh Rate: 144Hz
Response Time: 1ms MPRT
Contrast Ratio: 1000:1 (Static)
Brightness: 300 cd/m²
Speakers: Yes( 2 x 2 Watts)
Stand: Height -Yes
Stand: Tilt – Yes
Stand: Swivel – No
Stand: Pivot – No
VESA Compatibility: Yes (100 x 100)
Connectivity: HDMI 1.4 x 1, DisplayPort 1.2 x 1, USB 3.0 x 3, 3.5mm Jack x 1
Dimensions (W x H x D): 24.4" x 20.3" x 8"
Weight: 14.3 lbs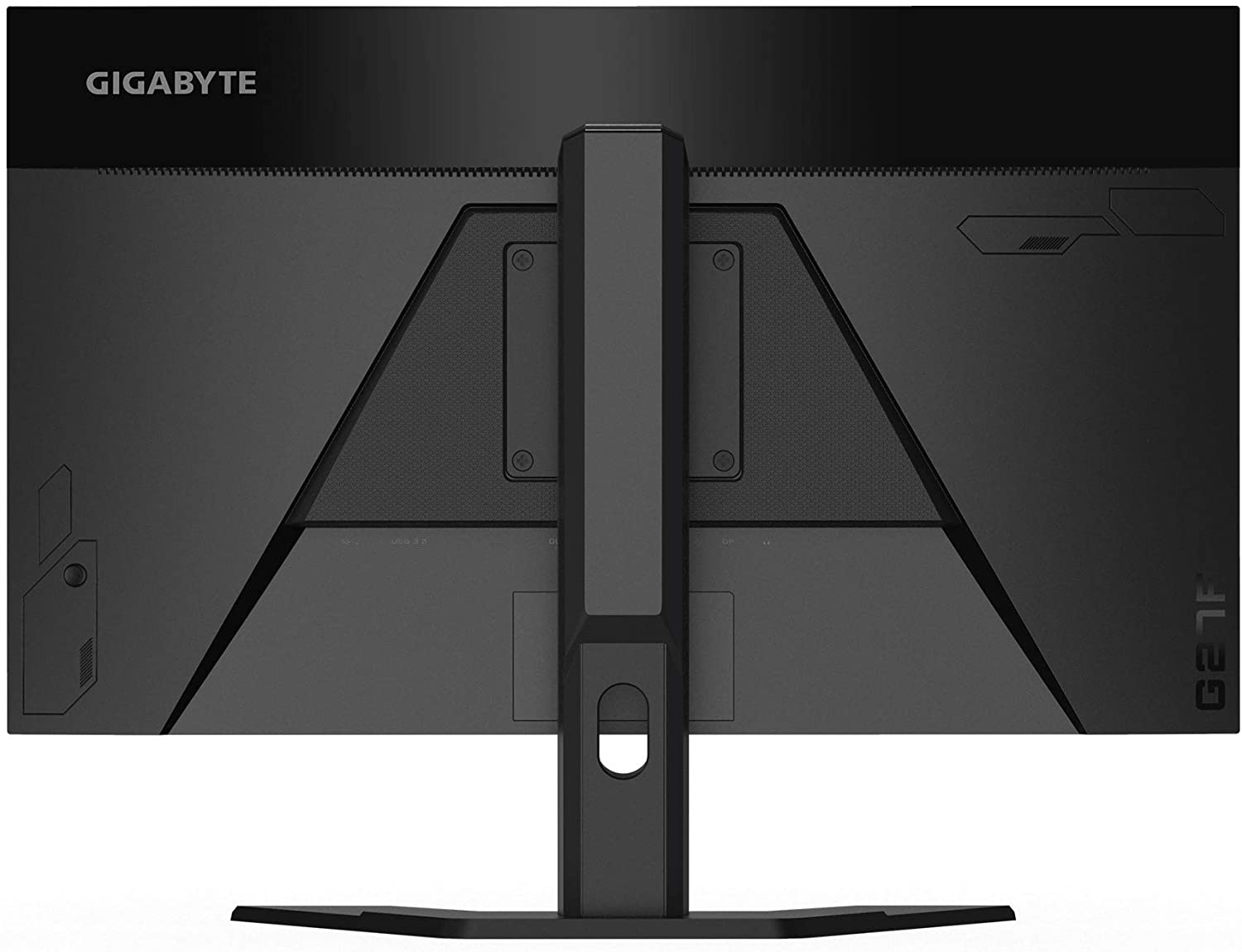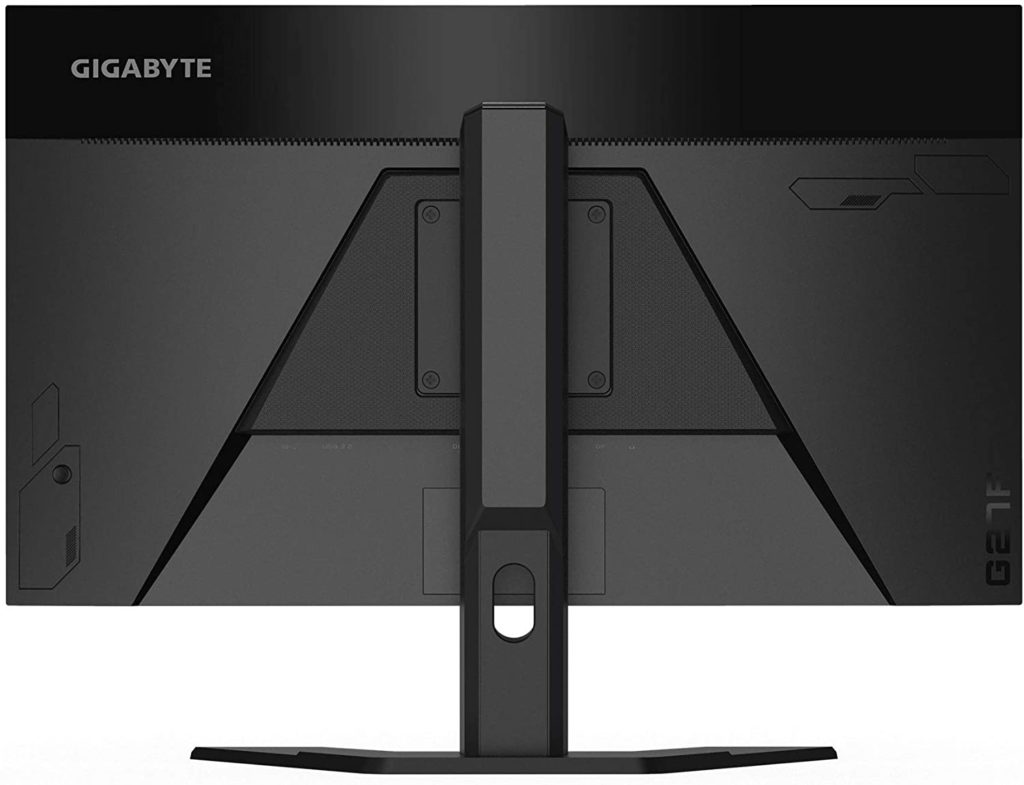 Design and Features
The Gigabyte G27F looks just like its bigger brothers, but it has a flat-screen instead which makes it better suited for competitive gaming. The chassis has a nice and simple matte black finish which makes it appear like a regular office monitor. The display isn't bezel-free, but at 10mm each, you would barely notice them while gaming.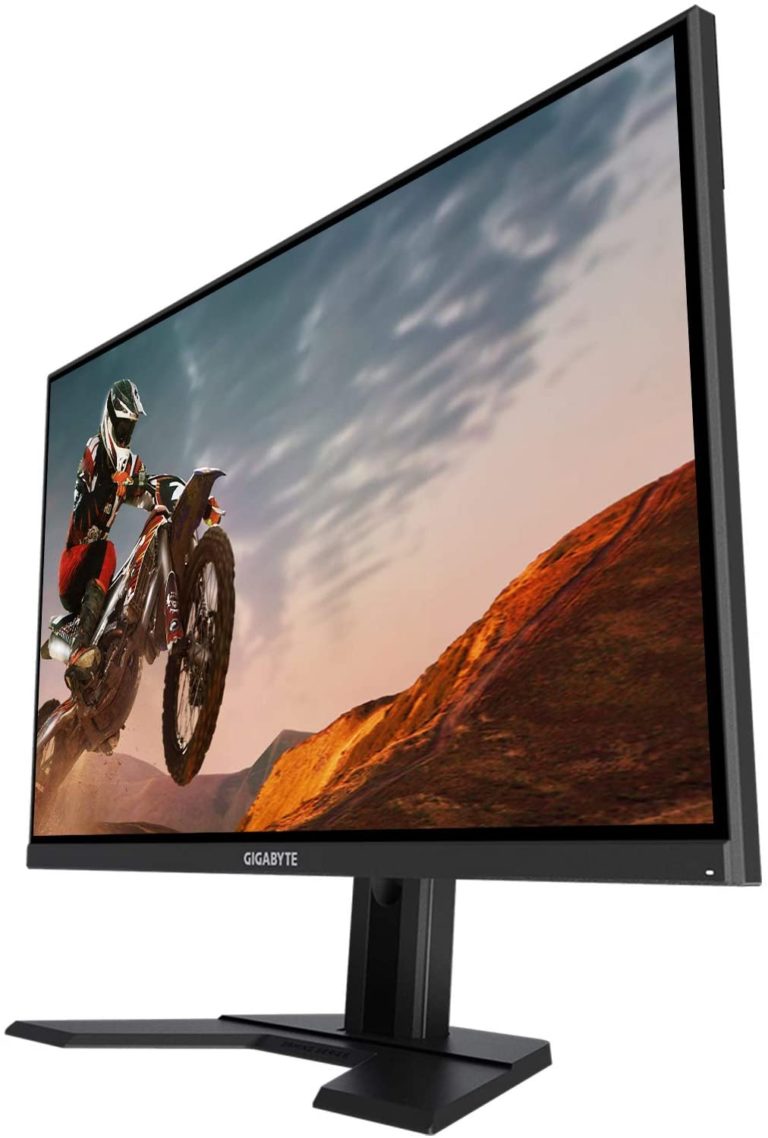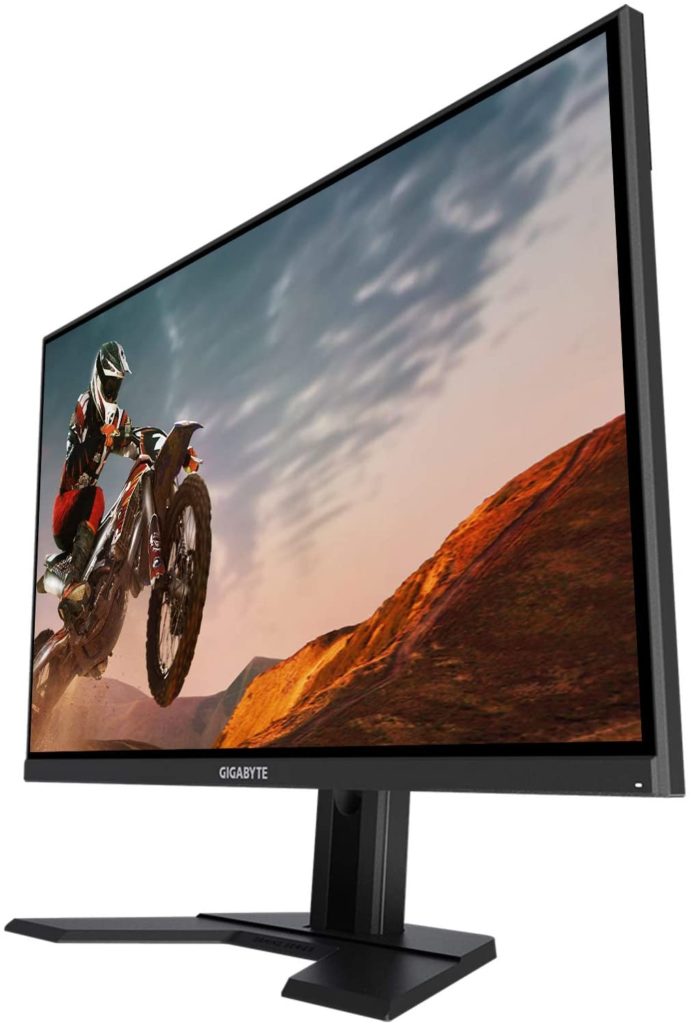 The Gigabyte G27F weighs just like any other 27-inch monitor out there that has a decent build quality. IT doesn't take up a lot of depth on your desk since its flat, but the wing-shaped base might make you move some peripherals in its vicinity. It can, however, be a nice spot for controllers or even small figures, so even those with small desks won't have a hard time.
Build quality is great for the Gigabyte G27F even if it's mostly made of plastic, sending a clear message that it's more than just a budget monitor. The stand doesn't wobble at a noticeable scale, and there are no cosmetic defects on any of the monitor's corners and surfaces. The stand's hinge does feel like it's the weakest link, but it holds up just fine since the cabinet isn't too heavy anyway.
The Gigabyte G27F can be controlled via a single OSD joystick that makes everyday use easier and quicker. The responsive gadget takes a few clicks to get to a specific sub-menu, but at least you don't need to learn wizardry to use it correctly like with buttons. It is also the monitor's power button, so learning how to avoid powering it down accidentally is the only thing you have to master.
The stand included with the Gigabyte G27F only offers tilt and swivel for adjustments, so it can feel a bit limited for unusual setups. However, we think that it's enough for most cases since you don't really want to view the monitor at an angle or in portrait mode while playing competitive titles. You can also swap it with a VESA mount, but it's only necessary if you need to save space or want a bit more flexibility for multiple screen setups.
Connectivity isn't as plentiful on the Gigabyte G27F compared to some monitors we've tested, but then again, that's ok. The panel at the rear includes DisplayPort 1.2 and two HDMI 1.4 slots, a 3.5mm headphone jack, and three USB 3.0 ports for your peripherals. That's sufficient for most gaming builds even if you have two extra devices such as the new Xbox and PS5 consoles on the side.
The Gigabyte G27F does have speakers which we think enhances its value per dollar ratio further. The 2-watt pair sounds tinny when used for gaming since they are limited to mostly midrange frequencies, but they are nice to have for purposes other than gaming. Gamers will always prefer headsets for competitive titles, but at least you have a secondary for conference calls or even listening to a bit of music while working.
Display and Performance
The Gigabyte G27F sports a 27-inch IPS panel with a 1920 x 1080 resolution, a 144Hz refresh rate, and a 1ms boosted response time. The backlight is rated at 300 cd/m2, while the contrast ratio is listed at 1000:1 like most IPS monitors. This model is flat unlike its more expensive VA-based siblings, plus it doesn't have HDR certification since its backlight is limited.
The first complaint many would lodge against the Gigabyte G27F is its lower pixel density which can make games look fuzzy or pixelated. However, that isn't the case as long as you sit at a decent distance from the screen. Reading walls of text can be a chore since they look oversized at times, but games will look great with plenty of frames since 1080p is easy for most GPUs.
The Gigabyte G27F is capable of fantastic vibrancy thanks to its 135% sRGB and 91% DCI-P3 gamut coverage. The screen also doesn't need calibration except for minor tweaks with a deltaE average of only 2.54. The screen's gamma is slightly off at 2.3 which results in some black crush, but it's not a big issue after adjusting the backlight.
Calibrating the Gigabyte G27F isn't as beneficial as we hoped since the monitor only managed a deltaE average of 2.14. That's still fine for a gaming monitor, but most would be hard-pressed to notice the difference in gaming. You are better off saving the money instead of buying a $200 colorimeter so it can go to other upgrades like a higher-tiered GPU.
The Gigabyte G27F reaches its specified maximum brightness when it's adjusted to 100%, but it is understandably insufficient for HDR performance. The contrast ratio tops out at 1125:1 at 60% brightness which results in decent black luminance. However, the screen can still look washed out when used in the dark, unlike the VA-based variants.
Panel uniformity for the Gigabyte G27F is decent even if there are a few hotspots on the bottom edges of the screen. It's difficult to notice the errors in full-color, but viewing an all-black image will reveal some light clouding in the adjacent quadrants. Take note that this aspect varies between every unit, so there are better and worse ones out there.
The pixel response time on the Gigabyte G27F is golden since it can handle motion and transitions easily. Some minor blurring can still happen in contrasting transitions, but the monitor's overdrive is capable of reducing it to nothingness. It is rare to see overdrives as effective as the G27F's, and that's a big plus in our books.
The Gigabyte G27F is a FreeSync Premium monitor, but it's also compatible with Nvidia's G-Sync even if the green brand did not certify it. This is great for gamers since they won't be locked to one GPU brand or they won't need to ditch the monitor if in case they switch to the other company. Input lag sits at 6ms so it's snappy and most wouldn't even feel delays when it is compared to monitor with better results.
Thoughts on the Gigabyte G27F
The Gigabyte G27F is a fantastic budget monitor if you look at its screen's specifications and its particularly effective features. The IPS panel is capable of fantastic color coverage, plus it's not necessary to calibrate the screen since its default profile is decent for gaming. We like that its pixel response time is fast enough and comparable to TN monitors, so competitive gamers won't need to worry about blurring.
There are a few minor limitations on the Gigabyte G27F, but the $230 price tag will easily make anyone forget those. There is some room for improvement, but the monitor is already tough to beat in its category as it is. The Gigabyte G27F is one of the best 144Hz monitors you can buy right now without spending an arm and a leg to enjoy fast performance and eye-popping colors.
Pros:
Wide Gamut Coverage
Low Input Lag
Responsive Screen with Excellent Overdrive
Decent Default Accuracy for Gaming
FreeSync/G-Sync Compatible
Cons:
Limited Stand
Color Accuracy Great but Not the Best
Weak Speakers
About the Author: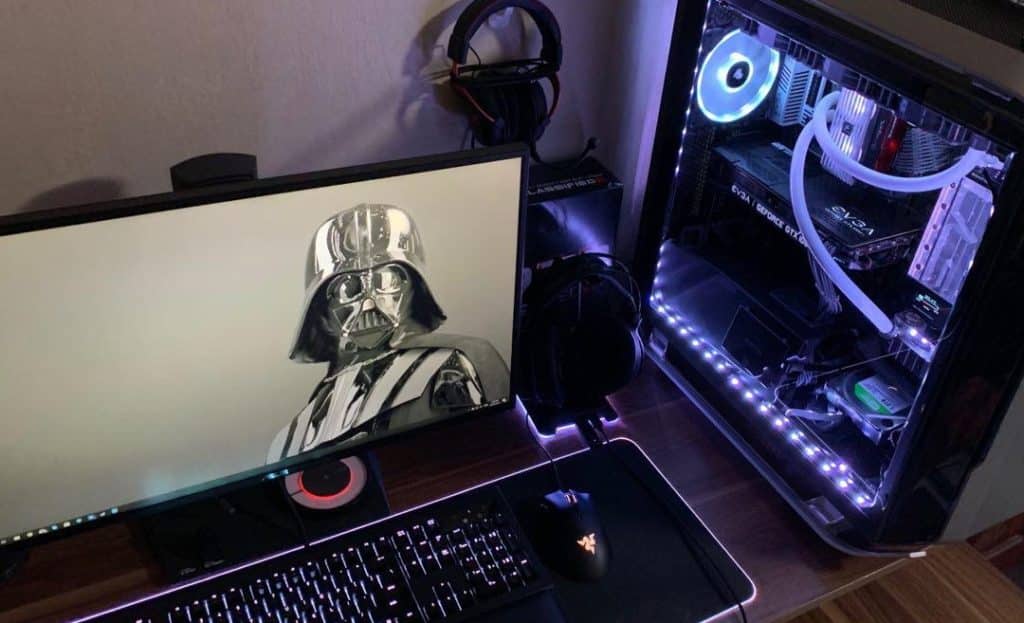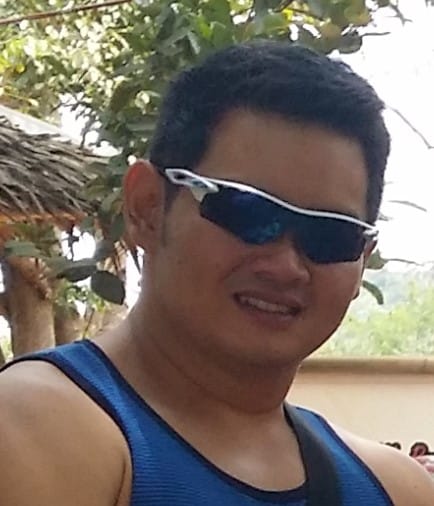 Paolo is a gaming veteran since the golden days of Doom and Warcraft and has been building gaming systems for family, friends, and colleagues since his junior high years. High-performance monitors are one of his fixations and he believes that it's every citizen's right to enjoy one. He has gone through several pieces of hardware in pursuit of every bit of performance gain, much to the dismay of his wallet. He now works with Monitornerds to scrutinize the latest gear to create reviews that accentuate the seldom explained aspects of a PC monitor.