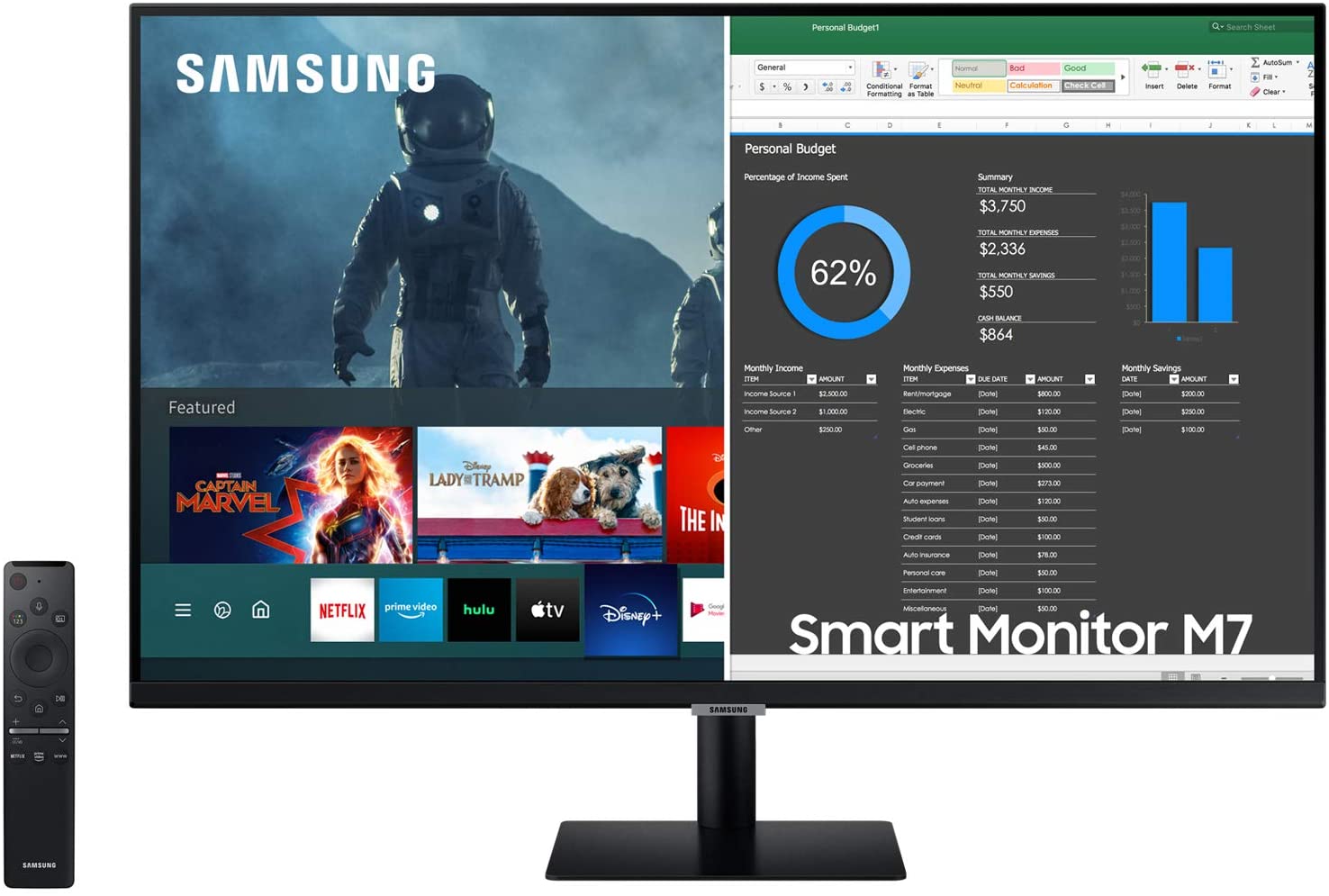 The Samsung Smart M7 is basically an office monitor but built with features that are identical to a smart TV. It offers some functions that will run without a PC such as Office 365 and an on-board entertainment system. The Samsung Smart M7 is a compelling 4K monitor option below $400, but let's check out first what it can offer.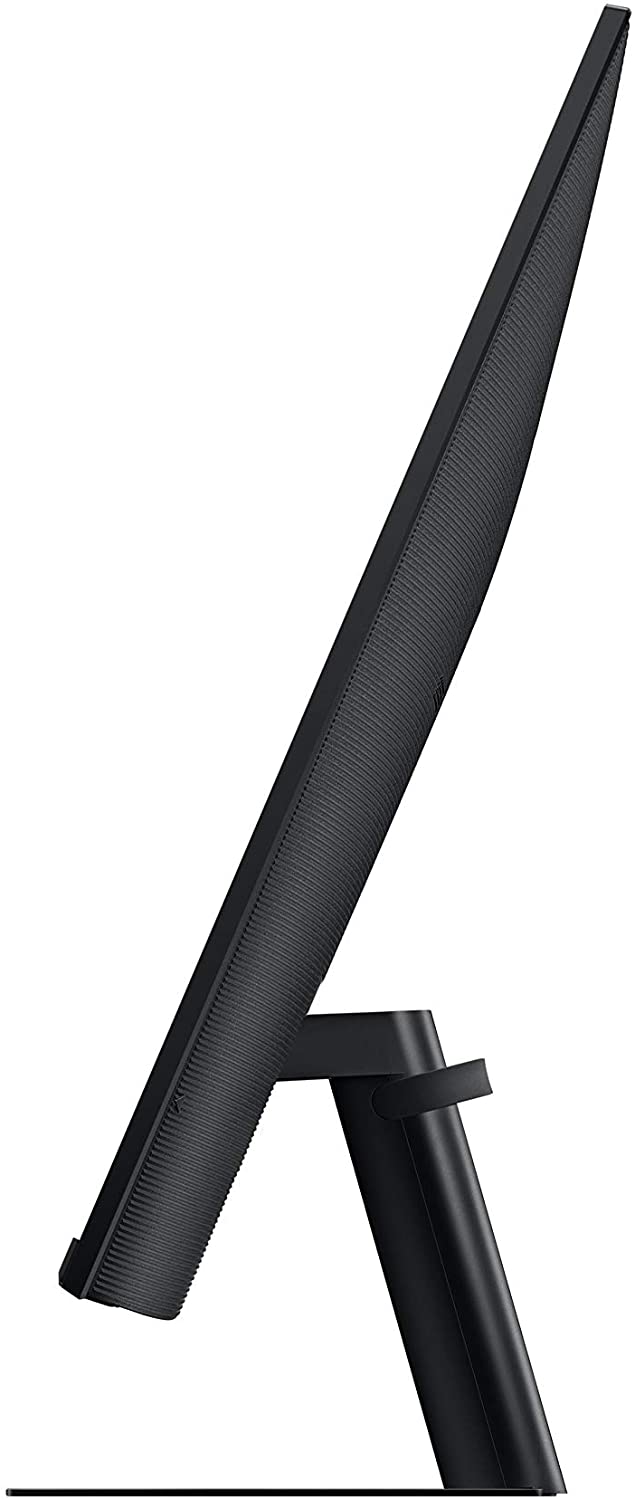 Samsung Smart M7 Specifications
Screen Size: 32 Inches
Resolution: 3840 x 2160 4K
Aspect Ratio: 16:9
Panel Technology: Vertical Alignment (VA)
Refresh Rate: 60Hz
Response Time: 8 ms
Contrast Ratio: 3000:1
Brightness: 250 cd/m²
Built-in Speakers: Yes (2 x 5 Watts)
Stand: Height – No
Stand: Tilt – Yes
Stand: Swivel – No
Stand: Pivot– No
VESA Compatibility: Yes (100 x 100)
Connectivity: DisplayPort 1.2 x 1, HDMI 2.0 x 2,USB-C PD65 x 1, 5mm Audio Jack
Dimensions: (W x H x D): 28.19" x 20.35" x 7.62"
Weight: 13.7 lbs

Design and Features
The Samsung Smart M7 looks just like any budget monitor, except its sleeker and more modern-looking. The monitor has a matte black finish that won't go out of style or clash with your existing devices. The display has very thin borders, so you get a maximized view of the large, 32-inch VA screen. T
he Samsung Smart M7 is quite large for a desktop monitor even if it pales in comparison to the brand's smart TVs. It's 28 inches wide, but it only needs 7.62 inches of depth from your desk when assembled. It also doesn't weigh a lot at 13.7 pounds, but it isn't portable due to its size.
Build quality for the Samsung Smart M7 is great since it's smooth all around and it feels quite durable. There are no cosmetic defects, and the plastic panels on the chassis do not feel like they will crack easily. There is some wobbling on the stand due to its low center of gravity, but it isn't too disturbing during use.
The Samsung Smart M7 has a single joystick on its body for the OSD, but you also get a remote in the package. The latter is more convenient to use especially if you are accessing the monitor's features, so always keep it handy. It has fewer buttons than a regular TV controller, but it already offers everything you will need.
Connectivity for the Samsung M7 is top-notch so you have plenty to choose from and use according to your needs. The panel at the back offers two slots each for HDMI 2.0 and USB 2.0, plus a USB-C connector that supports DP Alt Mode and charges up to 65 watts. DP isn't included just like with TVs, but the two HDMI connectors are already sufficient for 4K 60Hz operation anyway.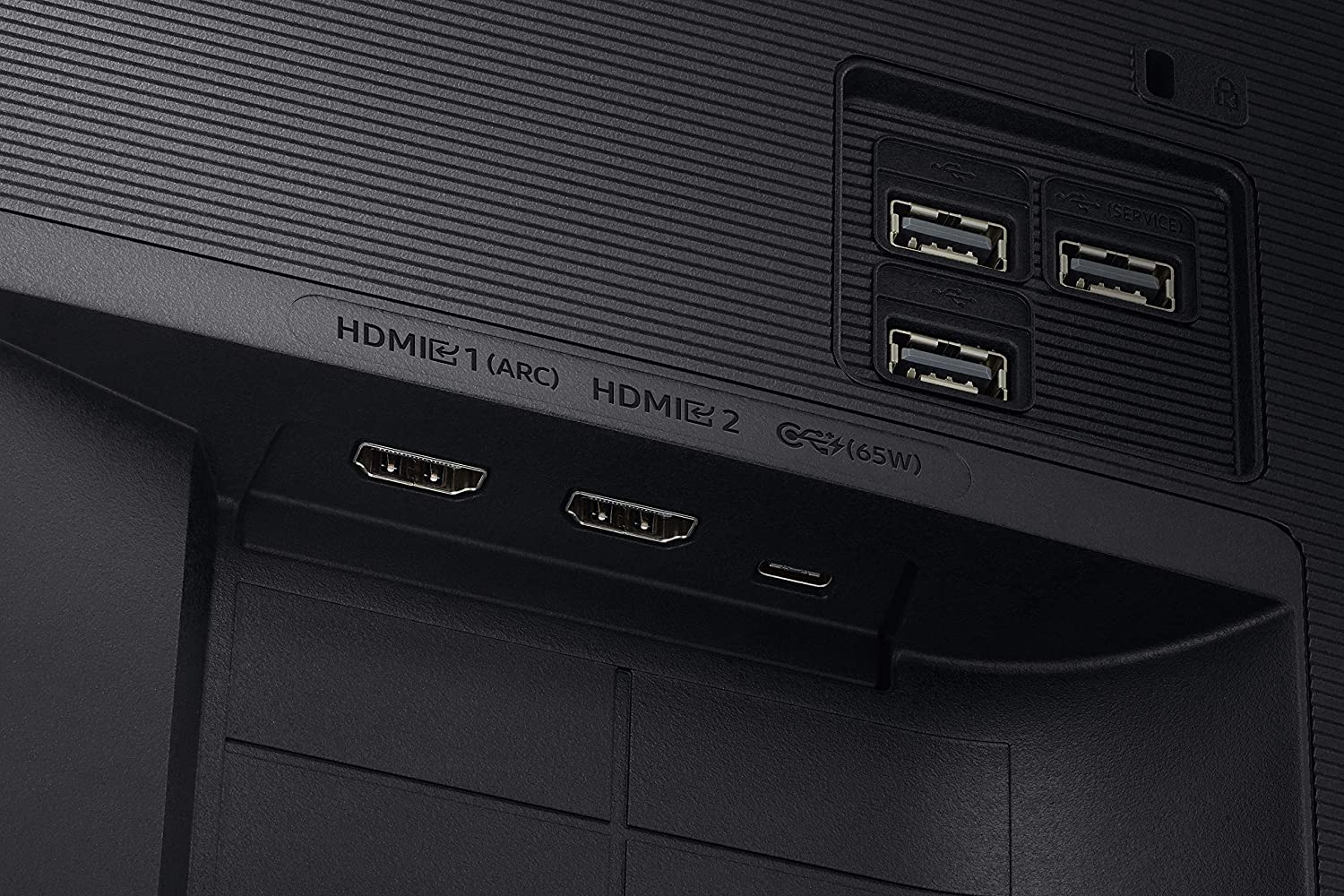 The Samsung Smart M7 even has wireless connectivity built into its functionality, so you can seamlessly integrate your Samsung mobile phones via wireless DeX. Apple users will like it as well since it supports AirPlay2 so you can cast your phone screen to it or use it as a wireless secondary monitor for your MacBook.  
You can also go with its Bluetooth 4.2 option and connect it to the web via WiFi5. The device is managed by Samsung's Tizen OS, so it can function independently or used as a display for computers, mobiles, or tablets. You can also use it for remote access or edit documents via its Office 365 suite.
Its performance in this regard isn't the same as a full PC experience, but it's handy to have for quick edits or viewing. After all that productivity capabilities comes the Samsung Smart M7's entertainment capabilities brought about by its Tizen OS.
It works basically like a smart TV, so you can use streaming platforms like Prime Video or Netflix on it. What it doesn't have, however, is a TV tuner, but it's still a sweet deal since it combines PC monitor functionalities with a smart TV's chops along with wireless connectivity.
Another important feature of the Samsung Smart M7 is its 5-watt speakers which have considerably better quality than regular built-ins.  They aren't capable of deep bass, but the mids and highs sound good at reasonable volume levels. They are also compatible with Dolby Digital Plus so they can decode and put out dynamic stereo sound.
Display and Performance
The Samsung Smart M7 sports a 32-inch VA panel with a 3840 x 2160 resolution, a 60Hz refresh rate, and an 8ms response time. The backlight is rated at 250 cd/m2 while the contrast ratio is listed at 3000:1 like most VA panels. This model doesn't advertise true HDR since it doesn't have the necessary hardware for it.
32-inch monitors are more comfortable to look at and use for extended periods since the pixel density isn't too tight. Letters and small objects look legible while you get to enjoy the large display space and the noticeable upgrade in sharpness. Most GPUs will struggle with this resolution on newer games, but it's more of a productivity or streaming monitor than one made for our favorite hobby.
The Samsung Smart M7 commands 99% of the sRGB gamut which isn't the widest we've seen, but acceptable for daily use. It's not accurate out of the box since the deltaE average reached 2.98. However, it's still within the acceptable limit so color errors won't be immediately noticeable unless compared with a better model.
Calibrating the Samsung Smart M7 can improve the dE average to 1.12 which is more balanced overall. It also lessens the slight bluish tint of the screen and adding the warm appearance of an sRGB-calibrated screen. However, colorimeters are quite expensive, so we recommend tweaking it manually to get a favorable image setting instead.
The Samsung Smart M7's backlight only reached 245 cd/m2 at 100%, so it can't fight off glare in some instances. we don't recommend using the monitor in a well-lit room with a lot of windows since it will look washed out at times. Its contrast ratio is also quite lower than what's listed at 2250:1 at 70% brightness, but black luminance and dark scenes still look rich and convincing.
Panel uniformity for the Samsung Smart M7 is excellent since there are no noticeable clouding issues or backlight bleeding. The upper left corner of the sample had some minor deviances in brightness, but it's too little to notice in most cases. Take note that this aspect varies between every unit, so there are better and worse ones out there.
Responsiveness isn't a particular strength of the Samsung Smart M7 since it was not intended for fast-paced gaming. Some smudges and trails can become noticeable in fast or contrasting transitions which can become annoying if you are sensitive enough. The monitor's overdrive feature isn't of any help since all it does is add overshoot without any noticeable improvement at all.
Another downside of the Samsung Smart M7 is it doesn't support FreeSync and G-Sync compatibility. It's a shame since many Samsung TVs now have adaptive sync capabilities, and this model shouldn't be any different. Input lag sits at 17ms which is quite high for today's standards, but it's still manageable even for casual or console gaming.
Thoughts on the Samsung Smart M7
The Samsung Smart M7 is a brave step forward in the monitor business if you consider what it offers. It breaks the usual standard by adding standalone and wireless capabilities, in a well-equipped and affordable package. Its image quality isn't perfect, but it looks decent once it's been tweaked manually or with the help of a colorimeter.
However, we feel that Samsung restricted the M7 too much by limiting some of its crucial specifications to help with the price. We'd love to have creature comforts like adjustable stands and better responsiveness, even if it means paying a bit more for a monitor like this. The Samsung Smart M7 is a unique choice for productivity and professionals, but it does have a few quirks that you have to live with.
Pros:
Plenty of Connectivity Options
Built-In OS With Standalone Capabilities
65-Watt USB-C
Includes Remote
Great Price
Cons:
Tilt Only Stand
Slow Pixel Response Time
Higher Input Lag than Regular Monitors
About the Author: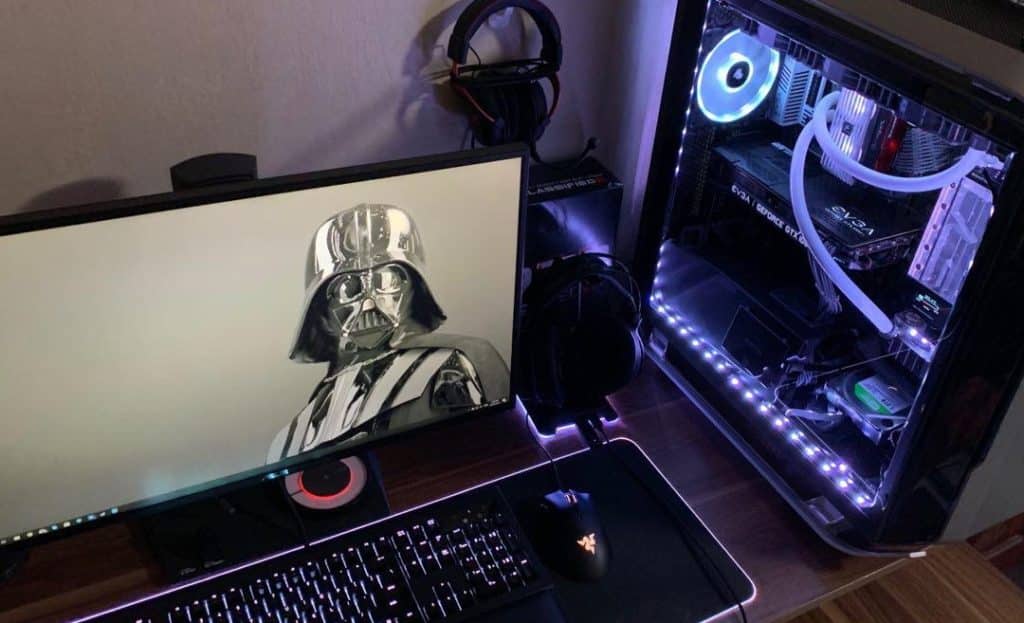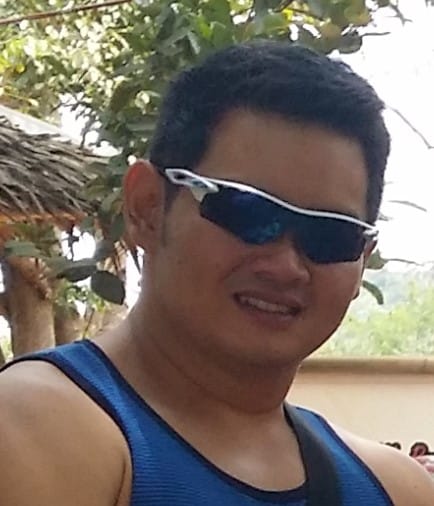 Paolo is a gaming veteran since the golden days of Doom and Warcraft and has been building gaming systems for family, friends, and colleagues since junior high. High-performance monitors are one of his fixations and he believes that it's every citizen's right to enjoy one. He has gone through several pieces of hardware in pursuit of every bit of performance gain, much to the dismay of his wallet. He now works with Monitornerds to scrutinize the latest gear to create reviews that accentuate the seldom explained aspects of a PC monitor.