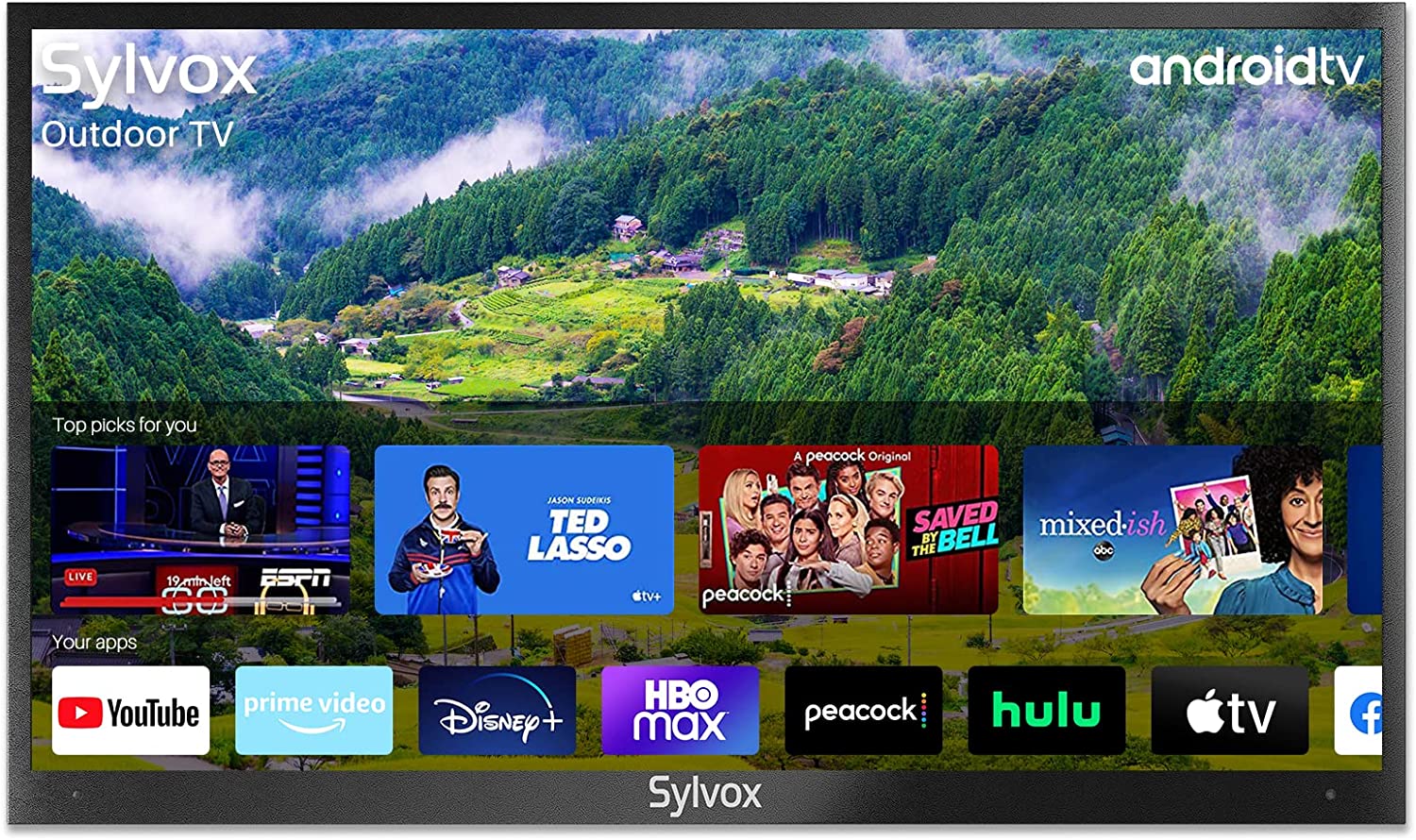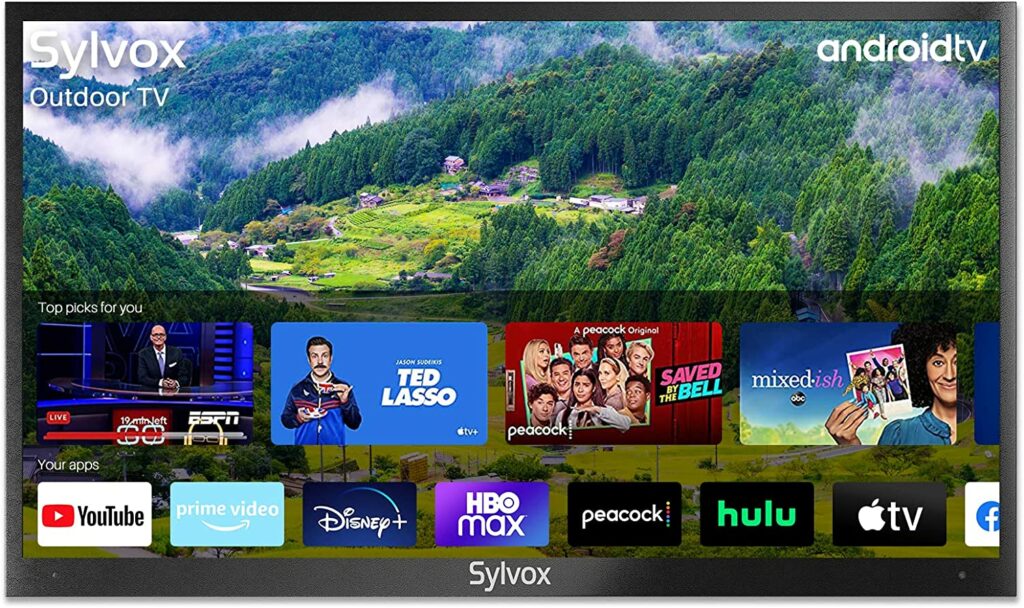 The Sylvox Outdoor TV is like a regular TV, but it's built to survive tougher environments than your living room centerpiece. It's water and weatherproof thanks to its coated full-metal shell, enabling it to be placed on patios, balconies, or even in your RV for camping season. It is quite expensive for a 43-inch 4K TV, but let's see if it's a good investment.

Sylvox Outdoor TV Specifications
Screen Size: 43 Inches
Resolution:3840 x 2160UHD
Aspect Ratio: 16:9
Panel Technology: Vertical Alignment (VA)
Refresh Rate: 60Hz
Response Time: 8ms
Contrast Ratio: 3000:1
Brightness: 1000 cd/m2
Built-in Speakers: Yes (2 x 20 Watts)
Stand: Height – No
Stand: Tilt – No
Stand: Swivel – No
Stand: Pivot– No
VESA Compatibility: Yes (200 x 200)
Connectivity: HDMI 2.0 x 3, TOSLINK Optical x 1, USB 2.0 x 2, AV Connection x 1, RJ45 x 1, Bluetooth and WiFi Wireless, 3.5mm Jack
Dimension With Stand (WxHxD): 38.41″ x 22.64″ x 3.44″
Weight: 51 lbs

Design and Features
The Sylvox Outdoor TV looks more like it was made to survive the apocalypse than impress your guests in the living room. The monitor has a textured matte black finish which helps it resist the elements and prevent corrosion and wear. The display isn't bezel-free, but that's understandable, considering the design.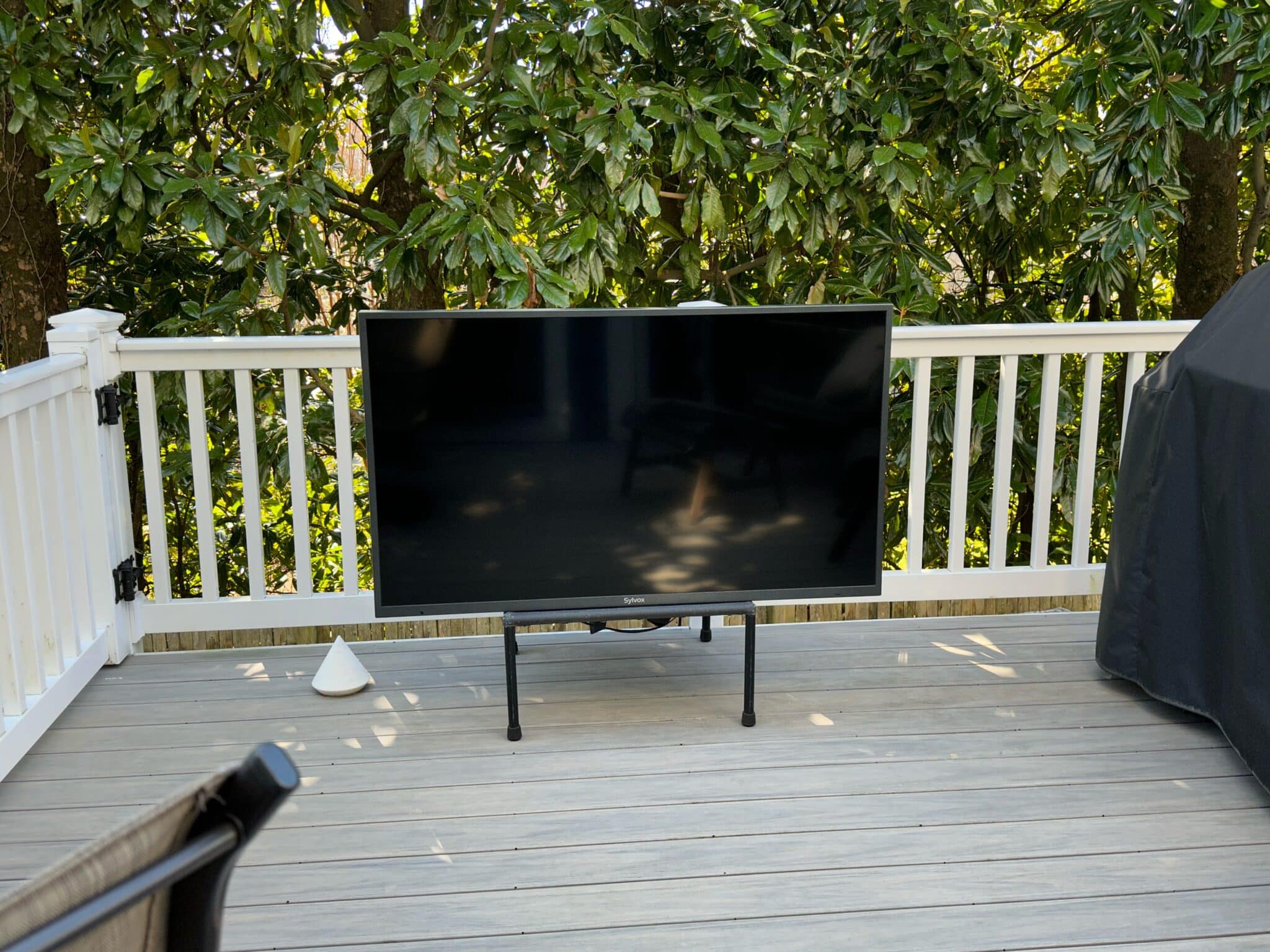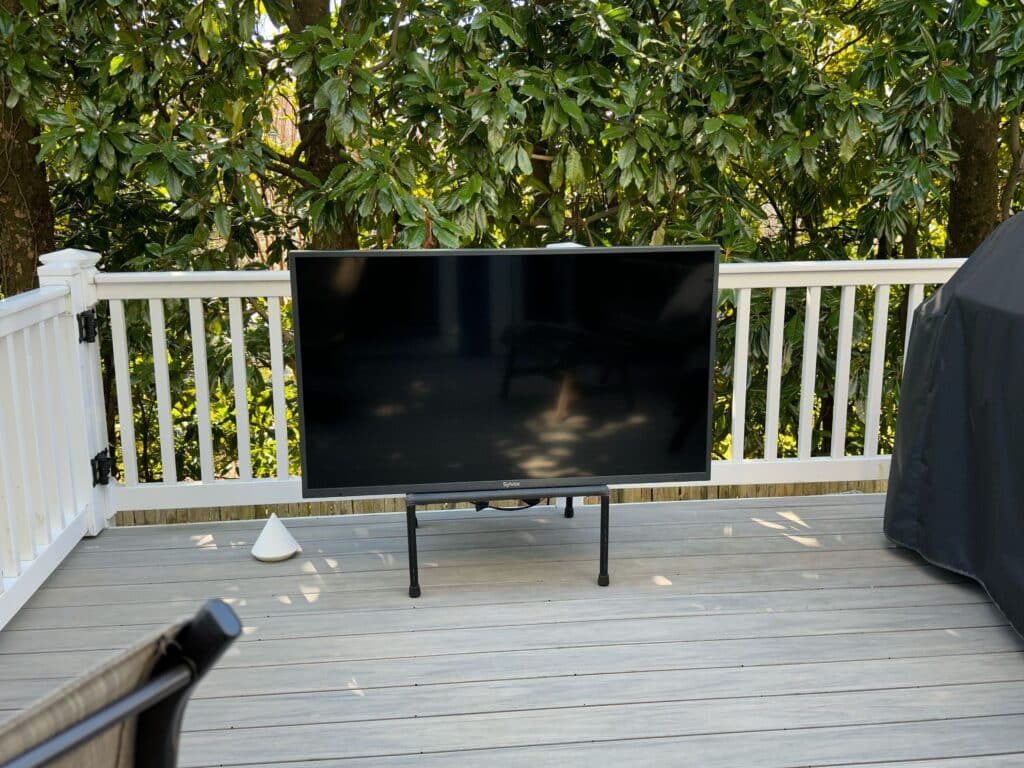 It is not a massive TV, but some of its proportions are thicker than most because of its extra armor. Its 43-inch diagonal is quite small by today's standards, but it is surprisingly very heavy at 51 pounds. It's easy to place it in just about any outdoor area, but mounting it can be a challenge for some.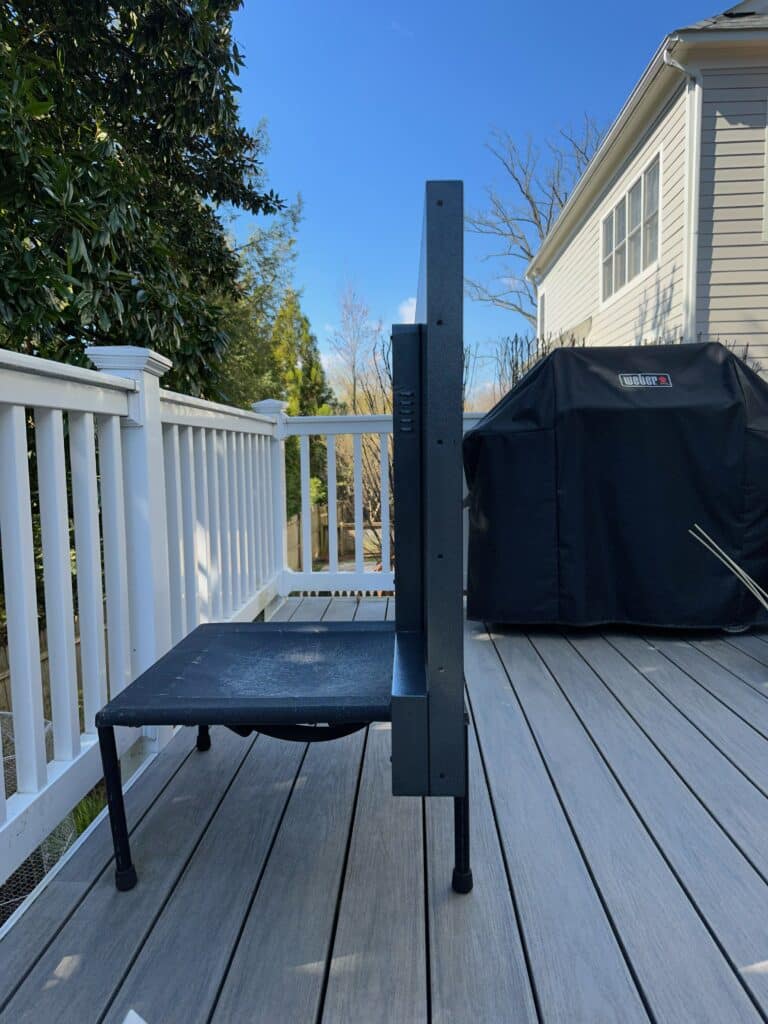 One of the main premises of this product is its amazing build quality compared to the plasticky TVs. It's built like a tank with its metal case, and there were no cosmetic defects of any sort on it. Its easy to prop up on its own since it's quite thick, but we recommend using the stands that were designed for it.
The Sylvox Outdoor TV has a remote like most TVs, so it's easy to access its settings and features. There are no joysticks on the monitor since that compromises its weather-proof design. The TV also has smart features, so having a handy tool to access apps and services quickly is nice.
it has a basic stand design, but you can also get wall mounts for a bit more money. You can probably save a bit more if you go with an aftermarket option, but we recommend going with the brand's offering since it's not easy to find one that can support 50 pounds or more. Its adjustability is quite limited, but that's understandable for most TVs.
The Sylvox Outdoor TV has three HDMI 2.0 ports for video inputs and two USB slots for accessories. You also get an optical audio slot, AV slots for older speaker sets and home theater setups, and a regular 3.5mm jack for headphones. It's basic, but most TVs only require these since they are limited to 60Hz.
You also get dual speakers that can get as loud as most TVs in the same size class. The power rating per channel wasn't specified, but they sounded comparable to most 5-7watt sets we encounter on TVs. Entertainment buffs will feel like they need a separate set for better sound in an outdoor setting.
Display and Performance
The Sylvox Outdoor TV uses a 43-inch VA panel with a 3840 x 2160 resolution, a 60Hz refresh rate, and an 8ms response time. The backlight's output isn't explicitly specified, like the 3000:1 contrast ratio, but Sylvox says that it's 1000 nits brighter than regular TVs. The monitor isn't advertised as HDR-certified, even if it has a higher backlight output.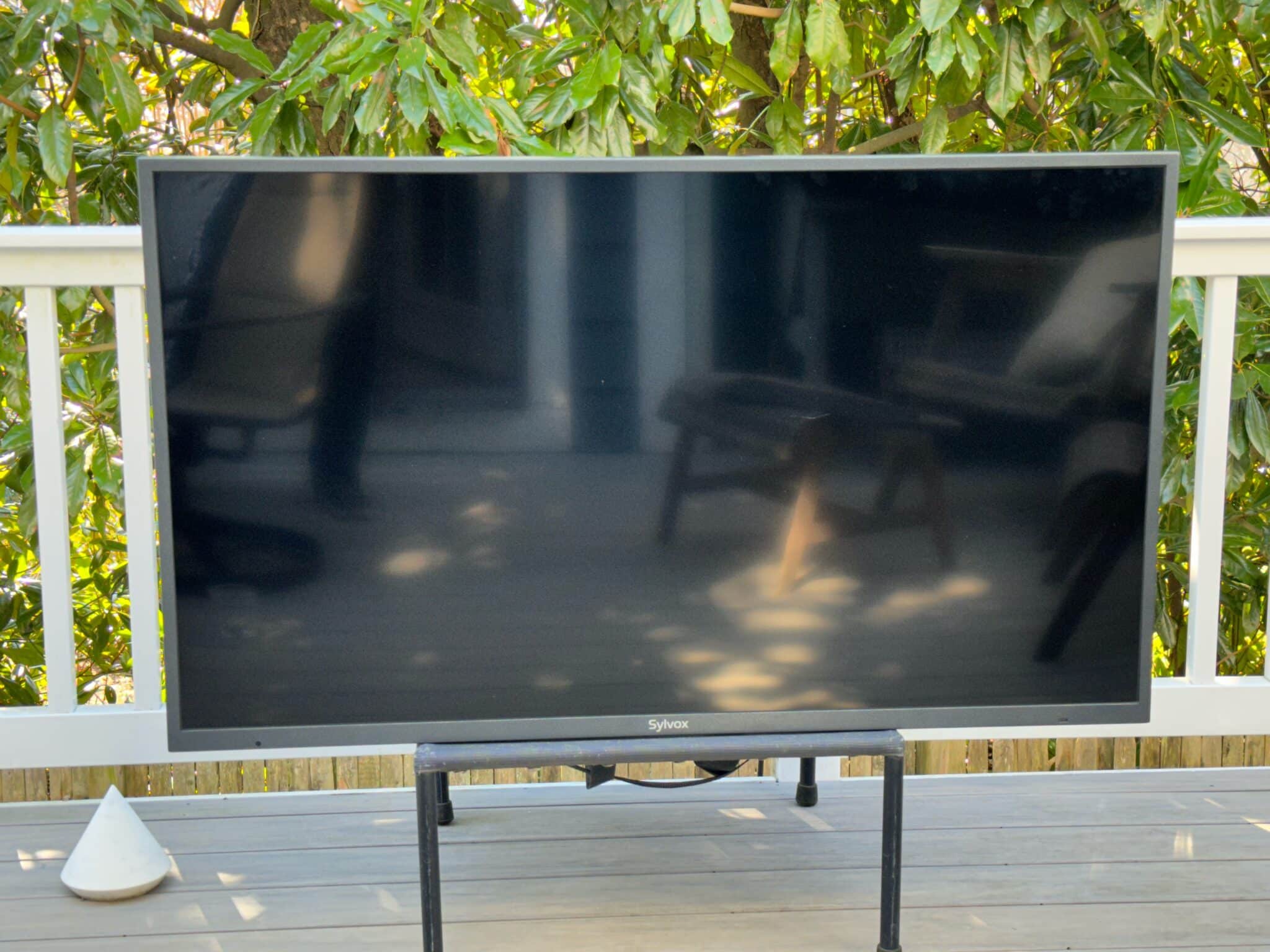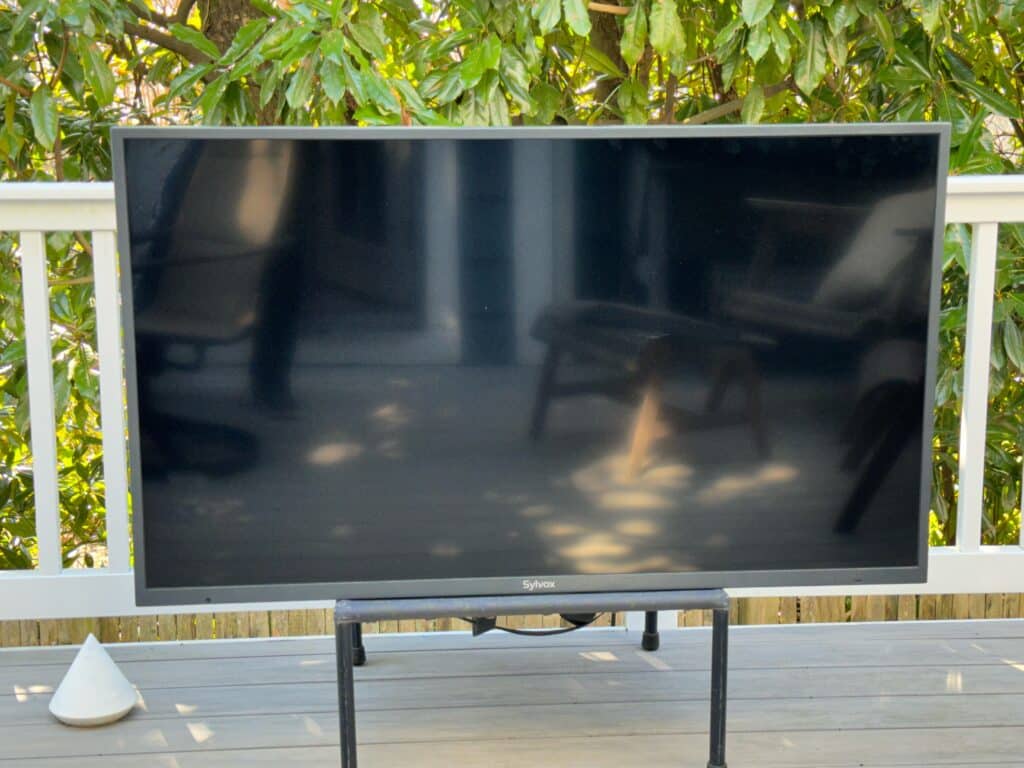 4K TVs start at this size, so it's quite small by today's standards, wherein you can basically cover a whole wall with a screen. However, this makes the screen more manageable and appears sharper at most seating distances. Movies look great on it, so it's a good pick for your patio entertainment setup.
The Sylvox Outdoor TV covered 100% and 89% of the sRGB and DCI-P3 gamuts, respectively. The default accuracy isn't the best, with a deltaE average of 3.65 due to the extra saturation and lack of factory tuning. However, that isn't as bad for dedicated TVs since it's hard to discern color errors at a distance.
Calibrating the TV reduced the dE average to a more balanced 2.71, lessening the yellowish-white balance and oversaturation in the greens. However, it's still not a result you'd want for any color-critical applications. Focusing on a prosumer display should be your priority instead of spending more for what's essentially an armored TV.
Its backlight reached 1151 cd/m2 at 100%, so it can definitely fight glare when it's used on your porch or veranda. The contrast ratio was almost spot on from the manufacturer's claims at 3112:1, so night scenes will not look washed out when viewed from the outside. Black crush will happen too much if you use it indoors, so we recommend turning down the brightness for indoor use.
Panel uniformity for the test sample had some issues since the backlight's spread wasn't even. Some quadrants look like they have lower contrast when viewed at a closer range. Note that this can vary between every TV due to tolerances, so better units exist.
The worse aspect of the Sylvox Outdoor TV is its pixel response time which is drastically slower than most VA-based TVs. It's not immediately visible, but fast-paced scenes have blurring and smudging. It's not a deal-breaker for basic entertainment, but it basically says that it is not for gaming. The gravity of this limitation depends on the user, but the TV's target audience won't mind.
The Sylvox Outdoor TV doesn't have Adaptive Sync like modern TVs, but that's okay since it was not designed for gaming. Owners will probably use it with a gaming console at the most, and Adaptive Sync isn't always necessary for FPS-locked titles. Input lag is quite high at 25ms, so it's not the most responsive TV.
Thoughts on the Sylvox Outdoor TV
The Sylvox Outdoor TV is expensive but relatively affordable for its unique and less-populated category. It is built to last thanks to its solid metal housing and excellent weather-proof finish. The TV has amazingly high brightness and contrast, so it will work as advertised for outdoor viewing pleasure.
However, there is some room for improvement with the TV's features to make it comparable to its regular counterparts. Its panel should offer better performance for the price, although we understand the limitations it has to deal with. Overall, it's a great option for its target audience, especially since its competitively priced in the segment.
Pros:
Solid Weatherproof Build
IP55 (Water, Dust, Snow, Dust, Insects, Salt, Humidity, and High Temperature Resistance)
Excellent Brightness and Contrast
Competitive Pricing
Cons:
Slow VA Panel
Extra Heavy
Lmited Connectivity and Speaker Quality
About the Author: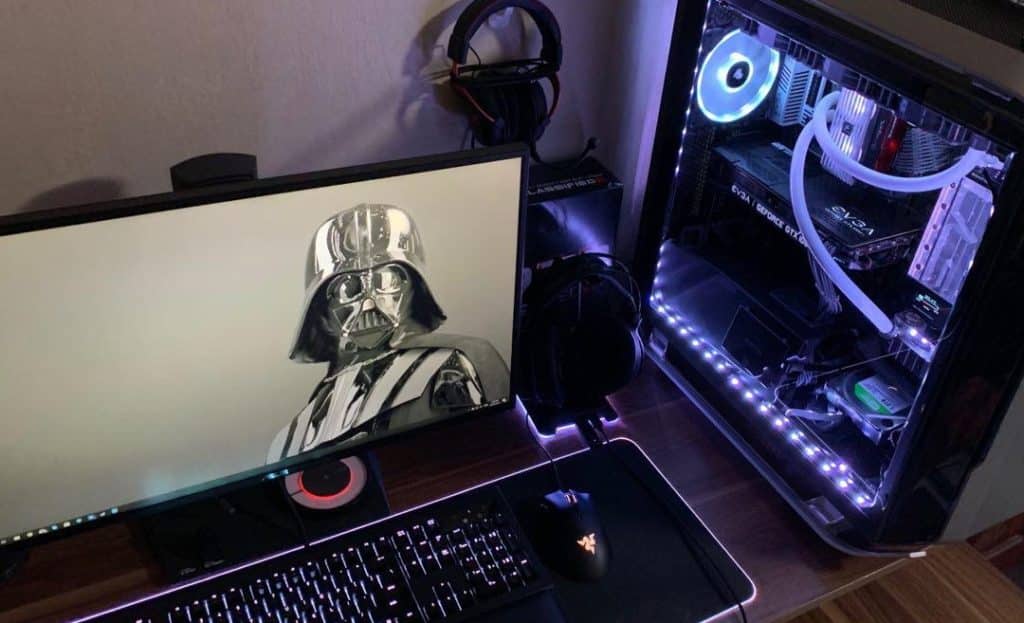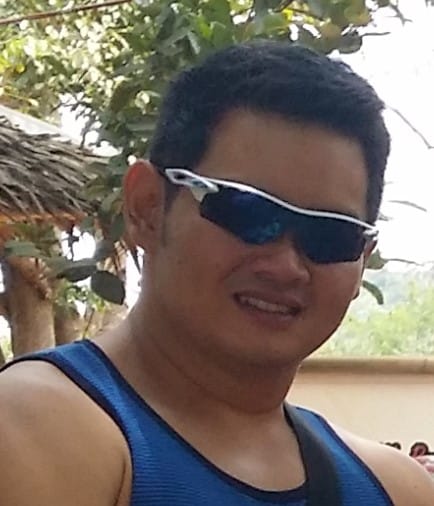 Paolo has been a gaming veteran since the golden days of Doom and Warcraft and has been building gaming systems for family, friends, and colleagues since junior high. High-performance monitors are one of his fixations; he believes that every citizen's right to enjoy one. He has gone through several pieces of hardware in pursuit of every bit of performance gain, much to the dismay of his wallet. He now works with Monitornerds to scrutinize the latest gear to create reviews that accentuate the seldom explained aspects of a PC monitor.