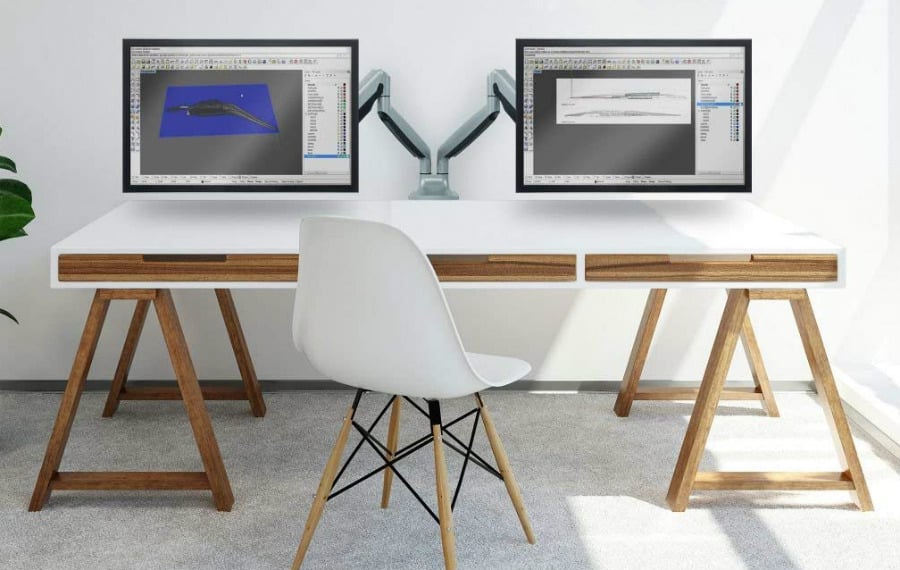 The Techorbits Dual Monitor Mount features scientifically engineered gas spring arms to support the full weight of two displays. The device creates a floating effect for your computer display with excellent ergonomic range for ease of use and comfort. The Techorbits Dual Monitor Mount is one of the pricey yet attractive options out there, making it appealing to check if its worth its cost.
Techorbits Dual Monitor Mount Specifications
Suitable for 13″ – 30″ monitors
Supports up to 20 lbs per arm
Articulating gas springs
SmartSWIVEL self-balancing arms
Supports VESA 75 x 75 mm and 100 x 100 mm
Dimensions: 22.5" x 18.5" x 4.5"
Weight 16.7lbs

Design and Features
The Techorbits Dual Monitor Mount sports a superb build quality that gives off a feeling of reliability and durability. Almost every bit of the product is made from heavy-duty aluminum to ensure that it will be lightweight and rust-free for most of its life. Gas spring mechanisms modulate each of the arms so they can provide smooth and firm articulation to make adjustments convenient.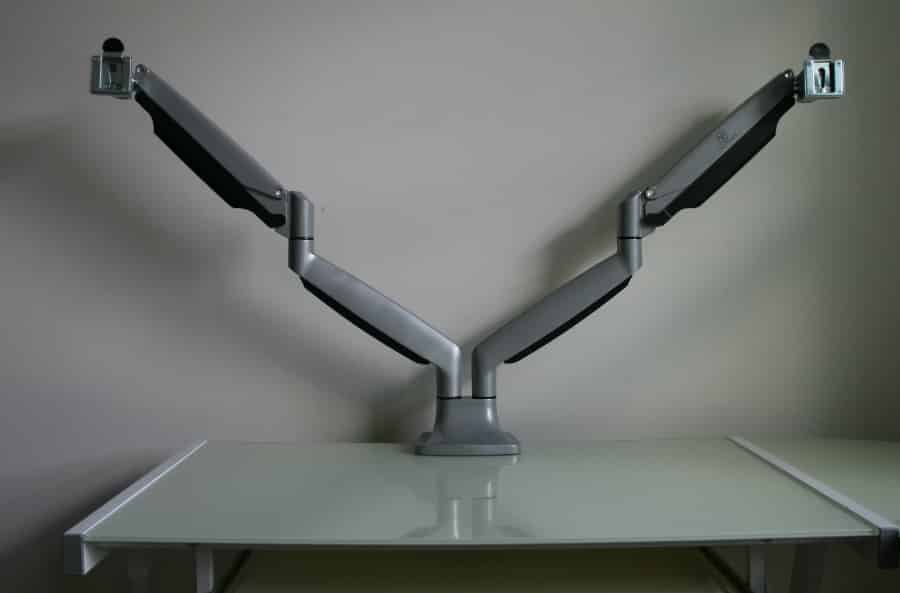 The device ships pre-assembled save for the desk clamp that comes in two pieces. Basic tool usage and assembly is required for the L-plates, but it's nothing a hex key and some elbow grease can handle. The VESA plates which support 75 x 75 and 100 x 100 bolt patterns are separated from the Techorbits Dual Monitor Mount so you can independently screw it to your VESA-compatible PC monitors.
Mounting the displays onto the arms is easy once you've attached the VESA plates to your monitors firmly. You only have to flip a QD switch that locks the plates in place and slide the monitors in place.
The locking design is secure, and there is no need to worry about your displays popping out and falling to the floor.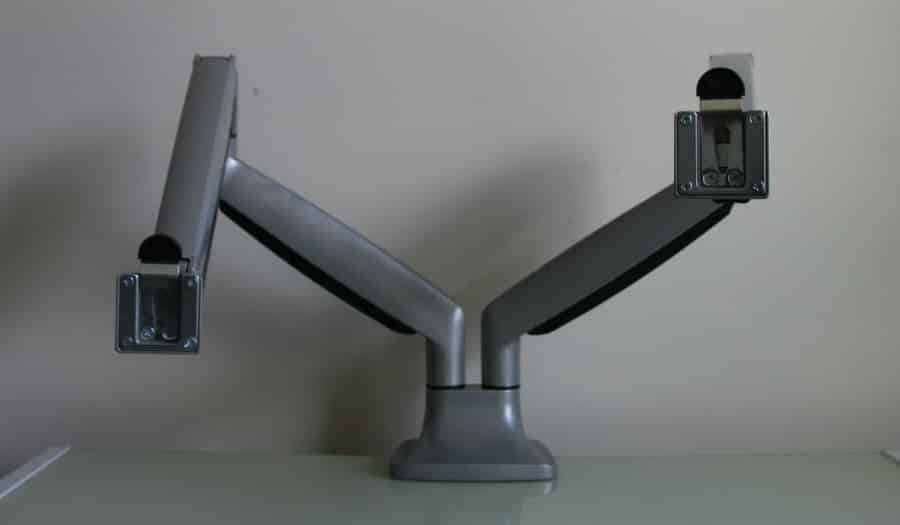 One of the limitations of the Techorbits Dual Monitor Mount is its clamping mount which requires users to have a desk that doesn't have a backing surface. You need to attach this device to a straight and durable edge to secure it firmly.
Another striking feature of the Techorbits Dual Monitor Mount is the plastic shields that attach directly to the arms. These extras are meant to conceal cables and secure them in place for a neat and organized setup. One flaw we noticed is that thicker cables such as those on VGA wires do not fit, but it's nothing a cable tie can't fix.
Performance and Reliability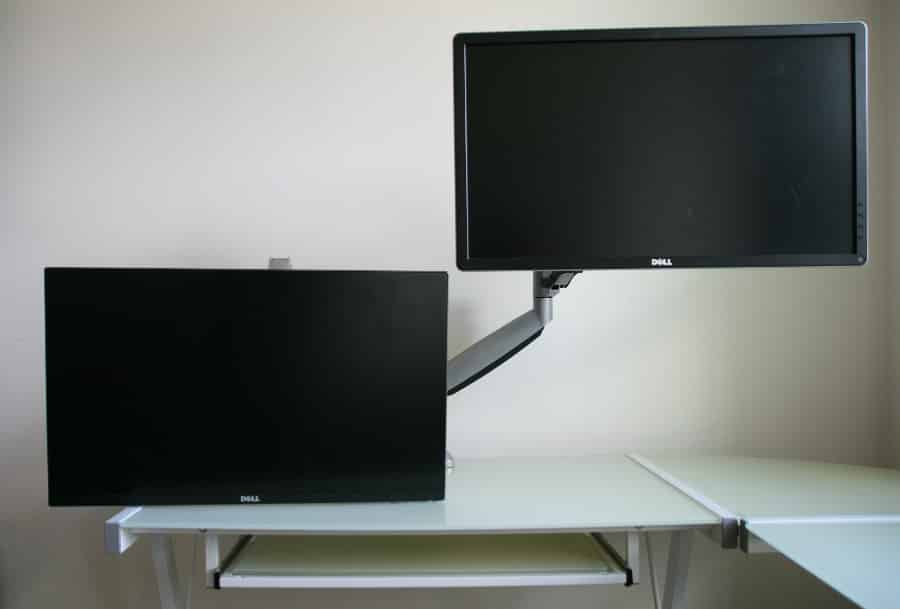 The Techorbits Dual Monitor Mount can hold dual monitors with 13" to 30" diagonal sizes and a maximum weight of 20lbs per arm. It can tackle almost every 24-inch monitor available, but larger monitors can become an issue. We've seen some feedback that the device cannot handle 27-inch displays like the Asus PG278QR which does have a bit of extra heft due to its design and internals.
One way to solve sagging issues is to take the time to adjust the tightening screws on the joints of the Techorbits Dual Monitor Mount. You can use the hex key to strengthen the clamping force as needed to be able to secure heavier displays. The armature will be able to hold any monitor so long as you stay within the specification's limits and put in the extra effort to tighten the screws.
The Techorbits Dual Monitor Mount is a joy to use once it's set up correctly. The free-standing look adds an executive appeal that will make your setup look organized and free your desk from the bases of typical stands. You can adjust height, swivel, and tilt your monitors smoothly, plus you can even pivot them for portrait mode.
The adjustments on the Techorbits Dual Monitor Mount feel smooth and easy to manipulate thanks to the gas spring's modulation. Take note that correctly tightening the clamp screws is crucial if you want to lock the screens in place or make the movements firmer. We also recommend keeping a hex key handy if you regularly move the displays around since the screws will naturally loosen.
Thoughts on the Techorbits Dual Monitor Mount
The Techorbits Dual Monitor Mount is an impressive piece of kit designed to do its job fantastically. The gas springs make the arms' movements feel both smooth and firm to make adjustments convenient and reliable. The device does have a few quirks if you use heavy displays or thick cables, but it's nothing a little tightening or cable ties can't fix.
The build quality and craftsmanship on the Techorbits Dual Monitor Mount is something that's well worth its premium price. There are cheaper options, but they cannot offer an appealing combination of a floating workstation and flexibility like this gadget. The Techorbits Dual Monitor Mount is highly recommended for professionals and gamers/streamers who want to utilize two displays for productivity and flexibility.