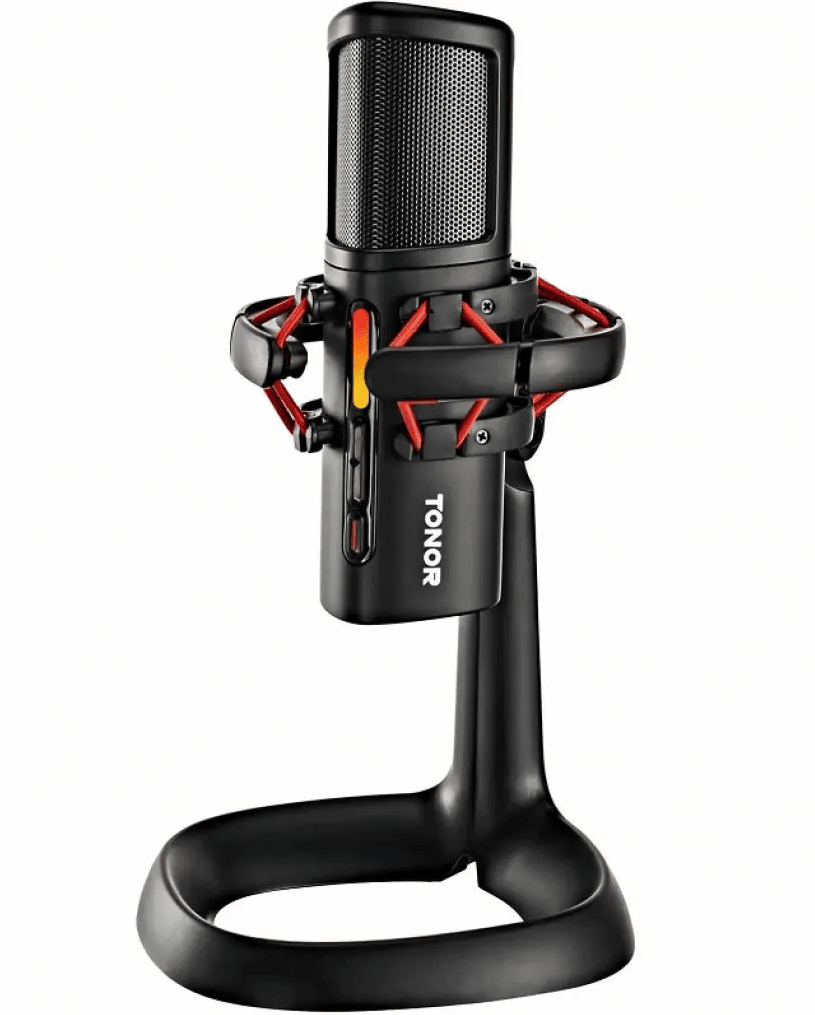 The TONOR Orca 001 is an affordable gaming mic that includes premium features that you won't usually find in the price range. It's a condenser-type mic that has noise canceling, a shock mount, and of course, RGB lighting. It looks and feels great, but let's see how the TONOR Orca 001 to know if it should be your next streaming setup upgrade.
Design and Features
The TONOR Orca 001 looks like a gaming-oriented product, but it is not too flashy or gaudy so it will not stand out too much in your setup. the device has a matte black finish, so it doesn't stick out and is easy to clean or maintain. There is an RGB light at the front which indicates volume level, so it will still fit in with your themed builds if you want it to.
Its build quality isn't as good as the Elgato Wave 3 we reviewed earlier, but this option only asks for a fraction of its price. The plastic parts don't feel as premium as the metals on the Elgato, but they are still quite durable. The included stand is decent and stable, so the mic won't shake or vibrate even through intense battles.
The TONOR Orca 001 isn't shaped to be portable, but that's okay since it was designed for desktop use anyway. Its default base consumes a negligible amount of space, plus it is hollow in the middle so you can place small objects like thumb drives in it. it only weighs 650g because it's made from plastic, so you can even set it on top of other devices without damaging them in the long run.
The mic also has quick and easy-to-use controls starting with the mute button at the top which only needs a tap. You also get a dedicated Noise Cancellation button with two others for volume control below the RGB LED. It's great that you don't have to use software to utilize the mic as best as possible since that can be troublesome if you are streaming or playing competitively.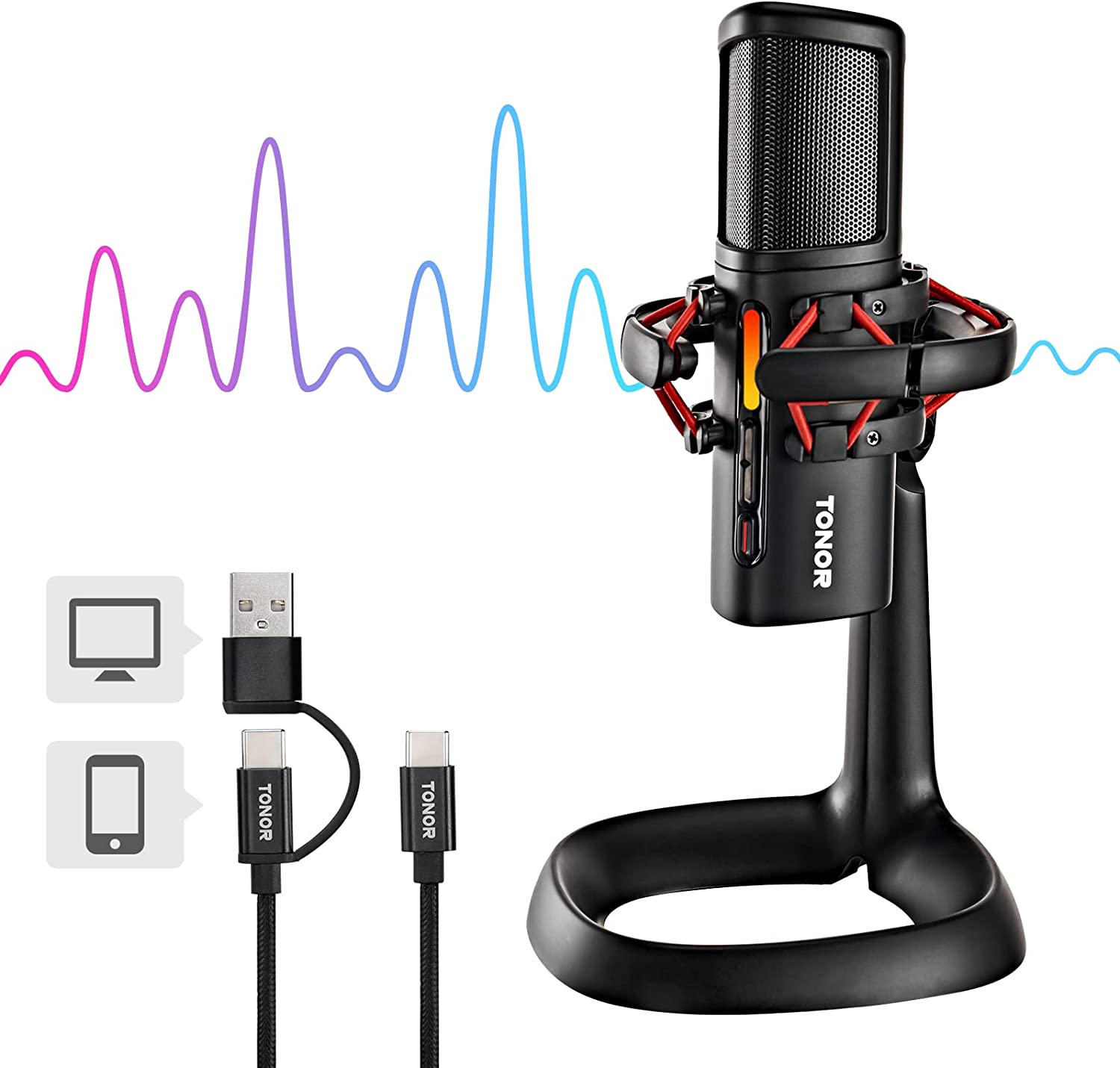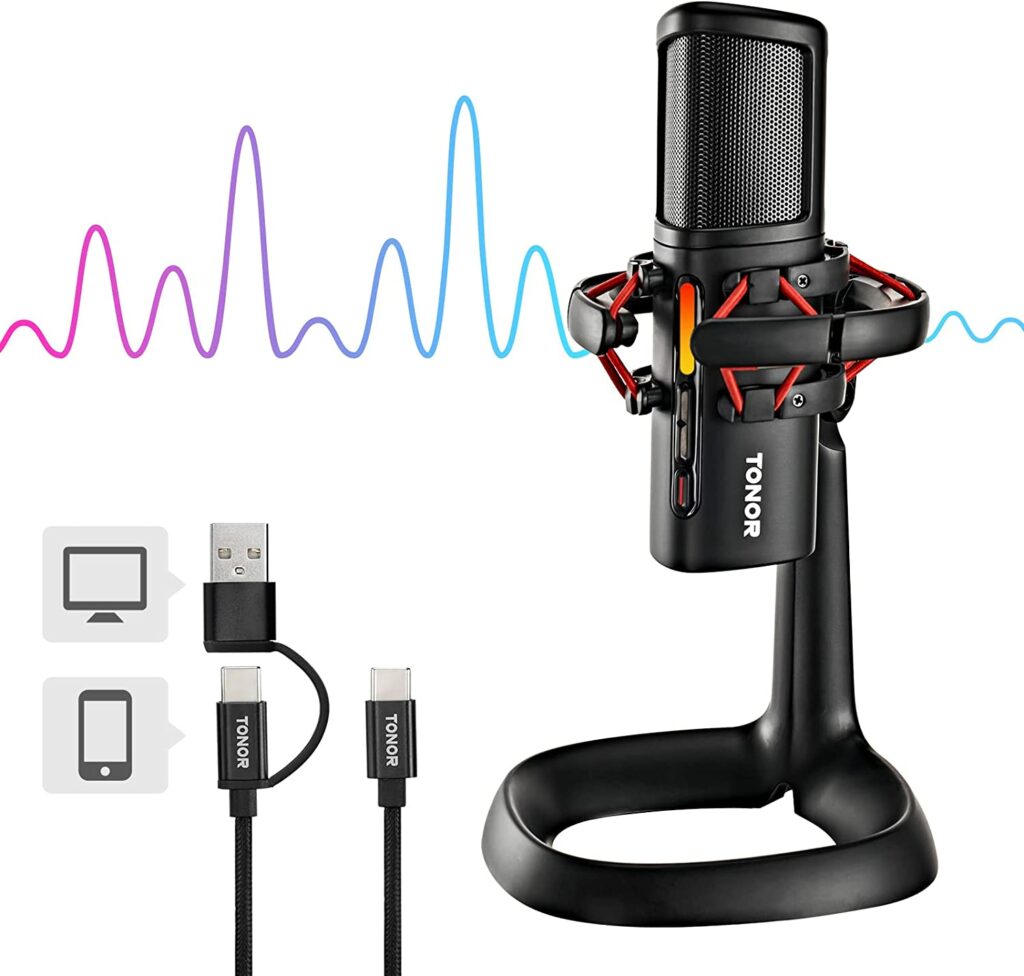 The TONOR Orca 001 simply connects to your PC via USB so it is compatible with old and new PCs, Macs, and Android devices. It also has a 3.5mm jack under the body so you can connect a headset for monitoring and volume control via its buttons. It even includes a type-A adapter so you don't have trouble utilizing it for both PCs and mobile devices.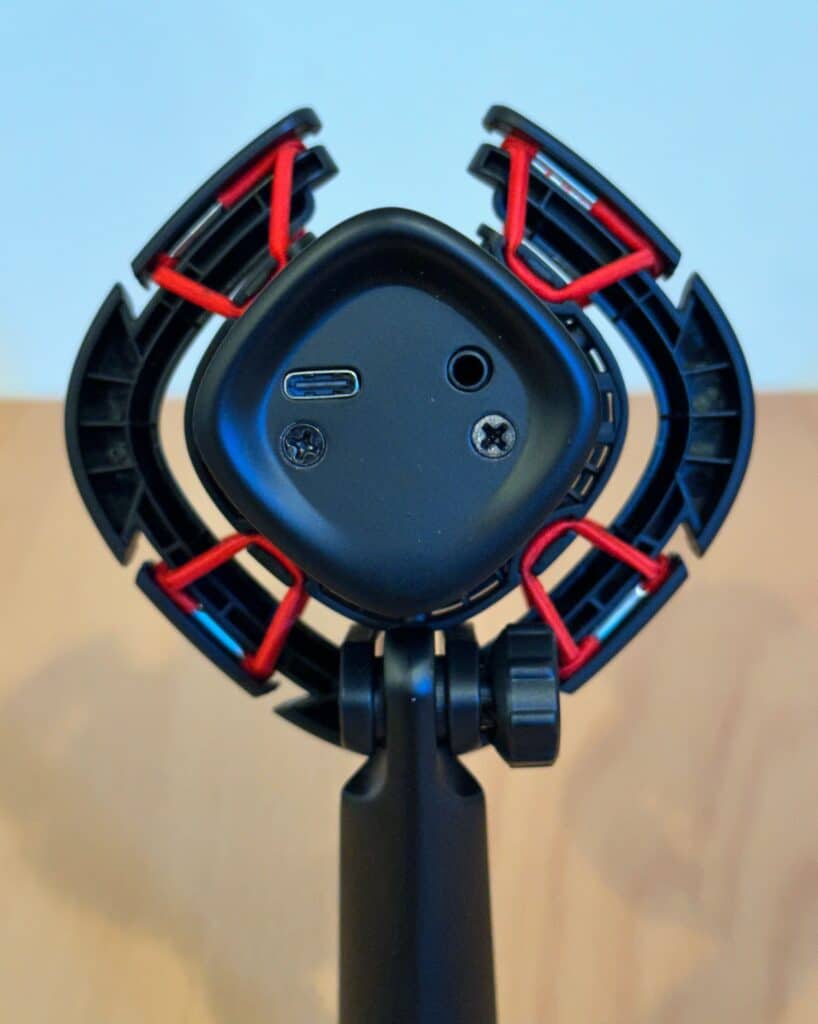 The package includes a weighted stand as mentioned above, instead of a more flexible and functional boom arm. You must buy that separately if that's your preference, especially if you are streaming so you can place the mic out of the way. We like that a shock mount is already included so you don't have to worry about vibrations which will induce annoying sounds to your voice comms.
Performance
The TONOR Orca 001 has a condenser microphone that uses a cardioid pick-up pattern for better sound quality and volume. Its cardioid pickup pattern can be limiting at times, but it's the best possible option for gaming mics that are designed like this. It sounds great and full by default, so it's good enough for gaming comms or as a starter mic for up-and-coming streamers.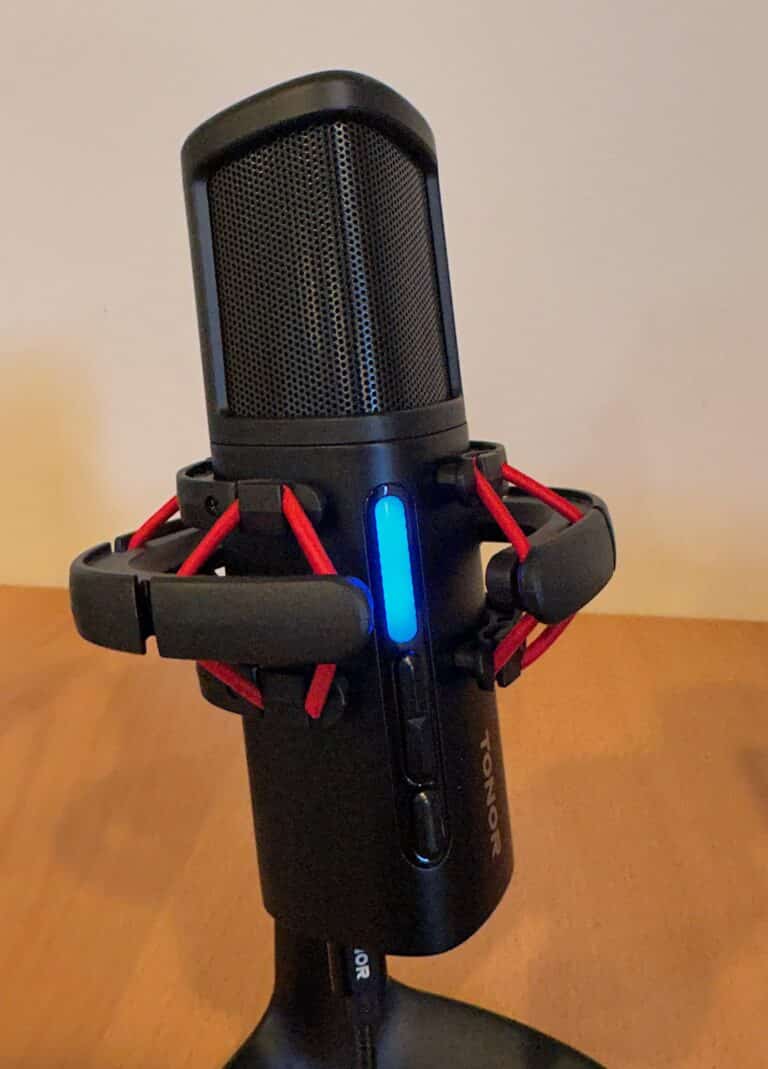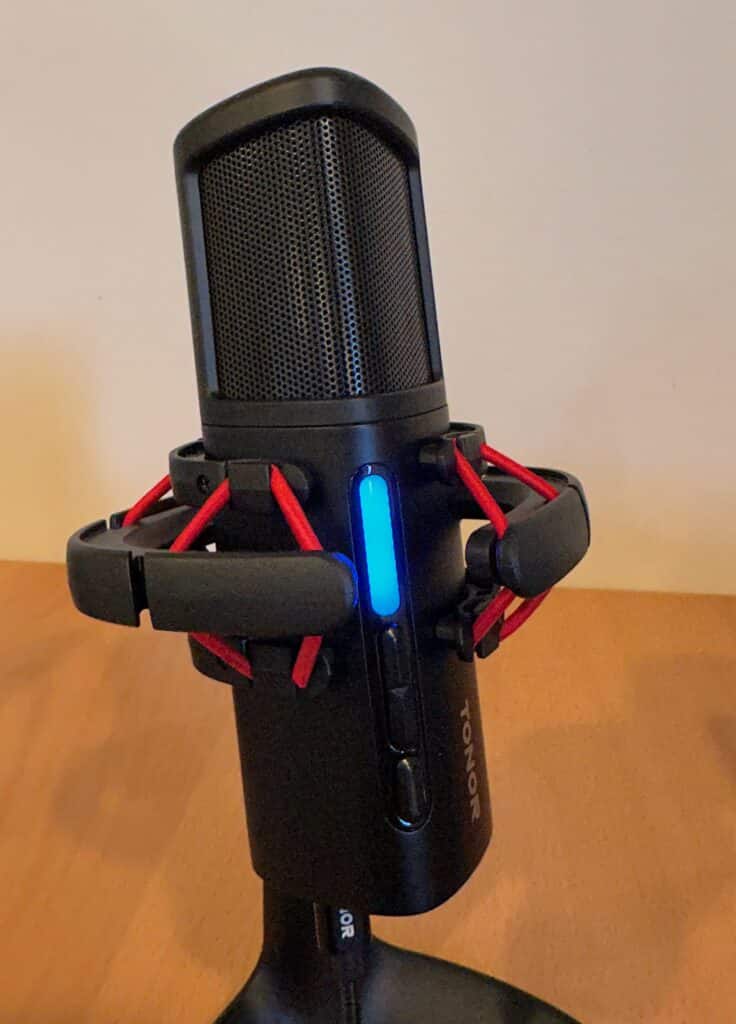 However, that full sound changes when you engage its noise cancellation feature since it can make your input's volume a bit quieter. It muffles out the middle part of words, so you might need to come in closer to it so it can pick up everything you have to say. However, doing that will also add some distortions, but it's a minor issue since it's still capable of a clear output.
As such, we can only recommend the noise cancellation feature for users who do not have dedicated gaming areas or rooms. You won't need it if you play with closed doors or in an airconditioned area of your home. It is also worth noting that you can adjust the gain easily but doing so will add clicks to your feed if you are live.
Another complaint we have is from its stand which limits the mic's tilting range since its body bumps into the upright at a certain angle. This shouldn't be a problem, but it negates the function of the shock mount severely. It is not difficult to get a good position from it, but this is probably where some users will feel that a boom arm will be necessary.
We like that the TONOR Orca 001 is plug and play so there are no compatibility issues or dead functionalities between different systems. The downside is you don't get shortcuts to some important features like muting aside from the buttons on the mic itself. That's convenient for most users, especially those who want to spend less time figuring things out and more time duking it out with opponents.
Thoughts on the TONOR Orca 001
The TONOR Orca 001 is a decent choice at its current price for those who want a convenient and functional microphone for gaming or streaming. It's built quite well and it already includes a shock mount even if it is limited to a desktop stand. It sounds decent for the most part and it has the right features like a built-in mute button.
However, there are some quirks that you must live with like its tricky noise cancellation. The RGB light is gimmicky, considering a knob with markings will make it easier to know the gain level. There's also the stand that limits the tilting angle, but all of these flaws are minor if you consider how affordable it is.
Pros:
Very Affordable
Flexible Connectivity
Built-in Controls
Plug and Play
Cons:
Limited Stand
Noise Cancelation Could Be Better
RGB Indicator Can Be Confusing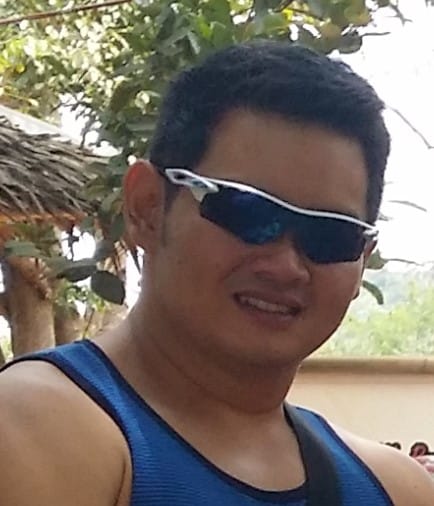 Paolo is a gaming veteran from the golden days of Doom and Warcraft. Since junior high, he has been building gaming systems for family, friends, and colleagues. High-performance monitors are one of his fixations; he believes that every citizen's right to enjoy one. He has gone through several pieces of hardware in pursuit of every bit of performance gain, much to the dismay of his wallet. He has also spent half a decade researching, reviewing, and writing about these products and now has over 1400 articles about the best gaming tech under his belt.