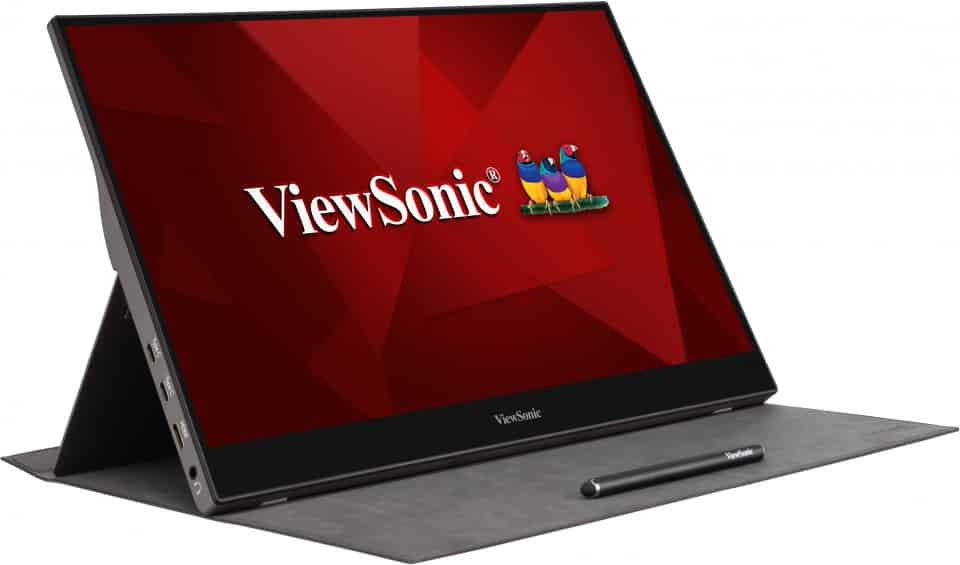 The ViewSonic TD1655 is an upgraded version of the VG1655 that is designed to enhance your productivity further while on the go. Its got the same features and characteristics we loved about the VG1655, but we're curious about its panel and how it affects its day to day performance. Let's check out if the ViewSonic TD1655 is the better pick between the two and if the extra premium is worth every penny.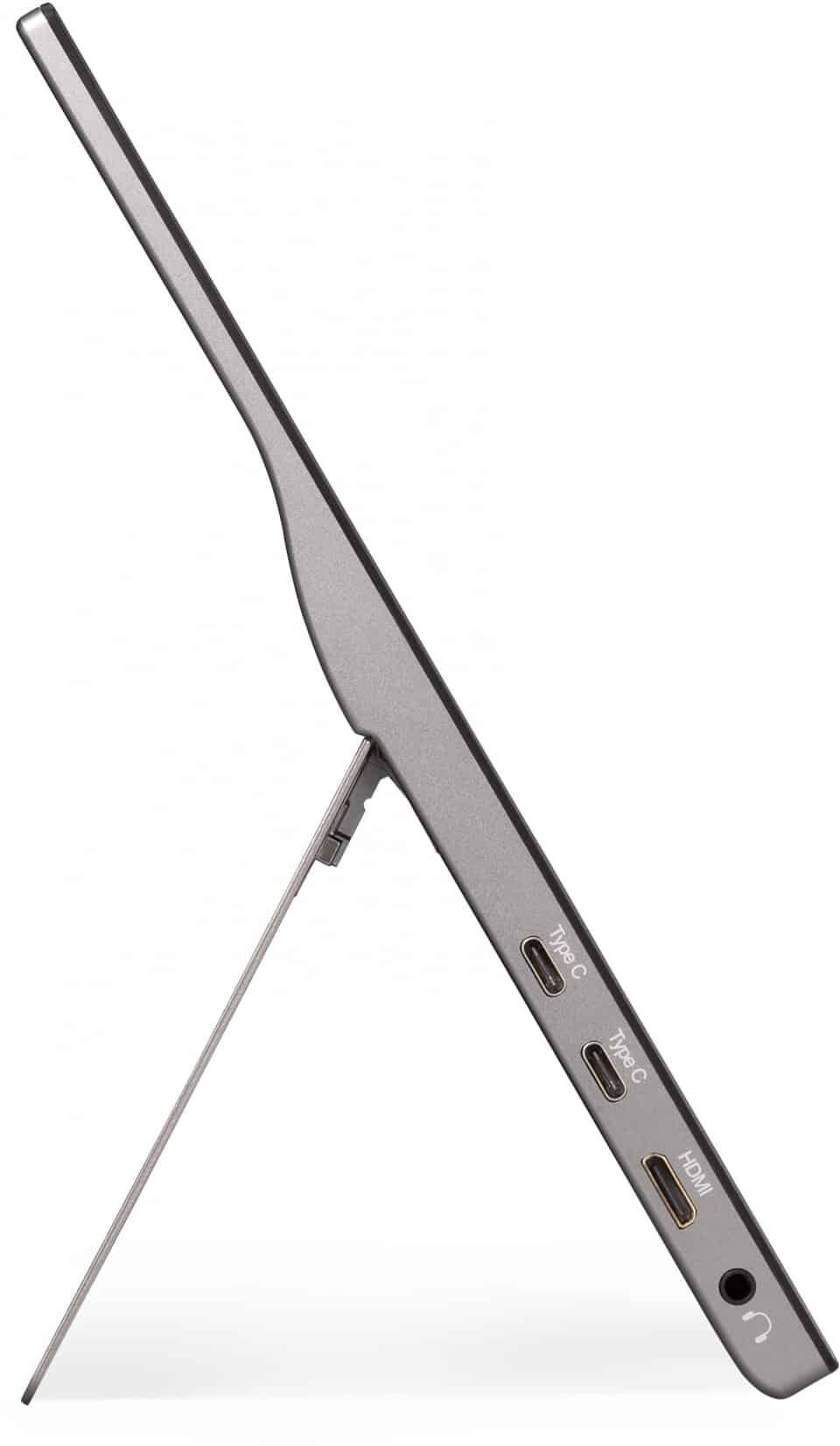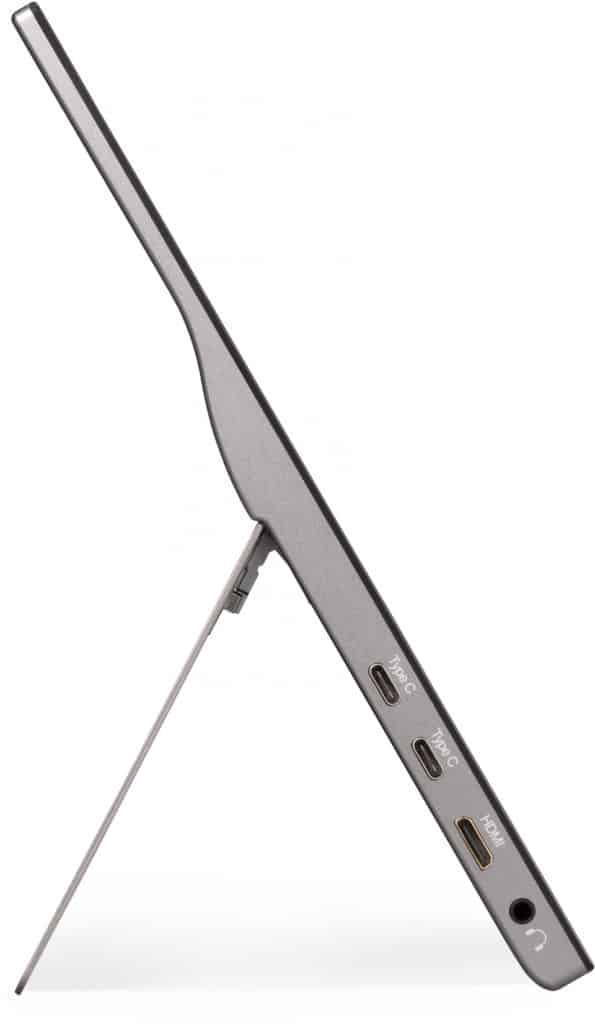 ViewSonic TD1655 Specifications
Screen Size: 16 Inches
Resolution:1920 x 1080 FHD
Aspect Ratio: 16:9
Panel Technology: In-Plane Switching (IPS)
Refresh Rate: 60Hz
Response Time: 14ms
Contrast Ratio: 800:1
Brightness: 250 cd/m²
Built-in Speakers: Yes (2 x 0.8 Watt)
Stand: Height – No
Stand: Tilt – Yes
Stand: Swivel – No
Stand: Pivot – No
VESA Compatibility: No
Connectivity: USB-C x 2, Mini HDMI 1.4 x 1, 3.5mm jack x 1
Dimensions With Stand (WxHxD): 14″ x 8.8″ x .6″
Weight: 2.1lbs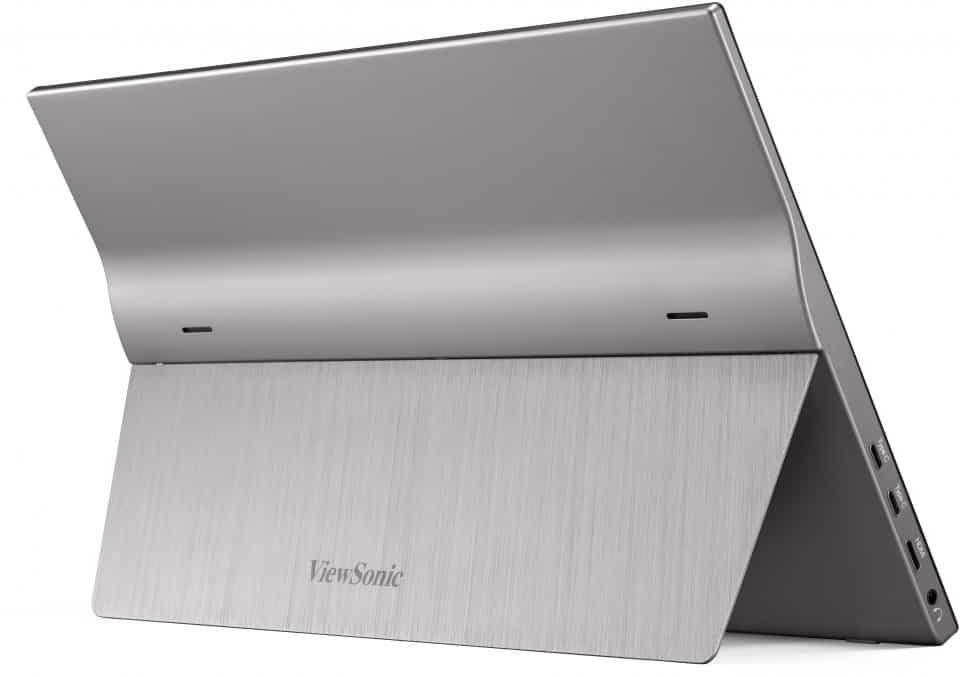 Design and Features
The ViewSonic TD1655 exudes an all-business flair with its minimalist design that highlights its target audience's taste and sophistication. The device has a combination of smooth and textured silver finishes which makes the device well-suited to pair with premium laptops like the MacBook Pro. The screen is bezel-free on three sides, but you will still see thin inner borders and the bottom strip when its in use.
It's difficult to tell the ViewSonic TD1655 and its non-touch variant apart, but you'll know if you've held the two since this model is slightly heavier. You still don't get a battery with this model, so its heavier than similar models and it relies on your laptop or its wall adapter for power. It's also thicker due to the bulge at the back, but it still is comparable to a regular notebook and can be easily slipped into any laptop bag.
Build quality for the ViewSonic TD1655 is excellent thanks to the great materials used and the precise manufacturing processes. We did not find any cosmetic defects on the product, and there are no signs of fragility on its body. You also don't have to deal with a flimsy stand since the monitor doesn't rely on folio covers to prop it up.
The ViewSonic TD1655 is a touchscreen portable monitor, and it supports both finger gestures and stylus inputs. The package already includes a stylus pen you can readily use with it, and we think that it's a nice touch that the brand even included an extra nib. There is no difference between the two with regards to how the screen responds to inputs, but the stylus is much more comfortable and precise to use since the display is smaller than the usual.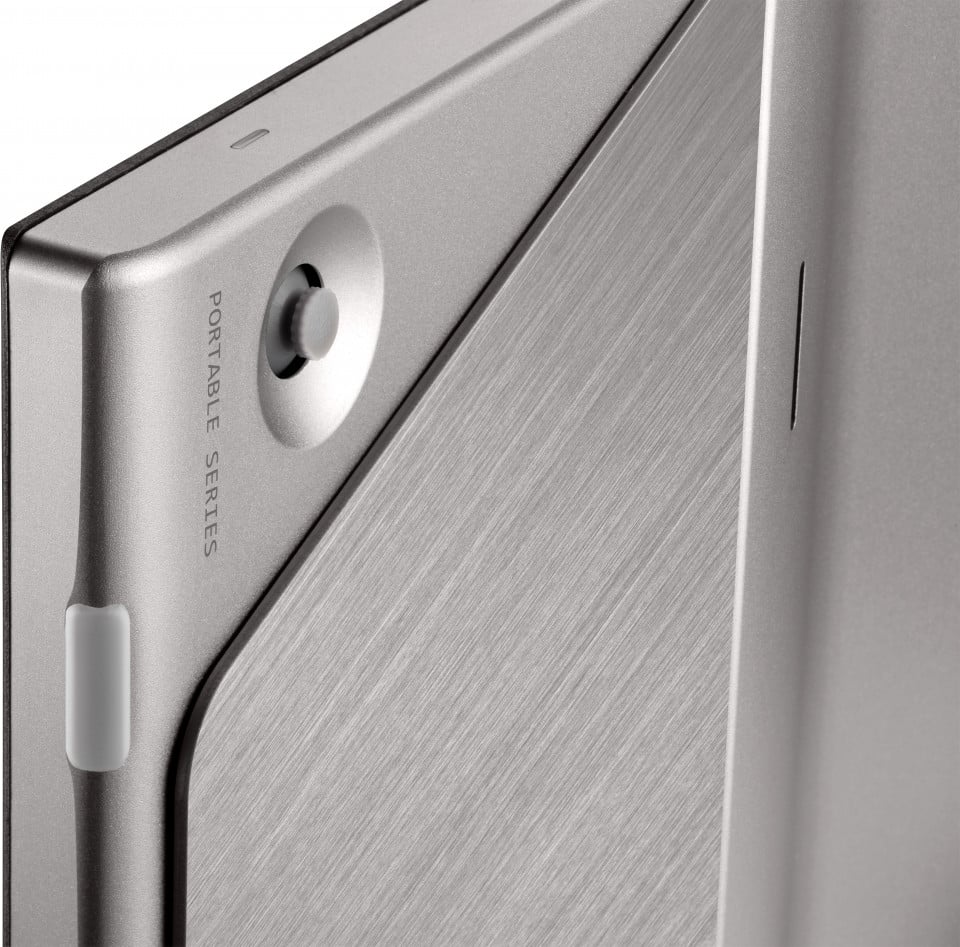 The ViewSonic TD1655 also has an invaluable OSD joystick which is easier to use than buttons or scroll wheels found on its competitors. This monitor has a decent amount of settings, so quickly navigating between the submenus without misclicks is a must-have. It's one of the culprits that add bulk to the chassis, but it's forgivable if you consider the convenience it provides in return.
We also like the fact that the ViewSonic TD1655 doesn't use a folio cover for a stand since it has a built-in plastic flap that gets the job done. You get around 45 degrees of tilt with it which is great, plus it holds the monitor up if you want it in portrait mode. There are no VESA mounting options on this model, but you can buy a non-standard clamp-type adapter if you want to mount it to a flexible arm.
It doesn't need one, but the ViewSonic TD1655 still includes a folio cover to protect the screen from damage. It can also be used as a base to support the screen, but it is only truly necessary if you want to use the monitor in portrait mode. it's a nice extra to have, but some may not find a use for it for quick setups.
The ViewSonic TD1655 has dual USB-C slots and a mini HDMI slots for video inputs, along with a 3.5mm jack for headphones. The primary USB-C slot is for DP Alt Mode, while the second is for providing power for your laptop if the device is connected to its wall adapter. It's a handy feature that helps you with lessening the cables necessary, so it's a nice to have feature for working on the go.
The ViewSonic TD1655 also has built-in speakers, but they are too weak even for general use. The 0.8-watt output isn't enough to provide clean sound, so most users will probably opt for headphones or the laptop's built-ins. Secondary screens are also usually placed on the side, so the output isn't optimal for music and movies.
Display and Performance
The ViewSonic TD1655 sports a 27-inch capacitive touchscreen IPS panel with a 1920 x 1080 resolution, 60Hz refresh rate, and a 6.5ms response time. The backlight is rated at 250 cd/m2, while the contrast ratio sits at 800:1. The panel used is identical to the ones used on other portable touchscreen monitors like the Asus MB16AMT, so their spec sheets and some of the results are the same.
1920 x 1080 looks crisp and clean on a 16-inch display, but it can feel a bit cramped for heavy multitaskers. However, using it as a secondary display is a whole different story since it practically doubles your workspace to enhance and speed up your workflow. Couple that with touch capabilities and you get a handy gadget that speeds up any process or gives you some more room for entertainment while working.
The ViewSonic TD1655 isn't very vibrant since it can only over 63% of the sRGB gamut which is lower than the non-touch version. Color accuracy is decent since the deltaE average sits at 2.31, so the screen doesn't look unbalanced. The color temperature is slightly warmer on this model as well, so some tweaking is necessary if you want to reduce the yellowish glow of white backgrounds.
The backlight on the ViewSonic TD1655 only managed a 225 cd/m2 max output and its contrast barely breached 900:1 at 60% brightness. It will struggle with glare when used outdoors and it will look grayish when viewed with the lights out. These numbers aren't great, but they are within margin of error for most of the portables on the market.
Panel uniformity for the ViewSonic TD1655 is excellent since it did not show leaks or clouding issues during tests. The screen looked even and you won't notice any loss of contrast or vibrancy on any of its quadrants. However, take note that this model still uses IPS technology, so there are units out there with worse symptoms.
The pixel response time on the ViewSonic TD1655 is faster than the VG1655, so it fares better when it comes to games. You will notice that blurs and smudges are less common on this variant, but they are still visible in many instances with contrasting transitions or fast motion. You can use the overdrive feature in the OSD with this limitation, but maxing it out will induce overshoot that adds halos to objects on the screen.
The ViewSonic TD1655 doesn't have FreeSync and G-Sync compatibility, but that's expected from the monitor type since it was not meant for gaming. It can be used for mobiles like the Switch, but its better suited for productivity or business use. Input lag feels close to 10ms like many 1080p 60Hz monitors, so there are no noticeable delays between the screen and your inputs.
Thoughts on the ViewSonic TD1655
The ViewSonic TD1655 improves its usability compared to the VG1655 for business users, but it doesn't do as well in some crucial aspects of the display. The product's design such as connectivity and included accessories are great, but some might not like the fact that it performs slightly worse than the cheaper variant. The touchscreen functionality is handy and responsive, but many will not like the premium it adds to the product.
We only recommend buying the ViewSonic TD1655 if you absolutely need the touchscreen feature, or if your laptop doesn't have it on its main screen. Otherwise, the ViewSonic VG1655 is a much better choice since it has better performance and a more attractive price tag
Pros:
Thin and Lightweight
Reasonable Color Accuracy
Attractive Aesthetics and Functionality
Includes Accessories
Dual USB-C with Power Delivery
Cons:
Cheaper Variant has Better Image Quality
No Built-In Battery
Prone to Blurring
About the Author: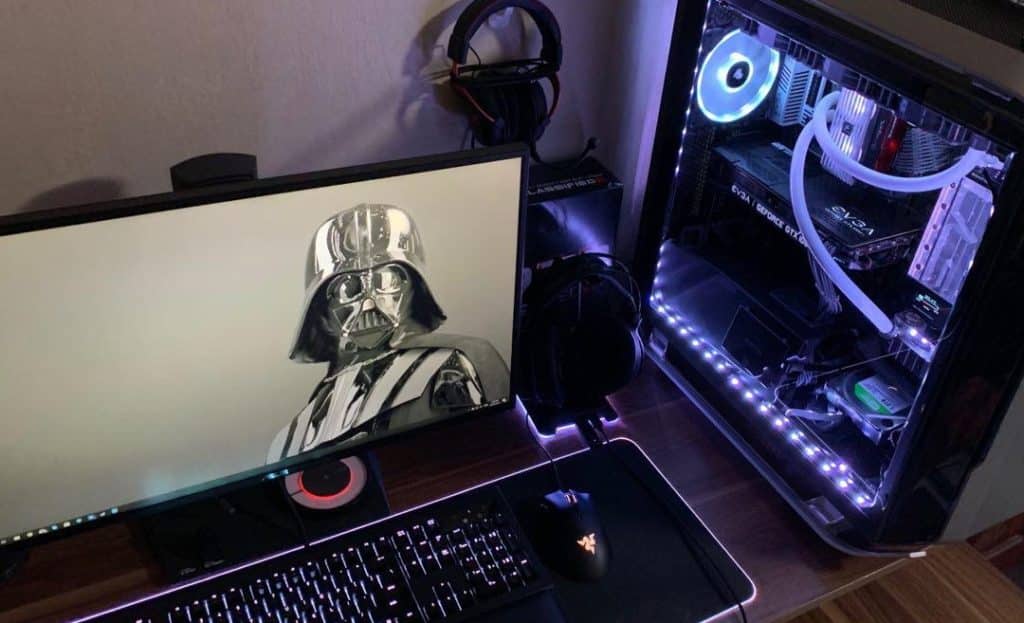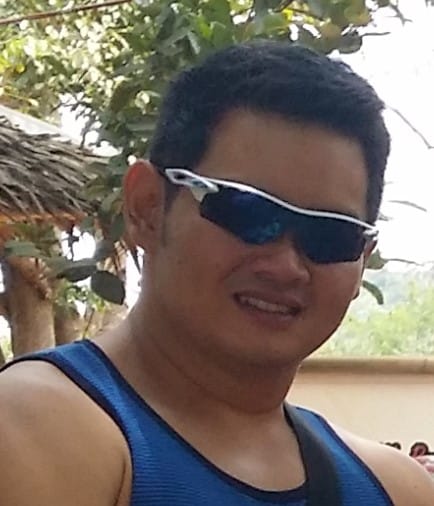 Paolo is a gaming veteran since the golden days of Doom and Warcraft and has been building gaming systems for family, friends, and colleagues since his junior high years. High-performance monitors are one of his fixations and he believes that it's every citizen's right to enjoy one. He has gone through several pieces of hardware in pursuit of every bit of performance gain, much to the dismay of his wallet. He now works with Monitornerds to scrutinize the latest gear to create reviews that accentuate the seldom explained aspects of a PC monitor.