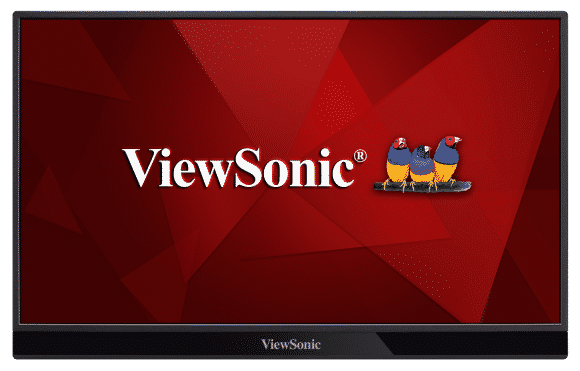 The ViewSonic VG1655 offers tremendous value at its sub $200 price point with its specs and design that are arguably better than some of its competitors. Its got that attractive vibe that makes it a suitable pair for premium laptops, while its USB-C connectivity takes care of the technical aspect of that match. The  ViewSonic VG1655 is a must buy if you are looking for an affordable and functional display on the go, but let's find out first if its excellence extends to its performance as well.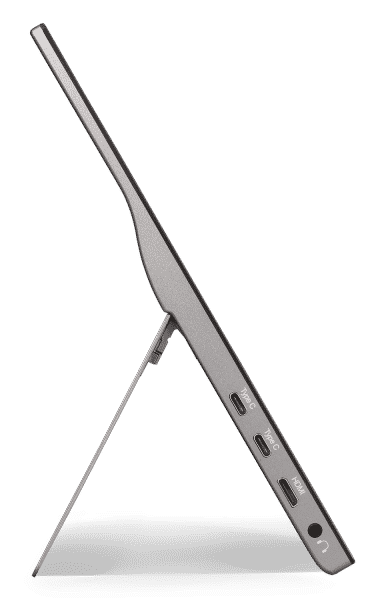 ViewSonic VG1655 Specifications
Screen Size: 16 Inches
Resolution:1920 x 1080 FHD
Aspect Ratio: 16:9
Panel Technology: In-Plane Switching (IPS)
Refresh Rate: 60Hz
Response Time: 14ms
Contrast Ratio: 800:1
Brightness: 250 cd/m²
Built-in Speakers: Yes (2 x 0.8 Watt)
Stand: Height – No
Stand: Tilt – Yes
Stand: Swivel – No
Stand: Pivot – No
VESA Compatibility: No
Connectivity: USB-C x 2, Mini HDMI 1.4 x 1, 3.5mm jack x 1
Dimensions With Stand (WxHxD): 14″ x 8.8″ x .6″
Weight: 1.8lbs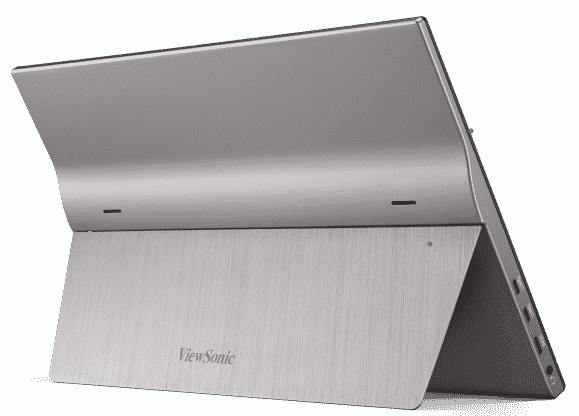 Design and Features
One look and you'll know that the ViewSonic VG1655 is the more attractive choice with the way that it is designed. The monitor has a textured grey appearance that looks sophisticated and suited to the premium laptops like the gunmetal-colored MacBook Pros. The display is bezel-free on three sides, but you will still see thin panel borders and a thick bottom strip that has the ViewSonic name emblazoned on it.
The ViewSonic VG1655 is slightly lighter than its competitors like the Asus MB16AMT, but it's also heavier at the same time if you consider that it doesn't have an internal battery. It's also thicker in some ways due to its built-in stand, but it is still comparable to a regular-sized notebook that will slip right into your laptop bag. Its also relative to its weight which is lower than some, but also heavier since there is no battery inside.
Build quality for the ViewSonic VG1655 is excellent since there are no cosmetic or mechanical issues on any of the monitor's parts. The flip-out stand folds into the chassis perfectly thanks to the excellent fit and finish of the product. It's not as stable as a full-sized monitor, but it's better than the folio-type stands that are more widespread in this category of displays.
The ViewSonic VG1655 also includes an OSD joystick which is so much easier to use than buttons or the scroll wheels used for portable displays. The OSD on this model has more settings and options so having a quick and convenient way to adjust simple settings such as the backlight is nice to have. The joystick is also built into the monitor's bulge like the flip-out stand, but the added heft is excusable in our books since you get some functionality out of it.
The ViewSonic VG1655 uses a flip-out stand like the Lenovo Thinkvision M14 instead of a folio which is better and more reliable since it isn't flimsy and reliant on grooves for locking. It only offers tilt for ergonomics, but you can also use it in portrait mode using the hard flap. There are no VESA mounts on this model, but you can use a clamp-type monitor arm if necessary.
However, the ViewSonic VG1655 still includes a folio cover in the package even if its stand is already built-in. You can use the former as a protective cover when in transit, but its also usable as a base to help keep the monitor stable on slippery surfaces. ViewSonic put a lot of thought for the consumers with this model, and that's a big plus at its current price point.
Connectivity for the ViewSonic VG1655 is excellent since it allows you to set it up in many ways depending on your needs. The layout includes two USB-C 3.2 slots and a Mini HDMI connector, along with a 3.5mm jack for headphones. The primary USB-C slot is for DP Alt Mode, while the second is for providing power for your laptop if the device is connected to its wall adapter.
The ViewSonic VG1655 also has built-in speakers, but their 0.8 watt-output is too weak even for general use. Your laptop's built-ins will probably sound better, so we don't see this feature getting a lot of use. portable monitors are also almost always positioned to the side, so it isn't optimal for sound projection anyway.
Display and Performance
The ViewSonic VG1655 sports a 16-inch IPS panel with a 1920 x 1080 resolution, 60Hz refresh rate, and a 14ms typical response time. The backlight is rated at 250 cd/m2, while the contrast sits at 800:1 according to the spec sheet. This variant most likely uses the same IPS panel as the other portable displays, so their specs such as the lower than 1000:1 contrast ratio are comparable.
The 16-inch screen on the ViewSonic VG1655 feels a bit cramped, but the extension it provides for your workflow is very handy. The pixel density looks crisp and not pixelized, so you won't have problems with jagged objects like on a 27-inch or 32-inch 1080p monitor.  Scaling isn't needed as well since walls of text on browsers and documents are still comfortable to look at.
The ViewSonic VG1655 isn't very vibrant since it can only render 65% of the sRGB gamut, although that's common with portable displays. Default accuracy, on the other hand, is decent since the deltaE average is limited to 2.13. The color temperature is slightly warm, but you can get away with a little tweaking to reduce its effects.
The backlight on the ViewSonic VG1655 doesn't get very bright, but it can reach as much as 255 cd/m2 at 100%. It can fight a decent amount of glare, but using it outdoors isn't ideal unless you can find a really shaded spot to work on. The contrast ratio reaches 1012:1 at 70% brightness which is already high for a portable, but still insufficient in producing deep blacks and shades.
Panel uniformity for the ViewSonic VG1655 is decent since there are no backlight leaks, but some clouding can be seen in dark scenes. It isn't as noticeable when full-color images are present, but you will see the loss of contrast in the affected quadrants when viewing low light videos. Take note that this aspect will vary between every unit due to tolerances, so there are better and worse ones out there.
Responsiveness isn't a particular strength of portable monitors, and the ViewSonic VG1655 isn't an exemption. The 14ms pixel response time takes a toll in fast-paced scenes, resulting in blurs and persistence in various transitions. The VG1655 includes an overdrive but use it sparingly since it will add overshoot at the max level.
The ViewSonic VG1655 doesn't support FreeSync and Nvidia's G-Sync compatible mode since it was not designed for gaming. Sure, you can use it for consoles like the Nintendo Switch to make a mobile gaming setup, but that doesn't support Adaptive Sync anyway. We couldn't measure input lag, but the monitor is comparable to 10ms 60Hz displays we've tried in the past.
Thoughts on the ViewSonic VG1655
The ViewSonic VG1655 is an excellent option if you want functionality and low pricing in a discrete and sophisticated package. We love the dual USB-C feature since it is useful for either single cable operation or making sure that your setup has enough juice to get your work done. The IPS panel doesn't provide eye-popping color, but its accuracy and wide viewing angles make up for that limitation.
We also think that having built-in stands at the expense of weight and dimensions is much better for portable monitors. Folio covers are flimsy and unreliable, so the slimmer profile isn't worth it in the long run.  The ViewSonic VG1655 is an excellent pick if value, performance, and great design are your priorities when shopping for a portable monitor.
Pros:
Thin and Lightweight
Decent Out of the Box Color Accuracy
Functional Design
Built-in Stand
Dual USB-C with Power Delivery
Cons:
Low sRGB Coverage
No Built-In Battery
Prone to Blurring
About the Author: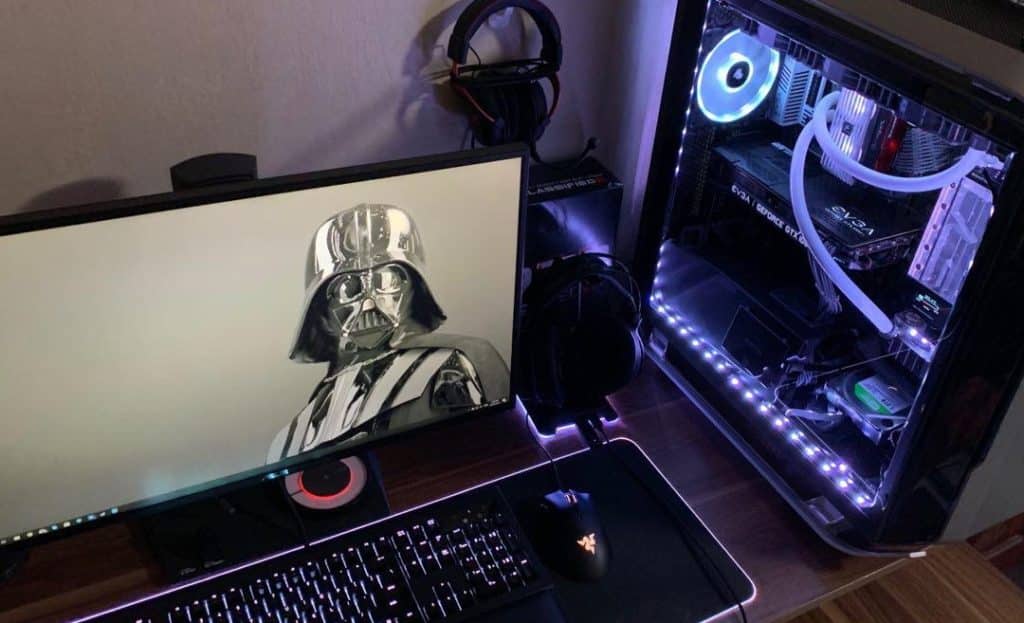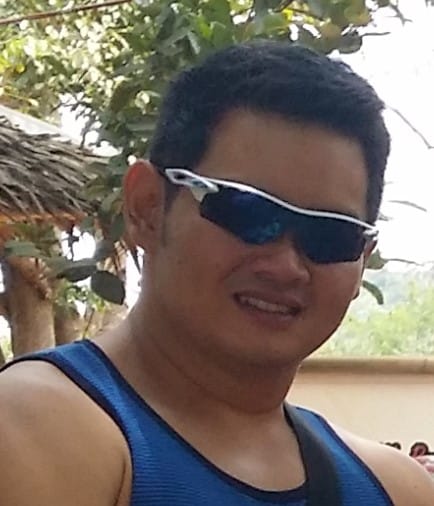 Paolo is a gaming veteran since the golden days of Doom and Warcraft and has been building gaming systems for family, friends, and colleagues since his junior high years. High-performance monitors are one of his fixations and he believes that it's every citizen's right to enjoy one. He has gone through several pieces of hardware in pursuit of every bit of performance gain, much to the dismay of his wallet. He now works with Monitornerds to scrutinize the latest gear to create reviews that accentuate the seldom explained aspects of a PC monitor.